The ultimate guide to Valentine's Day Recipes! Whether you want appetizers, main dishes, desserts, or drinks we've got you covered!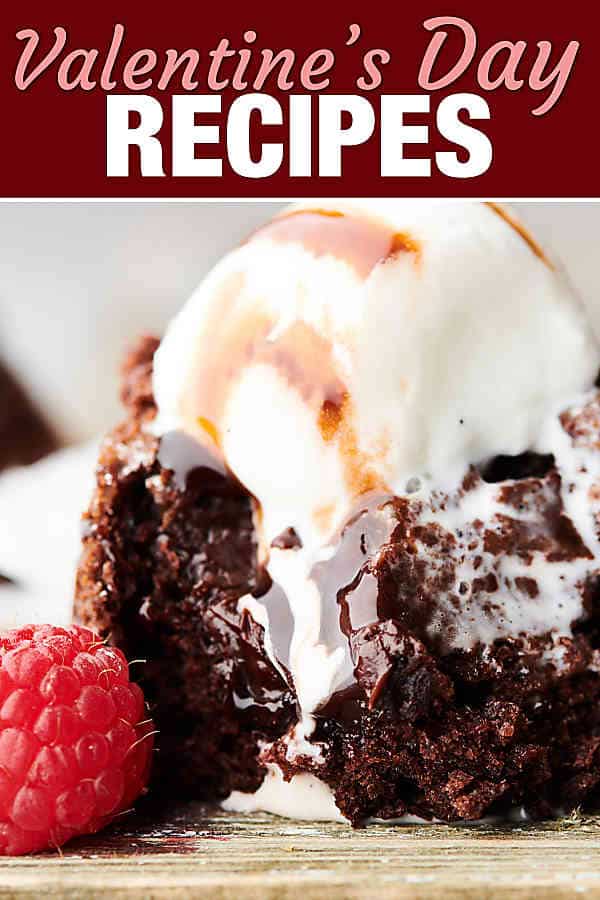 Move over flowers and bring on the chocolate! Valentine's Day, to me, is allllll about the food. I'd much rather be spoiled with a homemade meal (complete with appetizer, dessert, and fun cocktail pleaseandthankyou), than with gifts and flowers. I know you're all with me!
What foods are associated with valentine's day?
Red wine, chocolate, and strawberries are most commonly associated with Valentine's Day. Elegant pastas, steak dinners, seafood dishes, cheesecake desserts, and champagne are also often found on romantic Valentine's Day dinner menus.
What is a good meal to cook for valentine's day?
The perfect Valentine's Day meal is one that doesn't require a lot of hands-on time, but tastes like it did. 😉 For a complete Valentine's Day meal, be sure to include an appetizer, a main protein (such as steak), a pasta, a vegetable side, soup, and/or salad, a dessert, and a fun cocktail!
Whether you're cooking for 1, 2, or the whole family, we've got you covered with easy and delicious Valentine's Day recipes.

appetizers
These starters are the perfect way to get dinner going. They're elegant and impressive, but are all quick and easy.
sides
Depending on your main dish, serve a soup, salad, vegetable, and/or carb-y delight to round out your meal.
Valentine's day dinner recipes
Seafood and pasta SCREAM Valentine's Day dinner. Whatever you choose, I love a dinner that tastes complicated, but is deceivingly easy to make.
Vegetarian valentine's day meals
Cooking up a meatless meal? These vegetarian dinners won't disappoint!
Slow cooker valentine's day recipes
Valentine's Day is great if it falls on a Saturday or Sunday and you have plenty of time to cook a meal. But what if it falls on a weekday? Enter: Valentine's Day slow cooker meals! Prep in the morning before work and dinner is ready to go when you walk through the door.
desserts for chocolate-lovers
Chocolate is THE classic Valentine's Day food. Whether it's in the form of store-bought candies or a homemade indulgent dessert, chocolate is always on my Valentine's Day menu.
These easy-to-make desserts are decadent and delicious but simple to make and are the perfect way to wrap up any Valentine's day meal!
desserts for fruit-lovers
Chocolate may be a classic, but if you're more of a fruity dessert lover don't worry…I've got you covered on that front too. 😉
Valentine's day drinks
You can't go wrong with a simple bottle of your favorite red wine or bubbly, but I love to get a little creative with a cocktail or a mug of spiked hot chocolate for an after dinner night cap!
Happy Valentine's Day!
– Jennifer