Only ONE bowl and NINE ingredients necessary for this Easy Cornbread Recipe! This cornbread contains no flour – so it's gluten free – and TWO kinds of corn: creamed corn and sweet corn!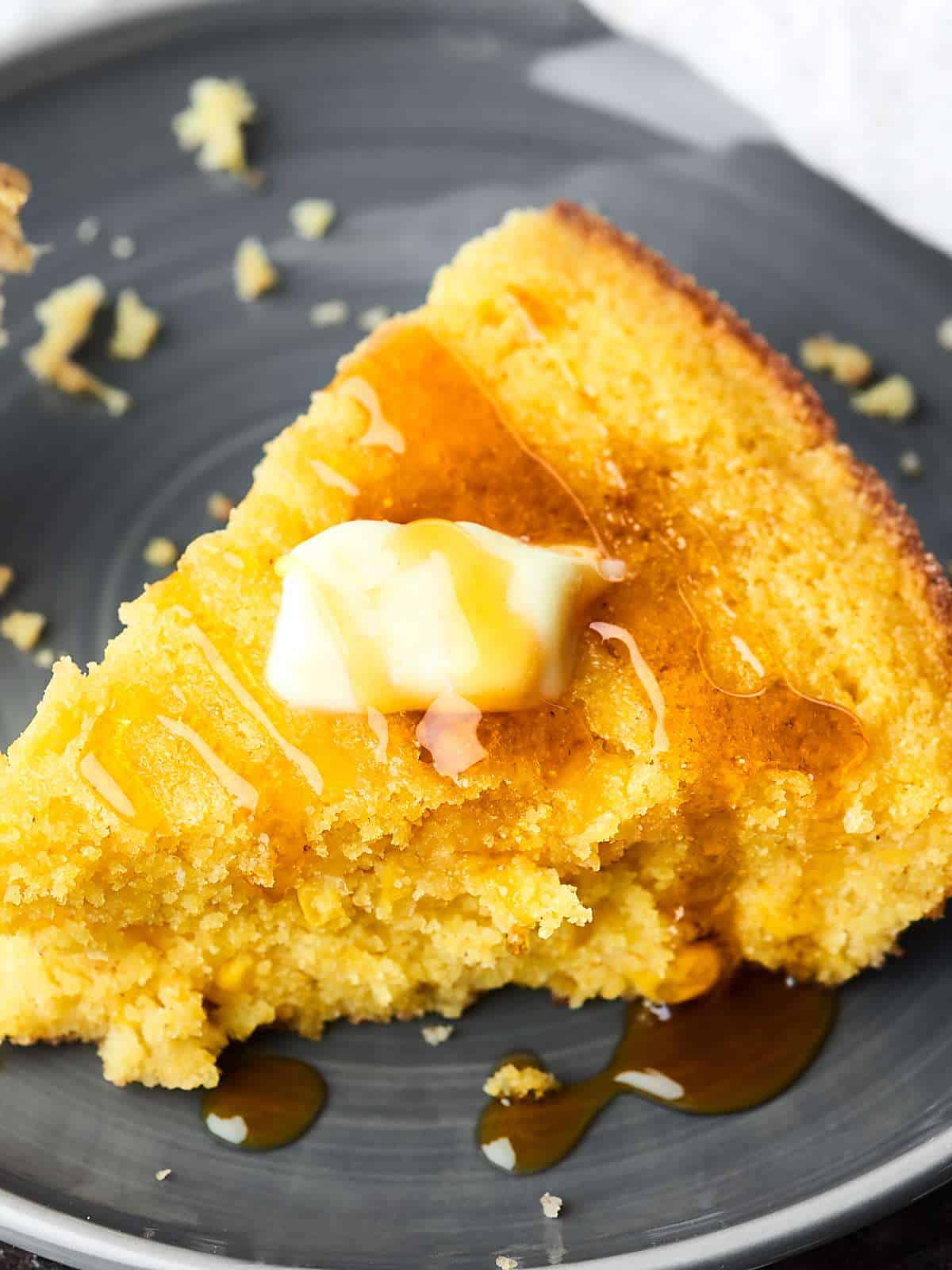 You guyyyyyys. Trevor and I both randomly woke up at 2:40 AM this morning! Don't ask me why, but for some reason, our bodies just weren't tired anymore, so we woke up and decided to work instead of tossing and turning for hours.
Trevor went to his office and edited the video below (I ♡ it) and I edited photos while watching Gilmore Girls in the background.
Which – side note – anyone else SUPER PUMPED for the mini series that's coming out the day after Thanksgiving?!
I know I'm not alone.
Speaking of Thanksgiving, holy moly, did you know we're only 21 days away?!
Trevor, Teddy, and I are driving to Ohio/Michigan to see Trevor's family. If it's anything like last year, Trevor's Aunt Judy will greet us at the door on Wednesday with a bowl of chili and Grandma's famous treats (probably these sugar cookies) and Thursday she won't let me do a thing but eat to my hearts content. I ♡ her so much.
She knows I cook #allday #everyday, so she never let's me bring anything (which I totally appreciate), but this year, if she'll let me 😉 , I'm thinking I most definitely need to bring this Cornbread Recipe to accompany her freaking amazing chili.
Because really, what's better than a hot bowl of chili with a side of cornbread?
The answer:
Nothing.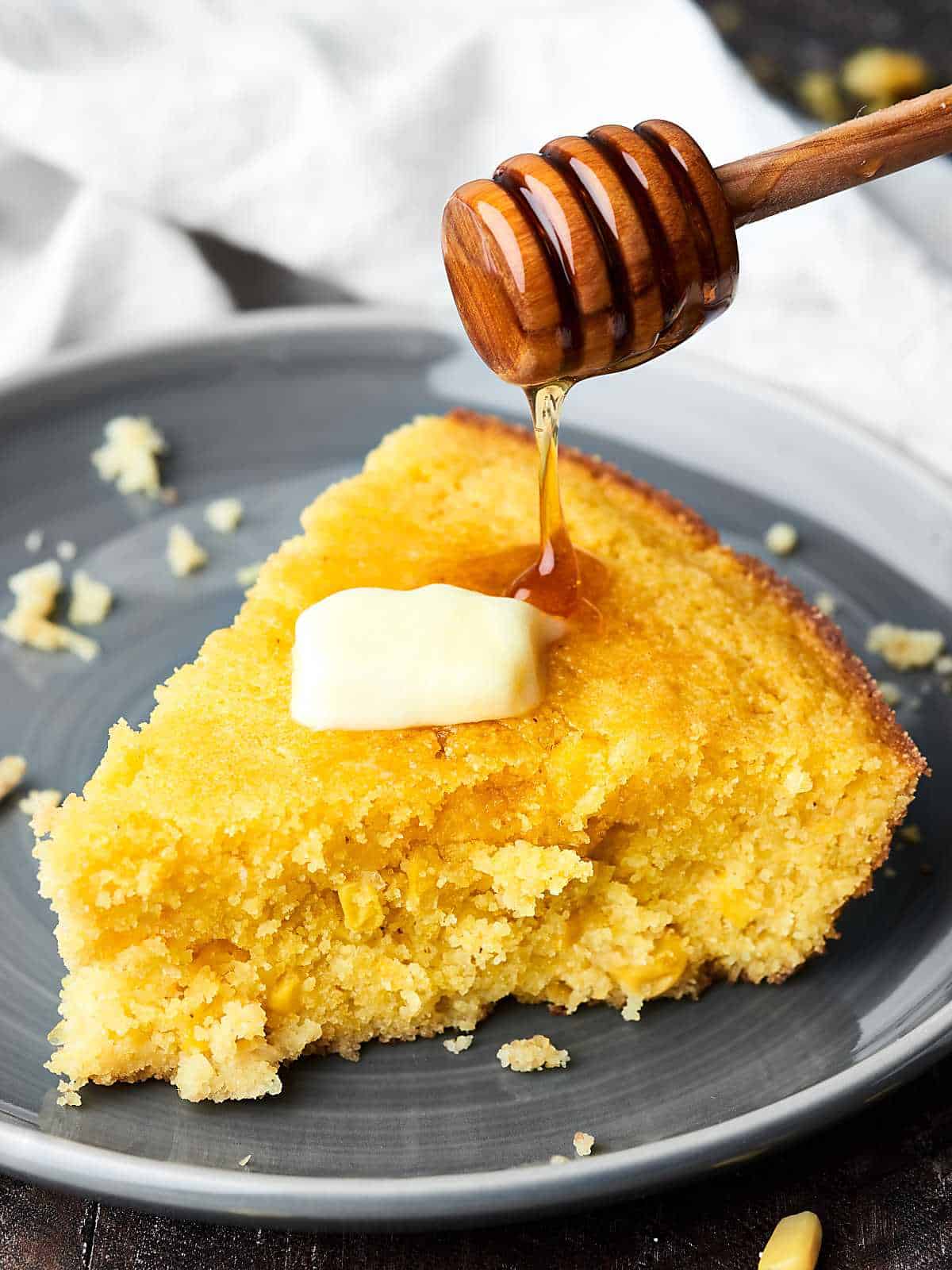 The reason I initially wanted to make this cornbread is because I cannot stop making this slow cooker white chicken chili recipe. It's sooooooo gooooooood. Like, it's oddly addicting. You say you're just going to have one bowl, but then five bowls later, you're stuffed and happy and not mad about that last bowl at all. 😉
I'd been eating the chili "plain", but then I decided, that it just needed some cornbread, ya know?
Because like I said, what's better than a hot bowl of chili with a side of cornbread?
I love, love, love this cornbread recipe for so many reasons, but here's my top three reasons:
#1 It's Easy
#2 It contains THREE kinds of corn
#3 Ummm it's delicious, fluffy, dense, moist perfection
Let's wind back a sec to #1.
This might just be the easiest recipe ever and BONUS you only dirty ONE prep bowl and a cast iron skillet (or other bakeware if you don't have a skillet).
Melt butter –> whisk in white sugar, eggs, buttermilk, yellow cornmeal, baking soda, salt, 1 can of creamed corn, and 1 can of drained sweet corn –> pour batter into skillet –> bake –> slather with butter and honey –> face plant into cornbread.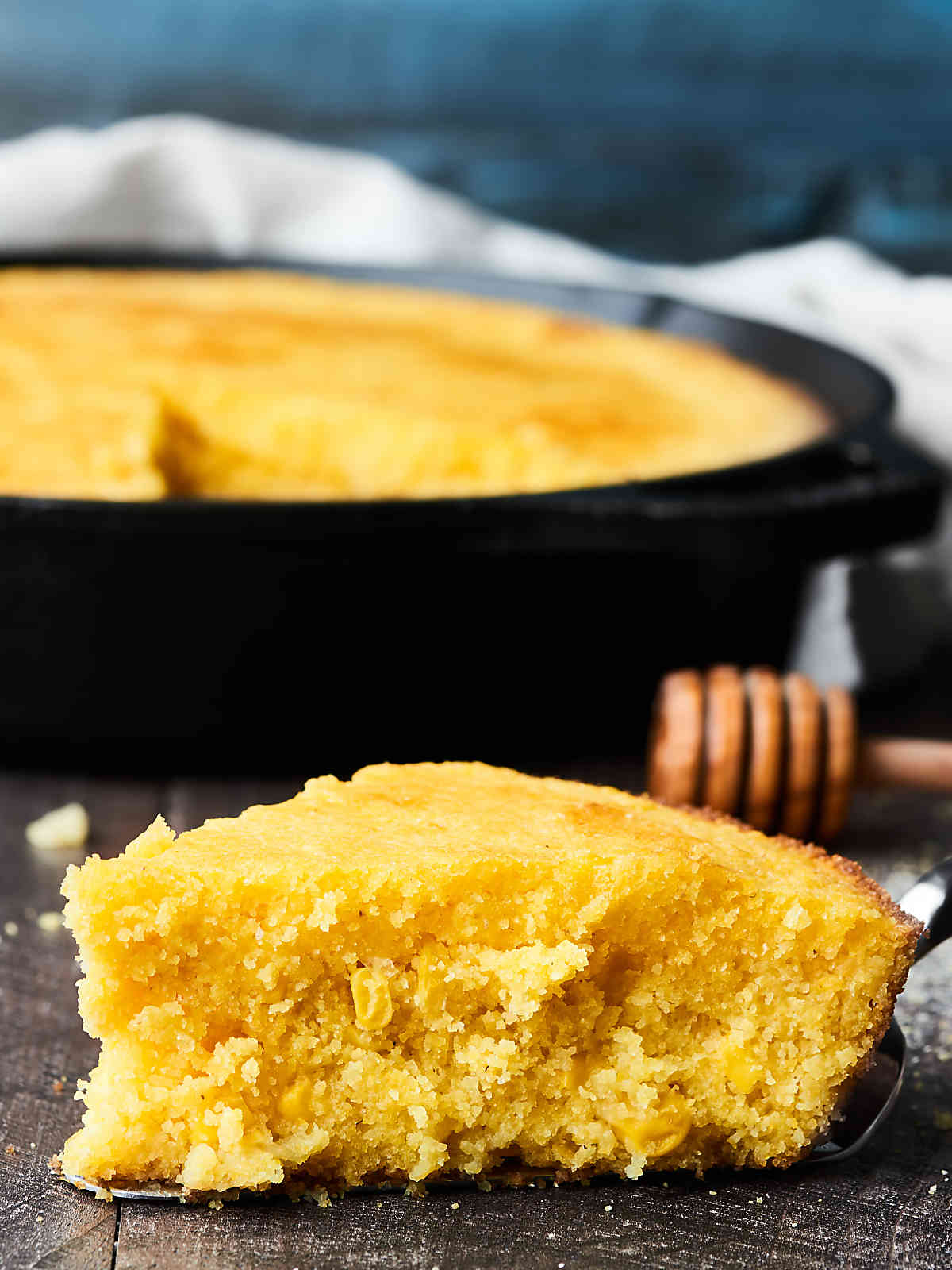 How easy was that?!
I should also mention that this cornbread doesn't have any flour, which is AWESOME for our gluten free folks. I think the lack of flour in this recipe really lets the texture and flavor of the cornmeal come through anyway. 🙂
Now let's wind back to reason #2 for why I love, love, love this cornbread and take note that this recipe contains cornmeal, creamed corn, AND sweet corn. Trevor, lover of corn, went absolutely crazy for this. I feel like most cornbread recipes never have enough corn, but don't you worry, because I've definitely got you covered. 😉
Easy ✔️
Three kinds of corn ✔️
Delicious ✔️
This cornbread is perfectly corny, ultra fluffy, SO dense (in a really good way) and moist, is a little sweet, but not too sweet, has amazing texture thanks to the cornmeal and sweet corn kernels, and is just overall the best darn cornbread I've ever had.
So what are you waiting for?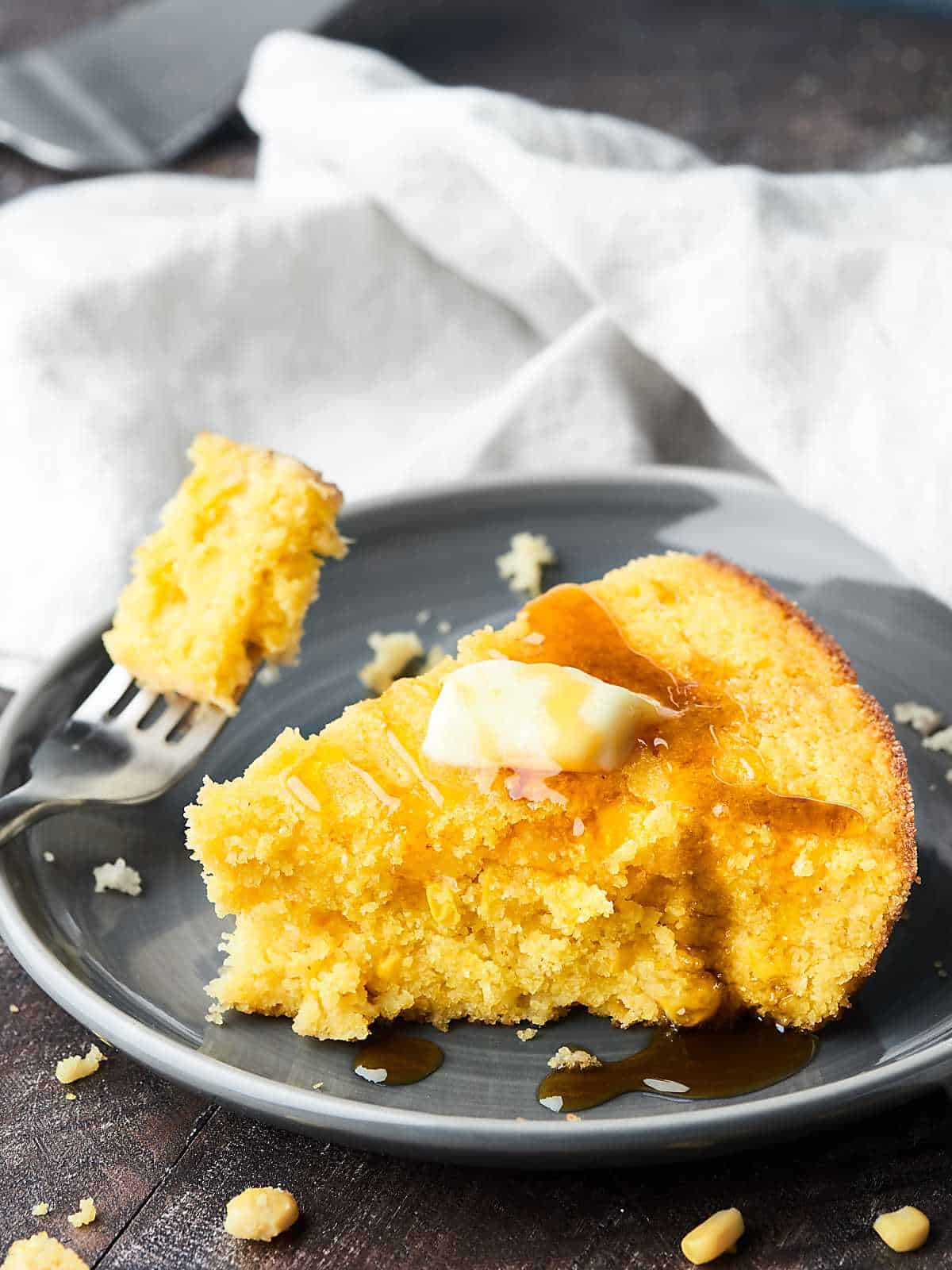 GO! And make this cornbread! 🙂
– Jennifer
What's your favorite way to eat cornbread? Show Me the Yummy!
Cornbread Recipe
Only ONE bowl and NINE ingredients necessary for this Easy Cornbread Recipe! This cornbread contains no flour - so it's gluten free - and TWO kinds of corn: creamed corn and sweet corn!
Servings
:
8
people
Results and timings may vary when adjusting servings
Ingredients
1/2

cup

unsalted butter

melted

2/3

cup

granulated sugar

2

large

eggs

room temperature

1

cup

buttermilk

room temperature

2

cups

yellow cornmeal

1/2

teaspoon

baking soda

1/2

teaspoon

salt

1

(15 oz) can

cream style corn

1

(15 oz) can

sweet corn

drained
Instructions
Preheat oven to 375 degrees F.

In a large bowl, whisk together the butter, sugar, eggs, and buttermilk.

Using a spatula, fold in the rest of the ingredients.

Pour batter into prepared pan.

Bake in preheated oven for about 40 minutes, or until fully cooked.
Notes
You can also make this in a 9x13 in baking pan. Bake for 20-30 minutes.
Make this recipe?
Show

ME

the Yummy
Tag @ShowMeTheYummy & #ShowMeTheYummy on Instagram
Nutrition Facts
Cornbread Recipe
Amount Per Serving (1 slice)
Calories 358
Calories from Fat 153
% Daily Value*
Total Fat 17g 26%
Cholesterol 87mg 29%
Sodium 269mg 11%
Potassium 191mg 5%
Total Carbohydrates 47g 16%
Protein 7g 14%
* Percent Daily Values are based on a 2000 calorie diet.
*Note: Nutritional information is estimated and varies based on products used.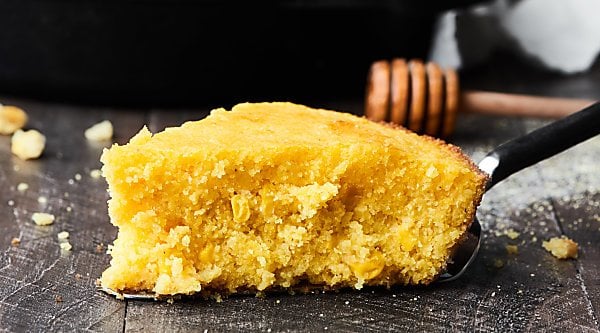 * This post contains affiliate links. We receive a commission on purchases made via these links. The price you pay is not affected by using them.