This quick and easy strawberry pretzel salad is a classic holiday side dish. This recipe uses fresh strawberries and is made up of three delicious layers: a pretzel crust, a cream cheese filling, and a strawberry jello topping!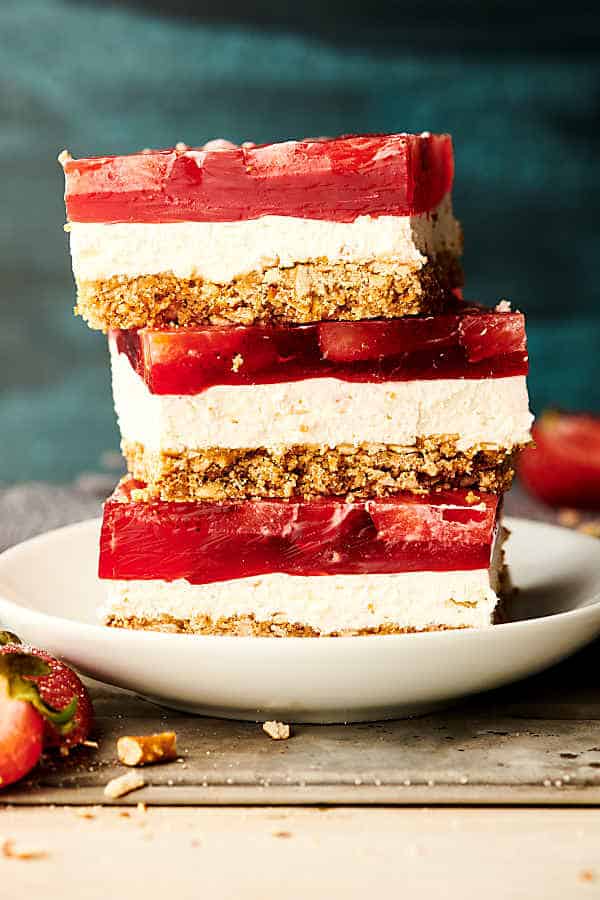 This old fashioned strawberry pretzel salad is one of my favorite holiday side dishes . . . along with creamy corn casserole, instant pot mashed potatoes, and crockpot vegetarian stuffing, of course. 😉
This side dish is not one I typically was served growing up,  but once I met Trevor and was introduced to HIS family's traditions – they have this at every Thanksgiving and Christmas gathering – I quickly fell head over heels for this easy strawberry pretzel salad.
If you are making this for anyone that hasn't had it before, I'll be honest… you might get some looks. When I introduced a few of my friends to this recipe, I described it as a strawberry jello cheesecake-esque dish with a pretzel crust, they weren't too sure about it – let's be real, this recipe sounds SO bizarre – but after one bite, they were hooked.
I KNOW this is a classic for many of you and you may have your way of making it, but give this one a try because I put a few twists on it to make the best strawberry pretzel salad.
What's in Strawberry Pretzel Salad?
The ingredient list to strawberry pretzel salad is pretty short. Short = Easy! A salty pretzel crust, tangy cream cheese filling, and sweet strawberry topping. Who knew such a bizarre combination could be SO delicious?!
Pretzel crust

butter
brown sugar
crushed pretzels

Cream cheese filling

powdered sugar
cream cheese
vanilla extract
cool whip

Strawberry jello topping

fresh strawberries
strawberry jello
boiling water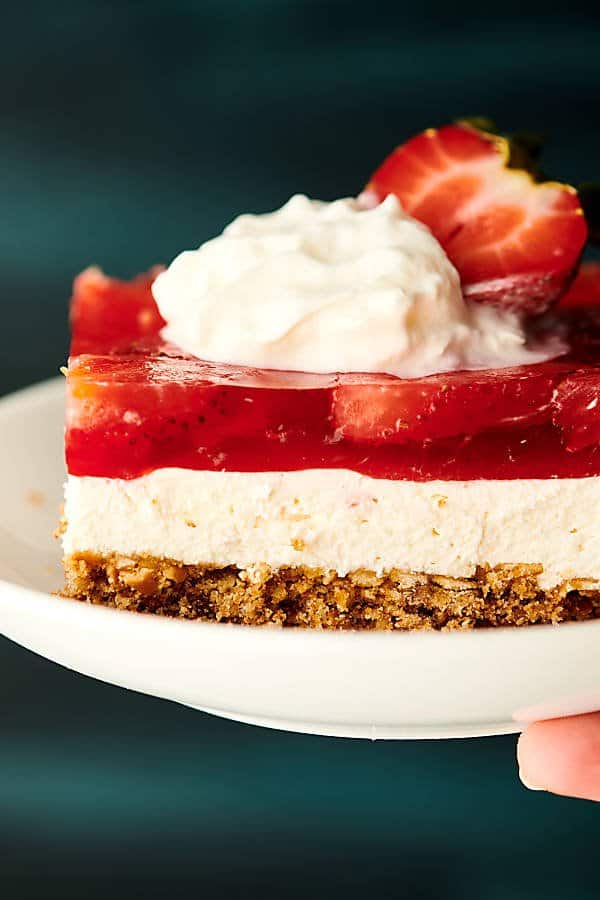 …