This Quinoa Fried Rice Recipe is an easier, healthier version of a take out classic! Loaded with leftover quinoa, coconut oil, veggies, spices and more. Runny egg on top is optional, but highly recommended. 😉 Gluten free. Dairy free. Can be vegan!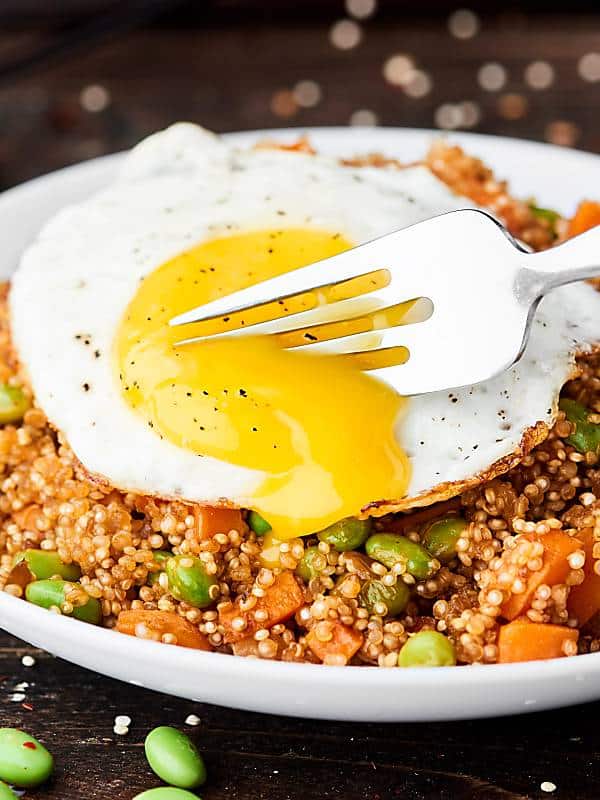 Thanks to Bob's Red Mill for sponsoring today's post! We ♡ them so much.
---
Sometimes simple is best.
Today's quinoa fried rice recipe was supposed to be something t.o.t.a.l.l.y. different.
It was going to be this flavor bomb of a recipe loaded with a quinoa base, loads of veggies, twenty five addtional add ins, and a sauce made with no less than one million . . .  and one ingredients. 🤦‍♀️🤦‍♀️🤦‍♀️
The thing is, it was too complicated of a recipe for this blog (*ahem* Show Me the Yummy: EASY Recipes for Yummy Food), the sauce was kiiiiinda gloopy, it was s.u.p.e.r. ugly, and it didn't even taste THAT good.
Wooooomp. Womp.
I tried to make it work for like 30 minutes, because I reeeeeeally wanted to make it work, before I realized, you know what, it's just not a good recipe <– lolololol.
And that, my friends, is how quinoa fried rice was born.
I got to keep those Asian flavors I was really craving. Plus it's still a total flavor bomb (it's kind of amazing, because it's so darn simple), but this recipe is sooo much quicker and easier than the Thai concoction I was trying to make happen AND I got to put a runny egg on it, which is what I really wanted, because runny eggs are life.
If you're looking for an easy, flavor bomb, meatless, dairy free, gluten free, can be vegan, healthy recipe, then what are you waiting for?!
Let's make some quinoa fried rice!