Healthy Date Peanut Butter Cups aka a healthy twist on a classic! These taste like the real deal, but are made with medjool dates, all natural peanut butter, tahini, vanilla, salt, dark chocolate chips, coconut oil, and roasted peanuts for crunch! Vegan. Gluten Free. Quick and easy!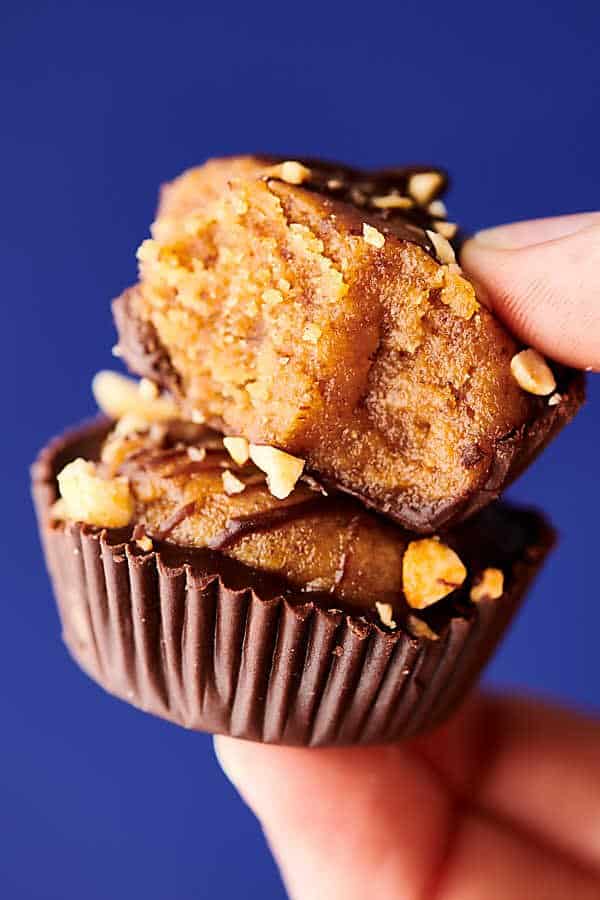 If you love this healthier twist on a classic, you'll also love: almond butter cups, whole wheat chocolate chip cookies, and black bean brownies. 
All Friday's should start with a sweet treat to celebrate the last day before the weekend.
Yes?
Yes.
Glad we're on the same page.
Although I reeeeeeeally wanted to buy some Valentine's Day candy yesterday, we still had half a batch of our strawberry cake mix cookies, so did I reeeeeeeally need to buy more sugar?
Probably not.
That being said, those cookies are now gone, and guess what?
My sweet tooth kicked in, of course.
And it wanted peanut butter cups.
But since Trevor and I had downed a batch of cookies in two days, I figured I should make my own healthy version.
Enter: healthy date peanut butter cups.
OMG, you guys, these did NOT disappoint . . .
and dare I say . . .
taste better than the original?
And that's saying a LOT coming from me, aka Queen of Reese's (and all things candy related).
This homemade healthy version is SO dense, rich, perfectly thick, and BONUS: it's quick, easy, and naturally sweetened with medjool dates and the teeniest bit of dark chocolate.
Now, I know the saying "if it's too good to be true, then it probably is" <– well . . . that just doesn't apply here.
These ARE too good, but it's true. 😉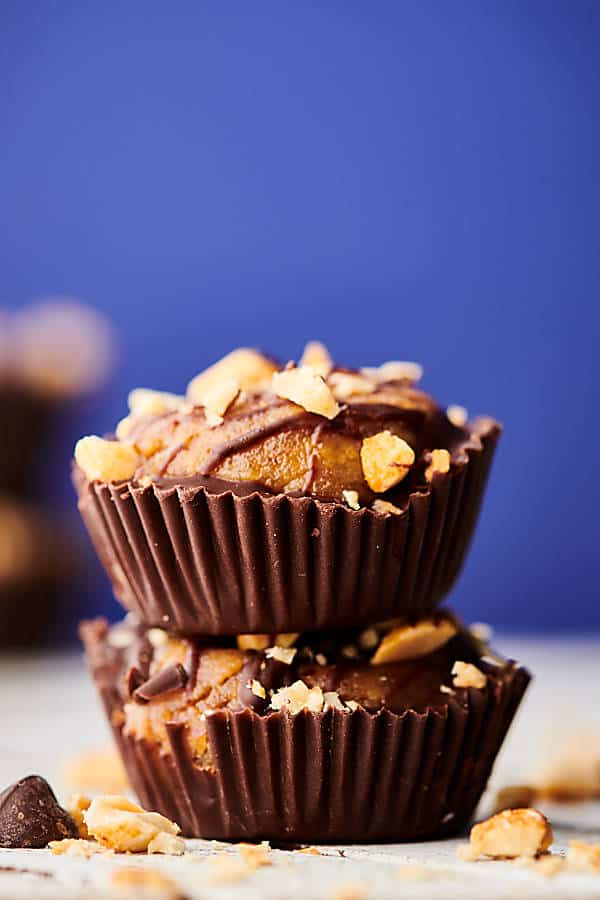 …