This strawberry basil gin cocktail is perfect for summer! Subtly sweet, a little tart, and truly refreshing!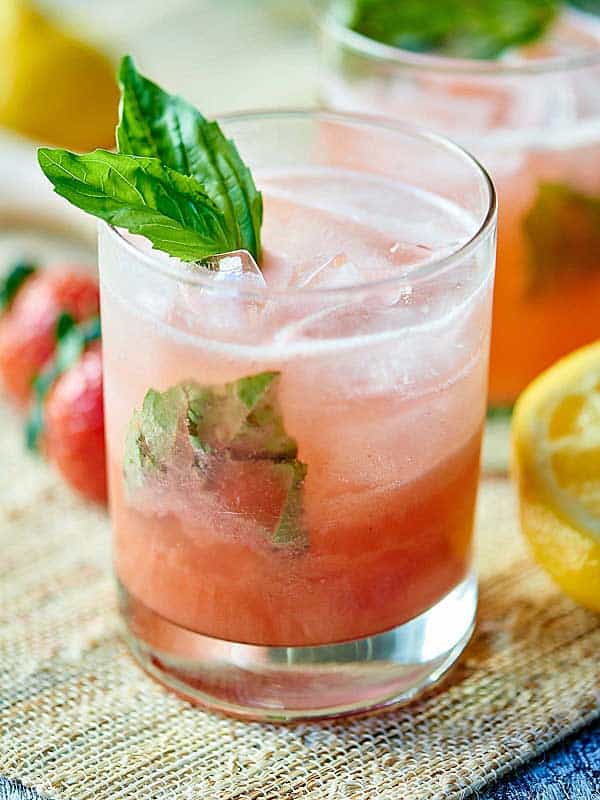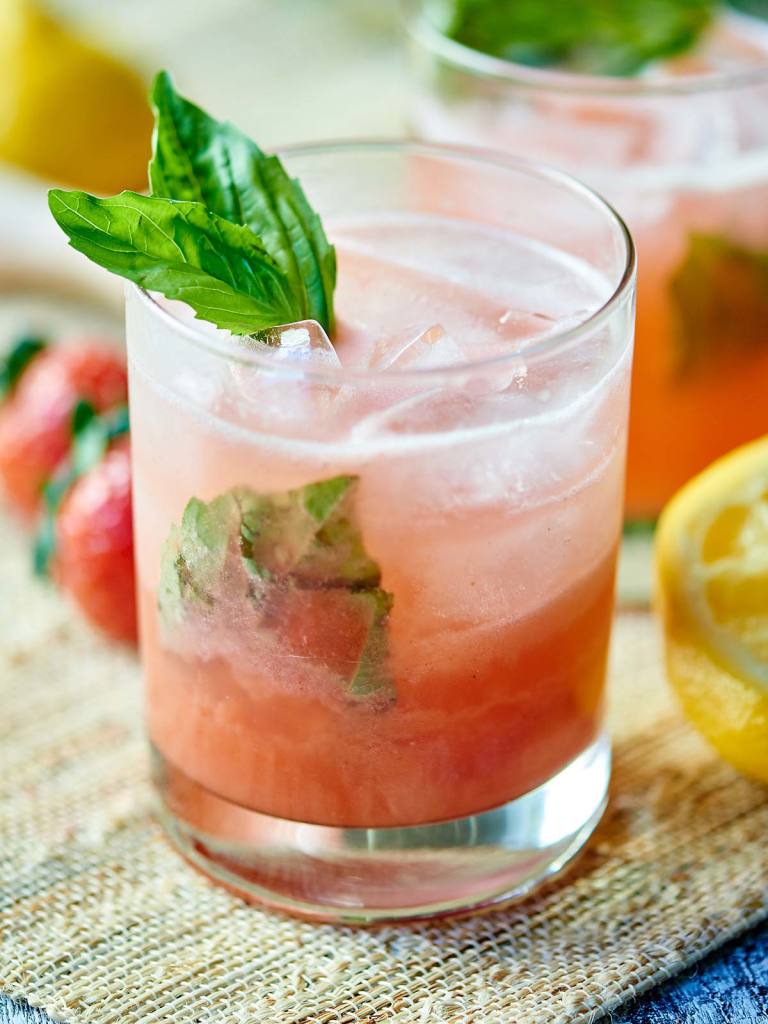 If you live in the Pacific Northwest, can we just talk about how gorgeous it was last weekend? Seattle was welcoming Spring with open arms. Everybody (and their dog) was outside soaking up every ounce of Vitamin D they could. Trevor and I were out with the rest of them. First, we took Teddy to the park, the poor guy was dying for a good romp in the grass. We then rewarded ourselves with a super refreshing Strawberry Basil Gin Cocktail (and maybe some ice cream) and sat outside while Teddy passed out for the rest of the night.
Now, let me tell you, Gin has never been my "go to" for an alcoholic beverage. I typically go for something girly with vodka, rum, or tequila. However, I was pleasantly surprised by how much I actually enjoyed this cocktail. It's subtly sweet, tart, earthy, and seriously so refreshing. Neither Trevor, nor I had any trouble sucking these down. 😉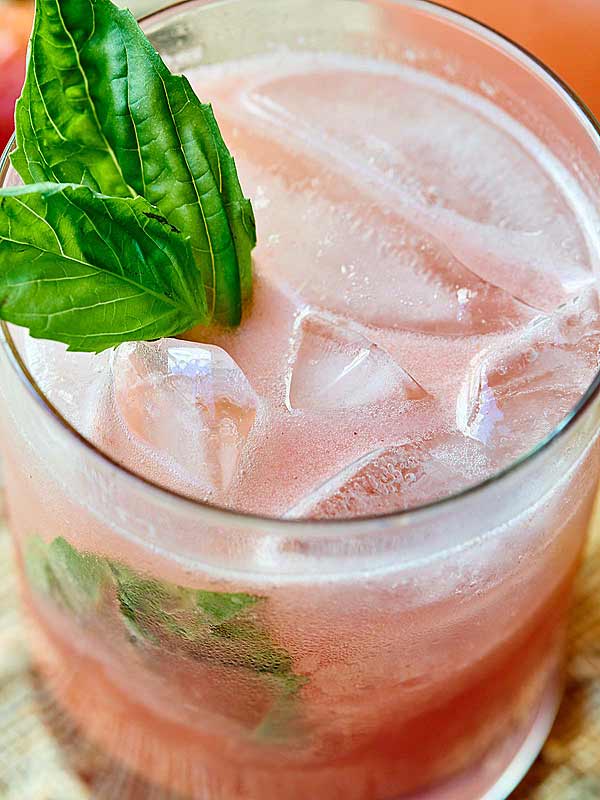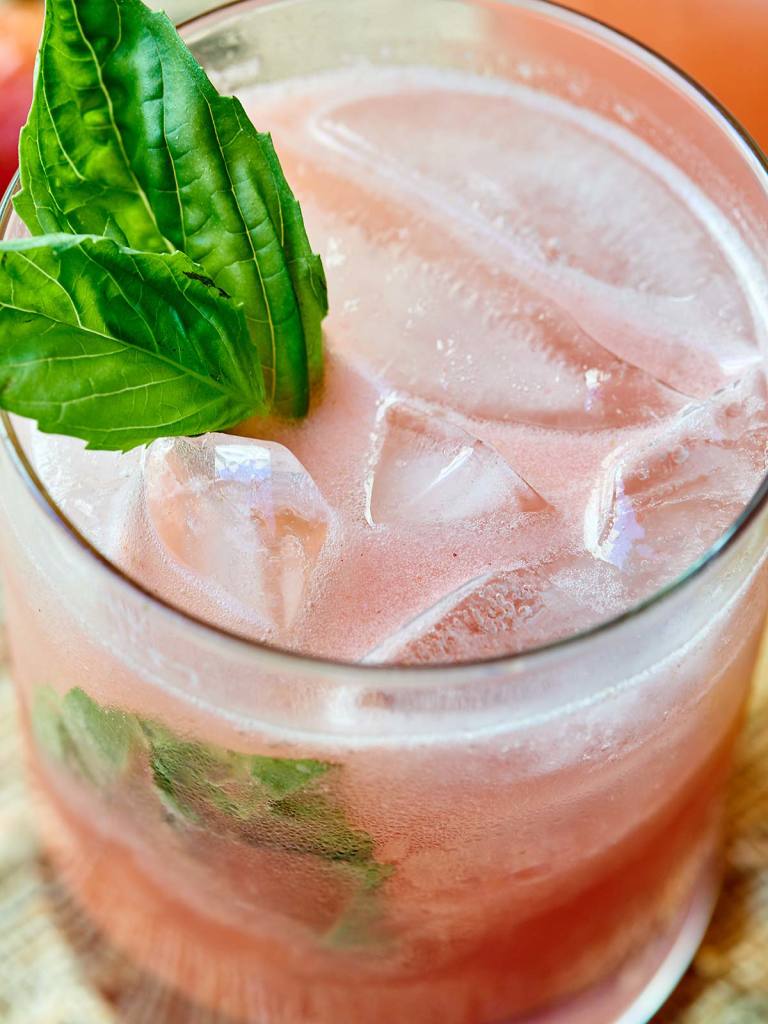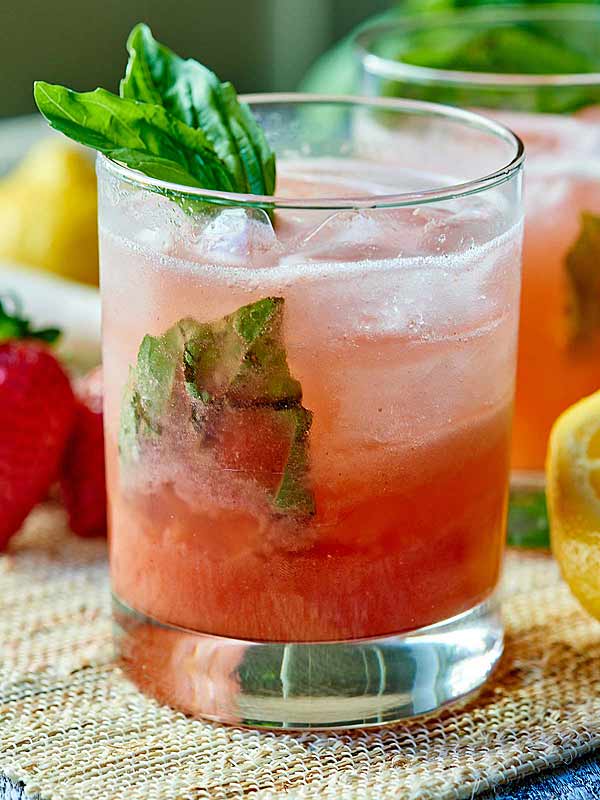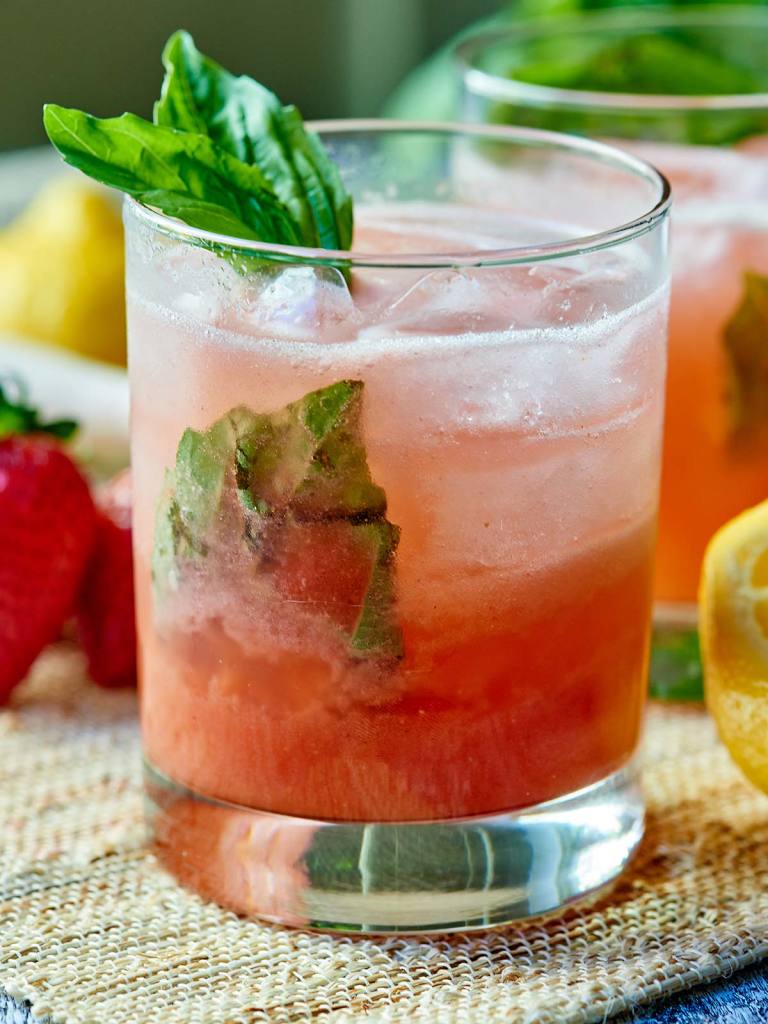 I have been I-T-C-H-I-N-G for warm weather. I know I'm not the only one. I'm craving sun, longer days, outside patio happy hours, food festivals, sailing, running along the waterfront….the list could go on and on and on. Why am I not living in the tropics again?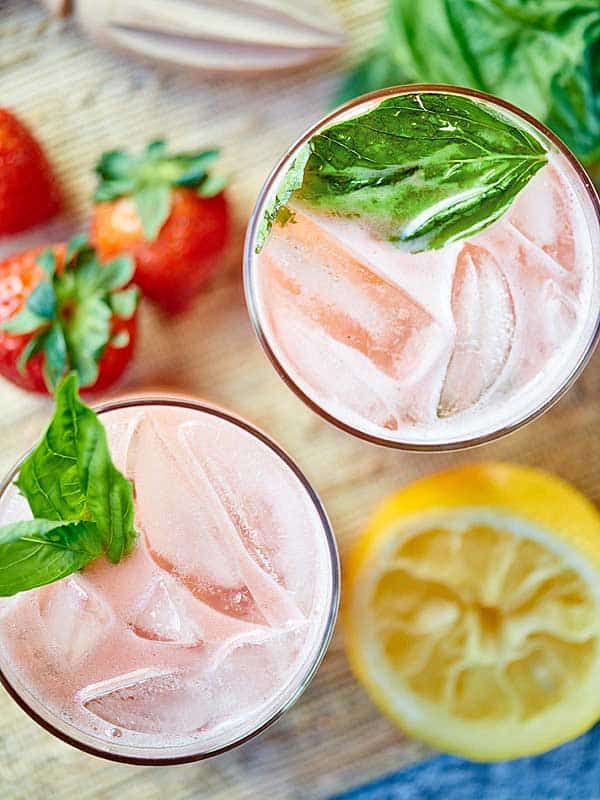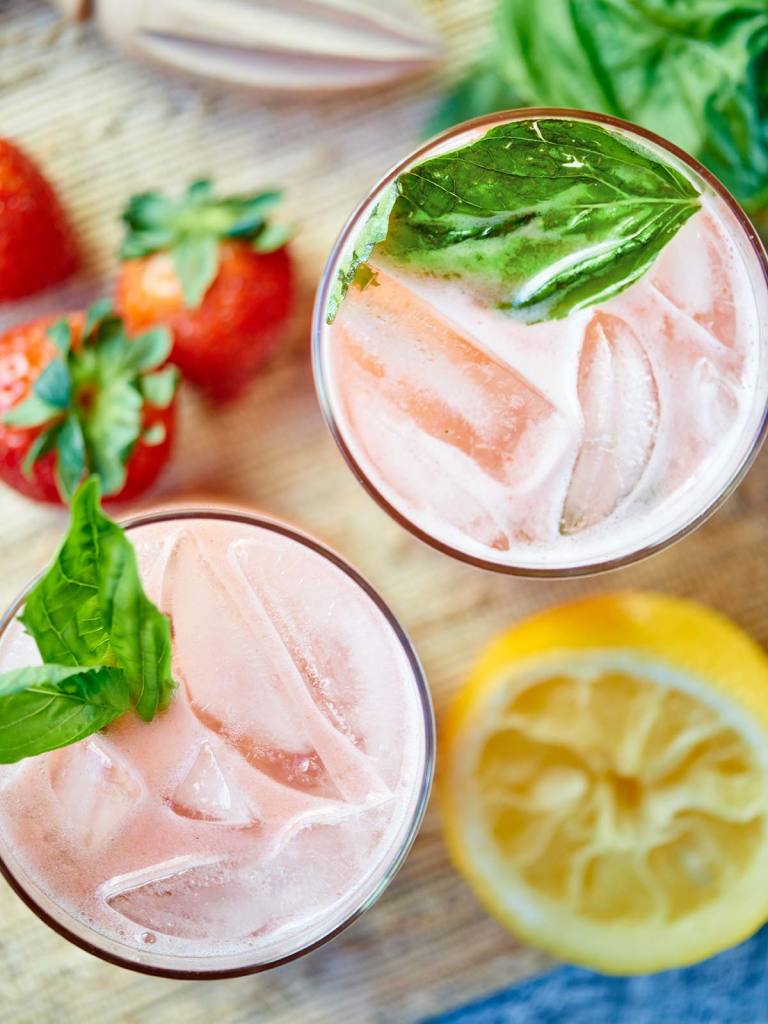 One of my favorite things about the weather getting warm is grilling outside while sipping on cocktails. Last year, in preparation for our Puerto Rican wedding, Trevor's and my cocktail of choice was an ice cold mojito using Bacardi. While we were in Puerto Rico, we actually got to go to the Bacardi factory and try a bunch of their rums, but that's another story for another day 😉
With the mojito on my mind, it reminded me of when Trevor and I were living in Iowa. I can't remember why, but as a gift, one of our very best friend's, Greg, gave us a mint leaf plant and a basil leaf plant. We would use the mint to make fresh mojitos and the basil to make fresh pasta sauces. Unfortunately, we killed the plants…my thumb, is apparently, not very green.
Although I don't have my own plants anymore, as I was doing my weekly grocery shopping, I saw some beautiful fresh basil and mint. I had the thought, then, instead of using mint in a cocktail, why not use basil? It could work, right? I had some gin from G'Vine that I was generously gifted with, and the description of their Floraison Gin reads "sweet floral aroma… smooth…grassy with flowers…" and I thought that the earthiness of the basil would pair perfectly with the floral notes of the gin!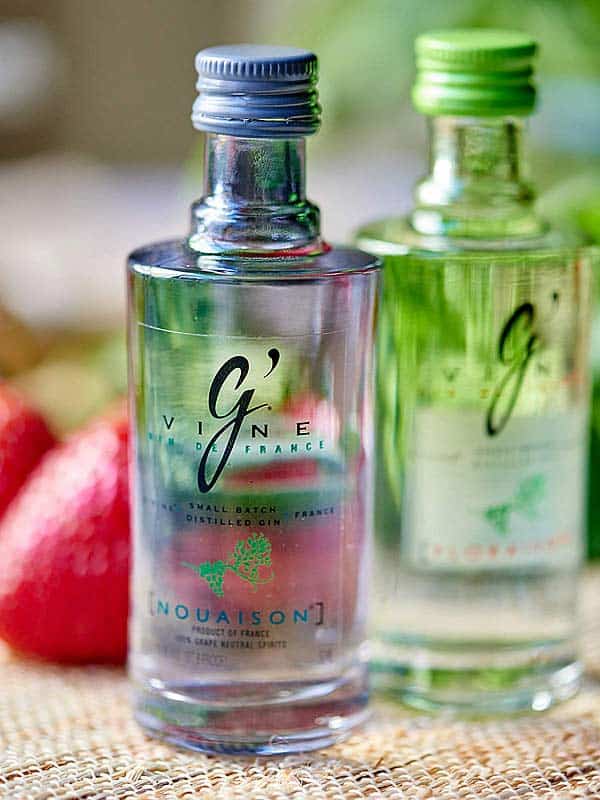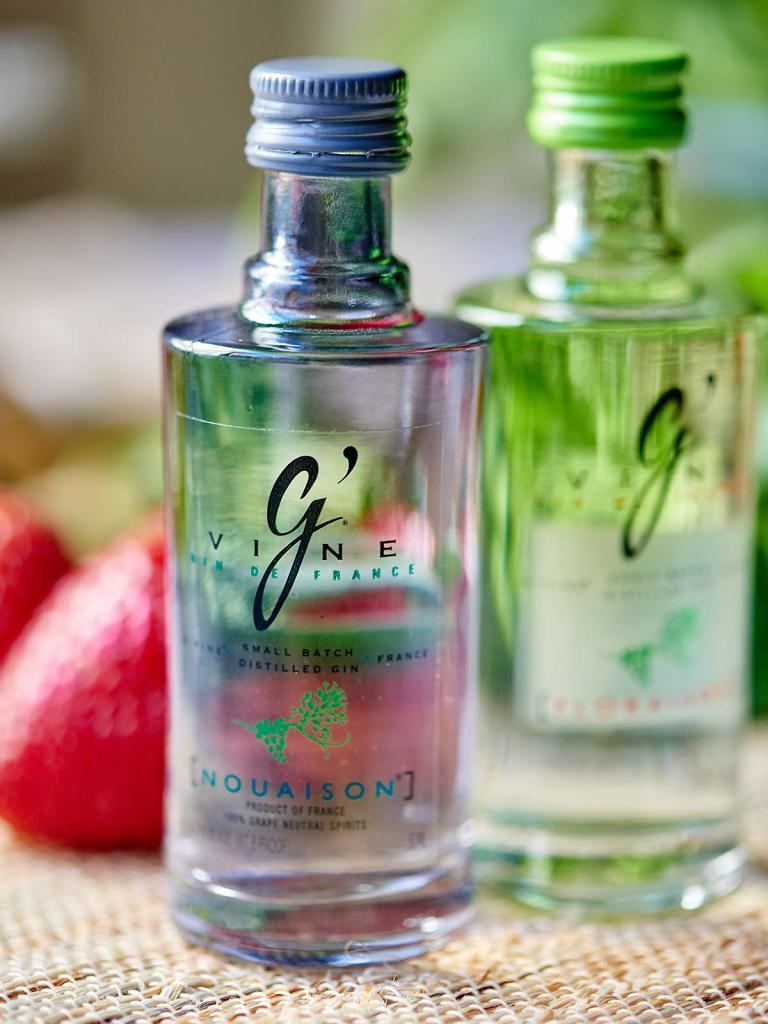 Then, being me, I needed to make it a little sweet, so I decided to add strawberries. Strawberries and basil taste SO good together and the strawberries have been rockin' at QFC: so juicy and red that I can't help but snatch a few pints when I walk by.
Then I added in some lemon, because what's a better combo than juicy strawberries and lemon?
So let's review: this strawberry basil gin cocktail has earthy basil,  sweet strawberries, tart lemon, and floral gin. Sounds just crazy and simple enough to work!
Start by combining a touch of sugar with strawberries and set aside for about 10 minutes. Letting the sugar and strawberries sit together really brings out the juice of the strawberries.
Now take the strawberries and sugar and combine that with lemon juice in a blender or vitamix
. Pulse this mixture together until it becomes a smooth puree. Using a fine mesh strainer, strain the mixture into a measuring cup. Set aside.
Now, gently muddle two basil leaves in a short glass
. I say gently, because you don't want to bruise the basil! Gently muddling releases the essential oils and gives amazing flavor to the cocktail!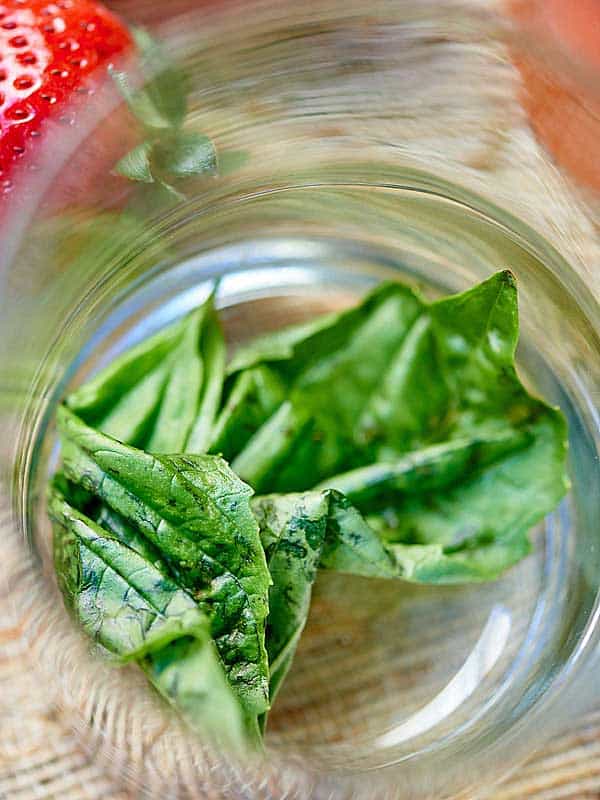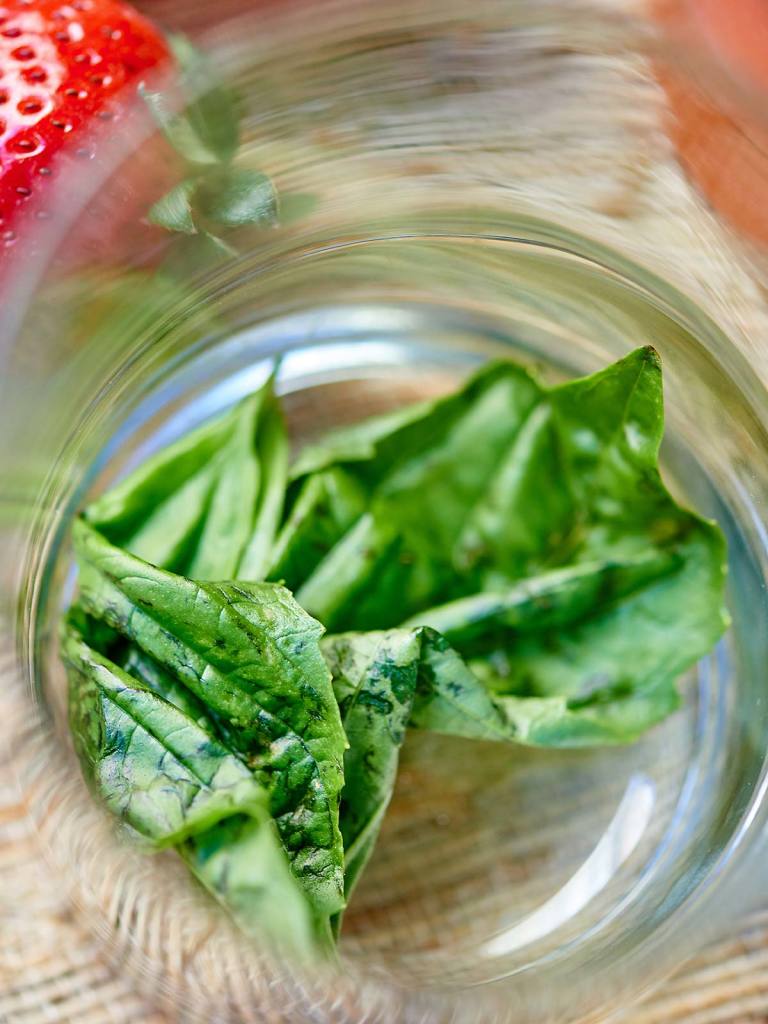 Then fill the glass with ice and pour the strawberry/sugar/lemon mixture over the ice. Now add in the gin.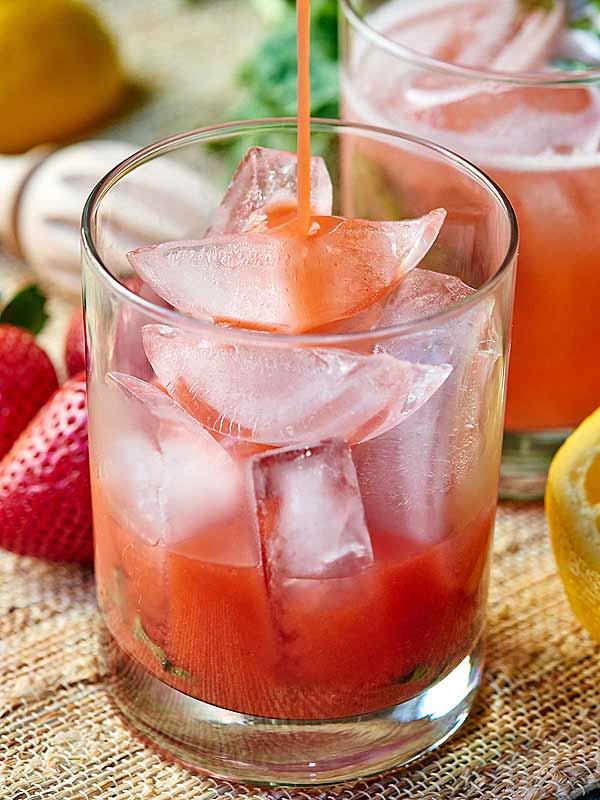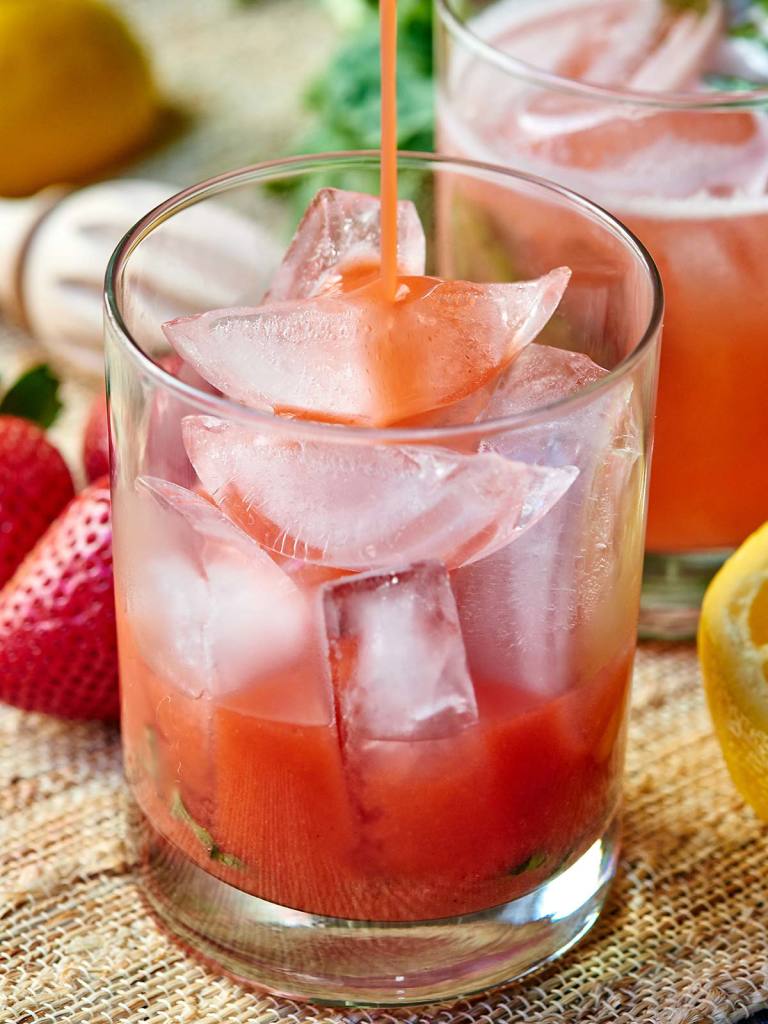 Give it a quick stir and top with club soda! Garnish with more basil or strawberries, if desired, and enjoy! Honestly, I think I never enjoyed Gin, because I hadn't tried the right brand, but the G'Vine Floraison Gin was so smooth!
This strawberry basil gin cocktail is definitely one to enjoy outside on a sunny Saturday with your favorite people and some happy tunes. If it's still cold where you are (I'm so sorry) this cocktail will definitely transport you somewhere warmer! We're almost to summer people! Hang in there!
Cheers!
– Jennifer
What's your favorite summer cocktail? Show me the yummy!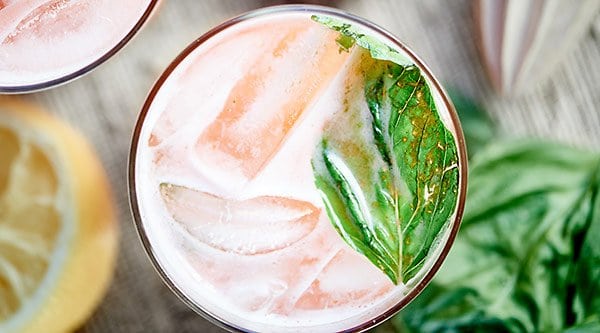 Strawberry Basil Gin Cocktail
This strawberry basil gin cocktail is perfect for summer! Subtly sweet, a little tart, and truly refreshing!
Equipment for this recipe
(equipment shown are affiliate links)
Ingredients
For One Cocktail
4

oz

strawberries

sliced (about

5

strawberries)

1-2

tablespoons

granulated sugar

1/2

oz

freshly squeezed lemon juice

2

basil leaves

1 1/2

oz

gin

2

oz

club soda

chilled
For Four Cocktails
1

pint (16 oz)

strawberries

sliced

1/2

cup

granulated sugar

2

oz

freshly squeezed lemon juice

8

basil leaves

6

oz

gin

club soda

chilled
Instructions
Slice strawberries and place in a small bowl with sugar. Let sit in the fridge for 10 minutes (this really gets the juices going).

Combine strawberry/sugar mixture with lemon juice and place in a blender. Blend until smooth.

Strain this mixture into a measuring cup.

In a short glass, gently muddle two basil leaves.

Fill with ice.

Pour in strawberry mixture and gin. Give it a good stir and top with club soda.

Garnish with more basil and sliced strawberries!
Notes
*Make sure you make these in short glasses!
Nutrition Information
Nutrition Facts
Strawberry Basil Gin Cocktail
Amount Per Serving (1 cocktail)
Calories 184
Calories from Fat 9
% Daily Value*
Fat 1g2%
Sodium 14mg1%
Potassium 174mg5%
Carbohydrates 22g7%
Protein 1g2%
Vitamin C 72.2mg88%
Calcium 18mg2%
Iron 0.5mg3%
* Percent Daily Values are based on a 2000 calorie diet.
*Note: Nutrition information is estimated and varies based on products used.
Keywords:
alcoholic drink, cocktail, gin