This Mimosa recipe is as easy as it gets. Two ingredients and two minutes for the perfect bubbly brunch cocktail!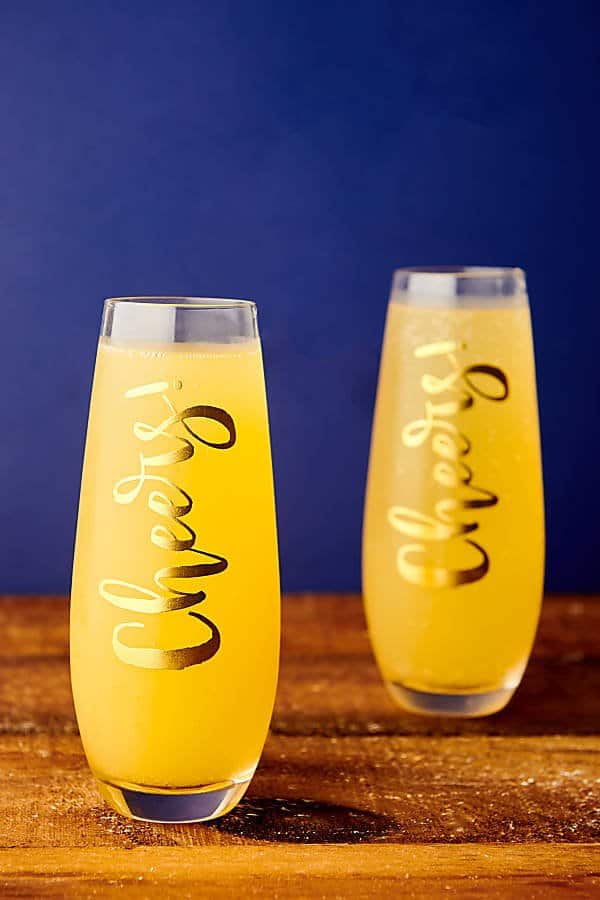 Trevor and I are big mimosa fans. I mean, who doesn't love a sweet, bubbly, and refreshing drink to go with Sunday brunch? They're SO easy to make and all you need is champagne and orange juice! Wins all around!
What is a mimosa?
A mimosa is a type of cocktail—typically served during brunch—made up of champagne and citrus juice.
Mimosas originated in Spain but are now consumed all over the world…like Raleigh, NC…every Sunday…for example. 😉
What's in a mimosa?
A classic mimosa is made up of champagne and orange juice!
However, there are tons of mimosa variations too! Have fun with the type of bubbly you're using and play around with different juices if orange isn't your thing. You can absolutely whip one up using your favorite fruit juice: grapefruit, peach, watermelon, apple, you name it!
Ingredients
Champagne – champagnes range from sweet to "brut" which is dry. We tend to use more brut champagnes because the dryness pairs well with the sweetness from the juice but if you prefer a little extra sweetness feel free to use something sweeter like prosecco or sparkling wine!
Orange Juice – I use no-pulp Simply Orange juice, because I'm not a fan of pulp, but, again, use whatever you like the best. That could be a different brand, juice with pulp, or even freshly squeezed juice!
Pro tip
Make a mimosa bar! Set out different kinds of bubbly and juices and have people make their own creations!
How to make
Pour champagne into your glass about 3/4ths of the way up.
Top with orange juice then serve and enjoy!
How to make big batch mimosas
If you're hosting a brunch and serving mimosas to a lot of people, I recommend setting up a mimosa bar rather than trying to make a mimosa pitcher. Provide various juices, garnishes, and alcohol options so your guests customize their own drinks!
It's easier for you AND keeps the champagne or sparkling wine nice and bubbly.
Mimosa ratios
My rule of thumb is 3 parts champagne to 1 part orange juice, but adjust the ratio to whatever you like best!
The great thing about homemade cocktails is they're totally customizable. Want more champagne? Add more! Want a less boozy cocktail? Add more juice!
Pro tip
Start with less alcohol and add more to taste!
How much alcohol is in a mimosa?
Champagne typically has about 12% alcohol – one serving is 6 oz. Traditionally, a mimosa is three parts champagne (about 4.5 oz) to one part orange juice (1.5 oz) but this is totally up to you! Prefer a stronger drink? Add more champagne. Like it sweeter? Lessen the amount of alcohol and add more juice.
What is a good champagne for mimosas?
This is another one of those "you decide" moments but typically mimosas are made using a dryer or more "brut" champagne to offset the sweetness of the juice!
You can spend as much or as little as you want on champagne. I usually spend between $10 and $20 a bottle.
The type of champagne you use depends on your personal tastes! "Brut" champagnes are less sweet, "sec" are moderately sweet, and "doux" are sweetest.
Some people like dryer, more brut champagnes while others prefer sweeter, wetter, doux champagnes.
Ultimately, how much money and the type of champagne you choose is up to you!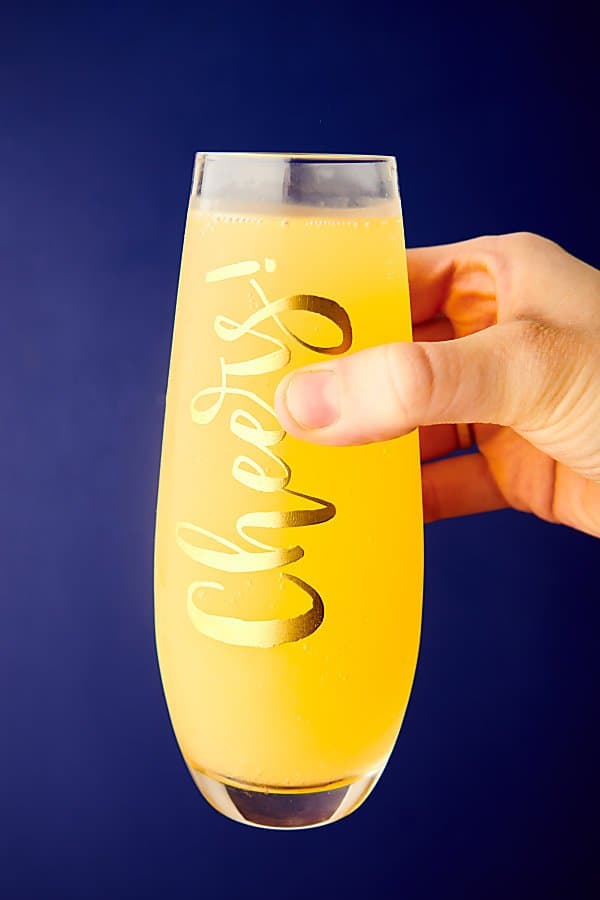 Tips and tricks
This recipe is so easy and so delicious but here are some of the things I do to make sure my mimosa is at its ultimate freshness!
Chill your ingredients. Warm mimosas aren't quite as refreshing. Trust me. 😉
Chill your glasses. This keeps the drinks colder for longer.
Add your champagne first. Pour your champagne first, then top it off with juice. This prevents the bubbles from spilling over the sides of the glass.
Use champagne flutes. Champagne flutes are designed to preserve carbonation so if you have them, use them! If you don't have champagne flutes, wine glasses will work as well.
Tilt your glass when pouring. This also helps preserve carbonation. The bubblier, the better!
Don't stir. The bubbles in the champagne help the drink mix itself. Avoid stirring the drink or you'll flatten the drink.
Mimosa variations
I've said it before and I'll say it again…making your own cocktails is the way to go because you get to customize it just for you! There are so many fun ways to make mimosas so I love to play around with flavors, ratios, etc.
Use a different juice. Cranberry, pineapple, pomegranate, blood orange, grapefruit, peach, apple, watermelon, pear, you name it!
Add liqueur.  Mix in a splash of orange liqueur, vodka, etc. for an extra kick.
Add fruit puree. Put a dash of fresh fruit puree in the bottom of your champagne flute before adding your liquids for some extra flavor.
Make it non-alcoholic. Try using a non-alcoholic sparkling juice or even a flavored sparkling water for a fun mimosa mocktail.
How to serve mimosas
Classic mimosas are served in chilled champagne flutes for ultimate freshness! The champagne flutes help preserve bubbles and, if they're chilled before you pour your drink, they keep the drink cooler longer too!
I love to serve mine up plain or garnished with orange wedges and/or other fresh fruit. They're good no matter what, let's be honest. 😉
What to serve with mimosas
Pretty much any brunch food is just THAT much better with a mimosa in hand. 😉 Here are some of my favorites!
See all my breakfast recipes!
How to store
I don't recommend making mimosas ahead of time. Because they're so easy to whip up, you're better off making them right before you're ready to drink. That way they're super cool, super fresh, super carbonated, and super delicious!
– Jennifer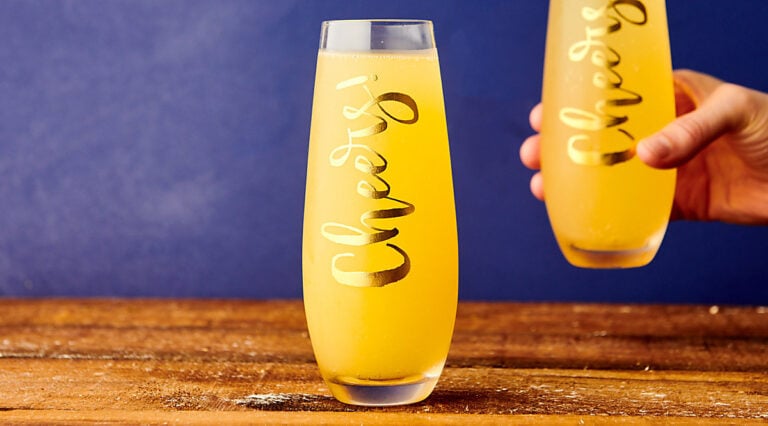 Mimosa
This Mimosa recipe is as easy as it gets. Two ingredients and two minutes for the perfect bubbly brunch cocktail! 
Equipment for this recipe
(equipment shown are affiliate links)
Ingredients
3

parts

champagne

chilled

1

part

orange juice

chilled
Instructions
Pour champagne into champagne flute, about 3/4ths of the way up.
Nutrition Information
Nutrition Facts
Mimosa
Amount Per Serving (1 cocktail)
Calories 82
Calories from Fat 9
% Daily Value*
Fat 1g2%
Sodium 9mg0%
Potassium 197mg6%
Carbohydrates 6g2%
Protein 1g2%
Vitamin A 85IU2%
Vitamin C 21mg25%
Calcium 11mg1%
Iron 1mg6%
* Percent Daily Values are based on a 2000 calorie diet.
*Note: Nutrition information is estimated and varies based on products used.
Keywords:
2 ingredient, alcoholic drink, champagne