This Christmas Crack is crunchy, salty, and sweet! Saltine crackers are layered with a 2 ingredient caramel, melted chocolate, and toffee bits. The best holiday candy!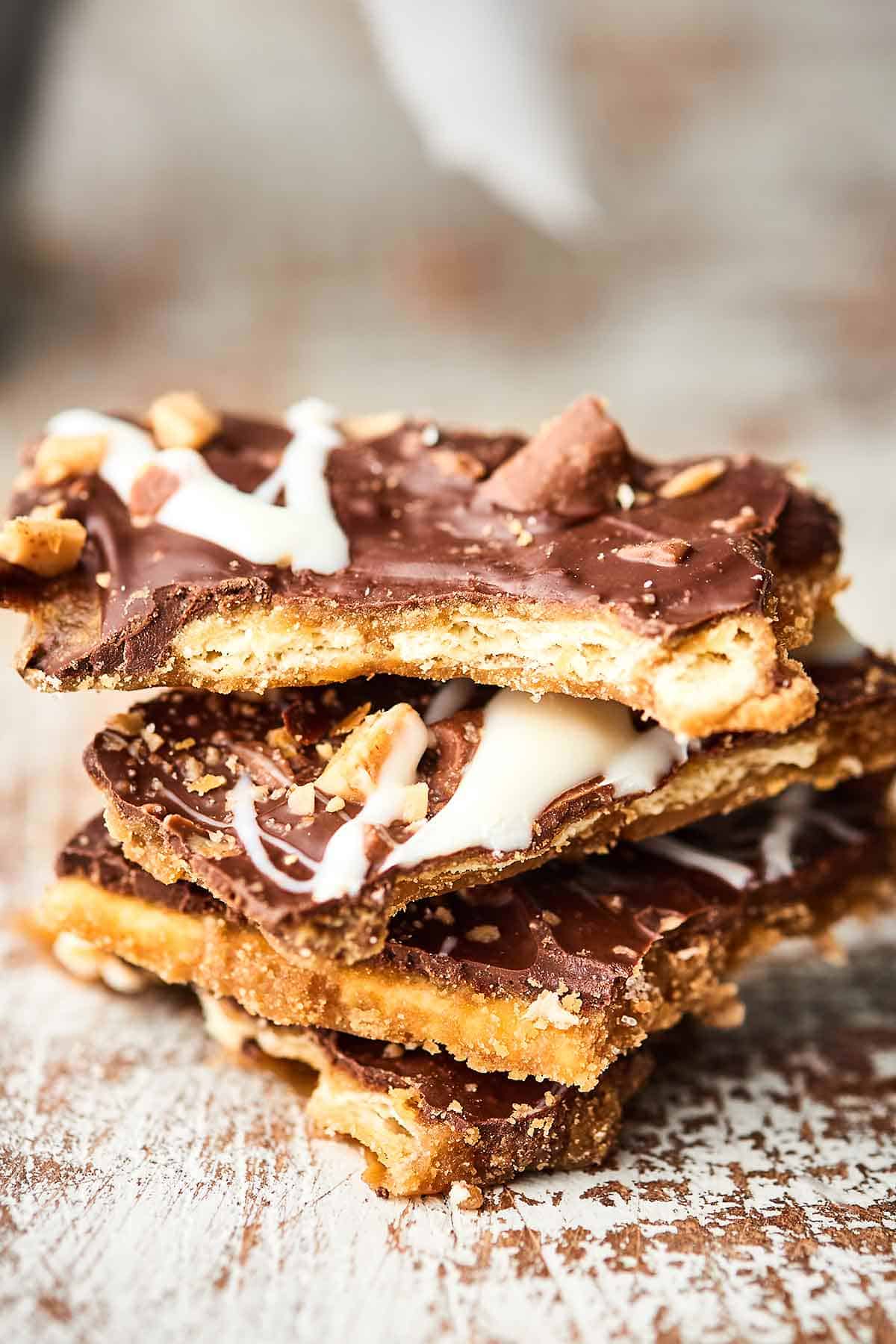 This Christmas crack recipe is the perfect combination of sweet, salty, caramel-y, chocolate-y, crunchy amazingness. Everyone loves it, it's crazy easy to make, and it's SO ADDICTING.
Ingredients
This Christmas crack is sweet, salty, nutty, chocolate-y, crunchy and so good…and you only need six ingredients to make it!
Saltine Crackers – provides a crispy, crunchy, mild flavored base for the caramel and chocolate. The salty flavor helps to cut the sweetness from the sugar. See other cracker suggestions if you don't like saltine crackers or want to switch it up!
Unsalted Butter and Brown Sugar – boiled together to make the easiest two ingredient homemade "caramel". The best part? You don't need a candy thermometer. Simply bring the mixture to a boil, then boil while stirring constantly for about 3 minutes, or until it's a rich golden color. If you want to take it to the next level, feel free to add in a pinch of salt and a splash of vanilla after cooking.
Chocolate – melted over the caramel for a delicious chocolate-y flavor. Use whatever chocolate you have on hand. We like dark chocolate to keep this candy from being overly sweet, but any chocolate that melts: white chocolate, semi-sweet, milk chocolate, etc. will work just fine. If you're not a chocolate fan, check out how to make without chocolate!
Heath Toffee Bits and White Chocolate – our toppings! Heath toffee adds a nutty flavor to compliment the caramel and an extra crunchy texture. White chocolate is melted and drizzled over the top of the Christmas crack for a rich flavor and creamy texture. Want different ideas? Check out other ways to top your Christmas cracker candy.
Pro tip
Feel free to mix it up! Use dark, milk, or semi-sweet chocolate chips. Don't love white chocolate? Try a peanut butter chip drizzle instead! Replace the toffee bits with festive colored mini M&Ms! Use a different cracker. The options are endless.
How to make
This delicious Holiday sweet treat is ready in 15 minutes!
Place crackers side by side on a baking sheet lined with greased parchment paper.
In a large saucepan, mix together butter and brown sugar then bring to a boil, stirring constantly.
Pour the butter/sugar mixture over the crackers and bake for 5 minutes.
Remove from the oven and layer chocolate chips on top. Let that stand for 5 minutes then use a spoon to spread the melted chocolate chips over the crackers.
Top with toffee and drizzle with white chocolate, then cool in the fridge or freezer.
Break into pieces then serve and enjoy!
Pro tip
Try your best to create even layers of crackers that are touching. This ensures that the toffee doesn't run through the cracks which would make the final product harder to remove from the pan!
Can you use a different cracker?
Yes. Saltine crackers are most commonly used and are great for their buttery, salty flavor and crispy texture, but salted matzos, ritz crackers, club crackers, graham crackers, or even pretzels will work as well.
Whatever cracker you use, look for a thin, crisp texture and mild, slightly salty flavor to balance the sweetness from the sugar and chocolate.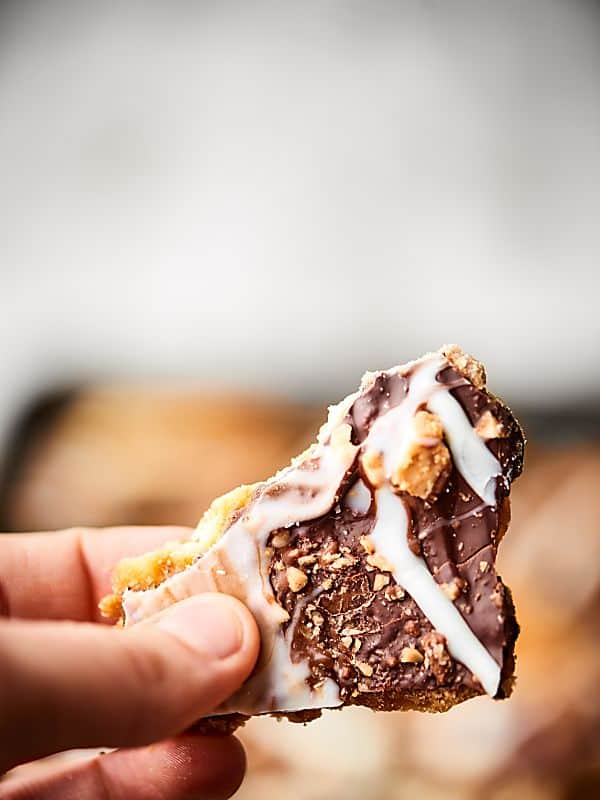 Can you make christmas crack without chocolate?
You can make this recipe without chocolate if preferred. Here are a few suggestions:
Replace the chocolate with something else. Follow the recipe as directed, but replace the bag of chocolate chips with peanut butter chips, caramel chips, or butterscotch chips instead.
Omit the chocolate, but keep the toppings. Make the recipe as directed, skip the chocolate, but top with your toppings of choice, then cool, break and serve!
Omit the chocolate and the toppings. Make the recipe as directed, skip the chocolate and toppings, then cool, break and serve!
Pro tip
If you're not a fan of dark chocolate try replacing it with milk or semi-sweet chocolate.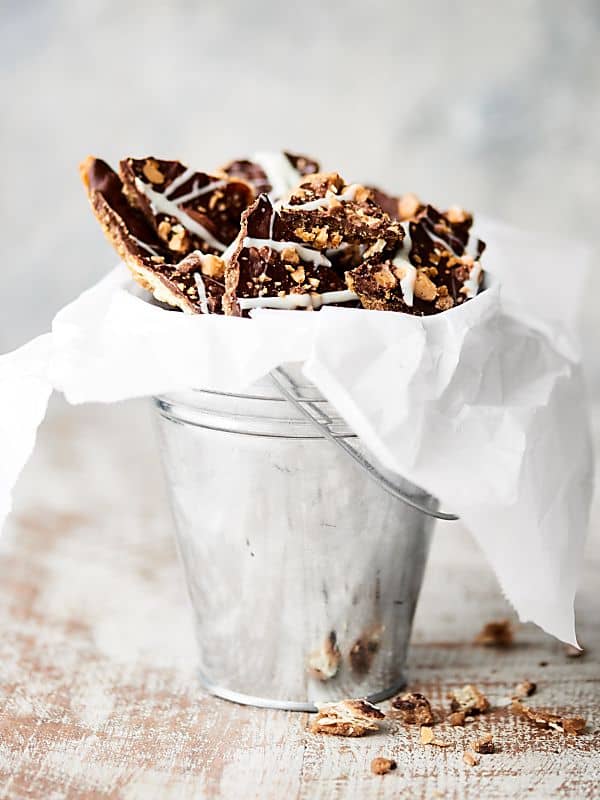 Why is my christmas crack chewy?
There are a couple of reasons your cracker candy might have come out chewy.
Your crackers are expired. Make sure the crackers are fresh and crispy!
You didn't boil the butter/brown sugar long enough. You want to bring the butter/sugar mixture to a boil and let it boil for 3 minutes. That sweet spot results in a crunchier, harder candy when it cools, not soft and chewy.
You didn't cool it long enough. Make sure you chill the assembled dessert for at least 2 hours in the fridge or 1 hour in the freezer so it has time to firm up. If any of the layers are still warm, the Christmas crack will be soft.
How to prevent the layers from separating
Don't let the caramel cool. Once the crackers are removed from the oven, the chocolate chips need to be placed immediately onto the hot caramel.
Melt the chocolate completely. Once the chocolate chips have been sprinkled onto the caramel let them sit for 5 minutes. If the chocolate isn't easily being spread, pop the baking sheet into the warm oven until the chocolate has melted, then use the back of a spoon to spread it evenly over the caramel.
Try a different brand of chocolate. Some chocolate chips just simply don't melt well or have a higher percentage of cocoa which may result in it not sticking to the caramel.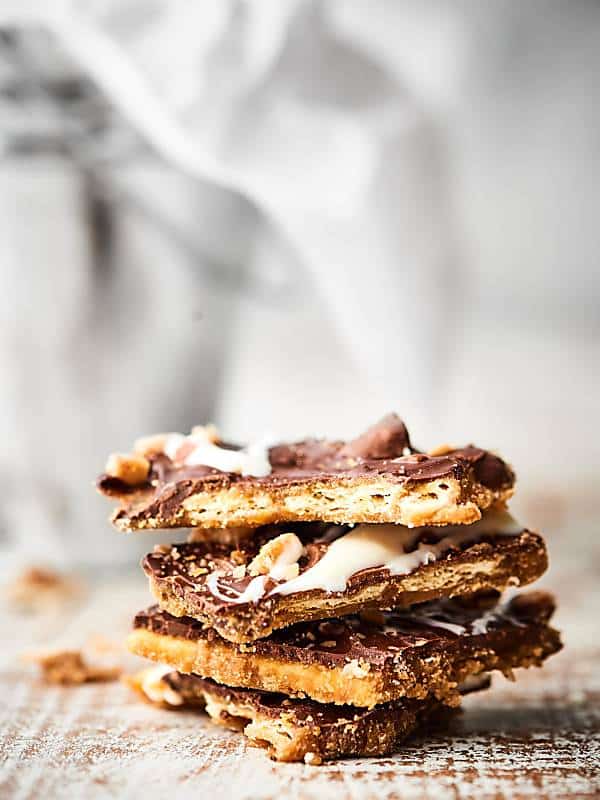 Other ways to top your christmas cracker candy
Add texture. Try crushed nuts, peppermints, or pretzels for a nutty, minty, or salty crunch.
Add candies, cookies, or fruit. Try M&Ms, crumbled Oreos, toasted coconut, dried fruit, you name it.
Add a drizzle. Swap the white chocolate for melted semi-sweet, milk, or dark chocolate, or melted peanut butter chips.
Make it festive. Add red and green sprinkles for a truly merry finish!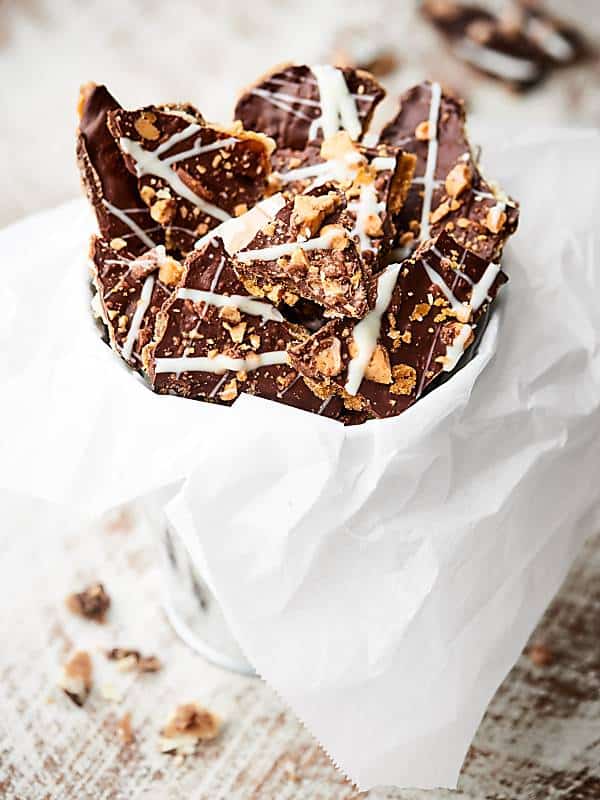 How to store
Leftover Christmas crack will keep in an airtight container in the fridge for 1 week or in the freezer for up to 3 months.
Eat frozen or enjoy chilled in the fridge!
– Jennifer
Need more Christmas treats? Be sure to check out all our holiday desserts!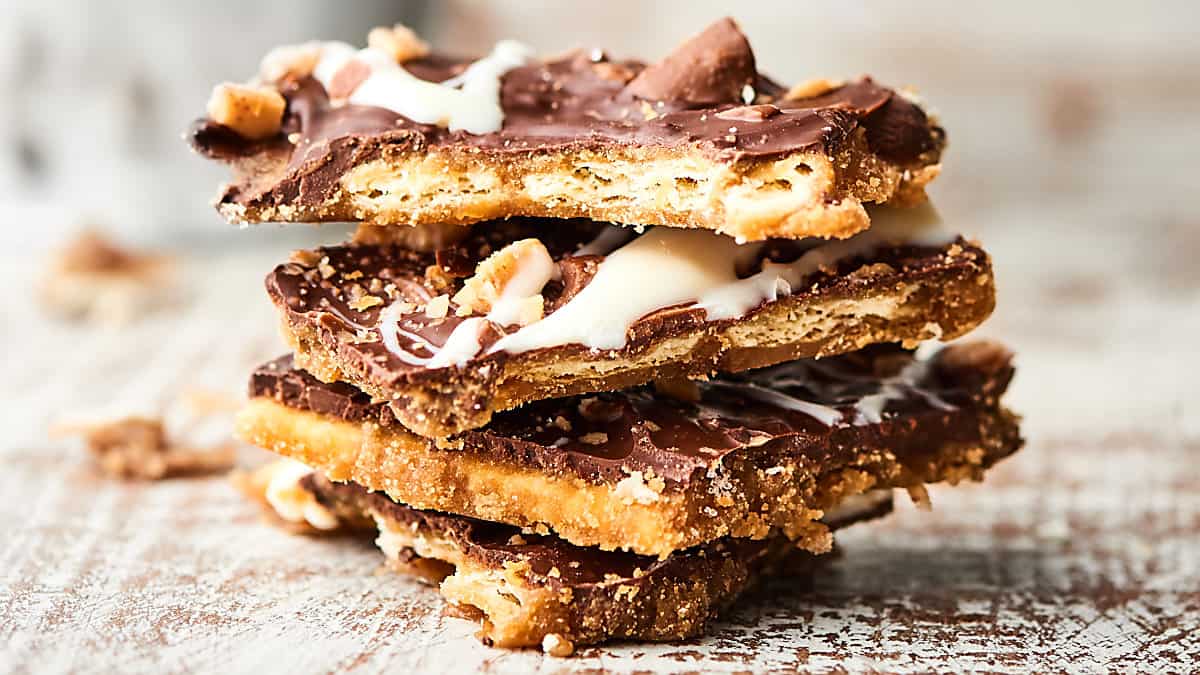 Christmas Crack Recipe
This Christmas Crack is crunchy, salty, and sweet! Saltine crackers are layered with a 2 ingredient caramel, melted chocolate, and toffee bits. The best holiday candy!
Equipment for this recipe
(equipment shown are affiliate links)
Ingredients
1

sleeve

salted saltine crackers

about

42 crackers

1

cup

unsalted butter

2 sticks

1

cup

brown sugar

packed

1

(12 oz) package

dark chocolate chips

can use semi-sweet or milk chocolate

heath toffee bits

white chocolate

melted
Instructions
Preheat oven to 375 degrees F and line a rimmed cookie sheet with parchment paper. Grease parchment paper with cooking spray.

Place crackers side by side on lined pan. Set aside.

In a large saucepan, combine butter and brown sugar.

Bring to boil over medium/medium-high heat and boil for 3 minutes, stirring constantly.

Pour evenly over crackers.

Bake in preheated oven for 5 minutes.

Remove from oven and sprinkle chocolate chips on top.

Let stand for 5 minutes, then use the back of a spoon to spread melted chocolate chips evenly over the crackers (if the chocolate chips aren't melting, place in warm oven)

Top with toffee bits and drizzle with white chocolate.

Cool completely in fridge (at least 2 hours) or in freezer (at least 1 hour), then break into pieces.

Store in fridge in covered airtight container.
STORING
Reheat:
Thaw in fridge, if frozen
*Storage times may vary based on temperature and conditions
Notes
Nutritional information does not include Heath or white chocolate. 
Nutrition Information
Nutrition Facts
Christmas Crack Recipe
Amount Per Serving
Calories 302
Calories from Fat 171
% Daily Value*
Fat 19g29%
Cholesterol 31mg10%
Sodium 109mg5%
Potassium 168mg5%
Carbohydrates 31g10%
Protein 3g6%
Vitamin C 1mg1%
Calcium 77mg8%
Iron 1mg6%
* Percent Daily Values are based on a 2000 calorie diet.
*Note: Nutrition information is estimated and varies based on products used.
Keywords:
christmas candy, saltine crackers, toffee
This post was originally published December 5, 2016 and has been updated to provide more detailed content.