Add this Christmas Crack (aka Easy Saltine Toffee Candy) to your holiday baking list! Only 6 ingredients necessary to make the most addicting holiday treat yet! It's the perfect combo of sweet/salty/crunchy!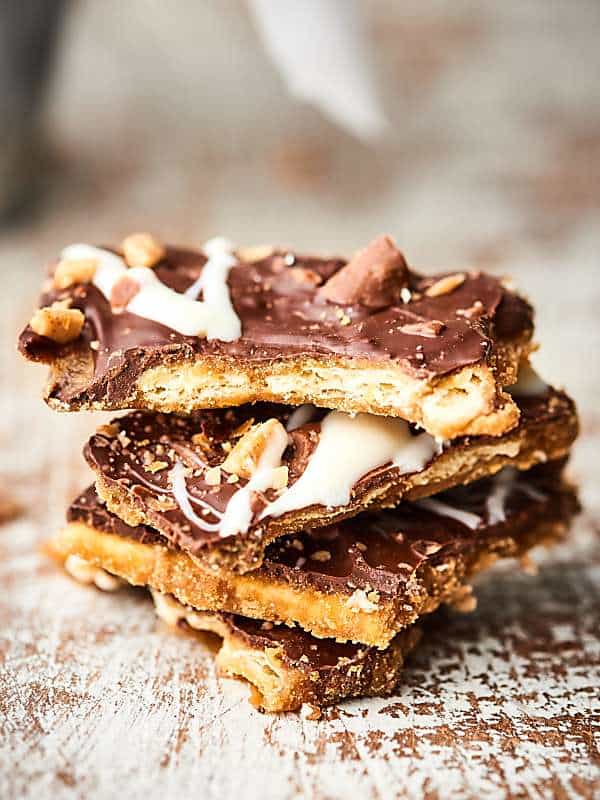 I have a very important announcement to make.
This week . . .
Is CHRISTMAS COOKIE AND CANDY WEEK!
Get excited, because I have 4 new recipes comin' at ya: two new candy recipes and two new cookie recipes. Plus, I think we're going to do a Facebook Live video on Saturday to make MORE candies and cookies, so stay tuned!
Today, we're kickin' off Christmas Cookie and Candy week with the most perfect, easy, addicting holiday treat: Christmas Crack!
Everyone loves it, it's crazy easy to make, it's sweet and salty, AND you only need six ingredients to make it!
Are you ready to get your holiday bake on?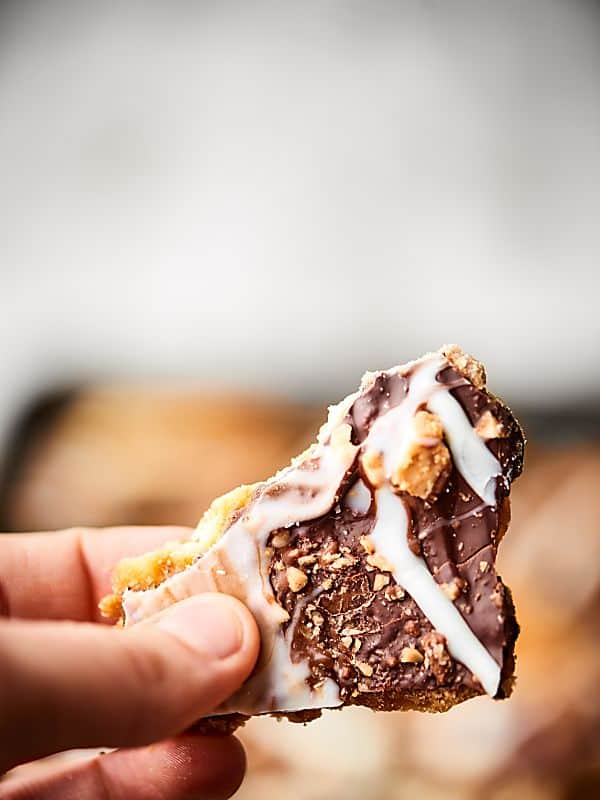 I originally got the recipe for this treat from my neighbor Cristina (Hiiiii Cristina! 👋). She brought some over to us a few months ago and I was immediately hooked.
It honestly is the perfect combination of sweet, salty, caramel-y, chocolatey, crunchy amazingness.
I asked her if it was easy to make and she said it's literally the easiest candy recipe ever.
And you guys, this is actually the easiest candy recipe.
Ever.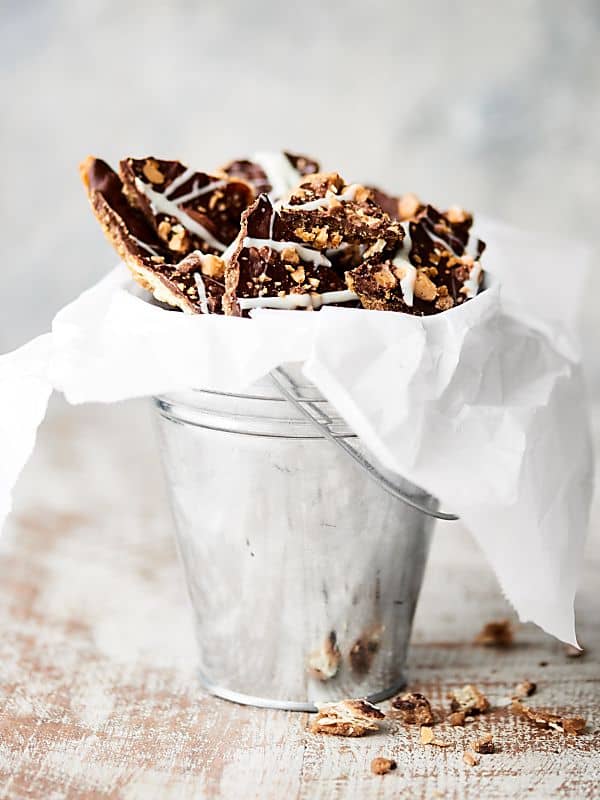 All you do is combine butter and brown sugar into a large saucepan.
Let it boil for a couple minutes, then pour it over saltine crackers.
Bake the crackers in the oven for 5 minutes, top with dark chocolate chips, spread melted chips, top with toffee bits and white chocolate, and let harden in the fridge or freezer.
Crack into pieces and
d.e.v.o.u.r.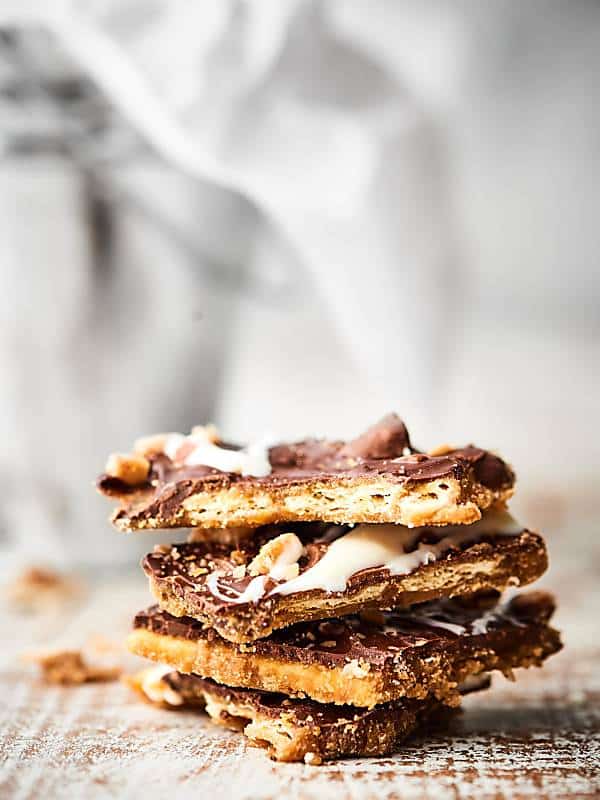 Like, seriously, try to stop yourself at just one piece.
It's nearly impossible.
I'm sure you guys have seen or even made Christmas Crack before, but THIS recipe is the best, because I use one whole sleeve of saltines, TWO whole sticks of butter, and one whole package of dark chocolate chips. Meaning, there's hardly any measuring to do at all!
Easy. Addicting. Perfection.
Make this Christmas Crack for yourself, or make it to give out for holiday gifts.
And if you do… could you send a little more my way?
Please? 😉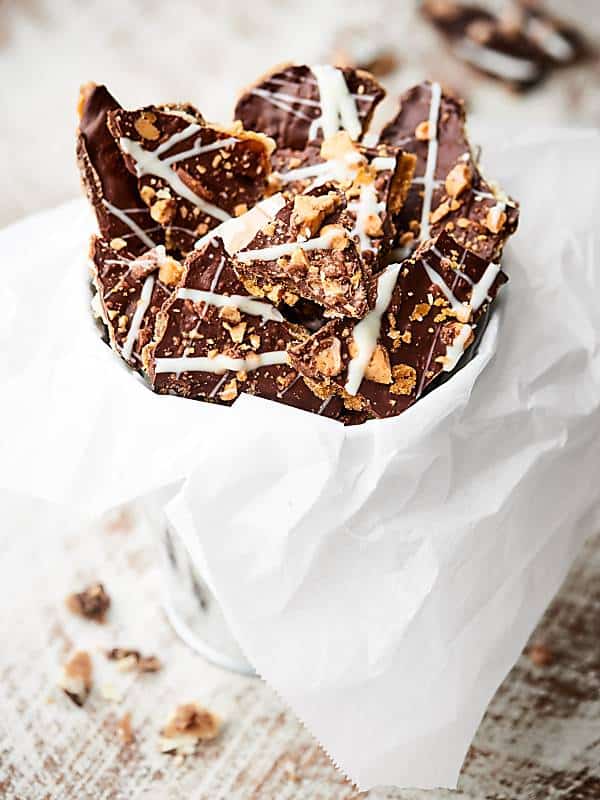 Happy Holidays!
– Jennifer
What's YOUR favorite holiday candy recipe? Be sure to stay tuned this week for THREE more recipes! Show Me the Yummy!
Christmas Crack Recipe
Add this Christmas Crack to your holiday baking list! Only 6 ingredients necessary to make the most addicting holiday treat yet! It's the perfect combo of sweet, salty, and crunchy!
Servings
:
6
people
Results and timings may vary when adjusting servings
Ingredients
1

sleeve

salted saltine crackers

about 42 crackers

2

sticks (1 cup)

unsalted butter

1

cup

brown sugar

packed

1

(12 oz)

package

dark chocolate chips

heath toffee bits

white chocolate

melted
Instructions
Preheat oven to 375 degrees F and line a rimmed cookie sheet with parchment paper. Grease parchment paper with cooking spray.

Place crackers side by side on lined pan. Set aside.

In a large saucepan, combine butter and brown sugar.

Bring to boil over medium/medium-high heat and boil for 3 minutes, stirring constantly.

Pour evenly over crackers.

Bake in preheated oven for 5 minutes.

Remove from oven and sprinkle chocolate chips on top.

Let stand for 5 minutes, then use the back of a spoon to spread melted chocolate chips evenly over the crackers.

Top with toffee bits and drizzle with white chocolate.

Cool completely in fridge (about an hour or two) or in freezer (about 20 minutes), then break into pieces.

Store in fridge in covered airtight container.
Make this recipe?
Show

ME

the Yummy
Tag @ShowMeTheYummy & #ShowMeTheYummy on Instagram