This easy shrimp alfredo is an impressive dish that's so easy to make! Penne pasta, shrimp, vegetables, and a creamy alfredo. What's not to love?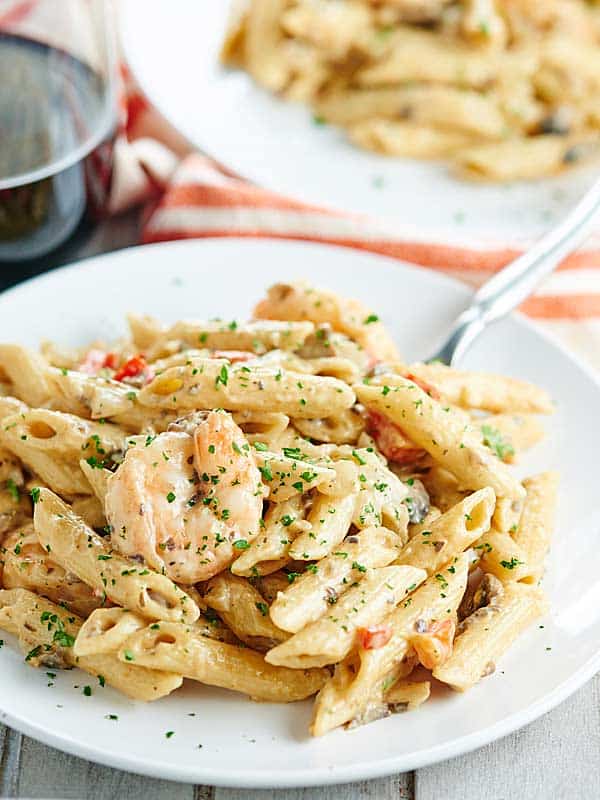 It's the happiest of Monday's over here at SMTY. 😁 Why you ask? Because last Friday, Trevor and I celebrated our 🎉 ONE-YEAR-ANNIVERSARY! 🎉 Yep! We made it. 😉
To celebrate, Trevor, being the sweet man he is, wanted to give me a break from the kitchen and make me dinner. Not just any dinner, however…for this dinner, he made his infamous Easy Shrimp Alfredo or as we call it at home "Magic Pasta".
You guys.
This easy shrimp alfredo is, ahem, easy, impressive, and just overall my favorite thing ever. It's full of perfectly al-dente penne, tender shrimp, and is smothered in a dreamy-creamy as spicy as you want it alfredo sauce. 😍
This dish always makes me fall in love all over again…
with magic pasta Trevor… of course! 😉
Be extra sure to watch the video below 👇 for two reasons:
1. It'll just go to show you how darn easy this recipe is.
2. We talk about why this easy shrimp alfredo is so special to us. Hint: Trevor made this for me on our first date and when we got engaged in Maui! 💋💋💋 Hint #2 – We include the actual footage from our engagement! Eeek!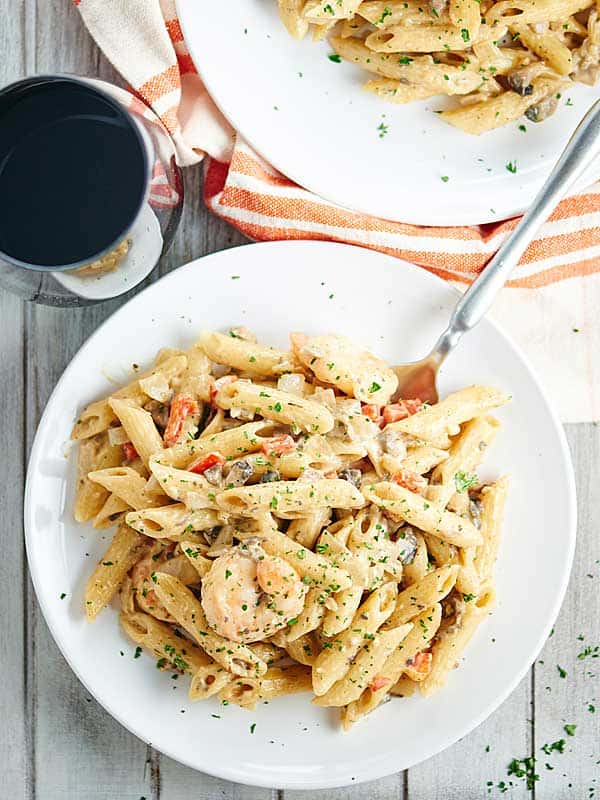 As you can see 👆, this easy shrimp alfredo has so many amazing memories attached to it, but even if it didn't, I think I'd love it just as much. You really can't go wrong when pasta, shrimp, vegetables, and creamy alfredo are involved.
That's one of my favorite things about food, you know? The memories that so easily attach to it. Every time I see/smell the fresh mushrooms, red pepper, onions, and garlic being chopped, it immediately transports me to our first date and the night we got engaged.
Seriously though. Yum.
To make things even more special last Friday, we cracked open a bottle of Merlot from Avignonesi (that we enjoyed in my fave stemless wine glasses)that we had been saving for a special occasion. It was so nice for me to just sit back and relax while Trevor cooked, enjoy some wine, and reminisce about our engagement…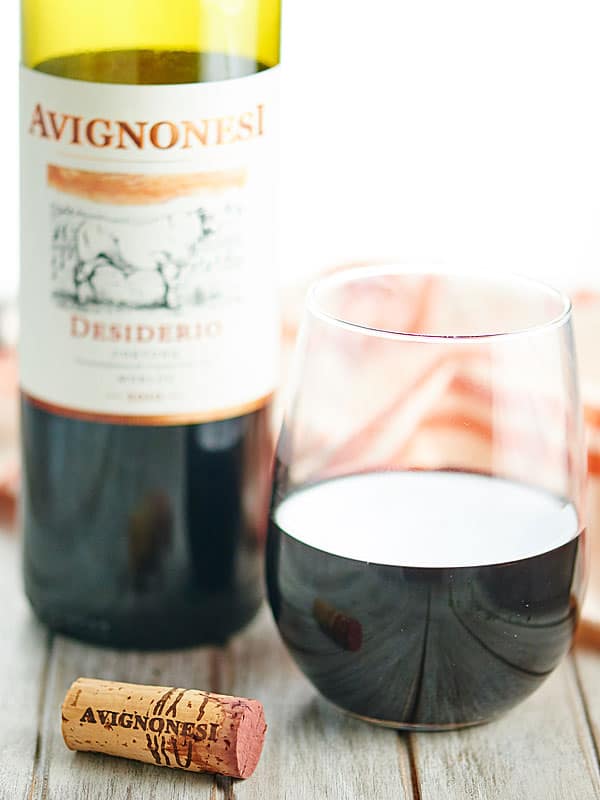 But wait. Enough with the mushy stuff. 🙅 We're supposed to be talkin' shrimp alfredo, guys!
This is:
Easy.
Yummy.
Magical.
Yummy.
Here's what you need to do:
Saute some veggies in a little butter and olive oil ♡, add in the shrimp – cook that for a bit and then….
(are you ready for the top secret ingredient that makes this so darn yummy and easy?!)
add in store-bought Alfredo sauce! Yep! That's right. Don't knock it 'til you've tried it. We're keepin' things simple today and it really makes a great basic base that we take up a notch with a hefty splash of heavy cream, romano cheese, freshly ground pepper, salt, and plenty of cayenne!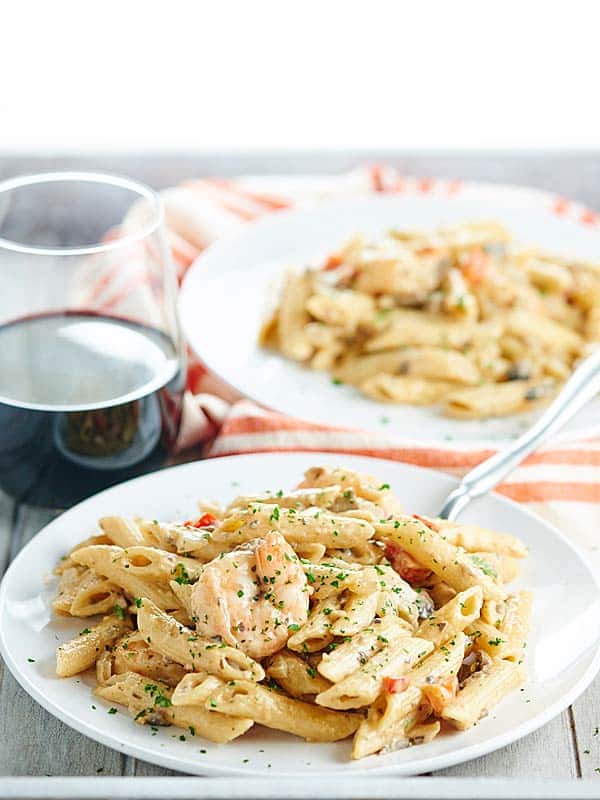 This mixture simmers for a bit, we add in some penne pasta, and then wham-bam-thank-you-ma'am…we're done!
After the cooking was done, and the dishes were put away, we thoroughly enjoyed this easy shrimp alfredo. Like I said, the pasta was perfectly al-dente, and man-oh-man, Trevor knows how to cook some goooooood shrimp. And that sauce? I can't even. I have no words.
It's just that delicious. I promise. 🙂
If you're looking for an easy dish to impress your significant other with…look no further, this easy shrimp alfredo is for you!
To many more years filled with love, happiness, and yes, plenty of easy shrimp alfredo. 😉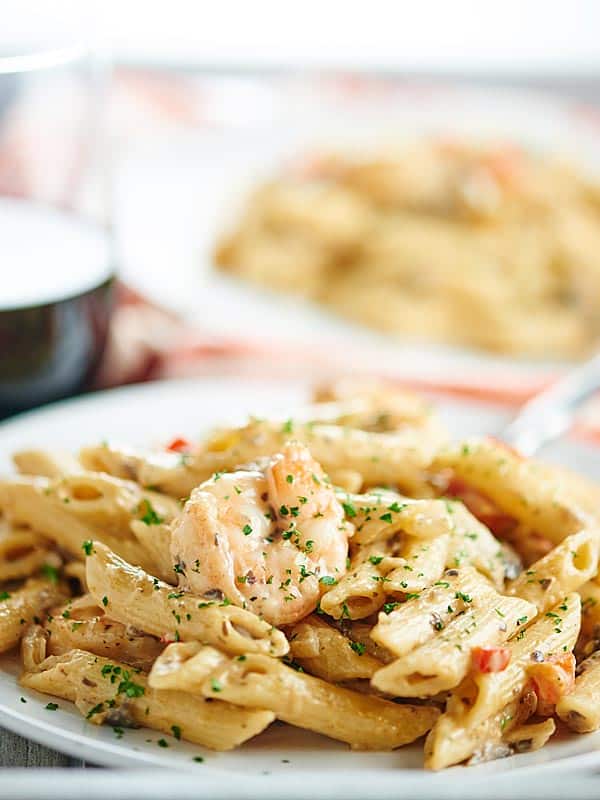 Cheers! 🍷
– Jennifer
Looking for other dishes to fall in love with? Check these out:
Beet Pasta with Arugula, Lemon, & Goat Cheese
Easy Shrimp Alfredo
This easy shrimp alfredo is an impressive dish that's so easy to make! Penne pasta, shrimp, vegetables, and a creamy alfredo. What's not to love?
Servings
:
6
people
Results and timings may vary when adjusting servings
Ingredients
1

(16 oz) box

penne

1/4

cup

unsalted butter

2

tablespoons

extra virgin olive oil

1

yellow onion

diced

1

red bell pepper

diced

1

(8 oz) package

portobello mushrooms

roughly chopped

6

cloves

garlic

minced

1

pound

medium/large shrimp

peeled, de-veined, tails off

1

(15 oz) jar

alfredo sauce

1/2

cup

grated Romano cheese

1/2

cup

heavy cream

cayenne pepper

to taste

salt

to taste

pepper

to taste

chopped parsley

to garnish - optional
Instructions
Bring a large pot of salted/oiled water to a boil.

Heat a large non-stick pan over medium heat.

Once hot add in olive oil and butter.

Once butter has melted add in diced onions. Cook for about 3 minutes, or until onions have started to soften.

Add in red bell pepper and cook an additional 2 minutes.

At this time, cook your pasta. Your pasta should finish at about the same time the sauce has been completed.

Add in mushrooms and garlic.

Add in shrimp and saute until the shrimp starts to turn pink.

Stir in Alfredo, romano, and heavy cream and let simmer for 5 minutes.

Stir in spices. Taste and re-season if necessary.

Drain pasta and stir pasta into the sauce.

Serve immediately with optional parsley!
Make this recipe?
Show

ME

the Yummy
Tag @ShowMeTheYummy & #ShowMeTheYummy on Instagram
This is not a sponsored post, we were, however, provided with the absolutely amazing Desiderio Merlot from Avignonesi. Thank you for making our first anniversary so special! 🙂 
* This post contains affiliate links. We receive a commission on purchases made via these links. The price you pay is not affected by using them.