These Cranberry Brie Bites are melt-in-your-mouth delicious. Buttery, slightly crispy, golden-brown puff pastry is topped with melty brie cheese, tangy cranberry sauce, crunchy pistachios, salty bacon, and sweet honey…these are sure to be a hit at any party!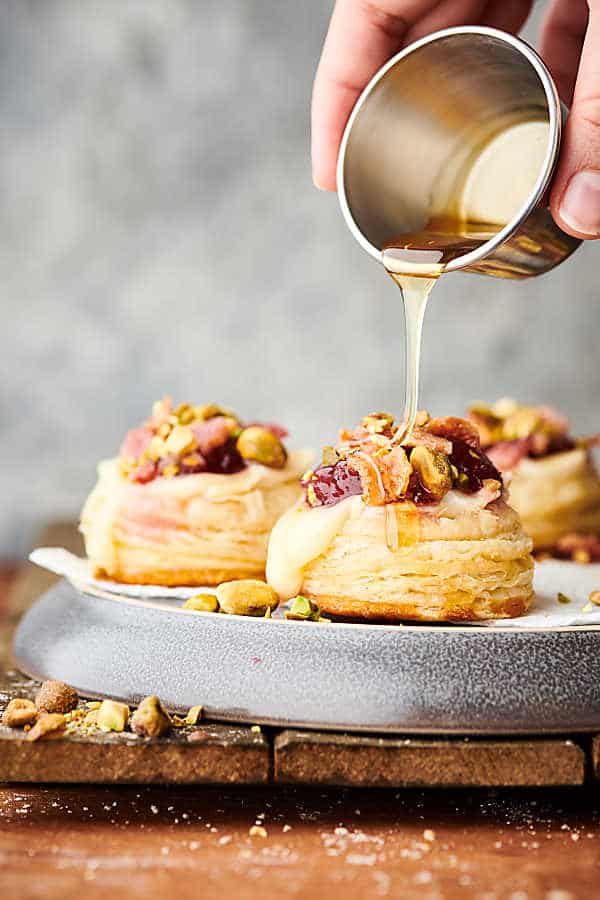 I'm a big cheese fan (hello, we used to live in Wisconsin). Gimme cheddar, gimme blue, gimme goat . . . just gimme all the cheeses. Although I love all cheese, one of my all-time favorites is brie. It can be sweet, it can be savory, it's a little earthy, and it's always gooey and delicious.
You guys, the MVP for today's recipe: cranberry brie bites is obviously BRIE. Just picture this with me: crispy, buttery puff pastry topped with the aforementioned gooey brie, tart cranberry sauce, crunchy pistachios, salty bacon, and of course, a sweet honey drizzle. Although they sound incredibly elegant, they're actually SO SIMPLE to make. They're the perfect quick appetizer to whip up for any party. Buttery and sweet with a little bit of savory . . . they're sure to be the MVP of the party.
If you love brie cheese as much as I do, you'll love this Pork and Brie Puff Pastry Bites Recipe, this Strawberry Baked Brie Recipe, and these Pork, Brie, and Fig Hand Pies!
Ingredients
You just need five ingredients (and one optional ingredient) to construct these cranberry brie bites! Because the ingredient list is so short, these make the perfect last minute appetizer to whip up for any occasion. Because they look so elegant, nobody will know how easy these actually are. 😉
Frozen Puff Pastry – a flakey, buttery, and melt-in-your-mouth base for these bites. Although this is my preferred base, you could use crackers in a pinch and make a deconstructed version of this recipe!
Honey – gives a delicious sweet flavor to complement the tanginess of the cranberry and earthiness of the brie. A little drizzle goes a long way!
Brie Cheese – super buttery and creamy, brie cheese is perfect for these melt-in-your-mouth appetizers. Feel free to use your favorite flavor/brand of brie, but PLEASE stick with brie. It holds it's shape nicely, while also melting beautifully . . . a pretty unique trait to brie!
Cranberry Sauce – adds a delicious tang to the bites. I love using cranberry sauce, because I always have a can leftover from the holidays!
Salted Pistachios – give an incredible crunchy texture to offset the gooey brie and crispy puff pastry. The green color in combination with the red cranberry sauce gives these bites such a festive look!
Bacon (optional but highly recommended!) – adds a nice savory flavor and crunchy texture.
Feel free to play around with ingredient amounts (I rarely measure in this recipe) and flavors! Dislike cranberry sauce? Use raspberry preserves, then skip the honey (it'll be sweet enough on it's own). Don't have pistachios? Try another salted nuts . . . anything to give some crunch! Have vegetarians coming over? Ditch the bacon!
How to make cranberry brie bites
These bites only require about 5 – 1o minutes of active prep and 20 minutes of cook time. I love serving these fresh out of the oven while the brie is still ultra gooey, but have no fear, they're also sturdy enough to sit out at room temperature for a bit if you have other recipes to prep before serving!
Lay out one sheet of puff pastry, drizzle with honey, then sandwich with another puff pastry sheet.
Use a cookie cutter to cut the puff pastry into 9 rounds. Place those 9 rounds onto a baking sheet lined with a silicone baking mat then top each round with an additional round. Gently press down so they stick together. See video for visuals.
Bake for 15 minutes then place one chunk of brie on each pastry round. Cook for an additional 5 minutes.
Top each round with cranberry sauce, chopped nuts, bacon, and honey, then serve and enjoy!
That's all! Four steps and you've got the easiest, the yummiest, the prettiest puff pastry appetizer of all time!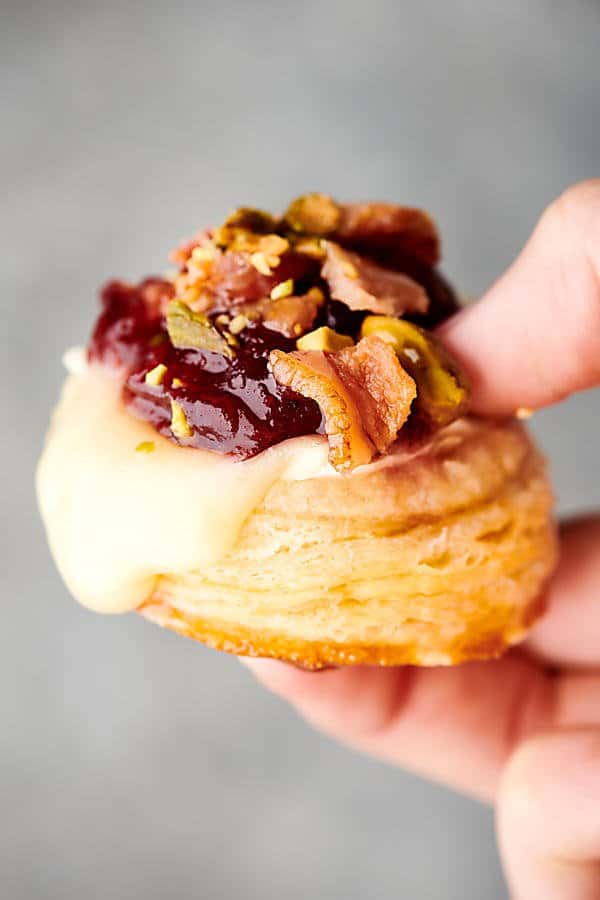 Do you eat the rind on brie cheese?
The rind on brie cheese is edible and adds texture and flavor to the cheese. It also helps the cheese hold it's shape instead of completely oozing off the side, so I like to leave mine on. However, if you don't like the flavor of the rind – it IS a bit earthy for some people – just cut it off.
If you're going to remove the rind, be sure you're working with chilled brie! Warm or room temperature brie is stickier, making it harder to remove the rind. To cut the rind off the brie, simply stand the cheese on its side on a clean cutting board, then use a sharp knife to slice both circular ends off of the brie. Then lay the brie flat on the cutting board and cut off the sides. Be sure to work relatively quickly so the cheese doesn't stick to the cutting board.
Recipe variations
I LOVE the cranberry and brie together in these bites, but if you want to play around with flavors, here are some SUPER YUMMY variations:
Swap the filling. Try using jam instead of cranberry sauce! That could be raspberry, apricot, peach, or whatever your favorite jam is. It's all delicious! Pro tip: cranberry sauce is more tart than a jam, so if you're using a sweet jam, you may want to ditch the honey.
Go the savory route. Instead of using a sweet jam, try using a savory sauce like pesto! If going the savory route, ditch the honey and maybe add a crumbled cheese like feta.
Switch up the nuts. Instead of using pistachios, try switching them out for toasted pecans or walnuts.
Whatever you decide, these pastry bites will definitely be a HUGE HIT! What are some of your favorite variations on cranberry brie bites? Let me know in the comments below!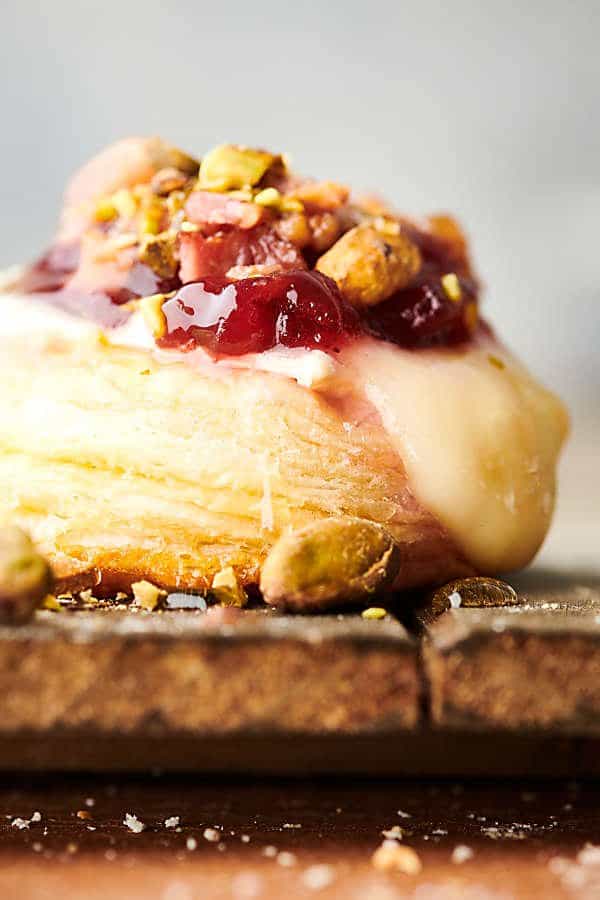 Can i make these brie bites ahead of time?
I wouldn't recommend it. These are incredibly quick to make and are best served warm, so if you can avoid it, don't make these in advance. Why? Because the puff pastry won't be as crispy – the cranberry sauce will make it soggy, the cheese won't be quite as gooey, and the other ingredients like the bacon and nuts won't be as crunchy. I promise you, there really is very little prep work.
Pro tip
Plan ahead! Frozen puff pastry needs to come out of the freezer for about 20 minutes before you can work with it. Be sure to read the box for exact thawing instructions.
How to store
After being baked, these cranberry brie bites can be stored in an airtight container in the fridge for up to three days. They can also be stored in the freezer for up to two months.
To reheat, place the bites back on a baking sheet lined with a silicone baking mat and bake at 375 degrees F until warmed through. You can also serve them at room temperature if that's your preference!
– Jennifer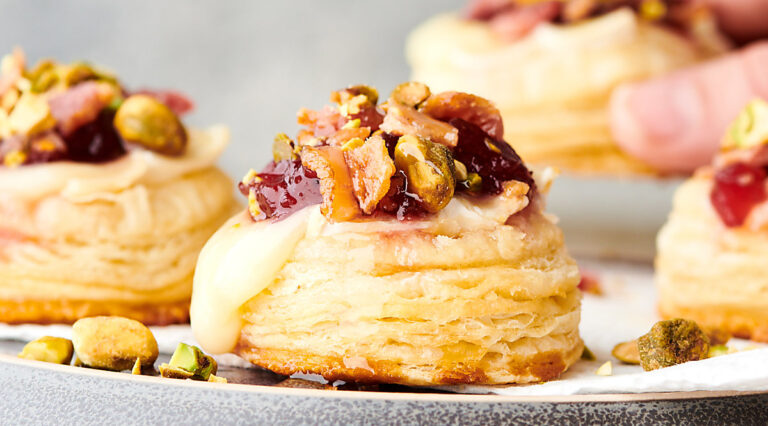 Cranberry Brie Bites
These Cranberry Brie Bites are melt-in-your-mouth delicious. Made with buttery, golden-brown puff pastry and topped with melty brie cheese, cranberry sauce, and crunchy toppings, these are sure to be a hit at any party!
Equipment for this recipe
(equipment shown are affiliate links)
Ingredients
1

(17.3 oz package)

frozen puff pastry

thawed according to package directions

drizzle of honey

4 - 8

oz

round brie cheese

cubed into

9 pieces

4 ½

tablespoons

cranberry sauce

5

slices

bacon

cooked and crumbled

salted pistachios

chopped
Instructions
Preheat oven to 375 degrees F and line a rimmed baking sheet with a silicone mat.

Unroll one sheet of thawed puff pastry and place onto a clean work surface.

Drizzle with honey, then place the other puff pastry sheet on top.

Gently press down to combine.

Cut puff pastry into 9 rounds using a 2.5 inch circle cookie cutter.

Evenly place nine rounds onto the prepared baking sheet.

Bake in preheated oven for 15 minutes.

Place one chunk of brie on top of each of the puff pastry rounds.

Cook for an additional 5 minutes, or until brie has melted.

Top each brie bite with ½ tablespoon of cranberry sauce, crumbled bacon, chopped nuts, and a drizzle of honey.

Serve and enjoy!
STORING
Reheat:
Oven at 375ºF until heated through.
*Storage times may vary based on temperature and conditions
Nutrition Information
Nutrition Facts
Cranberry Brie Bites
Amount Per Serving (1 bite)
Calories 189
Calories from Fat 135
% Daily Value*
Fat 15g23%
Cholesterol 46mg15%
Sodium 321mg14%
Potassium 82mg2%
Carbohydrates 3g1%
Protein 9g18%
Vitamin A 224IU4%
Vitamin C 1mg1%
Calcium 70mg7%
Iron 1mg6%
* Percent Daily Values are based on a 2000 calorie diet.
*Note: Nutrition information is estimated and varies based on products used.
Keywords:
brie, cranberry, sweet, Thanksgiving