These No-Bake Oreo Balls are SO rich, creamy, and smooth. Made with Oreos, cream cheese, vanilla, salt, and chocolate. The perfect quick and easy treat for any occasion!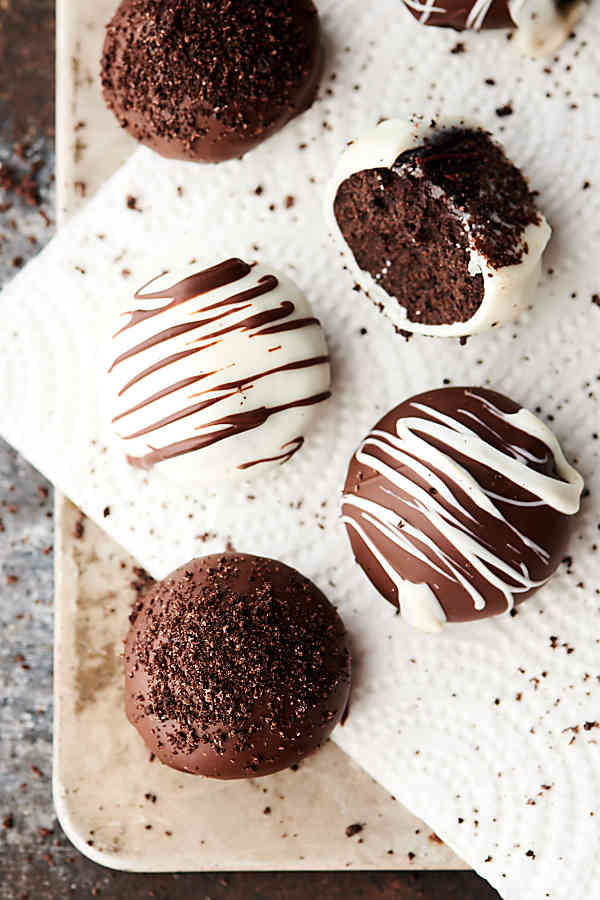 I never thought the words "oreos" and "luxurious" could ever be used in the same sentence, but these oreo balls are just that.
They're rich, creamy, extra chocolate-y, and just overall GOOD. To balance out the sweetness and enhance the chocolate flavor, I've added in a pinch of salt. PERFECT.
Ingredients
For such a decadent treat, the ingredient list is surprisingly short:
Oreos -The MVP of today's recipe. If you're not a fan of regular Oreos, try using mint oreos, nutter butters, chips ahoy cookies, etc!
Cream cheese – binds everything together and adds a much needed "tang" to this otherwise very sweet treat! You can also use sweetened-condensed milk.
Vanilla extract – I use vanilla in every baked good or dessert. It adds a warm depth of flavor! For a fun twist, try peppermint, maple, or your favorite extract.
Salt – adds a much needed contrast to this very sweet dessert. Salt not only contrasts the sugar, but it also brings out all the flavors!
Chocolate –  used for coating the outside of the oreo balls. Milk, semi-sweet, dark, or white chocolate will work!
Pro tip
As you can see, there's a ton of wiggle room in this recipe. Play around with different cookies, different extracts, and different chocolates. The sky is the limit!
How to make oreo balls
These no-bake Oreo balls are a delicious chocolate truffle that are super fast to whip up, making them the perfect last-minute treat for any holiday! That being said, they're also amazing made in advance:
Place cookies into a food processor and process.
Add in cream cheese, vanilla, and salt then continue processing until the mixture is combined.
Use a small cookie scoop to scoop the mixture onto a baking sheet lined with a silicone mat. Freeze.
Dip each frozen ball in melted chocolate.
Place back on cookie sheet and sprinkle on reserved cookie crumbs or drizzle on another type of chocolate. Refrigerate or freeze until firm. Store or enjoy!
Pro tip
If you're having trouble with your oreo balls breaking up in the warm chocolate, they're not cold enough. It could be because you didn't chill them long enough or it could be that your kitchen is hot and humid! Simply throw them back in the freezer until firm!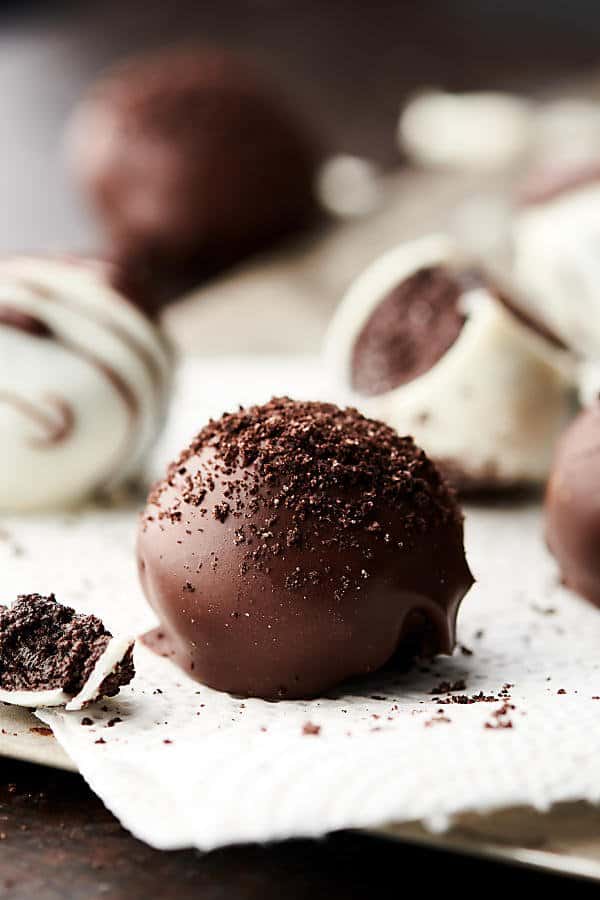 How to crush oreos
There are two ways to quickly and easily crush Oreos without making a mess:
With a food processor or blender: place Oreos into your food processor or blender and process until they resemble a fine crumb.
Without a food processor: place Oreos into a gallon-sized ziplock baggie, seal, then crush with a rolling pin or saucepan until they resemble a fine crumb.
Both are a great way to crush Oreos, but I prefer using a food processor. It's quicker, it does a better job at making fine crumbs, and takes less elbow grease! However, using a ziplock baggie requires less dishes. The choice is yours!
How to make without a food processor
If you don't have a food processor, simply crush your Oreos in a gallon-sized baggie as listed above, then combine with the remaining ingredients: cream cheese, vanilla extract, and salt – in a bowl, then proceed from step 5 of the recipe!
Pro tip
Use a spatula,
hand mixer
, or
[smty_affil id="35877"]stand mixer[/smty_affil]
to combine the ingredients. A hand or stand mixer will yield the best results.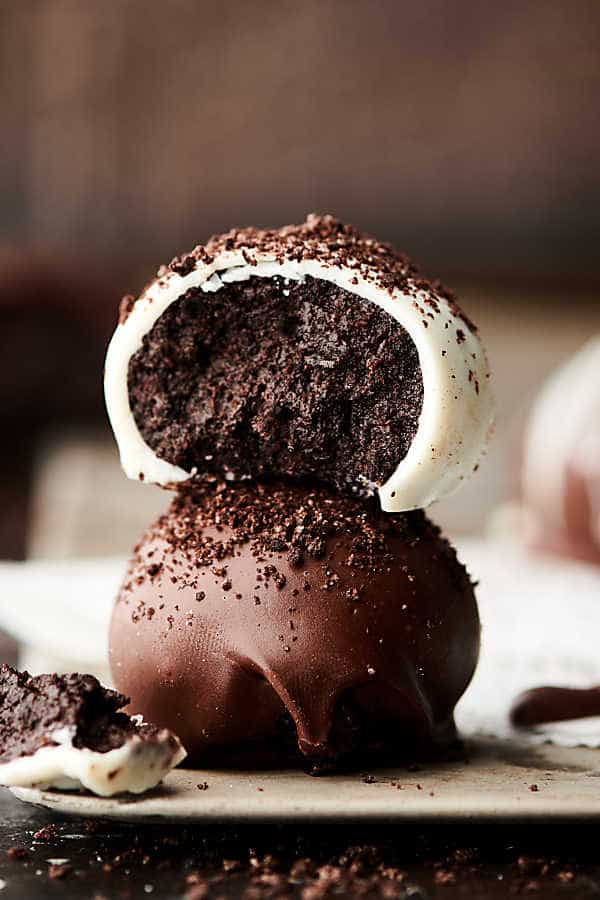 What kind of chocolate to use
Use any flavor chocolate you like – milk, dark, or white chocolate. Here are the best kinds of chocolate for melting:
Baker's chocolate. Finely chop before melting for best results.
Candy melts. These are great if you're looking to use different colors! Candy melts come in different colors, or you could even use white candy melts and stir in food coloring. Follow package directions on how to melt.
Almond bark. In my opinion, almond bark melts the best! Just be sure to finely chop before melting to get the smoothest results.
Avoid using chocolate chips. Chocolate chips tend to have a lower amount of cocoa butter in them, making them more resistant to heat, which means you might end up with lumpy chocolate.
Pro tip
If you must use chocolate chips, you'll want to melt them with vegetable oil (start with 1/2-1 tsp then add as needed) to get that smooth, shiny texture and look.
How to dip truffles in chocolate
Dipping anything in melted chocolate can be a headache and often makes a huge mess. My tips? Work quickly and in smaller batches (leave most to chill in the freezer while you dip a few), and be sure the Oreo balls are VERY frozen:
Start by heating chocolate in 30-second intervals in a microwave-safe bowl. Be sure to stir thoroughly in between each interval to prevent burning and clumping.
Working with one at a time, use a spoon to submerge the frozen Oreo truffle into the melted chocolate.
Use a fork to lift the truffle out of the chocolate and let the excess drip off.
Place truffle back onto a lined baking sheet.
Repeat with remaining truffles then place them in the fridge or freezer.
Pro tip
If your truffles are getting too soft, place them back into the freezer before attempting to cover them in chocolate. When they're re-frozen, re-melt the chocolate using the method above.
If your truffles are too soft, they'll lose their shape and fall apart in the melted chocolate resulting in lumpy chocolate that won't cover the oreo balls very well.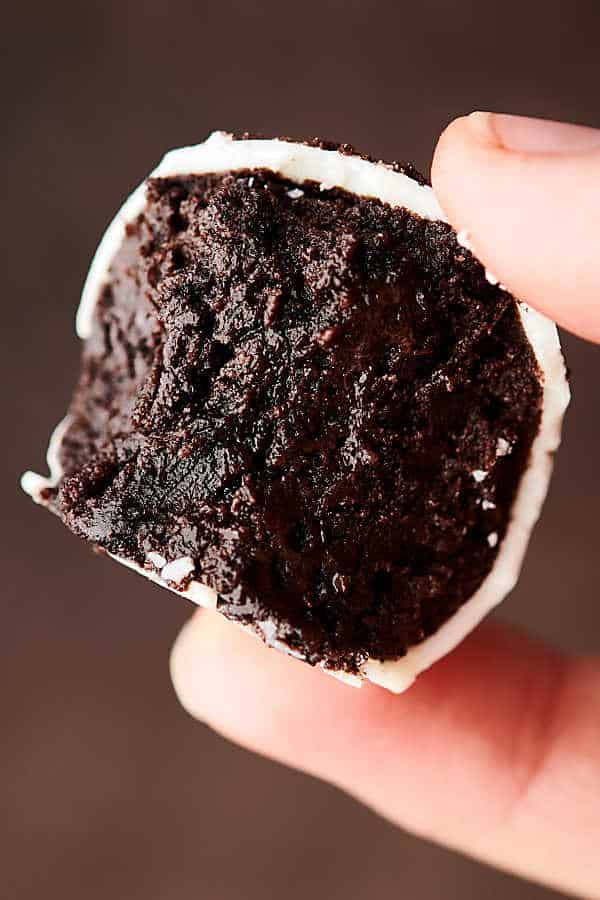 How to make oreo balls without cream cheese
If you're not a fan of cream cheese or you don't have any on-hand, Oreo balls can be made with sweetened condensed milk instead! Since I haven't tested that for this recipe, I'd recommend checking out these Oreo Cookie Truffles by Leelalicious!
Variations
These Oreo balls are SO simple and can be easily customized to your liking! Have fun by playing around with different themes and flavors:
Use a different cookie. Try using mint Oreos, Nutter Butters, Chips Ahoy, and more!
Use a different extract. These would also be delicious with peppermint extract with Oreos, maple extract with Nutter Butters, lemon extract with shortbread cookies, etc.
Use a different chocolate. Milk, dark, and/or white chocolate would all be wonderful. Mix and match! Get creative!
Pro tip
Different extracts have different levels of potency, start with a little. You can always add more, but you can't take it out!
Themed Oreo Ball Variations
Snowman Oreo Balls. For a fun holiday treat, try making these Melted Snowmen Oreo Balls by the Girl Who Ate Everything! They're snow cute. See what I did there?
Halloween Oreo Balls. Whether you're looking for monsters, pumpkins, bats, or mummies . . . Chelsea's Messy Apron has got you covered with these 5 Ingredient Halloween Oreo Truffles. Spooky and adorable!
How long do oreo balls last
These oreo balls should be stored in an airtight container or ziplock baggie in the fridge for up to 3 weeks or in the freezer for up to 3 months.
I don't recommend storing at room temperature because the chocolate will melt and the truffles will be unable to hold their shape.
They can be served immediately from the fridge but if they're coming from the freezer they should be thawed overnight in the fridge or thawed at room temperature for a few minutes before re-serving.
– Jennifer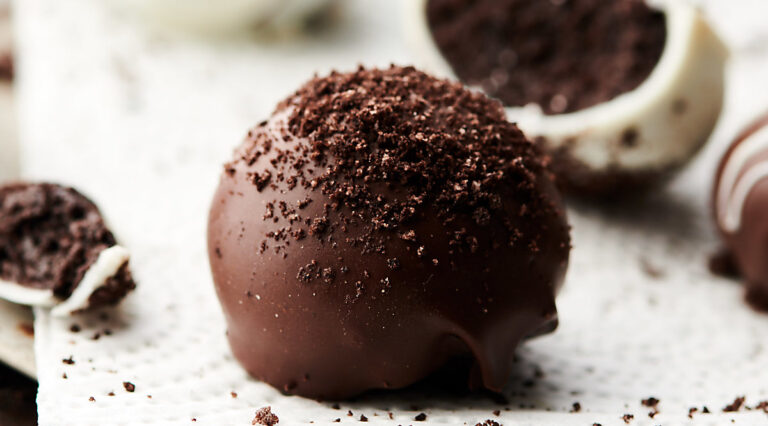 Oreo Balls
These No-Bake Oreo Balls are made with Oreos, cream cheese, vanilla, salt, and chocolate. They make the perfect quick and easy treat for any occasion! I've also listed different cookies, extracts, and chocolates below for fun variations!
Equipment for this recipe
(equipment shown are affiliate links)
Ingredients
1

(14.3 oz) package

oreos

1

(8 oz) package

cream cheese

softened to room temperature

1

teaspoon

vanilla extract

1/4

teaspoons

salt

1

(4 oz) package

baker's semi-sweet chocolate

melted

1

(12 oz) package

vanilla almond bark

melted and divided
Instructions
Line a rimmed baking sheet with a silicone baking mat. Set aside.

Place cookies into a food processor and process cookies until they resemble a fine crumb.

Remove 2 tablespoons for topping and set aside.

Add cream cheese, vanilla, and salt to food processor and process again until well blended with the cookie crumbs.

Scoop into 20 balls using the small cookie scoop and place onto the prepared baking sheet.

Freeze for 30 minutes.

Quickly use your hands to roll them into balls. Place back into the freezer while you melt the chocolate.

Melt 4 oz baker's chocolate with 4 oz vanilla almond bark in one bowl.

Melt 8 oz vanilla almond bark in another.

Working with one cookie ball at a time, immediately dunk into either of the melted chocolate mixtures.*

Sprinkle some reserved cookie crumbs and/or drizzle the tops in opposite colored chocolate. 
Refrigerate or freeze until firm, about 30 minutes to 1 hour.

Serve immediately or store leftover truffles in the fridge or freezer.
STORING
Reheat:
Let thaw at room temp or in the fridge.
*Storage times may vary based on temperature and conditions
Notes
*If cookie balls are getting too soft, re-freeze until firm. You may also need to re-melt the chocolate.
Nutrition Information
Nutrition Facts
Oreo Balls
Amount Per Serving (1 ball)
Calories 264
Calories from Fat 135
% Daily Value*
Fat 15g23%
Cholesterol 13mg4%
Sodium 164mg7%
Potassium 91mg3%
Carbohydrates 30g10%
Protein 2g4%
Vitamin A 155IU3%
Calcium 19mg2%
Iron 2mg11%
* Percent Daily Values are based on a 2000 calorie diet.
*Note: Nutrition information is estimated and varies based on products used.
Keywords:
no bake, oreo balls, truffles
This post was originally published February 4, 2020 and has been updated to provide more detailed content.