Easy Holiday Recipes 2018. Everything from breakfast, to snacks/apps/sides, dinner, drinks, and of course dessert including candies, miscellaneous (think: puppy chow!), and cookies!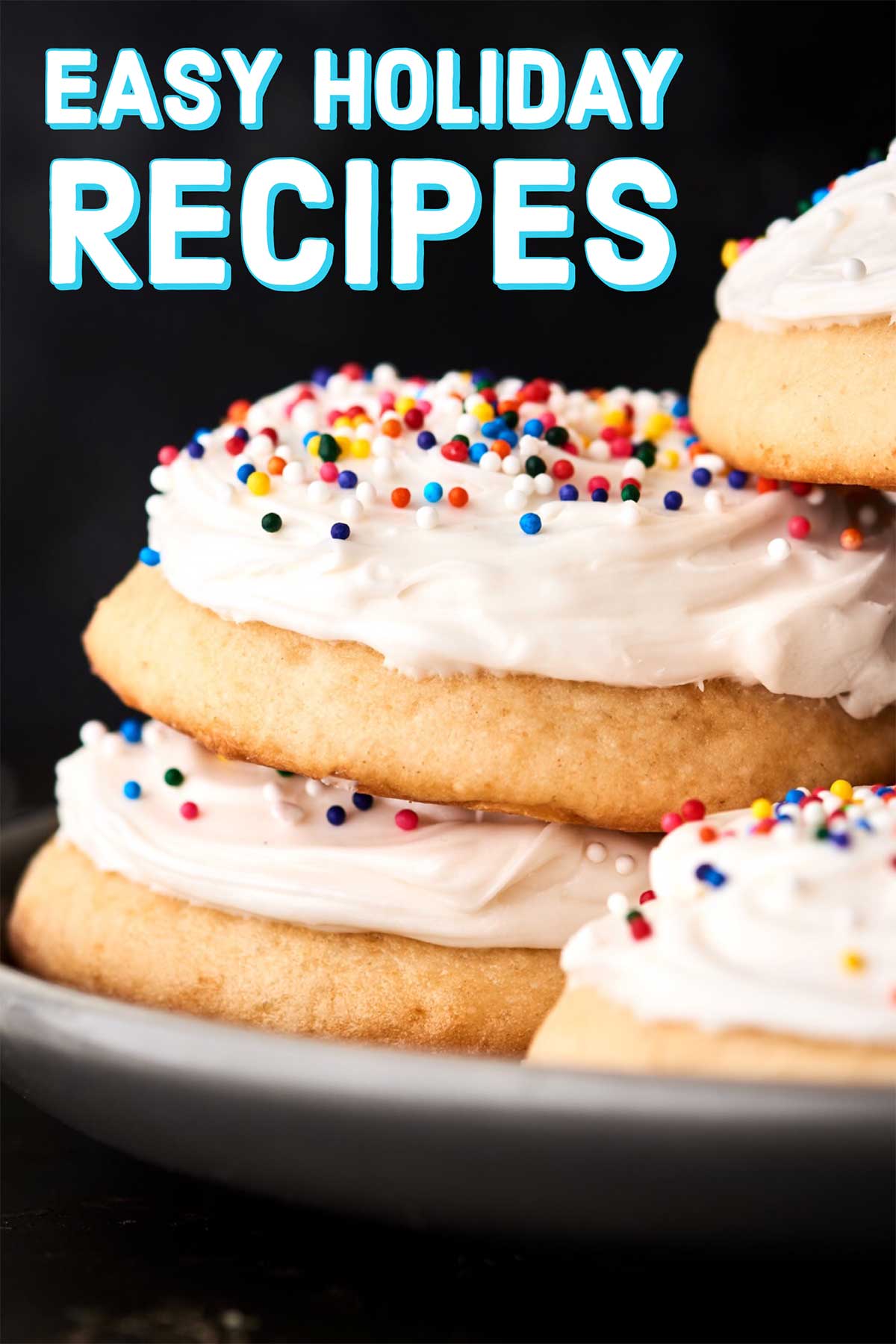 By "easy holiday recipes" I mainly mean, cookies. 😉
Because.
Well.
'Tis the season.
It's December 1st . . . which means . . .
It is DEFINITELY now socially acceptable to watch The Holiday on repeat, blare Christmas music, and make all the holiday recipes cookies.
Next week, I'm making ALL kinds of new holiday cookies and desserts . . . one new dessert recipe going live each day, so stay tuned!
All that being said, you gotta eat "real" food too, so today, I've included ALL my favorite holiday foods starting with breakfast and of course, ending with dessert. 🙂
PSST – I'll be updating this list as I continue adding more recipes to Show Me the Yummy over the next couple of weeks, so be sure to check back! 
Easy Holiday Breakfast Recipes
Holiday brunch is *almost* as important as cookies. I have two casserole recipes listed, because they're perfect for holiday sharing.
Ham and Cheese Breakfast Casserole
This Ham and Cheese Breakfast Casserole Recipe is SO quick & easy (less than 10 minutes of prep) and full of hash browns, eggs, ham, and plenty of cheese!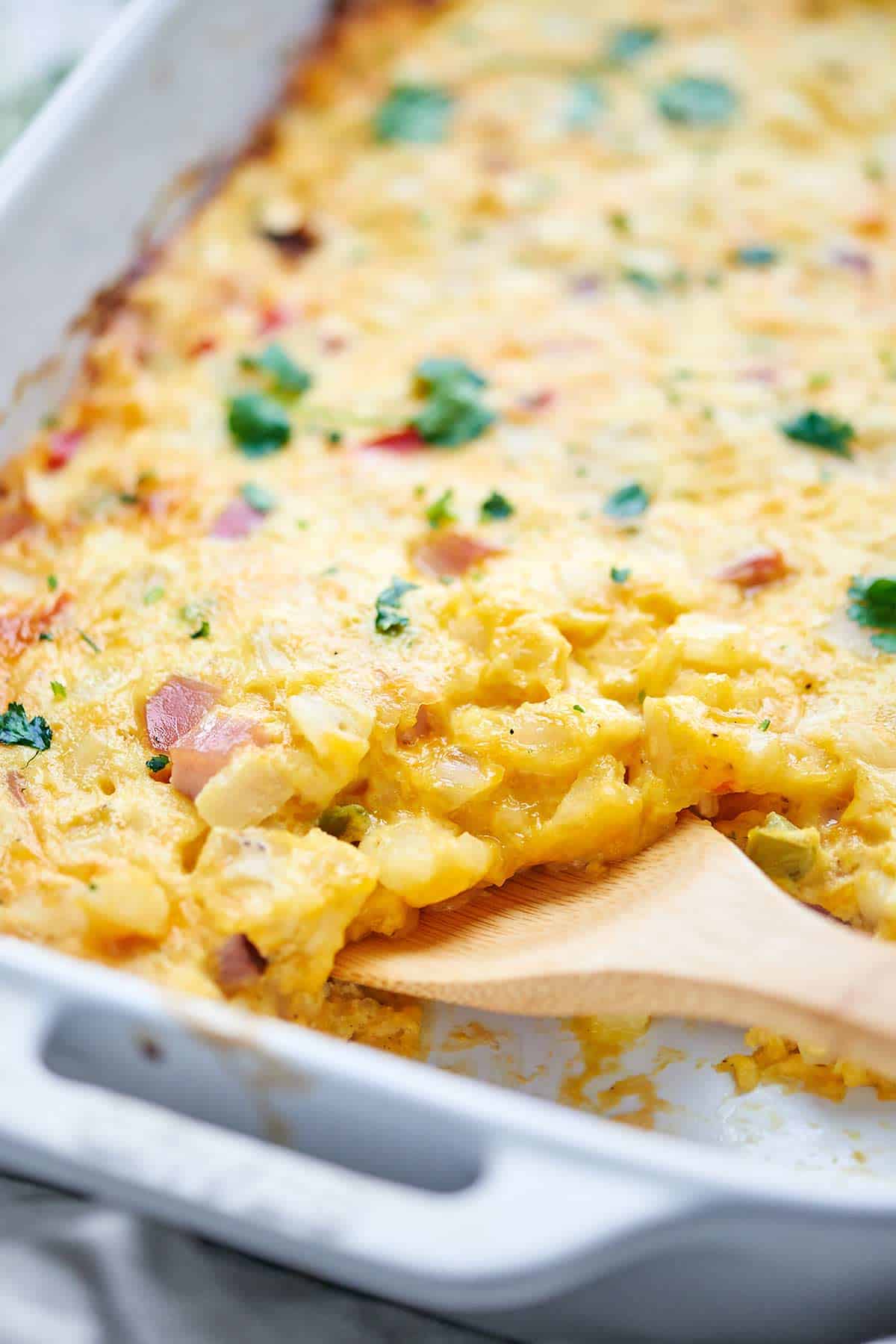 These Coffee Cake Muffins are perfectly cinnamon-y, fluffy, tender, moist and are stuffed with a brown sugar, cinnamon filling! Great for a cozy, Saturday brunch!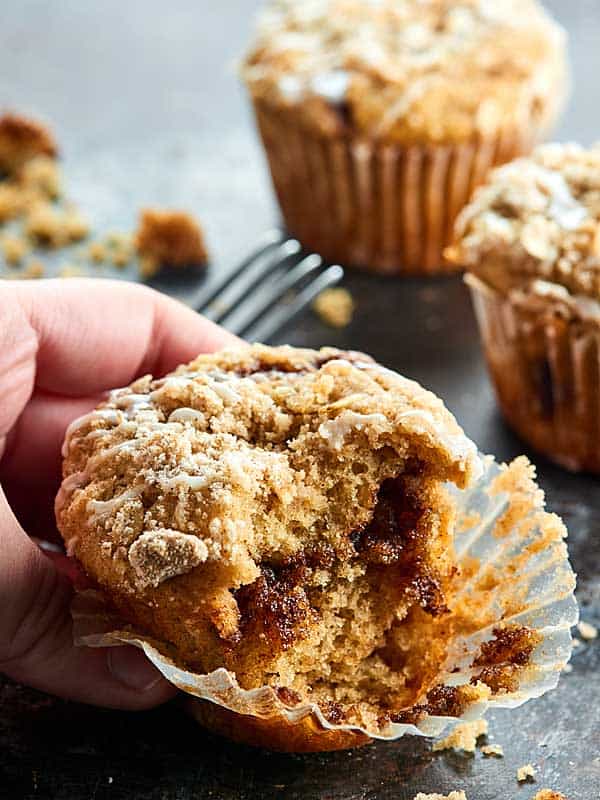 This Easy Biscuits and Gravy recipe is a great, cozy recipe for breakfast or dinner! Pillsbury Grands! get smothered in the creamiest sausage gravy! 🙂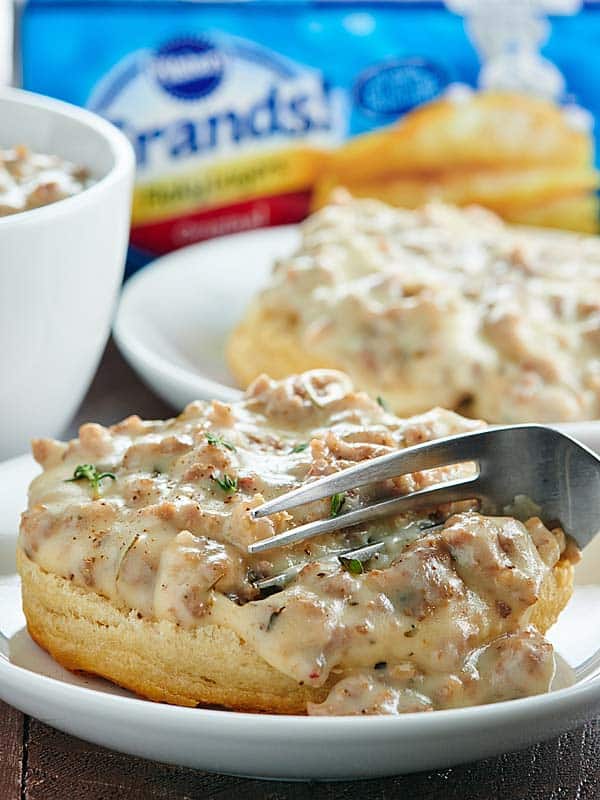 This Crustless Quiche Lorraine is ultra fluffy, creamy, and full of salty bacon, smoky gruyere cheese, and eggs. Perfect for an easy, filling breakfast or brunch!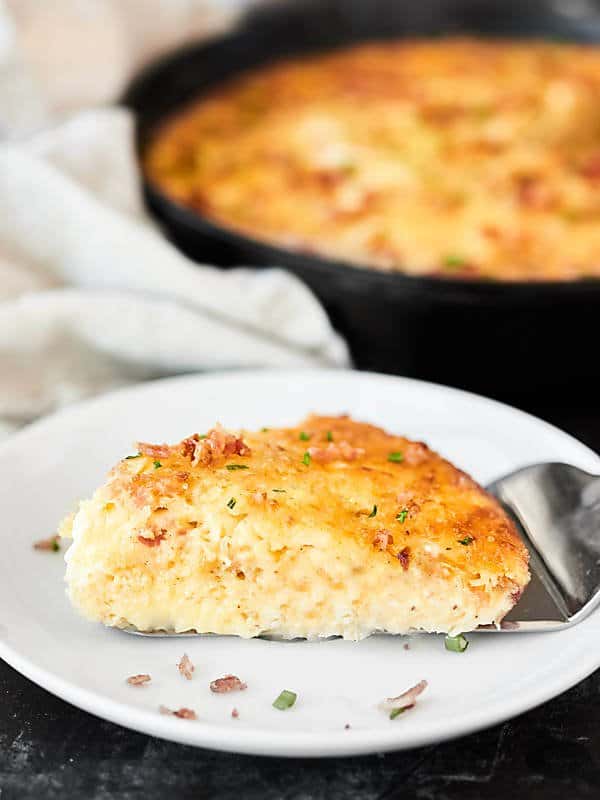 Waffle Sausage Breakfast Casserole
This Waffle Sausage Breakfast Casserole requires minimal prep and is loaded with waffles, sausage, eggs, cheese, and maple syrup! Sweet/savory brinner perfection!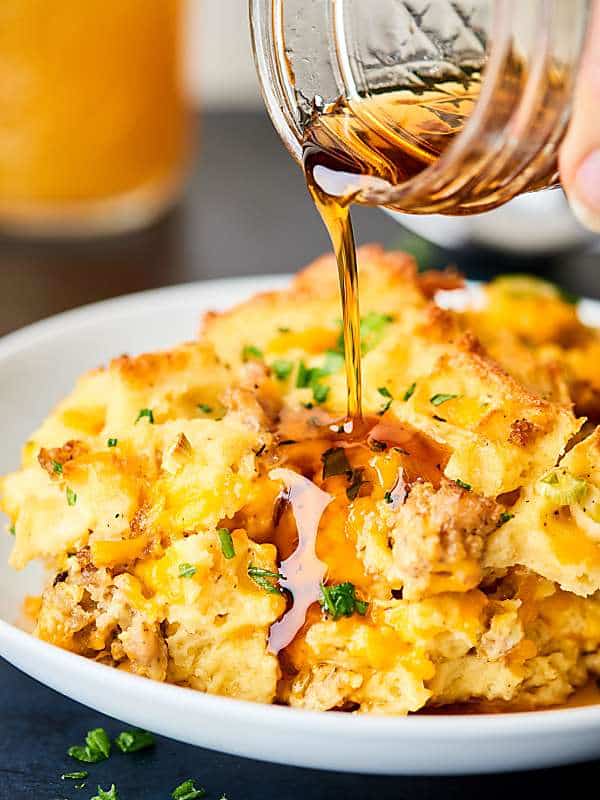 Want more? See all our holiday breakfast recipes.
Easy Holiday Snacks & Apps Recipes
If you're looking for the classic holiday sides, I suggest you see my Easy Thanksgiving Side Dishes round up! ALL the classics are there (ahem, creamy corn casserole anyone?).
The BEST appetizer yet, this Mushroom Brut Brie is totally impressive, ridiculously easy, and ultra cheesy! Melty brie is topped with brut champagne, buttery mushrooms, and crunchy pistachios!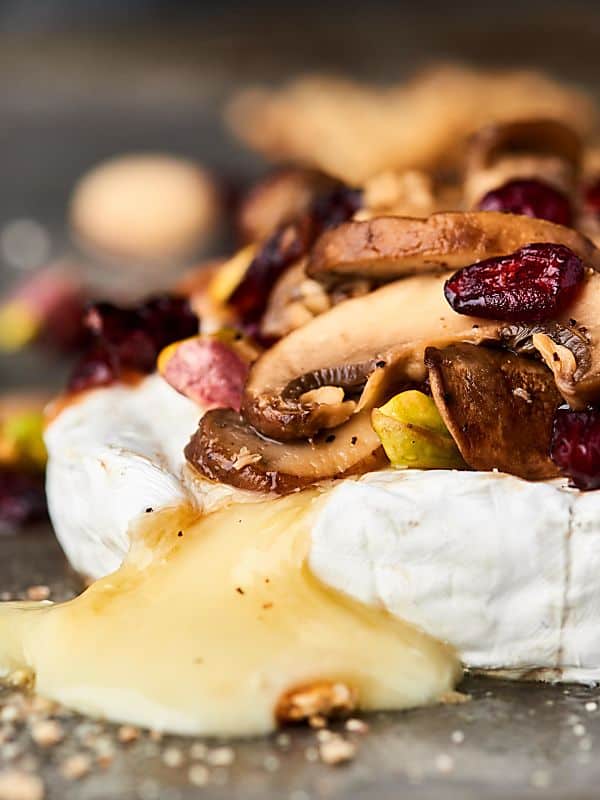 These Smoked Salmon Pinwheels are perfect for easy and elegant holiday entertaining. Quick and easy to make with only four ingredients: tortillas, a lemon pepper and asiago spread, smoked salmon, and spinach!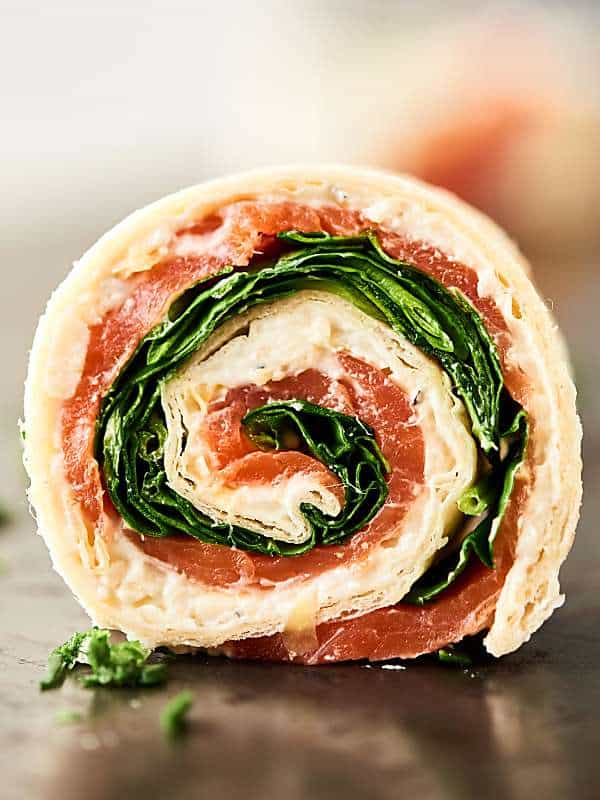 This Sweet and Salty Snack Board is perfect for entertaining! As easy way to impress your guests! Full of chocolate, cheeses, fruit, crackers, and more!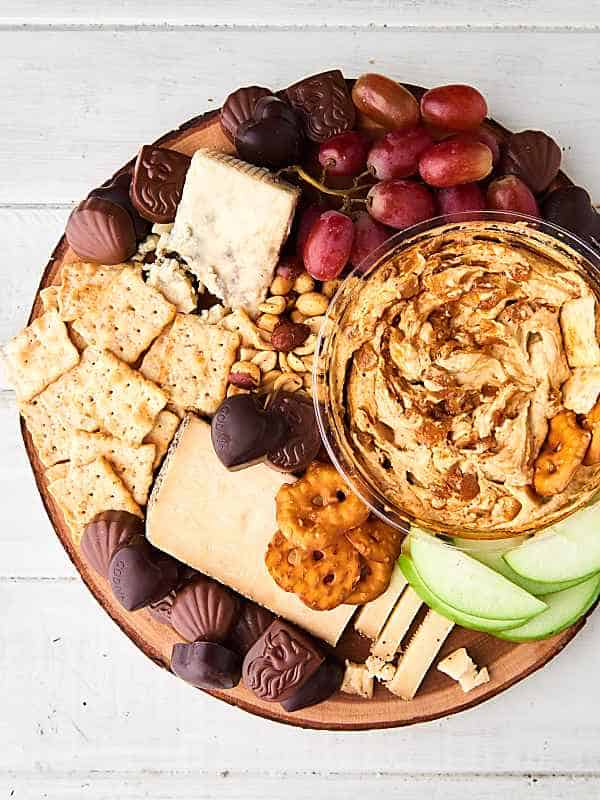 These Bacon Wrapped Dates are perfect for holiday snacking! Only 3 ingredients – bacon, dates, goat cheese – and 20 minutes needed for the easiest and tastiest snack!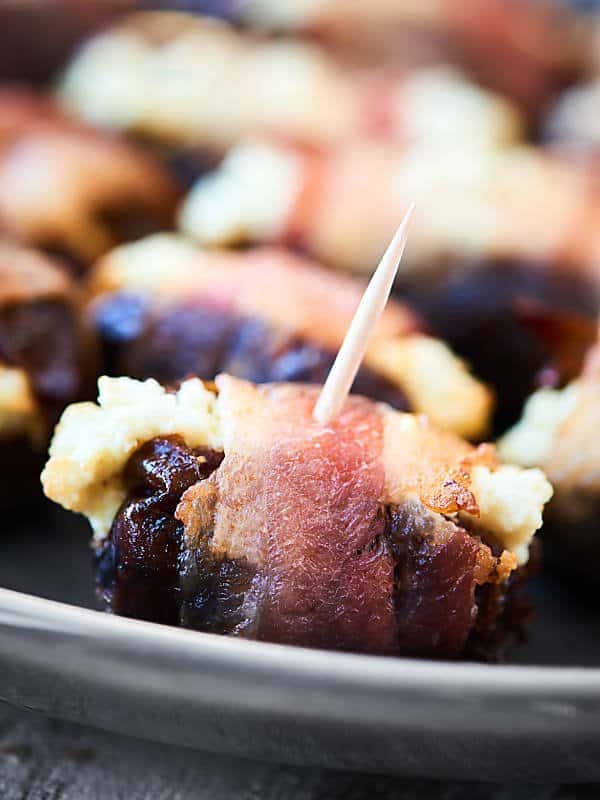 This Ham and Cheese Monkey Bread will surely be the star of your next party! Warm biscuits, gooey cheese, savory ham, and a honey mustard dipping sauce . . . what's not to love?!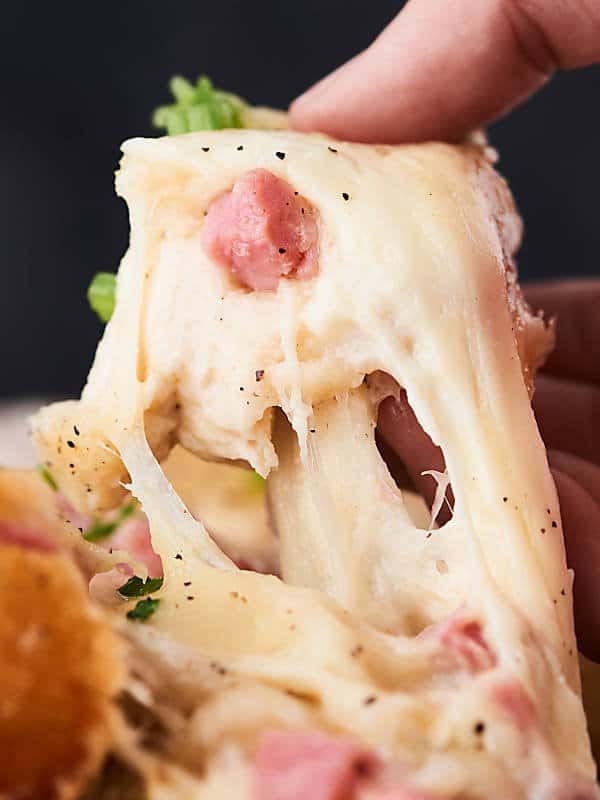 Want more? See all our holiday snacks/apps recipes.
Easy Holiday Dinner Recipes
These Pork and Brie Puff Pastry Bites are perfect for any holiday celebration! Flakey puff pastry is topped with melty brie, tart cranberry sauce, gooey honey, crunchy nuts, and pork tenderloin <– YUM. Quick. Easy. Delicious! Only 6 ingredients necessary!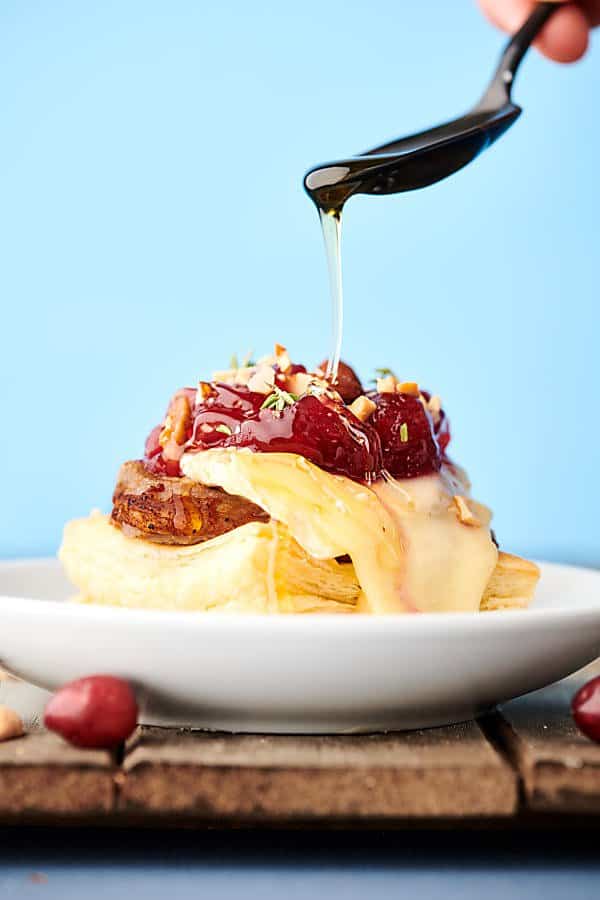 This Ham with Pineapple Sauce is the perfect example of the classic combo: sweet and salty! It's delicious, it's easy, and it's the perfect holiday dish!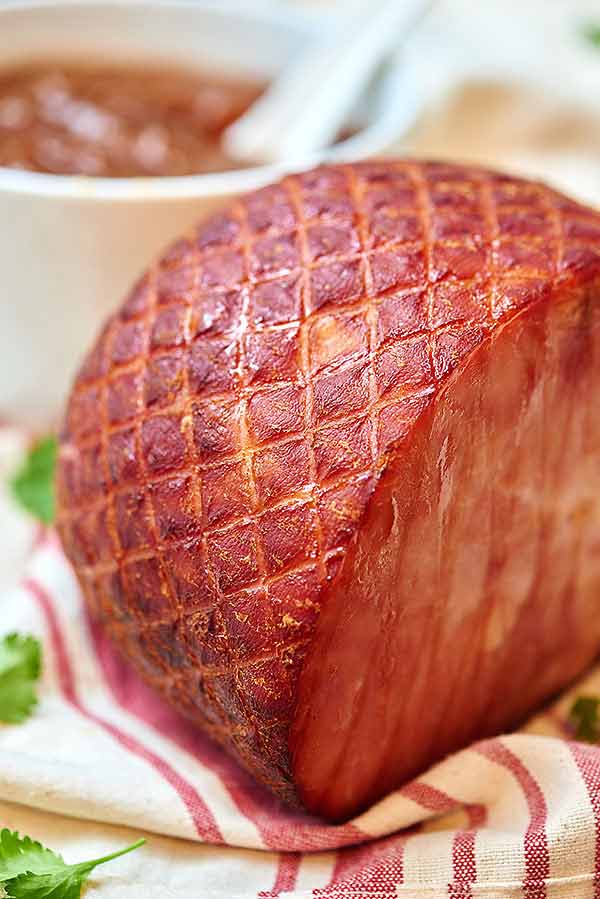 This Crockpot Potato Soup is SO quick and easy to make and is loaded with leftover ham, bacon, and frozen hash browns! Gluten free and no cream of "x" soup!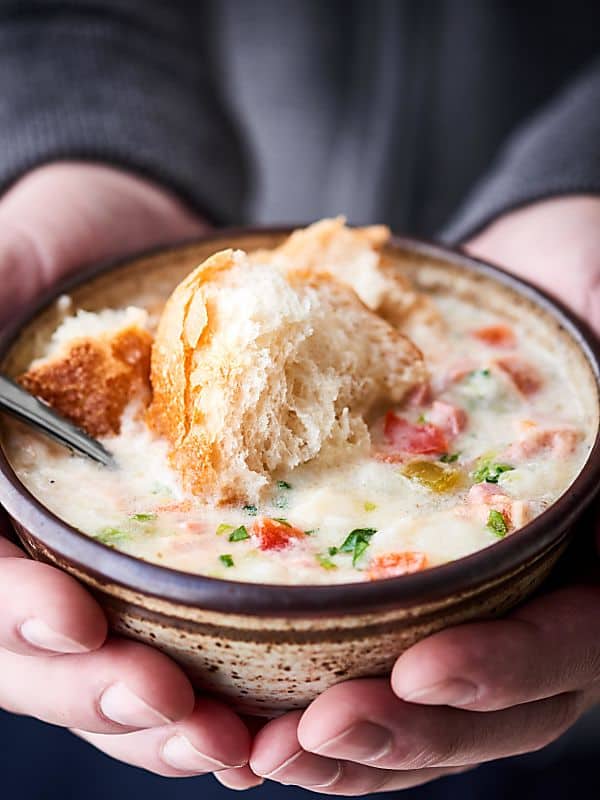 Baked Corn Crab Cakes are the perfect cozy, winter dinner. 10 minutes of prep and you've got yourself a restaurant quality meal!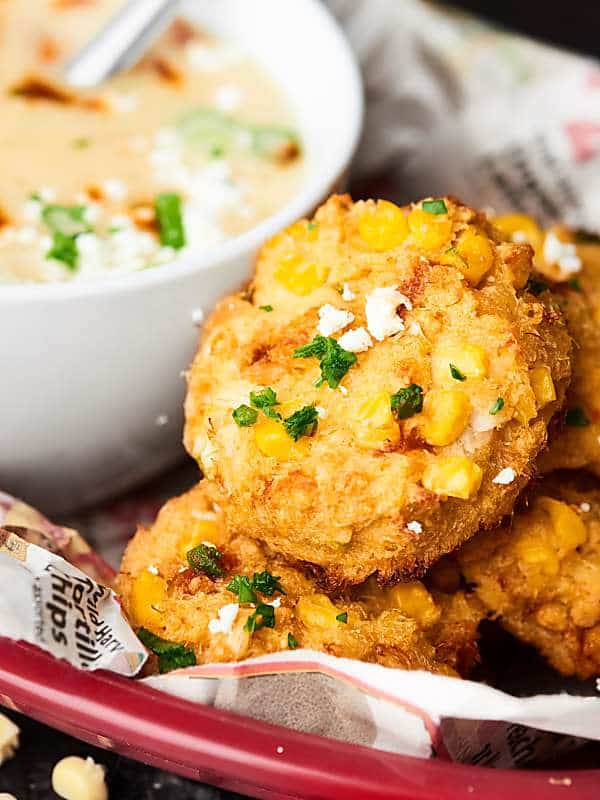 Leftovers just got a makeover with these Holiday Stuffed Shells! Leftover potatoes, stuffing, and turkey get smothered in a red wine mushroom gravy and stuffed into pasta shells!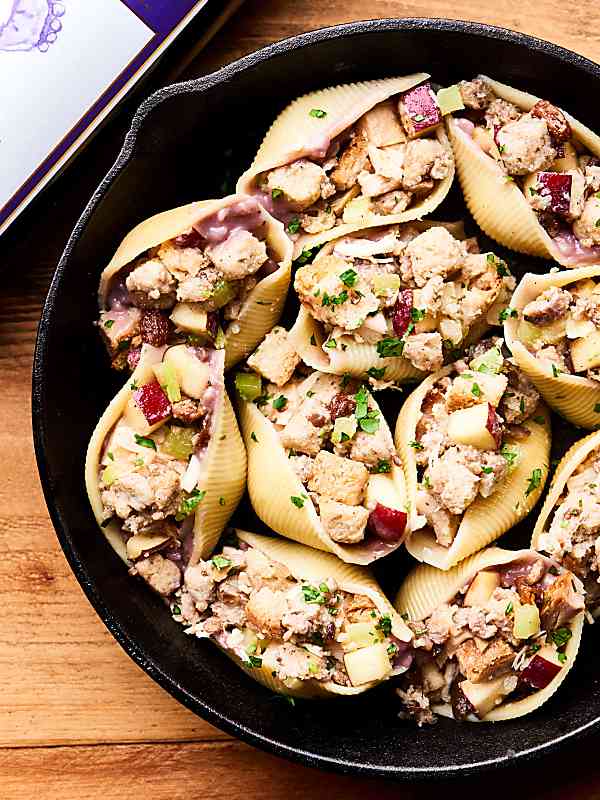 Want more? See all our holiday dinner recipes.
Easy Holiday Drink Recipes
One for the adults and one for the kids!
Cranberry Pomegranate Margarita
Sweet, tart, and perfect for the holidays, this Easy Cranberry Pomegranate Margarita can be enjoyed by one or shared with many! Only 5 ingredients necessary!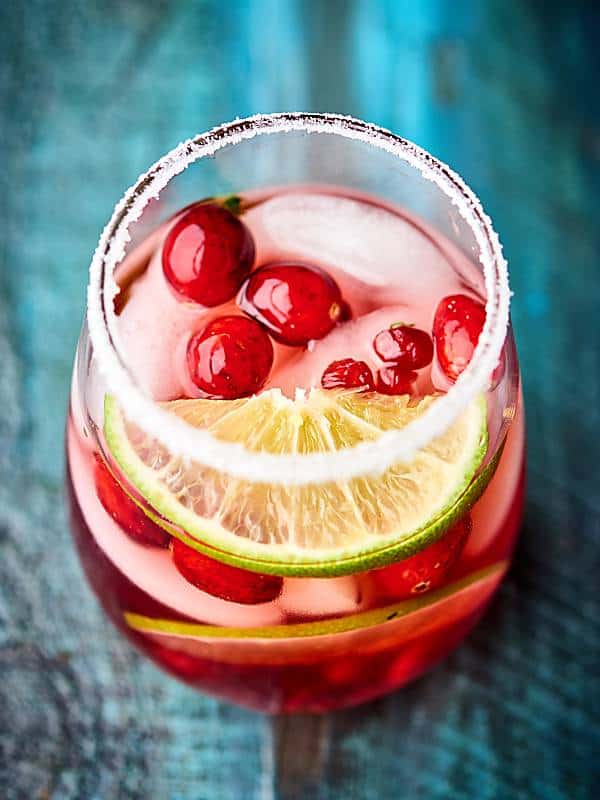 Crockpot Nutella Hot Chocolate
This Crockpot Nutella Hot Chocolate only takes 5 minutes to prep and 2 hours to cook! It's the easiest recipe you'll ever make and is full of nutella! I know I said this one was for the kids, but I bet a little Bailey's or Frangelico would be DELISH. 😉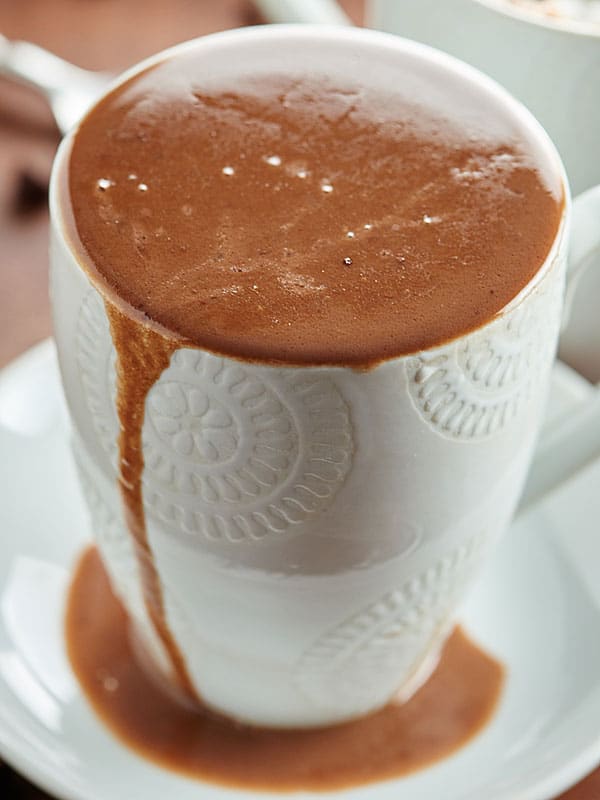 Want more? See all our holiday drink recipes.
Easy Holiday Dessert Recipes
The best part of the holiday season! Will be updating with more recipes all next week! 🙂
Holiday Candy Recipes
This Easy Microwave Fudge Recipe can be made into FOUR different flavors: peppermint, chocolate, turtle, and maple! Made in a mini muffin tin to make the perfect bite sized treats.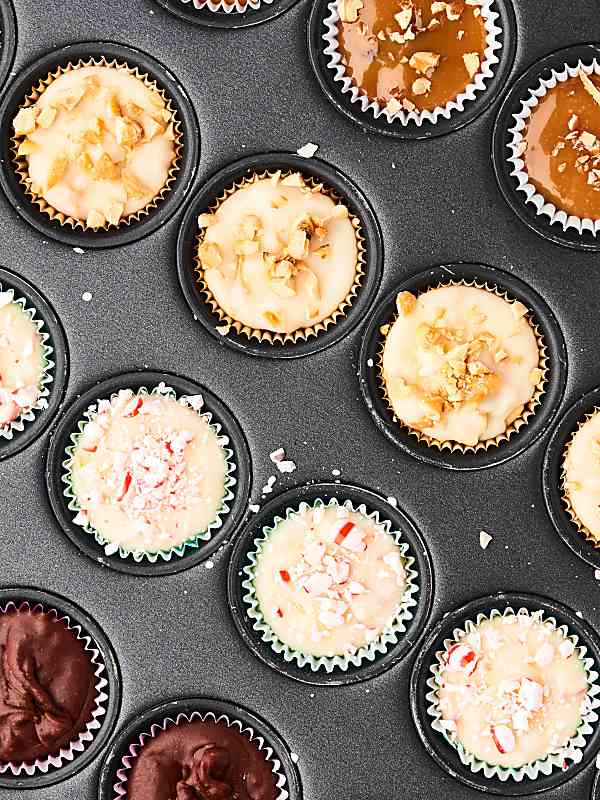 These Easy Peanut Clusters only require four ingredients: vanilla almond bark, chocolate chips, peanuts, and sea salt! Quick. Easy. Addicting.
A passed down family recipe! This easy chocolate fudge is made in one bowl, has 5 ingredients, and is cooked in the microwave for 90 seconds! The easiest dessert you'll make this holiday season!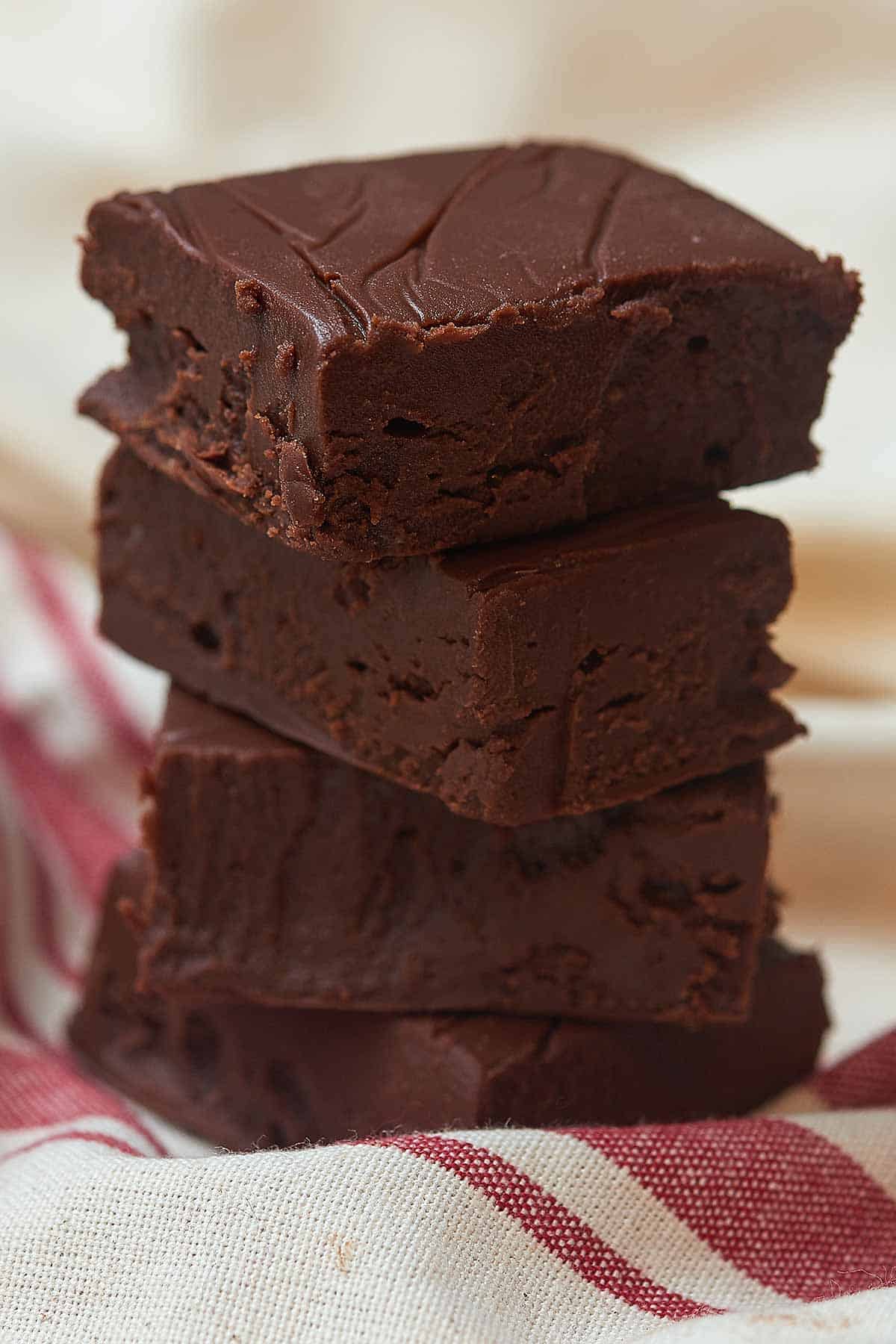 Add this Christmas Crack (aka Easy Saltine Toffee Candy) to your holiday baking list! Only 6 ingredients necessary to make the most addicting holiday treat yet! It's the perfect combo of sweet/salty/crunchy!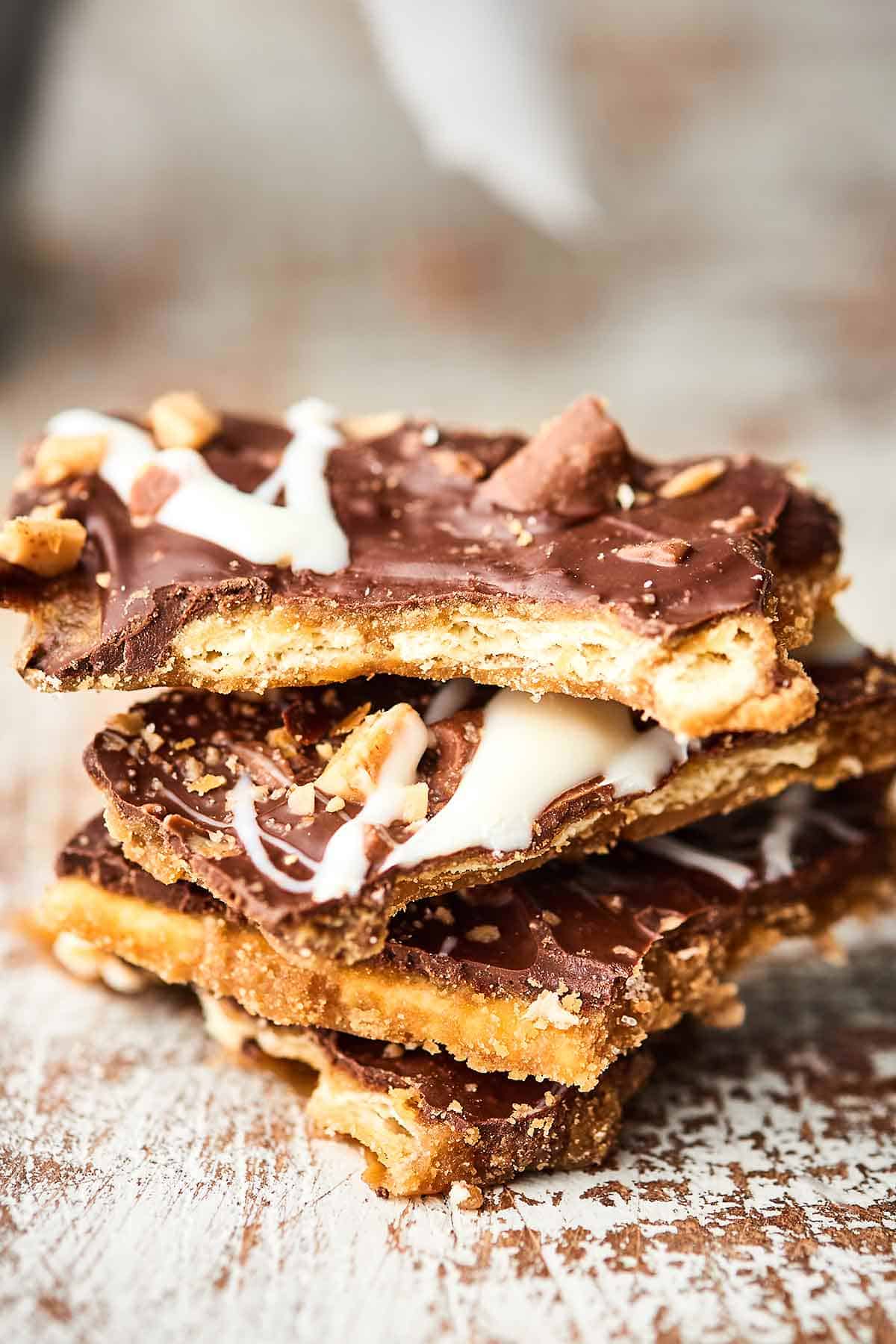 This Easy Peanut Butter Fudge Recipe is made in the microwave! Make the white chocolate version or the double chocolate version! Both are gluten free and made without sweetened condensed milk.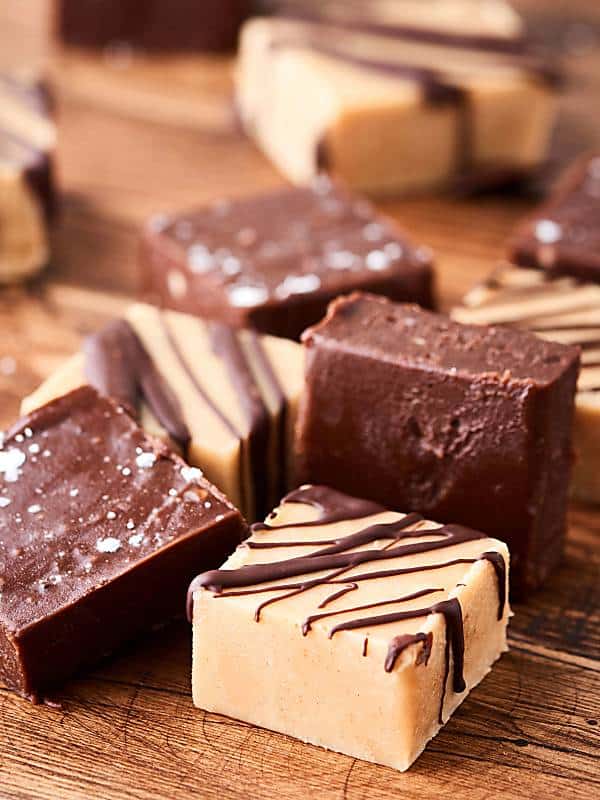 Miscellaneous Holiday Desserts
Red Wine Chocolate Pudding Pie
This Red Wine Chocolate Pudding Pie will be the star of your next holiday gathering. A simple graham cracker crust is filled with the most decadent, rich, red wine chocolate pudding!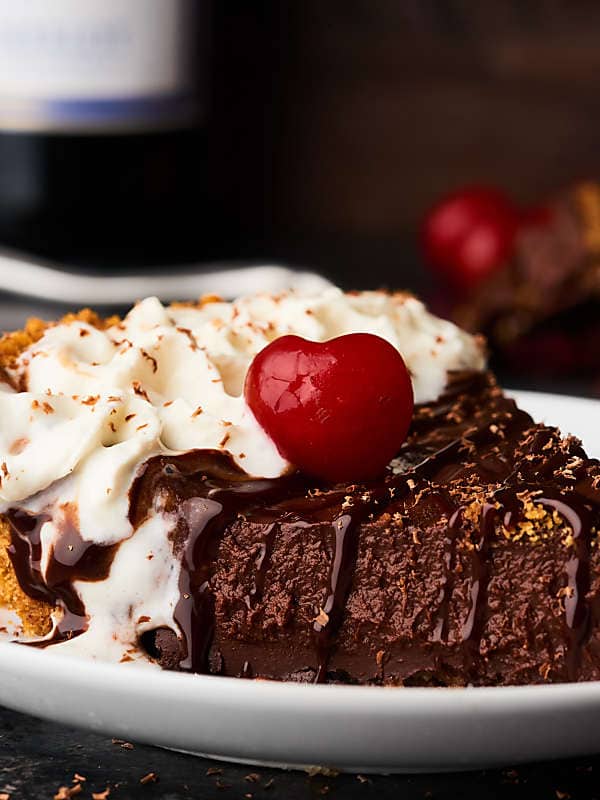 This is the best puppy chow recipe! Why? More chocolate, more peanut butter, more powdered sugar! This childhood classic aka muddy buddies just got better. 🙂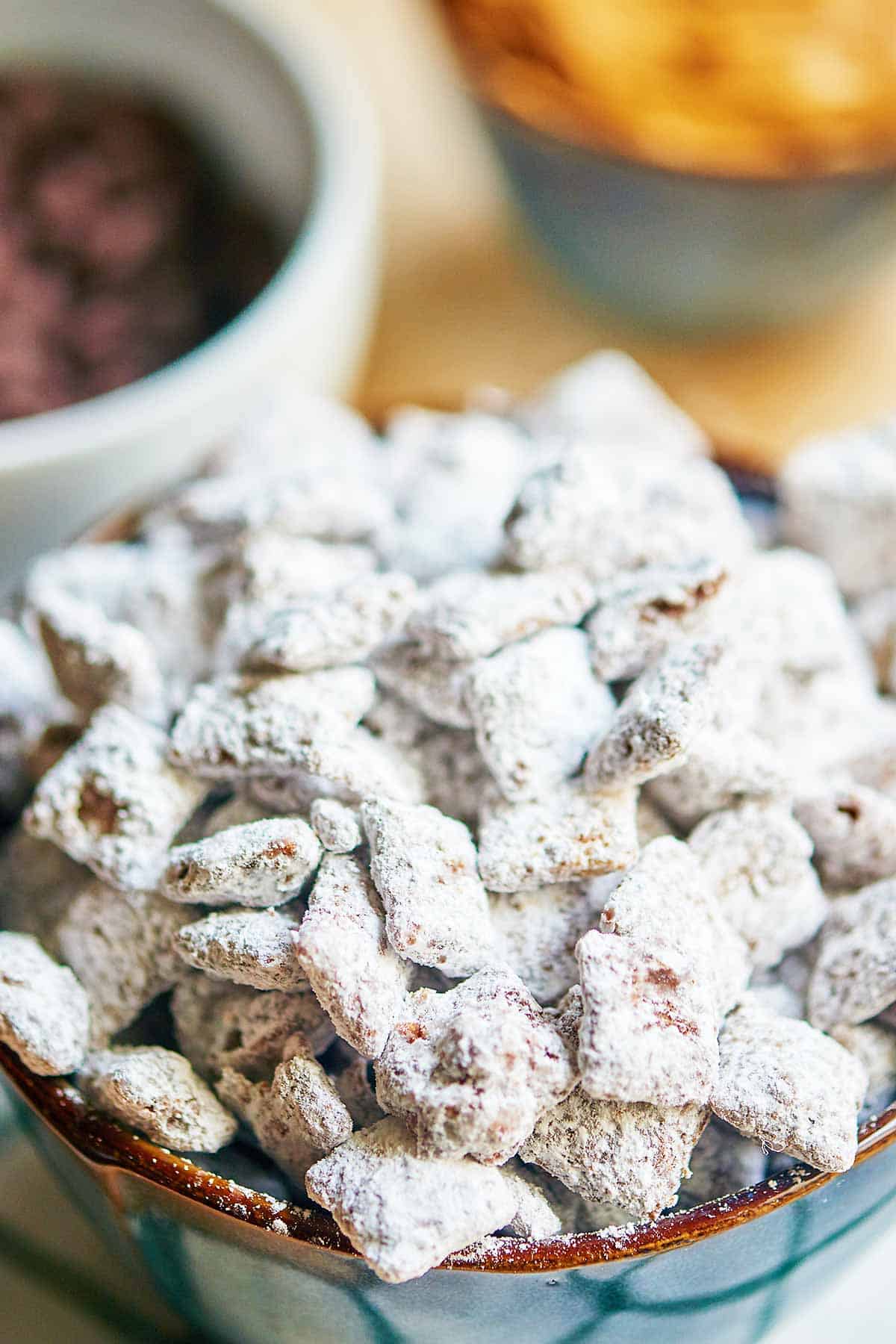 You're only eight ingredients and five minutes of prep away from the BEST Mint Oreo Cream Cheese Ball. Cream cheese + pudding mix + mint extract and loads of Mint Oreos? This dessert is easy and delicious!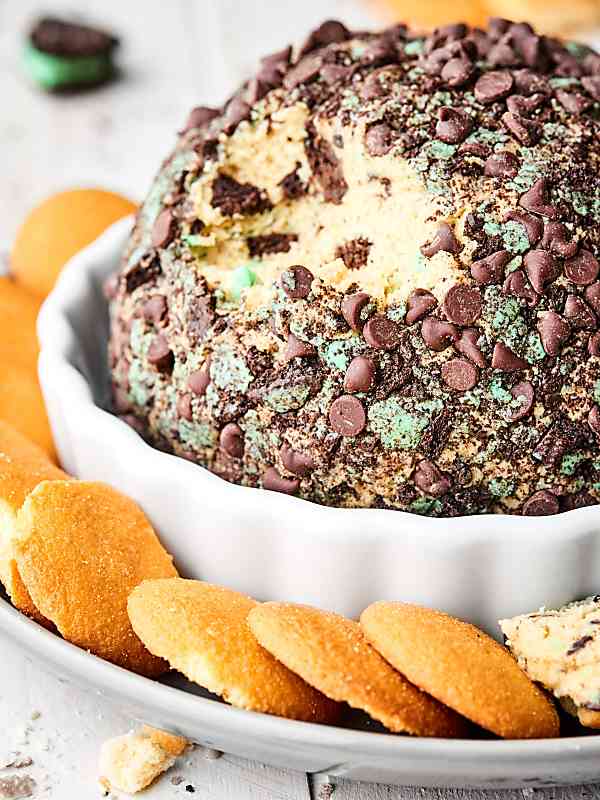 This Hot Chocolate Cheesecake Dip Recipe only requires 6 ingredients and 10 minutes of prep! Full of cream cheese, yogurt, marshmallow creme, hot cocoa mix, cool whip, and marshmallow bits! Serve with cookies, pretzels, fruit, and more!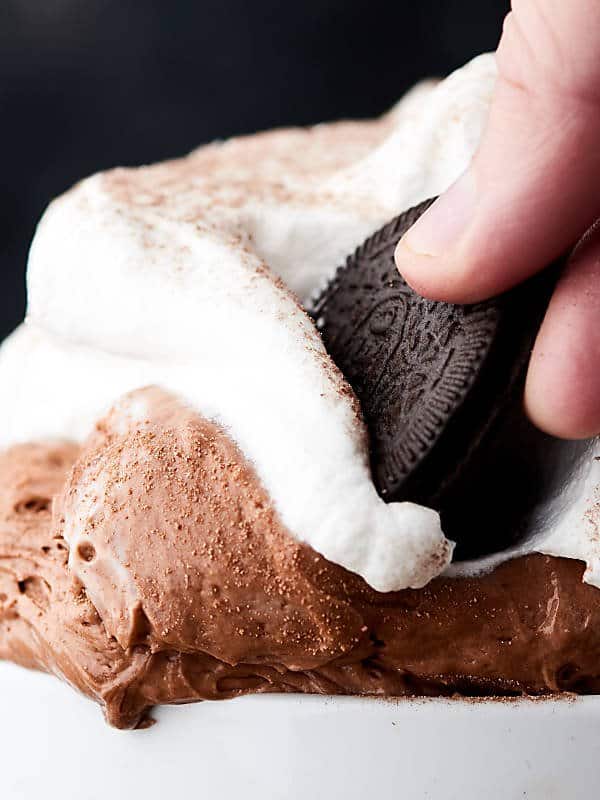 Holiday Cookie Recipes
These Easy Peanut Butter Blossoms are a holiday favorite. A homemade soft and chewy peanut butter cookie is rolled in sugar and topped with a milk chocolate kiss!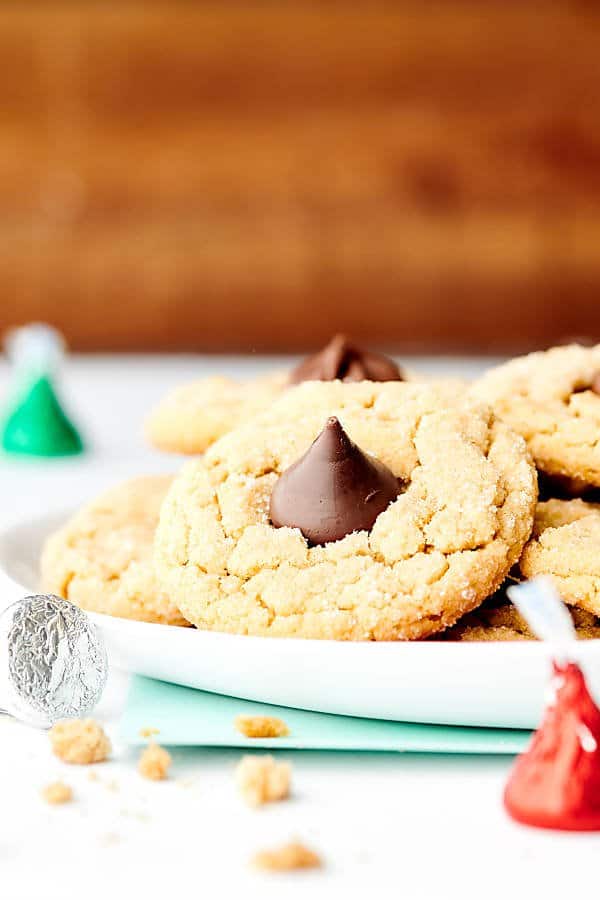 Peppermint Mocha Cookie Cups. A chewy, peppermint mocha cookie is filled with the most delicious fudge filling. Serve room temperature with crushed peppermint, chilled with whipped cream, or warm with vanilla ice cream!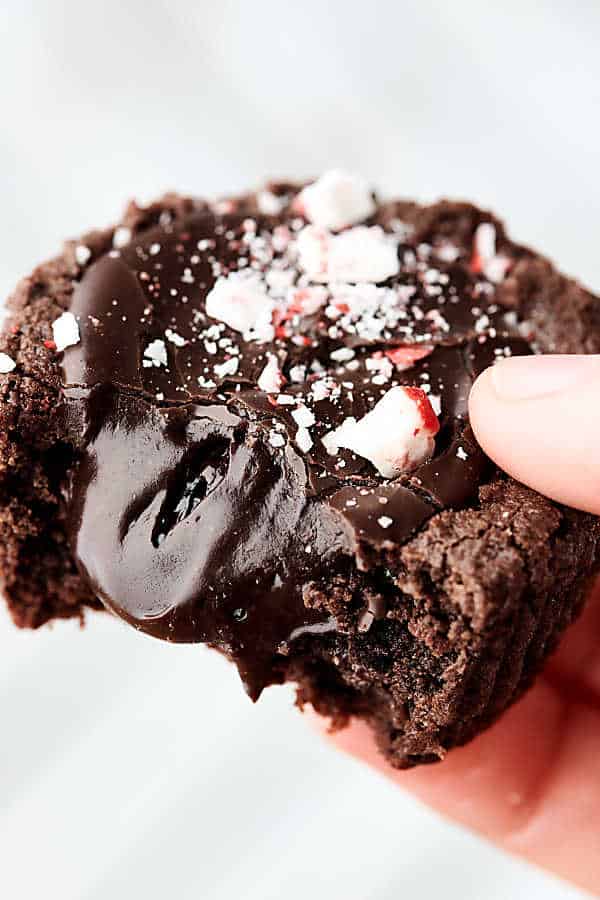 Easy Peanut Butter Cup Cookies
These Easy Peanut Butter Cup Cookies are a holiday classic! Homemade peanut butter cookie dough is baked in a mini muffin tin and stuffed with a Reese's Peanut Butter Cup. YUM.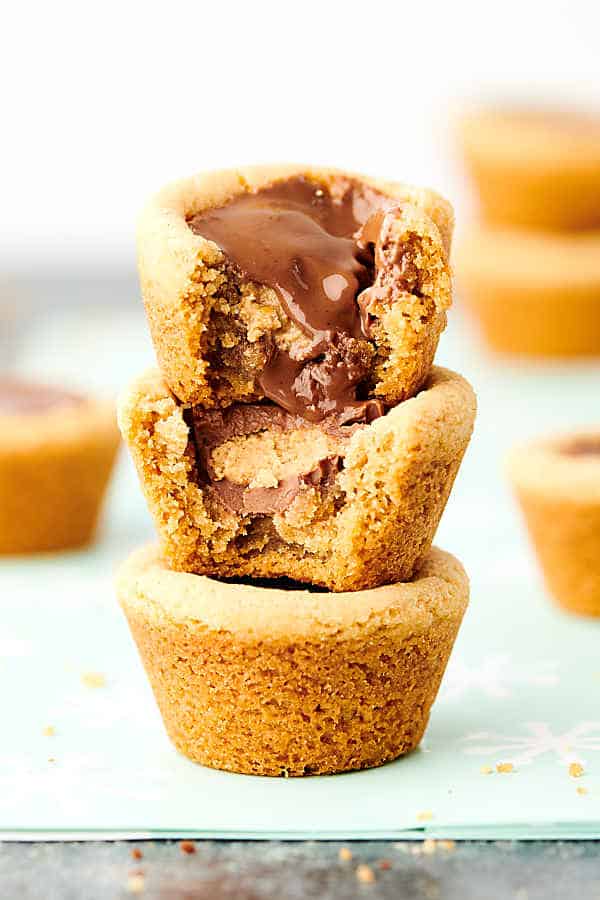 Cut Out Sugar Cookies with Cream Cheese Frosting
Cut out sugar cookies with cream cheese frosting! These are perfectly golden on the outside yet remain fluffy in the middle!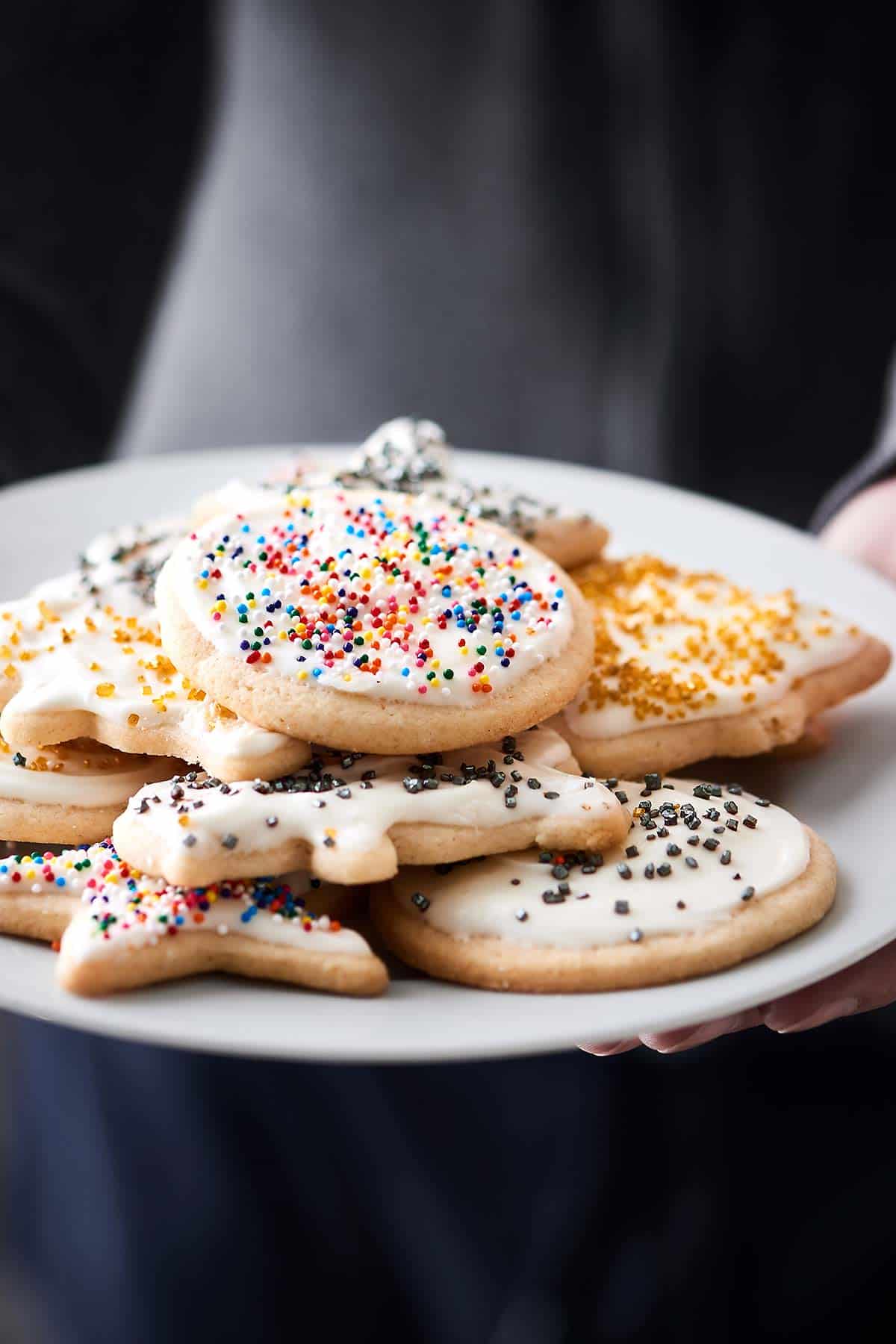 These Chocolate Crinkle Cookies are basically double chocolate cookies rolled in powdered sugar. What's not to love?! Easy. Fudge-y. Delicious! No chilling the dough!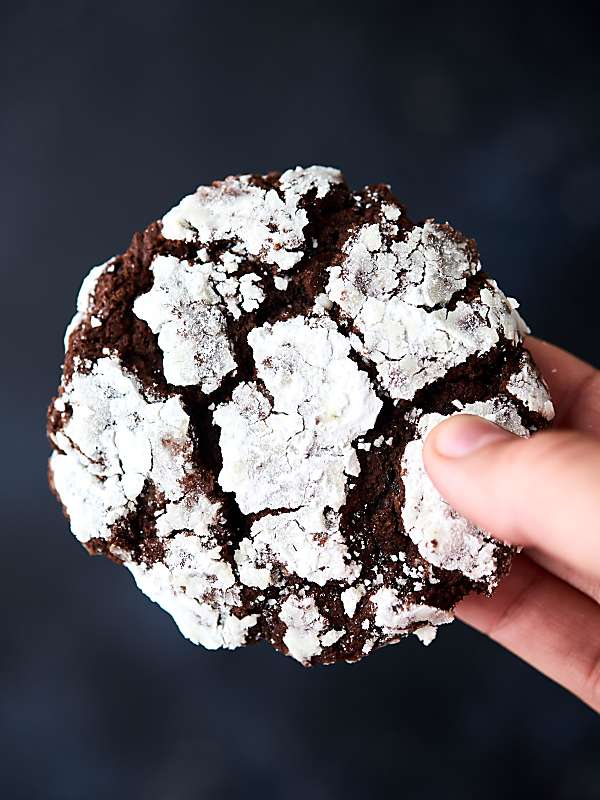 We're making Chewy Ginger Cookies for day TWO of Christmas Cookie and Candy week. These cookies are chewy, a little crunchy, totally fluffy, perfectly spiced, and sweetened with maple syrup!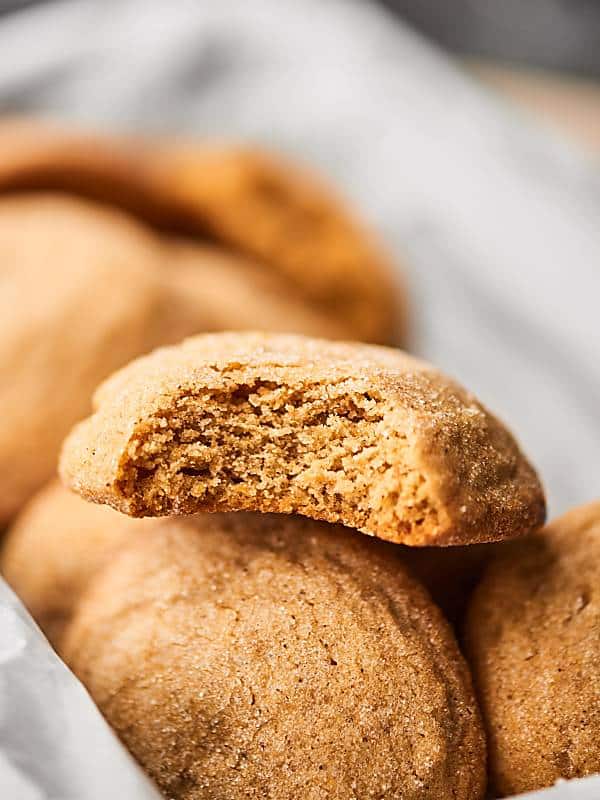 These Mint Chocolate Cookies are SO easy to make during the holiday season. A chocolate cookie is filled w/ both regular Andes Mints & Peppermint Crunch!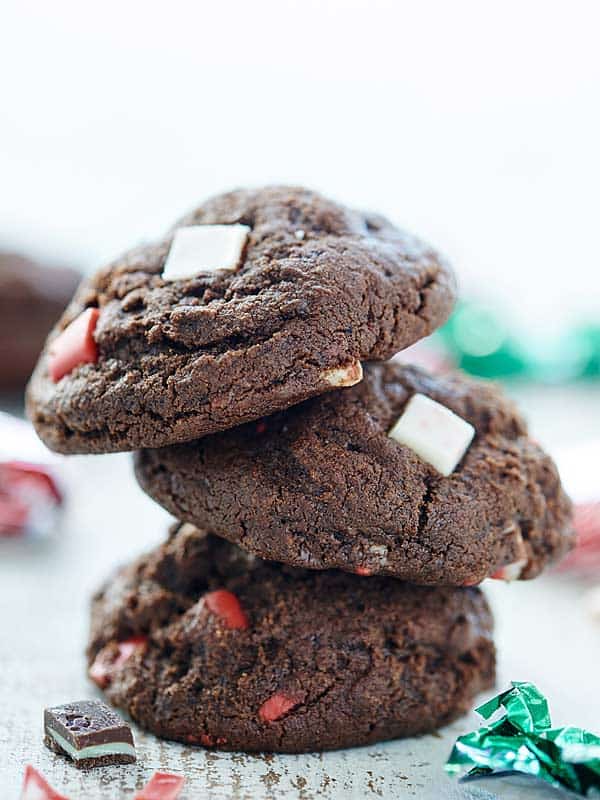 These really are Grandma's Best Sugar Cookies! They're perfectly soft, a little bit chewy, with the right amount of tang from the sour cream. Don't forget the buttercream frosting!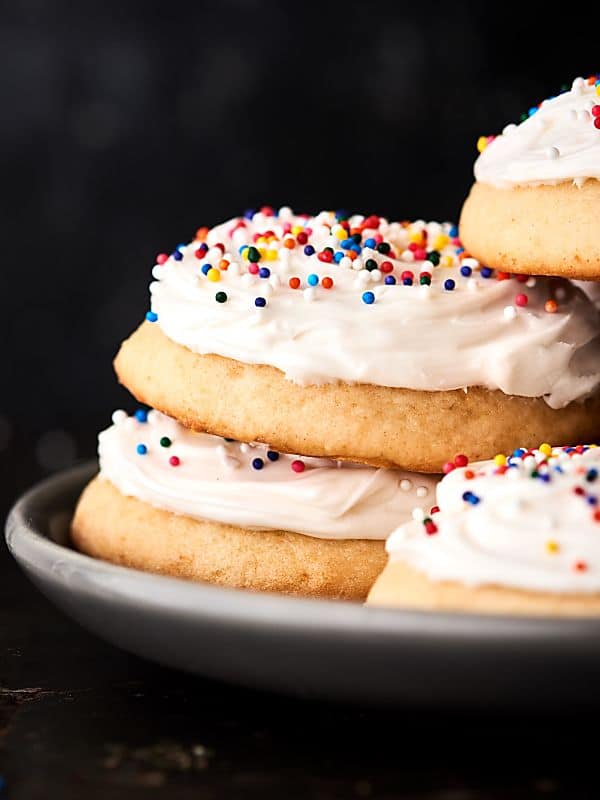 Want more? See all our holiday dessert recipes.
Happy Holiday Eating!
– Jennifer
What holiday recipes are missing from this list? What holiday recipe should I make next? Show Me the Yummy!