These 3 ingredient Bacon Wrapped Dates are a crowd favorite! Only 20 minutes to whip up this sweet and salty appetizer!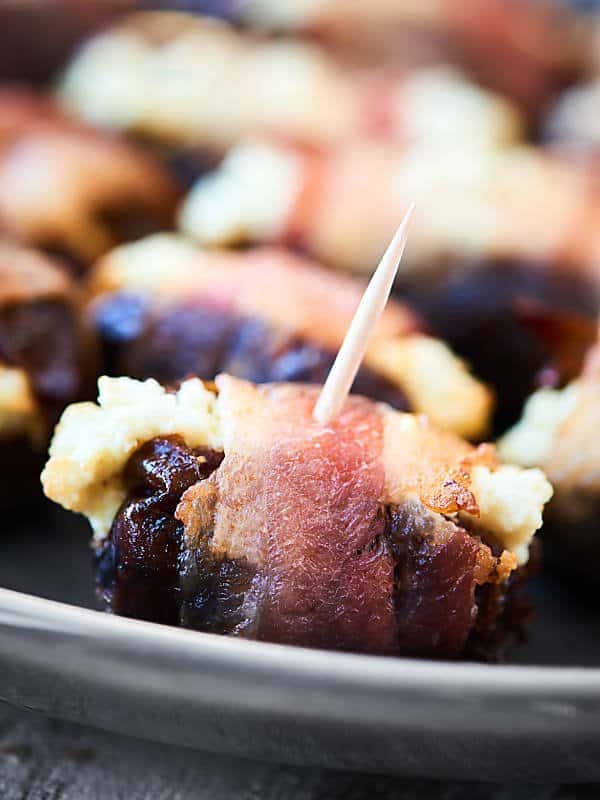 You guys! You need to make these bacon wrapped dates ASAP!
Chewy and sweet from the date, tangy and creamy from the goat cheese, and perfectly salty from the bacon.
Be ready to eat more than your fair share, because these are SO addicting. 😉
What are bacon wrapped dates?
Bacon wrapped dates are just what they sound like! A date stuffed with cheese that's wrapped in bacon and baked until golden perfection! They're a super simple, delicious appetizer with just three ingredients! They're salty, sweet, AND so easy to make!
Traditionally bacon wrapped dates are made with medjool dates and goat cheese, but feel free to play around with different dates and cheeses!
Ingredients
I always have these ingredients on hand for last minute appetizer emergencies!
Goat Cheese – adds a creamy texture and tangy flavor to balance out the sweet dates and salty bacon.
Medjool Dates – chewy, caramel-y, and super sweet. The perfect complement to the salty, savoriness of the bacon.
Bacon – adds a crispy texture and savoriness to balance out the sweetness of the date.
Pro tip
Use medjool dates (vs other varieties of dates). They may be a little pricier, but they're often bigger than other dates, making them perfect for stuffing! They also have a sweeter, richer flavor and chewier, softer texture!
How to make bacon wrapped dates
Three ingredients and five minutes of prep . . . idiculously easy to make and even easier to eat!
Remove the pit from each of the dates.
Stuff the dates with goat cheese.
Wrap each date in a piece of bacon.
Line the bacon wrapped dates on a baking sheet lined with a silicone baking mat or parchment paper.
Bake, cool, then serve and enjoy!
Pro tip
Don't use thick cut bacon! It takes too long to crisp up in the oven and overpowers the date!
How long do you cooked bacon wrapped dates?
Cook bacon wrapped dates for 15 minutes at 375 degrees F.
If the bacon isn't crisped to your liking, bake for another 2 minutes. Add more time, as necessary, but they should be good to go after 20 minutes!
Pro tip
If the bottom of the bacon starts to get too brown, rotate the date to ensure it cooks evenly!
What cheese to use for bacon wrapped dates?
I LOVE the creamy, tanginess of the goat cheese, but feel free to play around with different kinds. Here are some other cheeses that would taste delicious with bacon wrapped dates.
Flavored goat cheese: herb, honey, peppered, etc.
Blue Cheese
Brie (I'd suggest removing the rind)
Feta
Ricotta
Cream Cheese
Do you need toothpicks?
You don't need toothpicks to make bacon wrapped dates. The toothpicks simply help hold the bacon in place.
If you don't have any, be sure to wrap the bacon around the date, so the date opening is facing up, but the seam of the bacon is placed down on the baking sheet. This ensures that the bacon won't unravel, but the filling won't fall out.
Tips for making the best bacon wrapped dates
Use half pieces of bacon. A whole piece will wrap too many times around the date. You don't want it to overlap too much or the bacon won't cook fully.
Soften your cheese to room temperature. This will make it much easier to scoop and spoon into each date.
Bake longer to crisp the bacon. If you prefer crispier bacon, leave the dates in the oven for a couple more minutes.
Use a spoon or piping bag. I used a small spoon to scoop the cheese into the date.
Use thin-cut bacon. This ensures that it cooks fully!
Remove the pits from the dates. This may go without saying, but make sure you remove the pits from each date before you spoon in the cheese. You could even replace it with an almond for some extra crunch!
Variations
This easy appetizer is delicious as is, but if you're feeling adventurous, here are some ways you can get creative with the recipe!
Use a different cheese. Try substituting goat cheese with blue, brie, feta, ricotta, or cream cheese!
Use a different dried fruit. This recipe would also work with figs, apricots, or even prunes.
Use a different meat. Try prosciutto instead of bacon. Keep in mind the cook time will be affected!
Add nuts. Tuck half a pecan or a whole almond inside the date before adding the cheese for a little extra crunch.
Spice it up. Mix spices, seasonings, or herbs into your cheese like paprika, garlic, chives, etc.
Caramelize them. Coat the dates in honey or maple syrup before baking! Personally, I find this too sweet, but some people enjoy this!
Make vegetarian. Omit the bacon, then top with maldon sea salt to compensate for the salty flavor and crunch the bacon would've provided.
What to serve with bacon wrapped dates?
Pair with other appetizers for a cocktail party or serve these before dinner for a complete meal:
Other Appetizer Pairings
To Make into a Meal
Rolls or other fluffy carb of choice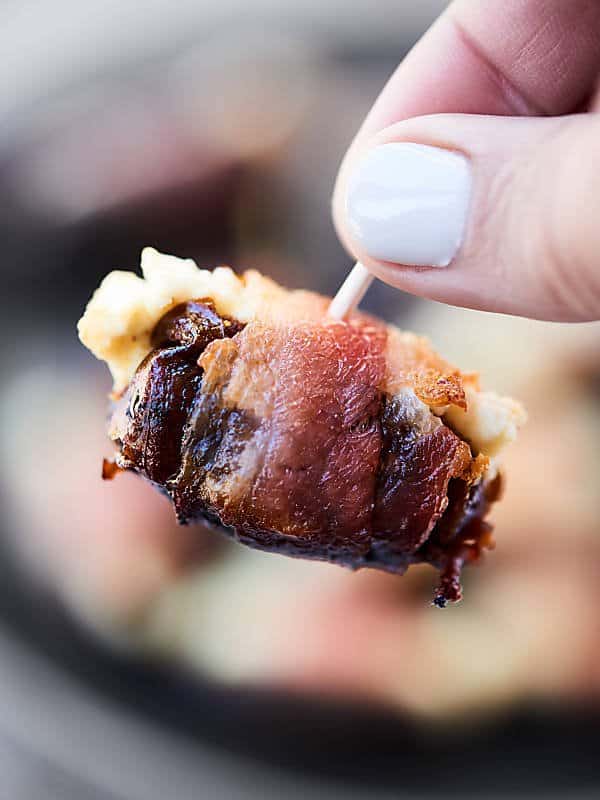 Can bacon wrapped dates be made ahead of time?
These are best served right after cooking, but you can prep them ahead of time! Simply prep everything, secure with toothpicks (if using), cover the baking sheet, and store in the fridge for up to 24 hours before baking.
You can also flash freeze the prepped dates then store them in the freezer for up to a month before baking. Let them defrost on a cookie sheet in the fridge a day before baking.
Keep in mind, this may affect the cook time since the dates will be cold.
Can you freeze bacon wrapped dates?
I don't recommend freezing the dates after they're baked but you can prep and freeze them beforehand!
Place prepped dates on a baking sheet and freeze for 2-3 hours. Once they're completely frozen, transfer them to an airtight container or ziplock baggie and freeze them for up to 1 month!
Defrost on a cookie sheet in the fridge a day before baking.
How to store
Although these are best served immediately, you can still store cooked and cooled dates in an airtight container in the fridge for 4-5 days.
I don't recommend storing these in the freezer after they're already baked because the texture of the dates will change.
Can you reheat bacon wrapped dates?
To reheat your dates, place them back on the baking sheet and bake at 375 degrees F for 5-7 minutes or until they're heated through and the bacon is re-crisped.
– Jennifer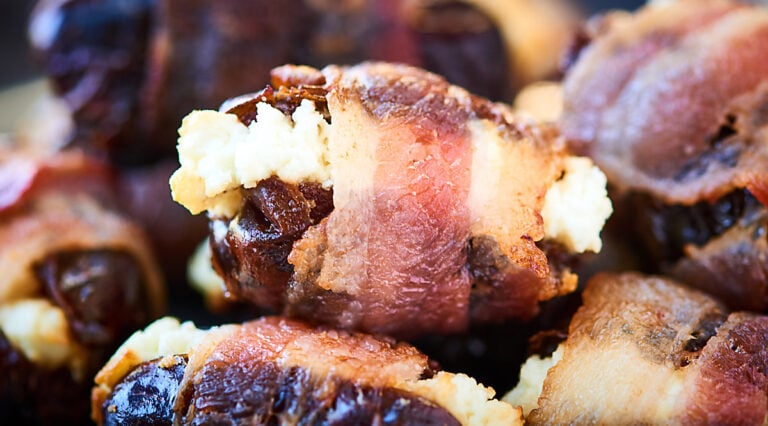 Bacon Wrapped Dates Recipe
These 3 ingredient Bacon Wrapped Dates are a crowd favorite! Only 20 minutes to whip up this sweet and salty appetizer!
Equipment for this recipe
(equipment shown are affiliate links)
Ingredients
1

(4 oz)

log goat cheese

softened to room temperature

16 - 18

Medjool dates

pitted and sliced in half lengthwise

8-9

strips

bacon

sliced in half
Instructions
Preheat oven to 375 degrees and line a rimmed baking sheet with parchment paper.

Stuff dates with goat cheese.

Wrap each date in a piece of bacon.

Place on baking sheet and bake for 15-20 minutes, or until bacon is cooked to your liking.*

Cool slightly and enjoy!
STORING
Reheat:
Bake at 375ºF for 5 minutes
*Storage times may vary based on temperature and conditions
Notes
*If the bottom of the bacon starts to get too brown, rotate the date to ensure even cooking.
Nutrition Information
Nutrition Facts
Bacon Wrapped Dates Recipe
Amount Per Serving (1 "bite")
Calories 135
Calories from Fat 54
% Daily Value*
Fat 6g9%
Cholesterol 11mg4%
Sodium 99mg4%
Potassium 199mg6%
Carbohydrates 19g6%
Protein 3g6%
Vitamin A 115IU2%
Calcium 26mg3%
Iron 0.4mg2%
* Percent Daily Values are based on a 2000 calorie diet.
*Note: Nutrition information is estimated and varies based on products used.
Keywords:
baked, goat cheese filling, three-ingredient
This post has been updated to provide more detailed content.