This Easy Chocolate Fudge is smooth, rich, and creamy! Made with 5 ingredients and cooks in the microwave in under 2 minutes! The perfect holiday treat.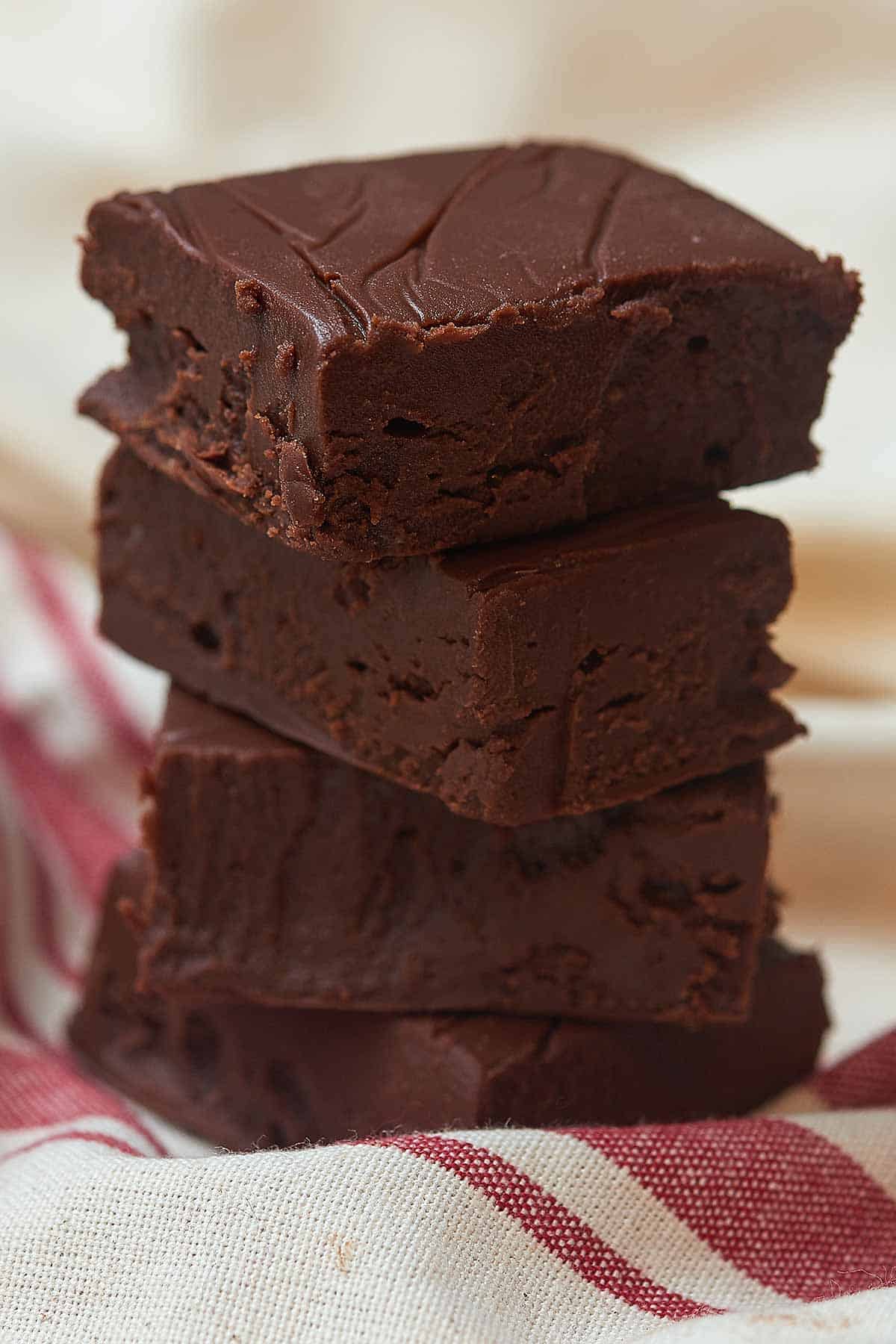 I'm back with another scrumptious one-bowl dessert. This easy chocolate fudge is ultra smooth, creamy, EXTRA chocolatey, and so. darn. yummy.
This fudge recipe is actually one that was passed down from Trevor's side of the family. His grandma heard the recipe on a radio talk show in the car while her husband was driving, so she scribbled it down, and tweaked it from there! And now, here we are!
Who's excited? I know I am. 😉
What is chocolate fudge?
Fudge is a type of soft candy that is made by heating sugar, chocolate, butter, milk, and other flavorings together. Most recipes require a stove and a candy thermometer, but this fool proof recipe uses a microwave (and no thermometer) instead!
Ingredients
There are only 5 ingredients in this easy chocolate fudge recipe. Normally fudge is made with sweetened condensed milk and chocolate chips, but for this recipe we will be replacing those with powdered sugar and cocoa powder.
Powdered Sugar – the base of our fudge and our sweetener! Powdered sugar is used rather than granulated sugar to make this fudge ultra smooth and creamy. Granulated sugar wouldn't dissolve which would make for a very gritty fudge. Powdered sugar is also called confectioners' sugar.
Cocoa Powder – is unsweetened and provides the fudge with a rich chocolate flavor. Either natural cocoa powder (what you typically see at the grocery store and often labeled simply with "cocoa powder") and dutch cocoa powder will work just fine in this recipe.
Butter – melted into the fudge to add a creamy texture and rich buttery flavor. The original recipe calls for unsalted butter, but salted butter would also be fantastic, especially if you love a little salt with your sugar!
Chocolate Milk – thins out the fudge just a bit to make the perfect creamy, but not too thick texture. Any milk should work just fine — skim milk, flavored creamer, non-dairy milk —  but I love the extra chocolate flavor and richness from using chocolate flavored whole milk.
Vanilla Extract – makes the fudge pleasantly shiny and adds a warm depth of flavor. Pure vanilla extract is preferred for this no-bake recipe, but imitation will be fine in a pinch. Pure vanilla is made with vanilla bean, water, and alcohol whereas imitation vanilla is made without vanilla beans. Imitation is cheaper, but I prefer pure vanilla extract in this particular recipe, because it's flavor is very pronounced.
Chopped Pecans (optional) – or your favorite chopped nut! Nuts add a delicious crunch and nutty flavor which contrasts the smooth, richness of the fudge.
Pro tip
Don't have chocolate milk, but want that chocolate flavor? Make your own chocolate milk by stirring chocolate syrup into milk until dissolved.
How to make
This microwave fudge is simple, delicious, and made in 90 seconds!
Sift powdered sugar and cocoa powder through a sieve into a large mixing bowl.
Add in butter and milk to the microwaveable bowl.
Microwave for 90 seconds then whisk until smooth.
Add in vanilla and optional nuts.
Pour fudge mixture into a prepared pan, then cover and refrigerate until firm.
Slice, serve, and enjoy!
Pro tip
Sift your powdered sugar and cocoa powder with a fine mesh sieve to remove any lumps. This makes the fudge extra smooth!
Can i make fudge on the stove?
Yes. To make this fudge on the stove:
Pour an inch or two of water into a saucepan, then bring to a simmer.
Place sifted powdered sugar, sifted cocoa powder, butter, and milk into a large glass bowl, then place the bowl on top of the saucepan with simmering water.
Cook, whisking regularly, until the butter has melted, and the mixture is smooth.
Remove from heat, stir in the vanilla and optional chopped nuts, then pour quickly into prepared pan.
Chill as directed and enjoy!
Can i use a different kind of milk for fudge?
You can substitute the chocolate milk for any other milk (besides buttermilk or sweetened condensed milk). Try plain whole milk, flavored creamer, evaporated milk, 2% milk, skim milk, or your favorite non-dairy milk or creamer!
If you'd like to use chocolate milk, but don't have any on hand . . . make your own!
Combine whatever milk you have on hand with chocolate syrup.
Whisk until thoroughly combined.
Taste and add more chocolate or milk until the desired chocolate flavor is reached.
Measure out 1/4 cup of the homemade chocolate milk and proceed with the recipe.
Pro tip
You could even try leftover cooled hot chocolate!
Does the weather affect fudge?
It can. If you're making your fudge on a humid day, chances are it will take longer to set in the fridge. Be sure to store the finished fudge in the fridge for best results.
Why didn't my fudge set?
If your fudge didn't set, here's what may have happened:
You didn't cook it long enough. Make sure everything is completely melted (no butter chunks) before transferring the mixture to a baking dish. The wattage on your microwave may be less than mine as well. In that case, try adding an additional 30 seconds to the cook time.
You under-measured your powdered sugar. The powdered sugar helps the fudge firm up. Make sure you measure it correctly! Buy a 1 pound bag of powdered sugar, then there's no measuring necessary!
You over-measured your milk or butter. Too much liquid and the fudge won't set properly.
It didn't cool long enough. Patience is key. Your fudge may take longer to set in the fridge if it's a hot day, the kitchen is warm from the oven, or if your fridge isn't as cold as mine.
Personally, I've never had an issue with my fudge setting and I've made this at least a dozen times!
Variations
Nuts. I love the optional addition of chopped pecans but you could also try chopped walnuts, pistachios, almonds, macadamia nuts, etc!
Chocolate Chips. After the fudge mixture is melted, stir in milk chocolate chips, semi-sweet chocolate chips, dark chocolate chips, peanut butter chips, white chocolate chips, or toffee chips.
Dried Fruit. The tart flavor and chewy texture of dried cranberries or cherries would contrast the sweet, creamy fudge beautifully.
Other flavors. Check out my Microwave Fudge – 4 Ways. We make peppermint, chocolate, turtle, and maple flavored fudge!
Orange Zest. Add some orange zest to your fudge mixture for a little tang.
S'mores. Stir in some mini marshmallows and chopped graham crackers before refrigerating your fudge.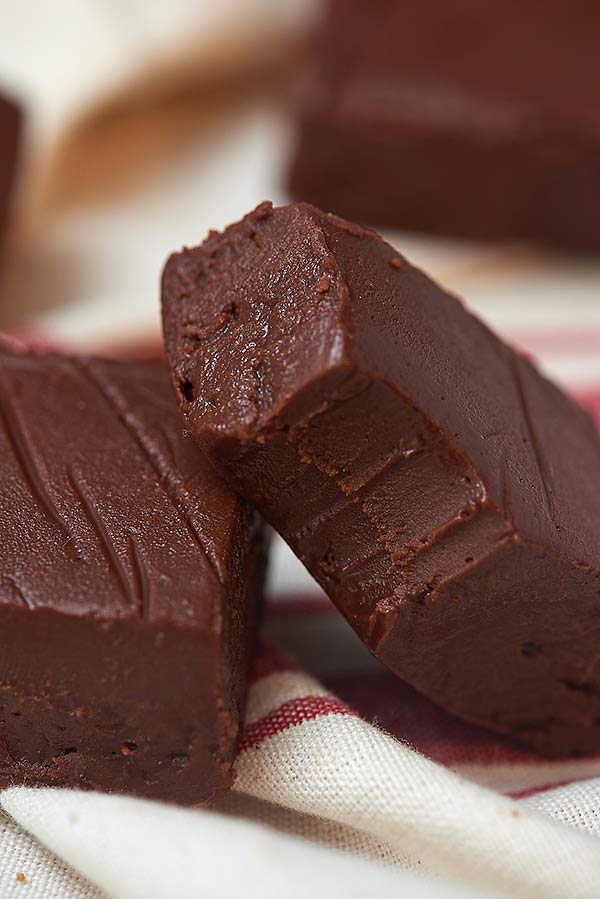 How to store
Leftovers can be stored in an airtight container at room temperature for up to 1 week, the refrigerator for 1 month, and in the freezer for 6 months.
If frozen, let your fudge thaw in the fridge before enjoying again!
Pro tip
If storing fudge at room temperature, be sure it's in a dark, cool spot — the kitchen can get toasty during the holiday season!
– Jennifer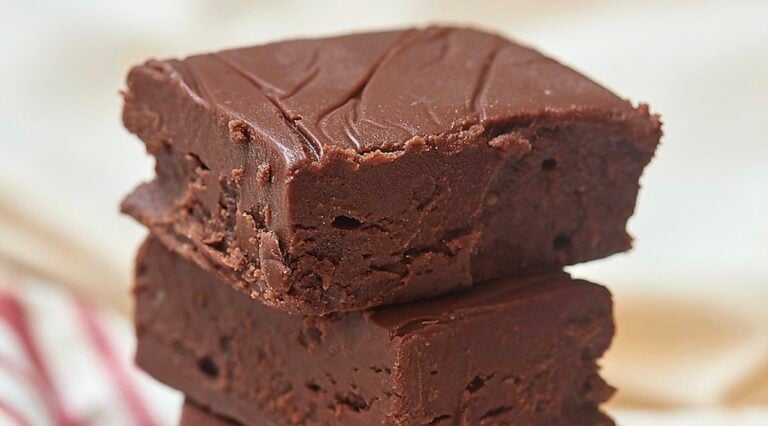 Easy Chocolate Fudge
This Easy Chocolate Fudge is smooth, rich, and creamy! Made with 5 ingredients and cooks in the microwave in under 2 minutes! The perfect holiday treat. 
Equipment for this recipe
(equipment shown are affiliate links)
Ingredients
1

(1 pound) bag

powdered sugar

sifted

1/2

cup

cocoa powder

sifted

1/2

cup

unsalted butter

cubed into small chunks -

1 stick

1/4

cup

chocolate milk

or "regular" milk

1

tablespoon

vanilla extract

1/2

cup

chopped pecans

optional
Instructions
Line a 6 x 8 (or similar sized) pan with parchment paper misted very lightly with cooking spray. Set aside.

Place powdered sugar, cocoa powder, cubed butter, and milk into a large bowl.

Microwave for 90 seconds or until the butter is melted.

Whisk in vanilla and optional nuts.

Pour into prepared pan, cover, and chill in the refrigerator until set.
STORING
Reheat:
If frozen, let thaw before re-serving
*Storage times may vary based on temperature and conditions
Notes
Nutritional information does not include nuts.
For thicker fudge, I like to double this recipe (use the scale button above) and pour it into a prepared 8x8 pan. You'll need to microwave the mixture slightly longer (about 2 - 2 1/2 minutes). 
Nutrition Information
Nutrition Facts
Easy Chocolate Fudge
Amount Per Serving (1 piece)
Calories 173
Calories from Fat 54
% Daily Value*
Fat 6g9%
Cholesterol 16mg5%
Sodium 5mg0%
Potassium 48mg1%
Carbohydrates 30g10%
Protein 1g2%
Vitamin A 186IU4%
Calcium 9mg1%
Iron 1mg6%
* Percent Daily Values are based on a 2000 calorie diet.
*Note: Nutrition information is estimated and varies based on products used.
Keywords:
chocolate, family recipe, microwave candy
This post was originally published December 3, 2014 and has been updated to provide more detailed content.