A passed down family recipe! This easy chocolate fudge is made in one bowl, has 5 ingredients, and is cooked in the microwave for 90 seconds! The easiest dessert you'll make this holiday season!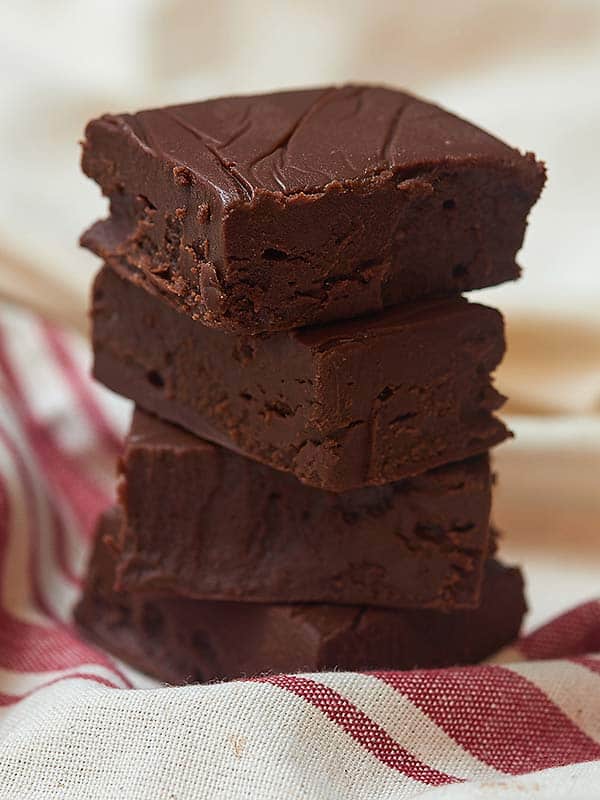 This Easy Chocolate Fudge is one of our most popular recipes (originally posted December 3, 2014), so I've updated it to include a how-to video! Enjoy!
I'm back with another scrumptious one bowl dessert and it's called Easy Chocolate Fudge. Who's excited?!
Just two days ago, I posted about one bowl brownies. Trevor took them into the office the next day and did not return with a single crumb. They were a hit! I'm not sure if I was more excited, because…
A. They loved the brownies.
or
B. I only had one bowl to wash.
Would it be wrong for me to say B? Kidding…kidding…but seriously, during the holidays, I find that our kitchen is just never as clean as I want it to be. Over the past few days somehow I've spilled lentils, pumpkin seeds, salad dressing, powdered sugar, and brownie batter all over our kitchen floor.  It's only Wednesday, so who knows what's next!
Long story short, we are not having visitors over until I can get the kitchen under control. Except, too bad, because we're definitely having friends over tonight for dinner. Oops 😉
Messy kitchens and the success of my one bowl brownies are the inspiration for posting another one bowl creation, easy chocolate fudge.
SAY WHAAAT?!?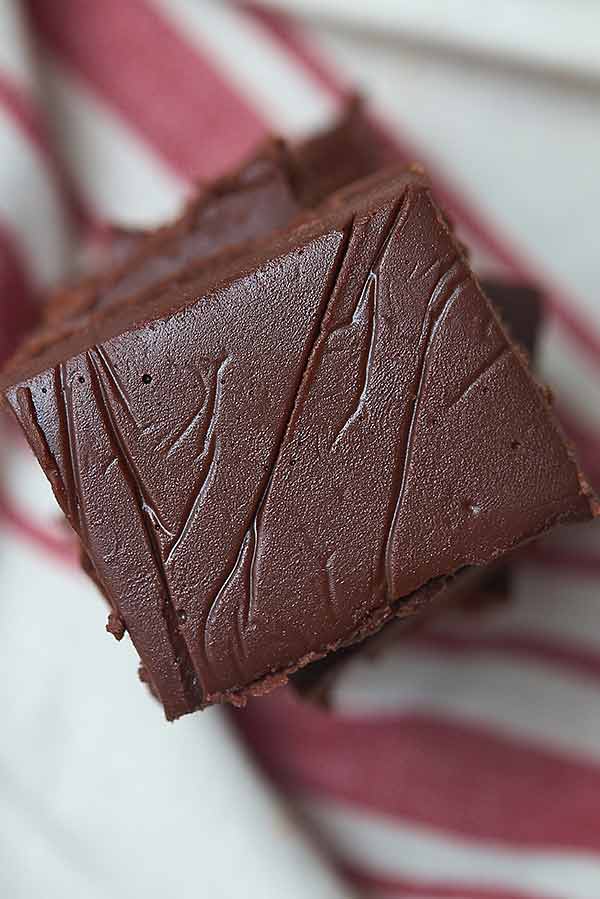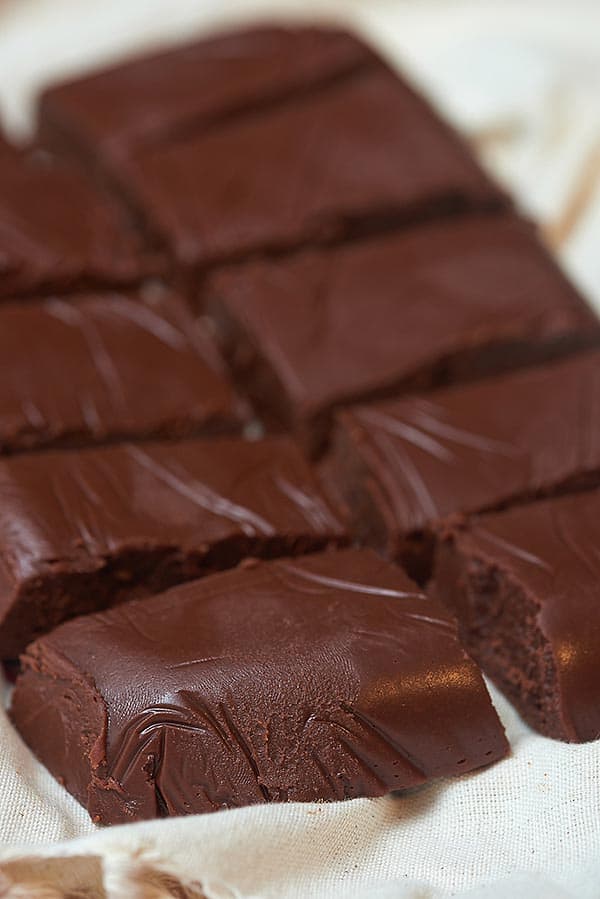 Thank goodness I married Trevor. Before him, I had ZERO appreciation for fudge.
Now that we're married… I love fudge! Why all of a sudden you ask? Because I got access to another amazing family recipe (have you tried this stuffing recipe yet?)! Trevor's mom, Brent, (now my Mom too!!) was just in town for Thanksgiving and we had a lot of quality time together while Trevor was at work. Mainly, I pestered her to give me more family recipes. She had already sent me this recipe, but she brought it up again, and told me that her mom had originally heard the recipe on a radio talk show while her husband was driving, scribbled it down, and tweaked it from there! It's been in the family ever since.
I love family recipes! It's so interesting how they get discovered and then passed down from generation to generation. I love how they're always sooo tasty, too. I've never had a bad family recipe, it's always something comforting and loaded with flavor.
This fudge is no exception and I'm hardly biased since I'm a pretty new addition to the family. 😉
There are only 5 ingredients in this easy chocolate fudge recipe. How amazing is that? Simple, delicious, and made in literally 90 seconds. Really. Thank you Mr. Microwave Technology Inventor Guy.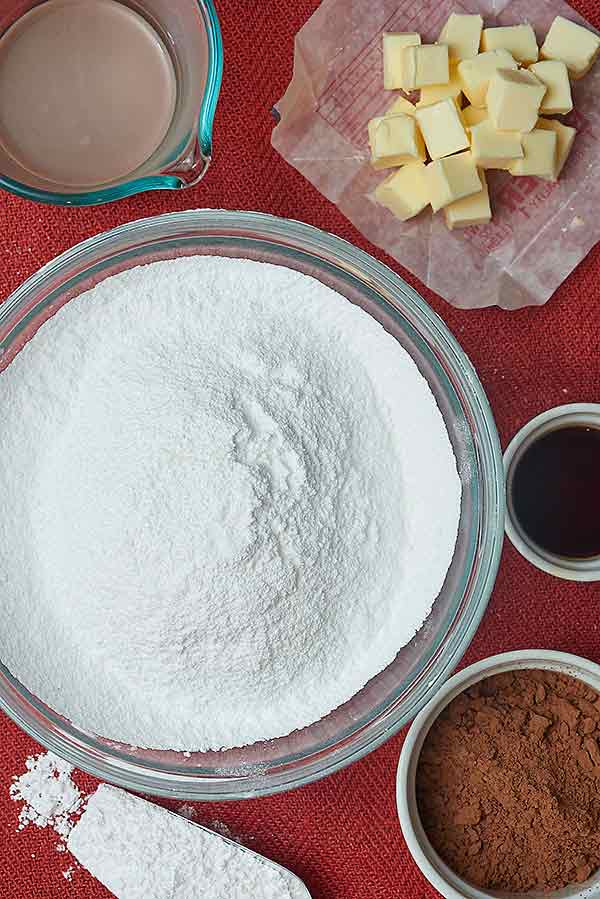 First, set out your ingredients: sifted powdered sugar and cocoa, cubed butter, chocolate milk (regular is fine, too!), and vanilla. You can add pecans, too, if you want, but I'm not typically a nut-in-my-dessert kinda person. If you are, we can still be friends. No worries.
Place all of your ingredients in a microwavable bowl, minus the vanilla and optional nuts.
Microwave for 90 seconds.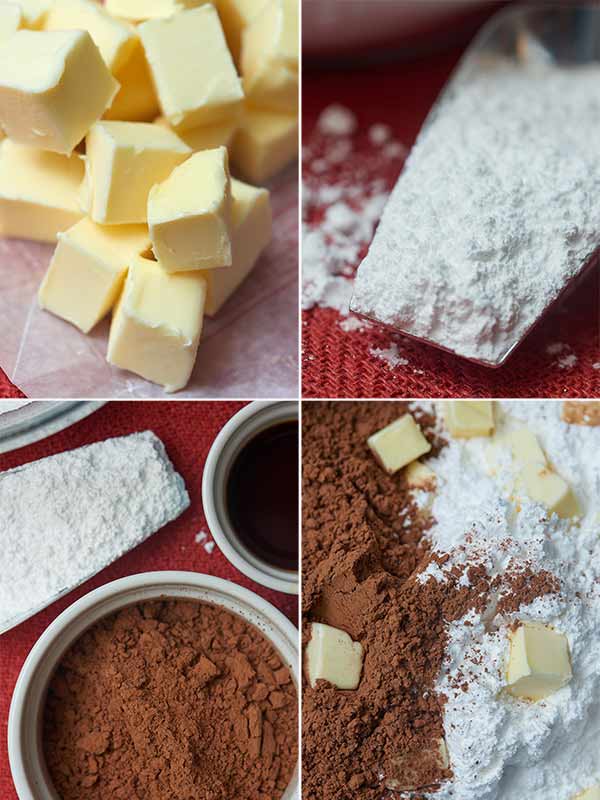 During this 90 seconds, line a small pan (I used a 6 x 8) with saran wrap.
Remove from the microwave and whisk until smooth. Then stir in vanilla and optional nuts.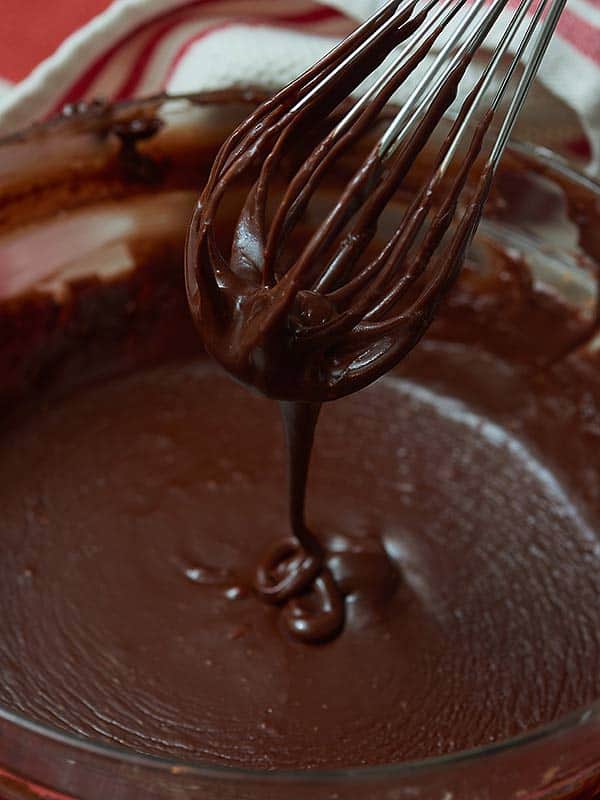 Pour into the saran wrapped pan, cover and place in the refrigerator until hardened. Slice, serve, and go nuts! Or…don't go nuts…since I didn't put any in mine. What? 😉 (You can file that one in the ever growing Show Me the Yummy one liners drawer, with this knee slapper, and my comedy hour).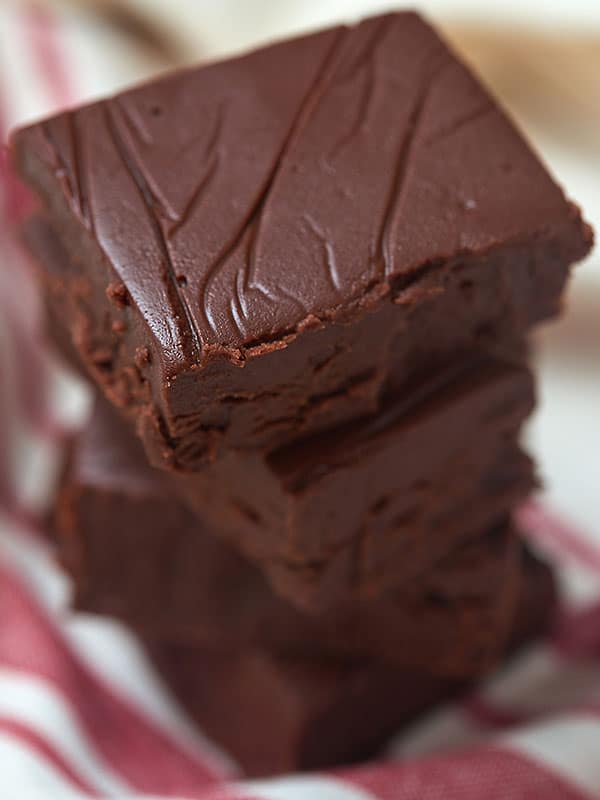 This easy chocolate fudge is ultra thick, smooth, creamy, and extra chocolatey. I promise, it'll totally be worth that 90 seconds it takes you to make it!
– Jennifer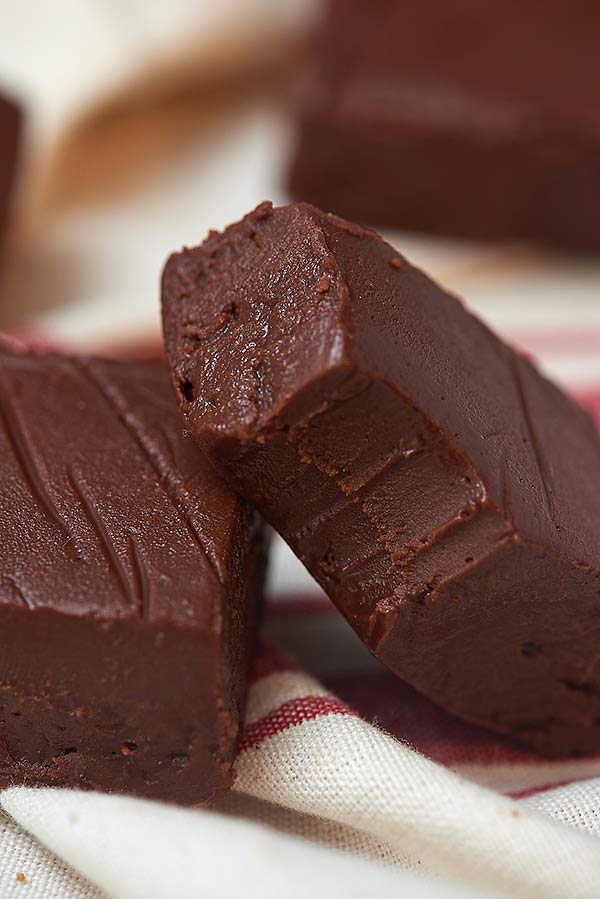 Do you like nuts in your fudge? Show me the yummy!
Want MORE fudge recipes? Be sure to check out all our microwave fudge recipes.
Easy Chocolate Fudge
A passed down family recipe! This easy chocolate fudge is made in one bowl, has 5 ingredients, and is cooked in the microwave for 90 seconds! The easiest dessert you'll make this holiday season!
Servings
:
1
pan
Results and timings may vary when adjusting servings
Ingredients
1

(1 pound) bag

powdered sugar

sifted

1/2

cup

cocoa powder

sifted

1

stick (1/2 cup)

unsalted butter

cubed into small chunks

1/4

cup

chocolate milk

1

tablespoon

vanilla extract

1/2

cup

chopped pecans

optional
Instructions
Line a 6 x 8 (or similar sized) glass pan with plastic wrap or wax paper misted very lightly with cooking spray.

Put all ingredients, excluding vanilla and optional nuts, into a bowl.

Microwave for 90 seconds.

Whisk until smooth.

Whisk in vanilla and optional nuts.

Pour into prepared pan, cover, and chill in the refrigerator until set.
Make this recipe?
Show

ME

the Yummy
Tag @ShowMeTheYummy & #ShowMeTheYummy on Instagram