This Crustless Quiche Lorraine is ultra fluffy, creamy, and full of salty bacon, smoky gruyere cheese, and eggs. Perfect for an easy, filling breakfast or brunch!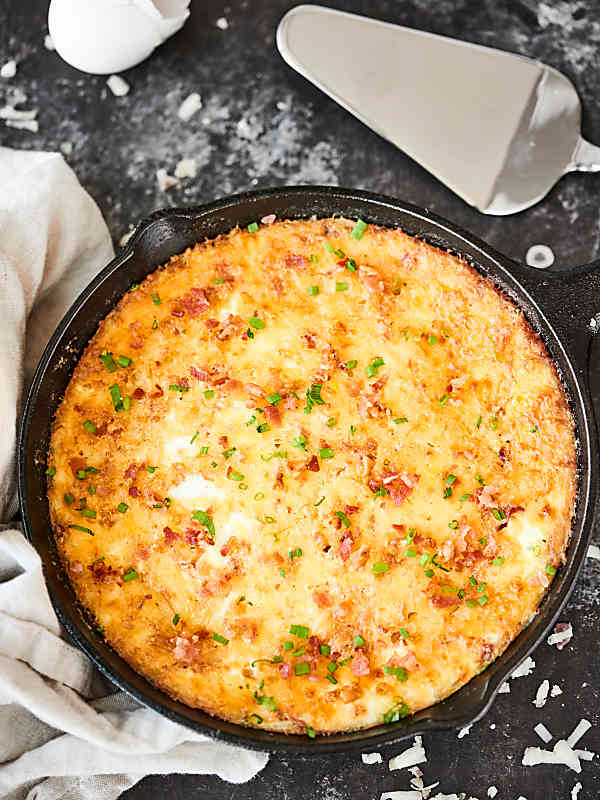 I don't often make quiche, but when I do, I make this Crustless Quiche Lorraine Recipe. I suggest you do the same, because holy COW this quiche is goooood.
Typically, when I think of what sounds good for breakfast, I think of Biscuits and Gravy, a nice cold smoothie, all the muffin recipes, or even a nice sweet potato breakfast hash.
Quiche? Eh. I'd be fine without it.
H.O.W.E.V.E.R.
I had a request for a crustless quiche and that's how this Crustless Quiche Lorraine was born.
Honestly, I wasn't expecting to like reeeeeeally love it, but you guys, I like reeeeeeally love this quiche.
It's fluffy. It's creamy. It's full of eggs, cheese, and bacon (oh my!). It's easy. It's delicious.
Crustless Quiche Lorraine. I love you.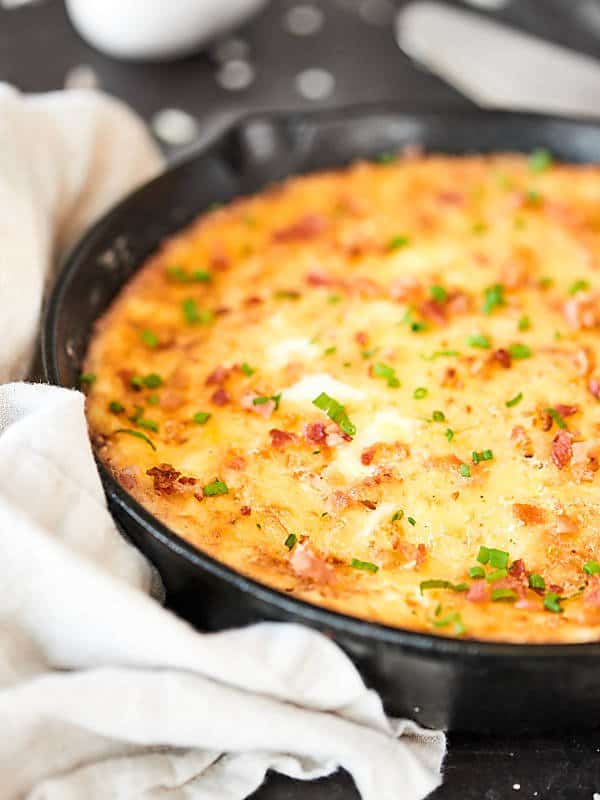 BTW – I'm typing this from somewhere in the middle of Oklahoma. Google doesn't even know where I am right now, because I have ZERO cell service.
Why? Well,  Trevor, Teddy, and I are making our way to Austin, TX to
Visit Trevor's dad (Hi Jim!!!!)

Go to BlogHer Food <— blogging conference where you learn blogging things and meet new blogging friends.

Eat #allthetacos. PLEASE send me your recommendations if you have any and I'll love you forever, because, you know, Mexican food is my FAVORITE and I'm constantly on the search for the best chips and salsa.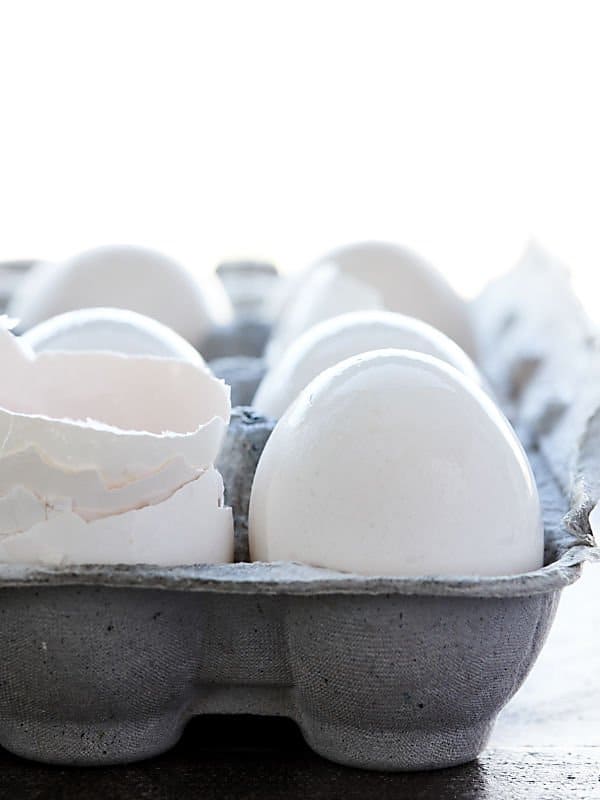 While we are equipped with plenty of snacks: Lara Bar Bites, apples, beef jerky, saltine crackers. . . don't ask me my thought process on these snacks ;). . . I am seriously dreaming of this Crustless Quiche Lorraine Recipe.
Oh! And I forgot to mention, if you have an 8" cast iron skillet, this can TOTALLY be a ONE POT WONDER! Well almost. It's really a two dish wonder, but still. 😉 Wahoo!!! Those are my fave. If you don't have an oven safe skillet, no worries, because this still requires very few dishes.
Now, as all good recipes begin, this quiche recipe starts by cooking bacon. Yessss.
Once that's nice and crispy you'll remove the bacon, and saute some onions IN the bacon fat. Yes. IN the bacon fat. There is no better smell in life.
Once the onions are cooked, you'll throw in some garlic, let that cook for a hot second, and then you'll remove the onions/garlic from the pan.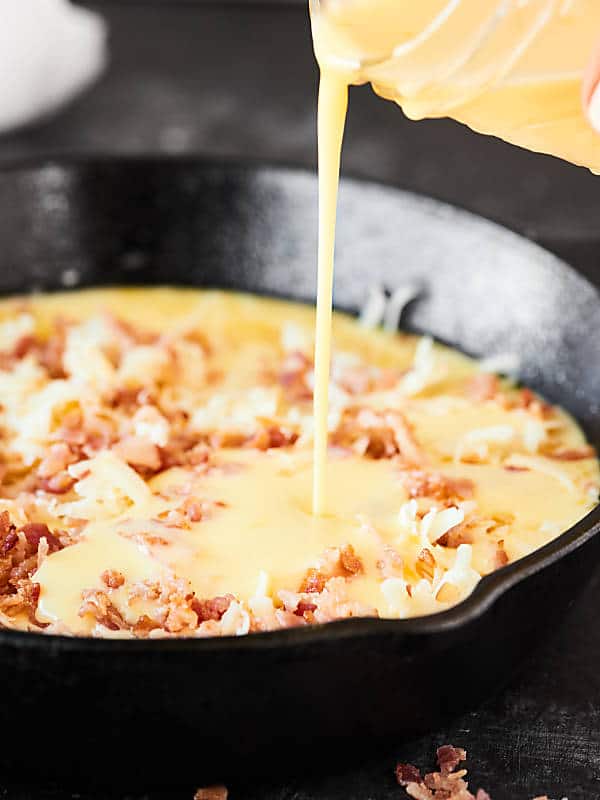 In a separate bowl, whisk together eggs, whole milk, the bacon, the onion mixture, a teeny pinch of salt, cayenne and nutmeg – sounds super weird, but trust me – and the BEST apple smoked gruyere. Now. If you can't find an apple smoked gruyere, no problem, BUT if you CAN find it. Do it, because it takes this quiche from good, to SUPER good.
Pour everything back into the cast iron skillet and bake until golden, bubbly, and delicious.
Then, SERVE. IT. UP.
This quiche is so so SOOOOO creamy, a little salty and smoky from the bacon and gruyere, and just outta this world comforting.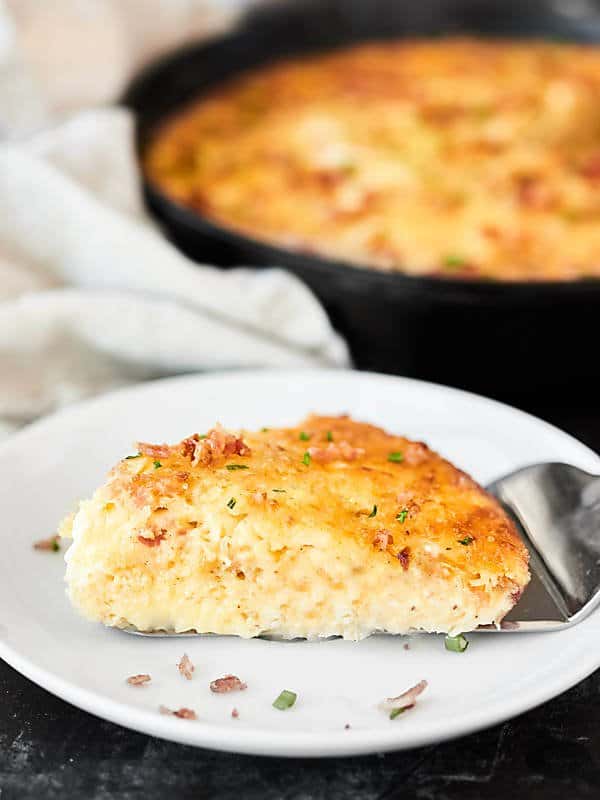 Chilly mornings are upon us my friends, so let's all cozy up next Saturday for brunch with a slice of this quiche and maybe a little mimosa 😉 and embrace all things fall!
– Jennifer
Quiche. Yes? No? What's your favorite kind? Show Me the Yummy!

Crustless Quiche Lorraine Recipe
This Crustless Quiche Lorraine is ultra fluffy, creamy, and full of salty bacon, smoky gruyere cheese, and eggs. Perfect for an easy, filling breakfast or brunch!
Servings
:
4
people
Results and timings may vary when adjusting servings
Ingredients
6

slices

bacon

1/2

cup

onion

diced

3

cloves

garlic

minced

6

large

eggs

3/4

cup

whole milk

1

(8 oz) block

gruyere

grated (I used this smoked Red Apple Cheese)

1/2

teaspoon

salt

1/8

teaspoon

nutmeg

1/8

teaspoon

Cayenne

Chives

optional for topping
Instructions
Preheat oven to 375 degrees F.

Lay bacon in an 8" oven safe cast iron skillet*. Cook over medium heat until crispy (cook 2 pieces at a time). Remove bacon, but keep the grease. Crumble bacon and set aside.

Add in diced onion. Cook for 5 minutes, or until tender.

Add in garlic. Saute for 30 seconds. Remove from heat.

In a large bowl, whisk together the eggs and milk. Stir in the cheese, salt, nutmeg, cayenne, bacon, and onions.

Grease skillet and pour mixture into prepared pan.

Bake for 20 - 30 minutes or until the egg mixture has set. You can check this with a toothpick. Or you can see once the egg mixture isn't jiggly. Baking time may vary depending on pan you use. I used the hot skillet.

Let cool for about 10 minutes before serving.
Notes
*If you don't have a cast iron skillet, that's ok! Just use a regular saute pan for cooking the bacon/onions and use an 8" round baking pan to bake the quiche.
Make this recipe?
Show

ME

the Yummy
Tag @ShowMeTheYummy & #ShowMeTheYummy on Instagram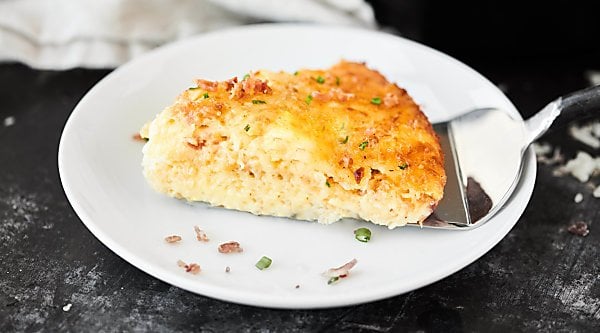 * This post contains affiliate links, thank you for the support in keeping SMTY up and running!