Whether you call it puppy chow or muddy buddies, I promise you, this is the best recipe! Why? More chocolate, more peanut butter, and more powdered sugar! This childhood classic snack mix just got better. 🙂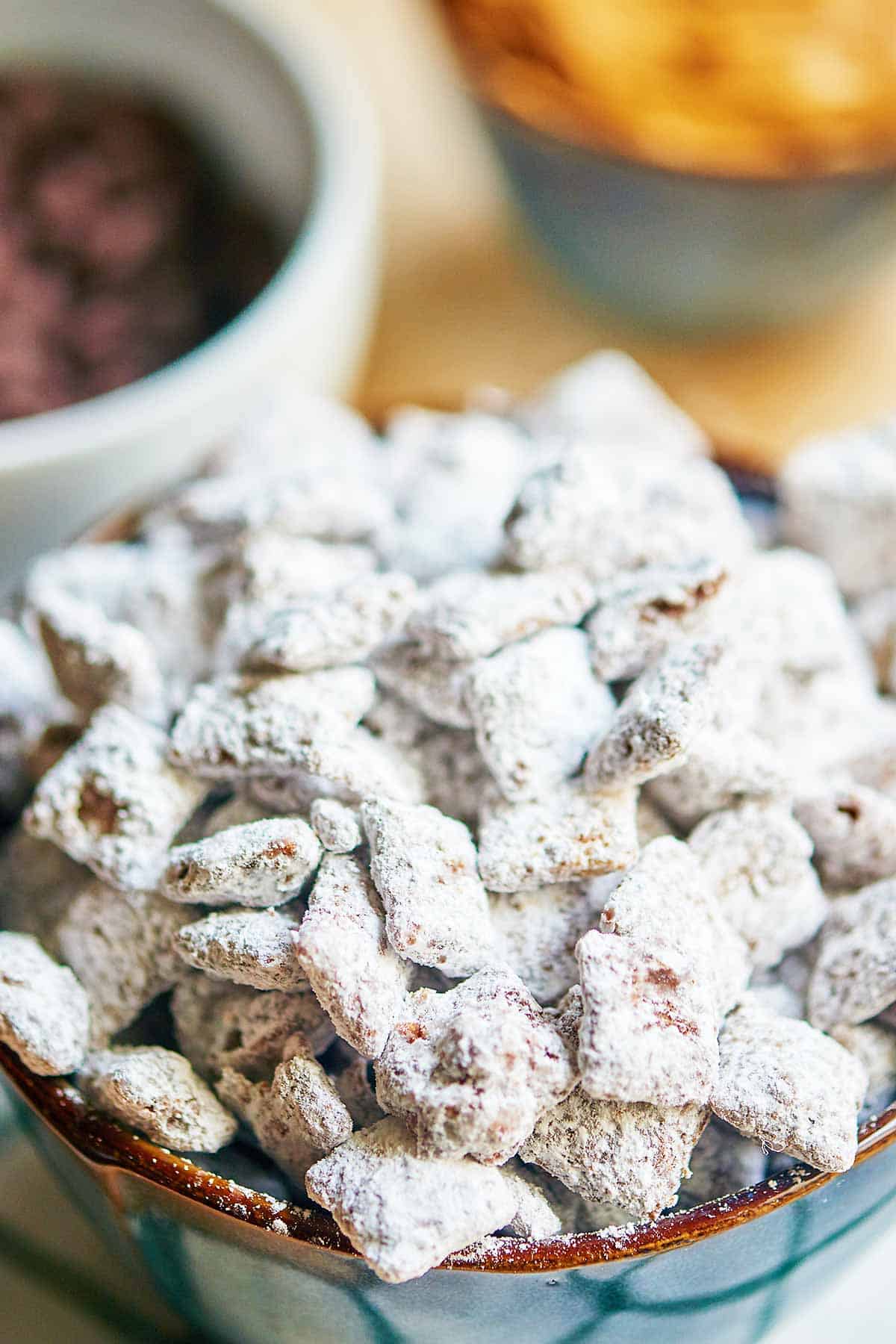 With only six ingredients, puppy chow (muddy buddies) is extremely quick and easy to whip up, making it the perfect recipe for the busy holiday season. Because it's so simple I love making it for big parties or even giving it away as gifts!
Puppy chow ingredients
This sweet snack mix is made of six super simple ingredients! The best part? You probably have all of the ingredients on hand already. If you don't typically have these ingredients on hand, I'd recommend changing that. All of the ingredients are staple pantry and fridge items that all have a long shelf life.
Rice chex cereal makes the base of this recipe and makes this snack mix super crunchy and addicting. You don't want to use a sweetened cereal or it will end up too sweet.
Semi-sweet chocolate chips. As with the unsweetened cereal, using semi-sweet ensures that this snack mix isn't overly sweet.
Peanut butter gets melted together with the chocolate chips and creates an amazingly creamy mixture that coats the cereal. Use smooth peanut butter – instead of chunky – to ensure even melting.
Unsalted butter. This helps the chocolate and peanut butter melt together and create a rich, smooth chocolate-y "sauce".
Vanilla extract. I love using vanilla for additional flavor and "cozy" factor.
Powdered sugar. After the cereal is evenly coated in the chocolate mixture, you'll add in the powdered sugar. This adds additional sweetness to the recipe and makes it socially acceptable to lick your fingers 😉
How to make puppy chow
Place chex cereal into a large bowl. Set aside.

Place chocolate chips, peanut butter, and butter into a large microwave safe bowl or measuring cup

.

Melt until smooth, then stir in vanilla extract.
Pour chocolate mixture over the cereal and gently stir together.
Stir in the powdered sugar.
Enjoy!
It's sweet, peanut buttery, extra chocolatey, and slightly crunchy, so you know you can't put it down!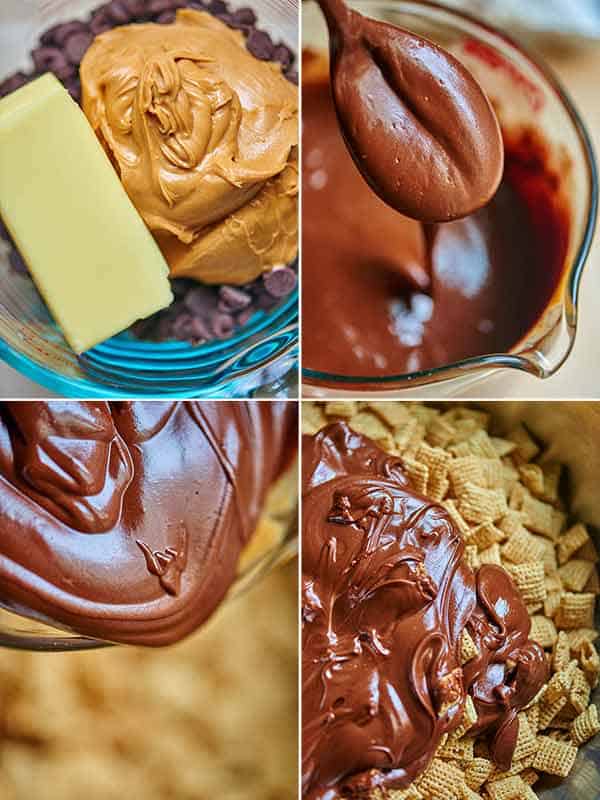 Tips for making puppy chow (muddy buddies)
There are SO many recipes for puppy chow, but I promise you, my recipe is the best, because of these tips and tricks.
Use the whole box of cereal. Most recipes call for 9 cups of cereal, leaving 2 cups left in the box. What the heck are you supposed to do with 2 cups of chex?! Don't do that. Use the whole box of cereal.
Use the whole bag of chocolate chips. More is more in this recipe. Just throw the whole bag in.
Use more powdered sugar than you think necessary. The cereal should be COMPLETELY coated in white. If you end up having too much, simply dump the puppy chow into a colander and shake the excess out into the sink.
Don't over mix. Chunks are the best part. Just trust me on this one.
How to store puppy chow
Puppy chow can be stored at room temperature in an airtight container for up to a week. It does not need to be refrigerated, but some people prefer it chilled or frozen. That's up to you!
Puppy chow recipe substitutions
If you can, I highly recommend making the recipe as is. It truly is the perfect combination of crunchy, sweet, chocolate-y, peanut buttery goodness. That being said, if you MUST make substitutions, here's what I suggest:
Can I use a different kind of cereal? If you don't like/can't find rice chex, corn chex is a great substitute.
Do I have to use semi-sweet chocolate? You can use dark chocolate or even milk chocolate, but semi-sweet is really gives you that perfect sweet, but not too sweet balance.
I'm allergic to peanuts, can I use a different kind of nut butter? Check our our Cookie Butter Puppy Chow, it's completely nut free! Sunflower seed butter should work for this original recipe. I don't recommend using all natural nut butters, because they're too runny and may not set as well at room temperature.
I'm vegan, is the butter necessary? Butter is essential, but try using a vegan buttery spread instead. Results not guaranteed, because it hasn't been tested.
Do I need to use vanilla extract? No, you can omit it, but you will loose some of that cozy depth of flavor.
There really isn't a substitute for the powdered sugar, so just leave that one alone. 😉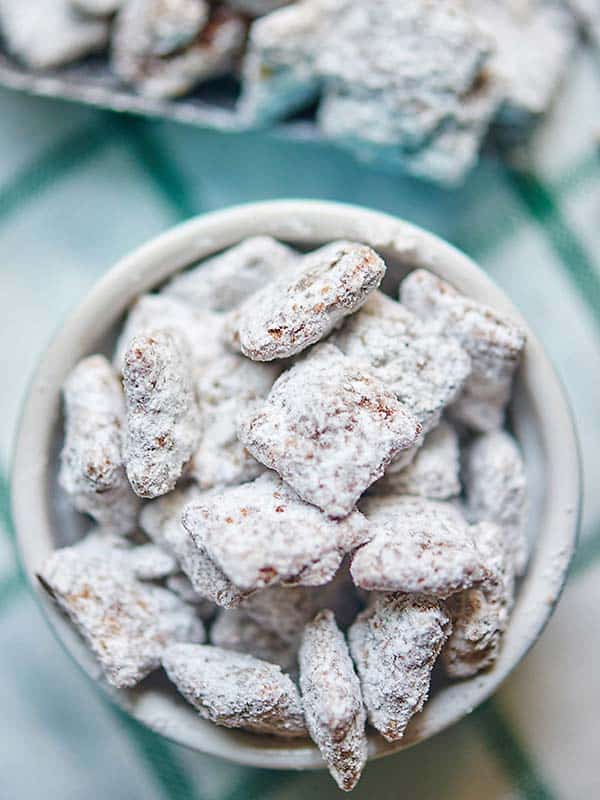 Is it called puppy chow or muddy buddies?
It's the same thing either way. I grew up calling it puppy chow but plenty of people call it muddy buddies. It depends on where you live. Other names:
Monkey munch

Muddy munch

Reindeer chow

Monster munch
What is puppy chow (muddy buddies)?
Puppy chow is a snack mix made of crunchy chex cereal coated in a mixture of chocolate chips, peanut butter, butter, and vanilla which is covered in powered sugar.
Why is it called puppy chow?
The shape of the pieces coated in chocolate resembles dog food.

Purina, the dog food company, created the original Chex cereal back in 1937 and people started calling it "human chow", due to the Purina connection.
Who would've thought that a dog food company also created cereal for humans!
Who invented muddy buddies?
If you're in the muddy buddies camp, you can thank General Mills. They developed and packaged their recipe for sale in 2009. How they came up with the name is beyond me, but if YOU know, let me know in the comments below! Whatever the name is, puppy chow and muddy buddies are made of the same basic ingredients of cereal, peanut butter, chocolate, and powdered sugar.
Can you make puppy chow ahead?
This is an extremely popular holiday recipe, and luckily this is a great recipe to make ahead during this busy season! It stays fresh for up to 2 months in the freezer.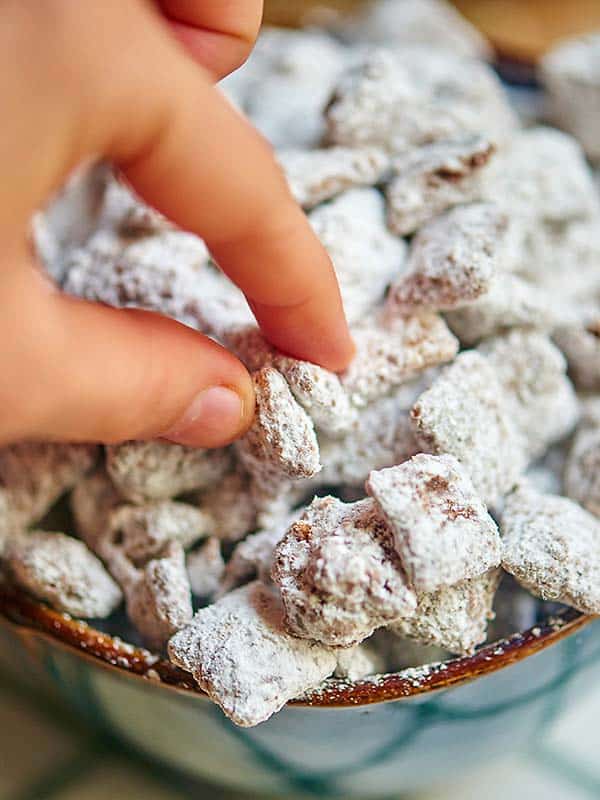 How much should i feed my dog?
NONE! This is for humans only, please and thank you. 🙂 PSST – if you're looking for a real dog treat, check out my homemade dog treat recipe!
– Jennifer
If you love this childhood classic, you'll also love these: scotcheroos, grandma's best sugar cookies, easy chocolate fudge, edible eggless cookie dough, and christmas crack.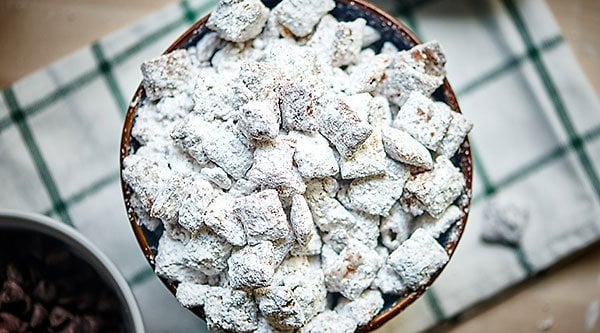 Best Puppy Chow Recipe
This is the best puppy chow recipe! Why? More chocolate, more peanut butter, more powdered sugar! This childhood classic aka muddy buddies just got better. 🙂 Plus, it uses the WHOLE box of cereal and the WHOLE bag of chocolate chips, so less measuring required!
Equipment for this recipe
(equipment shown are affiliate links)
Ingredients
1

(12 oz) box

rice chex cereal

could also use corn

1

(12 oz) bag

semi-sweet chocolate chips

could also use dark choco, milk choco, etc.

3/4

cup

peanut butter

*

1/2

cup

unsalted butter

1 stick

1

teaspoon

vanilla extract

*

1

(2 lb) bag

powdered sugar

or less to taste - I honestly just eye ball it**
Instructions
Place cereal into a large bowl. Set aside.

Place chocolate chips, peanut butter and butter in a large microwave safe bowl.

Microwave for 60 seconds and then stir until smooth. If the chocolate chips haven't melted enough, microwave at 30 second intervals, stirring in between, until the mixture is completely melted.

Pour the chocolate mixture over the chex cereal and stir together gently with a spatula. DO NOT OVER MIX. The chunks are the best part! The cereal pieces should be completely coated in chocolate, but it's ok for a few to clump together.

Pour the powdered sugar over the mixture. Use as much or as little as you like, but I think this is best when no chocolate shows through. Gently stir to combine. Again, don't over mix.

Enjoy immediately or store in an airtight container!
STORING
Reheat:
Let come to room temperature.
*Storage times may vary based on temperature and conditions
Notes
Want to take this up a notch? Use 1 (12 oz) jar of peanut butter (about 1 1/2 cups instead of the original 3/4 cups), 1 tablespoon of vanilla extract (instead of 1 teaspoon) and add 1/2 - 1 teaspoon of salt!
**Too much powdered sugar? Simply dump the puppy chow into a colander and shake the excess out into the sink. 
Nutrition Information
Nutrition Facts
Best Puppy Chow Recipe
Amount Per Serving
Calories 539
Calories from Fat 180
% Daily Value*
Fat 20g31%
Cholesterol 16mg5%
Sodium 180mg8%
Potassium 277mg8%
Carbohydrates 87g29%
Protein 6g12%
Vitamin A 415IU8%
Vitamin C 2.7mg3%
Calcium 65mg7%
Iron 8.1mg45%
* Percent Daily Values are based on a 2000 calorie diet.
*Note: Nutrition information is estimated and varies based on products used.
Keywords:
monkey munch, muddy buddies, puppy chow, puppy chow for humans