This easy guacamole recipe is vegan, gluten free, and healthy! This guacamole only has 8 ingredients and takes 5 minutes to put together!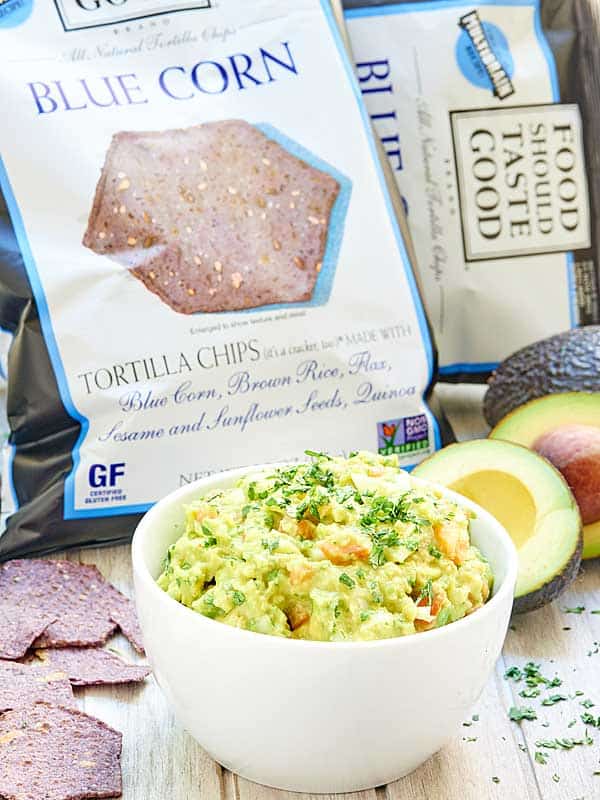 This post is sponsored by our new friends at Food Should Taste Good and let me tell you….their chips…taste good. Chips made with simple ingredients that I don't have to feel bad about? Count. Me. In!
---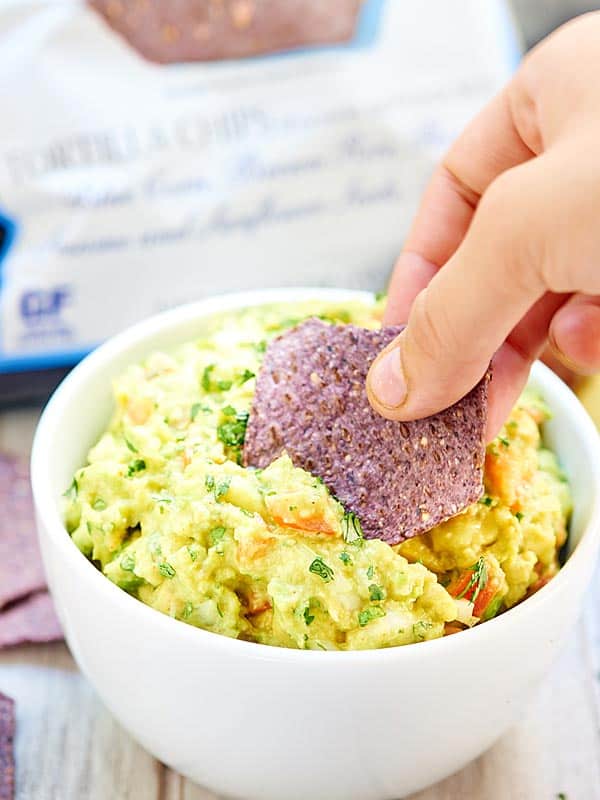 First things first, if you've been following us on snapchat (username: showmetheyummy), then you know that WE'RE MOVING! Yep! That's right. Today's the day. Trevor and I are officially moving to Madison, WI. Follow us on snapchat or Instagram to watch our travels or come back next week for more details and big news! But for now? On to that guacamole!
---
Let me start by apologizing to you guys. I'm so sorry I haven't shared this recipe sooner. Honestly, I don't know what I was thinking. 😉 I've been making this easy guacamole recipe since Trevor and I were living at our loft in Iowa…3 years ago. This was my go-to dish to surprise Trevor with a yummy treat after work, having friends over for a casual Friday night get together, and I'd even make a double batch when we'd have bigger gatherings. This is a no-fail crowd pleaser recipe.
But THEN. We moved to Seattle and I swear I haven't even made it one time. Well. Except now. But before this, it's literally been yeeeears since I've made it. Life got in the way and I guess I just lost sight of what was really important:
this easy guacamole recipe.
Well, please forgive me, because today…today, I'll make it up to you, by finally sharing this super easy guacamole.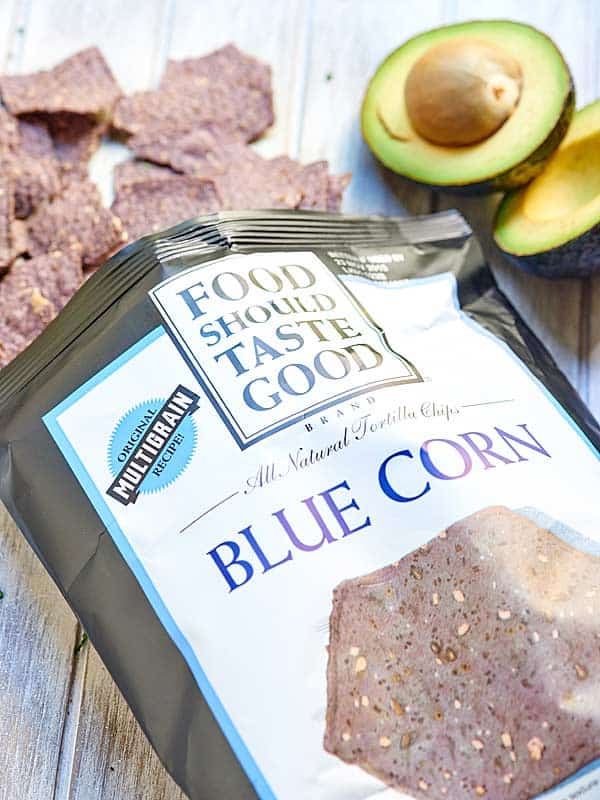 When Food Should Taste Good reached out to work with us, there was no question that I wanted to do a simple, healthy recipe to keep with their "simple ingredients" theme. My first thought? Guacamole!
This easy guacamole recipe only has 8 ingredients (and that includes the spices!) and takes me about 5 minutes to put together. What's better than that? It's also vegan, gluten free, tastes ah-mazing and goes perfectly with FSTG Blue Corn Tortilla Chips which just so happen to also be vegan, gluten free, and taste ah-mazing! Match made in h.e.a.v.e.n. 👼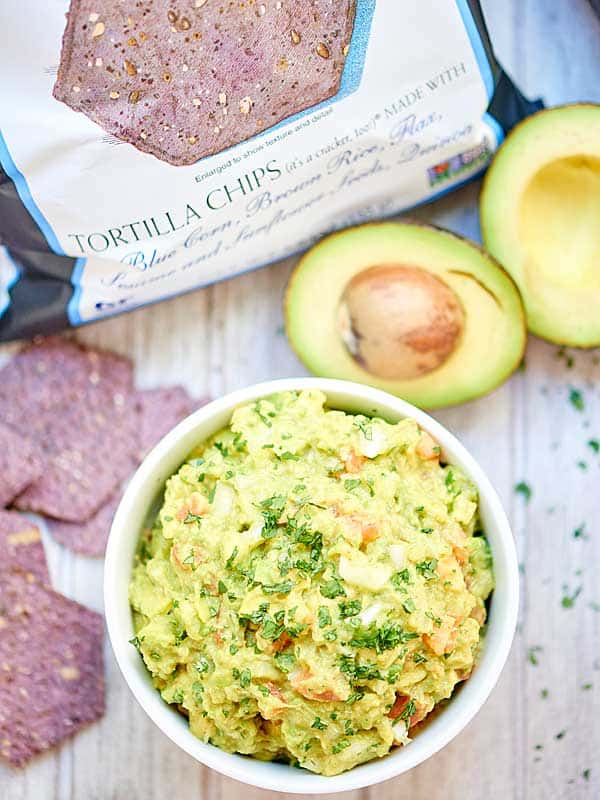 I love this easy guacamole, because 1.) it's simple to make and 2.) the flavors are simple.
Simple in the best way possible. This guacamole isn't muddled with other crazy flavors – which are fun sometimes – but like I said, I wanted simple ingredients to go with the simple ingredients in the chips.
This guacamole showcases the creaminess of the avocado, acidity of the tomatoes and lime, and freshness of the cilantro!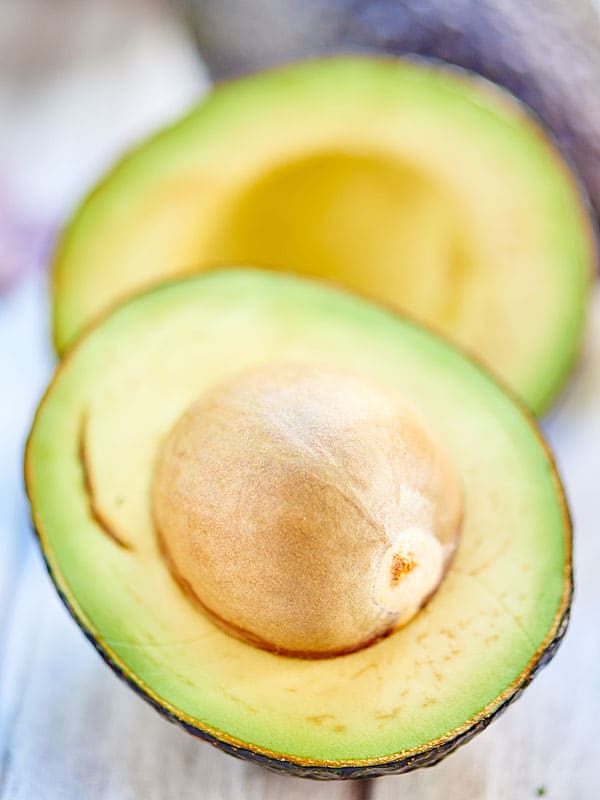 Before I go on about this totally delish easy guacamole…side note: While I paired the blue corn tortilla chips with this guacamole, we were lucky enough to be sent a few other flavors to try. Let me tell you. Stop what you're doing and go buy a bag of the White Cheddar Tortilla Chips. White Cheddar is always my favorite and when I saw we got a bag to try… it went a little like this:
Frantically rip open bag of chips —> 5 minutes —> empty bag —> me pouting because they were all gone. I'm not exaggerating, I told Trevor at least 3 times how much I loved these chips and I really wanted you guys to know, too.
Buuuuut back to that guacamole, because it's also very yum.
Funnily enough, before this, I had never actually measured out the ingredients for this easy guacamole recipe. That's the best part! Follow along with my directions first, because that's how we ♡ it, but then customize it to suit your tastebuds! It's a simple combination of avocados, lime juice, onion, tomatoes, fresh cilantro, garlic, salt, and cayenne pepper.
Like I said, the best part of this recipe is that you can customize it to your liking. If you love garlic, add more! If you're not a huge cayenne pepper fan, take it down a notch. Chunky guac vs. smooth? The choice is yours!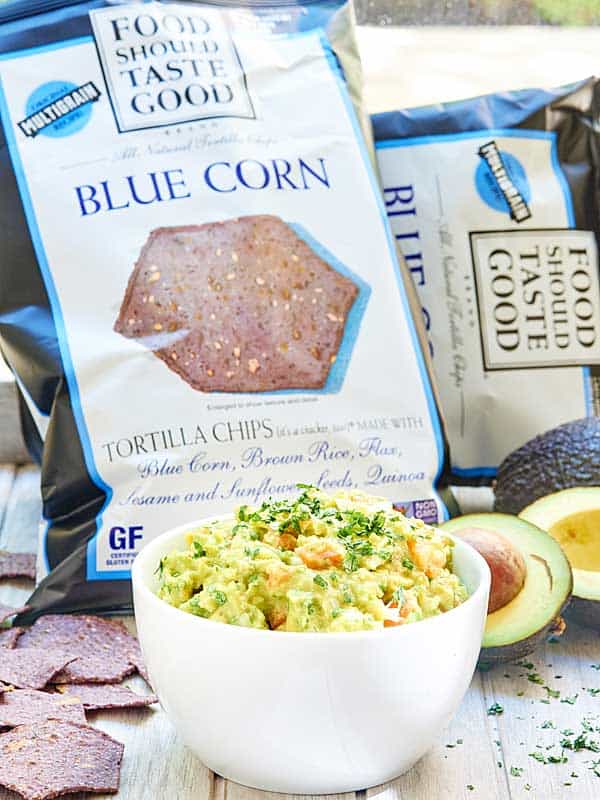 A simple guacamole + blue corn tortilla chips + a margarita (whaaaat?) = an amazingly tasty, super healthy without knowing it, vegan, gluten free, amazingly tasty…did I say that already? snack that you can feel great about!
– Jennifer
What's your favorite chip dip? Guac? Salsa? Show me the yummy!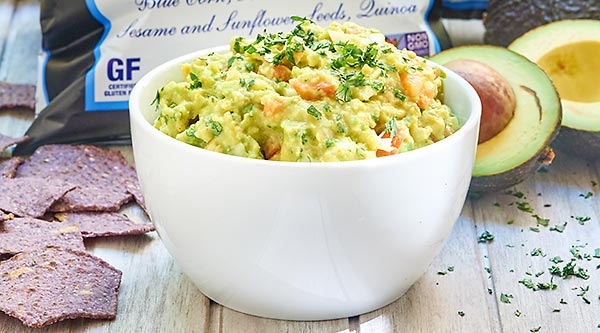 Easy Guacamole Recipe
This easy guacamole recipe is vegan, gluten free, and healthy! This guacamole only has 8 ingredients and takes 5 minutes to put together!
Ingredients
4

small

avocados

pitted and scooped out of the skin

1/4

cup

freshly squeezed lime juice

1/2

white onion

finely diced

2

roma tomatoes

finely diced

4

cloves

garlic

minced or pressed

1/4

cup

Cilantro

chopped

1/2

teaspoon

cayenne pepper

1

teaspoon

salt

or more to taste
Instructions
Prep your avocados: cut avocado down the middle and take out the pit. Scoop the flesh onto a cutting board and cut into chunks. This makes mashing easier.

Immediately place avocado in a mixing bowl and cover with the lime juice.

Mash until desired consistency is reached.

Stir in diced onion, tomatoes, garlic, cilantro, cayenne, and salt.

Adjust seasonings, if desired.

Cover tightly with saran wrap and chill until cold.

Serve immediately with tortilla chips!
Nutrition Information
Nutrition Facts
Easy Guacamole Recipe
Amount Per Serving
Calories 171
Calories from Fat 135
% Daily Value*
Fat 15g23%
Sodium 299mg13%
Potassium 549mg16%
Carbohydrates 11g4%
Protein 2g4%
Vitamin A 360IU7%
Vitamin C 15.6mg19%
Calcium 18mg2%
Iron 0.6mg3%
* Percent Daily Values are based on a 2000 calorie diet.
*Note: Nutrition information is estimated and varies based on products used.
Thanks again to Food Should Taste Good for sponsoring this post!
And thanks to YOU, readers, for supporting the high quality brands that keep SMTY up and running!