This is the BEST Easy Guacamole Recipe. A classic chip dip with fresh ingredients and simple seasonings. The best part? It's easily customizable!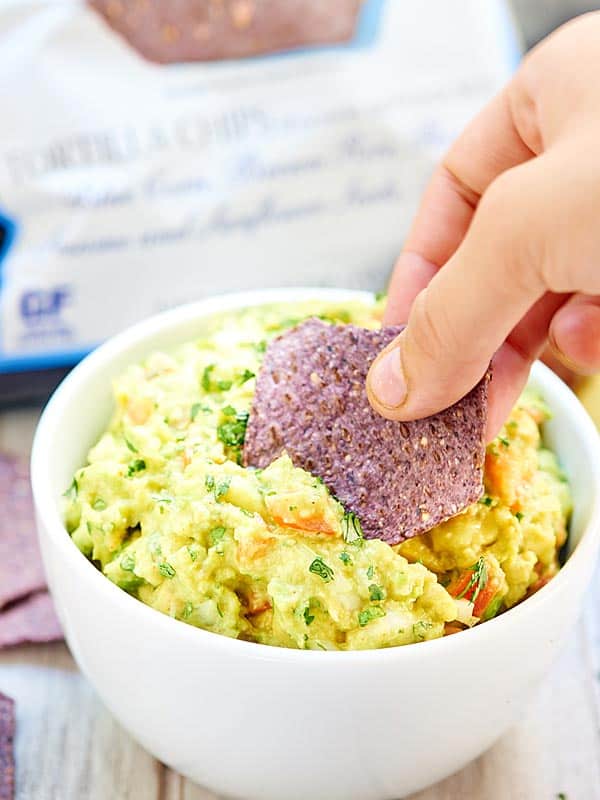 This easy guacamole recipe has only 8 ingredients, takes about 5 minutes to put together, and is vegan, gluten-free, and AMAZING! Funnily enough, before I wrote down this recipe, I had never actually measured out the ingredients for this easy guacamole recipe. But that's because it's SO customizable. Make it to suit your tastebuds! This guacamole isn't muddled with tons of crazy flavors so it really showcases the creaminess of the avocado, the acidity of the tomatoes and lime, and the freshness of the cilantro.
Ingredients
Because this recipe is so simple, be sure to use the freshest ingredients possible!
Pro tip
Customize this recipe to your liking! If you love garlic, add more. If you're not a huge spice fan, take the cayenne pepper down a notch. Prefer smooth guac to chunky guac? Mash your avocados a little more! The choice is yours!
How to make
Prep your avocados by cutting the avocado down the middle, removing the pit, and scooping the inside out.
Place in a mixing bowl, cover with lime juice, and mash to desired consistency.
Stir in onion, tomatoes, garlic, cilantro, cayenne pepper, and salt.
Taste and re-season if necessary then serve and enjoy!
Pro tip
Use a potato masher for the best – chunky but not too chunky – consistency!
Tips for making the best guacamole
How to pick avocados for guacamole
Look at the color of the skin. Pick an avocado that is darker in color – it's likely that a darker avocado is more ripe than a lighter colored avocado.
Check the firmess. A ripe avocado should feel slightly soft, but not mushy when gently squeezed in your hand.
Check for bruises. If any part of the avocado feels overly squishy, move on to the next avocado!
How to mash avocados for homemade guacamole
How to mash avocados depends on how smooth or chunky you want your guacamole.
A potato masher is my tool of choice!
Is guacamole healthy?
This guacamole is absolutely healthy! Avocados are full of healthy fats and guacamole as a whole is packed with the freshest herbs and vegetables, which makes it a super healthy snack. 1/8th of this dip contains 171 calories, 15 grams of fat, 11 carbs, 7 grams of fiber, and 2 grams of protein. Pair it with multi-grain tortilla chips or even crunchy carrots for a complete snack!
Guacamole add-ins
I LOVE this classic guacamole recipe as is, but here are some fun ways to mix it up.
What to serve with guacamole recipe
Load this easy guacamole recipe on tacos, burritos, burgers, chips, you name it! Here are some of my all time favorite recipes to eat with a generous helping of creamy guac.
How to store
Store leftover guacamole in an airtight container in the fridge for 1-2 days.
How to keep guacamole from turning brown
Avocados oxidize really quickly so leftover guacamole will likely turn brown—although the lime juice helps slow down this process. One way to keep the guacamole fresh is to cover your tupperware with plastic wrap before sealing with the lid.
Pro tip
Keep a pit from one of the avocados you used and store it in the tupperware with the leftover guacamole! This helps keep it green and fresh as well!
– Jennifer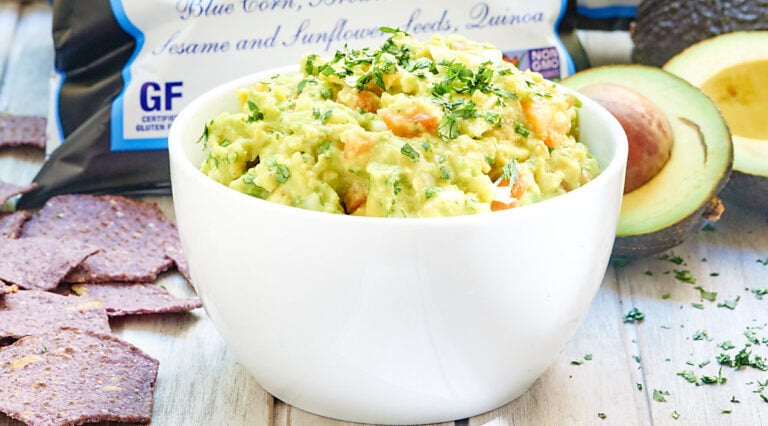 Easy Guacamole Recipe
This is the BEST Easy Guacamole Recipe. A classic chip dip with fresh ingredients and simple seasonings. The best part? It's easily customizable!
Equipment for this recipe
(equipment shown are affiliate links)
Ingredients
4

small

avocados

pitted and scooped out of the skin

1/4

cup

freshly squeezed lime juice

1/2

white onion

finely diced

2

roma tomatoes

finely diced

4

cloves

garlic

minced or pressed

1/4

cup

Cilantro

chopped

1/2

teaspoon

cayenne pepper

1

teaspoon

salt

or more to taste
Instructions
Prep your avocados: cut avocado down the middle and take out the pit. Scoop the flesh onto a cutting board and cut into chunks. This makes mashing easier.

Immediately place avocado in a mixing bowl and cover with the lime juice.

Mash until desired consistency is reached.

Stir in diced onion, tomatoes, garlic, cilantro, cayenne, and salt.

Adjust seasonings, if desired.

Cover tightly with saran wrap and chill until cold.

Serve immediately with tortilla chips!
STORING
*Storage times may vary based on temperature and conditions
Nutrition Information
Nutrition Facts
Easy Guacamole Recipe
Amount Per Serving
Calories 171
Calories from Fat 135
% Daily Value*
Fat 15g23%
Sodium 299mg13%
Potassium 549mg16%
Carbohydrates 11g4%
Protein 2g4%
Vitamin A 360IU7%
Vitamin C 15.6mg19%
Calcium 18mg2%
Iron 0.6mg3%
* Percent Daily Values are based on a 2000 calorie diet.
*Note: Nutrition information is estimated and varies based on products used.
Keywords:
5 minutes, dip, easy