The ultimate guide to Easy Christmas Dinner Ideas! Whether you want classics like a great holiday ham or something with a twist, we've got you covered!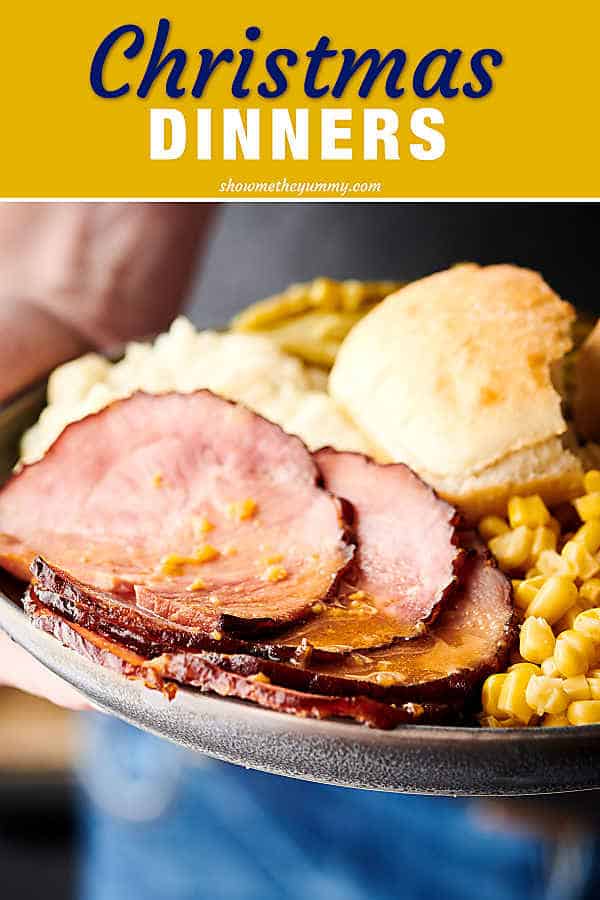 We're full of holiday cheer over at Show Me the Yummy! Decorating the tree, filling the stockings, watching AAAALL the Christmas movies, and baking cookies, cookies, and more cookies. 😉
Usually, we do a big Christmas Eve dinner and then devour the leftovers from that on Christmas.
With so much to do leading up to Christmas, the last thing you want to think about is you're going to make for dinner. Whether you eat your big Christmas dinner on Christmas Eve or Christmas Day, I've got you covered with SO many yummy holiday recipes!
What to make for christmas dinner
Christmas dinner is typically centered around a protein such as a holiday ham, prime rib, turkey, roast beef, etc. It's surrounded by sides such as mashed potatoes, corn, salad, vegetables, bread, and more! Don't forget to start the meal with a few appetizers and of course, end with drinks and dessert!
Appetizers
While Christmas dinner is in the oven, you'll need a little something to snack on! All of these appetizers are quick, easy, and so good!
Sides
A big Christmas dinner won't be complete without a few absolutely delicious sides to round it out!
Main dishes
Whether you're going the traditional route with a Christmas ham or making another delicious holiday entree, I've got you covered!
Drinks
Christmas dinner is just a little bit better with a yummy drink to sip on throughout the night!
Merry Eating!
– Jennifer
Looking for dessert? Check out the posts Christmas Cookie Recipes and Christmas Desserts (coming soon)!