The ultimate guide to Easy Christmas Cookie Recipes! Whether you want classics like peanut butter blossoms or something with a twist, we've got you covered!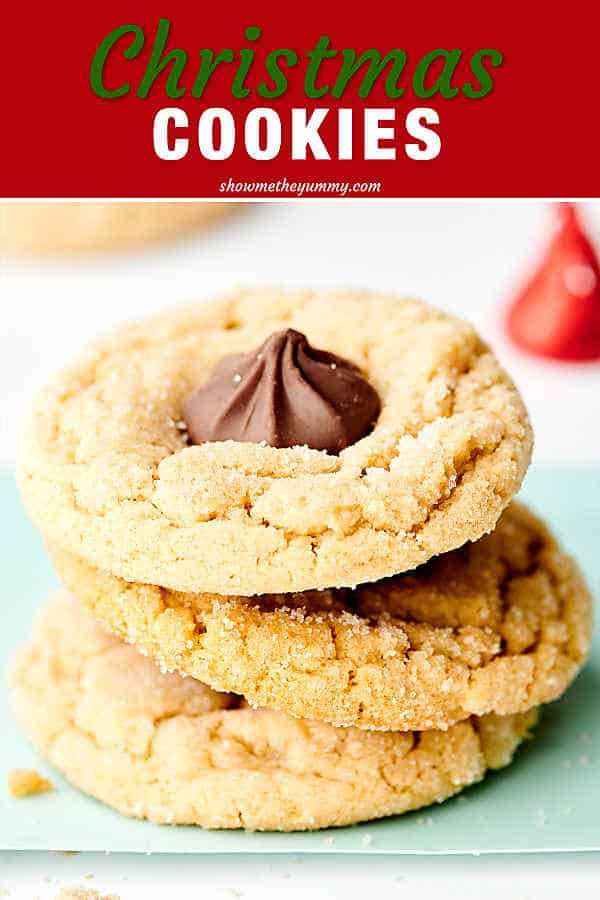 Who else absolutely loves getting in the kitchen and whipping up batches upon batches of delicious and festive Christmas cookies? A warm and toasty kitchen is the perfect place to be when it's chilly outside!
Christmas cookies are perfect as gifts, to bring to parties, or just to keep around the house for a sweet snack during the holidays. 🙂
What is the most popular christmas cookie?
Though it varies from state to state, overall, peanut butter blossoms are the most popular Christmas cookie in the United States. What's not to love about a soft, chewy, sugar coated peanut butter cooked stuffed with a creamy milk chocolate kiss?!
What are other classic christmas cookies?
Christmas cookie baking doesn't stop at peanut butter blossoms. Whip up anything and everything chocolate-y, mint-y, ginger-y, and oh-so-sugar-y!
Can you make christmas cookies ahead of time?
Yes! With all of the other obligations that come with the holidays, it's great to plan ahead.
Most cookie doughs will last up to 3 months in the freezer. Prep the dough as directed in the recipe, portion it out onto a silicone mat lined baking sheet, then freeze. Once the dough balls have frozen, transfer them to a freezer safe ziplock baggie and keep in the freezer until ready to use. When you're ready to bake, thaw overnight in the fridge (if stated in the recipe) then bake as directed!
Can you freeze christmas cookies?
Absolutely! Most cooked and cooled cookies will keep in an airtight container in the freezer for up to 3 months.
To enjoy again, remove from the container they were stored in (this avoids a soggy cookie due to condensation) and let them sit at room temperature until thawed all the way through. Serve as directed.
How long do christmas cookies last?
Most baked cookies will last in an airtight container at room temperature for up to a week, in the fridge for up to 2 weeks, or in the freeze for up to 3 months.
Happy baking!
– Jennifer