These homemade Scalloped Potatoes couldn't be easier to make! Thin slices of Yukon gold potatoes slathered in a flavorful cream sauce and topped with two types of cheese!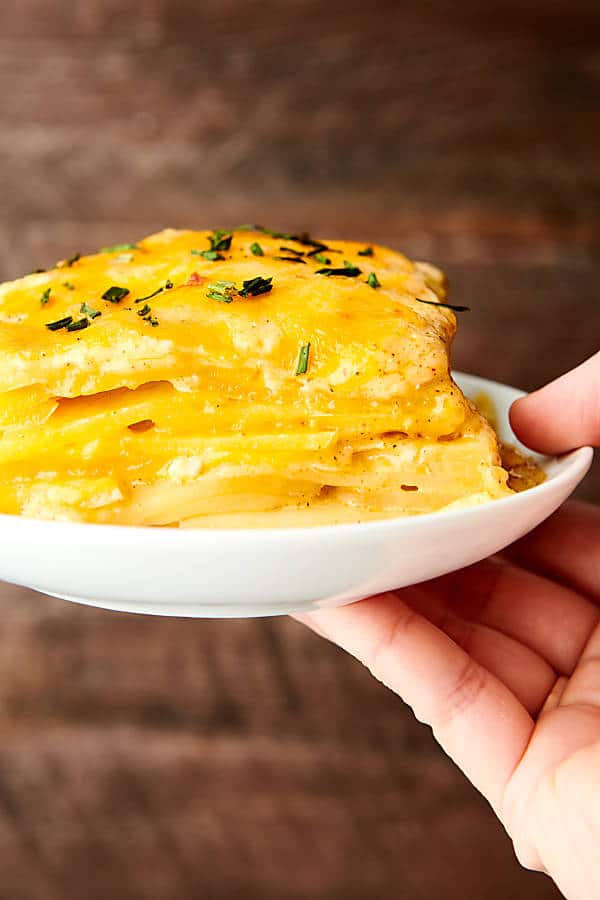 This is the best scalloped potatoes recipe EVER! With super simple ingredients, super easy prep, and SO MUCH flavor, this is a side dish you'll be making all the time!
What are scalloped potatoes
Scalloped potatoes are a side dish made up of round, thin slices of potatoes layered in a casserole dish and covered in a rich and creamy sauce.
The word "scalloped" refers to something that has an edge or a border made up of semicircles. That's where scalloped potatoes get their name. The round thin slices of potato take on a scalloped look when they're layered in the dish!
Ingredients
Unsalted Butter – used to cook the onion and provides the dish with a rich flavor.
Yellow Onion and Garlic – both add subtly sweet, caramel-y flavors to the scalloped potatoes.
Vegetable Broth and Heavy Cream – the base for a flavorful and delicious cream sauce. The broth adds flavor and the heavy cream adds a luxurious creamy texture.
All-Purpose Flour – thicken the sauces to perfectly coat the potatoes.
Salt, Pepper, Paprika, Cayenne Pepper, and Nutmeg – the perfect simple, sweet, and spicy seasoning blend that adds so much to this recipe.
Yukon Gold Potatoes – although other kinds of potatoes work as well, these are recommending for the best flavor and texture.
Sharp Cheddar and Parmesan Cheese – adds an amazing sharp,  salty flavor and that ooey-gooey, cheesy texture we all know and love.
Pro tip
Serving this to kids? Omit the cayenne!
How to make
These scalloped potatoes are so simple to make. Just a quick ingredient prep, then layer, and bake!
Melt butter in a large sauté pan then cook onions until softened. Add garlic.
Sprinkle on flour then mix in heavy cream, veggie broth, and spices. Simmer, stirring constantly. Remove from heat and set aside.
Spread half of the potatoes in an even later at the bottom of a prepared baking dish.
Top with half of the cream sauce and half of each cheese. Repeat with another layer of potatoes, sauce, and cheese.
Cover and bake then serve and enjoy!
Pro tip
For best results use a mandoline to slice your potatoes! It makes the prep WAY faster and ensures that all the potatoes are the exact same width.
How long to bake
Bake the scalloped potatoes in a preheated 400ºF oven for 20-30 minutes. You'll know they're done when the potatoes are fork tender and soft. If you have any crunchy aka raw potatoes still in the casserole, it needs to cook longer!
Pro tip
If you need to cook the dish longer, but the cheese on top is browning, cover the dish with tin foil that's been sprayed with cooking spray (this prevents the cheese from sticking) before continuing to cook.
What potatoes to use
Use Yukon gold potatoes for the best results. They're a waxy potato, which means they'll hold their shape and won't turn to mush, but they're also creamy and buttery, which creates the most amazing flavor and texture to complement the cream sauce. In a pinch, russet potatoes will work, but then I'd recommend peeling the skin.
I don't recommend using red-skinned potatoes because they are less starchy and the starch in the potatoes helps to thicken the cream sauce!
Do you need to peel the potatoes?
Nope! You definitely can if you want but, since Yukon gold potato peel is pretty soft, it's not necessary!
Again, if using russets, I'd recommend removing the skin.
How to slice the potatoes
The best way to slice the potatoes is definitely to use a mandoline. It's a tool designed specifically for thin, uniform slicing or shredding so it's perfect for making scalloped potatoes!
If you don't have a mandoline you can also try using the round slicing attachment in your food processor.
In a pinch, you can use a very sharp knife, but keep in mind, it'll make the prep more time intensive and it's much more difficult to achieve thin uniform slices.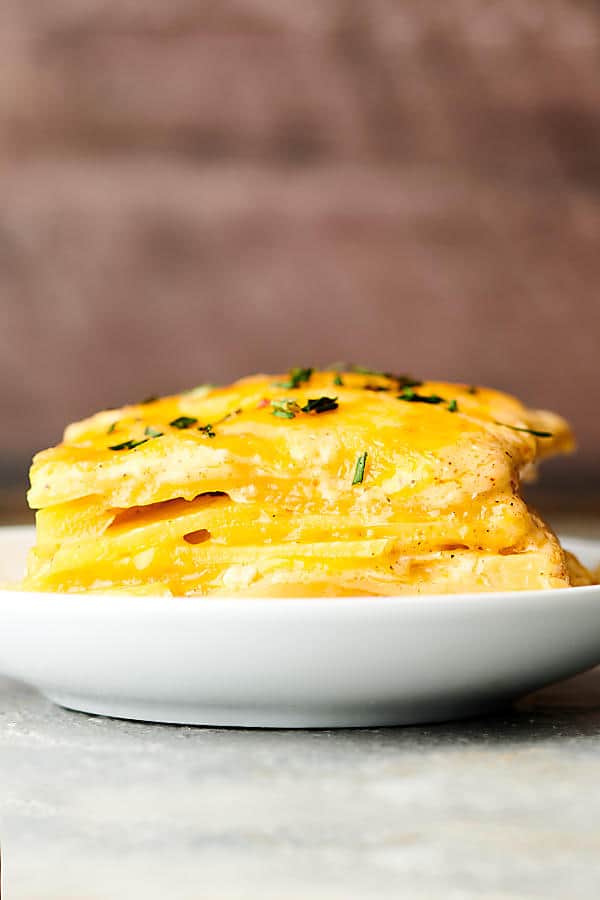 Variations
Add meat. Try layering in bacon or ham for a meat-lovers version.
Use a different cheese. Try mozzarella, gouda, gruyere, brie, goat, feta, you name it!
Make it gluten-free. Just sub a cup-for-cup gluten-free flour for all-purpose.
What to serve with scalloped potatoes
Scalloped potatoes are a delicious dish on their own, but I also love to pair them up as a side to other dishes! Here are some of my favorites!
Can you make scalloped potatoes ahead of time?
Yes! Just prep the potatoes up to two days in advance, cover and store in the fridge, then bake as directed the day of!
How to store
Store leftover scalloped potatoes in an airtight container in the fridge for up to 3 days or in the freezer for up to 2 weeks.
To reheat, thaw in the fridge if frozen then cover with foil and bake until heated through. You can also reheat single servings in the microwave instead, if preferred.
– Jennifer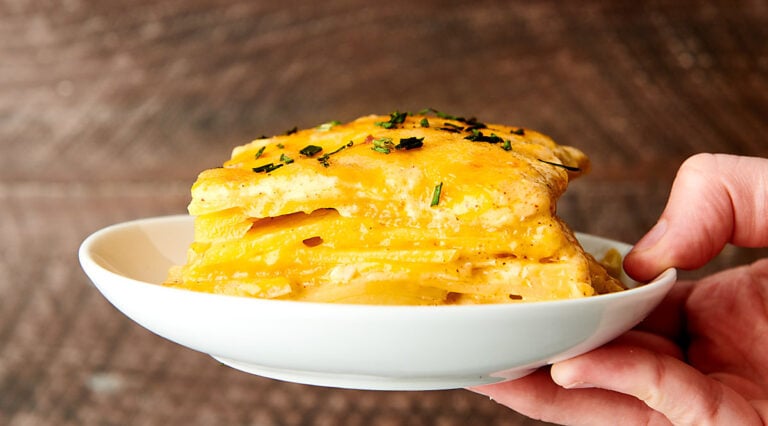 Scalloped Potatoes
These homemade Scalloped Potatoes couldn't be easier to make! Thin slices of Yukon gold potatoes slathered in a flavorful cream sauce and topped with two types of cheese!
Equipment for this recipe
(equipment shown are affiliate links)
Ingredients
4

tablespoons

unsalted butter

1

small

yellow onion

diced

4

cloves

garlic

minced

1/4

cup

all-purpose flour

1

cup

vegetable broth

1

pint

heavy cream

(

2 cups

)

2

teaspoons

salt

divided

1/2

teaspoon

black pepper

1/2

teaspoon

paprika

1/4

teaspoon

cayenne

omit if you don't like spice

1/4

teaspoon

nutmeg

4

pounds

Yukon Gold Potatoes

sliced into 1/8-inch rounds

1

(8 oz) block

sharp cheddar cheese

shredded

1/2

cup

finely grated parmesan cheese
Instructions
Preheat oven to 400 degrees F and grease a 9 x 13-inch baking dish with cooking spray. Set aside.

Melt butter in a large sauté pan over medium heat.

Add onion and cook until softened, about 5-10 minutes.

Add garlic and cook an additional 30 seconds.

Sprinkle on the flour and whisk for 1 minute.

While whisking, slowly pour in the broth.

Stir in the heavy cream, 1 teaspoon salt, pepper, paprika, cayenne and nutmeg.

Bring to a simmer and simmer for 5 minutes, stirring regularly (don't let it boil).

Remove from the heat and set aside.

Place sliced potatoes into a large bowl and toss with remaining 1 teaspoon salt (this will draw out some liquid, just discard).

Spread half of the potatoes in an even layer on the bottom of the baking dish.

Top evenly with half of the cream sauce.

Sprinkle evenly with half of the cheddar cheese and half the parmesan.

Top evenly with the remaining sliced potatoes, the remaining cream sauce, and the remaining cheddar cheese and parmesan.

Cover the pan with aluminum foil that's been sprayed with cooking spray and bake for 30 minutes.

Remove the foil and bake uncovered for 20-30 minutes, or until the potatoes are cooked through.

Cool for 20 minutes, blot any grease, then slice and serve warm!
STORING
Reheat:
Thaw in fridge if frozen then microwave or bake to warm
*Storage times may vary based on temperature and conditions
Nutrition Information
Nutrition Facts
Scalloped Potatoes
Amount Per Serving (1 person)
Calories 295
Calories from Fat 171
% Daily Value*
Fat 19g29%
Cholesterol 65mg22%
Sodium 506mg22%
Potassium 526mg15%
Carbohydrates 23g8%
Protein 8g16%
Vitamin A 764IU15%
Vitamin C 23mg28%
Calcium 175mg18%
Iron 1mg6%
* Percent Daily Values are based on a 2000 calorie diet.
*Note: Nutrition information is estimated and varies based on products used.
Keywords:
cheesy, easy, yukon gold potatoes