Only 5 minutes and 7 ingredients to make the BEST Creamy Corn Casserole. It's fluffy, it's creamy, and it will definitely be the star of all your holiday meals!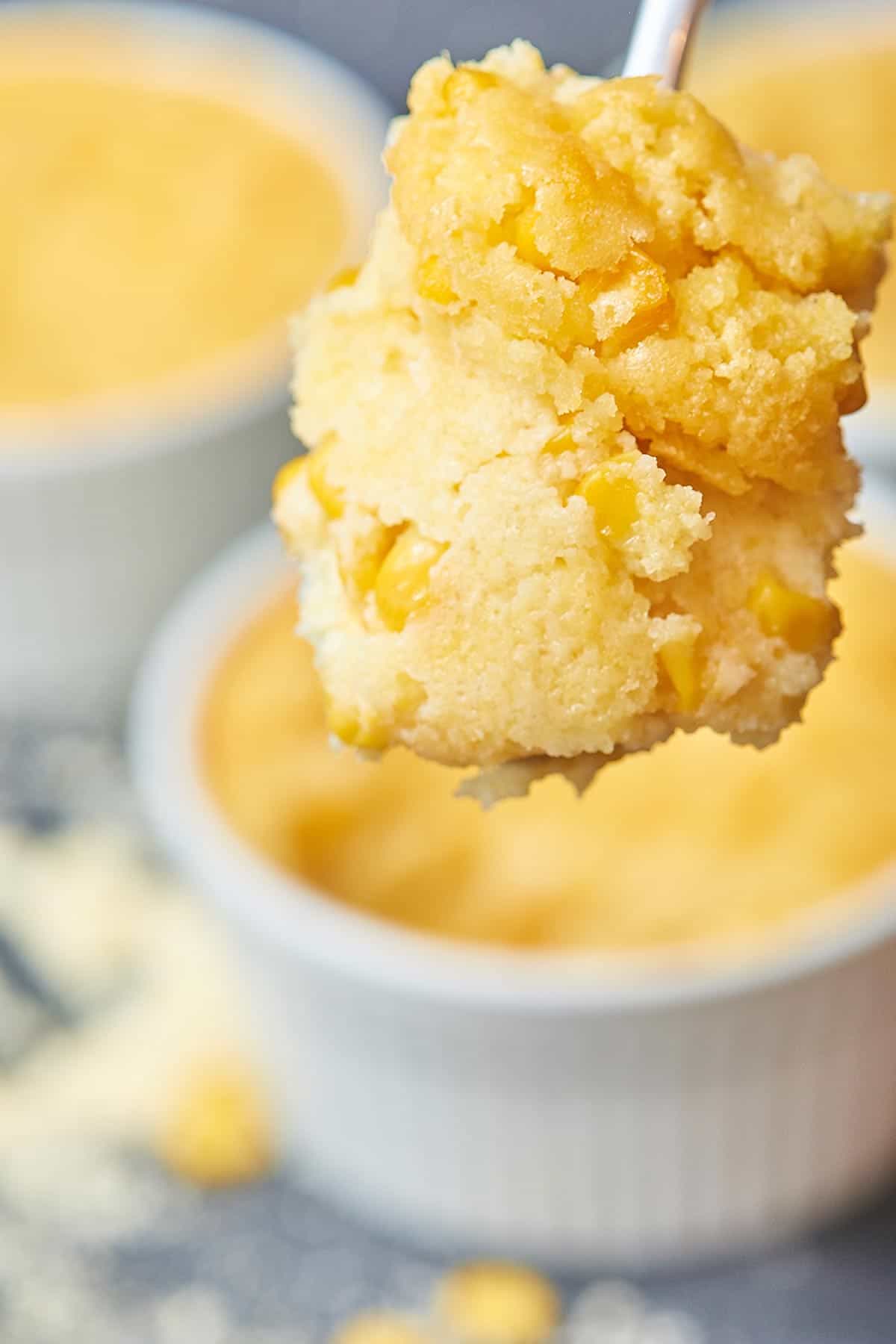 Let's be real, Thanksgiving is all about the side dishes. If you're like me, you take one slice of turkey to be polite and load up your plate with #allthesides. Creamy corn casserole is definitely the favorite side dish in our household because it's so easy to make and can be prepped ahead of time!
Jiffy corn casserole ingredients
With a quick prep and simple ingredient list, this classic side dish is a crowd favorite. It's not surprising with it's ultra creamy texture, subtle sweetness, and TWO types of corn.
Cream style corn. Creamed corn is essential for making this corn casserole ultra moist and tender!
Sweet corn. I absolutely love the "pops" of texture that these sweet corn kernels give this dish.
Granulated sugar. You could omit, but I personally love the additional sweetness from the sugar. It really enhances the sweetness in the corn.
Unsalted butter. Along with the cream style corn, butter makes this casserole super moist and gives it a truly rich and buttery flavor.
Sour cream. Another moistening agent, sour cream also gives this dish a nice tang, which balances out all the sweetness!
Eggs. This helps to bind the dish and is what helps hold this casserole together.
Jiffy cornbread mix. This is our MVP. You can't have a creamy corn casserole with a cornbread mix.
Salt. This helps to balance the sweetness from the sugar and corn and also adds flavor and keeps this casserole from being bland.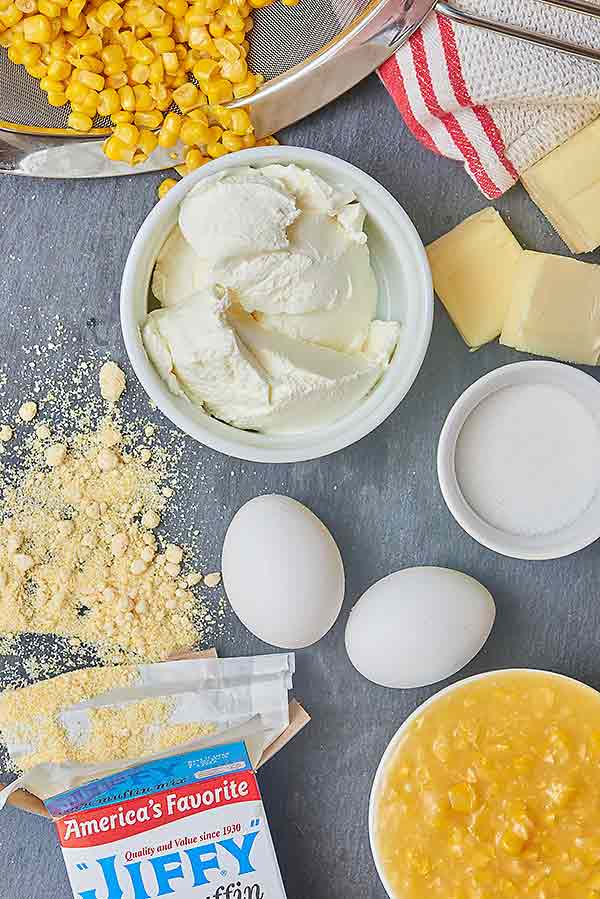 As you can see, this recipe is truly simple! Plus, during the holidays, I always have these ingredients on hand anyway! Whether you've made this dish before or not, or whether you're making it for a special holiday meal, or a week day comforting side dish, I know you're going to love this best version of creamy corn casserole!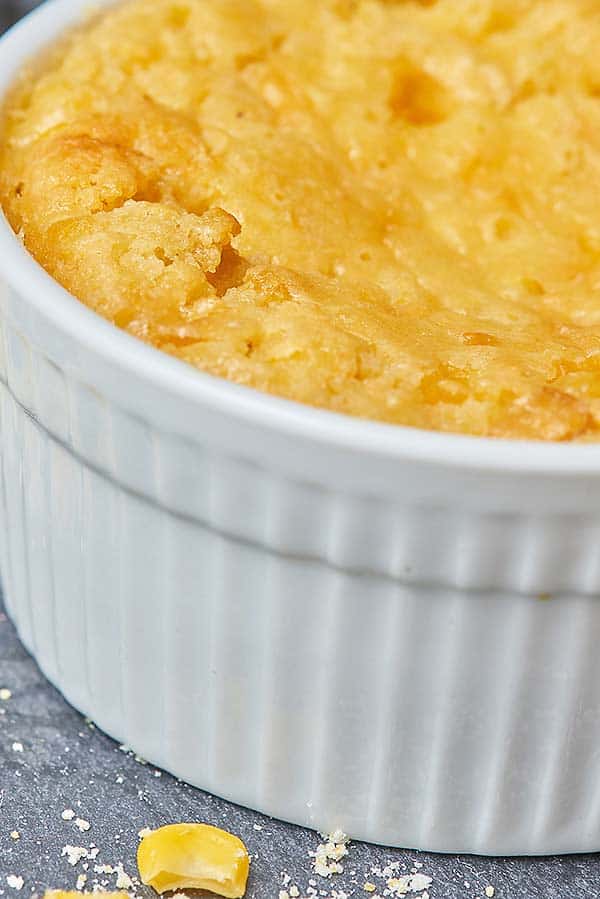 How to make corn casserole with jiffy mix
This corn casserole is no exception. With a 5 minute prep time, this recipe is a breeze to make on the day or ahead of time. With it's creamy texture and flavorful taste, nobody will ever guess how easy this is to make!
Preheat oven and grease a baking dish with cooking spray.
Whisk together ingredients: cream style corn, sweet corn, sugar, butter, sour cream, eggs, jiffy corn muffin mix, and salt.
Pour batter into prepared baking dish.
Bake until the mixture has set and is golden in color.
Serve immediately and enjoy!
Can i make corn casserole ahead of time?
Yes! I make this corn casserole the night before all the time. Follow the recipe, but instead of baking, cover with foil and place in the fridge overnight.
Let sit at room temperature for 30 minutes, uncovered, and then proceed with the baking instructions!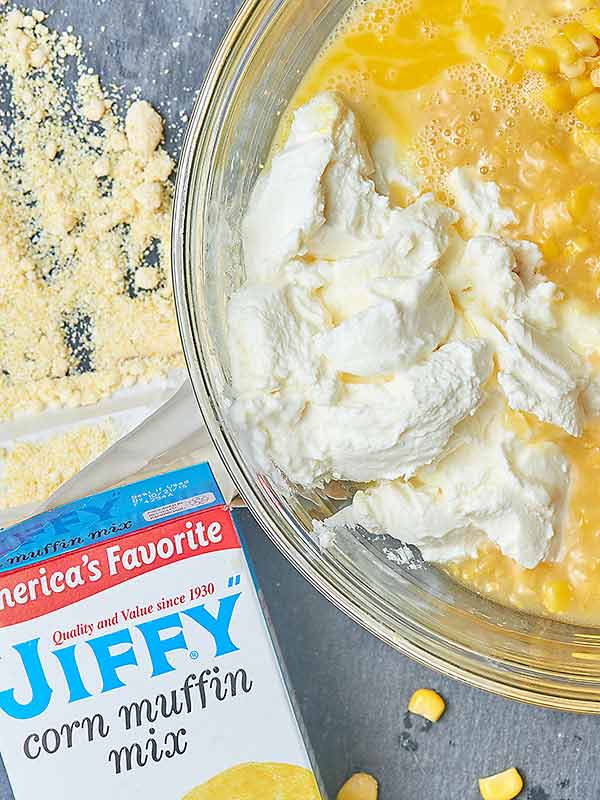 How long does it take to bake corn casserole?
20-30 minutes at 350 degrees F in a 9×13" glass baking dish. If you're using something deeper, like a ramekin or 8×11 inch baking dish, you'll need to add additional time, start with the 20 minutes as listed in the recipe and then check every ten minutes until the mixture is set (doesn't jiggle) and golden.
Can you cook corn casserole in a crock pot?
Definitely. Who's got the oven space during the holiday season? I LOVE making side dishes in my slow cooker and I absolutely LOVE making corn casserole in the crockpot. I made an entire recipe specifically for cooking in a crock pot: slow cooker corn pudding.
See that recipe for the exact amounts, but to cook corn casserole in the slow cooker, you'll stir all the ingredients together, pour the mixture into a greased crockpot, cover it and cook it on HIGH for 5 hours or until mixture is set.
What is a substitute for cream style corn?
Cream style corn really helps to make this casserole, creamy! Plus it adds additional corn flavor that really makes this dish stand out.
I wouldn't recommend omitting it. If you're looking for a recipe without cream style corn, I'd suggest looking at this easy cornbread recipe instead! That recipe does call for cream style corn, but readers have made it successfully without the addition of the creamed corn. 
Jiffy corn mix substitute
If you can't find jiffy corn mix in your store, which has happened to me during the busy holiday season, don't panic, you have a few options:
Order from amazon. You can buy jiffy corn muffin mix online! What did we ever do before online shopping?
Use a generic corn muffin mix. As long as it's an 8.5 oz mix, it SHOULD work. Let me know in the comments below if you've successfully (or unsuccessfully) used a different brand of cornbread mix.
Make your own corn muffin mix. I haven't tried this, but a homemade version would work just as well. Here's a copy cat jiffy corn muffin mix recipe that I bet is delicious!
Corn casserole with eggs
Eggs are essential for binding this casserole together. Eggs comes in all different sizes: small, medium, large, extra large, etc. The different sized eggs weigh different amounts, so it's important that you look at what the recipe calls for. Today's recipe calls for 2 large eggs.
It's also important to use room temperature eggs. Cold eggs don't mix as well as room temperature eggs. Cold eggs can also congeal the warm, melted butter, which again, wouldn't mix as well into the rest of the ingredients, making for a less smooth, more chunky casserole.
Corn casserole without eggs
Eggs are one of the most common allergy-causing foods for children and this creamy corn casserole does call for 2 large eggs. If you're looking for an egg free recipe, I'd recommend trying my vegan pumpkin cornbread. While it isn't EXACTLY the same, it's definitely a great egg free alternative.
If you'd like, you could try making two flax "eggs" or two chia "eggs" to replace the large eggs in this recipe. To do that, simple whisk together 1 tablespoon ground flaxseed meal or 1 tablespoon chia seeds with 3 tablespoons of water. Let that mixture sit for 10-15 minutes, or until it starts to gel together, then proceed with the recipe. I haven't tried this, so if you do, let me know in the comments below!
Cheesy corn casserole
While not traditional, I love stirring cheese into my slow cooker corn pudding. It adds a nice bit of sharpness to the dish. Plus, helllooo, cheese makes everything better. If you'd like to make corn casserole cheesy, I'd recommend stirring in 8 oz of sharp cheddar cheese.
I suggest sharp cheddar cheese, because it has more flavor than a mild cheddar cheese.
I also recommend grating the cheese yourself. It does add more work, but it melts better and more evenly than a pre-shredded packaged cheese, because pre-shredded cheese has anti-clumping agents in it to keep it from clumping together. 😉
Corn casserole with sugar
As with my easy cornbread recipe, adding sugar to this corn casserole recipe is controversial. Some people believe that TRUE traditional cornbread/corn casserole should not be sweet, therefore, should not contain sugar.
Personally, I love sugar, and I think it enhances the flavor of the corn. Today's recipe calls for 2 tablespoons of granulated sugar. If you wish, feel free to omit. If you want the sweetness, but don't want to use granulated sugar, you could try using equal amounts brown sugar or even honey like I use in my corn muffin recipe.
Does corn casserole need to be refrigerated?
Leftover casserole needs to be refrigerated. If there are a ton of leftovers, let the baking dish cool completely before covering in foil and storing the fridge. You can also store leftovers in an airtight container. Leftover corn casserole is good for up to a week if stored properly.
Can you reheat corn casserole?
Corn casserole is best served hot outta the oven, but you can definitely reheat it. Simply place leftovers in a microwave safe dish and heat until the desired warmth is reached. I'd recommend heating in 30 second intervals, stirring in between. 
If you're re-heating a big batch and have refrigerated your casserole in the baking dish, simply remove the baking dish from the fridge and let come to room temperature while you preheat your oven to 350 degrees. Bake, covered, until warm, about 20 minutes.
Is corn casserole the same thing as corn pudding? how do you make corn pudding?
Corn casserole and corn pudding are essentially the same thing, but as the name corn pudding suggests, it's slightly looser than corn casserole. I'd describe corn casserole as a moisture version of cornbread, but it can still hold it's shape when you cook it. Corn pudding is more moist and falls apart more.
If you're looking for a great recipe, check out my Slow Cooker Corn Pudding!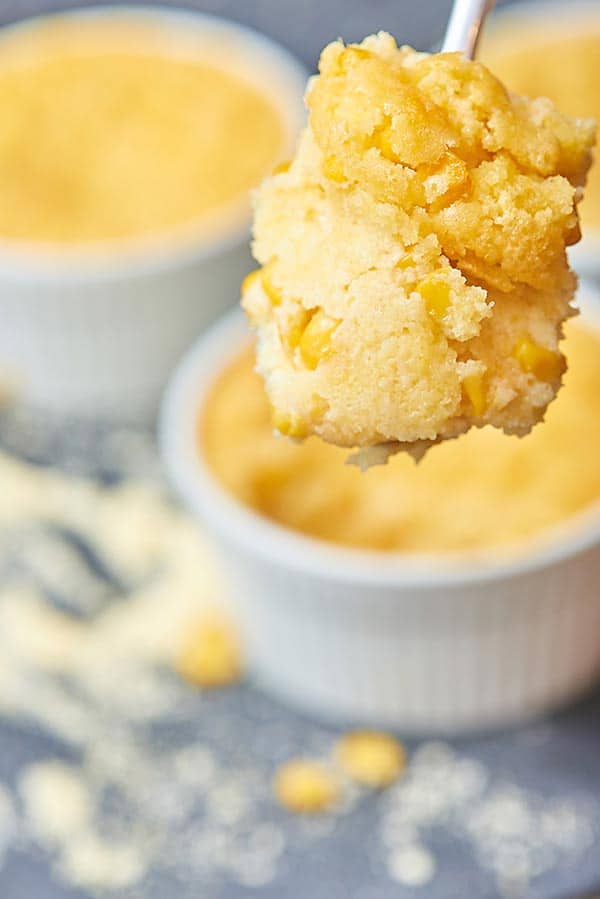 More turkey dinner sides
– Jennifer
What's YOUR favorite side dish?Show me the yummy!
PSST – A lot of you have been asking for a slow cooker version –> check it out: Slow Cooker Corn Pudding!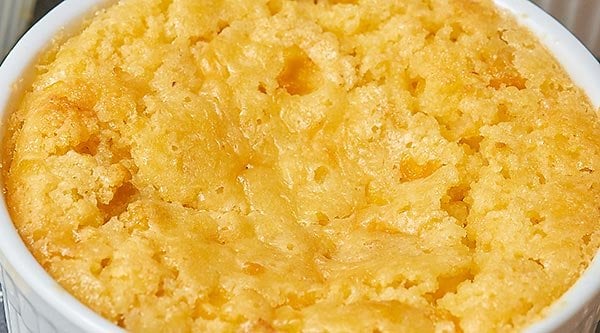 Creamy Corn Casserole
Only 7 ingredients and 5 minutes needed to make the BEST Creamy Corn Casserole. It's fluffy, it's creamy, and it will definitely be the star of all your holiday meals!
Equipment for this recipe
(equipment shown are affiliate links)
Ingredients
1/2

cup (1 stick)

unsalted butter

melted

1

(8 oz) container

Sour cream

room temperature

2

large

eggs

room temperature

2

tablespoons

granulated sugar

1

(15 oz) can

cream style corn

1

(15 oz) can

sweet corn

drained

1

(8.5) oz box

Jiffy corn muffin mix

salt

to taste
Click to Keep Device on While Cooking
Instructions
Preheat oven to 350 degrees F and grease a glass 9x13 inch baking pan with cooking spray. Set aside.

In a large bowl, whisk together butter, sour cream, and eggs until well combined.

Stir in sugar, cream style corn, sweet corn, corn muffin mix, and salt.

Pour mixture into the prepared pan.

Bake in preheated oven for 20-35 mins or until the mixture has set. It may still be slightly "jiggly", but that's ok!
STORING
Reheat:
Thaw then reheat in microwave or oven until warm.
*Storage times may vary based on temperature and conditions
Notes
For the photos, I used 4 individual sized ramekins. If you'd rather do that, you'll just need to up the baking time to about 40 - 45 minutes.
PSST - A lot of you have been asking for a slow cooker version --> check it out: Slow Cooker Corn Pudding!
Nutrition Information
Nutrition Facts
Creamy Corn Casserole
Amount Per Serving
Calories 267
Calories from Fat 135
% Daily Value*
Fat 15g23%
Cholesterol 61mg20%
Sodium 359mg16%
Potassium 185mg5%
Carbohydrates 30g10%
Protein 4g8%
Vitamin A 540IU11%
Vitamin C 3.7mg4%
Calcium 41mg4%
Iron 1mg6%
* Percent Daily Values are based on a 2000 calorie diet.
*Note: Nutrition information is estimated and varies based on products used.
Keywords:
baked creamed corn casserole, corn casserole with cream cheese, sweet corn casserole