These ultra creamy potatoes are chunk free and are the perfect side dish to any occasion! Gram's creamy mashed potatoes are whipped until fluffy and are full of cream cheese, sour cream, and butter to make them even more decadent!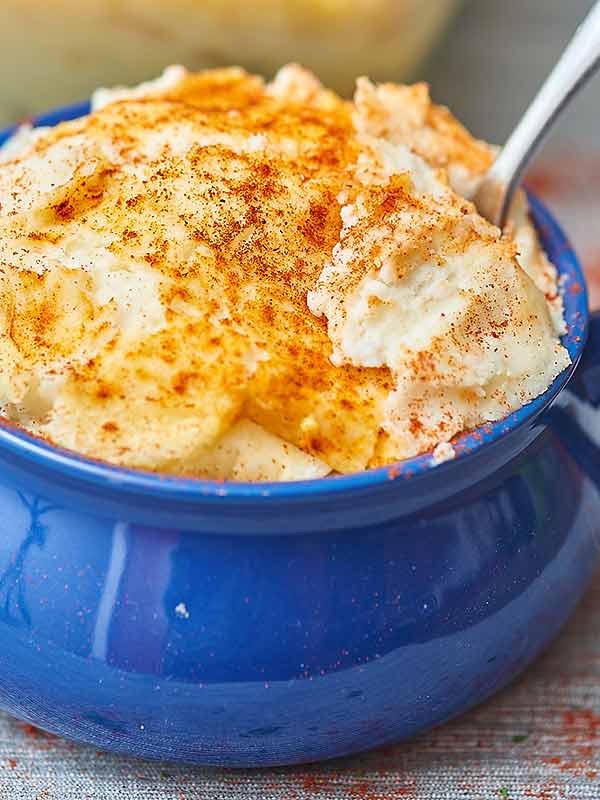 I'll make excuses to eat all day long…
We have friends in town, let's take them to breakfast, lunch, happy hour, dinner, and dessert and we should probably snack in between since we're walking everywhere.
Or….
Oh! It's cheat day, we were sooo healthy all week, we need to treat ourselves to allthefood.
Etc.
That's why I think Thanksgiving is one of my favorite holidays. Thanks Thanksgiving! I finally don't need an excuse to eat all day, because that's what everyone is doing and I freaking love it! It encompasses everything that I love into one day: obviously, the eating, and then cooking, baking, being with the people I love, eating, eating, eating, naps, naps, eating and Christmas movies! (I promised Trevor this year, that I would wait until after Thanksgiving linner (late lunch/early dinner) to start watching them).
Although I'm a pretty equal opportunity eater when it comes to Thanksgiving food, I've got a special affinity for my Gram's creamy mashed potatoes.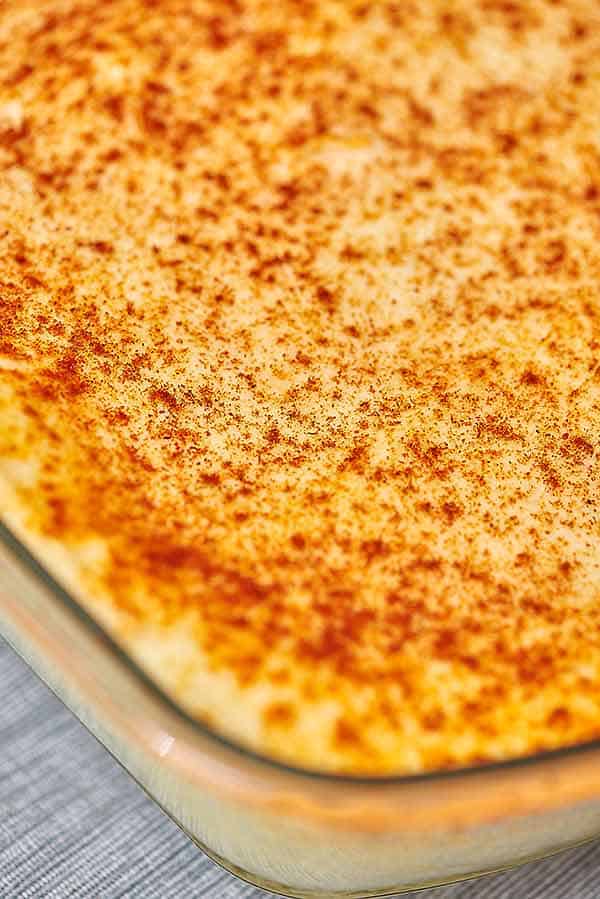 The whole month of November has pretty much been Thanksgiving all the time in the Debth household.
#foodbloggerproblems
We've been having this best ever sausage stuffing and these potatoes for breakfast, lunch, and dinner this past week and I have a few turkey recipes and a corn casserole that will take us through the next! Except I'm pretty sure I only got one small bite of stuffing while I was cooking it, because it's Trevor's favorite and he had two very large bowls when he got home from work the day I made it.
Not that I blame him, I mean, it is really good.
While Trevor's favorite dish may be stuffing, mine is definitely my Gram's potatoes. I can't remember a Thanksgiving or Christmas that we didn't have my Gram's creamy mashed potatoes. Plus, I always request them for my birthday dinners. They're starchy, so creamy, and bring back all those warm, fuzzy memories from previous Thanksgivings. I could skip on any other dish on Thanksgiving and just have these mashed potatoes and be seriously satisfied. They're really great with gravy, too, but they're so creamy and full of flavor that you don't even need it!
Excuse me for a second, while I grab myself a bowl. I'm making myself hungry just typing about it….
Ok. I'm back. We're solid, this is definitely a great recipe!
You're going to start by cleaning your potatoes. Scrub them down really well with water to get all the dirt off. Dry them, and then peel them with a vegetable peeler.
You need to cut out all the "eyes" (is that what you call them? you know those gross looking little holes) and bruises of the potatoes. We want the end result to be ultra white and chunk free.
Once the potatoes are eye and bruise free, cut the potatoes up into large cubes. It's important to maintain a consistent size, so the chunks can cook evenly!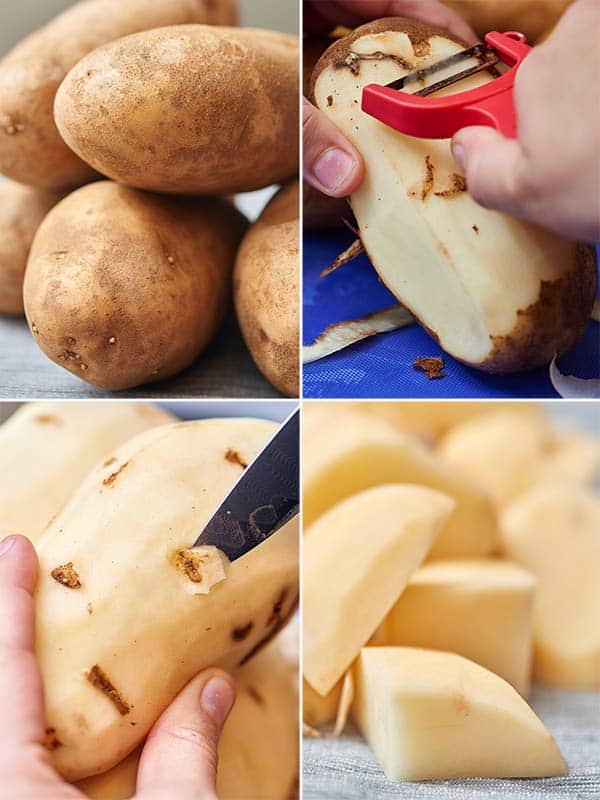 Place the potato chunks in a microwave safe bowl and cover with salted water. Make sure that the potatoes are fully submerged. Cover with a paper towel and cook for 30 minutes, or until the potato can be pierced easily with a fork. If you want to boil your potatoes stove top, Melissa from Food Network does a great job of explaining  how!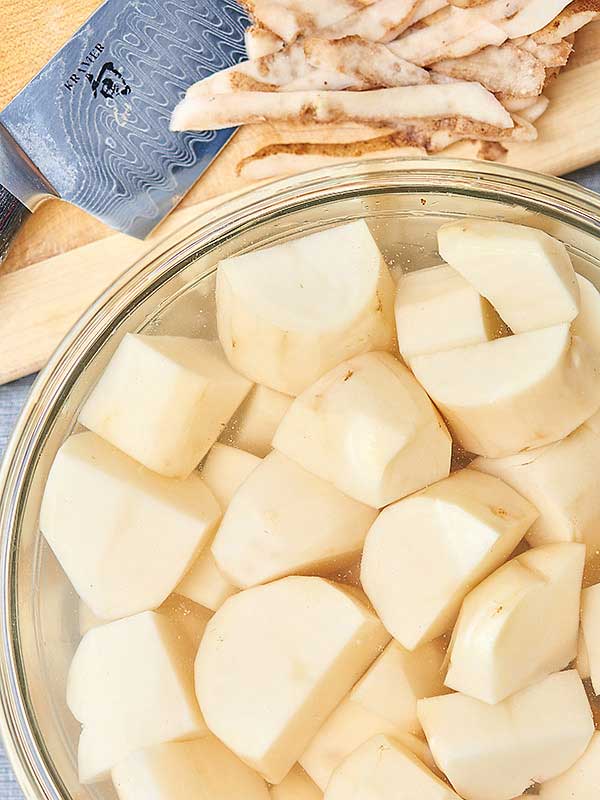 Once the potatoes are fully cooked, drain them, and then place them in a large bowl. I used a masher at first, but then decided to whip them with my mixer and whisk attachment instead. Like I said before, I really wanted chunk free, super creamy mashed potatoes, but feel free to leave some chunks if that's what you like!
Whip the potatoes in your mixer until they're really smooth and no chunks remain.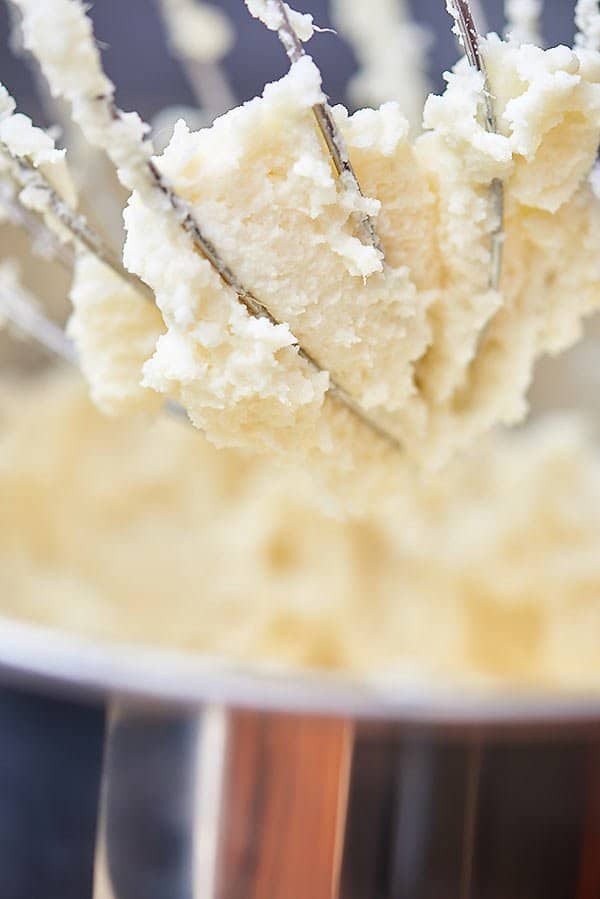 Then you're going to add in cream cheese, sour cream, butter, salt (and pepper if you like) to taste! Whip the potatoes again until all the ingredients are fully incorporated. Taste test to make sure you've seasoned enough with salt!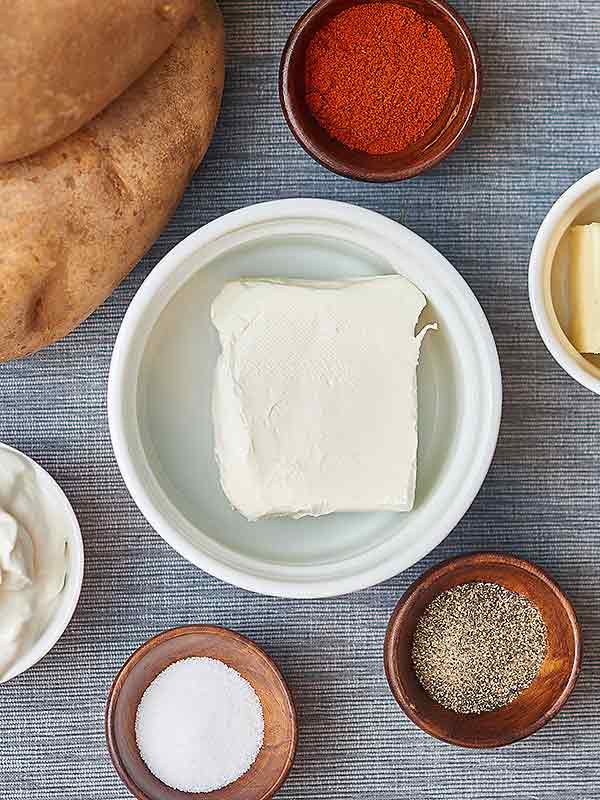 Place your potato mixture in a greased 9 x 13 inch glass dish.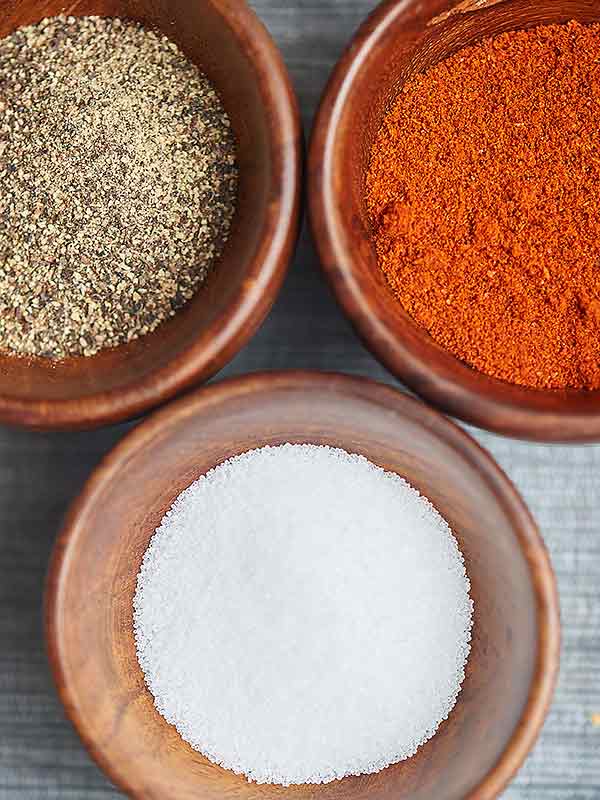 Top generously with paprika!
The best part. You can either cover this with saran wrap and place in the fridge overnight and cook this on Thanksgiving morning (one less thing to do the day of, YESSSSSSS) OR you can place the potatoes directly in a preheated 350 degree F oven and cook for 30 minutes.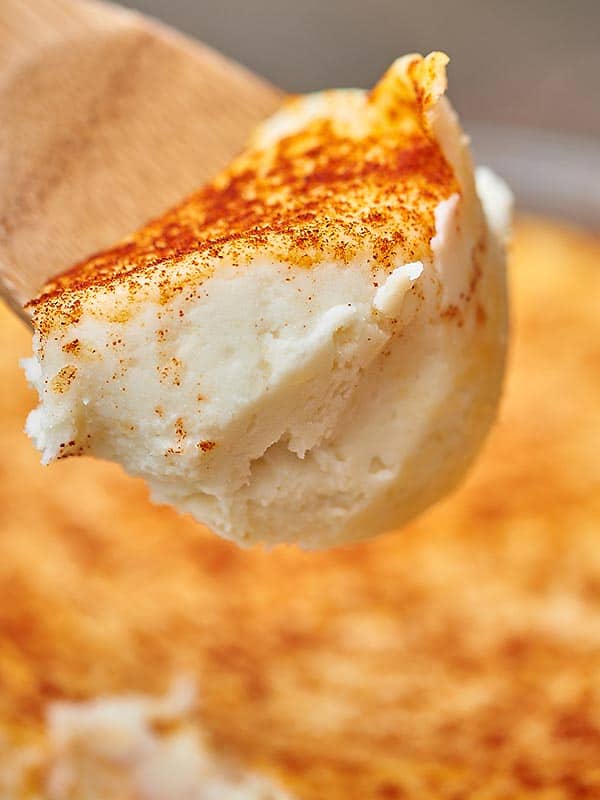 The end result is so thick and creamy from the super whipped potatoes and cream cheese, a little tangy from the sour cream, with just the right amount of crust from the paprika on top!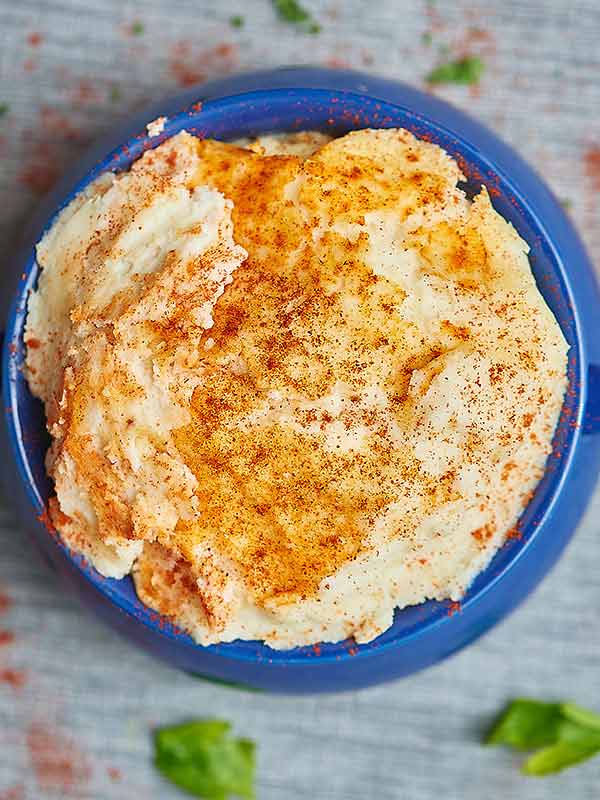 These are seriously the best potatoes I've ever eaten and I know, I know, I maaay be just a little bit biased. But really. Just make them and you'll see for yourself how amazing these potatoes are!
– Jennifer
Are you a smooth and creamy or chunky mashed potato lover? Can you guess which one I am? Kidding!! Show me the yummy!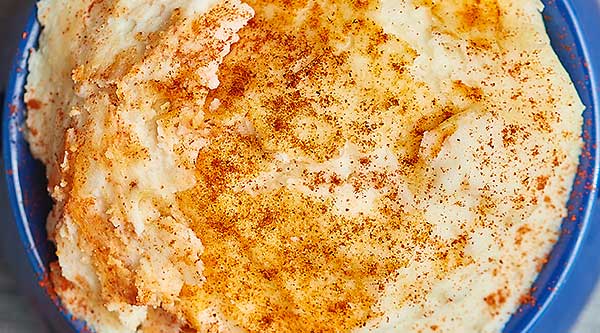 Gram's Creamy Mashed Potatoes
These ultra creamy potatoes are chunk free and are the perfect side dish to any occasion! Gram's creamy mashed potatoes are whipped until fluffy and are full of cream cheese, sour cream, and butter to make them even more decadent!
Equipment for this recipe
(equipment shown are affiliate links)
Ingredients
6-8

whole

russet potatoes

1

(8 oz) package

cream cheese

softened

1

(8 oz) container

Sour cream

6

tablespoons

unsalted butter

softened

salt and pepper

to taste

Paprika

for topping
Instructions
Clean, peel and quarter potatoes. Make sure to remove any eyes or bruises.

Place in a large bowl and cover potatoes with water.

Cover with paper towel and cook in the microwave for 30 minutes.

Drain water.

Whip potatoes in your stand mixture using the whisk attachment until fluffy and no chunks remain. Whip in cream cheese, sour cream, and butter.

Spray a 9x13 pan with Pam and put potato mixture in.

Top generously with paprika.

Store in the fridge covered in saran wrap overnight or preheat oven to 350 degrees and cook for 30 minutes.
STORING
Reheat:
If frozen, thaw in fridge then microwave or heat on stovetop
*Storage times may vary based on temperature and conditions
Notes
If you're going to make these ahead of time (which I would definitely suggest!) I would advise taking them out of the fridge about an hour before you want to bake them to allow them to come to room temperature, so no extra baking time will be required!
Vegan? A reader said they had success with using vegan butter, cream cheese, and sour cream! I can't personally vouch for the results, but I'm sure it'd be wonderful! 🙂
Nutrition Information
Nutrition Facts
Gram's Creamy Mashed Potatoes
Amount Per Serving
Calories 284
Calories from Fat 261
% Daily Value*
Fat 29g45%
Cholesterol 86mg29%
Sodium 150mg7%
Potassium 135mg4%
Carbohydrates 4g1%
Protein 4g8%
Vitamin A 630IU13%
Vitamin C 0.3mg0%
Calcium 90mg9%
Iron 0.1mg1%
* Percent Daily Values are based on a 2000 calorie diet.
*Note: Nutrition information is estimated and varies based on products used.
Keywords:
creamy, russet potatoes, Thanksgiving