This crockpot mashed potatoes recipe is SO easy & full of rosemary, thyme, cream cheese, parmesan, & sour cream! A great addition to your Thanksgiving meal.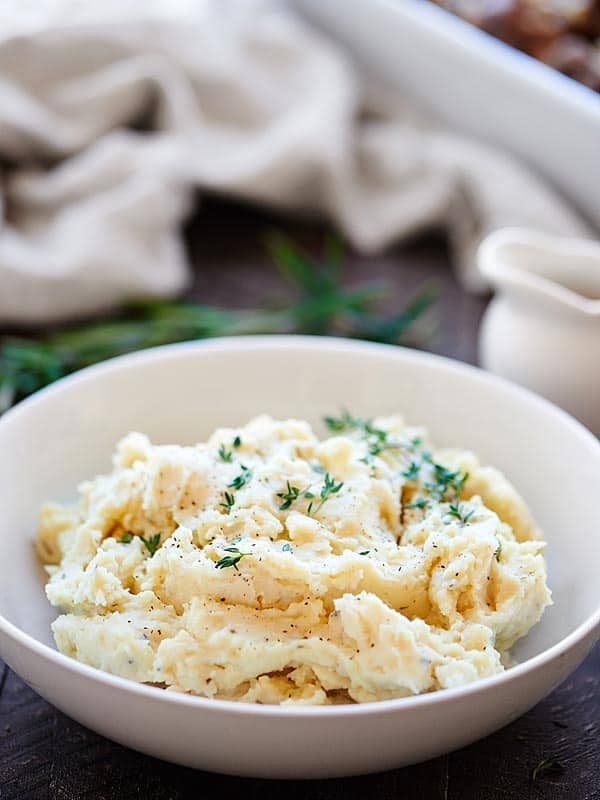 These Crockpot Mashed Potatoes are one of our most popular recipes (originally posted November 11, 2015), so I've updated it to include a how-to video! Enjoy!
Remember yesterday when I told you guys that Thanksgiving food, to me, means carbs? I changed my mind. Thanksgiving, to me, now means stuffing my face with this Crockpot Mashed Potatoes Recipe.
I would like to think of myself as a potato connoisseur. I've certainly eaten enough potatoes.
Mash 'em. Bake 'em. Fry 'em.
Gimme. Gimme. Gimme.
While I do love all potato preparations equally, mashed might slowly be taking the lead.
This Crockpot Mashed Potatoes Recipe, in particular, is so freakin' delicious because
1. It's made in the crockpot and you guys know by now that I'm seriously obsessed. Slow cooker recipes > non slow cooker recipes. 😉
2. It has spices like rosemary and thyme which screeeeeam cozy and delicious.
3. It contains ingredients like butter, cream cheese, parmesan, and sour cream.
Somebody hold me.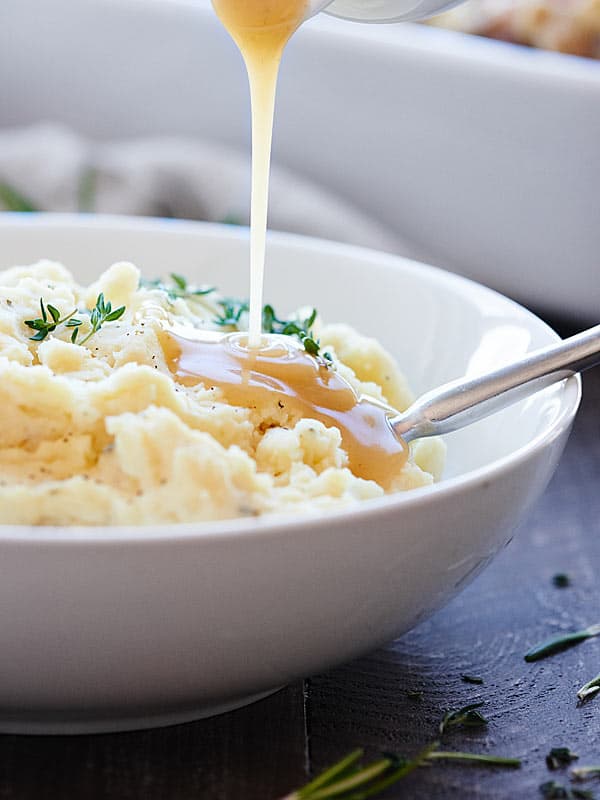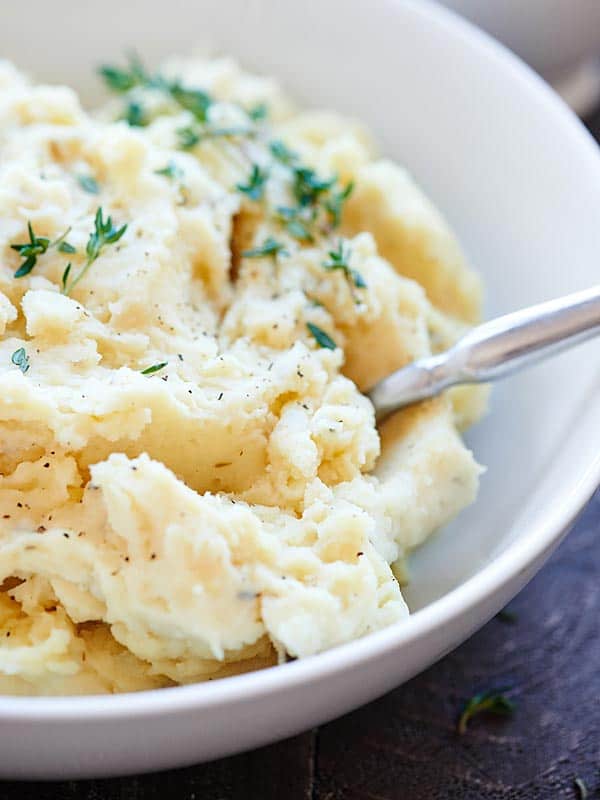 I am definitely one for keeping traditions. Typically, during the holiday season the only mashed potatoes you'll find me eating are my Gram's Creamy Mashed Potatoes. They're just the best.
I grew up eating these mashed potatoes for Thanksgiving, Christmas, and…my birthday. What?
This year, however, I wanted to try something new. Although I will always love my Gram's potatoes, I wanted to expand my mashed potato horizons.
I love that this crockpot mashed potato recipe is um, you know, made in the slow cooker.
Seriously. What did I ever do before my crockpot? I think it's time to invest in a second one.
I also love that there are only 3 steps to this recipe.
Step #1: Throw everything in crockpot: peeled and cut potatoes, broth, garlic, salt, pepper, rosemary, thyme, and butter. ♡ ♡ ♡ Cooking the potatoes in all that yumminess makes for some suuuuper flavorful potatoes.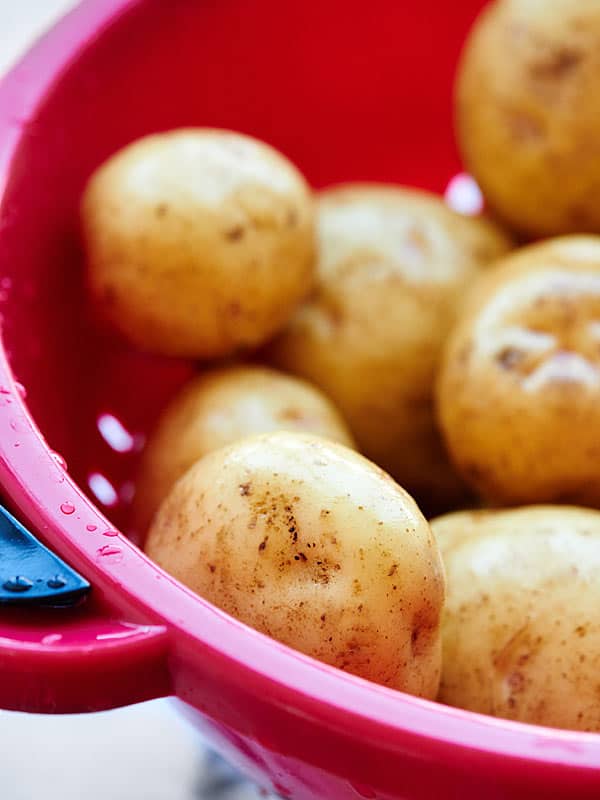 Step #2: Cook for a few hours. This is one of those amazing recipes that you can throw the ingredients in and then forget about them until it's done cooking.
Step #3: Throw more ingredients in, whisk using a hand mixer, and d.e.v.o.u.r. The "other ingredients" btw are cream cheese, parmesan cheese, and sour cream. Literally, I'm dying inside just thinking about how amazing these are.
How easy was that?! I just love how easy this crockpot mashed potatoes recipe is and BONUS did you catch that I used a hand mixer to mix these together right in the crockpot?! Yep! This is a one pot wonder and you know how much I love those. PLUS, that means these potatoes are perfect for Thanksgiving when you already have a bajillion other dirty dishes.
Now, I prefer these crockpot mashed potatoes ultra creamy and smooth, so I mix these a little longer. Trevor, on the other hand, prefers these a little chunkier, so the choice is yours! These are truly great smooth or chunky.
One tip: while I do enjoy really smooth mashed potatoes, don't over mix them! Over mixing your potatoes can make them really sticky and gross.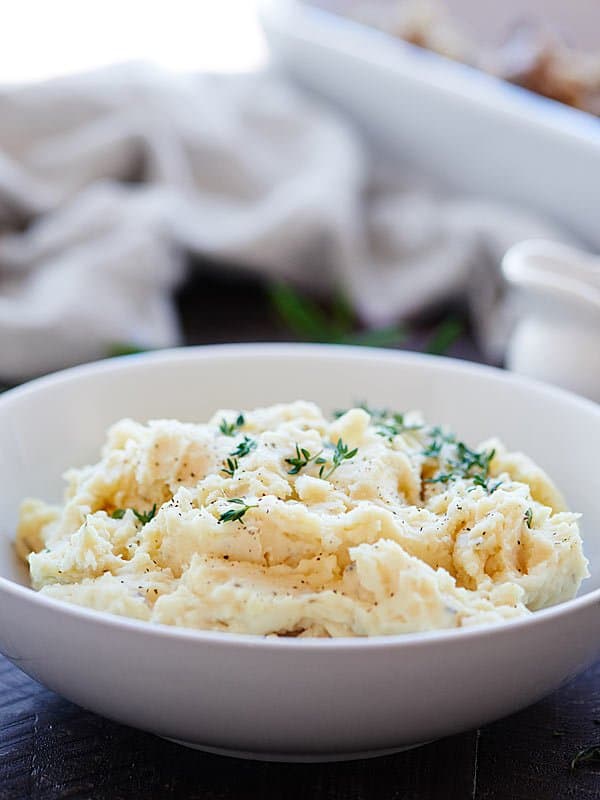 These crockpot mashed potatoes will definitely make the perfect addition to your Thanksgiving meal! They're so creamy and buttery. I absolutely love the addition of rosemary and thyme. And really…you can't go wrong when cream cheese, parmesan, AND sour cream are involved.
– Jennifer
Smooth mashed potatoes or chunky potatoes? Show me the yummy!
Need more holiday recipes? Be sure to check out all our Easy Thanksgiving Recipes!
Crockpot Mashed Potatoes Recipe
This crockpot mashed potatoes recipe is SO easy & full of rosemary, thyme, cream cheese, parmesan, & sour cream! A great addition to your Thanksgiving meal.
Servings
:
6
people
Results and timings may vary when adjusting servings
Ingredients
4

pounds

yukon gold potatoes

peeled and cut into 1 in cubes

2

cups

broth

chicken or vegetable

4

cloves

garlic

minced or pressed

1 1/2

teaspoons

salt

plus more to taste

1/4

teaspoon

black pepper

1

teaspoon

dried thyme

1

teaspoon

dried rosemary

1

stick (1/2 cup)

unsalted butter

cut into cubes

1

(8 oz) package

cream cheese

cubed and room temperature

1

cup

shredded parmesan cheese

1

(8 oz) tub

Sour cream

room temperature
Instructions
Grease crockpot with cooking spray.

Place potatoes, broth, garlic, spices, and butter into the crockpot and stir to combine.

Cover and cook on LOW for 7-8 hours or HIGH for 3-4, or until the potatoes are tender.

Once the potatoes are done, stir in cream cheese, parmesan, and sour cream.

Use a hand mixer to blend potatoes until desired texture has been reached!

Re-season, if necessary.

Serve and enjoy!
Make this recipe?
Show

ME

the Yummy
Tag @ShowMeTheYummy & #ShowMeTheYummy on Instagram
* This post contains affiliate links. We receive a commission on purchases made via these links. The price you pay is not affected by using them.