This Easy Crockpot Vegetarian Stuffing Recipe (can be vegan!) only takes 15 minutes of prep! The perfect Thanksgiving side dish!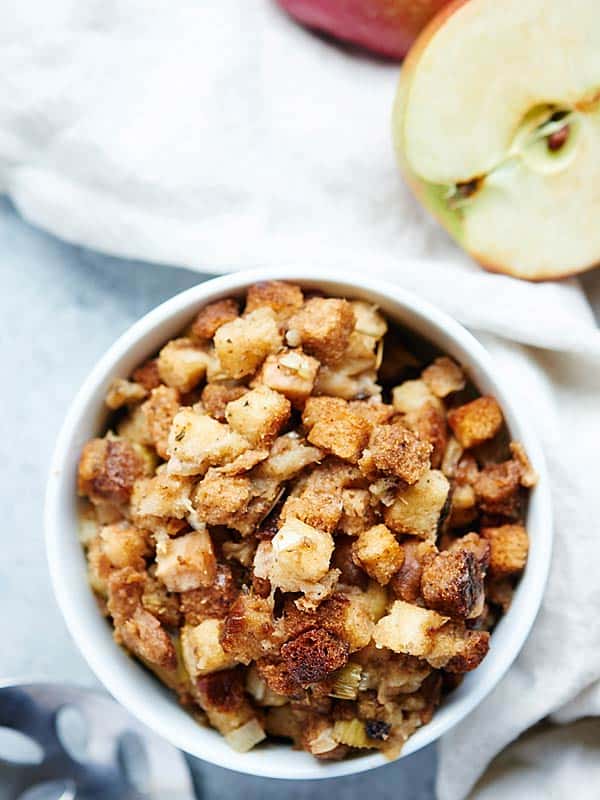 You guys. Thanksgiving is less than 3 weeks away!
Who's excited?! 🙋
Who's slightly panicked, because they have no idea what they're making yet and it's less than 3 weeks away?! 🙋
Who's not even reeeeally thinking about it, because we're stiiiill 3 weeks away? 👀
Not me. 🙅
You guys. I'm a waaaay over planner. It's kind of outta control, but if you're like me, you'll be happy to see that today's recipe is a Crockpot Vegetarian Stuffing.
If you're one of those not even thinking about Thanksgiving yet, I'm sorry, but this will totally get you in the mood for Thanksgiving. 🙂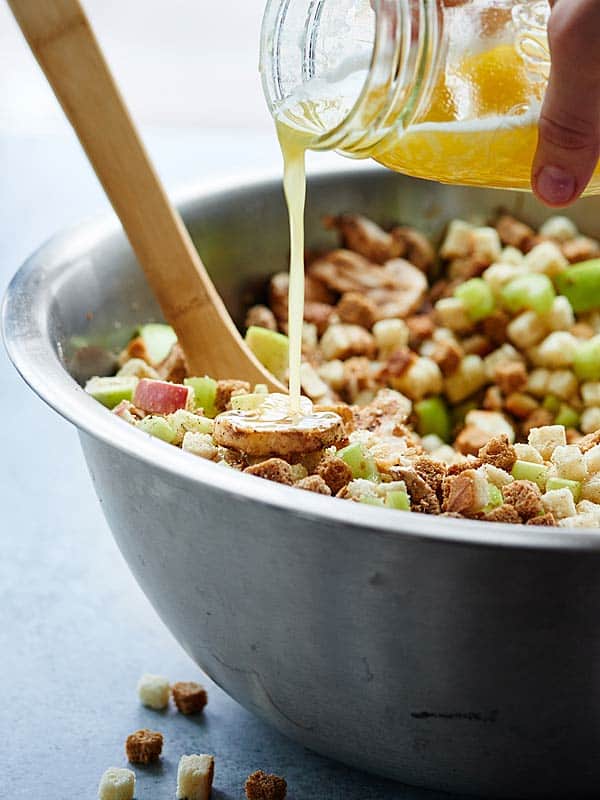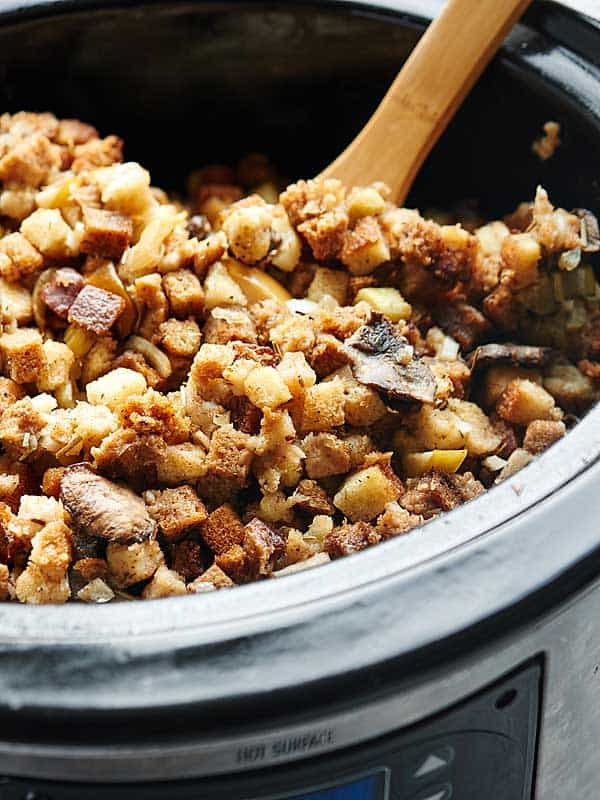 [Oh! And before I forget, I'm sharing a Spicy Sausage Rigatoni on Oh, Sweet Basil today, so be sure to check it ouuuuut! 🙂 ]
If I'm being honest with you, I used to hate stuffing. Not just dislike stuffing, but I hated it with a passion. It's mushy and has no flavor, right? Wrong!
When Trevor and I started dating I was introduced to this fabulous sausage stuffing recipe. It turned me from a stuffing h.a.t.e.r. to a serious stuffing l.o.v.e.r.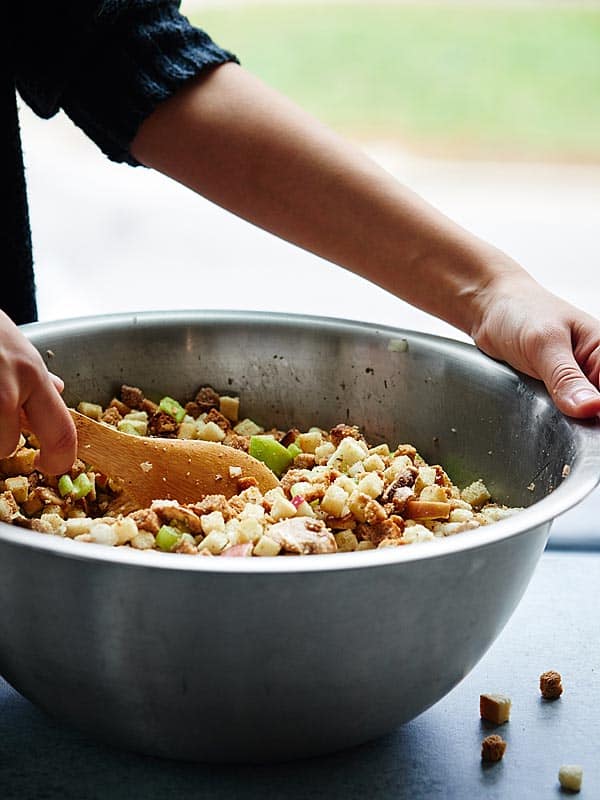 While I absolutely love that stuffing recipe, I wanted to create a new stuffing recipe that was
1. Vegetarian (with a vegan option)
2. Made in the crockpot (because I ♡ my crockpot more than anything)
3. Something that can be thrown together quickly and forgotten about. Thanksgiving is buuuuusy.
I feel like vegetarians kind of get the short end of the stick on Thanksgiving, so I was determined to make something so amazingly delicious, that even the biggest meat lovers will forget about the turkey. Ok. That maaay be a stretch, but you get the idea…this crockpot vegetarian stuffing is good.
Because I love that sausage stuffing so much, I used it as a starting point for this crockpot vegetarian stuffing.  To make this vegetarian, however, I nixed the sausage, and swapped in vegetarian broth for chicken broth. I kept the Pepperidge Farm Cubed Stuffing, but went with unseasoned this time, so I could have fun with the seasonings. Rosemary, nutmeg, sage, thyme, salt, and pepper is a seriously magical combination.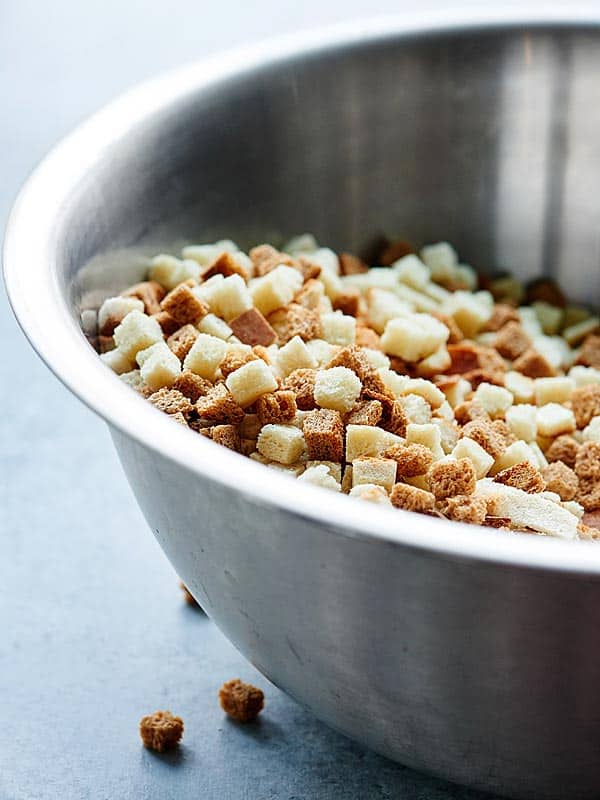 I decided to use my slow cooker for this recipe, because there's already so much going on on Thanksgiving, that I wanted to create something that you could prep and forget!
This crockpot vegetarian stuffing takes little prep: chopping onion, celery, mushrooms, and apples and then it cooks on low for 4 hours. Not only will your house smell like Thanksgiving (kind of the point, right? 😉 ), but you only have to spend 15 active minutes making this stuffing and by the time lunch/dinner is ready, the stuffing will be too!
So great. It's vegetarian, it's made in the crockpot, and it takes very little effort.
But does it taste good?!
Yes. Yes. YES!
As I was recipe testing this crockpot vegetarian stuffing, Trevor "taste tested" many, many times. He's kind of the stuffing connoisseur of the Debth household. I was working on my computer and he turns to me, as he's shoveling stuffing into his mouth, and says "You know how much I love sausage in my stuffing, but I don't even miss it in this recipe."
Can you say #winning?!
This crockpot vegetarian stuffing is ultra savory, but gets a little touch of sweetness from the apples. The seasonings are crazy good and I love the texture of the tender bread cubes with the crunch and freshness from the celery and apples, and meatiness from the mushrooms.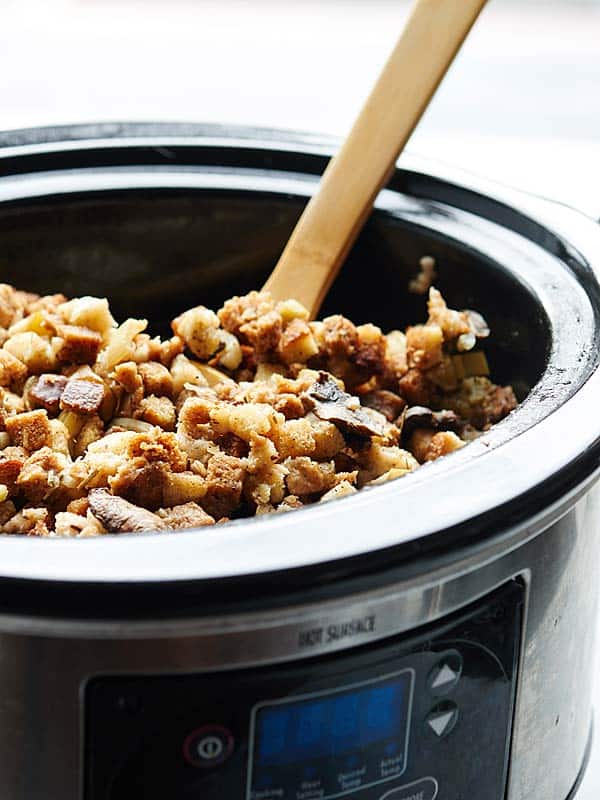 NOW who's ready for Thanksgiving? 🙂 🙋
– Jennifer
Stuffing lover? Or hater? Show me the yummy!
Crockpot Vegetarian Stuffing
This Easy Crockpot Vegetarian Stuffing Recipe (can be vegan!) only takes 15 minutes of prep! The perfect Thanksgiving side dish!
Servings
:
10
people
Results and timings may vary when adjusting servings
Ingredients
1

yellow onion

diced

2

cups

chopped celery

about 6 stalks

1

(8 oz) package

sliced mushrooms

2

apples

cored and chopped **, I used Granny Smith & McIntosh

2

(12 oz) bags

Pepperidge Farm Unseasoned Cubed Stuffing

1 1/2

teaspoons

dried rosemary

1

teaspoon

dried nutmeg

2 1/2

teaspoons

dried ground sage

1 1/2

teaspoons

dried thyme

1 1/2

teaspoons

salt

1

teaspoon

ground black pepper

2

sticks (1 cup)

unsalted butter

melted*

2

cups

vegetable broth
Instructions
In a very large mixing bowl combine all ingredients from diced onion - black pepper.

Stir to combine.

Pour melted butter and vegetable broth over the stuffing and mix again.

Grease your crockpot with cooking spray and pour in stuffing (your crockpot will be very full).

Cook on low for 4 hours.

Taste and re-season, if necessary, and serve!
Notes
*Want to make this vegan? Be sure to use a vegan butter! ** I kept my apple chunks a bit larger so they wouldn't get mushy. 🙂
Make this recipe?
Show

ME

the Yummy
Tag @ShowMeTheYummy & #ShowMeTheYummy on Instagram
* This post contains affiliate links. We receive a commission on purchases made via these links. The price you pay is not affected by using them.