This Easy Crockpot Vegetarian Stuffing Recipe (can be vegan!) only takes 15 minutes of prep! The perfect Thanksgiving side dish!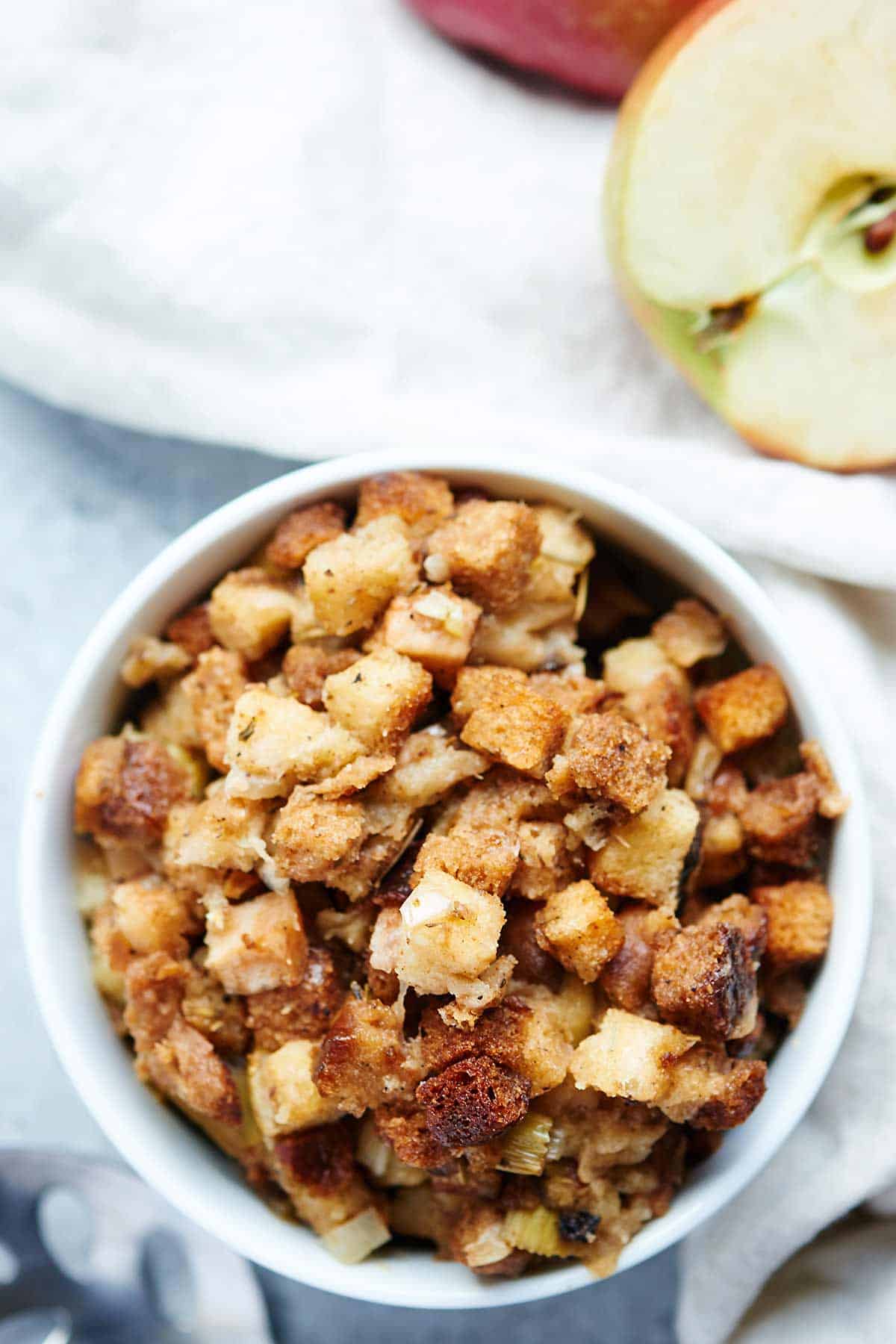 This Crockpot Vegetarian Stuffing is one of our most popular recipes (originally posted November 6, 2015), so I've updated it to include a how-to video! Enjoy!
If you're looking for more vegetarian Thanksgiving recipes, you'll also love: crockpot mashed potatoes, roasted sweet potato and wild rice salad, creamy corn casserole, and roasted butternut squash bruschetta. 
You guys. Thanksgiving is less than 3 weeks away!
Who's excited?! 🙋
Who's slightly panicked, because they have no idea what they're making yet and it's less than 3 weeks away?! 🙋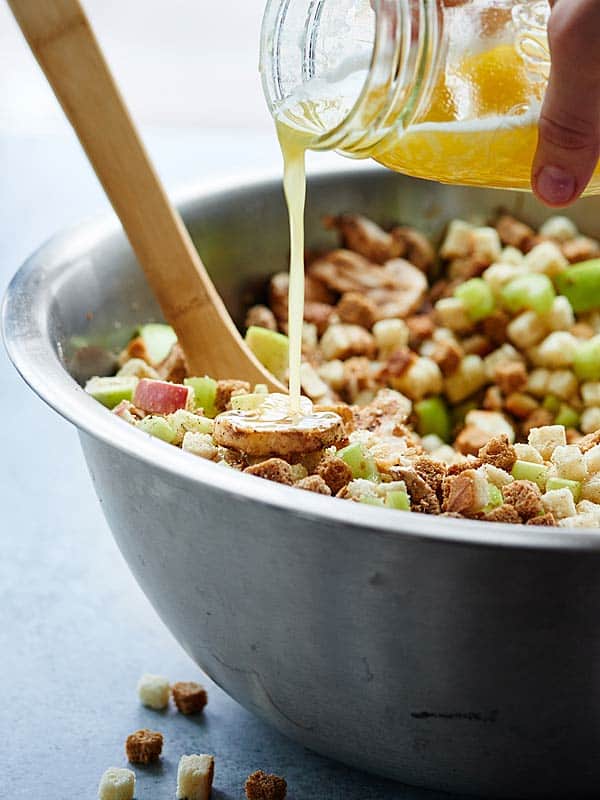 Who's not even reeeeally thinking about it, because we're stiiiill 3 weeks away? 👀
Not me. 🙅
You guys. I'm a waaaay over planner. It's kind of outta control, but if you're like me, you'll be happy to see that today's recipe is a Crockpot Vegetarian Stuffing.
If you're one of those not even thinking about Thanksgiving yet, I'm sorry, but this will totally get you in the mood for Thanksgiving. 🙂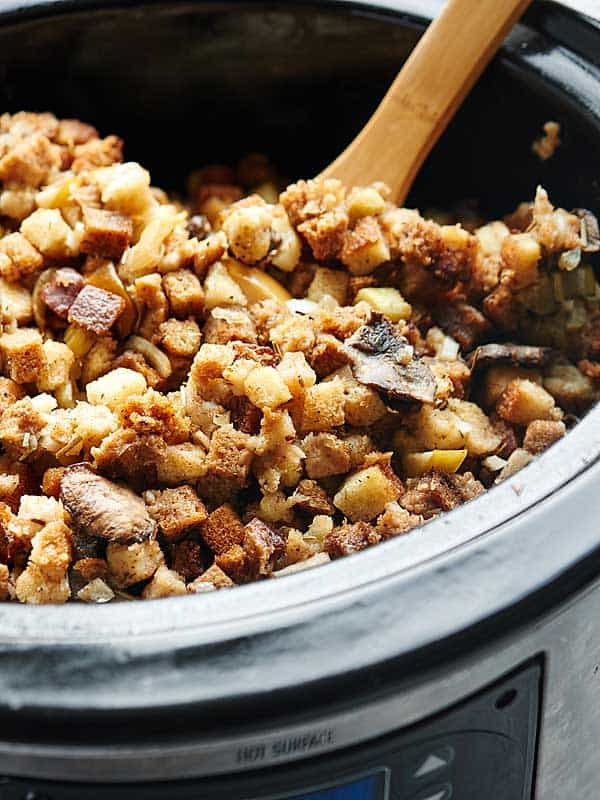 If I'm being honest with you, I used to hate stuffing. Not just dislike stuffing, but I hated it with a passion. It's mushy and has no flavor, right?
Wrong!
When Trevor and I started dating I was introduced to this fabulous sausage stuffing recipe. It turned me from a stuffing h.a.t.e.r. to a serious stuffing l.o.v.e.r.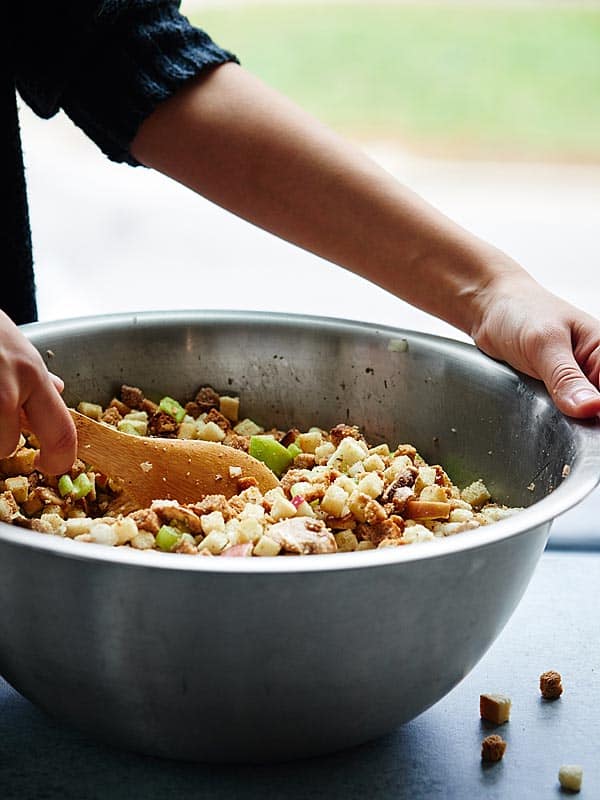 While I absolutely love that stuffing recipe, I wanted to create a new stuffing recipe that was
Vegetarian (with a vegan option)
Made in the crockpot (because I ♡ my crockpot more than anything)
Something that can be thrown together quickly and forgotten about. Thanksgiving is buuuuusy.
I feel like vegetarians kind of get the short end of the stick on Thanksgiving, so I was determined to make something so amazingly delicious, that even the biggest meat lovers will forget about the turkey.
Ok.
That maaay be a stretch, but you get the idea…this crockpot vegetarian stuffing is good.
What ingredients are in an easy slow cooker vegetarian stuffing?
Onion
Celery
Mushrooms
Apples
Cubed stuffing
Spices: rosemary, nutmeg, sage, thyme, salt, pepper
Butter – or vegan butter
Vegetable broth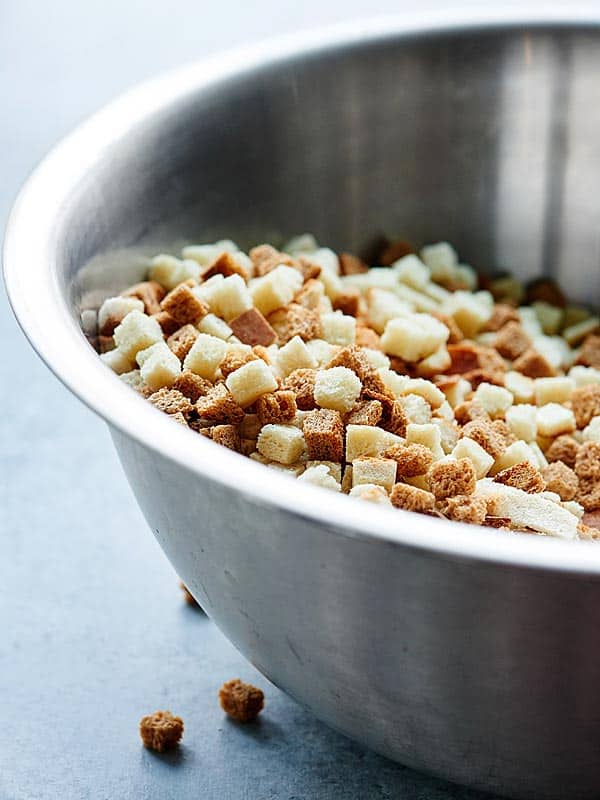 I decided to use my slow cooker for this recipe, because there's already so much going on on Thanksgiving, that I wanted to create something that you could prep and forget!
This crockpot vegetarian stuffing takes little prep.
How do you make crockpot vegetarian stuffing with apples?
Chop your veggies (and fruit): onion, celery, mushrooms, and apples
Throw those into a slow cooker with the other ingredients

Broth
Cubed stuffing
Spices from above
Butter – use a vegan variety if you're looking to make this vegan!

Cook it on low for 4 hours
Not only will your house smell like Thanksgiving (kind of the point, right? 😉 ), but you only have to spend 15 active minutes making this stuffing and by the time lunch/dinner is ready, the stuffing will be too!
So great. It's vegetarian, it's made in the crockpot, and it takes very little effort.
But does it taste good?!
Yes. Yes. YES!
As I was recipe testing this crockpot vegetarian stuffing, Trevor "taste tested" many, many times.
He's kind of the stuffing connoisseur of the Debth household.
I was working on my computer and he turns to me, as he's shoveling stuffing into his mouth, and says "You know how much I love sausage in my stuffing, but I don't even miss it in this recipe."
Can you say #winning?!
This crockpot vegetarian stuffing is ultra savory, but gets a little touch of sweetness from the apples.
The seasonings are crazy good and I love the texture of the tender bread cubes with the crunch and freshness from the celery and apples, and meatiness from the mushrooms.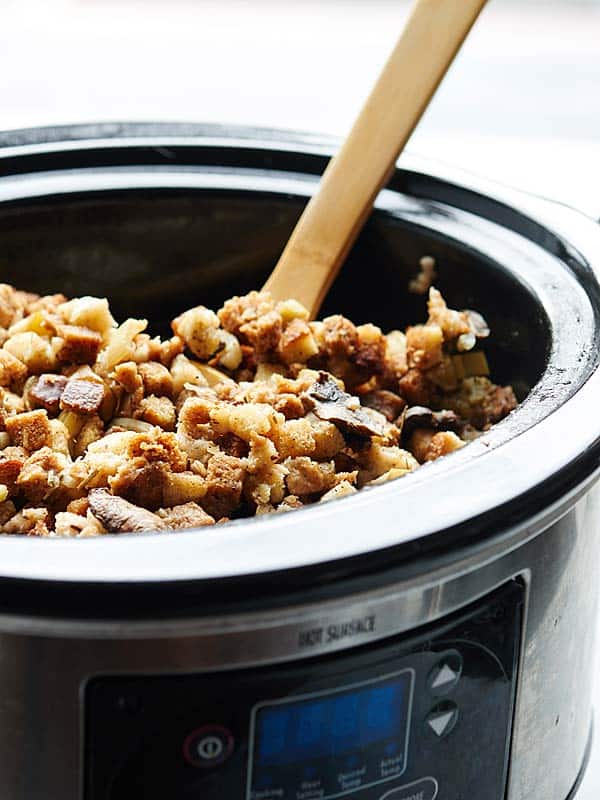 NOW who's ready for Thanksgiving? 🙂 🙋
– Jennifer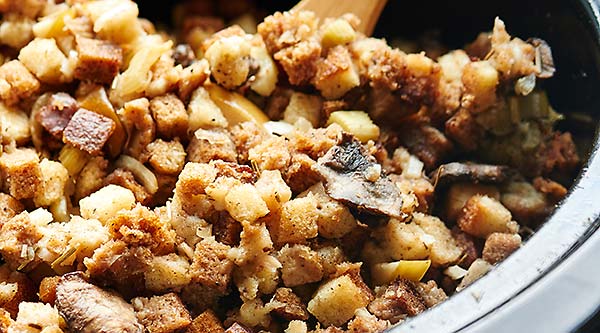 Crockpot Vegetarian Stuffing
This Easy Crockpot Vegetarian Stuffing Recipe (can be vegan!) only takes 15 minutes of prep! The perfect Thanksgiving side dish!
Equipment for this recipe
(equipment shown are affiliate links)
Ingredients
1

yellow onion

diced

2

cups

chopped celery

about 6 stalks

1

(8 oz) package

sliced mushrooms

2

apples

cored and chopped **, I used Granny Smith & McIntosh

2

(12 oz) bags

Pepperidge Farm Unseasoned Cubed Stuffing

1 1/2

teaspoons

dried rosemary

1

teaspoon

dried nutmeg

2 1/2

teaspoons

dried ground sage

1 1/2

teaspoons

dried thyme

1 1/2

teaspoons

salt

1

teaspoon

ground black pepper

2

sticks (1 cup)

unsalted butter

melted*

2

cups

vegetable broth
Click to Keep Device on While Cooking
Instructions
In a very large mixing bowl combine all ingredients from diced onion - black pepper.

Stir to combine.

Pour melted butter and vegetable broth over the stuffing and mix again.

Grease your crockpot with cooking spray and pour in stuffing (your crockpot will be very full).

Cover and cook on low for 4 hours.

Taste and re-season, if necessary, and serve!
STORING
Reheat:
Microwave or bake to reheat
*Storage times may vary based on temperature and conditions
Notes
*Want to make this vegan? Be sure to use a vegan butter!
** I kept my apple chunks a bit larger so they wouldn't get mushy. 🙂
Nutrition Information
Nutrition Facts
Crockpot Vegetarian Stuffing
Amount Per Serving
Calories 461
Calories from Fat 189
% Daily Value*
Fat 21g32%
Cholesterol 49mg16%
Sodium 1513mg66%
Potassium 352mg10%
Carbohydrates 60g20%
Protein 8g16%
Vitamin A 785IU16%
Vitamin C 3.6mg4%
Calcium 87mg9%
Iron 3mg17%
* Percent Daily Values are based on a 2000 calorie diet.
*Note: Nutrition information is estimated and varies based on products used.
Keywords:
crockpot, thanksgiving side, vegetarian