Easy Summer Recipes for breakfast, lunch, sides & salads, dinner, desserts, and drinks! Because let's be real, summer is all about less cooking inside and MORE playing outside!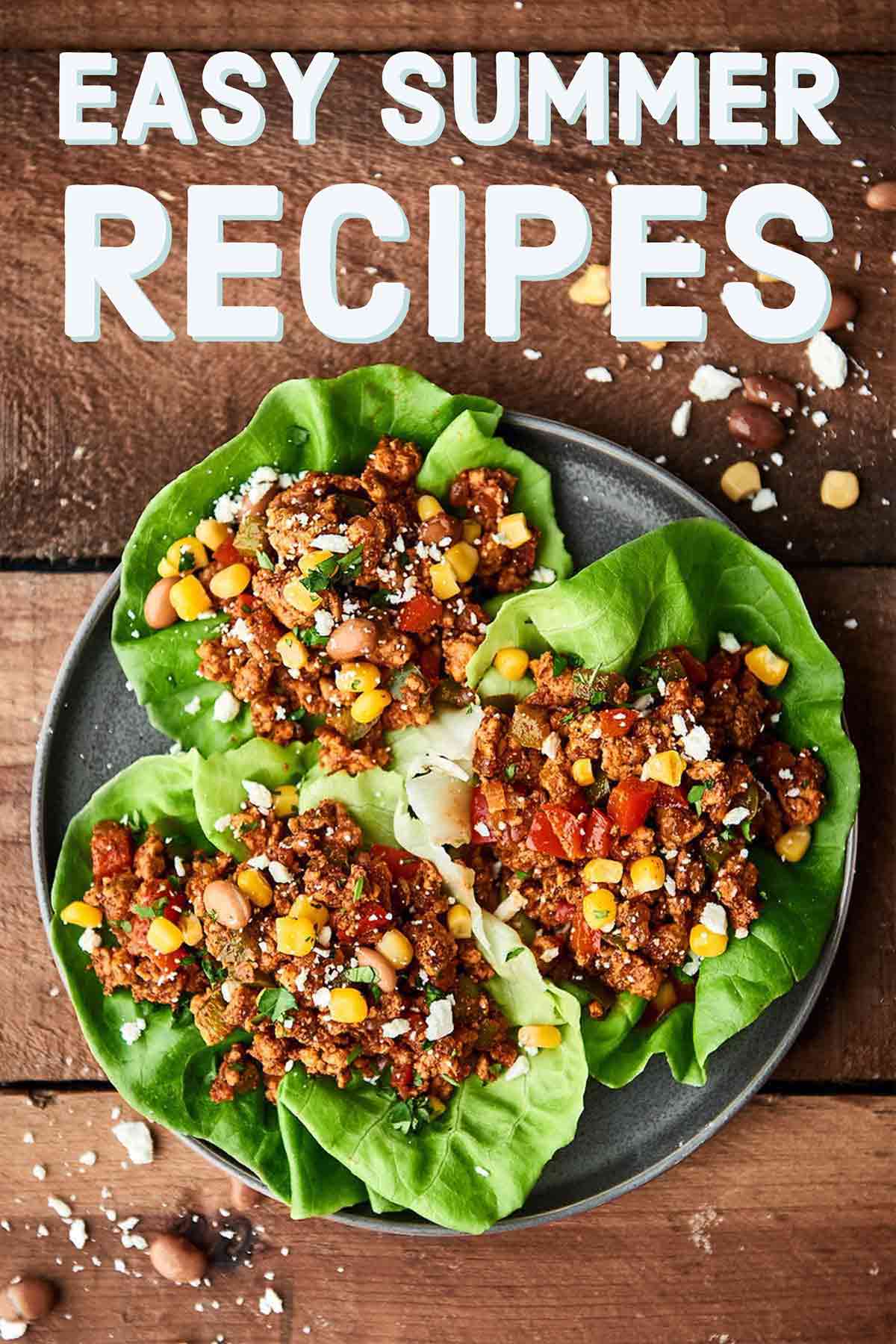 Is it roasting hot where you guys live yet?!
Here is Raleigh, NC it seems like summer has been in full swing for MONTHS now.
And I'm loving it.
Today, I'm bringing you all my favorite easy summer recipes for breakfast, lunch, sides & salads, dinner, desserts, and drinks!
Because let's be real, summer is all about less cooking inside and MORE playing outside!
Most of the recipes today are healthy (I threw in a few splurges, because #YOLO #NoChurnIceCreamisLife).
Most of the recipes today are also no-bake, because there's nothing worse than slaving over a hot stove on a hot day.
The recipes that DO require cooking are
Super quick
Perfect for make ahead meal prep, so you only have to slave over the stove/oven once, and then you're good all week!
Happy Summer Eating!
Easy Summer Breakfast Recipes
A favorite sandwich from your childhood turned into a healthy smoothie bowl: these peanut butter and jelly smoothie bowls are absolutely delicious! Full of frozen strawberries and all natural peanut butter, they really do taste like the childhood classic!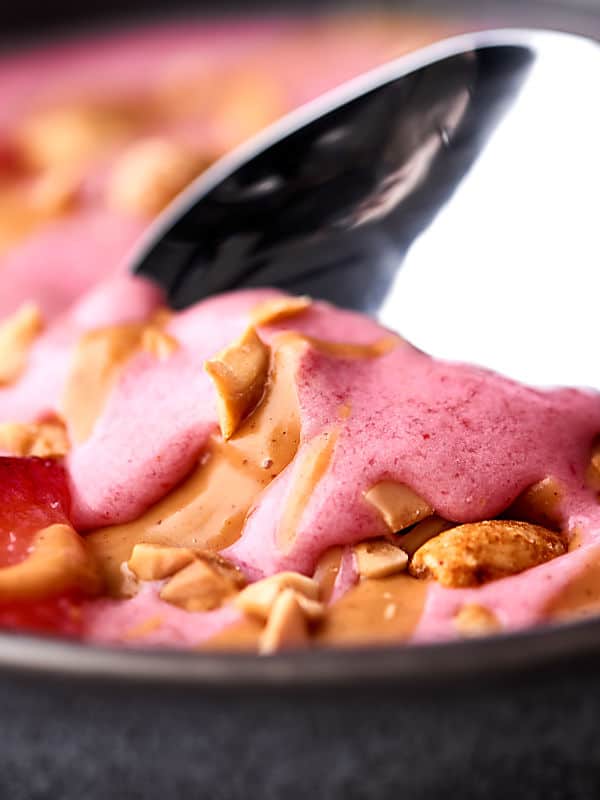 These Roasted Vegetable Breakfast Muffins make the perfect easy, healthy, make ahead breakfast! Whole eggs, egg whites, veggies: sweet potatoes, asparagus, bell pepper, onion –  and spices get baked into portable egg muffin cups! Gluten Free. Vegetarian! Less than 100 calories per muffin!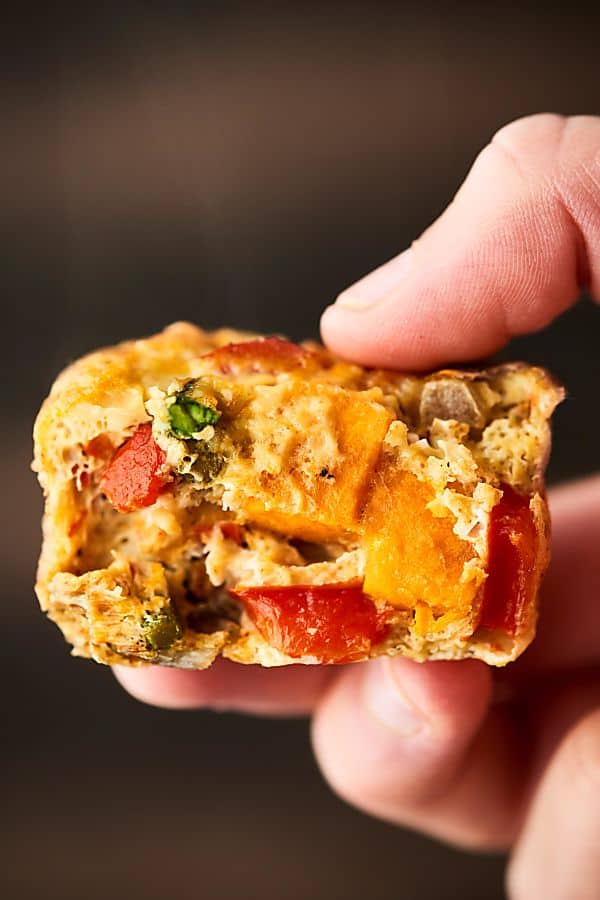 This Green Juice Recipe is packed with kale, cucumbers, celery, lemon, ginger, and apples! Loaded with fruits and veggies, this juice is healthy and delicious!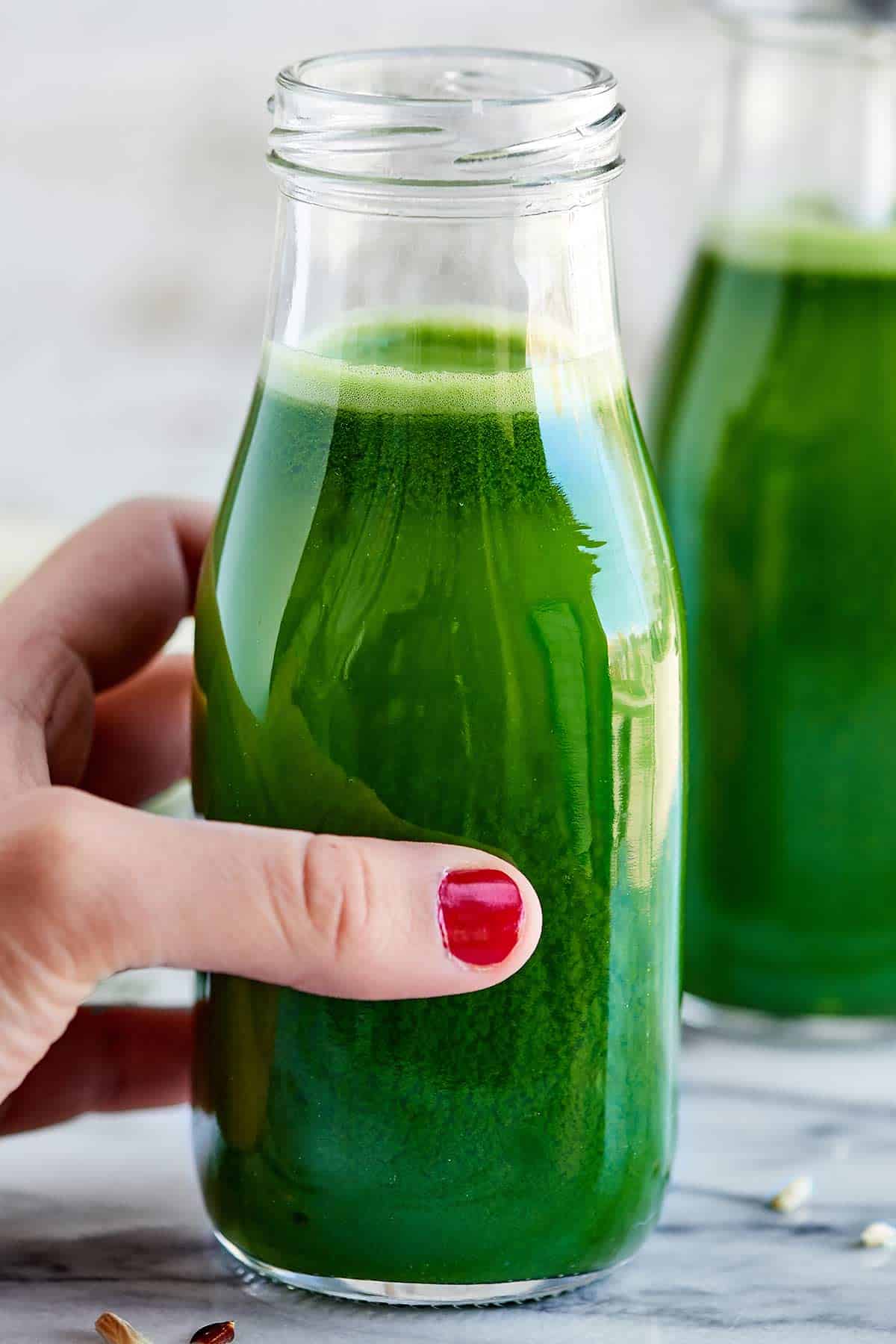 This Breakfast Burrito Bowl Recipe is full of sweet potatoes, peppers, onion, spinach, mushrooms, garlic, black beans, and spices. Topped with a fried egg, salsa, and greek yogurt! Healthy. Meatless. Gluten Free. Perfect for meal prep! Can be vegan!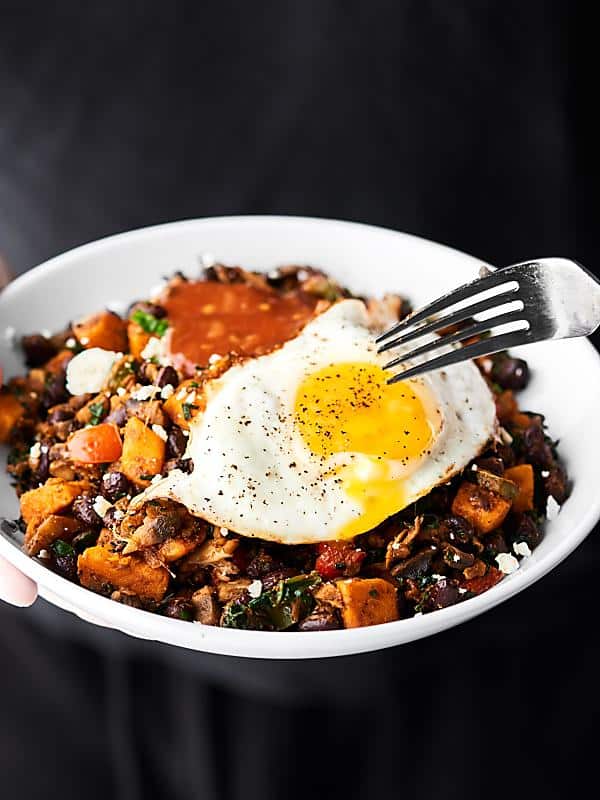 These Peanut Butter Energy Bites are the perfect healthier treat to satisfy your sweet tooth! Full of all natural peanut butter, oats, and just a touch of honey! Only 130 calories! Gluten free. Vegetarian.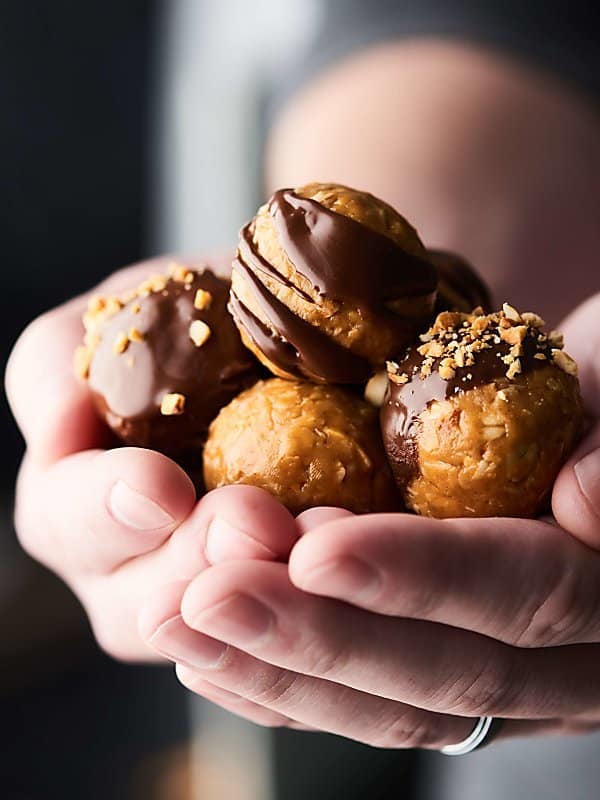 Want more? Check out all our easy summer breakfast recipes. 
Easy Summer Lunch Recipes
Southwestern chicken salad cups. Baked wonton cups filled with chicken, corn, beans, peppers, greek yogurt, lime, and taco seasonings! About 100 calories per cup! Great for easy lunches, snacks, or a big party!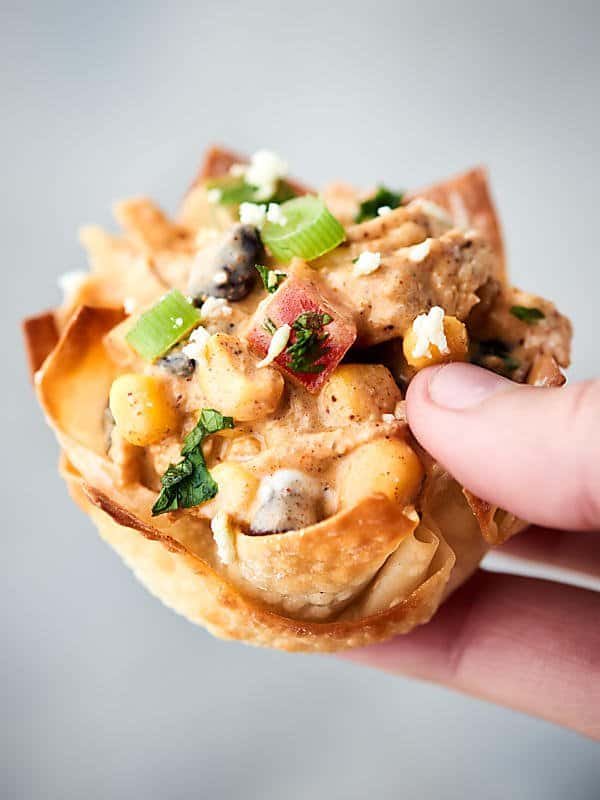 This Chicken Burrito Bowl Recipe is perfect for meal prep! They're quick and easy to make, healthy, gluten free, and loaded with crockpot chicken, beans, corn, a tangy dressing, and more!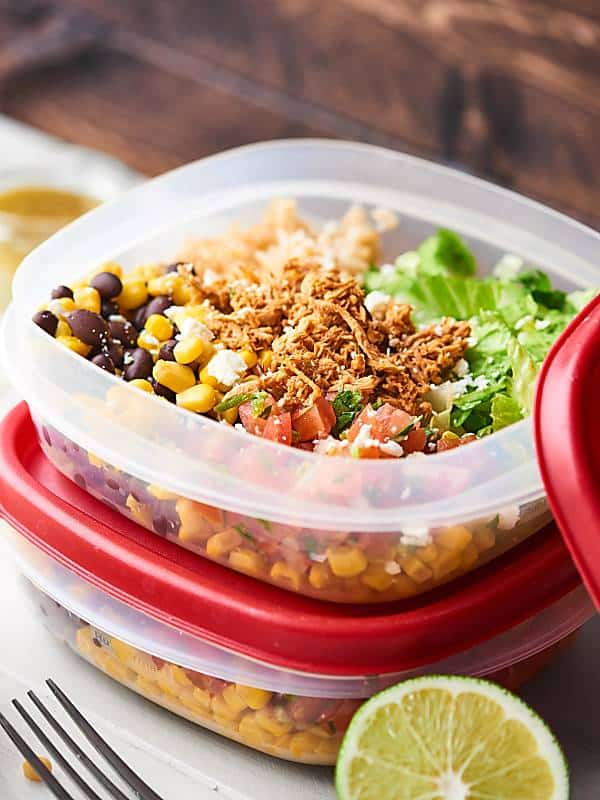 Sandwich Kebabs. A deconstructed sandwich on skewers, loaded with baguette, turkey, cheese, and a creamy dill dipping sauce!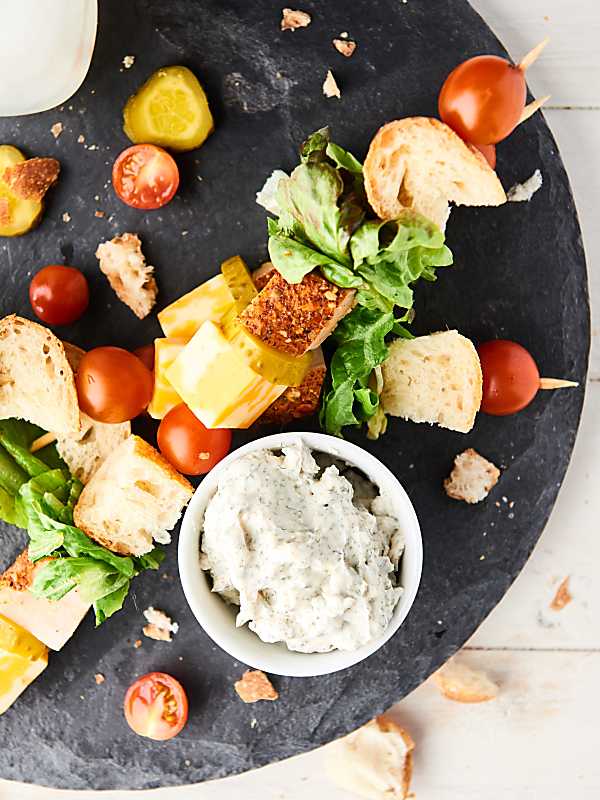 This Spicy Tuna Roll Bowl is a deconstructed version of the spicy tuna roll. Protein packed tuna, brown rice, and veggies all smothered in the most magically spicy mayo sauce. This bowl is *almost* too good to be true!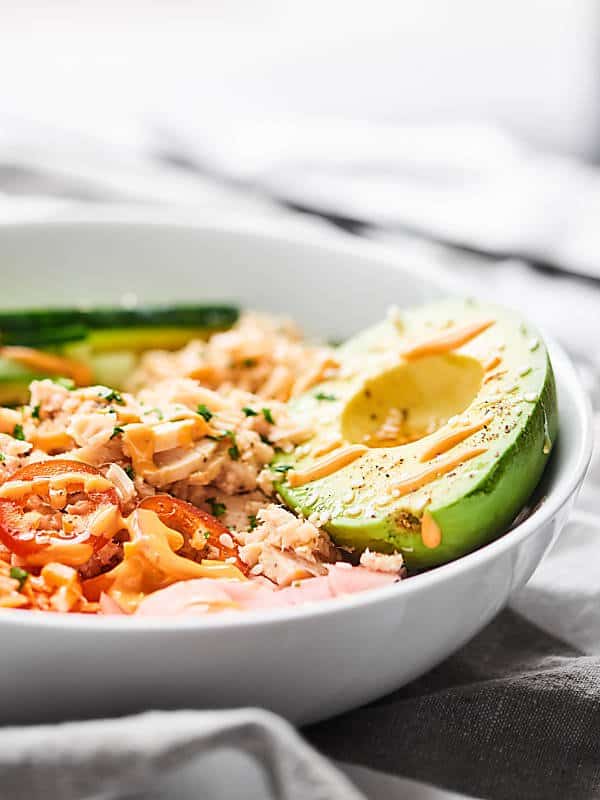 This Shrimp Avocado Salad Recipe is perfect for hot summer days! It's an EASY, cold, no-cook, healthy, refreshing salad full of shrimp, avocado, cucumbers, sun dried tomatoes, lemon juice, spices, and more!
Want more? Check out all our easy summer lunch recipes.
Easy Summer Sides & Salads Recipes
This Antipasto Farro Salad is loaded with farro and all your favorite antipasto ingredients: roasted red pepper, tomatoes, onion, pepperoni, salami, mozzarella, pepperoncinis, olives, and more! Light yet SO satisfying.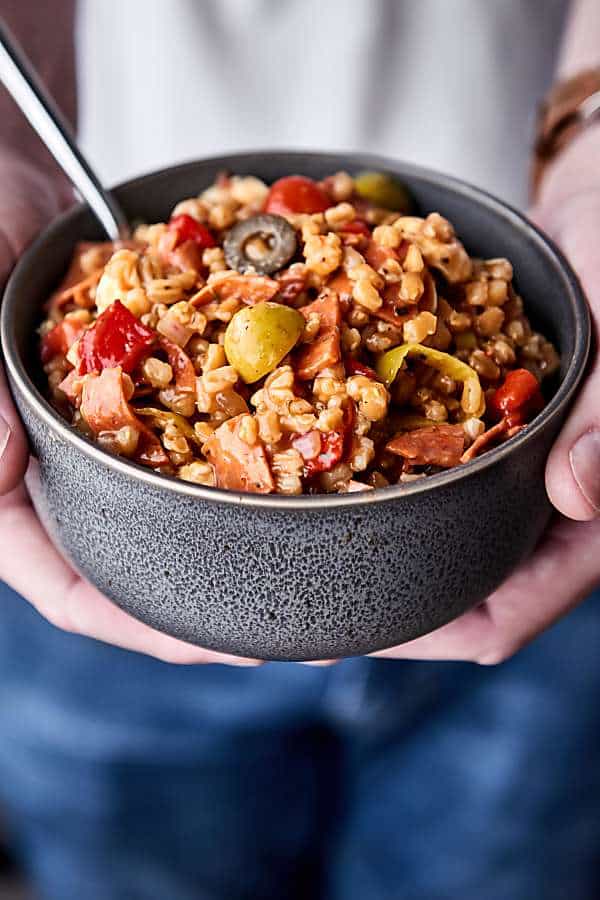 This easy bruschetta recipe is a healthy summer classic! Juicy tomatoes tossed with sun dried tomatoes, garlic, a touch of oil, balsamic vinegar, and fresh basil . . . we can't get enough of this stuff!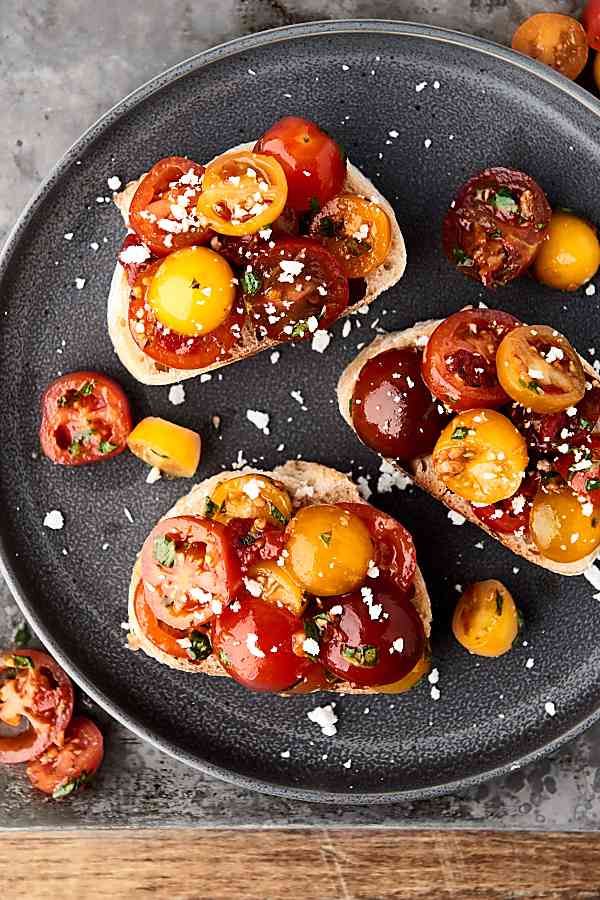 Grilled potato salad that's loaded with blue cheese, bacon, garlic, red onion, cilantro, and more! Quick. Easy. Delicious!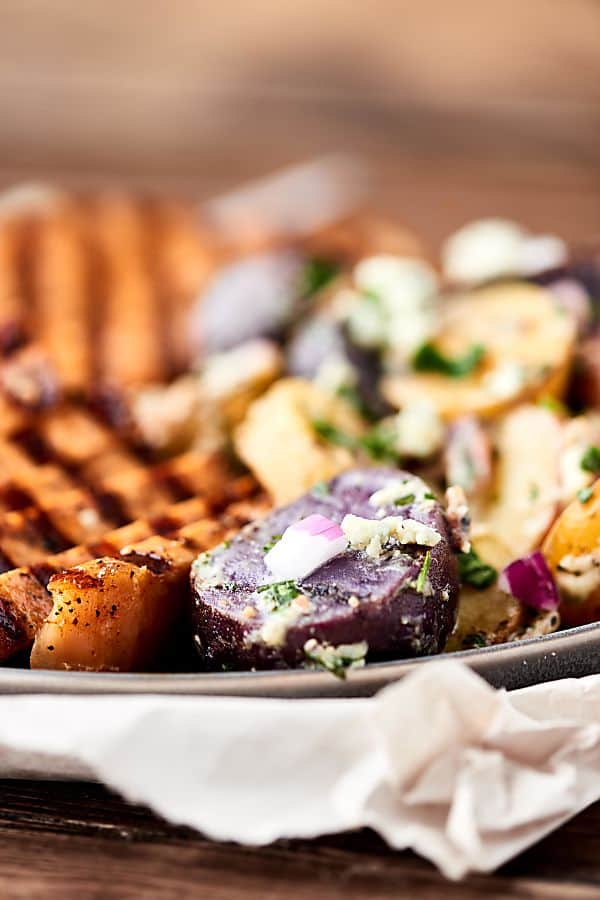 This Grilled Corn and Avocado Salsa Recipe is loaded with fresh summer produce: corn, avocado, tomatoes, and more! Only 9 ingredients necessary!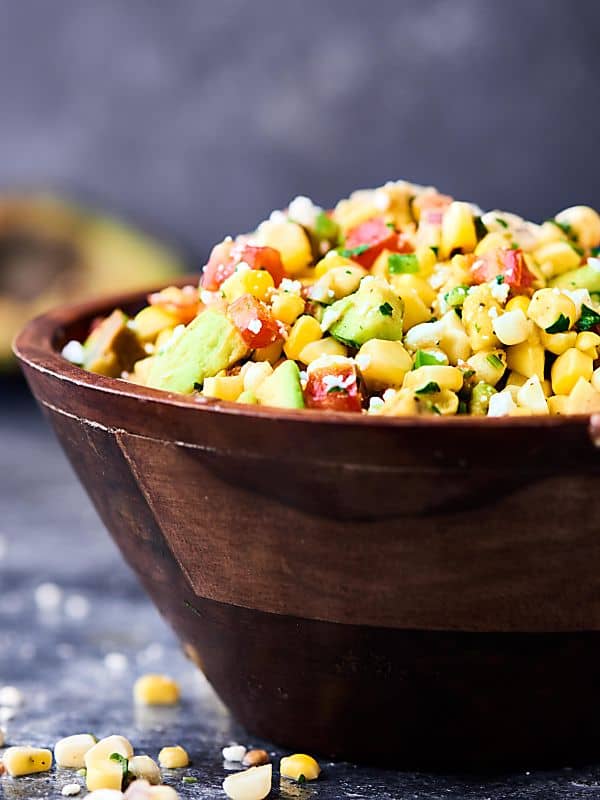 This Easy Caprese Salad is an easy, fresh summer classic! Juicy sliced tomatoes and creamy mozzarella seasoned with extra virgin olive oil, balsamic vinegar, garlic, fresh basil, and salt. Don't forget the extra drizzle of balsamic glaze!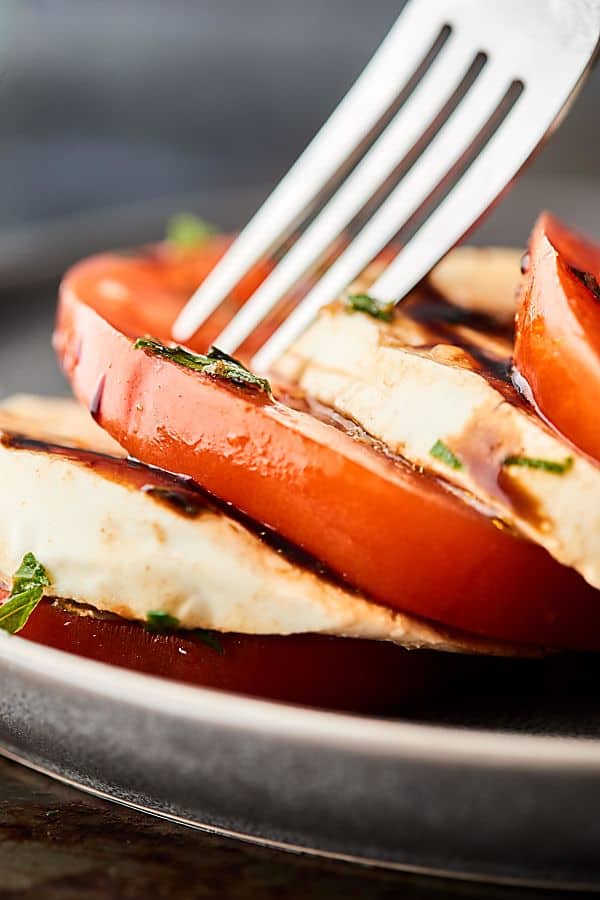 Want more? Check out all our easy summer snacks, sides, apps recipes.
Easy Summer Dinner Recipes
This Air Fryer Sweet and Spicy Walnut Chicken Tenders Recipe is a quick, easy, healthier twist on a fast food classic! Only seven ingredients necessary!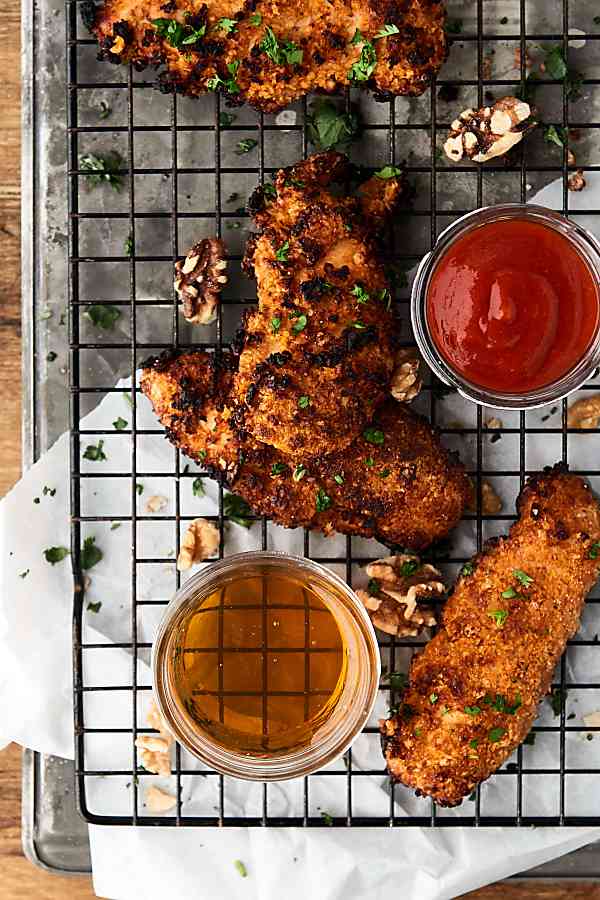 This Slow Cooker Lo Mein Recipe is quicker, easier, healthier, and dare I say . . . TASTIER than the traditional take out classic! Loaded with chicken, veggies, noodles, and the most delicious sauce, this healthy-ISH dinner comes together in minutes and will surely satisfy that Chinese take out craving!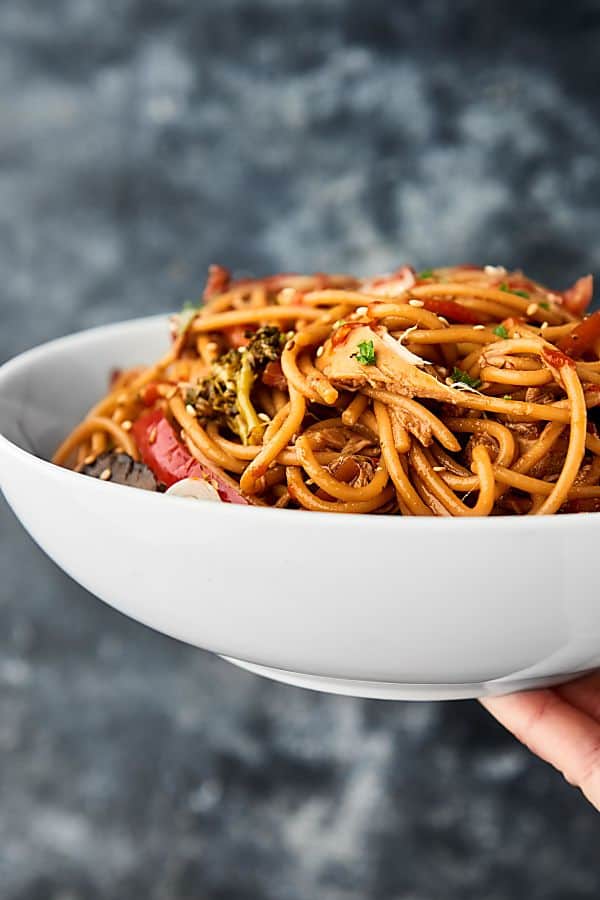 These turkey tacos are super easy, healthy, and delicious! Full of extra lean ground turkey, onion, bell peppers, and spices: chili powder, smoked paprika, cumin, garlic powder, salt, pepper! Perfect for meal prep. Less than 200 calories per serving!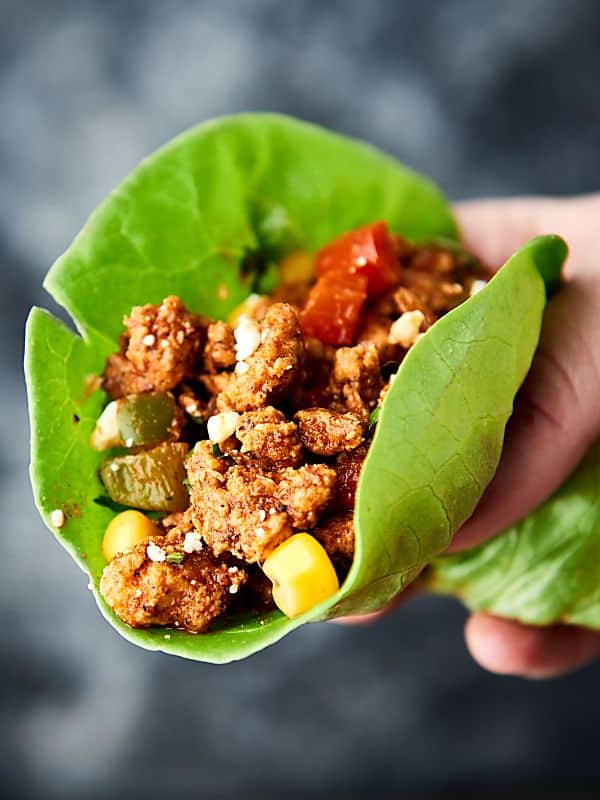 Paired with tzatziki and full of tender chicken, veggies, and an herb-y garlic marinade, these Greek Kebabs are the perfect, quick & easy, healthy summer dinner!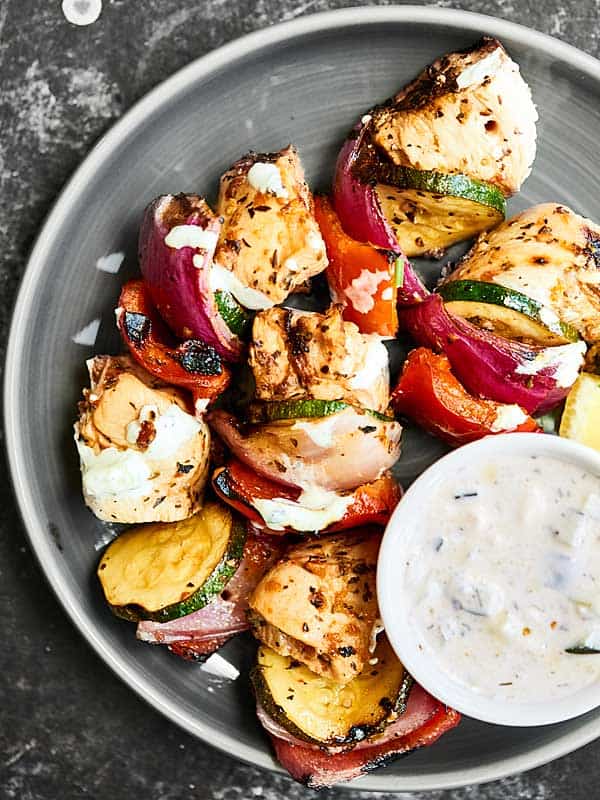 These Instant Pot Carnitas are easy, pretty darn healthy, and absolutely delicious. Full of amazing spices and fresh citrus juices. Perfect for tacos, nachos, quesadillas, salads, and more!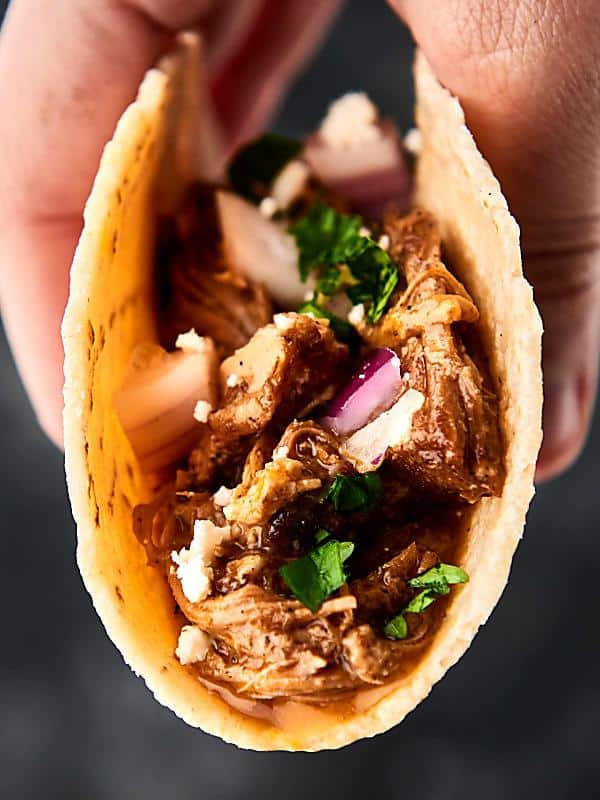 Want more? Check out all our easy summer dinner recipes.
Easy Summer Dessert Recipes
These Mint Chocolate Ice Cream Cupcakes are the perfect, easy, refreshing summer dessert! A chocolate cookie crust gets topped with a dark chocolate pudding and the creamiest, coolest mint chocolate ice cream!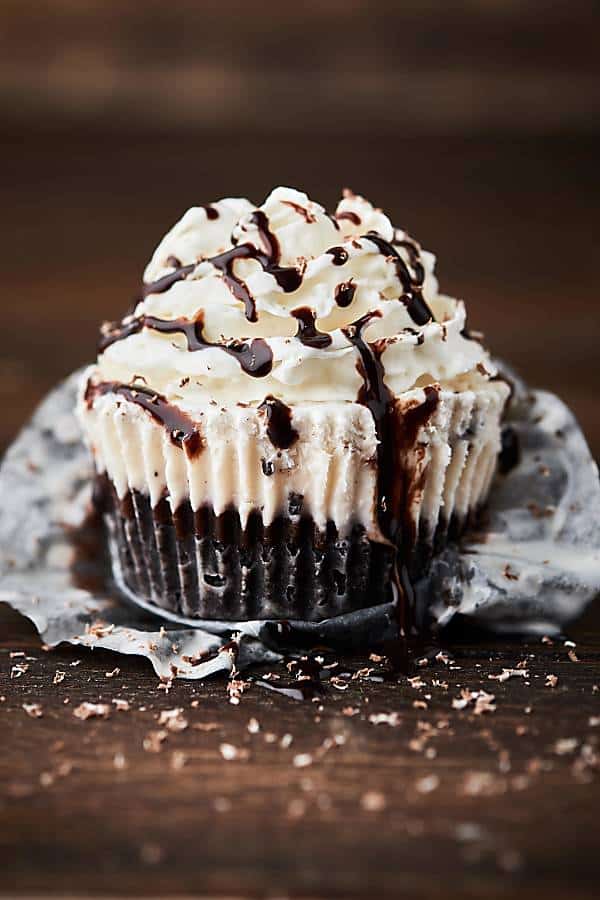 Skip the oven and make this no-bake Edible Eggless Cookie Dough Recipe! It's safe to eat raw! There's no flour, we use ground oats instead, & is free of eggs! Edible cookie dough for the win!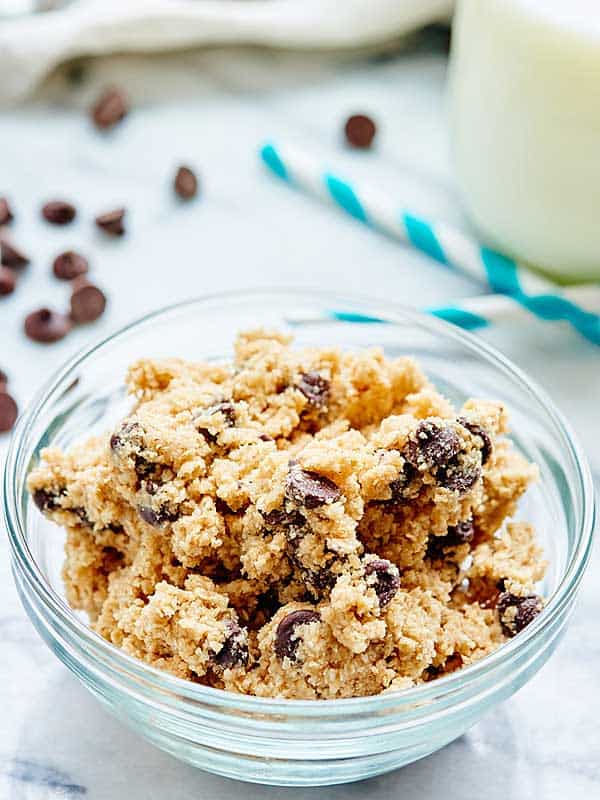 No Churn Chocolate Chip Cookie Dough Ice Cream Recipe. You know you want some! The BEST homemade edible cookie dough (no eggs, no flour) is folded into a fluffy no churn ice cream base and drizzled with hot fudge! No ice cream machine required.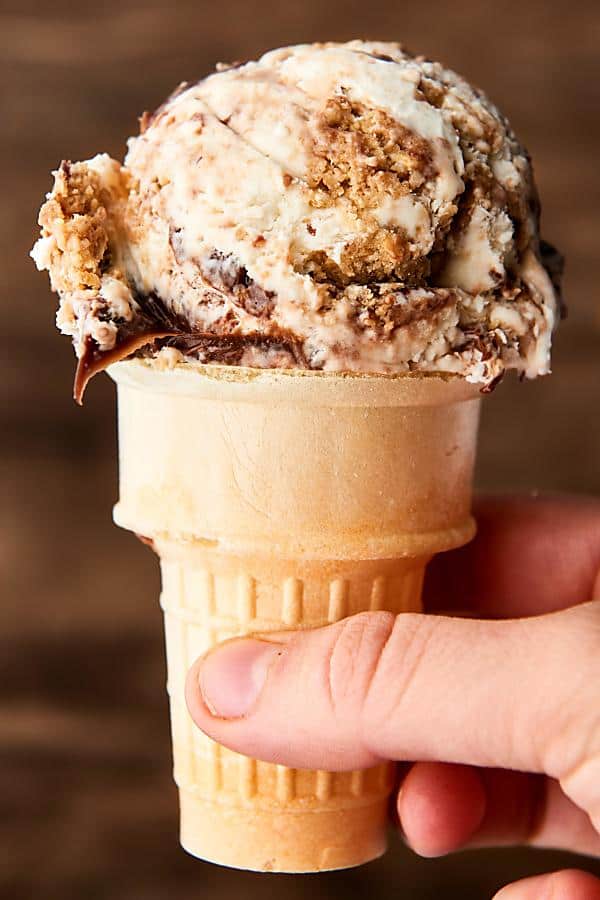 Just when you thought S'Mores couldn't possibly get better… enter: Sweet & Salty S'Mores Bars! Potato chips, honey graham cereal, marshmallows, milk chocolate bars, and butter!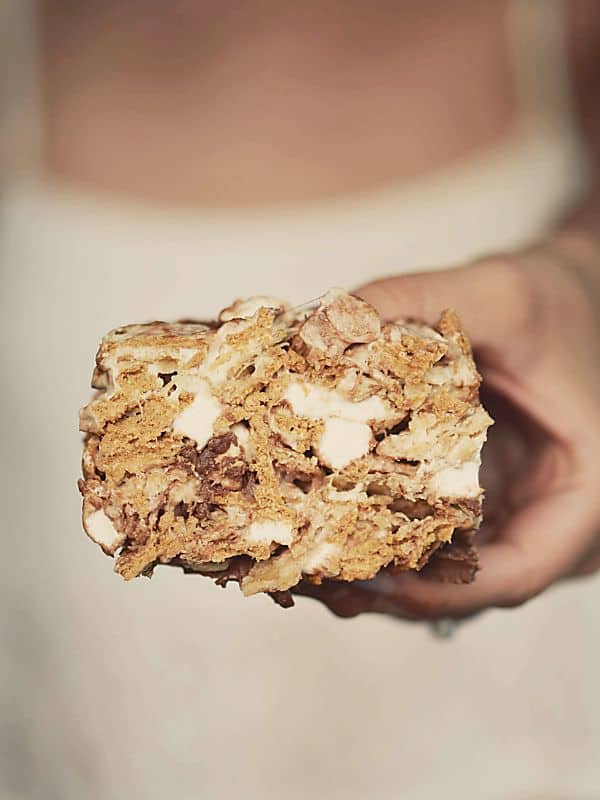 This No Churn Roasted S'Mores Ice Cream Recipe is insanely quick and easy to make and is loaded with hot fudge, roasted marshmallows, and crunchy graham crackers! Only 7 ingredients needed and NO ice cream machine required!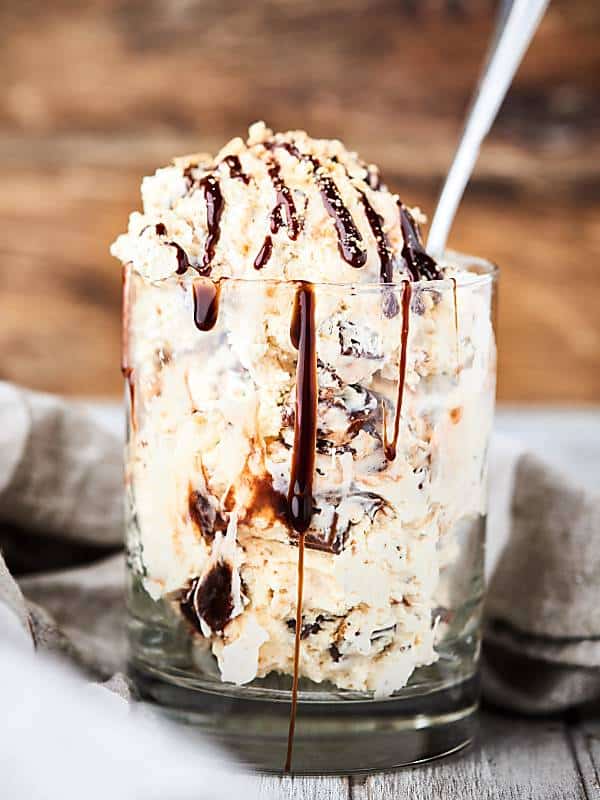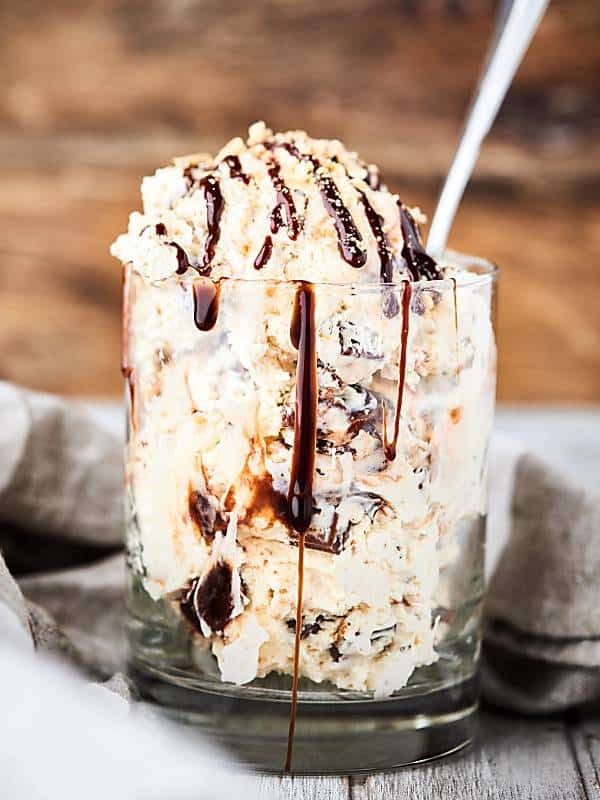 Want more? Check out all our easy summer dessert recipes.
Easy Summer Drink Recipes
Five Ingredient Margaritas – 4 Ways! Citrus Margarita. Spicy Mango Margarita. Mojito Margarita. Cucumber Chili Margarita. Cheers!
This honey strawberry lemonade only has four ingredients and is naturally sweetened! Perfect for kids! Add a shot of gin for an adults only cocktail!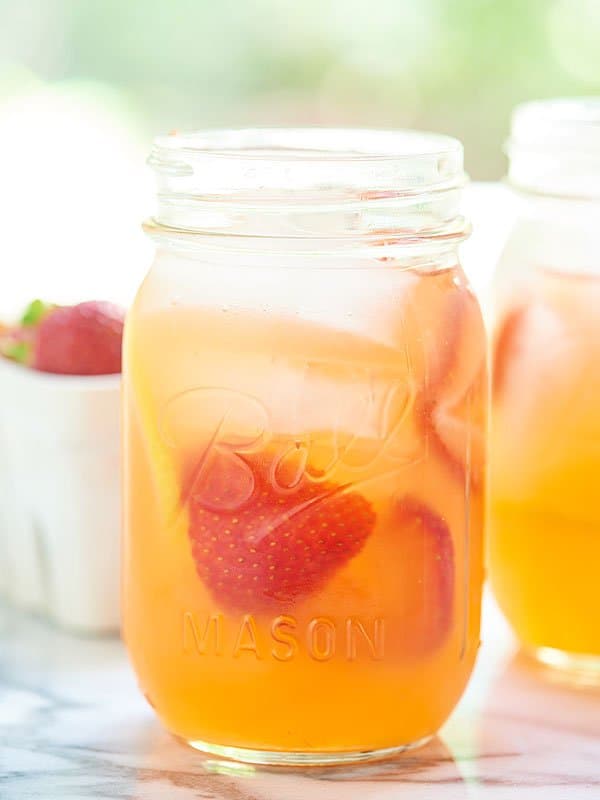 A twist on a classic, this Strawberry Jalapeno Margarita Recipe is quick and easy to put together, and is the perfect combination of sweet from the strawberries, spicy from the jalapeno, salty from the chili powder/salt rim, and a little tart from the lime.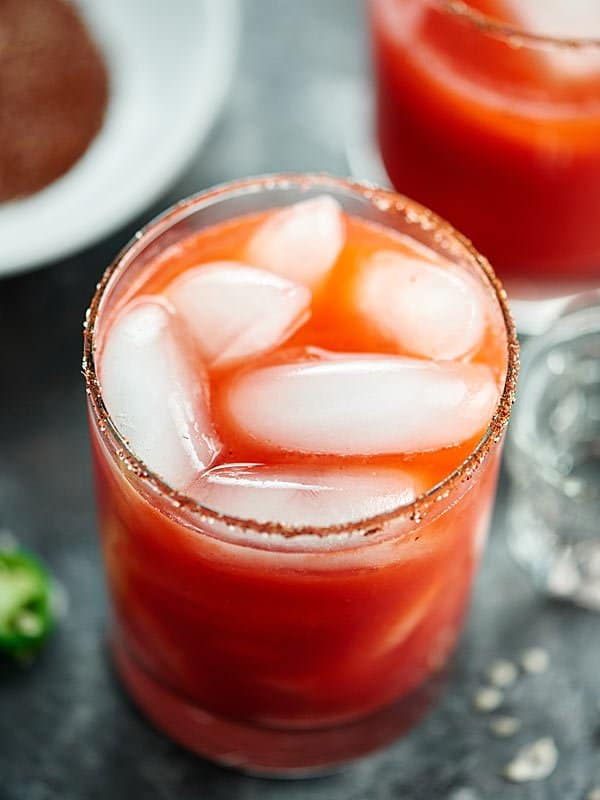 This Watermelon Sangria is summer in a glass! Fresh watermelon, strawberries, & lemons make it so seasonal! The addition of wine & vodka doesn't hurt either. 😉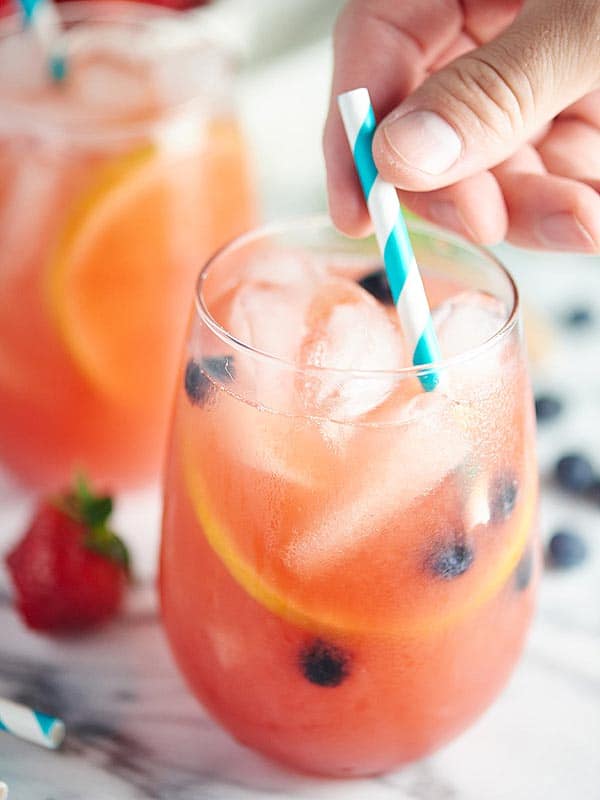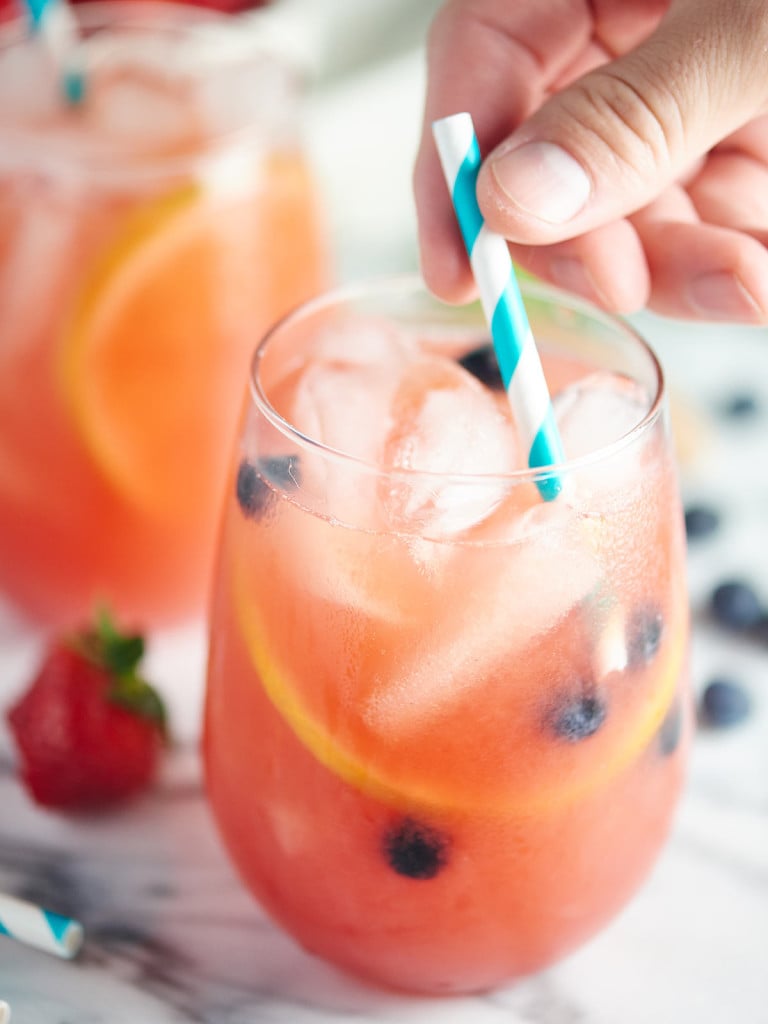 A classic, Easy Margarita Recipe. 5 ingredients: tequila, simple syrup (or agave), lime, lemon, and orange juice! A simply perfect and refreshing cocktail!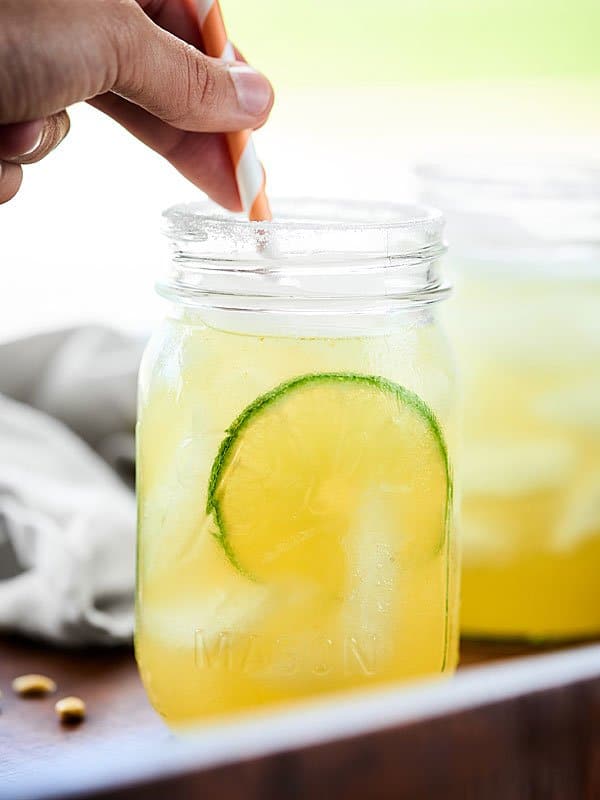 Want more? Check out all our easy summer drink recipes.
Happy *mostly healthy* summer eating!
– Jennifer
What other summer recipes do you want? More salads? More no bake desserts? Show Me the Yummy!