This Edible Eggless Cookie Dough Recipe is safe to eat raw! There's no flour, we use ground oats instead, & is free of eggs! Edible cookie dough for the win!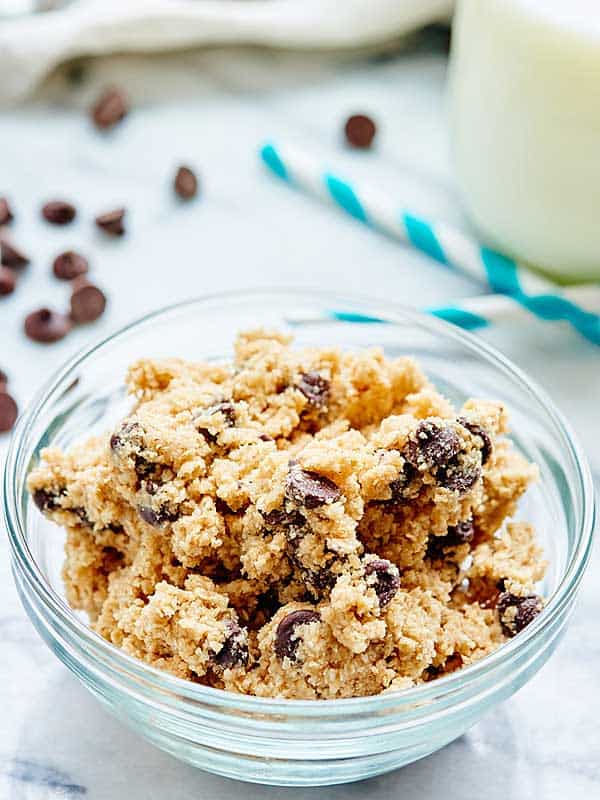 This is one of our most popular recipes (originally posted October 7, 2015), so I've updated it to include a how-to video! Enjoy!
Edible eggless Cookie Dough Recipe comin' at ya! You guys. This is everything I've ever dreamed of. Cookie dough that I can safely eat, without worrying about getting sick. Although, if I'm being really honest, I'll probably still eat the unsafe cookie dough. 😉
A few days ago, I had a serious craving for some cookie dough. I was about to whip up a batch of monster cookies, but then I decided to create a new recipe for you guys. I started doing a little research on edible cookie dough and found out that not only are they (who are they anyway 😉 ) saying that it's unsafe to eat raw eggs, but it's unsafe to eat raw flour!!!!!!
Somebody out there is trying to ruin my life.
Why can't a girl just eat some raw cookie dough without worrying about getting sick?!
Well ladies (and gentlemen), I have found the solution.
Not only is this Edible Eggless Cookie Dough Recipe, um, eggless, it's also flourless!
Nobody's gonna stop this girl from gettin' some cookie dough.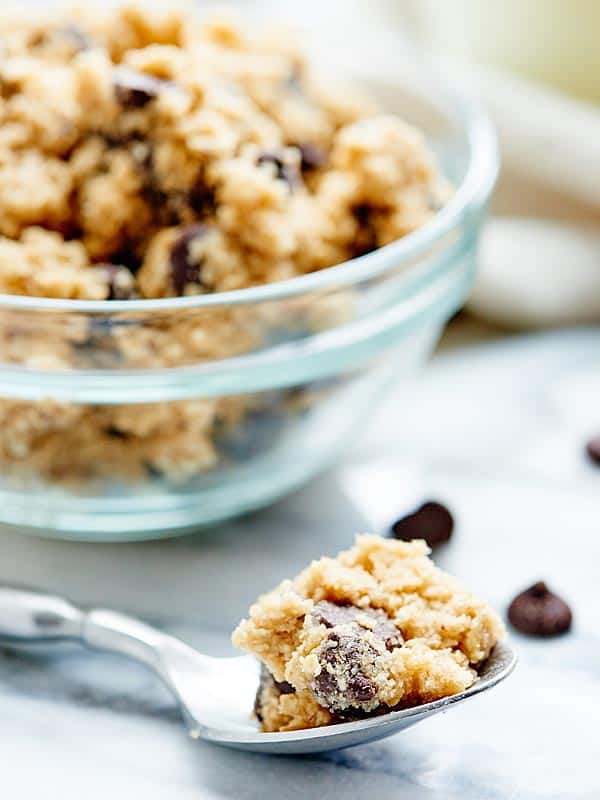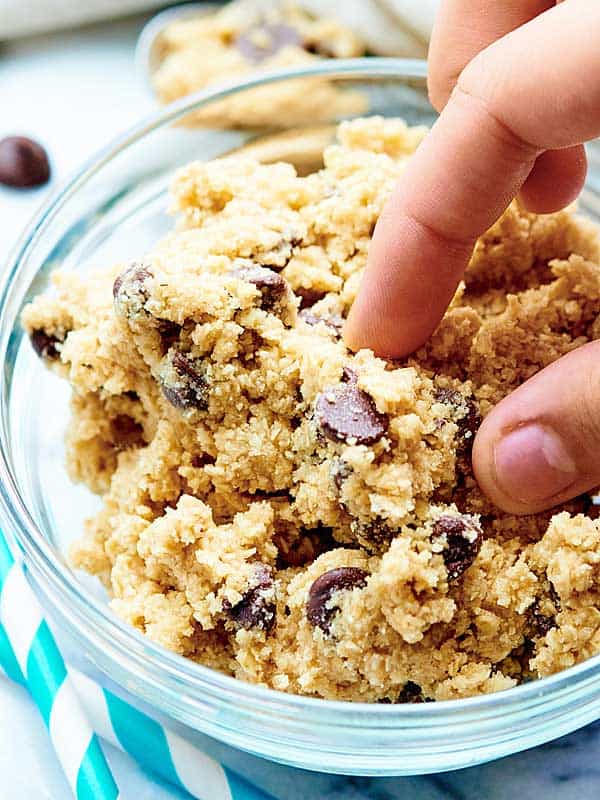 I was super bummed when I found out that it was unsafe to eat raw flour. Now, while I don't really care…I'll risk it 😉 , I figure there are people out there who would enjoy a recipe for cookie dough that's completely safe to eat.
I was at a complete loss – how do I make cookie dough without flour – when I realized that you can turn oatmeal into flour, by simply pulsing it into a fine flour with a food processor. I did a ton of research and haven't found anything that says you can't eat raw oatmeal. If someone out there claims you can't…please don't tell me. 😉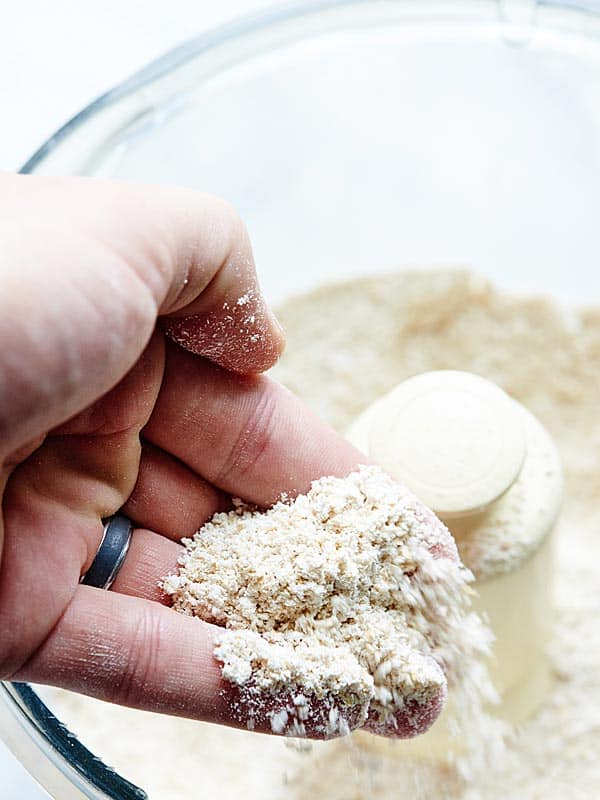 I based this edible flourless, eggless cookie dough recipe off of my chewy chocolate chip cookies.
To make this safe to be eaten raw, while still having the beloved cookie dough flavor and texture, I swapped the flour for homemade oat flour, left out the eggs, cornstarch, and baking soda, and used softened butter instead of melted.
Let me just say, that I am now a very happy lady.
The taste of this cookie dough is spot on. It tastes like really good cookie dough. Sugar-y, buttery, vanilla-y, chocolate-y. 'Nough said.
The texture of this cookie dough is ahhhh-mazing, if I do say so myself. I'll be honest, it's not going to be as smooth as a normal cookie dough. There's a bit of "grittiness" – in a really good way – to the dough. This comes from the sugars and the oat flour. It's definitely a heartier cookie dough, but I actually really enjoy it. There's something completely satisfying about it.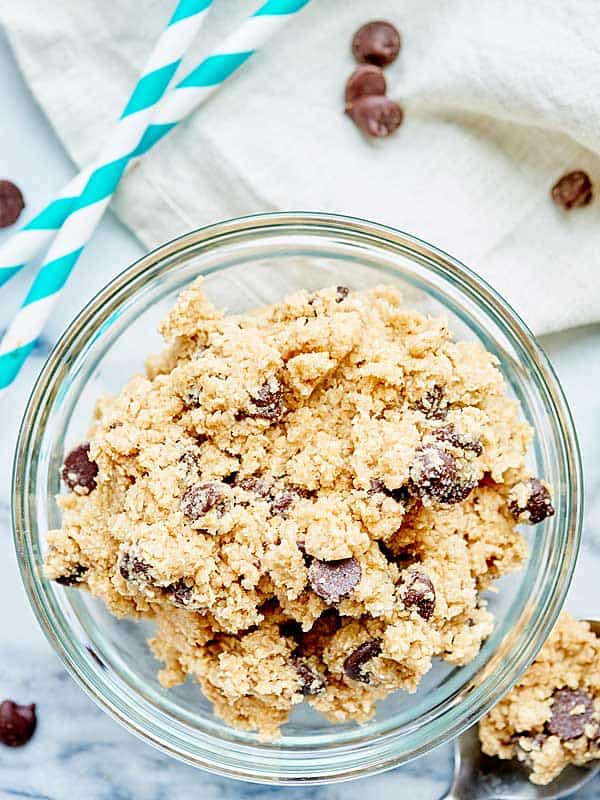 Speaking of the oat flour. Super simple. Like I said above 👆, all I did was measure out some old fashioned oats and pulsed them in my food processor. That's it!
The taste? Awesome.
The texture? Ahh-mazing.
But how do we make it?
Luckily, it's super easy. You'll be sitting down with a bowl of edible, flourless eggless cookie dough in no time.
Cream together butter, brown sugar, granulated sugar, a little milk, and vanilla. Once fluffy, we're going to beat in our homemade oat flour and salt. Once that's combined, all that's left to do is stir in the chocolate chips. Use whatever you have on hand. I always have semi-sweet, but feel free to mix it up and use dark chocolate, milk chocolate, or go crazy and use a combination of both!
And now? The best part…we're done!
No chilling.
No baking.
Just eating.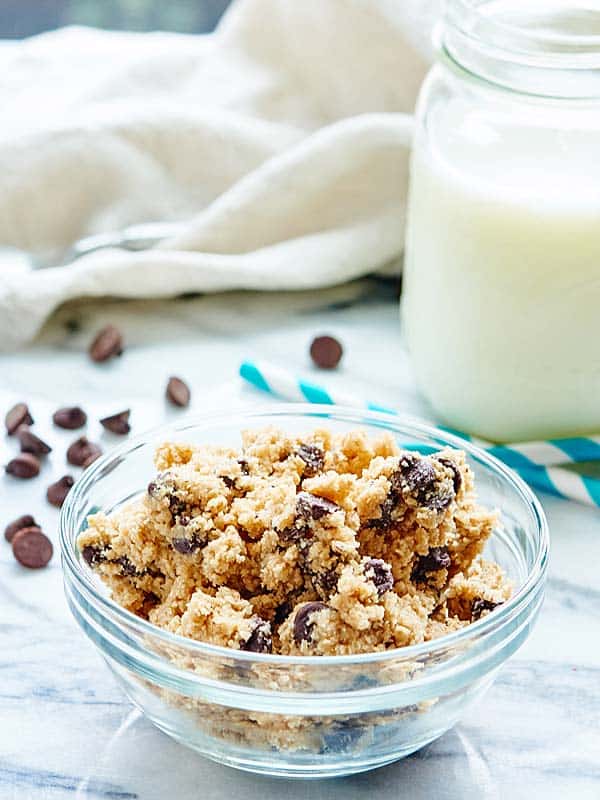 This edible eggless cookie dough recipe will surely satisfy any cookie dough craving and is great for those days you don't want to be a rebel and eat cookie dough safely. 😉
– Jennifer
We ♡ cookies and cookie dough over here at SMTY, be sure to check out our other cookie recipes:
Snickers Stuffed Deep Dish Chocolate Chip Cookie
Carrot Cake Cookies w/ Coconut Cream Cheese Frosting
Show me the yummy!
Edible Eggless Cookie Dough Recipe
This Edible Eggless Cookie Dough Recipe is safe to eat raw! There's no flour, we use homemade oat flour instead, & is free of eggs! Edible cookie dough for the win!
Servings
:
4
people
Results and timings may vary when adjusting servings
Ingredients
1

stick (1/2 cup)

unsalted butter

softened to room temperature

1/3

cup

granulated sugar

1/2

cup

brown sugar

packed

1

teaspoon

vanilla extract

2

tablespoons

milk

room temperature

1 1/2

cup

homemade oat flour

directions below (you'll need about 2 cups old fashioned oats)

1/2

teaspoon

salt

2/3

cups

chocolate chips
Instructions
Cream together softened butter, granulated sugar, brown sugar, vanilla, and milk until fluffy, about 60 seconds.

Beat in oat flour and salt.

Once combined, stir in chocolate chips.

Serve immediately or store in the fridge, covered, for later!
Notes
Homemade Oat Flour:
Place about 2 cups old fashioned oats in food processor. Process until it resembles fine flour. Measure out 1 and 1/2 cups and proceed with recipe above!
If you're gluten free, make sure your oats are, too!
Make this recipe?
Show

ME

the Yummy
Tag @ShowMeTheYummy & #ShowMeTheYummy on Instagram
* This post contains affiliate links. We receive a commission on purchases made via these links. The price you pay is not affected by using them.