This Easy Caprese Salad is made with juicy sliced tomatoes and creamy mozzarella. It's perfectly seasoned with olive oil, balsamic vinegar, garlic, fresh basil, and salt then finished off with a generous drizzle of sweet balsamic glaze.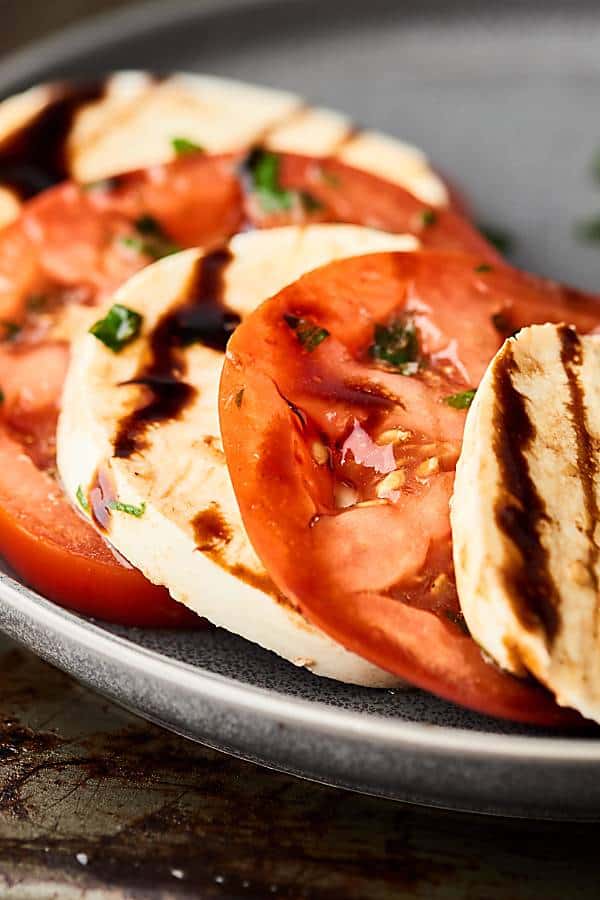 You guys, this salad is literally the easiest thing you'll make all summer. It's perfect for a quick and elegant appetizer, as an easy work lunch, as a healthy snack, as a fresh side dish, or even as an ultra-light dinner.
If you love this simple and fresh dish, you'll also love this easy bruschetta, this bruschetta chicken, my caprese mac and cheese, and this caprese pasta salad!
What is caprese salad?
Caprese salad is a classic Italian dish typically made with freshly sliced mozzarella cheese, sliced tomatoes, basil, and olive oil.
It's said to get its name from the island of Capri. "Caprese salad" literally translates to "salad of Capri." Although it is sometimes served on a bed of arugula, it's not really a salad in the traditional sense of the word.
Regardless, it's SUPER fresh, super easy to make, and SO YUMMY!
Ingredients
With a short ingredient list, be sure to use in-season, local produce and other high quality ingredients like balsamic vinegar and olive oil:
Dressing
Balsamic Vinegar – adds a nice tang that compliments the juicy tomatoes beautifully.
Olive Oil – rounds out the acidity of the vinegar. Use a robust olive oil for more flavor, or smooth olive oil if you'd like to keep it subtle.
Garlic – provides a delicious nutty flavor to compliment the cheese.
Fresh Basil – adds that fresh, herbaceous taste. I like to mince my basil so it's in smaller pieces and easier to eat!
Salt – brings out other flavors.
Other Ingredients
Tomato – use your favorite variety. Just make sure they're in season and keep them at room temperature for the best flavor.
Mozzarella Cheese – use fresh mozzarella for the best results. Go for the good stuff here, it's worth it for the creamy texture and rich flavor.
Balsamic Glaze – for drizzling. It adds an amazing sweet, yet tangy flavor. Use a store-bought or homemade.
Keep in mind, this is my twist on a classic with the addition of vinegar and garlic! If you'd like a more traditional caprese salad, just use tomatoes, mozzarella, basil, olive oil, salt, and freshly cracked pepper.
How to make caprese salad
This recipe is best served immediately, luckily it only takes about 10 minutes to whip up:
Use a whisk to mix together dressing ingredients in a small bowl.
Gently toss dressing with sliced tomatoes and mozzarella. Marinate.
Serve with a drizzle of balsamic glaze and enjoy!
The dressing can be made in advance, but leave the slicing of the tomatoes and cheese until you're ready to serve to prevent them from drying out.
That's it! So fresh, so easy, and so delicious!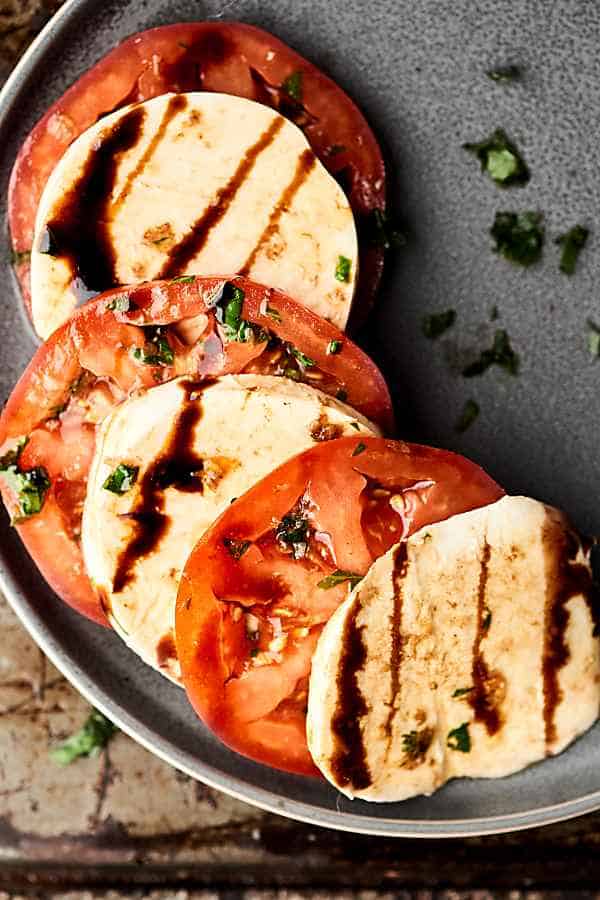 What kind of cheese is in caprese salad?
Fresh mozzarella! Because so few ingredients go into this dish, splurge a little and get the good stuff. Find a big ball of fresh, creamy, delicious mozzarella and don't cut into it until you're ready to make your salad. Trust me, it's worth it!
What's the good stuff? Check the ingredient list, it should only list milk, salt, rennet and enzymes. If you see "curd" or "citric acid", it's likely cheaper and won't be as flavorful.
What dressing goes on caprese salad?
A classic Caprese salad is typically drizzled with olive oil, but oftentimes you'll find recipes with a balsamic vinaigrette or a balsamic reduction for drizzling.
For this recipe, I dressed the salad with olive oil, balsamic vinegar, garlic, fresh basil, and salt then finished it off with a generous drizzle of balsamic glaze!
Is caprese salad healthy?
Yes, caprese salad is healthy.
Mozzarella, especially fresh mozzarella, is one of the most nutritious cheeses you can eat. It's lower in sodium and calories than most other cheeses and it contains probiotic.
The combination of tomatoes and fresh cheese, as well as the healthy fat from olive oil, is said to protect against heart disease.
And lastly, basil is full of good for you vitamins and minerals.
Place this salad over a bed of greens for an extra nutritious boost and you're good to go! A delicious meal with health benefits? Yeah, I'm in.
1/2 of this recipe contains 269 calories, 20 grams of fat, 8 grams of carbs, and 13 grams of protein.
Are balsamic glaze and balsamic reduction the same thing?
Yep! Feel free to use the store-bought variety or make your own. I prefer to make my own so I know exactly what's going into it. But if you're pressed for time, store-bought is absolutely fine.
How to make balsamic reduction?
Balsamic reduction requires one ingredient and 15 minutes to make:
Pour balsamic vinegar into a saucepan.
Bring to a boil, then reduce to a simmer.
Let simmer for 10 minutes or until the vinegar has reduced down and can coat the back of the spoon.
If it's too tangy, feel free to stir in your choice of sweetener like brown sugar or maple syrup.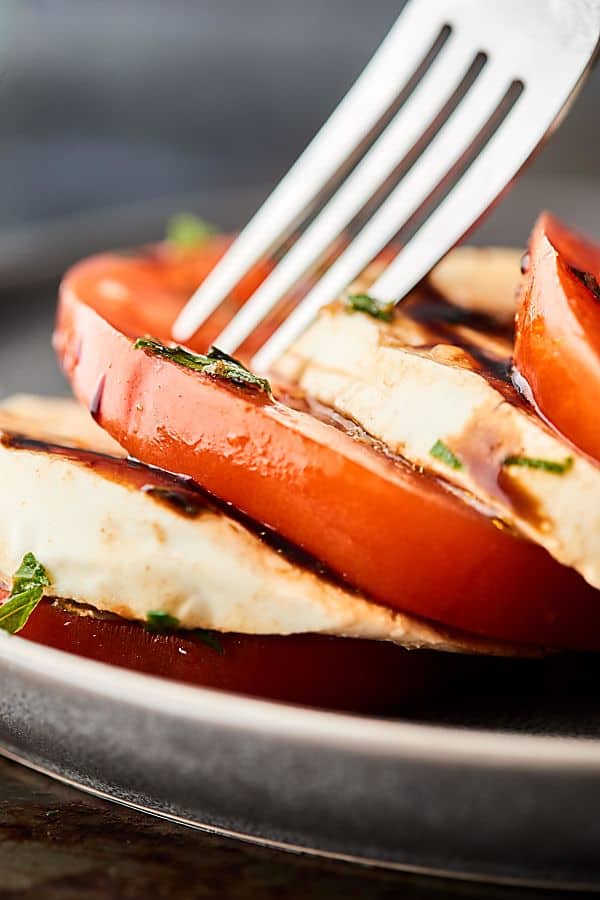 What to serve with caprese salad
Caprese salad is great on it's own for a light appetizer or lunch, but if you're looking to bulk it up, pair it with other salads or protein of choice:
How to store
Caprese salad is definitely best served immediately for ultimate freshness, but leftovers can be stored in an airtight container in the refrigerator for 2-3 days.
If you need to make it ahead of time, mix your dressing together and store it in an airtight container in the fridge for 3-4 days before assembly. Keep the tomatoes and cheese whole until ready to serve.
– Jennifer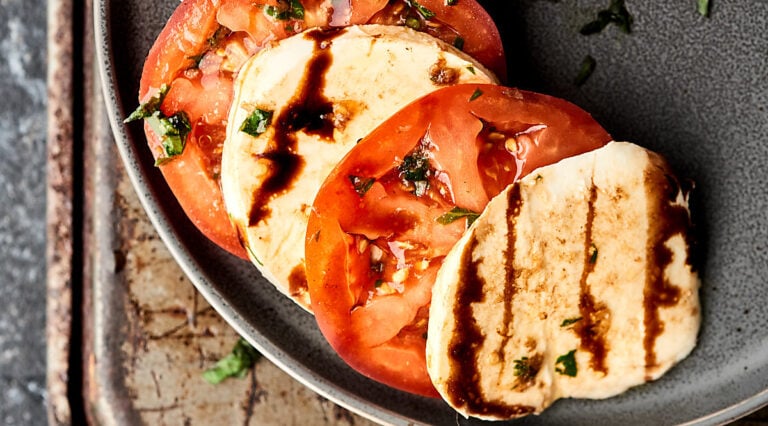 Easy Caprese Salad
This Easy Caprese Salad is made with juicy sliced tomatoes and creamy mozzarella. It's perfectly seasoned with olive oil, balsamic vinegar, garlic, fresh basil, and salt then finished off with a generous drizzle of sweet balsamic glaze.
Equipment for this recipe
(equipment shown are affiliate links)
Ingredients
1

tablespoon

extra virgin olive oil

1

tablespoon

balsamic vinegar

2

cloves

garlic

minced

1

tablespoon

minced fresh basil

or more to taste

1/2

teaspoon

salt

more or less to taste

1

(10 oz)

tomato

sliced (about

1 large

)

1

(4 oz) ball

fresh mozzarella

sliced

Balsamic glaze

for drizzling
Instructions
Whisk together olive oil, balsamic vinegar, garlic, basil, and salt in a bowl.

Add in sliced tomatoes and mozzarella.

Optional: place in fridge to marinate for 30 minutes.

Place onto a plate and drizzle with balsamic glaze.
STORING
*Storage times may vary based on temperature and conditions
Notes
Nutritional information does not include the drizzle of balsamic glaze.
Serving says for 2, but really depends on the meal. I could eat the whole recipe for a really light dinner, but you could also stretch this to serve 3-4 if you're serving this as a light dish with other appetizers. 
Nutrition Information
Nutrition Facts
Easy Caprese Salad
Amount Per Serving
Calories 269
Calories from Fat 180
% Daily Value*
Fat 20g31%
Cholesterol 44mg15%
Sodium 842mg37%
Potassium 379mg11%
Carbohydrates 8g3%
Protein 13g26%
Vitamin A 1615IU32%
Vitamin C 19.4mg24%
Calcium 301mg30%
Iron 0.6mg3%
* Percent Daily Values are based on a 2000 calorie diet.
*Note: Nutrition information is estimated and varies based on products used.
Keywords:
caprese, summer salad
This post has been updated to provide more detailed content.