Easy Soup Recipes to keep you cozy! Everything from stovetop soups to crockpot stews to instant pot chilis . . . and everything in between! Healthy and indulgent recipes included. Plus vegan, vegetarian, and gluten free options!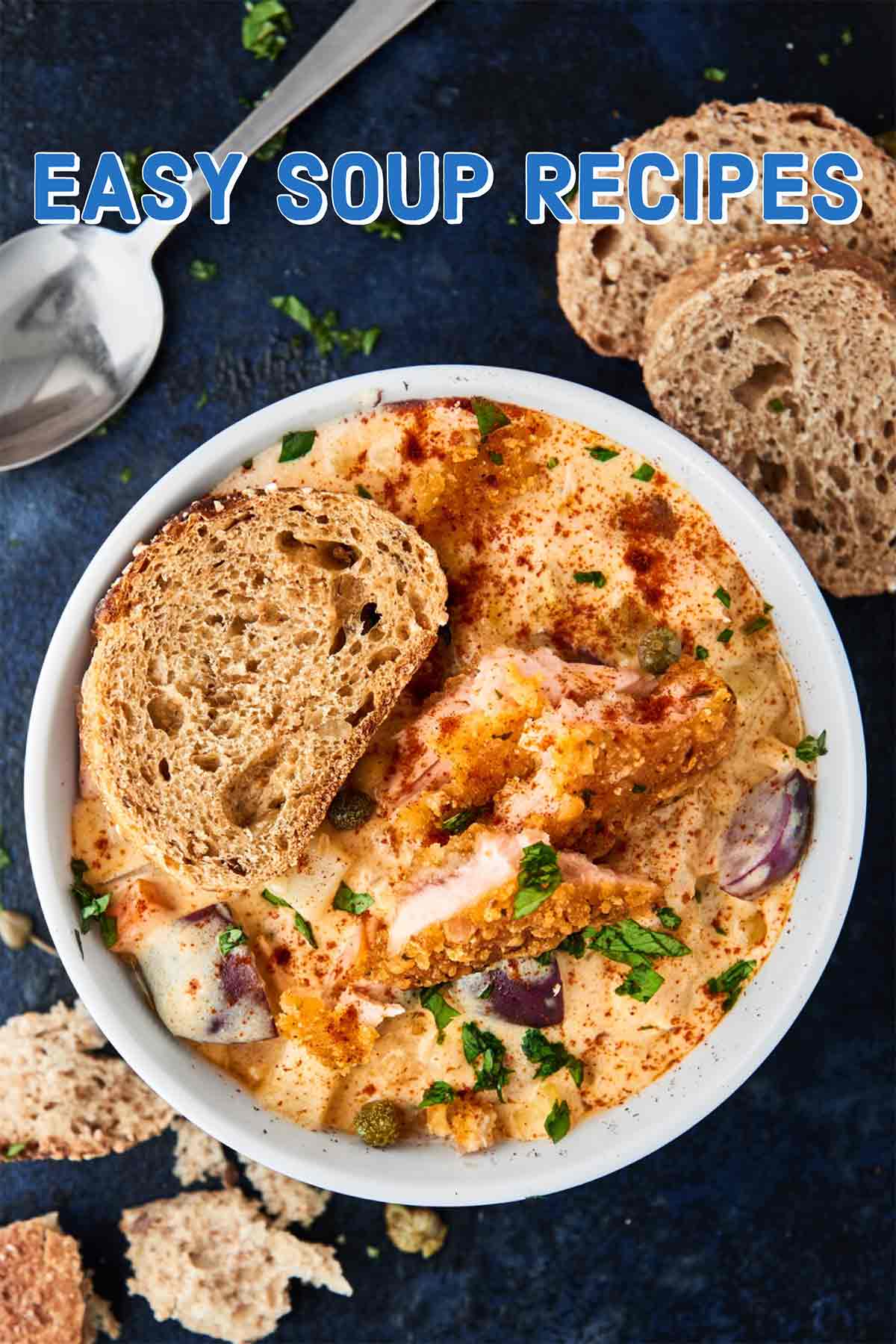 It's November 1st, so I thought now would be the PERFECT time to gather up all my favorite cozy, comforting, easy soup recipes + stews and chilis, too, because YUM.
Some are indulgent, some are lightened up, some are super healthy, but they're all SO cozy, SO easy, and of course, SO yummy.
Grab some hot cocoa, snuggle your favorite blanket, and let's get cozy, shall we?!
PSST – Here's what "equipment" I use to make these recipes: 
Easy Stovetop Soup Recipes
This Egg Drop Wonton Soup is a twist on three of my FAVE Asian soups: hot and sour, egg drop, and wonton soup! Ready in about 15 minutes. Healthy and can be vegetarian!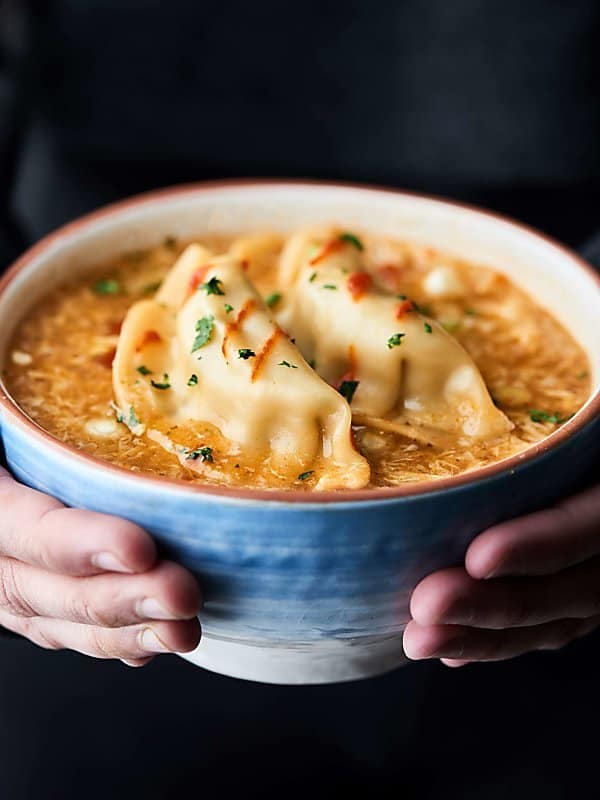 This Roasted Carrot Soup is healthy, vegan, gluten free, and loaded with roasted carrots, onion, garlic, ginger, and coconut milk! Easy and delicious!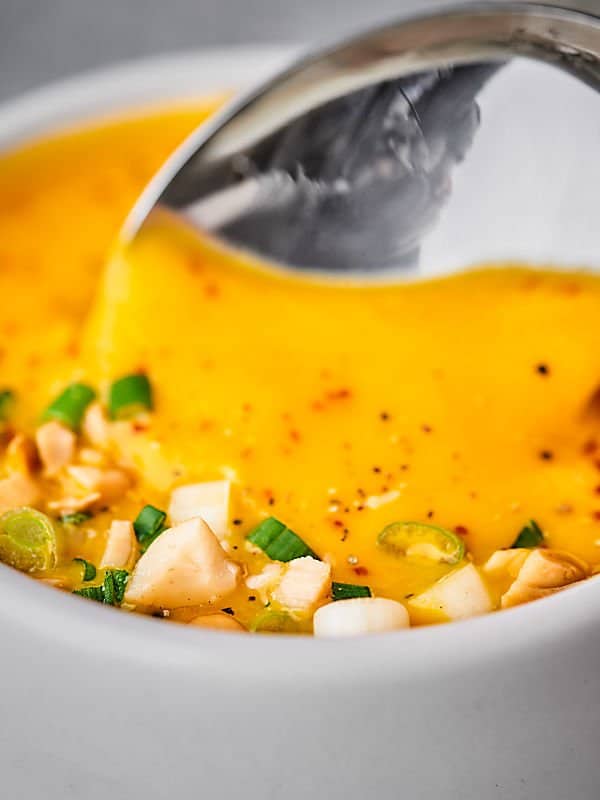 At 200 calories per serving, this Skinny Broccoli Cheese Soup Recipe is a significantly lightened up version of a classic! While it may be light on calories, it certainly isn't light on flavor!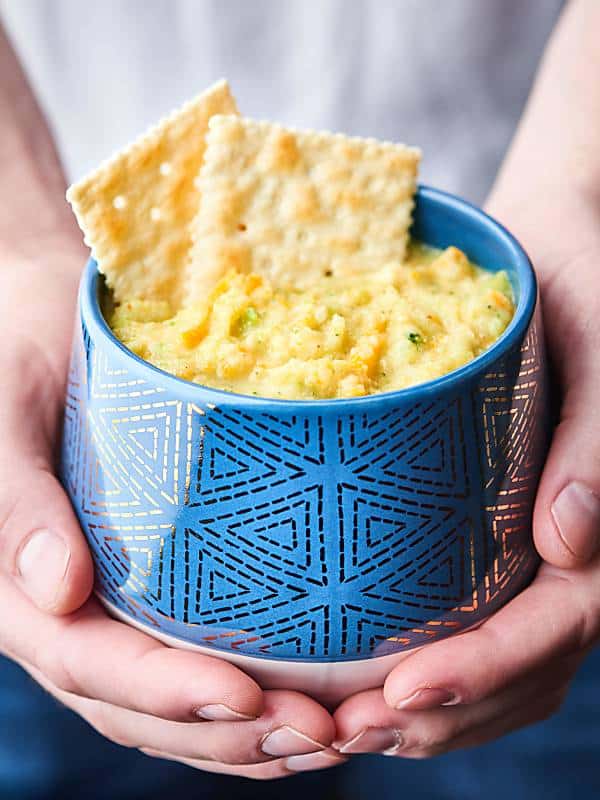 This French Onion Soup Recipe is the perfect appetizer for two! A flavorful beef and onion broth is topped with baguette, parmesan, and gooey swiss cheese!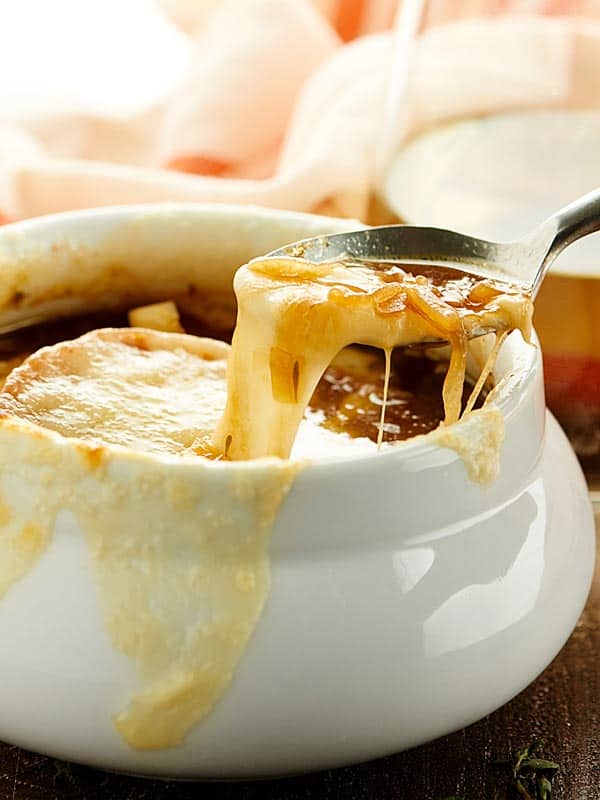 This One Pot Asian Noodle Soup is the perfect easy, healthy, vegetarian dinner! A twist on hot & sour soup, it's full of whole wheat noodles & poached eggs!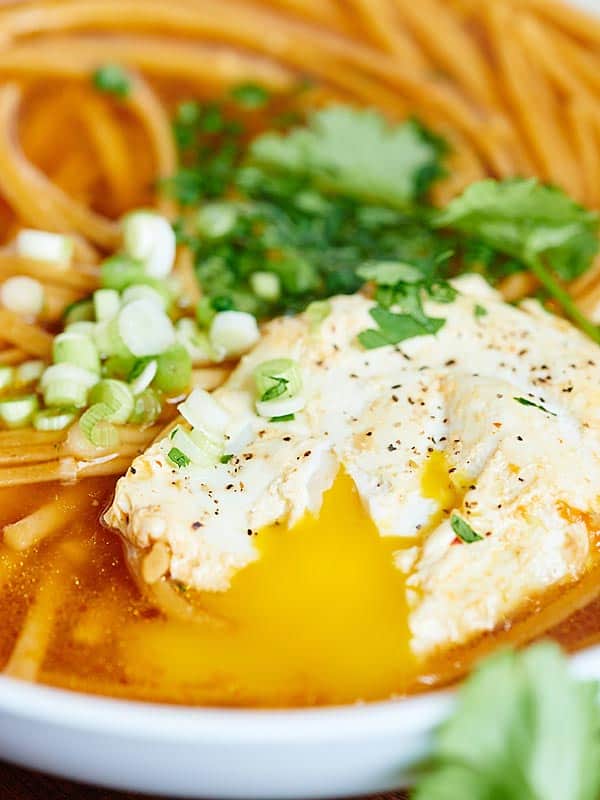 Cozy up with this One Pot Mexican Chicken and Rice Soup! It's healthy, hearty, and so full of flavor! Bonus: only ONE DISH and 5 minutes of prep necessary!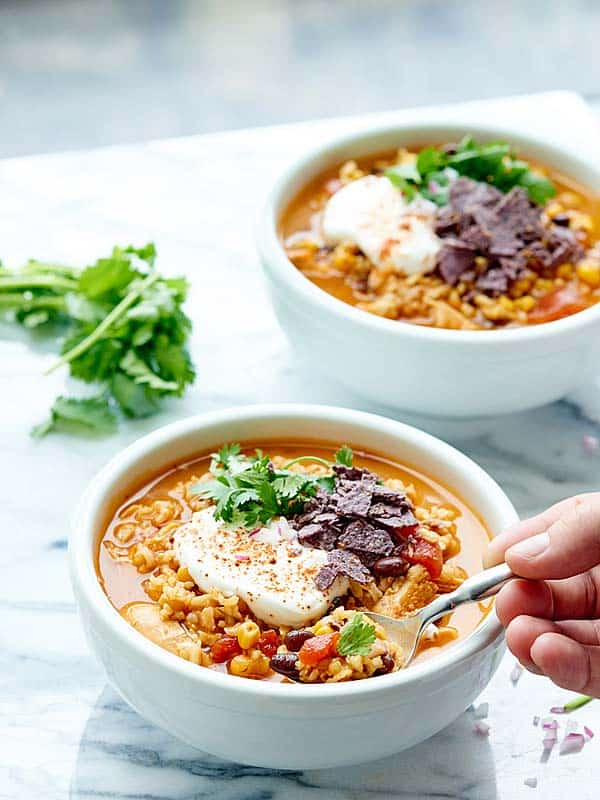 This Mexican Vegetable Soup is chock full of veggies, subtly spicy, and makes a ton! Make it today for Meatless Monday and enjoy it all week long!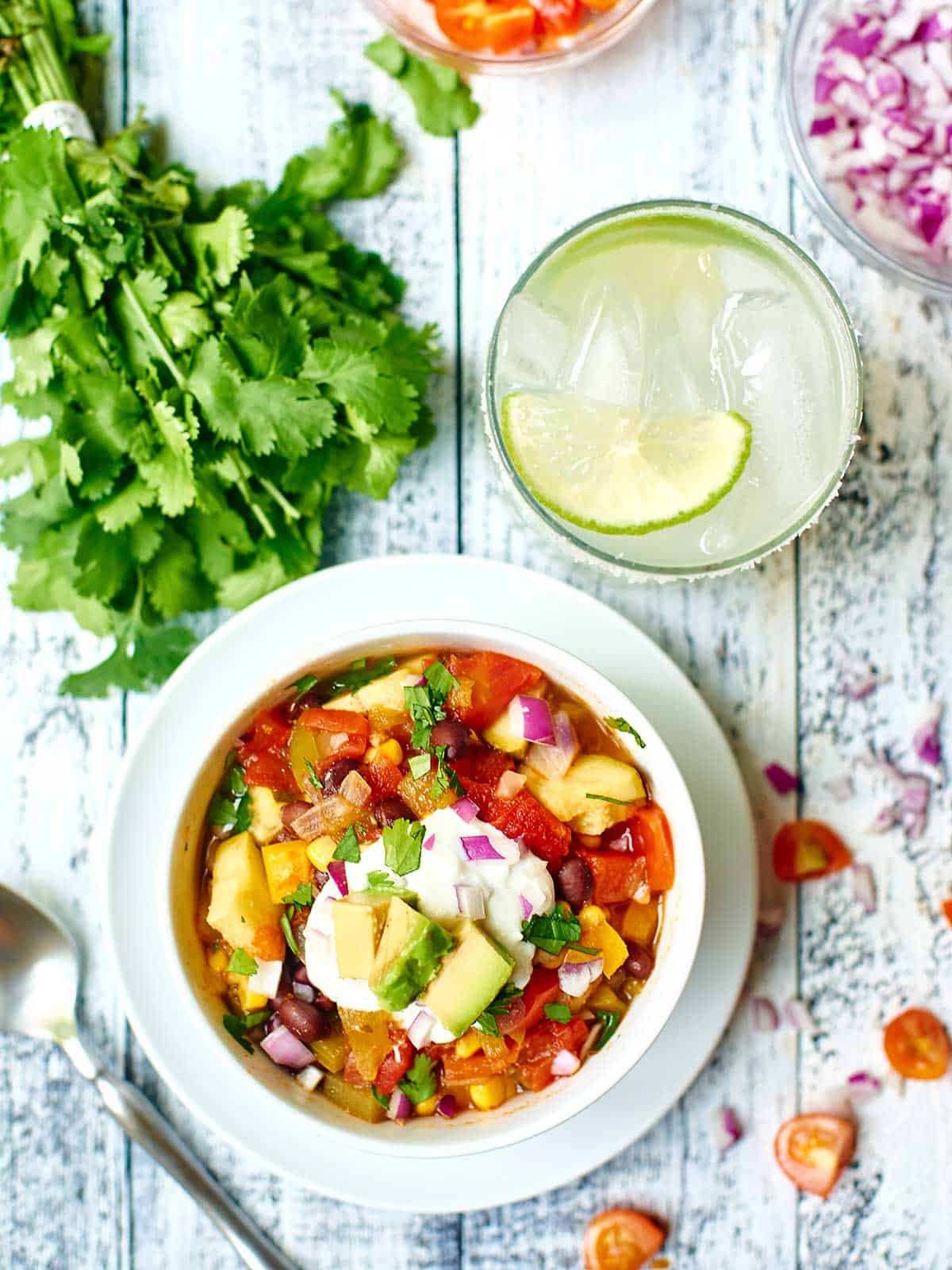 This roasted tomato soup, is so good and fast to put together, that I honestly will never, wait never say never, TRY to never buy canned soup again. Healthy, gluten free, and can be vegan!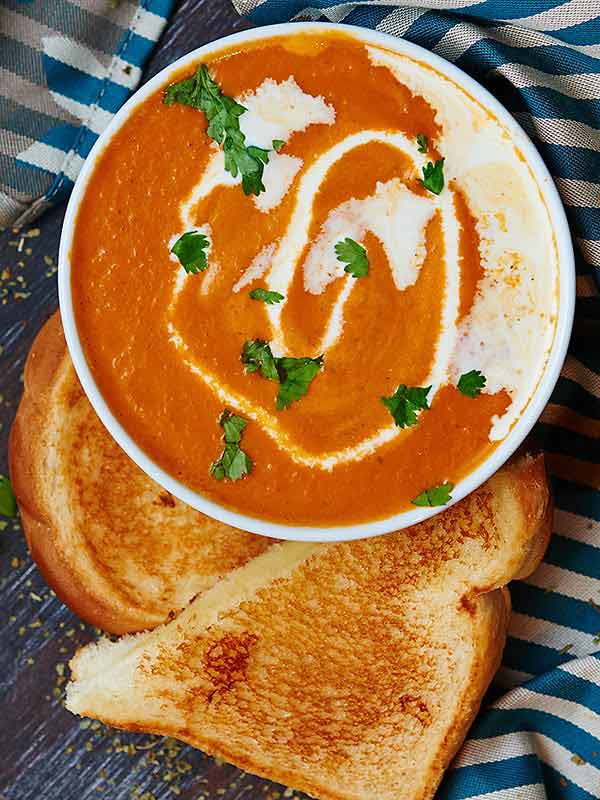 This Healthy Turkey Pot Pie Soup is a lightened up version of a classic! Loaded with leftover holiday turkey, veggies, black eyed peas, cozy spices, and topped with leftover pie crust!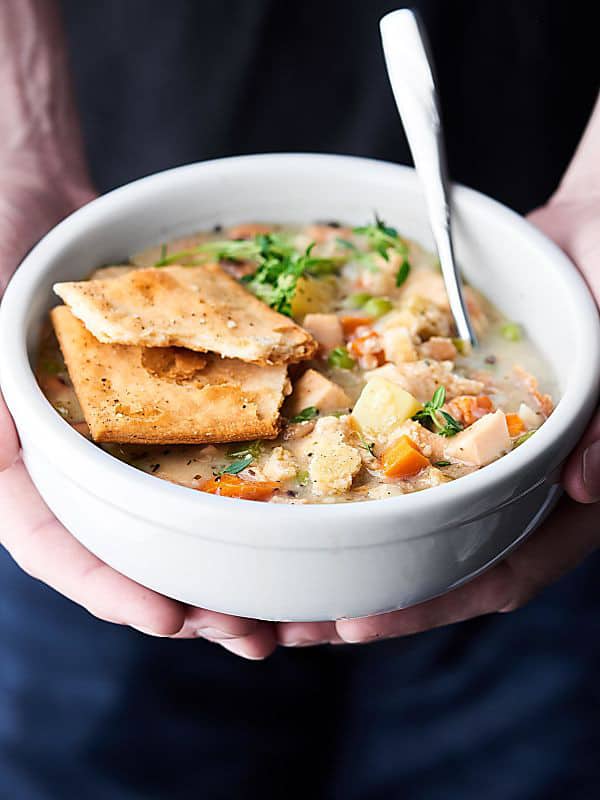 Easy Stovetop Chilis & Chowders
This Chipotle Salmon Chowder is everything you want in a cozy soup: hearty, rich, creamy, a little smokey, and FULL of amazing textures and flavors: salmon, veggies, cream cheese, and more!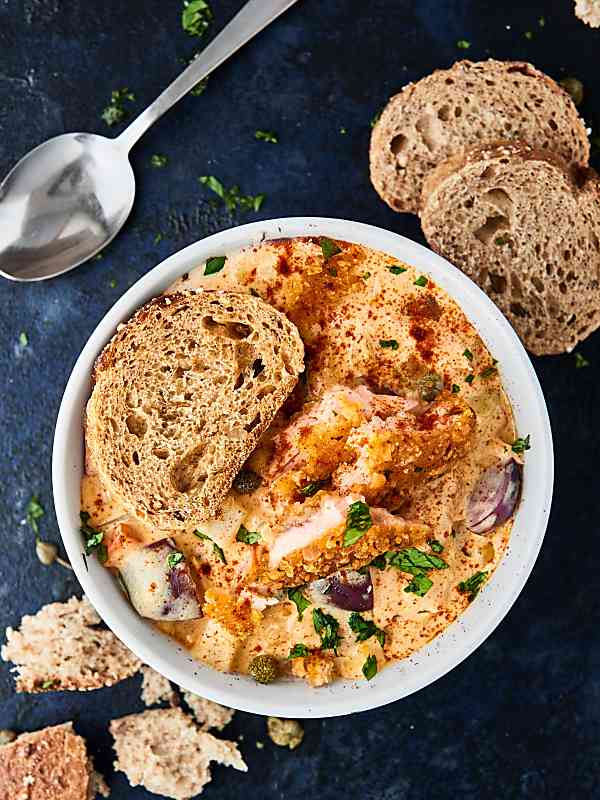 This Easy Beef Chili Recipe only contains FIVE ingredients (water and salt don't count 😉 ) and takes about 10-15 minutes to whip up. Ground beef, beans, tomato soup, brown sugar, and chili powder.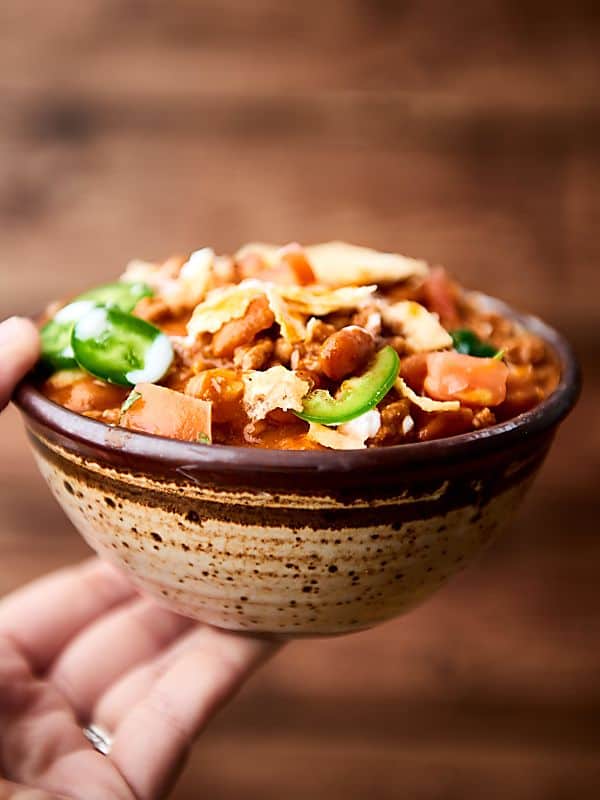 This Easy Cheesy Corn Chowder is loaded with potatoes, sweet corn, creamed corn, bacon, and three kinds of cheese! 20 minute, 1 pot meal!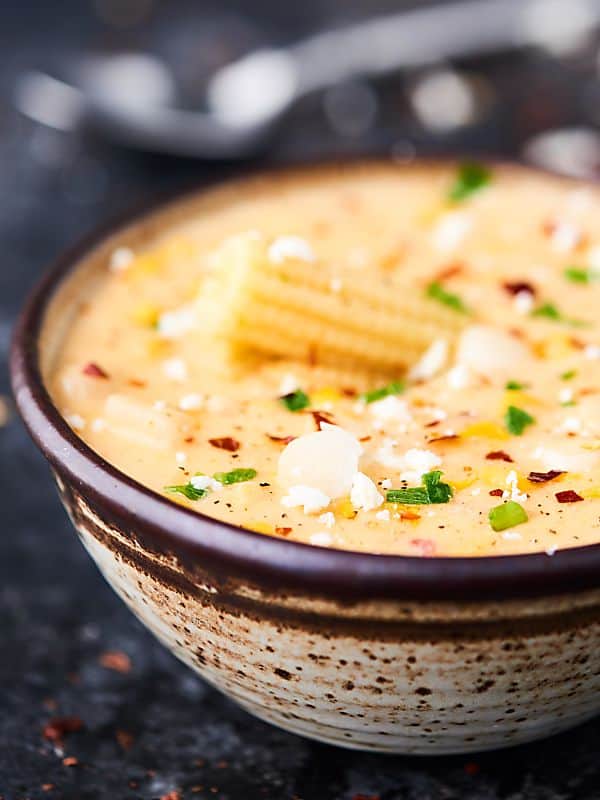 This Healthy Turkey Taco Chili comes together in just over 30 minutes! It's healthy, gluten free, loaded with veggies and lean protein, and absolutely delicious!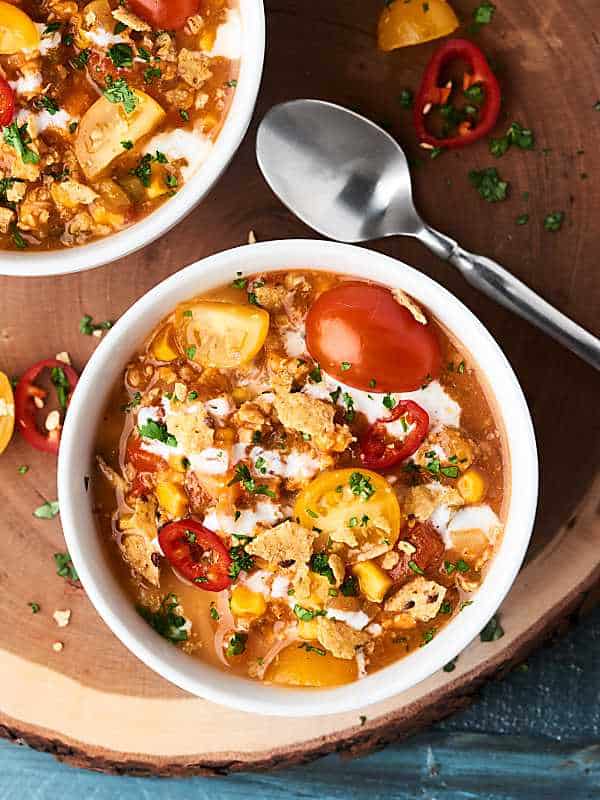 Easy Soup Recipes for Your Crockpot
This Slow Cooker Thai Chicken Soup is loaded with creamy coconut milk, peanut butter, red curry paste, chicken, and veggies: onion, carrots, bell pepper, mushrooms, and broccoli! PACKED with flavor and healthy deliciousness! Less than 250 calories per cup!
Enchiladas are now quicker, easier, and less messy with this Slow Cooker Enchilada Soup Recipe! Full of chicken, beans, and hominy, this recipe is healthy and delicious! 5 minutes of prep. Gluten free.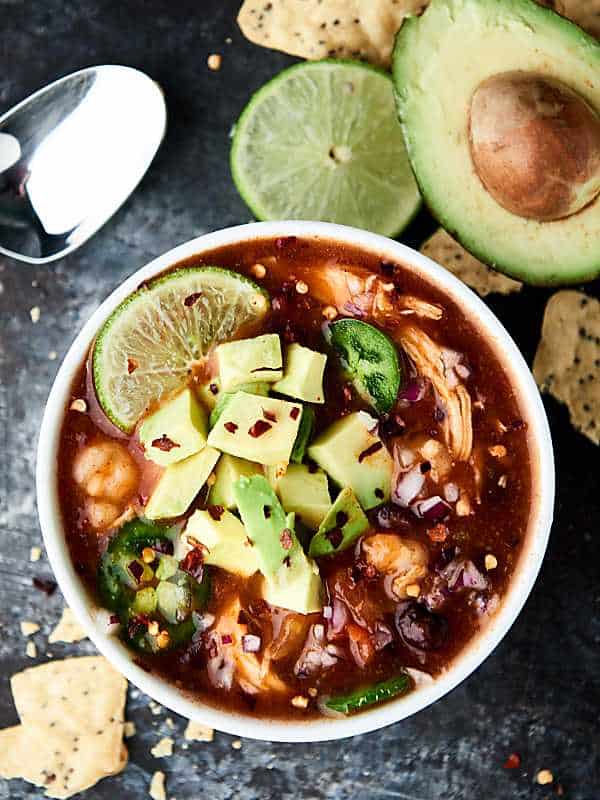 This Crockpot Butternut Squash Soup Recipe is vegan, gluten free, healthy, full of vegetables, and topped with coconut cream, cilantro, and coconut bacon!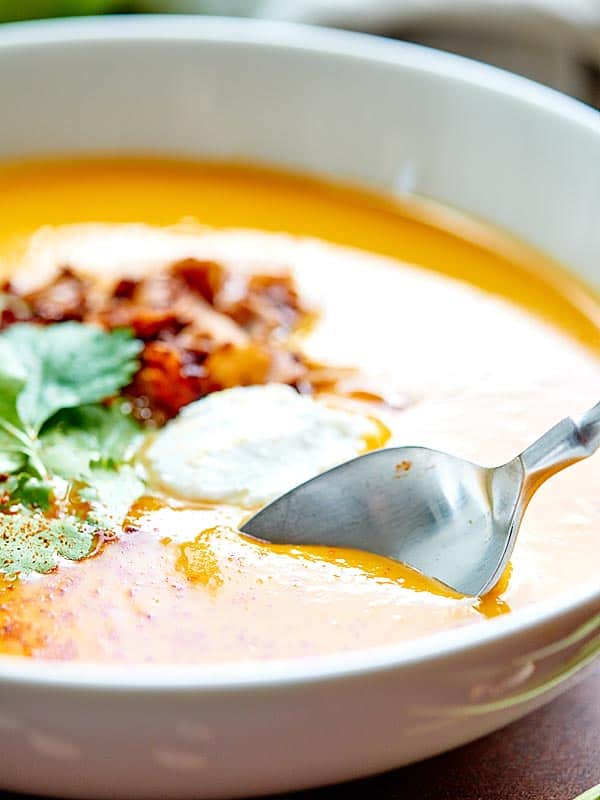 Chicken Ramen Noodles made easier in the crockpot! These Slow Cooker Ramen Noodles may be simple in preparation, but they're completely packed with flavor!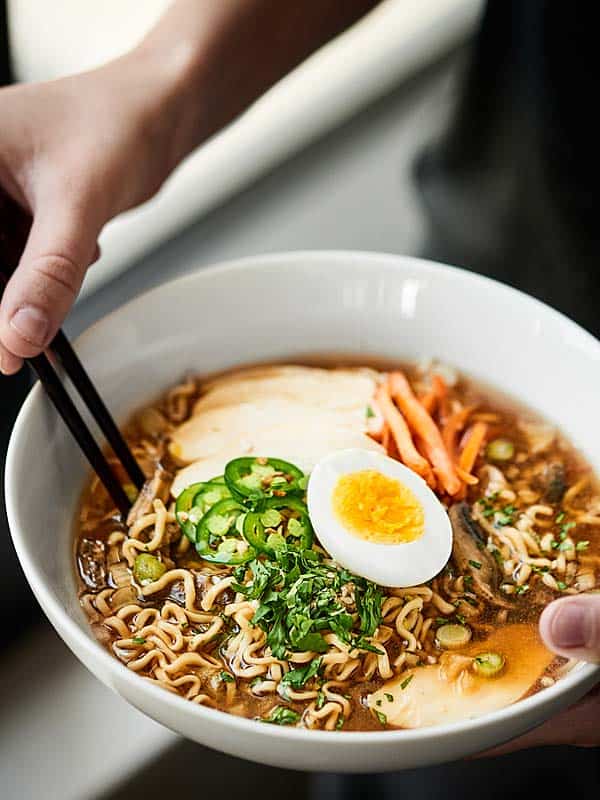 A light vegetarian soup loaded with cheesy pasta, tomatoes, and spices, this Crockpot Tomato Tortellini Soup is quick to put together and is a sure crowd pleaser!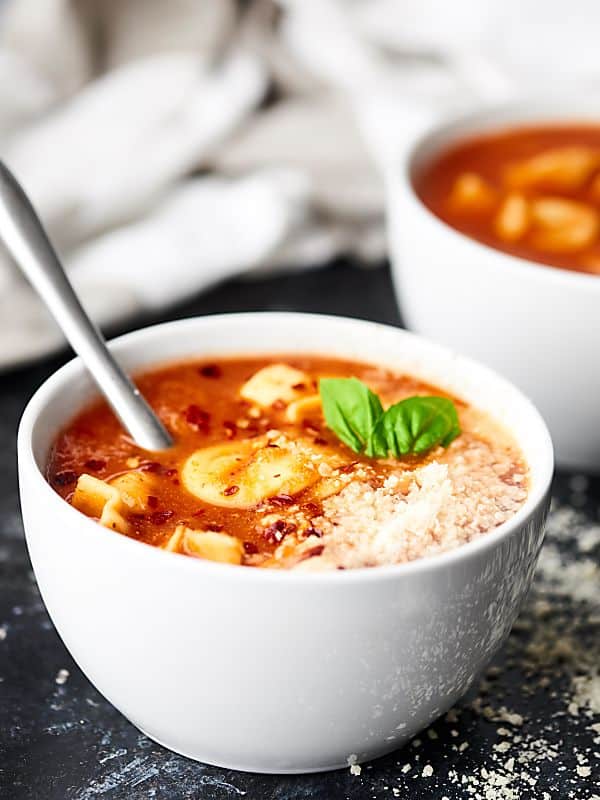 This Crockpot Chicken Taco Soup comes together in a matter of minutes, is healthy, gluten free, and full of veggies, lean chicken, plenty of texture, and loads of spices!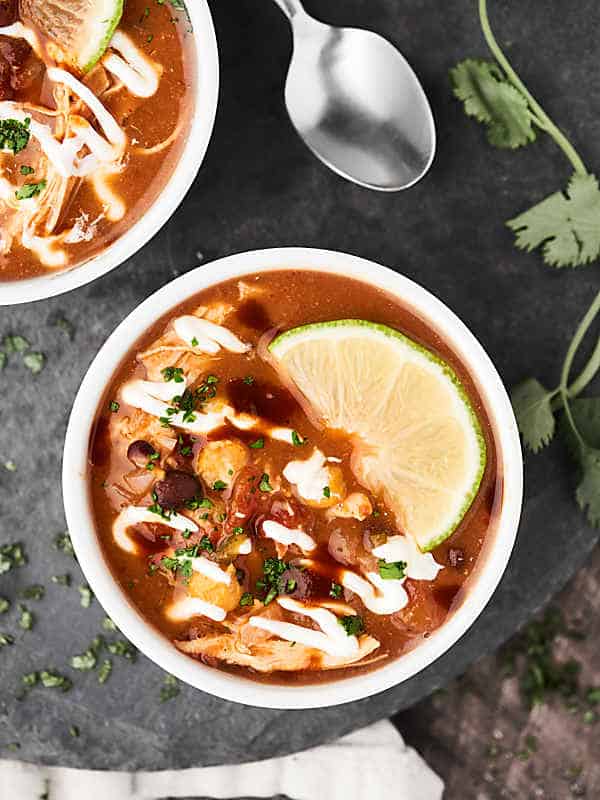 How about a steaming hot bowl of Slow Cooker Chicken Lentil Soup on a chilly day? This soup is easy, healthy, and has less than 350 calories per serving!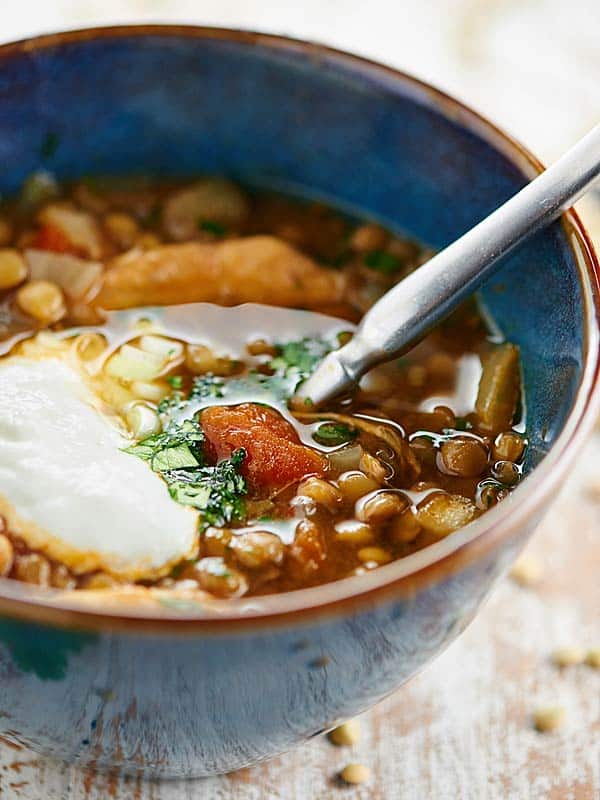 This Crockpot Potato Soup is SO quick and easy to make and is loaded with leftover ham, bacon, and frozen hash browns! Gluten free and no cream of "x" soup!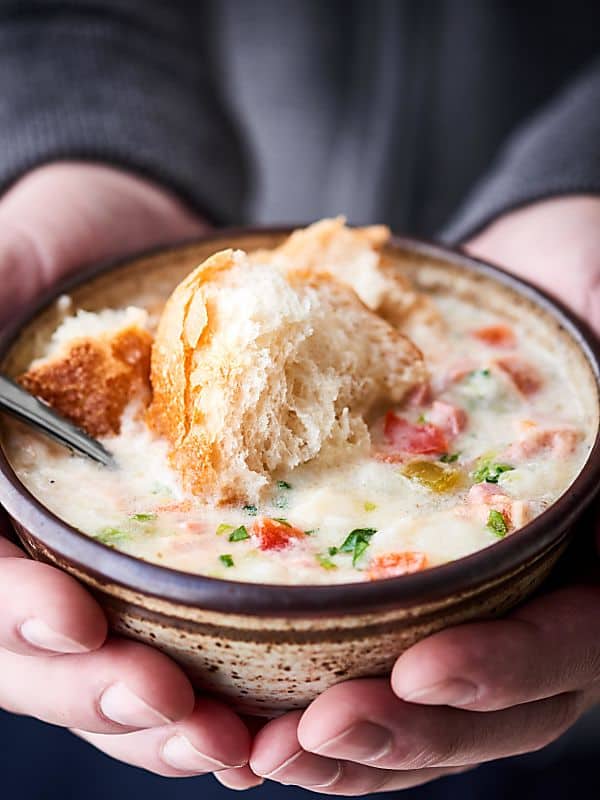 Easy Chilis & Chowders for Your Crockpot
This Slow Cooker Beef Stew is SO easy to make. It's the perfect cozy, hearty fall meal! Loaded with chuck roast, veggies: onion, potatoes, carrots, and celery – beef broth, red wine (optional), and spices! A stick-to-your-ribs meal made healthier!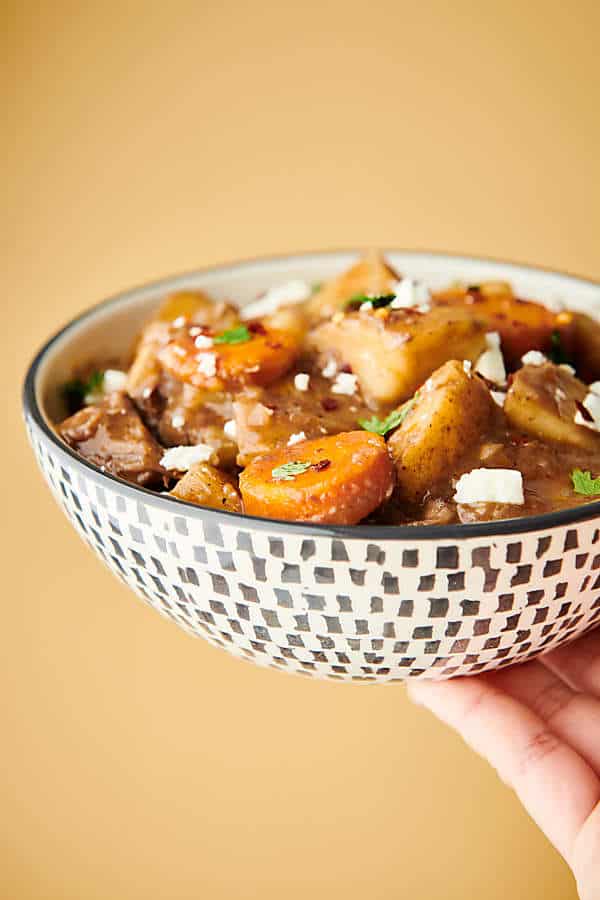 This Slow-Cooker White Chicken Chili Recipe is ridiculously easy to make, SO creamy, perfectly seasoned, and is just everything you want for a cozy fall dinner.
This Slow Cooker Beef Chili is a quick & easy fall dinner! Beef, beer, liquid smoke, vegetables, & spices cook low & slow for a really flavorful dish!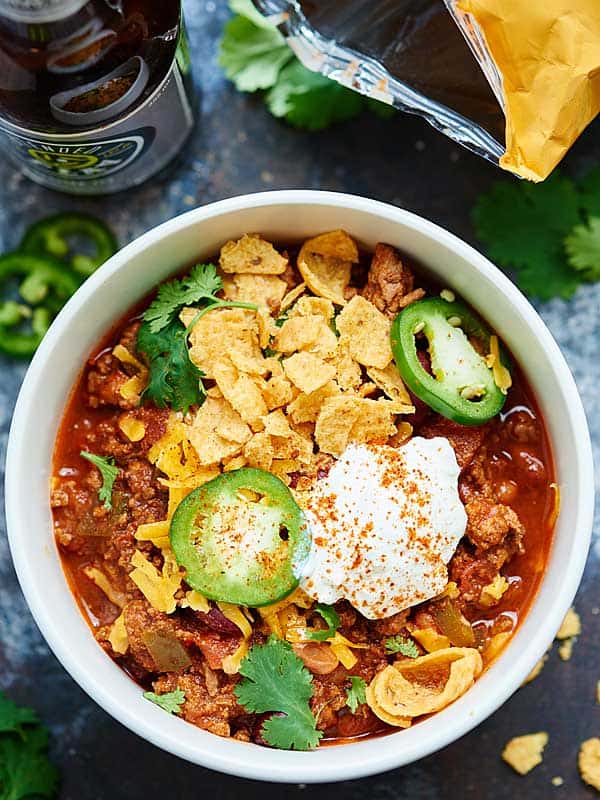 This Crockpot Vegetarian Chili is vegan, gluten free, SO healthy, and loaded with veggies, spices, and THREE kinds of beans!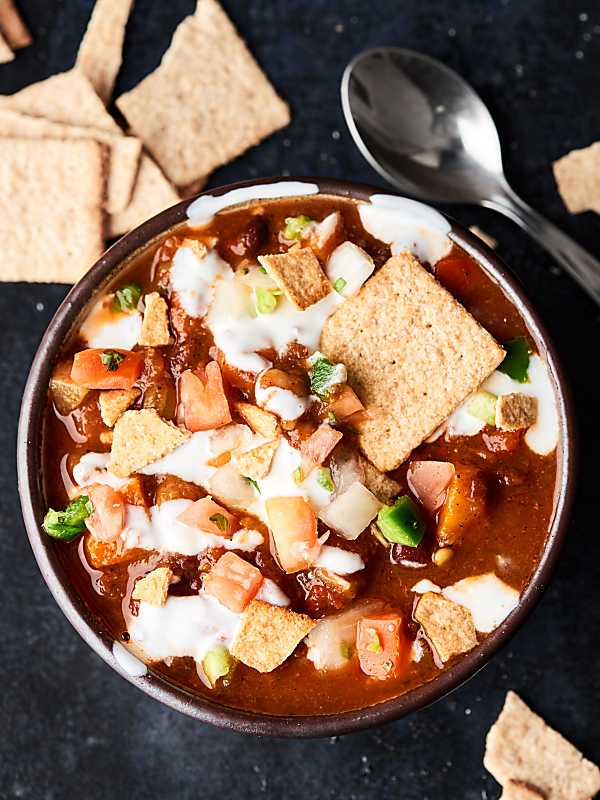 Easy Instant Pot Soup & Chili Recipes
This Instant Pot Chicken Noodle Soup is quick, easy, cozy, healthy-ISH, and so delicious! Full of egg noodles, tender chicken, spices, and veggies! Ready in 30 mins!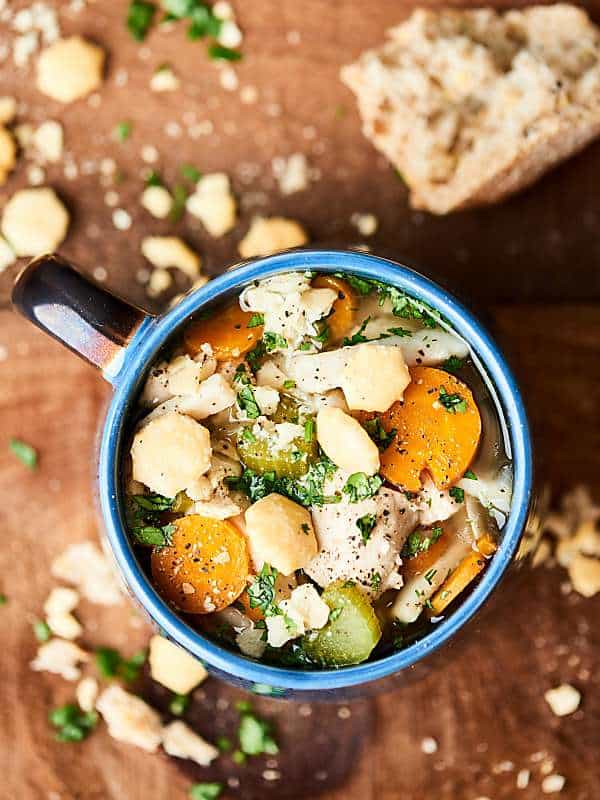 This Instant Pot Vegetarian Chili is SO quick and easy to make and full of vegetables, beans, and quinoa! Healthy. Gluten free. Vegan. Ready in 30 mins! Less than 300 calories per serving.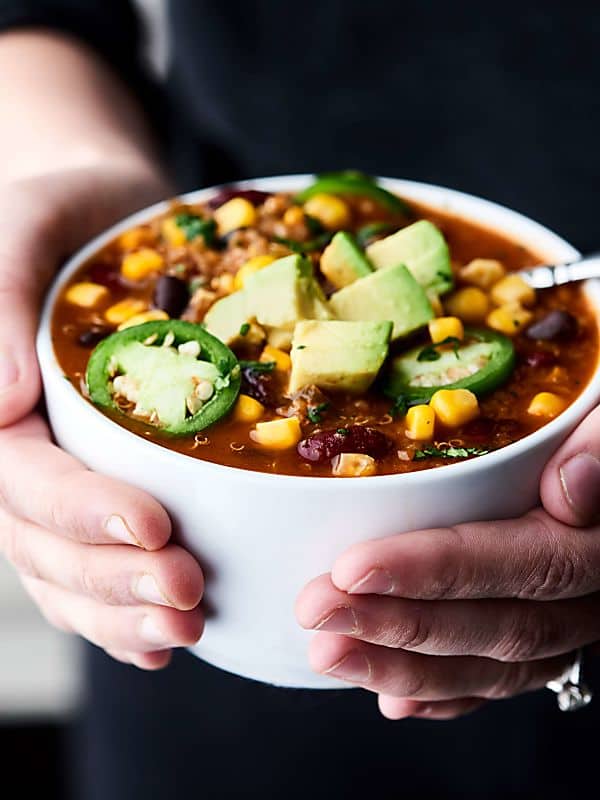 Soup's on!
Stay cozy.
– Jennifer
Did you see your favorite soup listed? What soup recipe should I make next? Show Me the Yummy!