30 Easy Snack Recipes including healthy sweet treats, healthy treats for the salt lover, gluten free snacks, vegan snacks, and even a few indulgent snacks for when you really just want a great snack. 🙂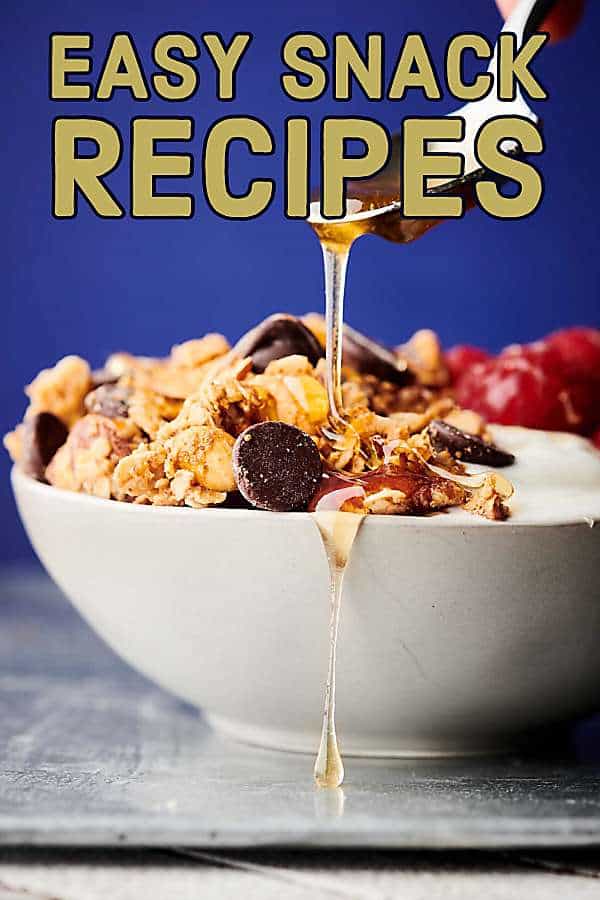 30 Easy Snack Recipes.
Because snack time is the best time!
I was just talking to a girlfriend of mine the other day and we both struggle with finding healthy snack recipes that are
quick
easy
delicious
at least semi-nutritious 😉
So, today, I've gathered up some of my fave snacks. Don't see YOUR favorite snack? Let me know in the comments below.
Today, you'll find snacks for:
Healthy Sweet Treats (I also throw in a few more "indulgent" snacks, because YOLO.)
Healthy Snacks for Salty Lovers (again,  I also throw in a few more "indulgent" snacks, because YUM.)
Vegan Snacks (mainly healthy)
Gluten free Snacks (mainly healthy)
Let's get our snack on! 
Easy Snack Recipes – Healthy Sweet Treats
Almond Butter Granola. A healthy, can be gluten free and vegan recipe made with crunchy almond butter, coconut oil, honey (or agave), maple syrup, oats, almonds, dark chocolate chips, and more! Quick. Easy. Delicious!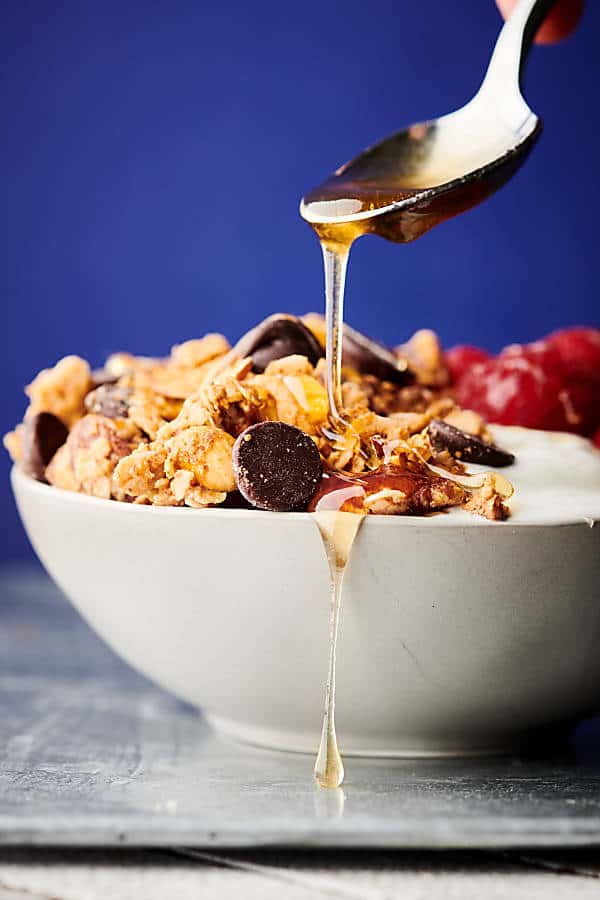 Healthy Date Peanut Butter Cups aka a healthy twist on a classic! These taste like the real deal, but are made with medjool dates, all natural peanut butter, tahini, vanilla, salt, dark chocolate chips, coconut oil, and roasted peanuts for crunch! Vegan. Gluten Free. Quick and easy!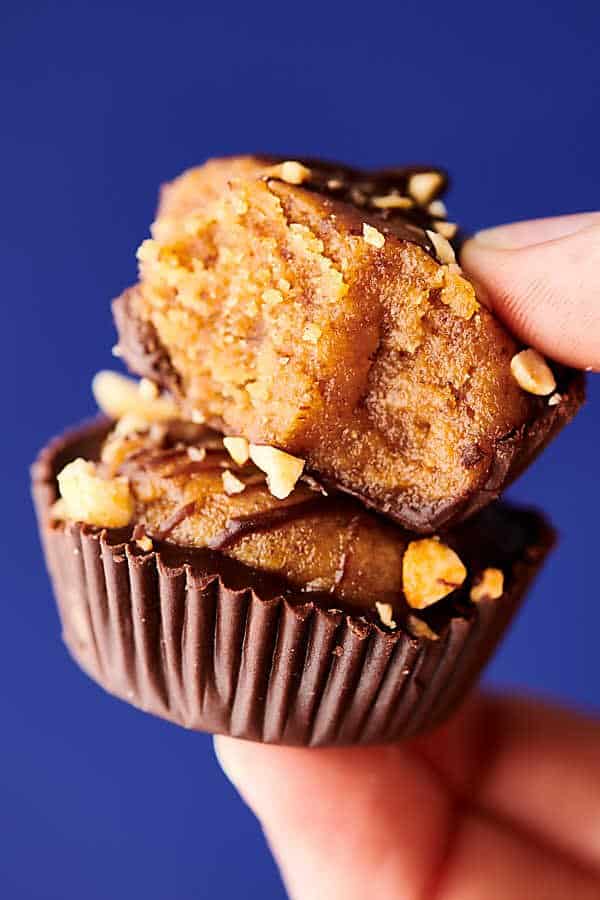 Homemade Almond Butter Cups Recipe. Only 5 ingredients necessary: coconut oil, pure maple syrup, cocoa powder, almond butter, and optional maldon sea salt! Quick. Easy. Healthy. Vegan. Gluten Free!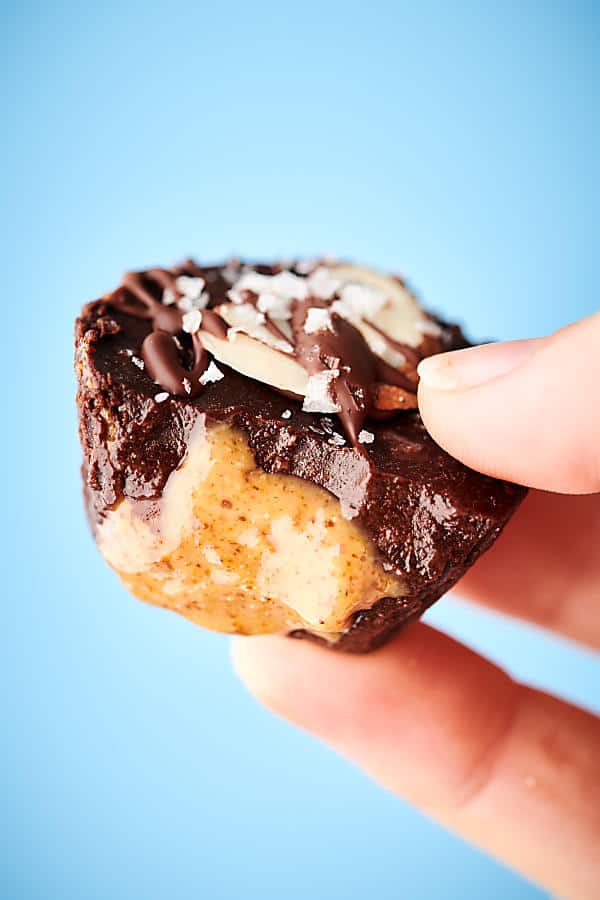 Walnut and Greek Yogurt Stuffed Dates. Perfect for healthier snacking or dessert-ing! Dates stuffed with light cream cheese, non-fat plain greek yogurt, and honey, and topped with walnuts, dark chocolate, and maldon sea salt!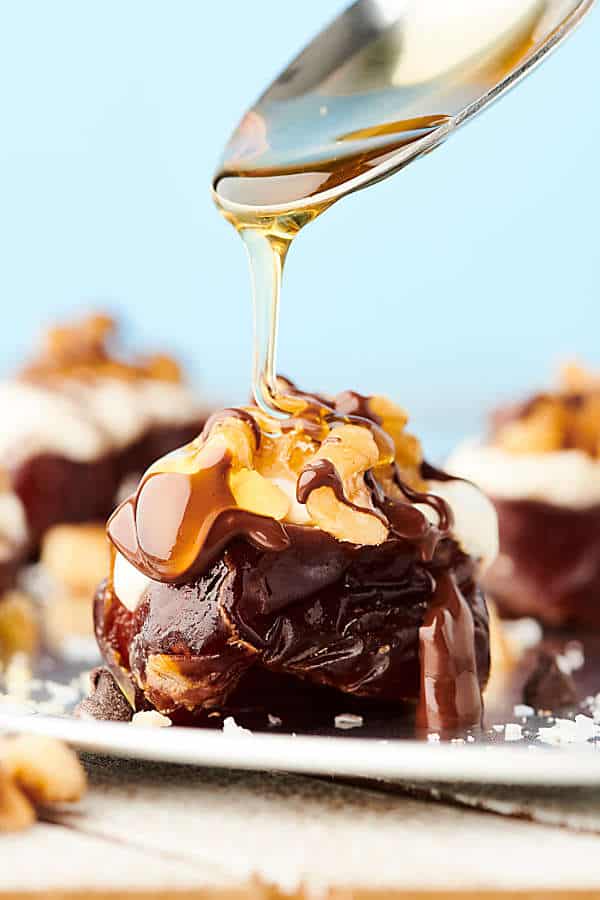 These honey walnut granola bar bites are so great for grab and go snacking! Full of oats, walnuts, coconut oil, honey, vanilla, and optional dark chocolate! Only 10 minutes of prep necessary!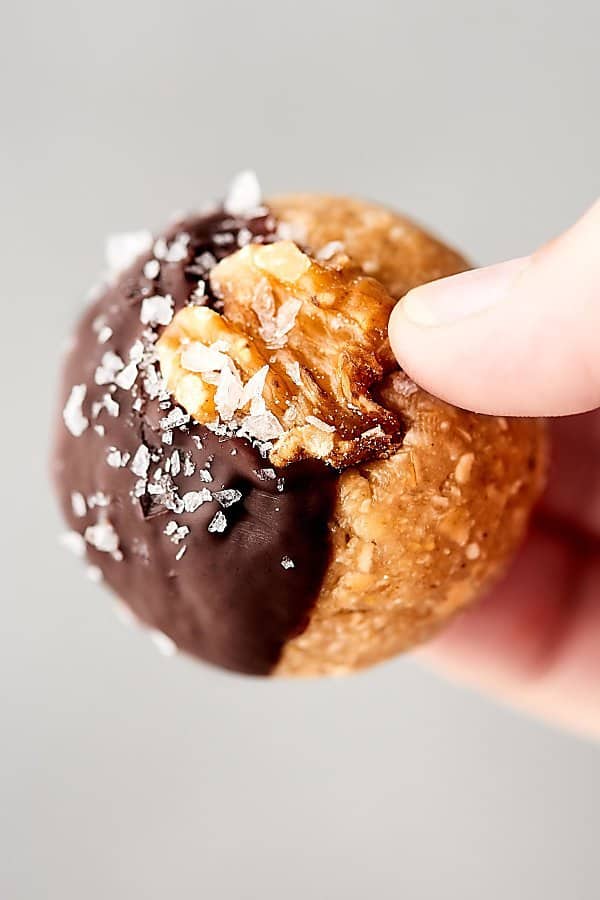 Easy Snack Recipes – Other Sweet Treats
These double chocolate bananas muffins are ridiculously easy to make . . . and even easier to eat. Full of ripe bananas, brown sugar, cocoa powder, and dark chocolate chunks! Socially acceptable for breakfast, but decadent enough for dessert. 😉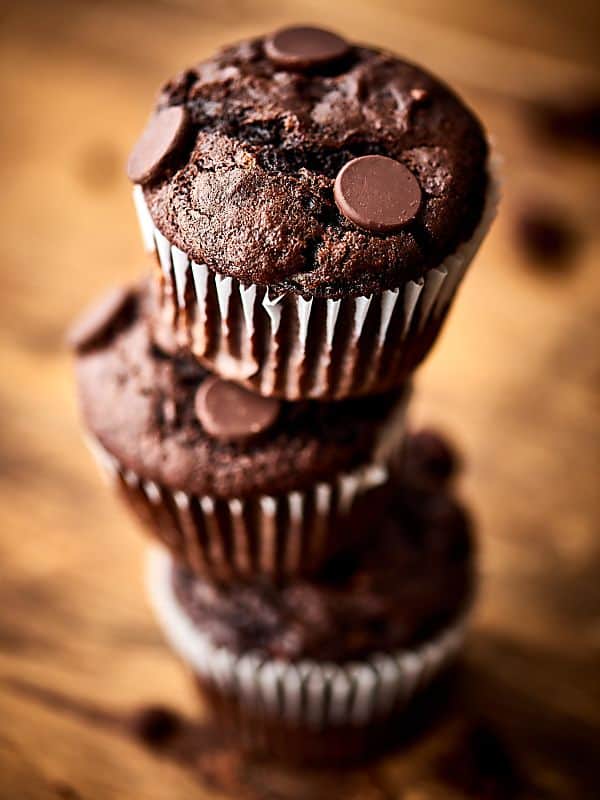 This easy banana bread recipe is ultra moist, perfectly dense, and has just the right amount of banana flavor! My take on a classic!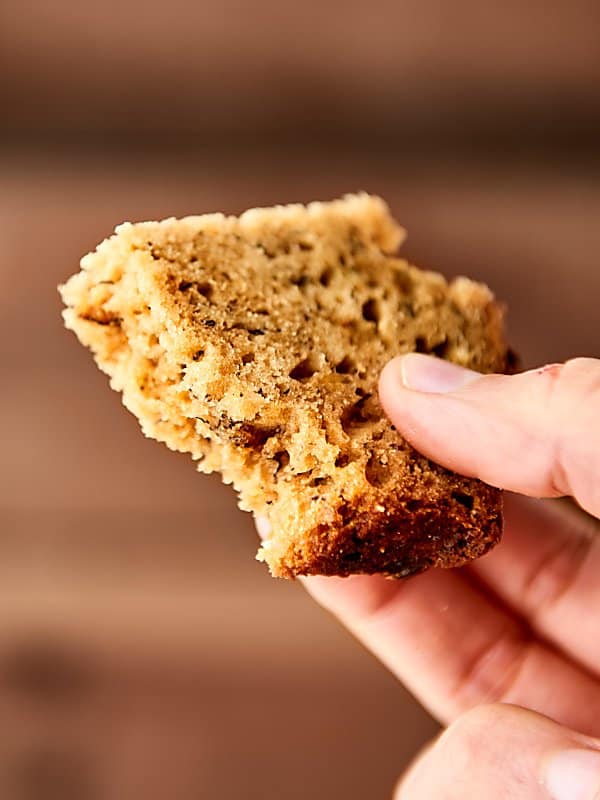 Carrot Cake Muffins with Cream Cheese Filling. A moist, dense, spiced carrot cake muffin with shredded coconut, pecans, cream cheese filling, and brown sugar pecan crumb topping. Perfect for an easy, spring breakfast or brunch!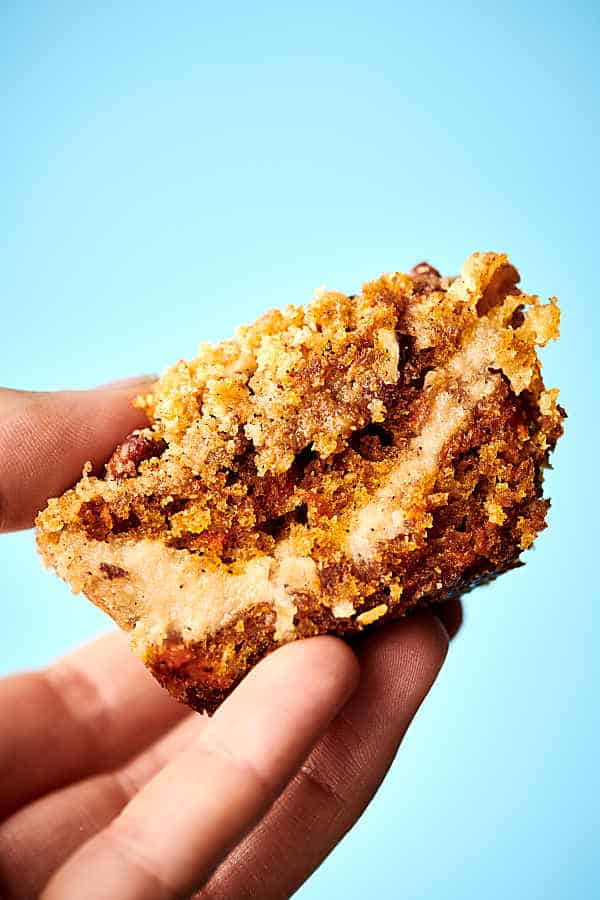 These No Bake Monster Cookie Bites only require 5 minutes of prep and 5 ingredients: peanut butter, honey, oats, chocolate chips, and M&Ms!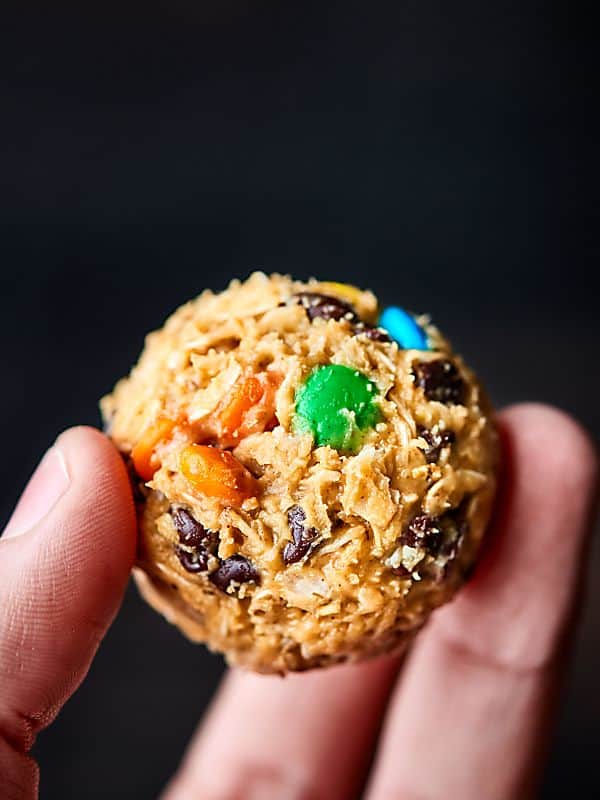 Looking for moist, jumbo, bakery style muffins? Good! These Chocolate Chip Muffins are for you! They're easy to make and there's chocolate in every bite.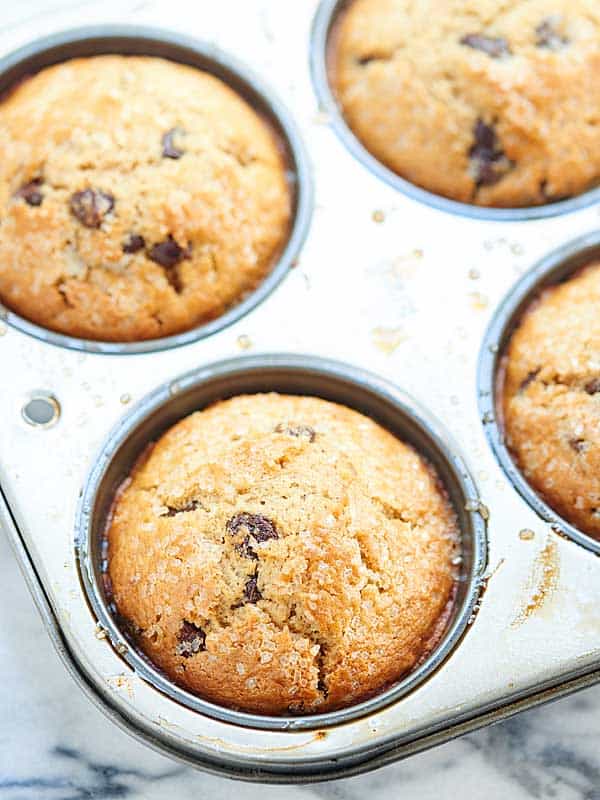 Easy Snack Recipes – Healthy Snacks for the Salt Lover
This Fresh Salsa Recipe is easy summer perfection! This no-bake recipe is loaded with fresh, juicy tomatoes, onion, garlic, jalapeños, fresh cilantro, and plenty of lime juice!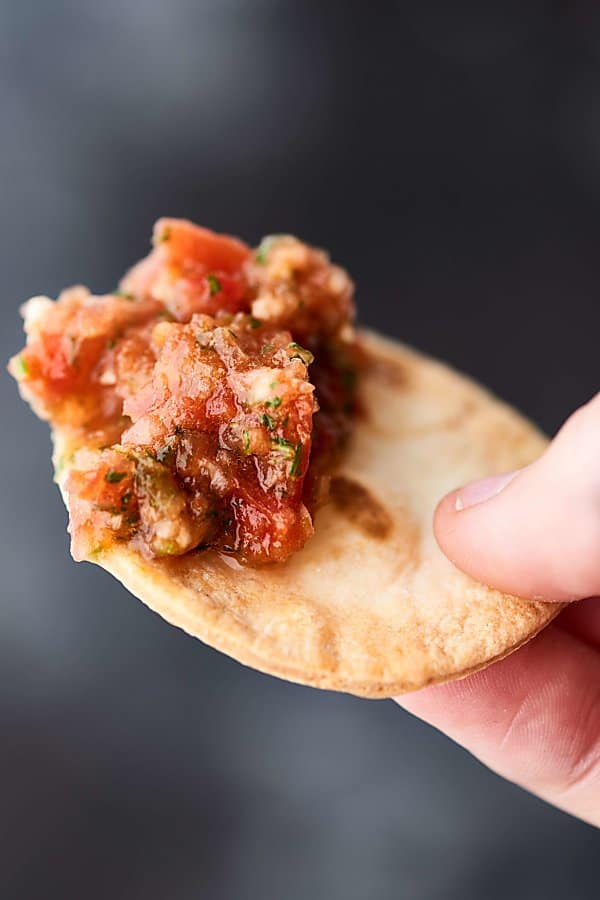 This Syrian Hummus Recipe is simple to make and packed with flavor! Full of chickpeas, lemon, tahini, and garlic, it's so delicious and ultra creamy!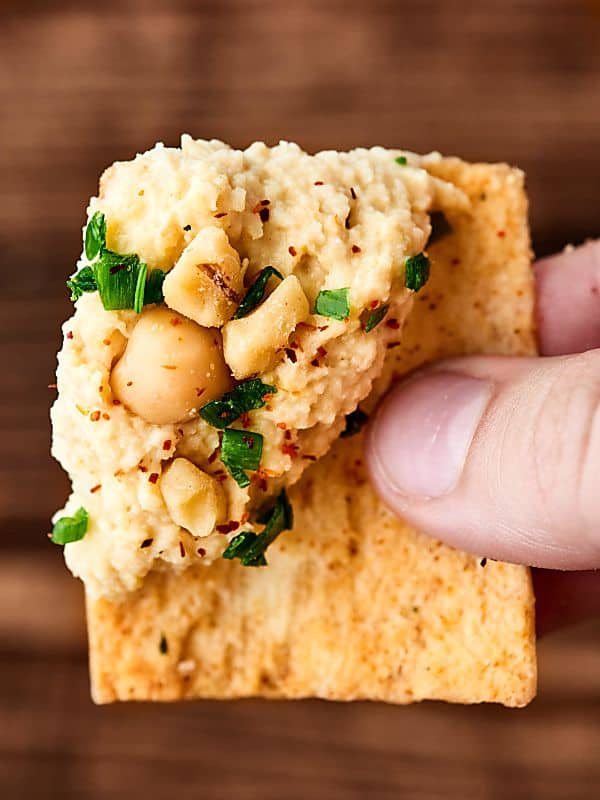 This easy bruschetta recipe is a healthy summer classic! Juicy tomatoes tossed with sun dried tomatoes, garlic, a touch of oil, balsamic vinegar, and fresh basil . . . we can't get enough of this stuff!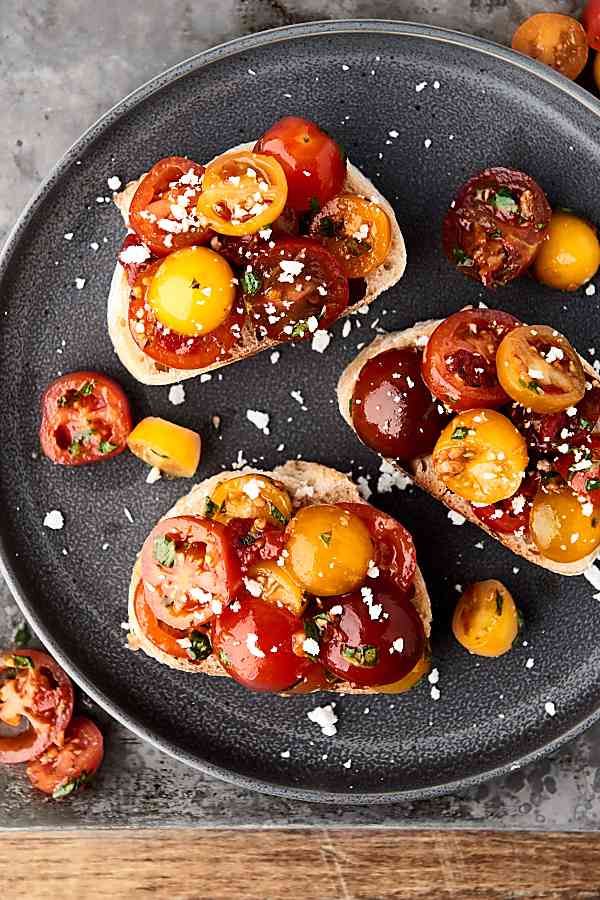 Instant Pot Taco Hummus. Ultra creamy hummus loaded with canary beans, taco seasonings, and lime juice. Made quick and easy in your Instant Pot!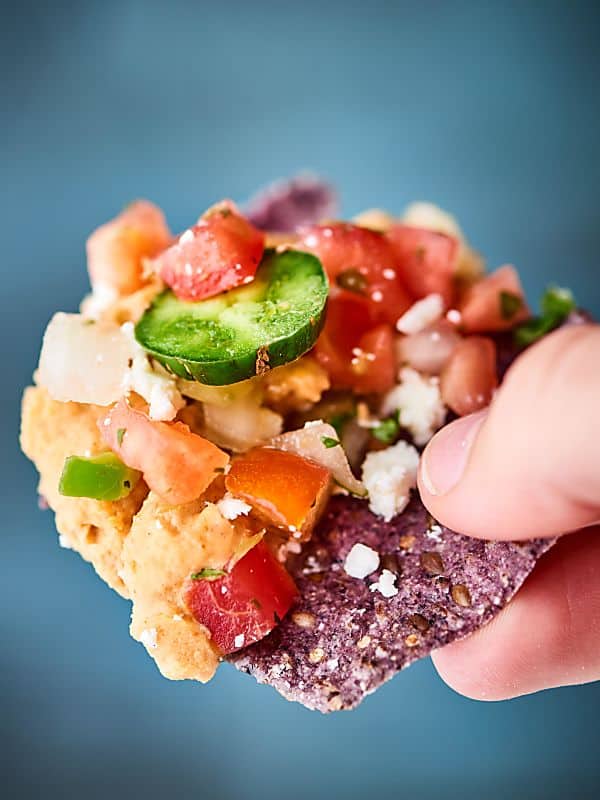 This Healthy French Onion Dip Recipe is lightened up w/ non fat greek yogurt, olive oil mayo, & is full of yummy spices! The perfect dip for your chips!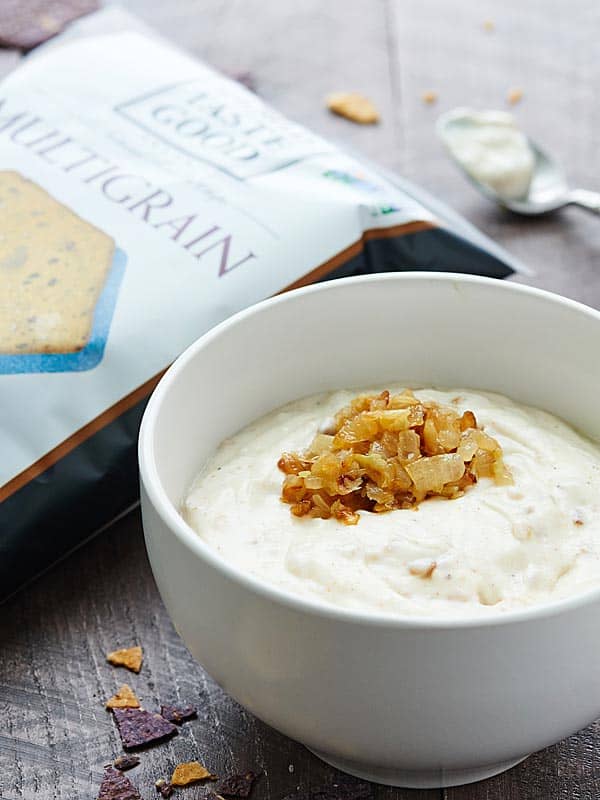 Easy Snack Recipes – Other Snacks for the Salt Lover
These Homemade Air Fryer Pretzel Bites are made with refrigerated canned biscuit dough, boiled in a water/baking soda solution, and air fried or baked to golden perfection! Don't forget the butter/garlic powder wash and crunchy sea salt!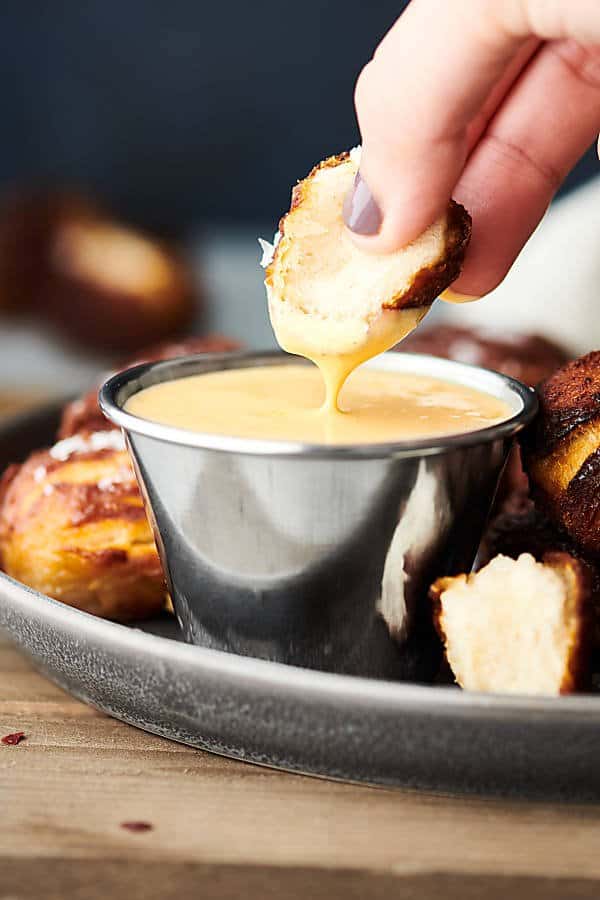 These Easy Deviled Eggs are a cinch to make thanks to my trick for making the best hard boiled eggs! They're also delicious and loaded with the creamiest filling of mayo, apple cider vinegar, dijon, horseradish, Worcestershire, relish, salt, paprika, and chives!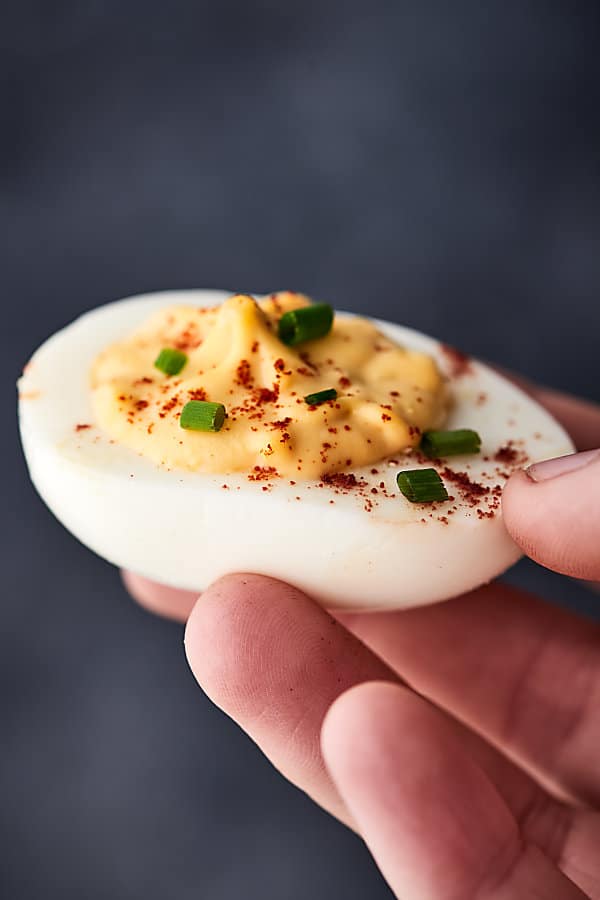 These air fryer mozzarella sticks are a healthier take on a favorite snack classic! Skim string cheese sticks dipped in whole wheat flour, egg, panko breadcrumbs and spices: onion powder, garlic powder, salt, chili powder, and smoked paprika!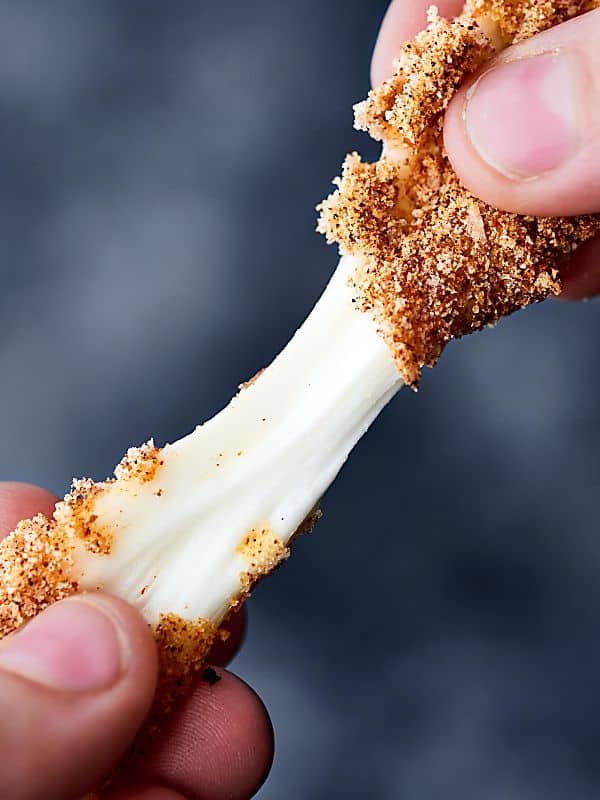 This Loaded Queso Recipe is full of cheese, tomatoes, black beans, corn, chiles, taco seasonings, and more! Easy. Cheesy. Gluten Free. Delicious!
Instant Pot Mexican Corn Dip. This easy, cheesy, creamy deliciousness is ready in about 15 minutes and is loaded with cream cheese, fresh corn, mayo, and loads of spices and fresh herbs! The perfect dip for tortilla chips!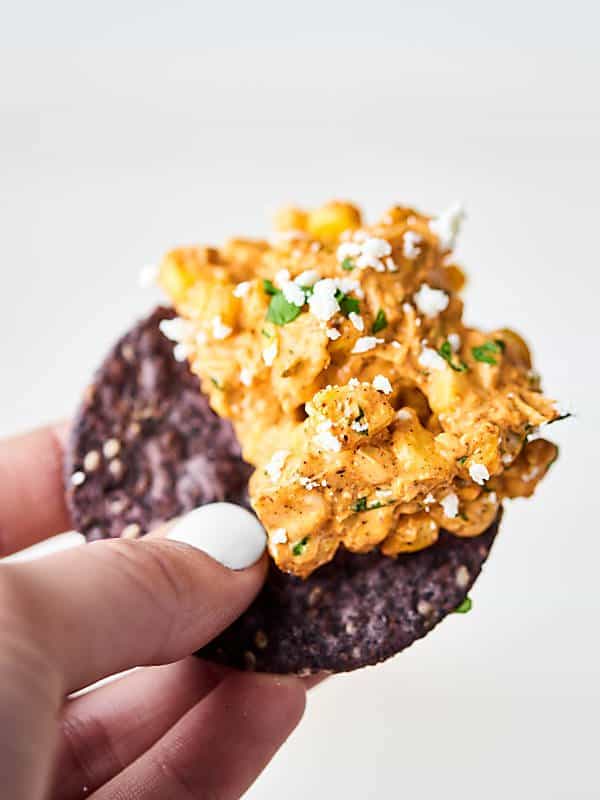 Easy Snack Recipes – Vegan
These Vegan Double Chocolate Pumpkin Muffins are loaded with whole wheat flour, pumpkin purée, maple syrup, vegan dark chocolate chips, and cozy spices: cinnamon, nutmeg, ginger, and cloves! Perfect for breakfast or dessert. Freezer friendly!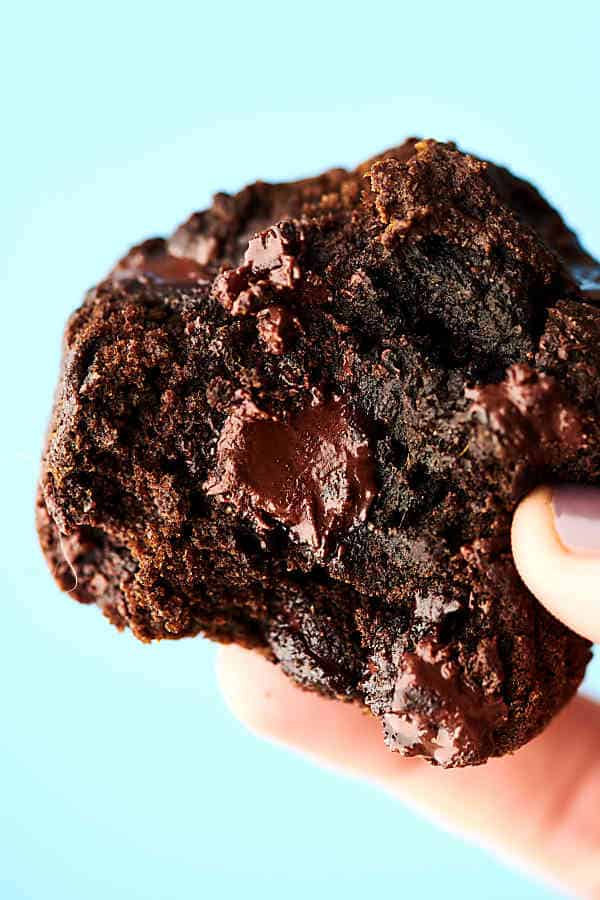 These Vegan Scotcheroos are loaded with brown rice crispies, all natural peanut butter, and agave and smothered in vegan dark chocolate and a pinch of sea salt. An easier, slightly healthier, gluten free take on the classic no bake treat.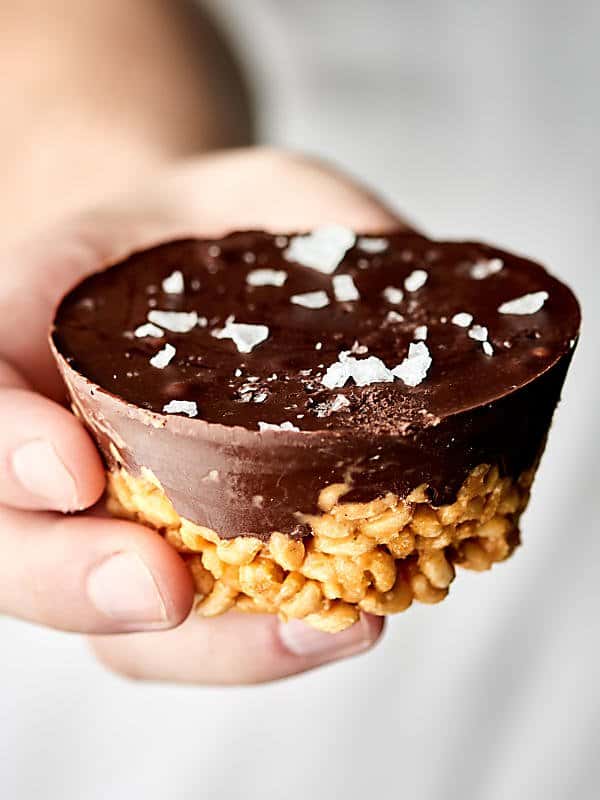 This easy guacamole recipe is vegan, gluten free, and healthy! This guacamole only has 8 ingredients and takes 5 minutes to put together!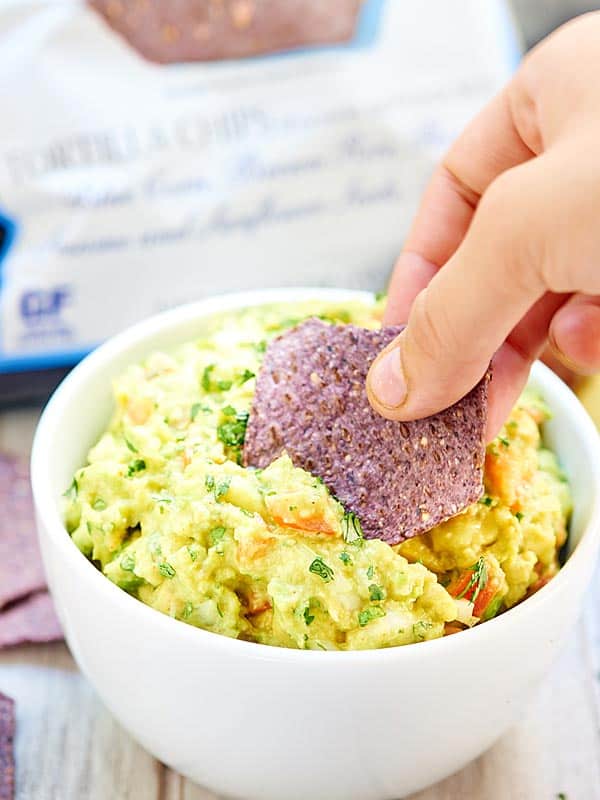 These No Bake Protein Brownie Bites are the perfect, bite sized healthy treat! Made in 5 minutes and full of oats, protein powder, almond butter, maple syrup, and a splash of almond milk. Vegan. Gluten Free.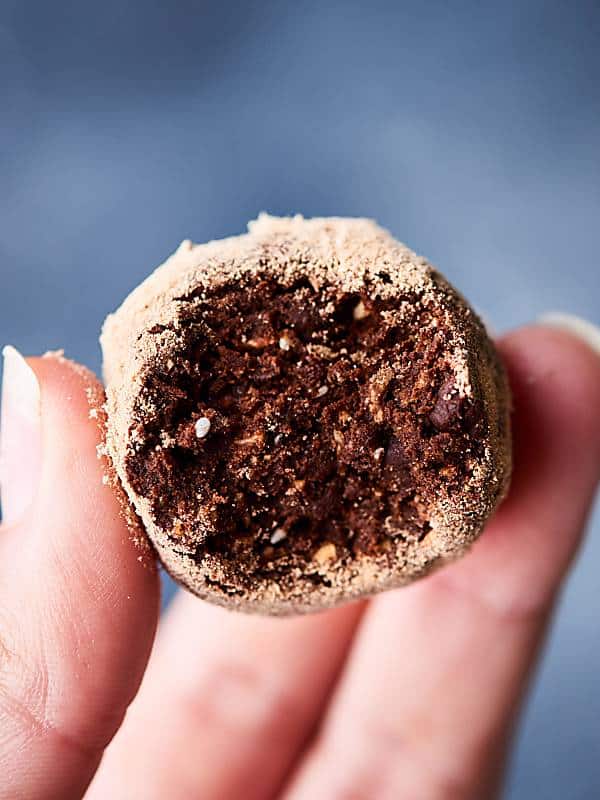 These Vegan Banana Chocolate Chip Muffins are healthy & use natural ingredients like agave, bananas, whole wheat pastry flour, coconut oil & almond milk!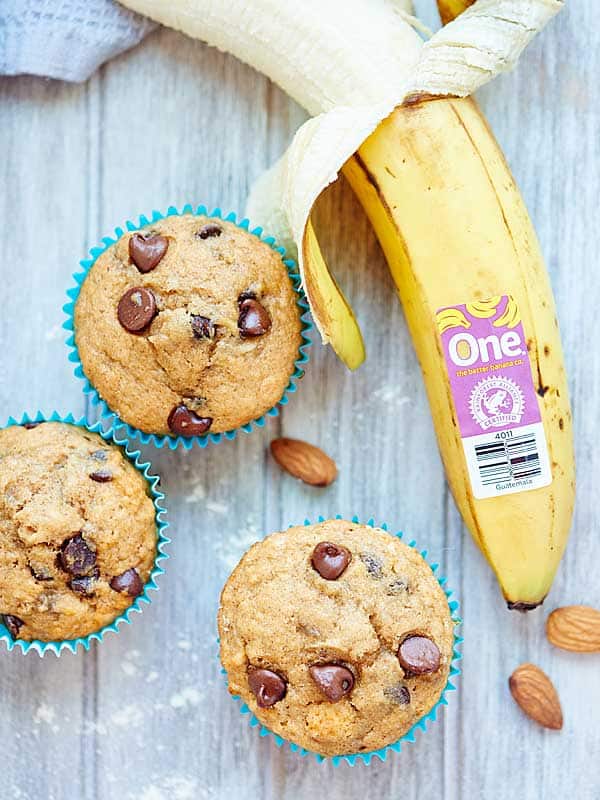 Easy Snack Recipes – Gluten Free
5 ingredient Sweet and Salty Potato Chip Truffles. The perfect no-bake sweet and salty dessert loaded with sea salt potato chips, all natural peanut butter, pure maple syrup, and a touch of vanilla. Don't forget the drizzle of dark chocolate! Can be vegan and gluten free!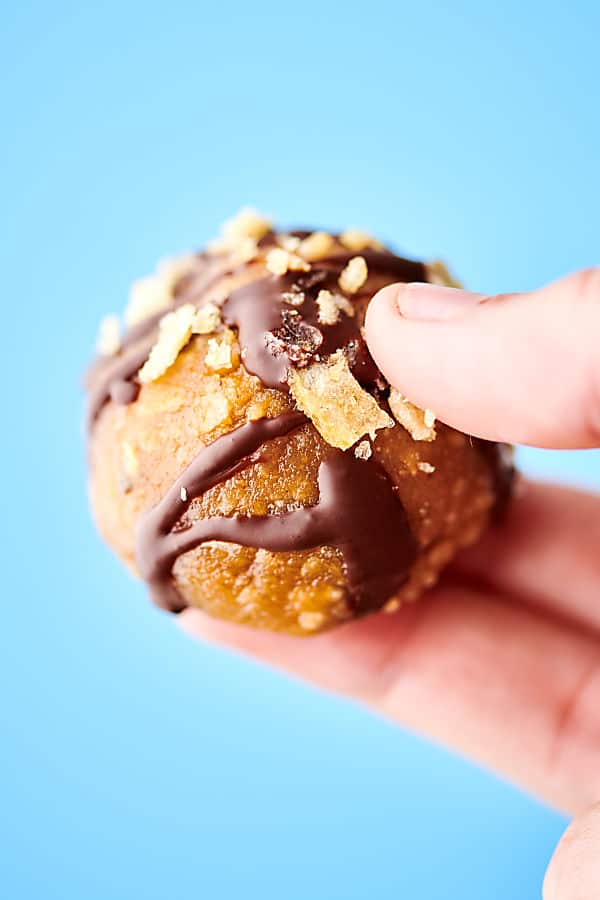 This Easy Pico de Gallo Recipe comes together in a matter of minutes! Fresh tomatoes, onion, cilantro, jalapeno, lime, & garlic make this truly delicious.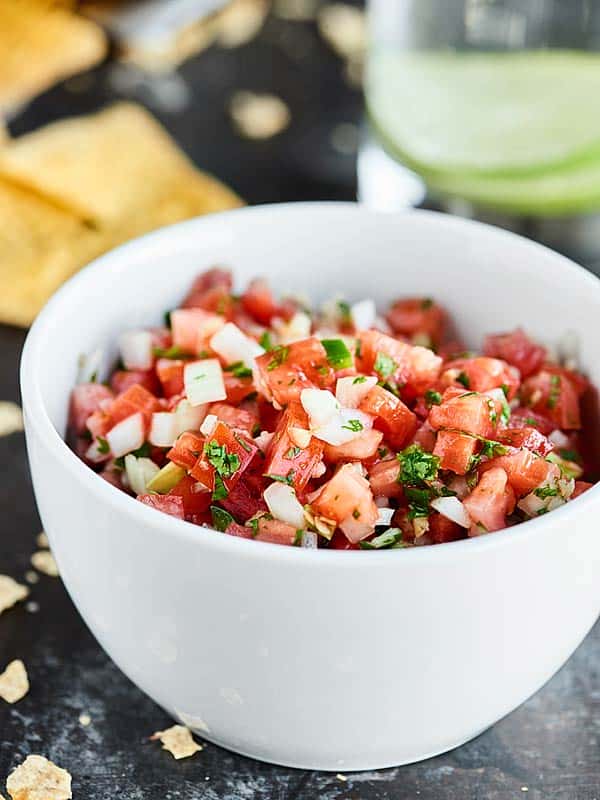 A favorite sandwich from your childhood turned into a healthy smoothie bowl: these peanut butter and jelly smoothie bowls are absolutely delicious! Full of frozen strawberries and all natural peanut butter, they really do taste like the childhood classic!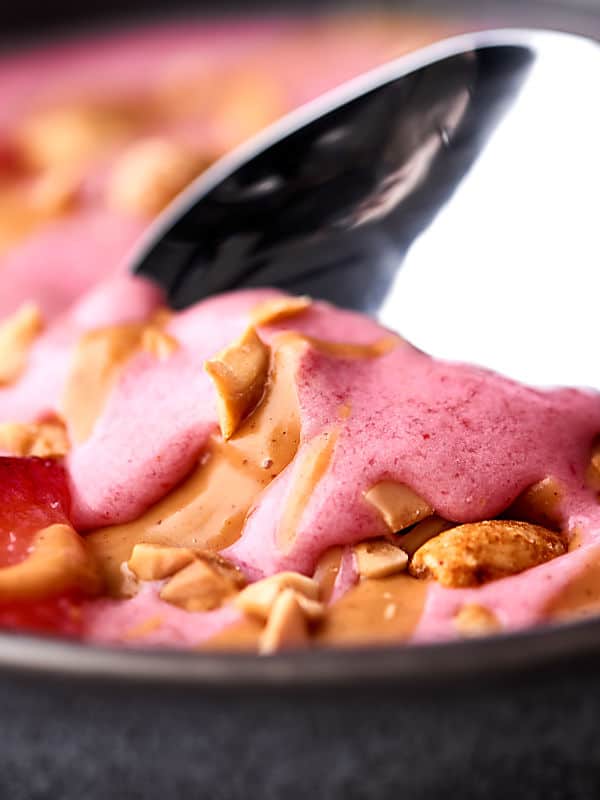 At only 150 calories, these Healthy Chocolate Banana Muffins are healthy enough for breakfast, but indulgent enough for dessert! Vegan. Gluten Free. Made in ONE bowl.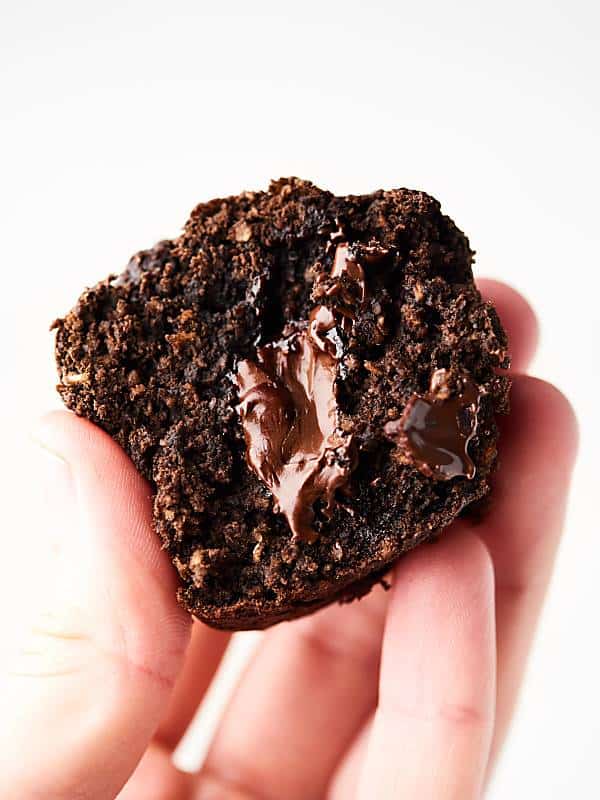 These Peanut Butter Energy Bites are the perfect healthier treat to satisfy your sweet tooth! Full of all natural peanut butter, oats, and just a touch of honey! Only 130 calories! Gluten free. Vegetarian.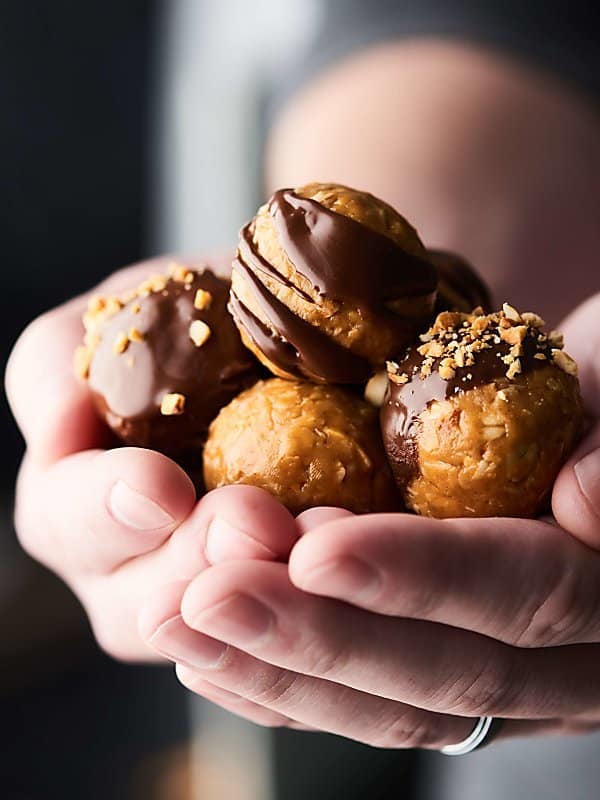 Happy Snacking!
– Jennifer
What other snacks do you want to see? Show Me the Yummy!