The ultimate guide to New Year's Eve Dinner Recipes! Whether you want sides, main dishes, desserts, or drinks we've got you covered!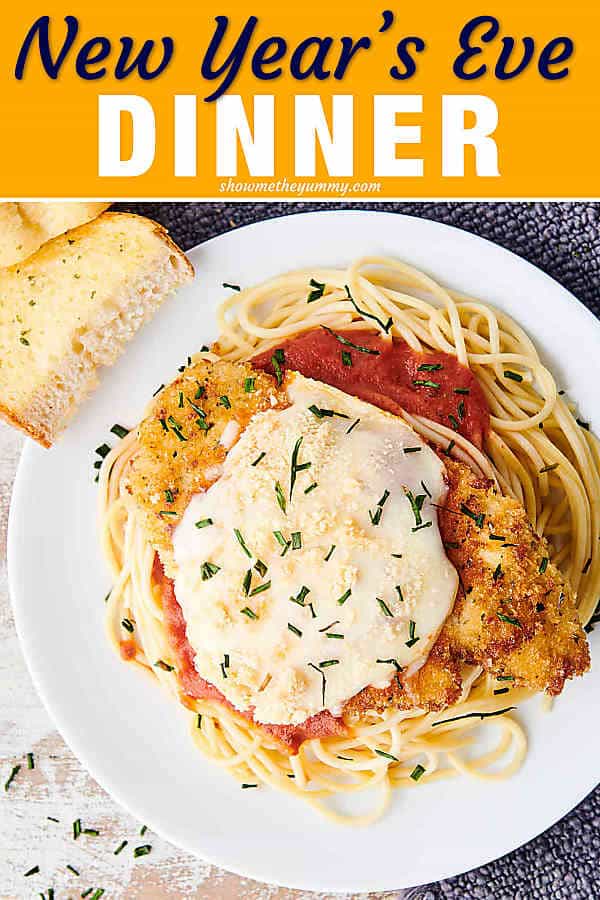 After Christmas baking, cooking, and parties, the last thing you want to have to do on New Year's Eve is spend tons of time in the kitchen. That's why I love recipes that are easy to throw together but still absolutely delicious.
Whether you're hosting a party, cozying up to watch the ball drop at midnight, or getting nice and full for your 9 PM bedtime 😉 , I've got you covered with these easy and delicious recipes for New Year's Eve.
PSST – all of the recipes listed contain ingredients that are said to bring you luck in the New Year!
Side dishes
It's said that black eyed peas bring luck and cornbread brings gold to those who eat them on NYE! Rice, grapes, oranges, and honey are also said to be lucky. 😉
Main dishes
Need extra luck in the New Year? Be sure to eat your pork, fish, noodles, lentils, and cabbage!
Desserts
Pomegranates represent prosperity and round cakes will bring a full circle of luck for the upcoming year. The champagne desserts are thrown in, because there's no such thing as too much champagne on NYE. 😉 Drink responsibly.
Drinks
Cheers and drink responsibly!
– Jennifer