Best Restaurants in New Orleans! A list of all our favorite eats while we were vacationing in NOLA. I've also included my recommendations on where to stay. 🙂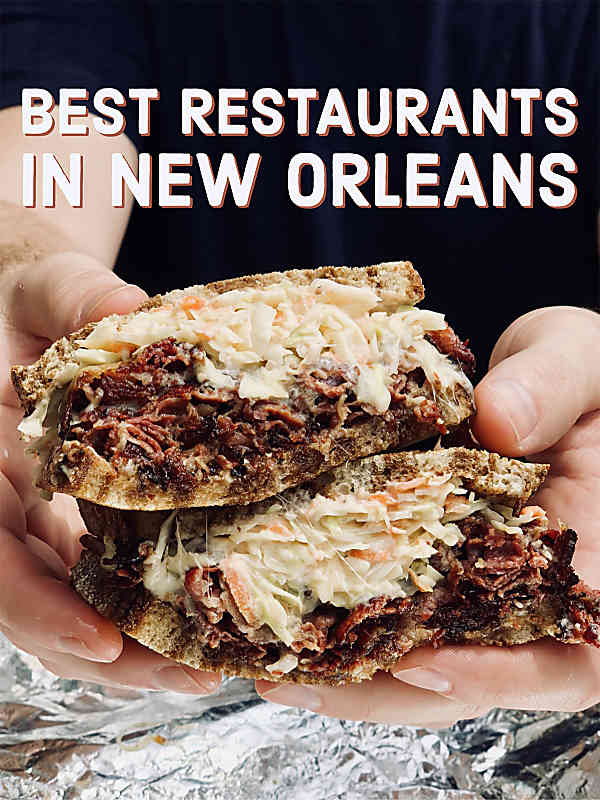 I'm not gonna lie.
When Trevor and I went to New Orleans in April we did nothing but eat.
And I don't regret
one.
single.
bite.
We walked, we talked, we had a couple craft cocktails, and man oh man did we eat.
I had done very little research before we went – which is super weird for me – but I'm a huge "yelp-er", so once we arrived, I immediately pulled up Yelp, and was shocked by how many amazingly reviewed restaurants I was seeing . . .
New Orleans, your food scene did NOT disappoint.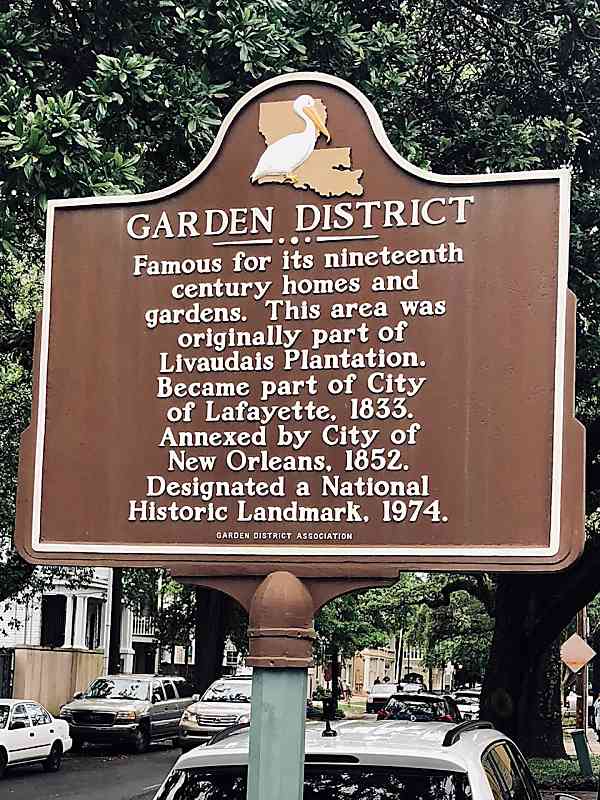 Before we get into the good stuff, I did want to share my opinion on where we STAYED during our trip.
We stayed in this Airbnb located in the Garden District. I would HIGHLY recommend staying in the Garden District. Not only did we feel incredibly safe, we were just a few steps away from the St. Charles Street Car (it's $1.25 each for a trip down to Bourbon Street) and just a short walk to Magazine Street.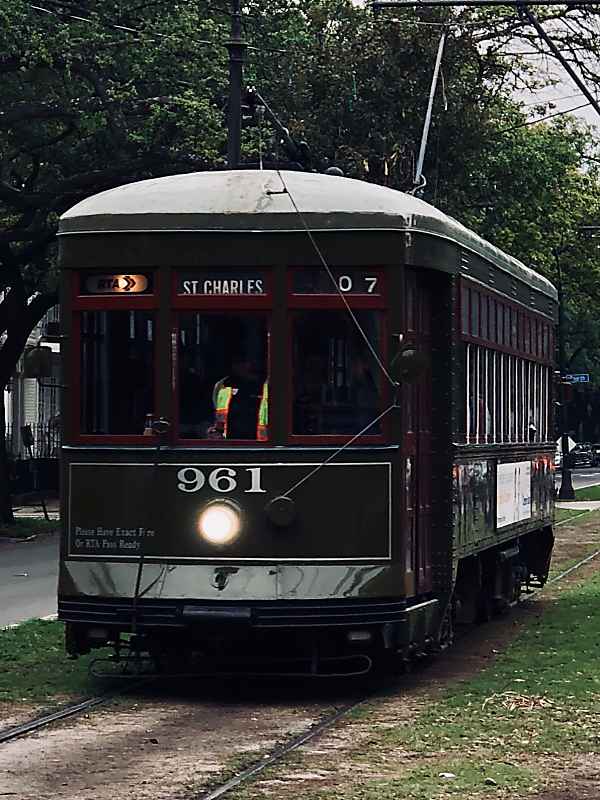 We felt we got to enjoy both Bourbon Street AND Magazine Street – both major foodie destinations – because of our close proximity to both – without being TOO close to the action.
Bourbon Street – lots of live music in the streets and in bars, people walking around with adult beverages, tons of people watching.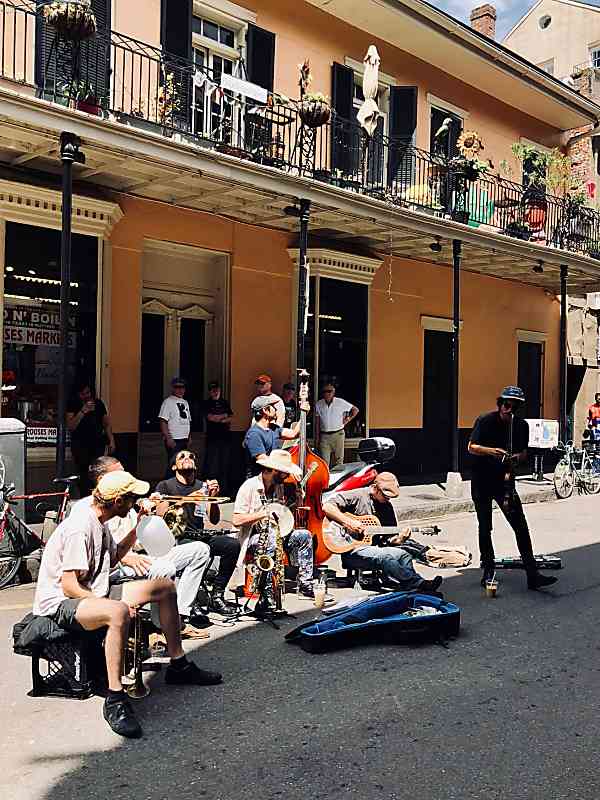 PSST – people will try to give you hats, beads, or ask you where you got your shoes, then say you owe them money – just ignore, don't take anything, and walk away. 😉 All three happened to us, lol! That being said, we never felt unsafe.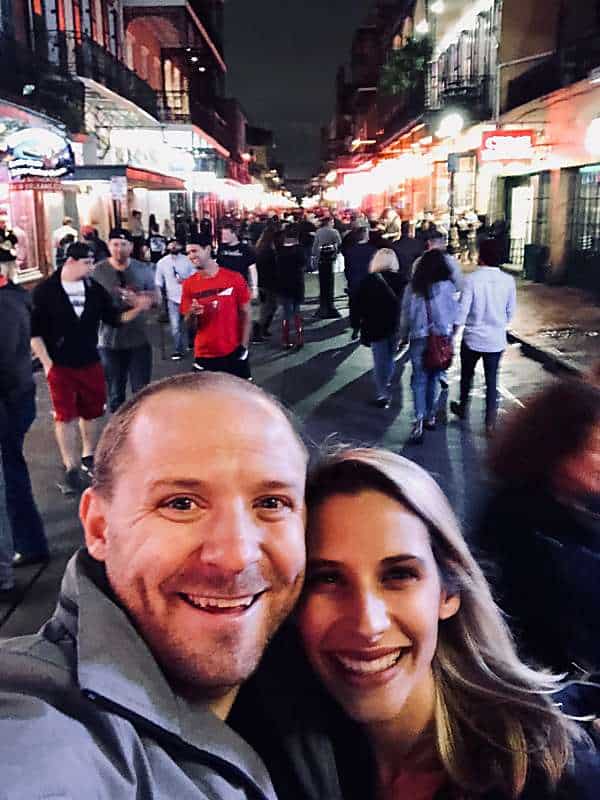 Magazine Street – less crowded, tons of great food and shops. Definitely more laid back and less "crazy" than Bourbon Street.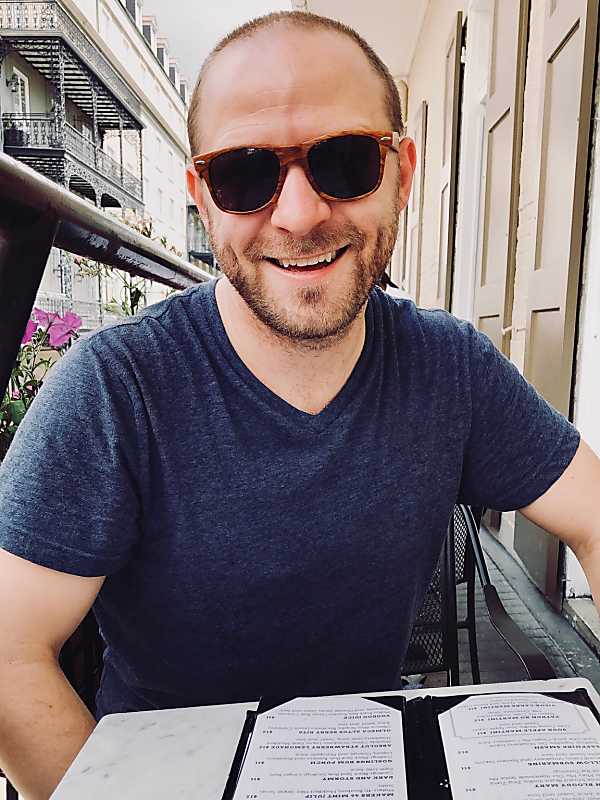 Highly recommend carving out time to just wander around both streets both during the day and at night!
Now.
Let's talk good eats! We had received SO many recommendations from all of you on Instagram, so thank you all so so sooooo much! We definitely didn't go hungry. Unfortunately, we couldn't make it through our whole list, but man did we try. 🙂
Breakfast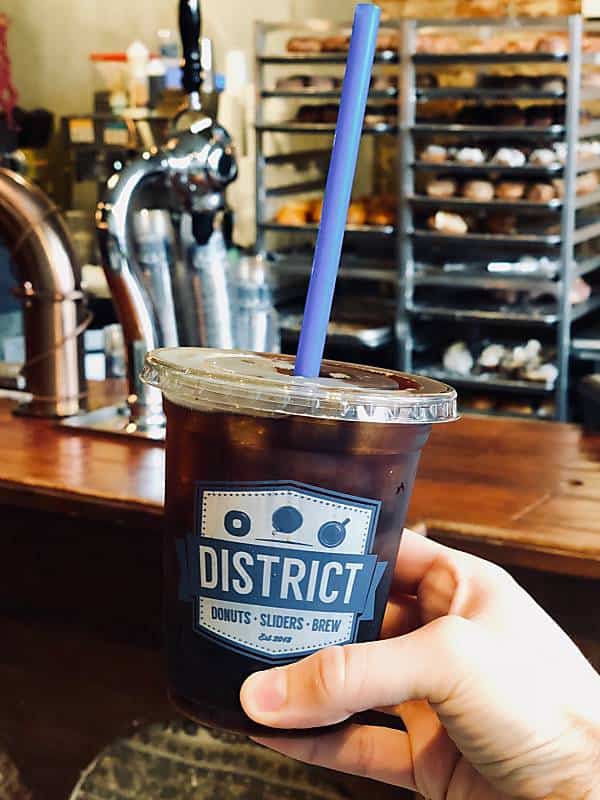 Hands down the best breakfast we had while in New Orleans. Amazing coffee, incredible food, fun atmosphere. While I absolutely loved everything, the Croque Madame Croquenut was mind blowing. Think: croissant/donut mash up as the bread, topped with ham, cheese, bechamel, and a runny egg. Dying.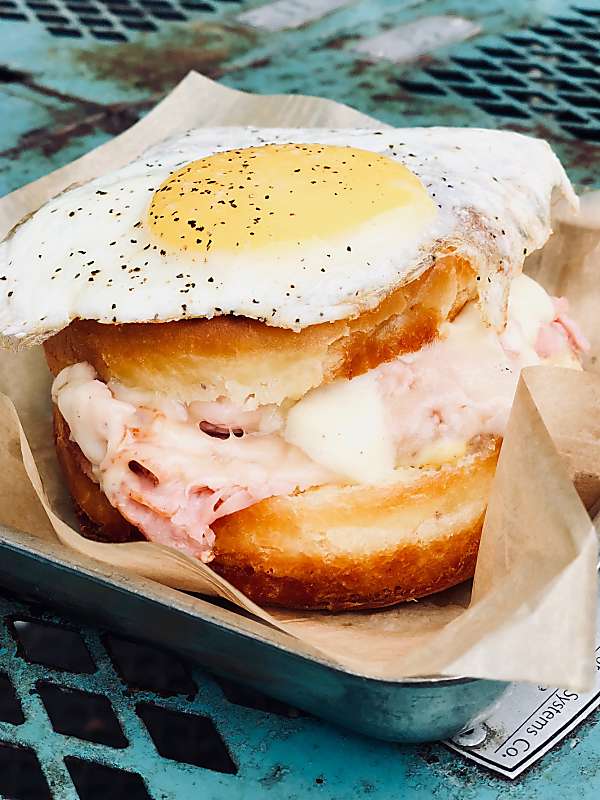 What we ordered: Pork Belly Breakfast Tacos, Smoked Sausage Kolach, Croque Madame Croquenut, Iced Coffee.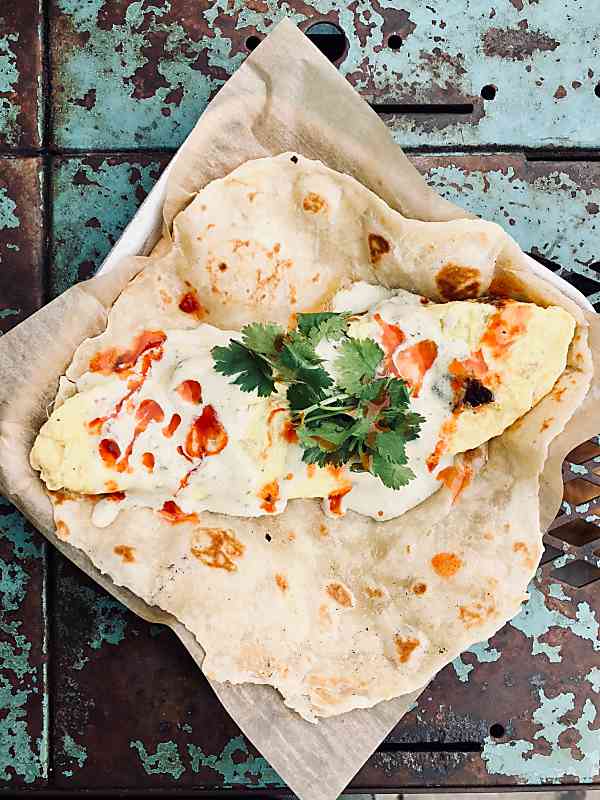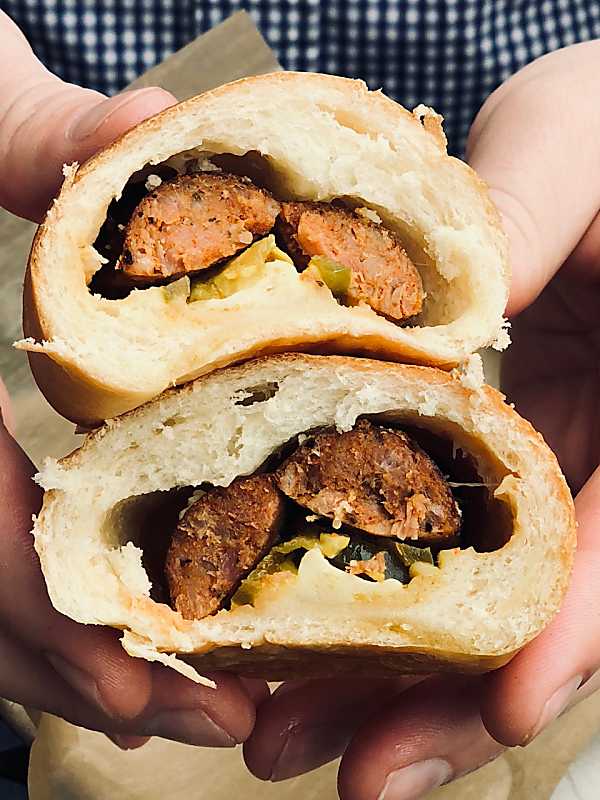 This place was SO cute and I loved that they served gigantic mimosas. It's vacay, right?! We ordered the trifecta – their eggs benedict sampler: pulled pork, fried chicken, shrimp benedicts – and it was ok! Definitely not bad and it's such a cute spot with great mimosas, but it honestly wasn't our favorite. If you DO go there, I'd recommend a mimosa and the pulled pork benedict.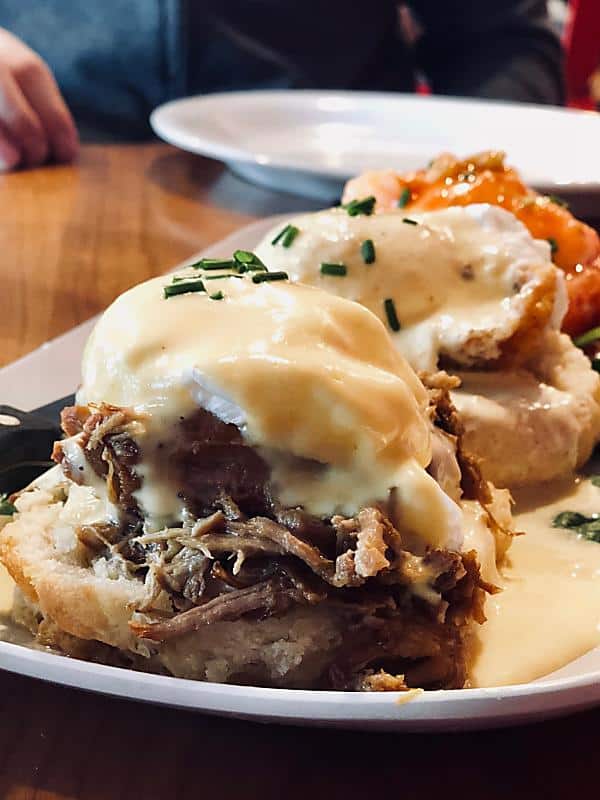 Lunch
Located in the back of Erin Rose, this hidden gem is exactly that . . . a hidden gem. 😉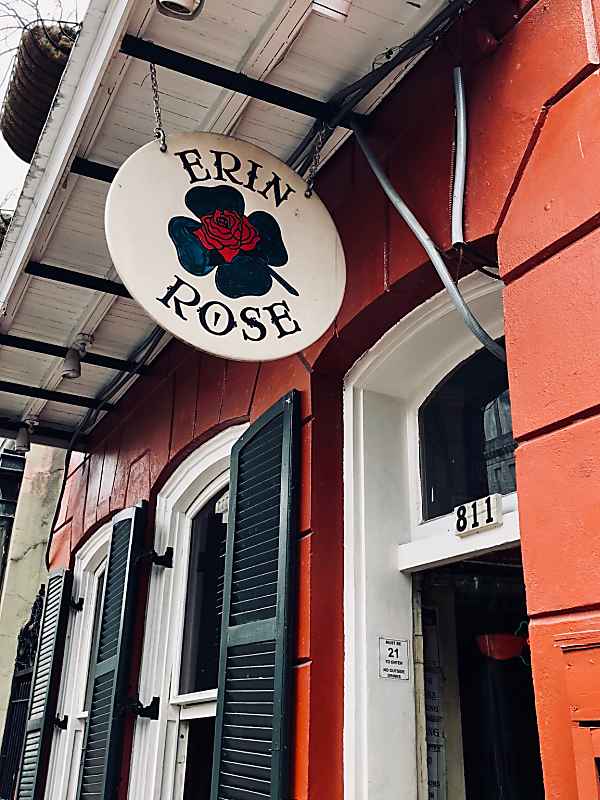 You'll find Erin Rose, walk past the bar, and head straight to the back for a killer po boy. See what I did there? There was nobody in line, we got our food quickly, and oh my yum was it amazing.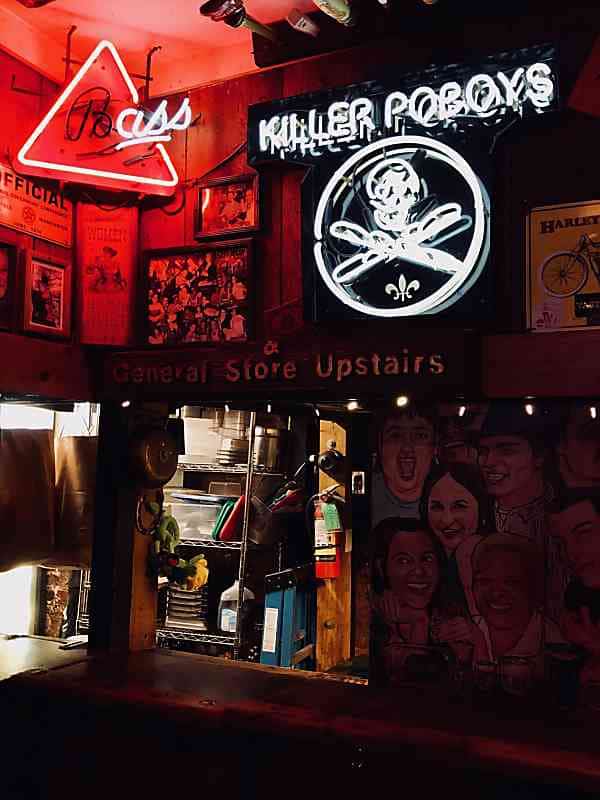 Pro tip: You have to be 21 to enter. Even though we didn't grab a drink, the bartender in the front still asked to see my ID.
What we ordered: Seared gulf shrimp po boy. The shrimp was perfectly cooked and the "slaw" with sriracha aioli was drool worthy.
We kept hearing "While in NOLA, get a Muffuletta" and when you walk past a sign that reads "Central Grocery: Home of the Original Muffuletta" and there's a line out the door . . . you stop and get a muffuletta.
Central grocery is this tiny little grocery store and the line was literally out the door when we walked in. That being said, they know what the people in line are waiting for and we were in and out within 10 minutes, because they're pumping out these sandwiches like crazy.
Sooo what IS a muffuletta? A sandwich loaded with marinated olives, veggies, italian meats and cheeses! A seemingly simple sandwich that I'm telling you, will blow you away. The bread was soft and chewy and the olive salad within the sandwich was killer.
What we ordered: the muffuletta. 😉 Pictured above is the half and it was plenty for us to share with a bag of Zapp's (New Orleans Kettle Chips) for a not too heavy lunch. That being said, if you're really hungry, one person could probably eat a whole half.
Holy yum this was amazing. Pro tip: pick a gorgeous day and eat outside. Perfect for a slow and relaxing meal. Definitely one of our favorite meals. They're described as "Modern Israeli Cuisine" and I honestly couldn't get enough. Even if Middle Eastern food isn't your thing, I highly recommend giving this spot a chance.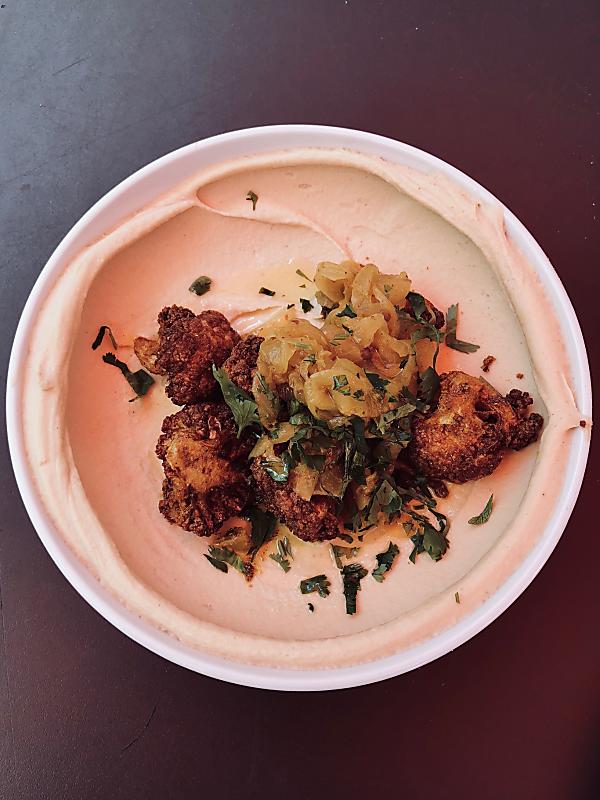 What we ordered: Cauliflower Hummus with Caramelized Onions, Cilantro, and Pita (best bite). Falafel – really delicious, but was my least favorite out of the three dishes. Chicken Schnitzel sandwich with harissa mayonnaise and pancake battered fries. So good I could cry.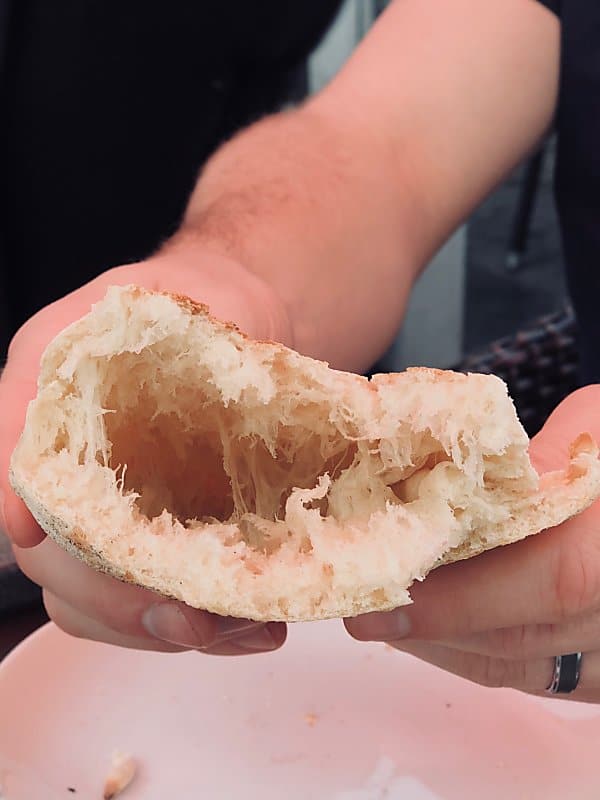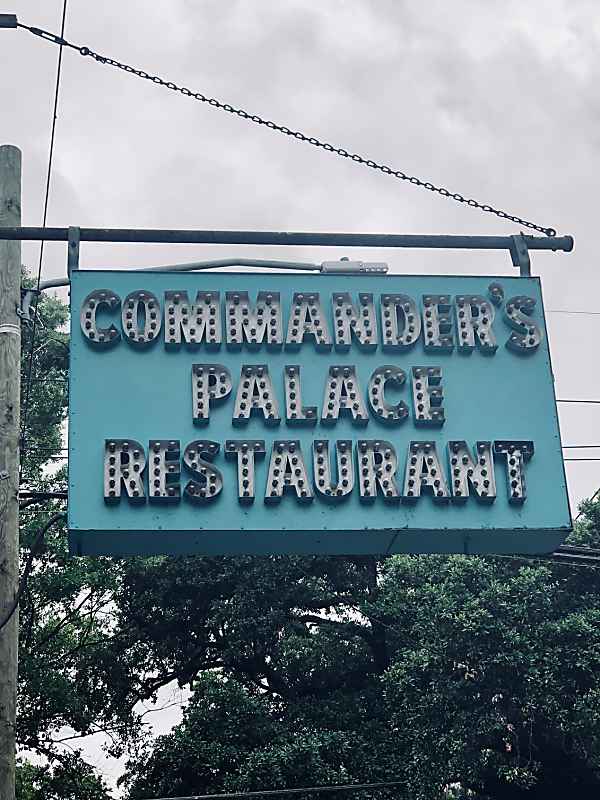 Our Airbnb was literally a block away, so we walked here for lunch one day. Why lunch vs dinner? Because 25 cent martinis for life! If you get a lunch entree, you can get up to 3 $.25 martinis.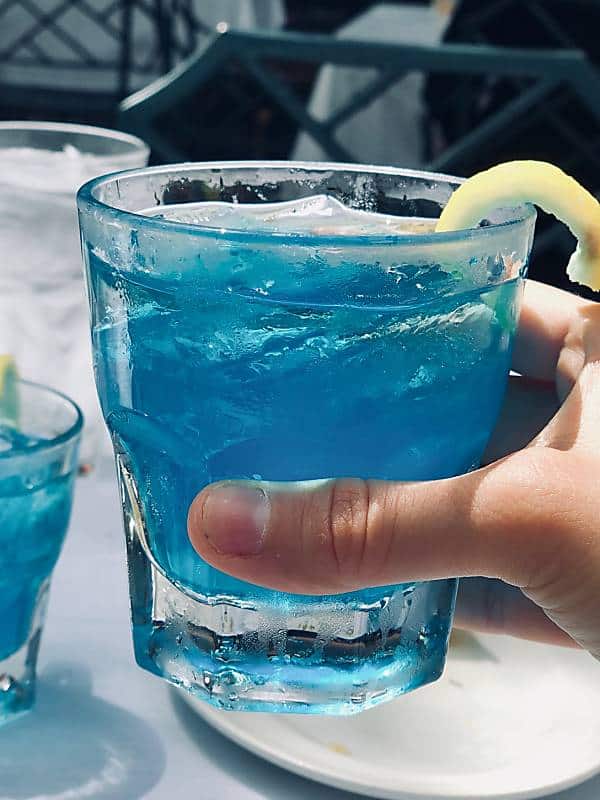 So that's exactly what we did. Definitely grab a table outside if you can. We went for a Friday lunch and didn't need a reservation. Pro tip: dress up a little. There's a dress code aka no open toed shoes, no shorts, jeans discouraged (although Trevor wore jeans and was fine).
What we ordered: All the martinis. All delicious. Crawfish beignets: dense and exactly what you'd want in a savory fried dough ball.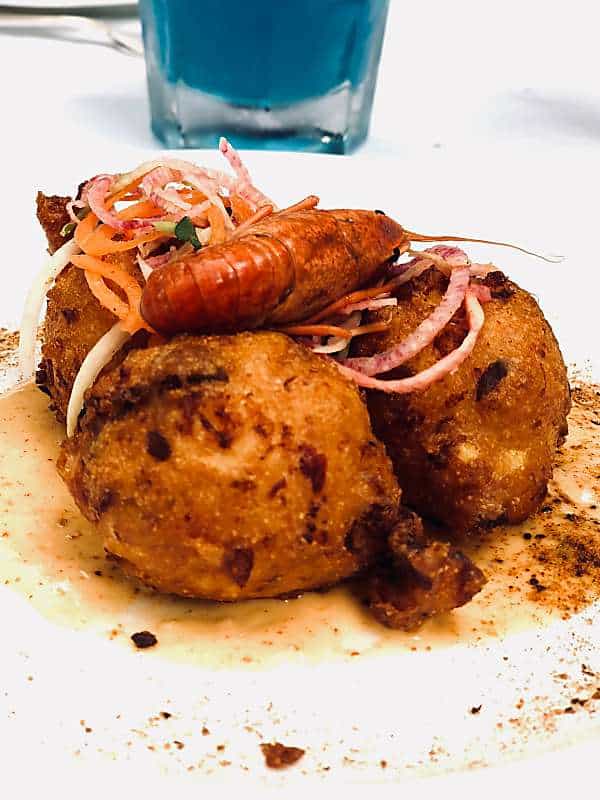 Crawfish Gnocchi (when in NOLA eat all the crawfish 😉 ). This wasn't your typical gnocchi, so if you order, know that you're really getting more diced potatoes in a yummy saucy than thick, fluffy, chewy gnocchi "pasta".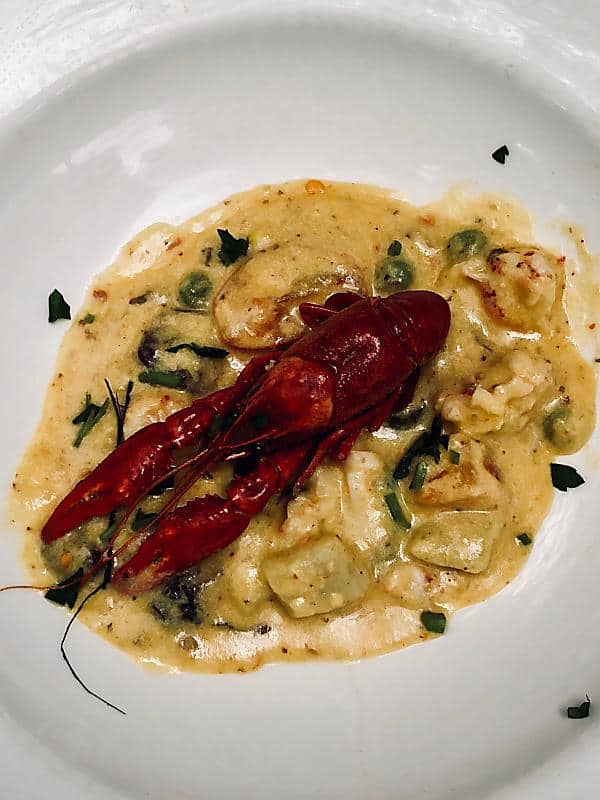 Turtle Soup (again, when in NOLA). This is really tangy from the sherry, definitely a unique flavor that I loved, but I could see this being a little too unique for some. 😉
New Orleans Barbecued Shrimp. Super solid shrimp and grits, although, it wasn't as good as Poogan's Porch in Charleston.
Creole Bread Pudding Souffle. Three words: whisky cream drizzle. Not too sweet and sooo light and airy.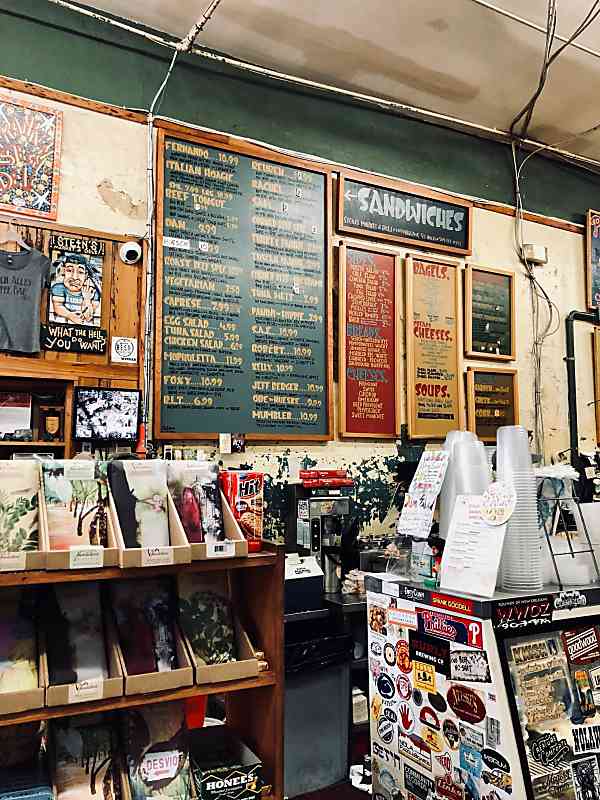 If you follow us on Instagram, you'll know that I deemed this to be my best bite in New Orleans! I still stand by that bold statement.
This was another hidden gem. We happened to be walking to another sandwich shop, when Trevor looked up and saw someone walking in. I'm so glad he did. Grab a sandwich to go and grab a spot outside somewhere!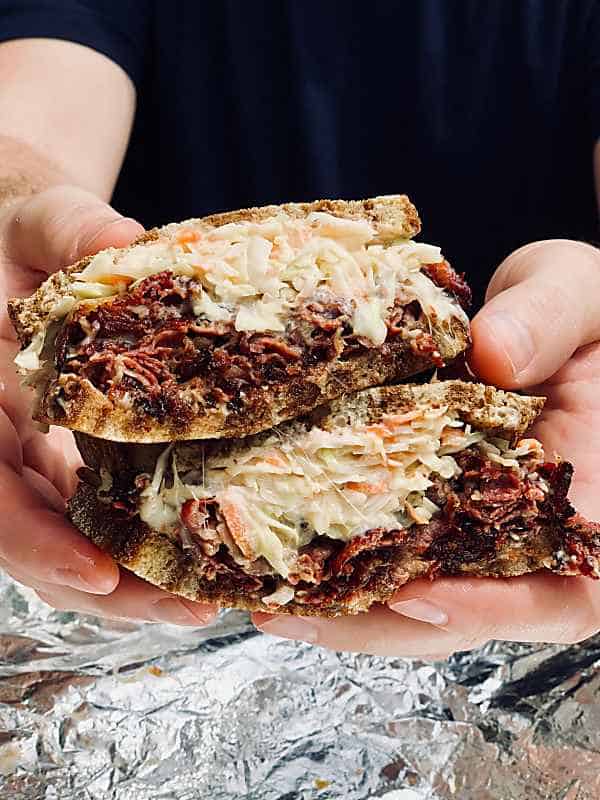 What we ordered: "The Sam" on marbled rye. Their most popular sandwich and I can see why. Loaded with hot pastrami, swiss, cole slaw and russian dressing. Trevor and I split this and I wish we would've gotten our own. It was literally the best sandwich I've ever had. Can we go back now?!?!
[insert hysterical crying emoji here] 😉
Dinner
We chose Rum House, because we could sit outside with Teddy! Plus, I saw nachos on the menu, so yeahhhhh. It basically had to happen. Super cute restaurant with solid drinks and good eats! Bonus that the outside patio is adorable and dog friendly!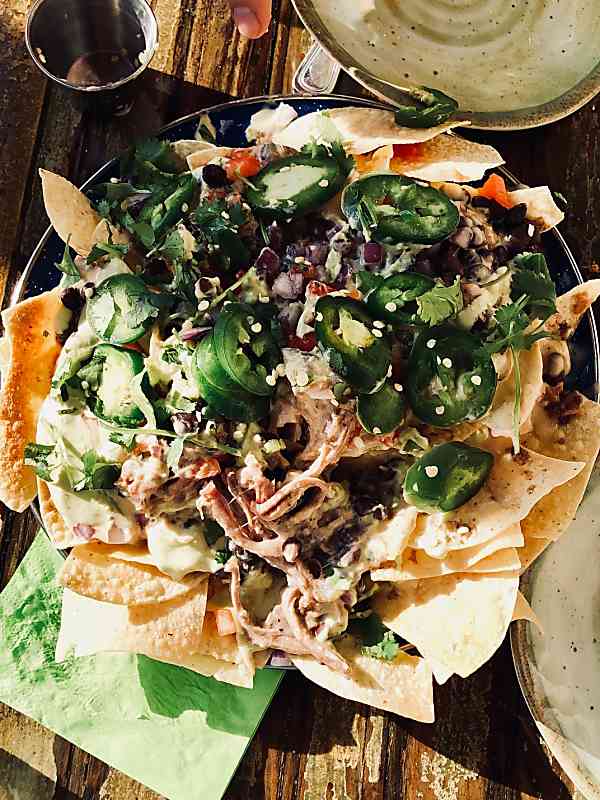 What we ordered: queso blanco dip, pulled pork nachos, and margaritas. Would definitely recommend!
Super cute little cottage restaurant offering a creative twist on Louisiana fare. A nicer vibe with really solid dishes!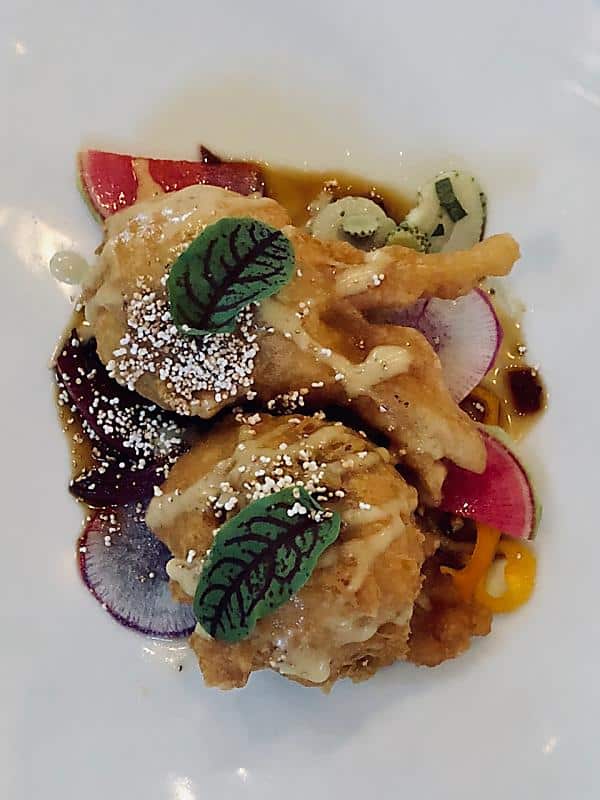 What we ordered: Boudin & Crawfish Beignets. Definitely lighter and crispier than the ones we had at Commander's Palace. Both good, just different! These were melt in your mouth crispy and delish.
Smoked Drum Chowder. Trevor and I licked the bowl. 'Nough said.
Shrimp & Grits. Really good, but still not as good as Poogan's Porch.
Blue cheese flan. Best bite of the night. Do yourself a favor and just do it. You can thank me later. 😉 The blue cheese flavor is subtle, but definitely there and it's sooo luxuriously creamy. Perfectly paired with a crunchy brittle. Still dreaming about this one, you guys.
We needed a night at home from all the walking around, so what did we do? Order pizza of course! It definitely did not disappoint.
What we ordered: Pretzel sticks. Thai wings. Buffalo chicken pizza. All super super yummy. I would order everything again! I'd also like to try their pepper jack, jalapeno, and garlic stuffed bread sticks <– yum.
Mexican food is life. You thought we could go to NOLA and not get Mexican?! 😉 If you've been following Show Me the Yummy, then you know Trevor and I love Mexican food more than anything. I was too busy enjoying the deliciousness to take any photos. Definitely grab dinner here if you have a chance!
What we ordered: Crawfish Queso Fundido – soooooo creamy and like I said, we tried to eat as much crawfish as humanly possible on this trip.
Gulf shrimp quesadilla – your standard, really tasty quesadilla.
Pineapple Cilantro Margaritas. These were to die for. Pro tip: If you like spicy, ask them to make it with their spicy serrano infused tequila. Life. Changing. You're welcome. 😉
Drinks/Dessert
I'm sure this is a totally tourist-y thing to do, but we had so much fun. It's a good, casual, fun vibe and we actually really enjoyed their signature drink.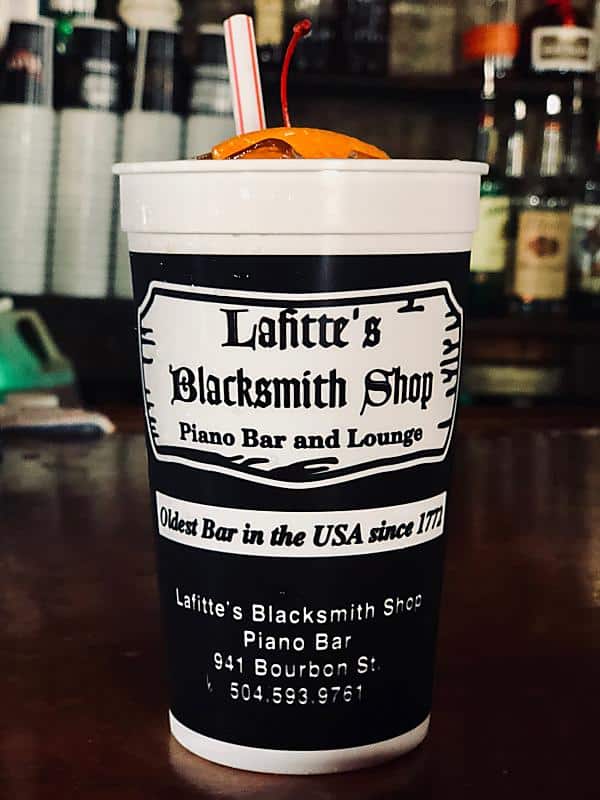 What we ordered: VooDoo daiquiri. Because. When in NOLA! Think: adult grape kool-aid slushie and we actually thought it tasted really good. It's basically a frozen slushie with vodka (maybe Everclear – who knows), bourbon, and grape flavoring. Sounds weird. Tastes delish. Get one to go and walk around to see the Bourbon Street sites!
Sucré
I saw gelato. 'Nough said. There's no photo, because I ate it too fast. 😉
What we ordered: Gelato! It was good! Just your standard yummy gelato. Perfect spot to satisfy your after dinner sweet tooth.
As you can tell by the number of restaurants listed, we were in NOLA for a while, but if you're just headed there for a quick trip, here's what I'd recommend:
Breakfast – District Donuts. I'm still crying over the croquenut.
Lunch – We had some really good sandwiches, but I think I have to go with Stein's Market & Deli: "The Sam". Central Grocery's muffuletta comes in a close second though.
Dinner – Shaya. Even though we went here for lunch, the dinner menu is similar, and it seriously was some of the best food we had. Their pita and hummus are life.changing.
Dessert – Atchafalaya. Not sure if you can just go in for dessert, but if you can…DO. IT. Blue cheese flan might not sound completely delicious, but I'm telling you. IT'S COMPLETELY DELICIOUS.
Happy Eating! Until next time, Nola!
– Jennifer
PS – here are all the other restaurants that were recommended that we didn't have a chance to try:
Cafe du Monde – I know. I know. I'm just not that big into beignets. Don't hate me. But it's definitely on our list for next time.
Domenica Pizza
Carousel Bar – for drinks
Hot Tin Bar – for drinks. We had plans to go to their rooftop bar, but it was raining. Next time!
Spotted Cat – for drinks and music
ACME
Dragos
Baru Tapas
Elizabeth's Restaurant
Willa Jeans
Turkey & the Wolf
What are YOUR favorite places in NOLA? We'll definitely be back, so we'd love more recommendations! Show Me the Yummy!