This Shrimp Lo Mein is packed with juicy shrimp, veggies, pasta, and a sweet, tangy, and slightly spicy homemade sauce. Better than take-out!
Trevor and I went absolutely NUTS over this meal and let me tell you, Trevor is a tough lo mein critic! You guys, this shrimp lo mein is better than take-out! The shrimp is perfectly seasoned and oh-so juicy, the pasta is cooked to al denté, and the veggies are crisp-tender. This flavor packed dinner is surprisingly quick and easy to make, and bonus: it's WAY healthier than take-out.
What is shrimp lo mein?
Lo mein is a classic Chinese dish usually made up of egg noodles, some type of protein, and veggies tossed in a sweet and spicy sauce. Shrimp lo mein is just that but the protein of choice is shrimp!
What is the difference between chow mein and lo mein?
Although chow mein and lo mein have similar ingredients (pasta, veggies, and a protein), they are slightly different. Chow mein translates to "fried noodles" so it's made with more oil and has a crisper texture. Lo mein, on the other hand, translates to "tossed noodles." It's made using boiled pasta and has more sauce.
Ingredients
Hoisin Sauce – a thick, salty, and sweet sauce that's commonly used in Chinese cuisine.
Seasoned Rice Wine Vinegar – helps break down the shrimp to make them super tender and also flavors the sauce with a little tang!
Soy Sauce – adds a salty umami flavor to the lo mein sauce.
Brown Sugar – helps cut the tang of the vinegar and balance out the saltiness of the soy sauce.
Sesame Oil – helps create a rich, nutty luxurious sauce to coat the pasta, veggies, and shrimp. Sesame oil adds such a great flavor that I don't recommend using any other oil to substitute.
Sriracha – add as much or as little as you like to make the spice level suit you. I always serve an extra drizzle on top, because I love heat!
Ginger Paste – adds an earthy, slightly spicy flavor to the lo mein. I prefer the jarred paste for convenience, but feel free to use freshly minced ginger instead!
Garlic – adds a fresh, nutty flavor.
Black Pepper – adds just a touch of heat.
Shrimp – use peeled, deveined medium-large shrimp. This size is perfect to hold up next to the pasta and veggies. I also find that this size is easier to cook.
Cornstarch – thickens our sauce.
Chicken Broth – thins out and flavors the sauce.
Vegetable Oil – for sautéing the shrimp and veggies. Vegetable oil is pretty neutral in flavor and has a decent smoke point.
Carrots, Red Pepper, Cabbage, Mushrooms, Broccoli, Water Chestnuts, and Green Onion – this classic stir fry veggie blend adds flavor, texture, and so many good for you nutrients!
Linguini or Pasta of Choice – cooked al denté. Other (more traditional) noodles will work as well, but I use linguini for accessibility!
Pro tip
Look for peeled, de-veined, tails off shrimp — fresh or frozen! If you can't, that'll add more prep time for you.
How to make
This recipe takes 40 minutes from start to finish!
Whisk together hoisin sauce, vinegar, soy sauce, brown sugar, sesame oil, sriracha, ginger, garlic, and pepper for the sauce. Set aside.
Place shrimp into a medium-sized bowl and pour half the sauce on top. Let it marinate for 30 minutes.
Place cornstarch in a separate bowl then whisk in chicken broth.
Whisk the broth mixture into the remaining sauce. Set aside.
Heat oil in a large sauté pan then add in shrimp. Cook for 1-2 minutes then remove.
In the same pan, heat more oil, then cook veggies with salt and pepper.
Stir in sauce and simmer until thickened.
Combine veggies/sauce with shrimp and noodles then serve and enjoy!
Pro tip
Multi-task! While the shrimp is marinating, prep your veggies, and cook your pasta! Then this dish will come together in a flash!
What is lo mein sauce made of?
Lo mein sauce is a thick and flavorful sauce typically made with a sesame oil base. For this lo mein recipe, we're whipping up a homemade sauce with hoisin sauce, vinegar, soy sauce, brown sugar, sesame oil, sriracha, ginger, garlic, and pepper. It's super simple, super easy to make, and acts as a marinade for the shrimp AND the lo mein sauce.
What kind of noodles to use
Egg noodles (lo mein noodles) and udon noodles are both classics, but fettuccini, linguine, ramen, or other similarly shaped noodles will work too. I used linguini noodles for this recipe, because that's what I can find at my grocery store.
Pro tip
Don't rinse the noodles after they're cooked. The starch helps thicken the sauce and allows it to cling to the veggies and shrimp!
Is shrimp lo mein healthy?
It sure is! This shrimp lo mein is packed with healthy protein from the shrimp and tons of nutrients from the veggies. One very large serving contains 600 calories, 21 grams of fat, 68 grams of carbs, and 34 grams of protein.
Variations
Use a different protein. Chicken, beef, turkey, or even tofu!
Add more veggies. Pretty much any veggies will work. Try bok choy, red onion, snow peas, zucchini, etc!
Spice it up. This already has a touch of heat from the sriracha but if you prefer a spicier dish, try adding more sriracha or a sprinkle of red pepper flakes.
Add eggs. Kick it up a notch by scrambling some eggs into the veggies or serving a fried egg on top!
Make it vegetarian/vegan. This recipe is already totally vegan aside from the shrimp so to make it vegetarian/vegan just leave that out or swap it out for tofu.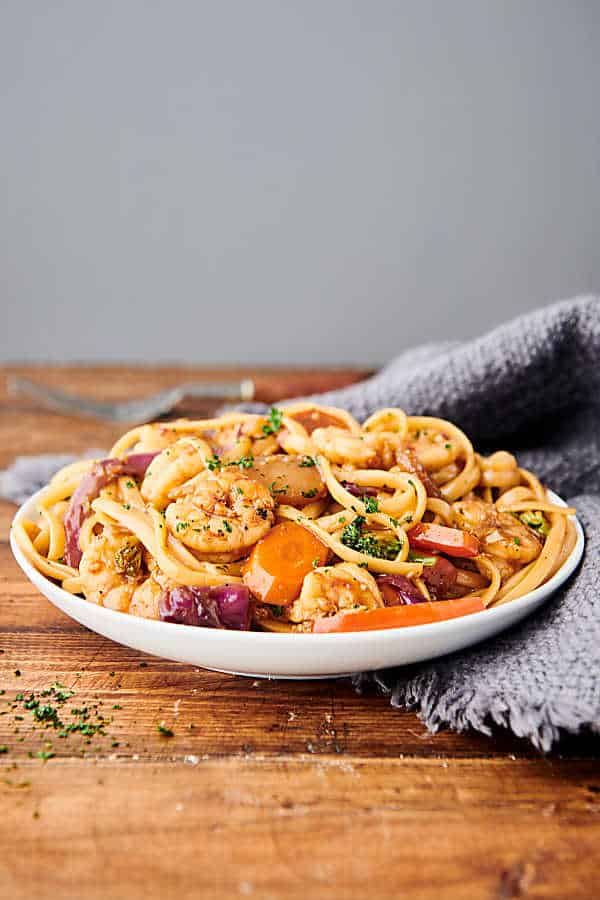 What to serve with shrimp lo mein?
This lo mein recipe has pretty much everything you could want in a meal…carbs, protein, and veggies. However, it's also delicious with some yummy sides!
How to store
Leftover shrimp lo mein will last in an airtight container in the fridge for up to 3 days. To reheat, microwave or heat on the stovetop until warmed through. Because there are so many different components to this recipe (pasta, shrimp, veggies, sauce), I don't recommend freezing it. The texture will likely be affected. – Jennifer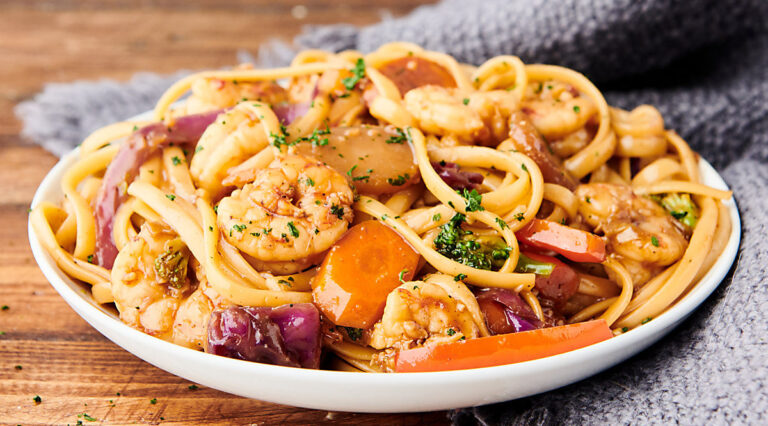 Shrimp Lo Mein
This Shrimp Lo Mein is packed with juicy shrimp, veggies, pasta, and a sweet, tangy, and slightly spicy homemade sauce. 
Equipment for this recipe
(equipment shown are affiliate links)
Ingredients
1/4

cup

hoisin sauce

1/4

cup

seasoned rice vinegar

1/4

cup

soy sauce

2

tablespoons

brown sugar

1

tablespoon

sesame oil

1

tablespoon

sriracha

1

tablespoon

ginger paste

1

tablespoon

minced garlic

1/2

teaspoon

ground black pepper

1

pound

shrimp

mine were medium/large (20-40 per pound)

1

tablespoon

cornstarch

1/2

cup

chicken broth

4

tablespoons

vegetable oil

divided

Heaping 1/2

cup

diagonally sliced carrots

Heaping 1/2

cup

sliced red pepper

Heaping 1/2

cup

sliced cabbage

Heaping 1/2

cup

sliced mushrooms

Heaping 1/2

cup

chopped broccoli

Heaping 1/2

cup

sliced water chestnuts

1

bunch

bunch green onions

sliced diagonally (just the white and light green part)

8

oz

linguine

cooked al denté according to package directions (could also use lo mein or ramen noodles)
Instructions
In a medium sized bowl, whisk together hoisin, vinegar, soy sauce, brown sugar, sesame oil, sriracha, ginger, garlic, and pepper. This is our sauce. Set aside.

Place shrimp into another medium sized bowl, then pour half of the sauce (about 1/2 cup) over shrimp and let marinate in the fridge for 30 minutes.

Place cornstarch into a third medium sized bowl, then slowly whisk the chicken broth into the cornstarch until smooth.

Whisk the broth/cornstarch mixture into the remaining sauce. Set aside. 


Heat 2 tablespoons vegetable oil in large straight edged sauté pan over medium-high/high heat.

Add the shrimp (with juices) and stir-fry for about 1-2 minutes or until cooked. Remove shrimp (and juices) from pan and set aside.

Heat remaining 2 tablespoons oil.

Once hot, stir in carrots and sauté for 2 minutes.

Stir in remaining veggies: pepper, cabbage, mushrooms, broccoli, water chestnuts, and green onions.

Season with a touch of salt and pepper, and cook for 2-5 minutes, or until the veggies are cooked to your liking.

Stir in the sauce, and bring to a simmer for 30 seconds or until sauce starts to thicken.

Stir in the cooked shrimp and noodles.

Taste and re-season, if necessary, then serve and enjoy!
STORING
Reheat:
Microwave or warm on the stovetop
*Storage times may vary based on temperature and conditions
Nutrition Information
Nutrition Facts
Shrimp Lo Mein
Amount Per Serving (1 person)
Calories 600
Calories from Fat 189
% Daily Value*
Fat 21g32%
Cholesterol 286mg95%
Sodium 2190mg95%
Potassium 521mg15%
Carbohydrates 68g23%
Protein 34g68%
Vitamin A 3387IU68%
Vitamin C 50mg61%
Calcium 212mg21%
Iron 4mg22%
* Percent Daily Values are based on a 2000 calorie diet.
*Note: Nutrition information is estimated and varies based on products used.
Keywords:
easy, healthy, linguini