This Fruit Salad is packed with all your favorite fresh fruits and tossed in a healthy dressing. This quick and easy recipe makes the perfect summer snack, side dish, or dessert!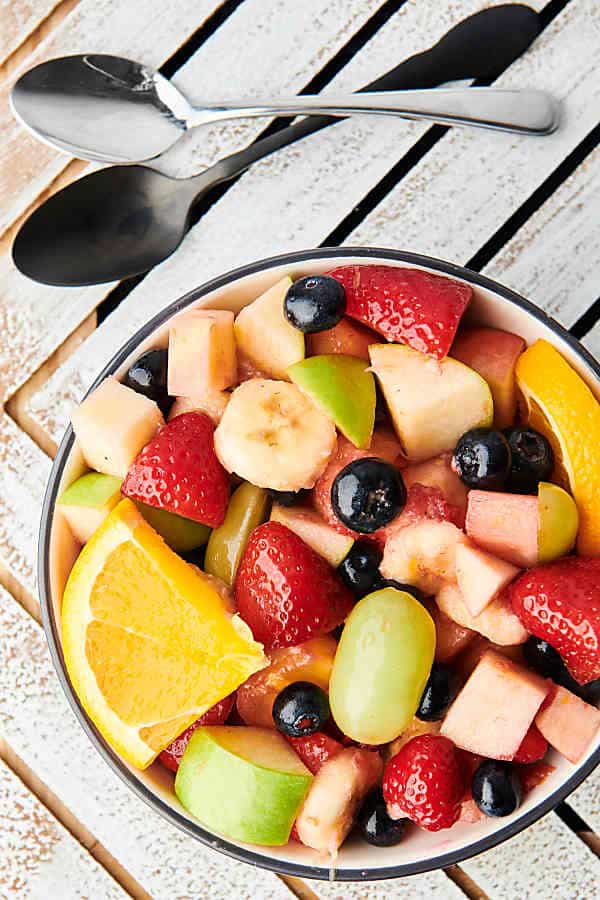 Honestly, this fruit salad has made it SO much easier for me to get in my daily servings of fruit. I've been making this salad for weeks now and I'm in love.
On Sunday, I wash, dry, and prep all my fruit. Then I toss it into a large tupperware container and gently stir it all together with my light and healthy dressing.
Then BOOM. Fruit for the week is ready to go! I have some with breakfast, as an afternoon snack, and sometimes after dinner too with a scoop of peanut butter and drizzle of melted chocolate.
It's now easier to get my daily servings of fruit in, because helllooo it's already prepped, but I'm also getting in a WIDER variety of fruits in too.
What is fruit salad
Fruit salad is a side dish consisting of a variety of fruits. The kind of fruit used is completely customizable. Often times fruit salads will also be mixed with a liquid of some sort and tossed in a sweetener!
Today, we're keeping things healthy and using a wide variety of fruits mixed with freshly squeezed orange juice (our liquid) and tossed in just a *touch* of pure maple syrup (our sweetener).
Ingredients
Make sure you're picking perfectly ripe, in-season fruit so your fruit salad has the best possible flavors and textures!
Strawberries – ripe strawberries should be deep red with bright green leaves.
Blueberries – I prefer plump blueberries cause they tend to be sweeter. They should be a dark purple-blue color.
Raspberries – ripe raspberries should look firm and have a bright red color. If they look light and pink, they aren't ripe enough and will be sour.
Banana – find the perfect yellow banana with just a hint of green at the top. Too green and it will be chalky and unsweet. Too brown and it will be mushy.
Apple – pick your favorite type of apple. I like Honeycrisp.
Green Grapes – ripe grapes should be firm and plump. If you squeeze them gently and they have too much give, they are overly ripe and may be mushy in your fruit salad.
Pineapple Chunks – to pick a good pineapple, smell the bottom. It should have a slightly sweet scent. If it smells fermented, it's probably too ripe.
Orange Juice – squeeze your own! There's no added sugar and has the best, fresh flavor.
Maple Syrup – adds a sweet, smooth, slightly caramelly flavor that pairs beautifully with the fruit.
Vanilla Extract – gives a little bit of warmth and enhances other flavors.
Lemon Zest – cuts the sweetness with a hint of sour and adds some extra citrus notes.
Pro tip
Have fun! Don't like one of the fruits listed? Omit and replace with another! You can't go wrong.
How to make
One your fruit has been washed, dried, and cut – this salad comes together in record speed!
Wash, prep, and cut your fruit then combine in a large bowl with orange juice, maple syrup, vanilla, and lemon zest.
Serve and enjoy!
Pro tip
I like using organic fruit when possible and washing it in fruit and vegetable wash. This limits the amount of pesticides you're ingesting!
How to cut fruit
After the fruit has been washed and dried, blueberries and raspberries will be left whole, but here's how you prepare the remaining fruit:
Strawberries
Cut and discard the tops, then slice in half.
Pineapple 
First, cut the top off – getting rid of the green, spiky leaves.
Use a large knife to slice the outer peel off staying as close to the edge of the pineapple as you can (you don't want to remove any more of the fruit than you have to.)
Remove any brown dots on the outside of the pineapple, again salvaging as much of the fruity part as you can.
Then, slice the pineapple into smaller discs and then cut those into smaller chunks. Be sure to discard the lighter colored center core – it's not pleasant to eat.
Apple
You can either core the apple or cut around the core so you have apple wedges.
Cut the apple wedges into smaller, bite-size pieces.
Grapes 
Slice them in half. I like to cut them the long way for aesthetics.
Banana 
Slice into small discs. Keep the slices relatively thick so the banana doesn't become too mushy too quickly in the salad.
Pro tip
Cut similar size pieces of fruit so the salad is relatively uniform.
Can you use frozen fruit?
I don't recommend using frozen fruit in this recipe. It will become mushy and watery when thawed so the results won't be the same.
Is fruit salad healthy?
This fruit salad is absolutely healthy. It's loaded with fiber, antioxidants, vitamins, and minerals such as folate, vitamin C and potassium!
One serving contains about 115 calories, 1 gram of fat, 29 grams of carbs, and 1 gram of protein.
What is lemon zest?
Lemon zest is created by shaving the peel off the outside of a lemon. It's super easy to do! Simply wash and dry your lemon, then use a microplane to remove the yellow peel.
Pro tip
Only zest the yellow part of the peel. Once you get into the whiter under-layer, stop and move to a different part of the lemon, because the white is very bitter tasting!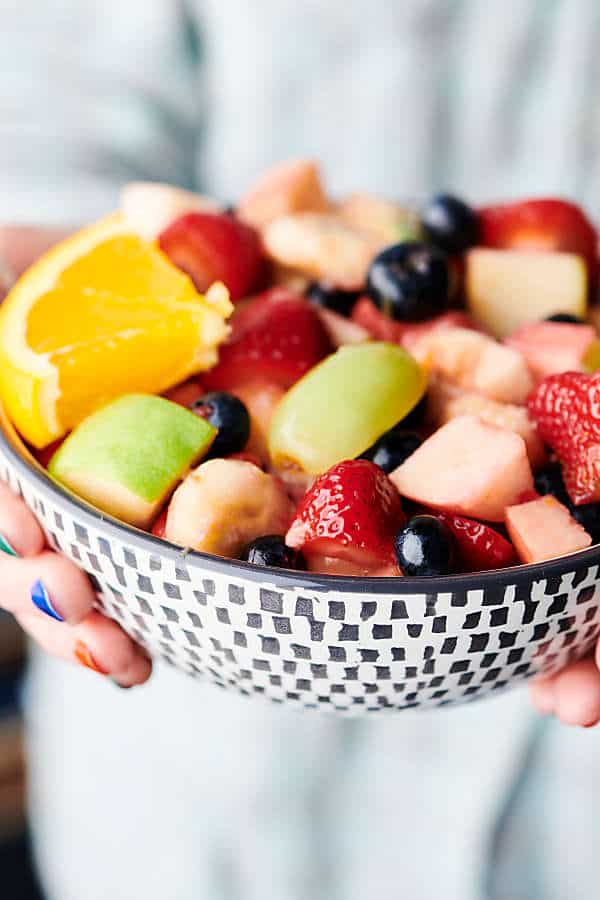 Variations
Use other fruit. Any in-season fruit will work. Mix and match. Get creative! Mango, pitted cherries, blackberries, etc. You can't go wrong!
Add nuts. Add chopped pecans, walnuts, cashews, macadamia nut slices, or even candied pecans for some crunch. Or try this fruit salad with honey walnuts recipe!
Add fresh herbs. Lavender, basil, you name it! Mix some fresh, chopped leaves into your salad for a flavor twist. Or try it with mint like I do in this berry fruit salad!
Add whipped cream or whipped coconut cream. Okay, I know this makes it less healthy but it's so good. 😉
What to serve with fruit salad
Fruit salad is a perfect snack to have alone, but I also love to serve it as a side dish with a light, healthy, fresh dinner. Here are some of my favorite recipes!
It's also delicious as a dessert with a dollop of whipped cream, peanut butter, and dark chocolate drizzle. 😉
How to keep fruit salad fresh
Sometimes fruit salad is difficult to keep fresh, because some of the fruit may start to turn brown due to exposure to air. Bananas and apples are the main culprits behind oxidization. However, adding some acidity and storing the fruit salad is a sealed airtight container can help to keep the salad fresh longer.
In this case, we add freshly-squeezed orange juice (our acid) and used tupperware (our airtight container).
How to store
Fruit salad is best served right away, but any leftovers will keep in an airtight container in the refrigerator for 3-5 days.
Pro tip
Don't add the bananas until you're ready to serve. They become brown quickly!
Can you freeze fruit salad?
I don't recommend freezing this recipe. Thawing and serving it again will most likely result in a watery, mushy mess.
– Jennifer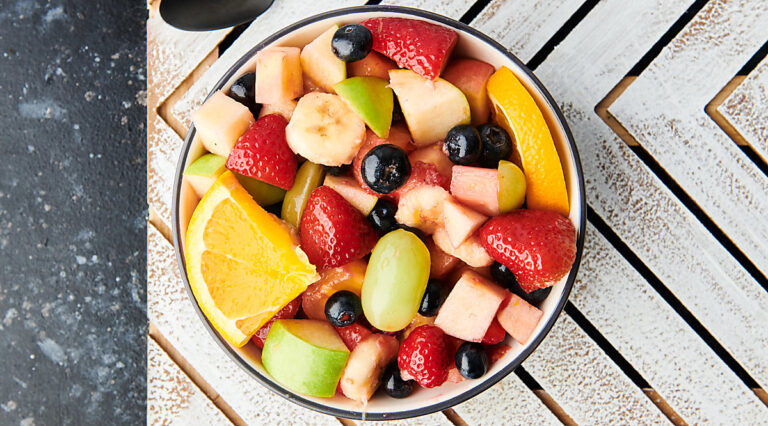 Fruit Salad
This Fruit Salad is packed with all your favorite fresh fruits and tossed in a healthy dressing. This quick and easy recipe makes the perfect summer snack, side dish, or dessert!
Equipment for this recipe
(equipment shown are affiliate links)
Ingredients
1

(1 pound) container

strawberries

halved

1

(6 oz) container

blueberries

1

(6 oz) container)

raspberries

2

bananas

sliced

2

apples

cubed - I like honeycrisp

2

cups

green grapes

halved if desired

2

cups

pineapple chunks

1-2

oranges

juiced (about

1/4

-

1/3 cup

)

1

tablespoon

pure maple syrup

1/2

tablespoon

vanilla extract

1

lemon

zested
Instructions
Place washed, dried, and prepared fruit into a large bowl.

Add in orange juice, maple syrup, vanilla, and lemon zest.

Serve immediately or cover and store in the fridge until ready to serve!
STORING
*Storage times may vary based on temperature and conditions
Nutrition Information
Nutrition Facts
Fruit Salad
Amount Per Serving (1 serving)
Calories 117
Calories from Fat 9
% Daily Value*
Fat 1g2%
Sodium 2mg0%
Potassium 326mg9%
Carbohydrates 29g10%
Protein 1g2%
Vitamin A 107IU2%
Vitamin C 46mg56%
Calcium 31mg3%
Iron 1mg6%
* Percent Daily Values are based on a 2000 calorie diet.
*Note: Nutrition information is estimated and varies based on products used.
Keywords:
fresh, healthy snack, summer salad