Easy No Cook Summer Recipes. Because it's toooooo darn hot.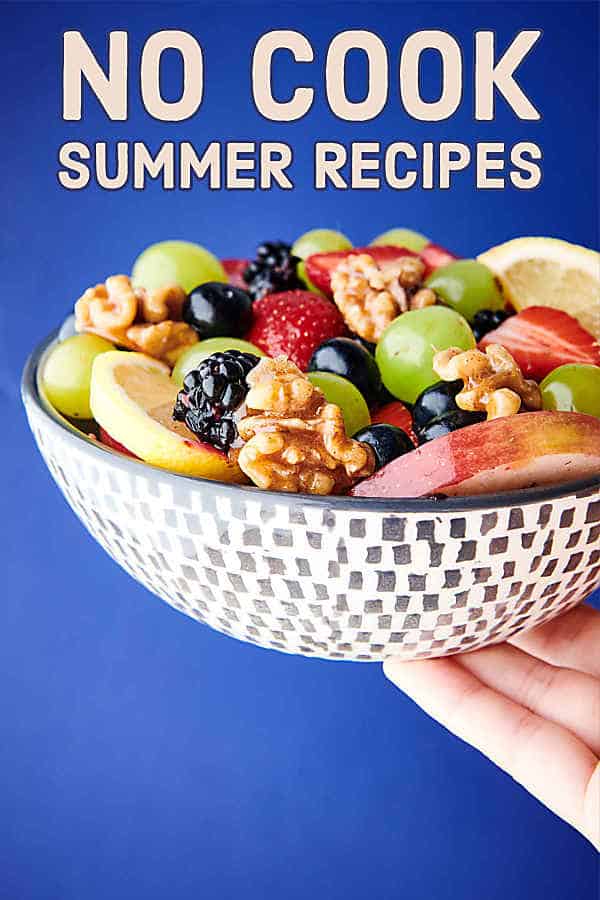 If you love to cook, but the summer heat has you running from the kitchen, these recipes are for you! I've got everything from cooling breakfasts, to lunches, dinners, and desserts!
Who's ready to cook AND stay cool?!
No Cook Summer Breakfast Recipes
These no bake chocolate peanut butter energy bites are the perfect healthy snack. Loaded with all natural peanut butter, honey, old fashioned oats, cocoa powder, vanilla, salt, and dark chocolate. Quick, easy, and they taste like a peanut butter cup!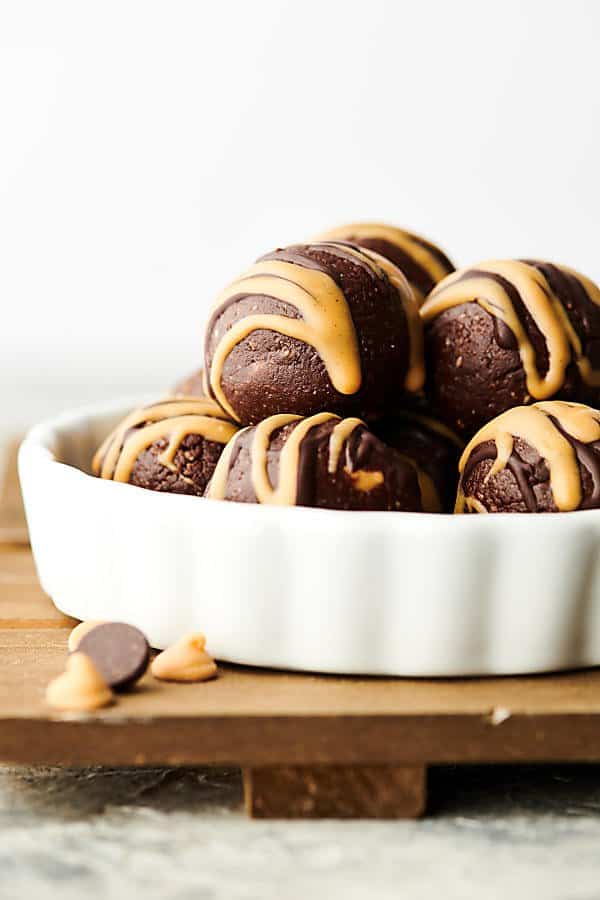 A favorite sandwich from your childhood turned into a healthy smoothie bowl: these peanut butter and jelly smoothie bowls are absolutely delicious! Full of frozen strawberries and all natural peanut butter, they really do taste like the childhood classic!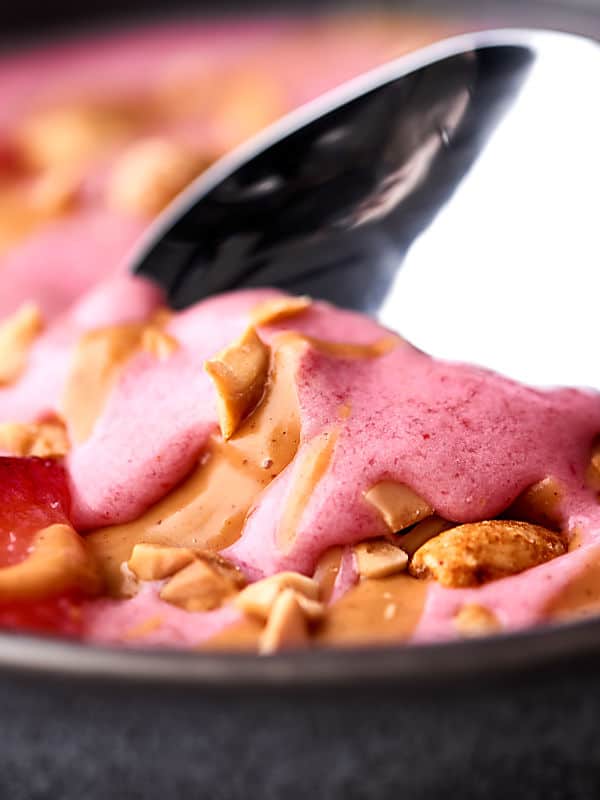 A healthy twist on the classic candy bar, you're going to LOVE these Almond Joy Energy Bites. These are naturally sweetened with dates and loaded with almond butter (or nut butter of choice), a touch of coconut oil, oats (gluten free certified if necessary), unsweetened flaked coconut, vanilla and almond extract, salt and drizzled with chocolate! Vegan. Gluten free.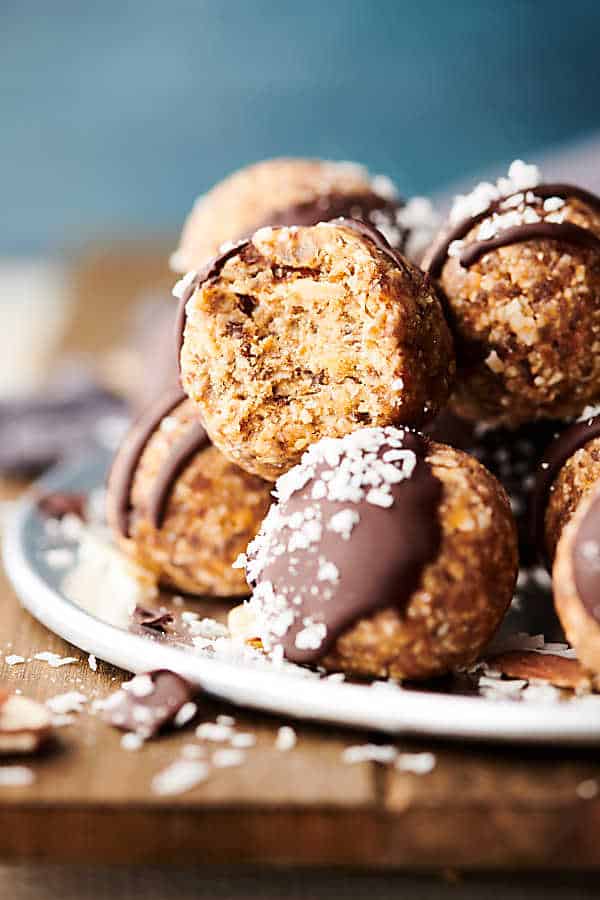 Overnight Oats Recipe 3 Ways! 1. Peanut Butter Honey Banana 2. Blueberry Greek Yogurt (no banana) 3. Vegan Strawberry Banana. All healthy, easy & delicious!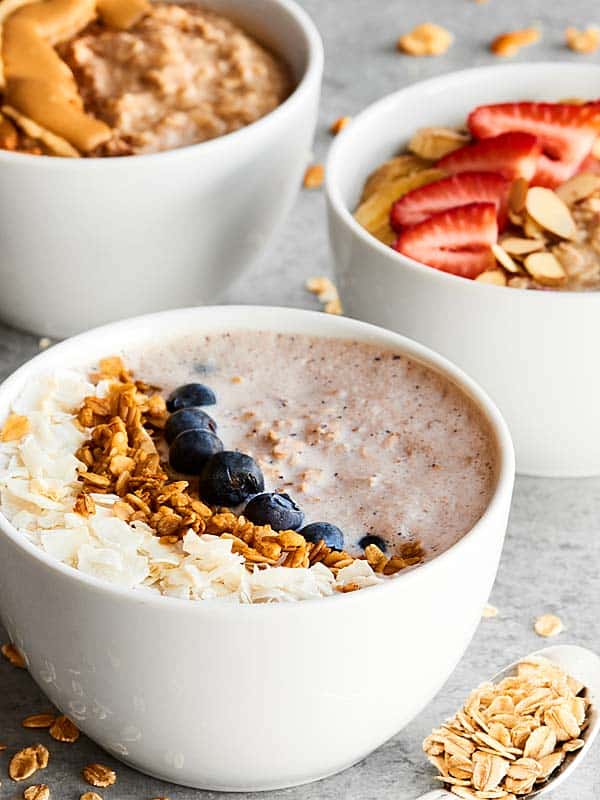 These Peanut Butter Energy Bites are the perfect healthier treat to satisfy your sweet tooth! Full of all natural peanut butter, oats, and just a touch of honey! Only 130 calories! Gluten free. Vegetarian.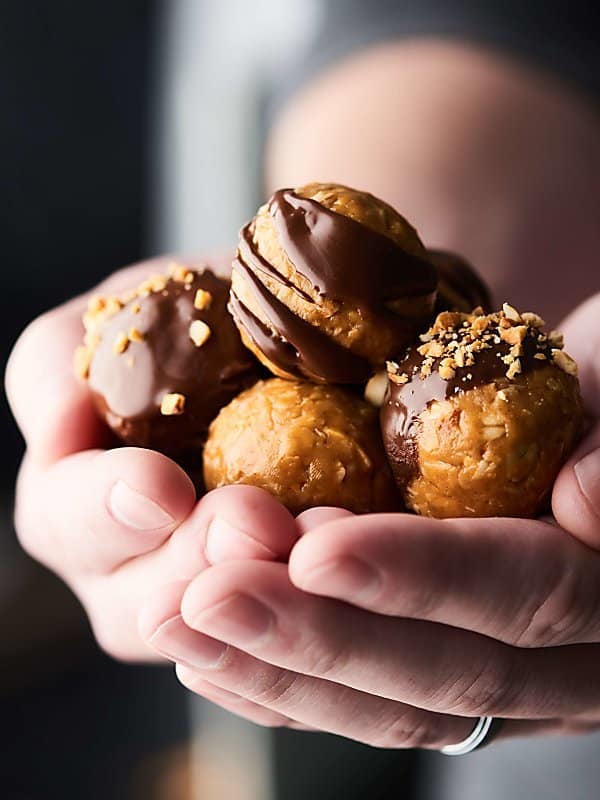 No Cook Summer Lunch Recipes
Mediterranean Chickpea Egg Salad Recipe. A chopped salad loaded with chickpeas, hard boiled eggs, red peppers, green peppers, cucumber, onion, kalamata olives, red wine vinegar, garlic powder, oregano, basil, dill, and salt! Vegetarian. Dairy Free. Gluten Free. Meal prep friendly! Healthy lunch!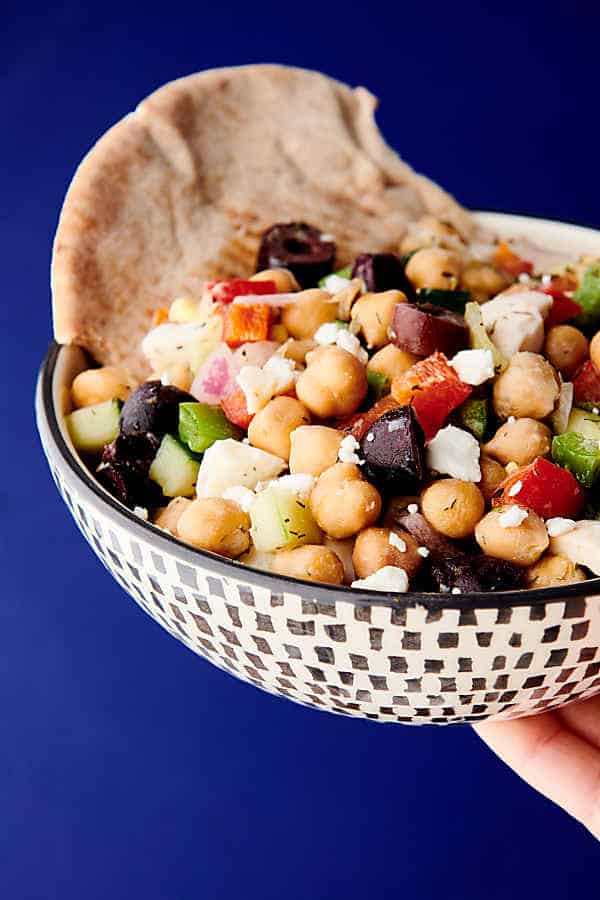 This Spicy Tuna Roll Bowl is a deconstructed version of the spicy tuna roll. Protein packed tuna, brown rice, and veggies all smothered in the most magically spicy mayo sauce. This bowl is *almost* too good to be true!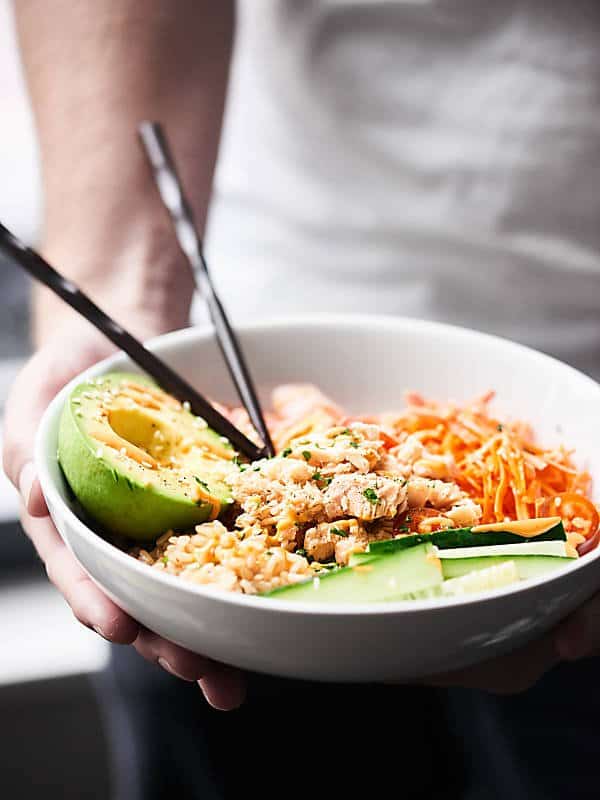 This Easy Egg Salad Recipe is great for a quick and easy, healthy, gluten free, vegetarian, low carb, meal prep lunch! Hard boiled eggs with celery, red onion, light mayo, non fat plain greek yogurt, dijon, and spices! Less than 150 calories per serving!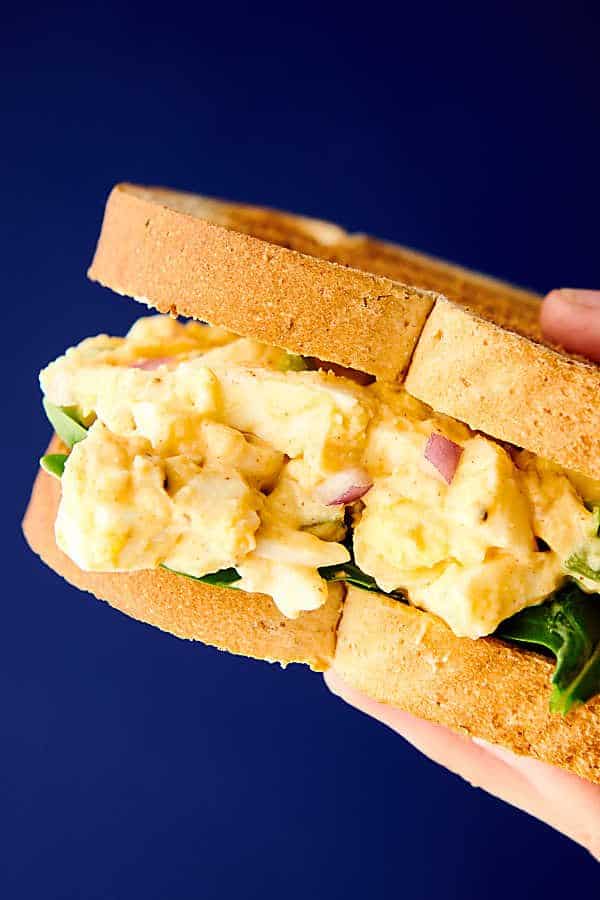 This Shrimp Avocado Salad Recipe is perfect for hot summer days! It's an EASY, cold, no-cook, healthy, refreshing salad full of shrimp, avocado, cucumbers, sun dried tomatoes, lemon juice, spices, and more!
Southwestern chicken salad cups. Baked wonton cups filled with chicken, corn, beans, peppers, greek yogurt, lime, and taco seasonings! About 100 calories per cup! Great for easy lunches, snacks, or a big party!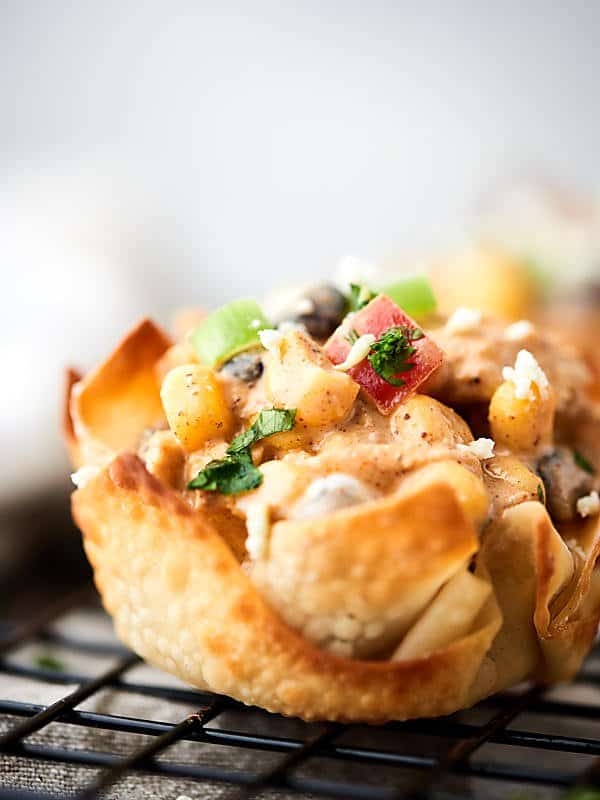 No Cook Summer Apps, Snacks, & Side Dish Recipes
This Easy Caprese Salad is an easy, fresh summer classic! Juicy sliced tomatoes and creamy mozzarella seasoned with extra virgin olive oil, balsamic vinegar, garlic, fresh basil, and salt. Don't forget the extra drizzle of balsamic glaze!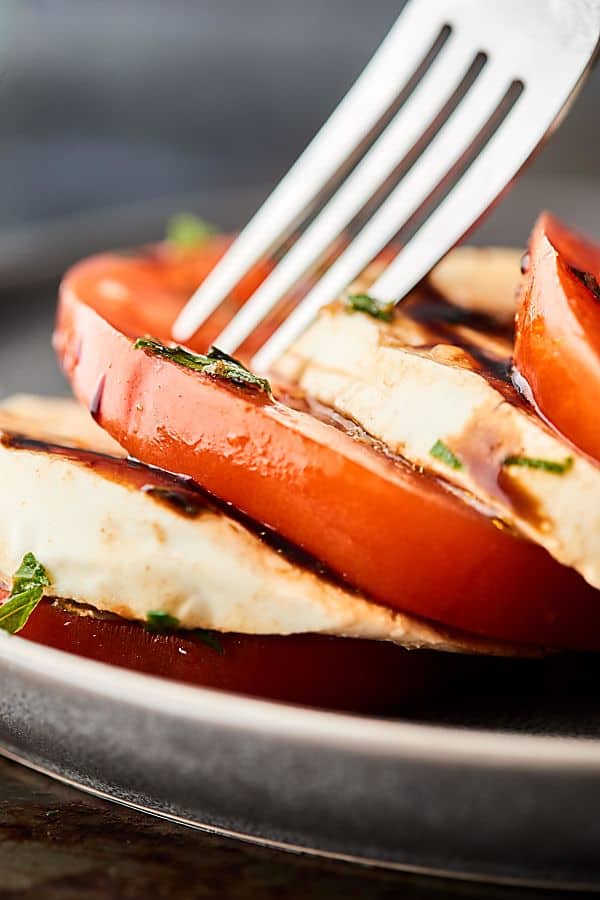 These Easy Deviled Eggs are a cinch to make thanks to my trick for making the best hard boiled eggs! They're also delicious and loaded with the creamiest filling of mayo, apple cider vinegar, dijon, horseradish, Worcestershire, relish, salt, paprika, and chives!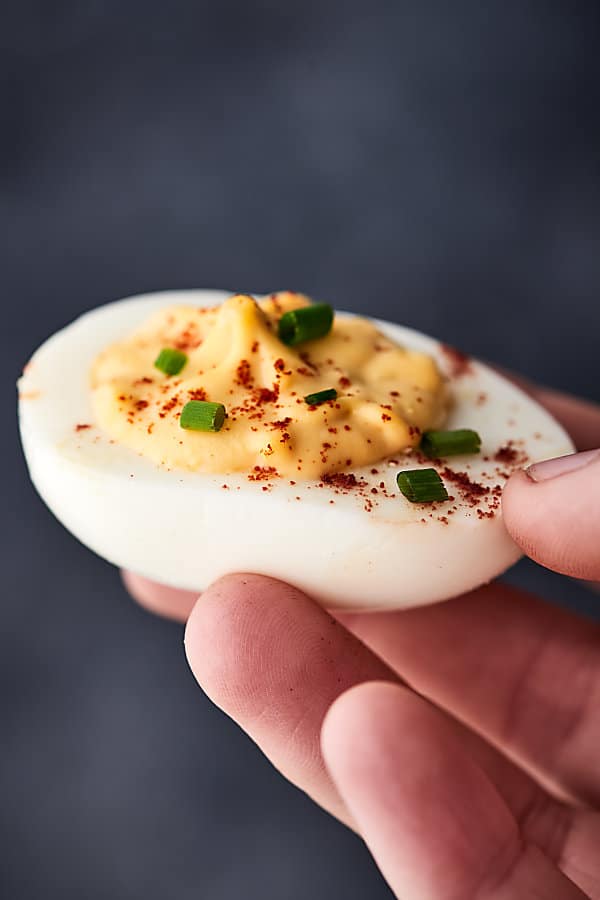 This fruit salad with honey walnuts is the perfect summer salad. Loaded with strawberries, blueberries, blackberries, apples, grapes, orange juice, and lemon zest. Topped with the most delicious honey walnuts made with butter, honey, cinnamon, and salt!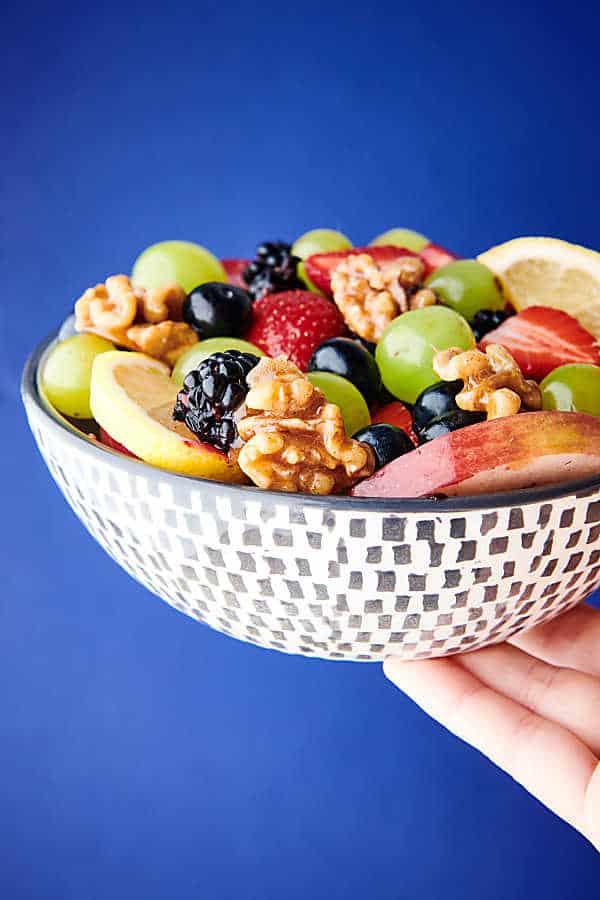 This easy bruschetta recipe is a healthy summer classic! Juicy tomatoes tossed with sun dried tomatoes, garlic, a touch of oil, balsamic vinegar, and fresh basil . . . we can't get enough of this stuff!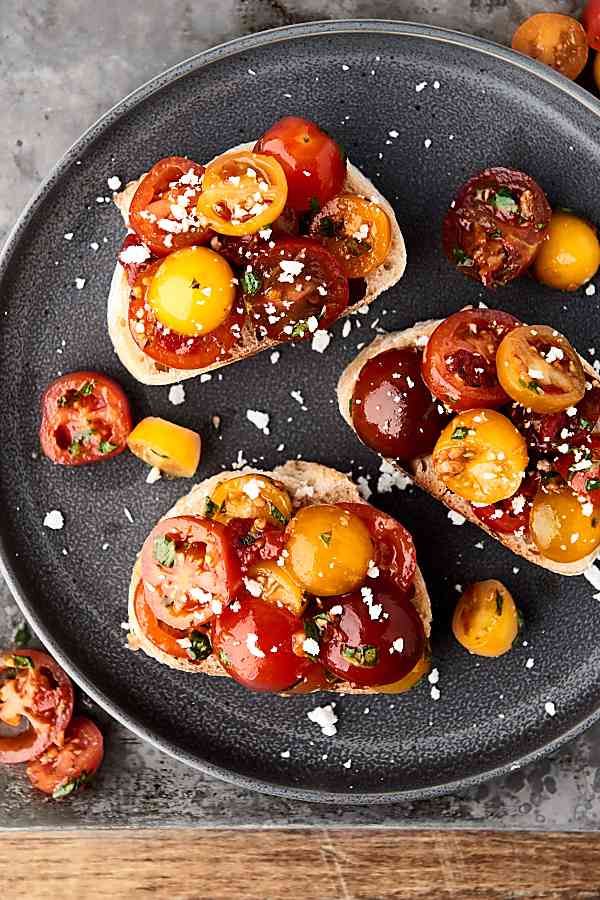 This Easy Pico de Gallo Recipe comes together in a matter of minutes! Fresh tomatoes, onion, cilantro, jalapeno, lime, & garlic make this truly delicious.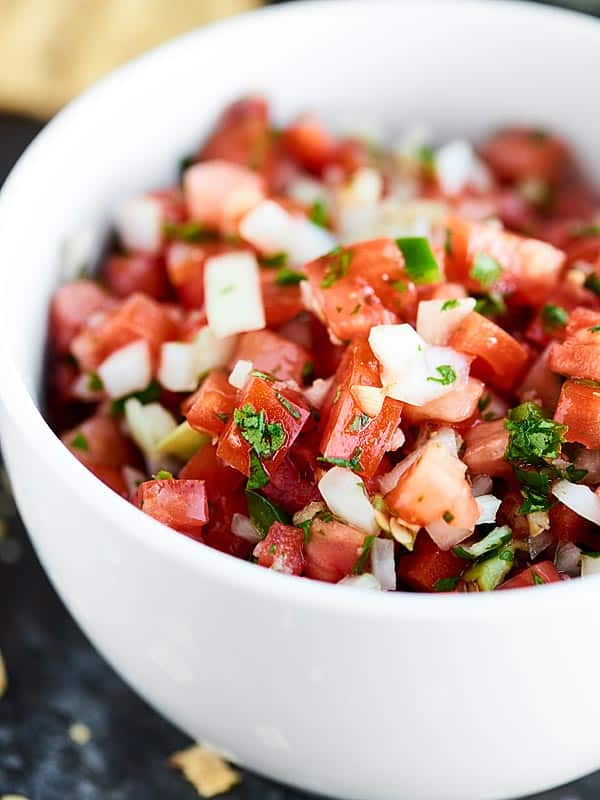 No Cook Summer Dinner Recipes
Spicy Tuna Roll Stuffed Avocados. A spicy tuna roll inspired filling: olive oil mayo, sriracha, vinegar, soy sauce, sesame oil, canned cooked tuna, cucumber, and red bell pepper stuffed into an avocado for a quick, easy, healthy, meal prep, make ahead lunch!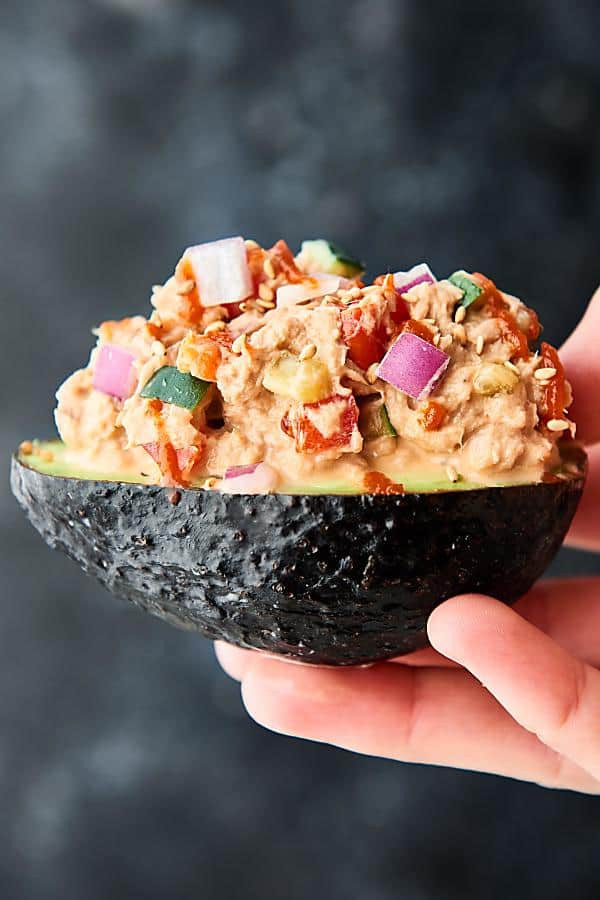 This Antipasto Farro Salad is loaded with farro and all your favorite antipasto ingredients: roasted red pepper, tomatoes, onion, pepperoni, salami, mozzarella, pepperoncinis, olives, and more! Light yet SO satisfying.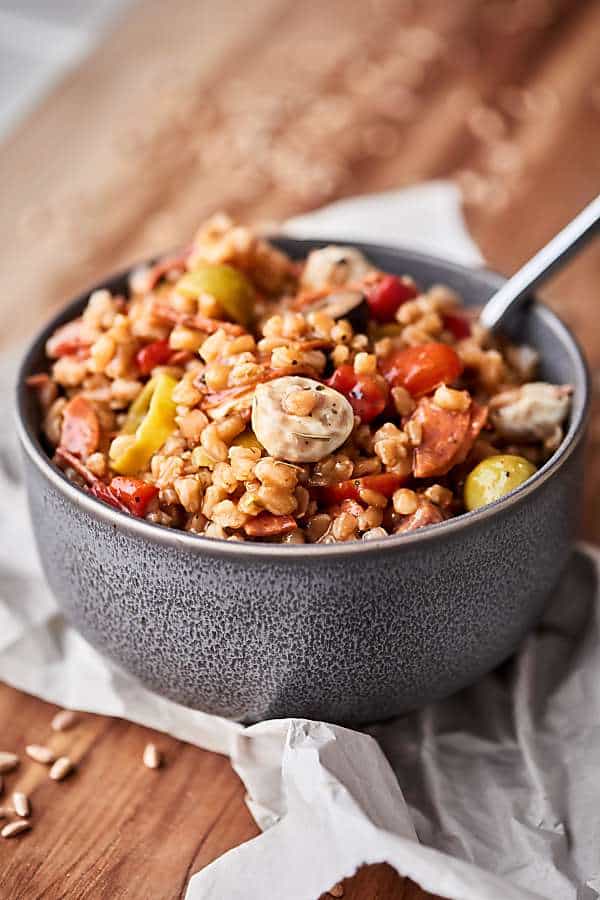 This Avocado Pesto Recipe is vegan, gluten free, oil free, and oh yeah, absolutely delicious! Packed with fresh herbs, garlic, pistachios, nutritional yeast, and more!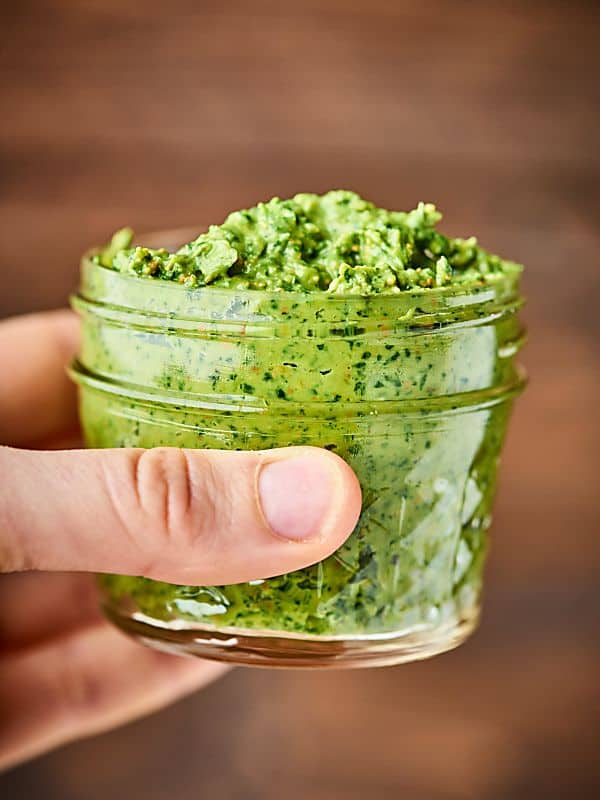 This Antipasto Chicken Salad Recipe only takes 10 minutes to put together and is full of all your favorite antipasto ingredients: pepperoni, mozzarella, basil, roasted red peppers, and more!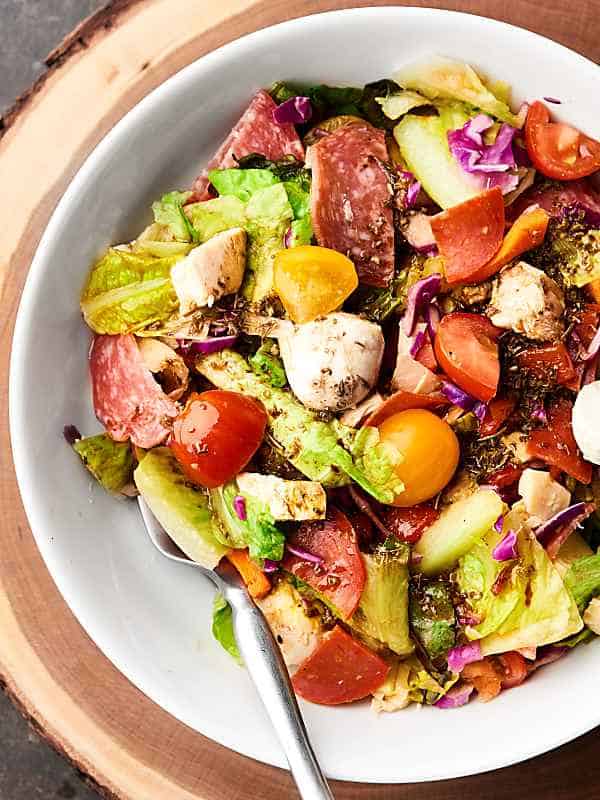 These healthy chickpea lettuce wraps are so quick and easy to put together, taste great, are vegetarian, and of course, are super healthy!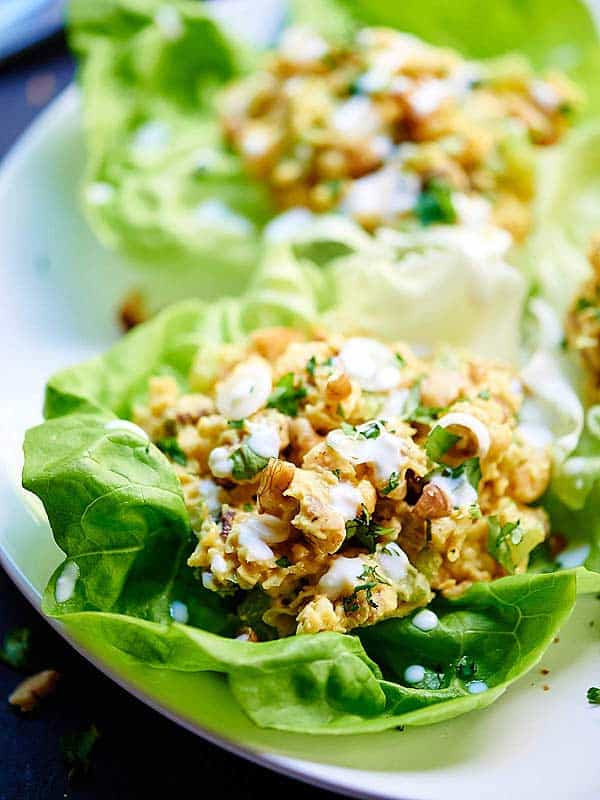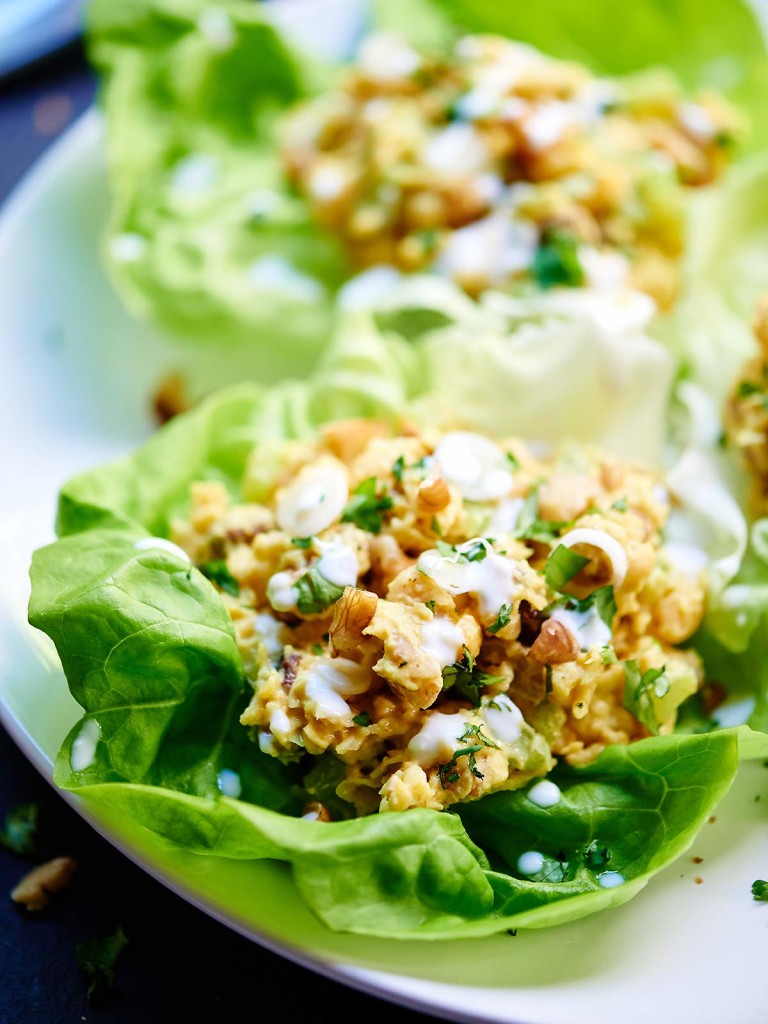 No Cook Summer Dessert Recipes
Healthy Chocolate Peanut Butter Banana Ice Cream. This ultra creamy "nice cream" is made with frozen bananas, cocoa powder, all natural peanut butter, vanilla extract, almond extract, cinnamon, and optional milk and pure maple syrup! Gluten free. Vegan.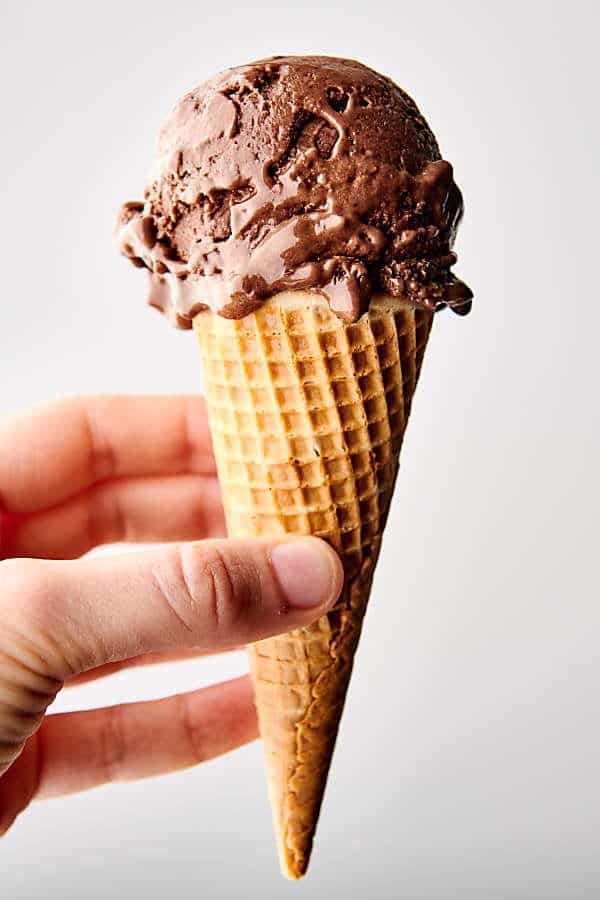 Lighter Lemon Walnut No Bake Cheesecakes. A naturally sweetened walnut date crust topped with a creamy coconut yogurt, cream cheese, honey, lemon filling! I love this quick and easy recipe with a short ingredient list!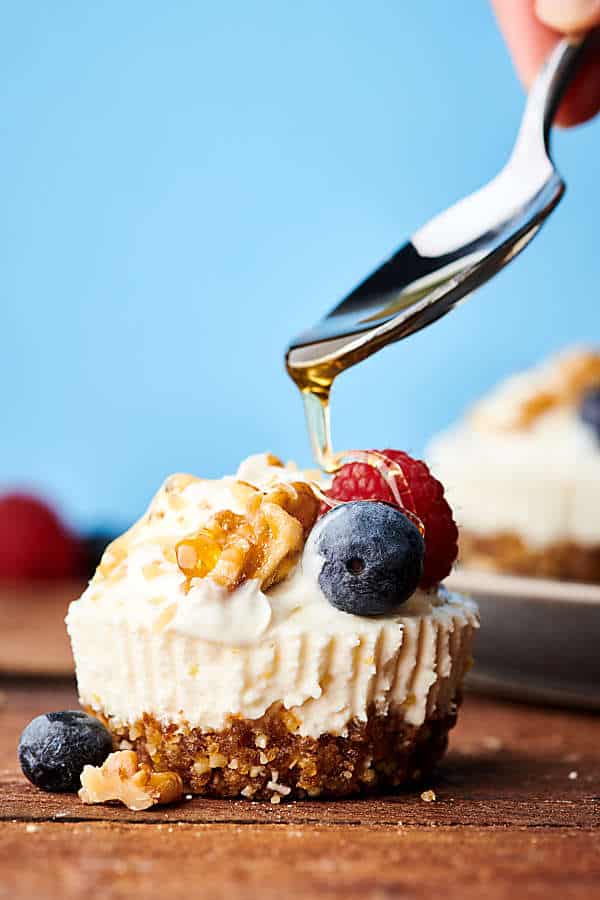 No ice cream machine is needed to make this No Churn Mint Oreo Ice Cream Recipe! 7 ingredients & 10 minutes for the fluffiest, creamiest ice cream ever!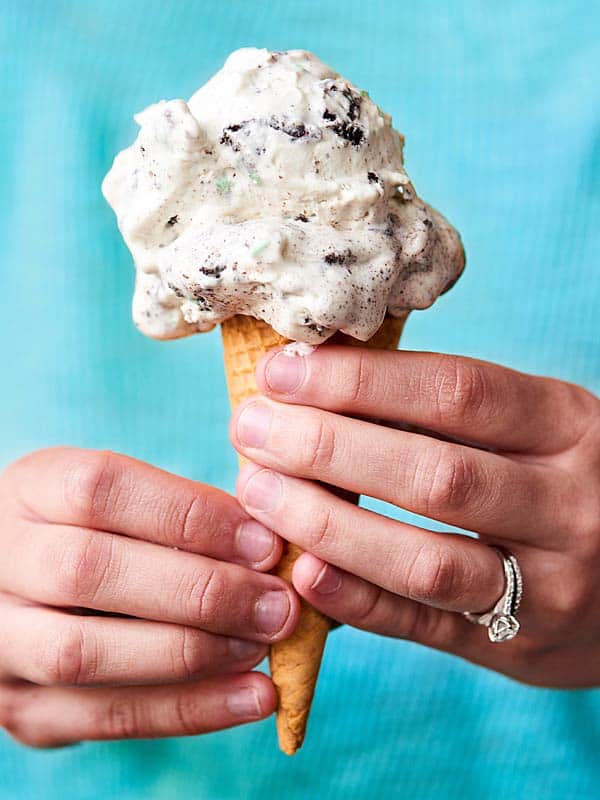 Easy Homemade Copycat Thin Mint Cookie Recipe. Your choice of chocolate: baker's chocolate (semi-sweet, dark, or milk) OR Andes Mints AND your choice of cookie base: Ritz cracker, Oreo Thins, or Nilla Wafers! You're 5 minutes and 2-4 ingredients away from deliciousness!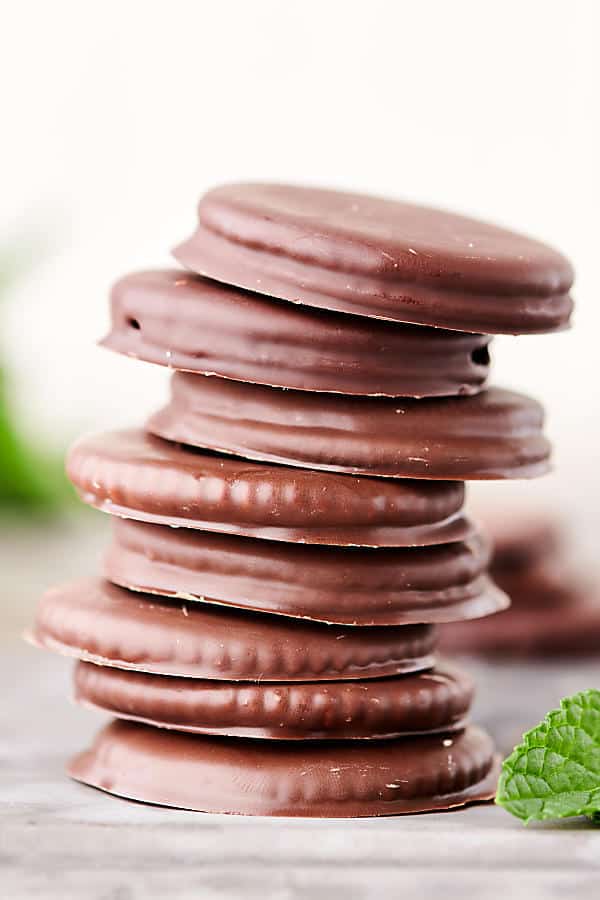 This No Churn Roasted S'Mores Ice Cream Recipe is insanely quick and easy to make and is loaded with hot fudge, roasted marshmallows, and crunchy graham crackers! Only 7 ingredients needed and NO ice cream machine required!

Eat well and stay cool!
– Jennifer
What other no bake/no cook recipes do you want to see this summer? Show Me the Yummy!