The ultimate guide to St Patrick's Day Food! Whether you want breakfast, dinner, desserts, or something green we've got you covered!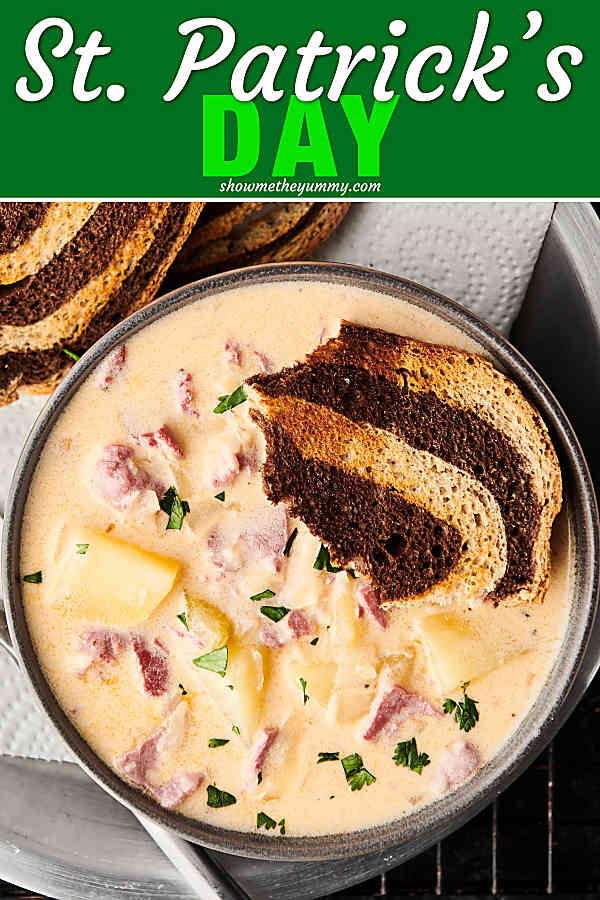 What are traditional irish foods?
Staples of a traditional Irish diet include foods like potatoes, bread, cheese, and meat—specifically pork, lamb, and corned beef.
Commonly eaten vegetables include carrots, cabbage, rhubarb, and leeks while commonly eaten fruits include apples and plums.
When I'm cooking for St. Patrick's Day, I love recipes that center around many of the commonly eaten Irish foods to celebrate!
What food to eat on st. patrick's day
Usually St. Patrick's day is packed with celebrations — from the parade in the morning to potlucks or parties through the night. Start your day off right by whipping up a hearty breakfast, continue on with a delicious lunch, a few Irish-inspired snacks, and a feast for dinner!
Top it off with pints of Guinness, maybe some Irish whiskey, and you're in for a great St. Patrick's Day! As always, drink responsibly!
Breakfast
Nothing beats coming home from the St. Patty's Day parade to a delicious traditional Irish breakfast…which means anything including bacon, sausage, eggs, bread, or potatoes! Pair that with a mug of Irish coffee and your day will be off to a great start. 😉
Lunch
Ireland is an island, meaning the seafood is always super fresh! Although fish and seafood aren't quite as popular as red meat, it's always nice to add a little variety to your St. Patty's Day eats!
Snacks
My favorite part of St. Patrick's Day might be the snacks! Beer and cheese? Yes please!
Dinner
I absolutely love a classic, comforting, and cozy meat and potatoes dinner—and apparently so do the Irish!
Dessert
These desserts are the perfect way to end a St. Patrick's Day full of good food!
Green food for st. patrick's day
Traditional or not, eating green foods on St. Patrick's Day is classic! Here are some of my favorite green recipes to serve!
Happy St. Patrick's Day!
– Jennifer