Making a quick trip to Montreal? Here's what I think is the PERFECT day in Montreal!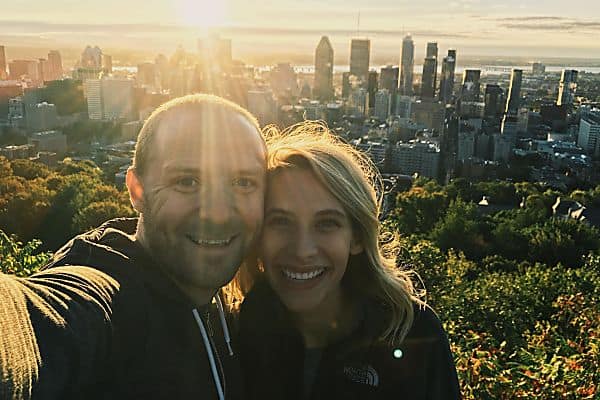 Bienvenue à Montréal! [Welcome to Montreal!]
Trevor and I were SUPER busy working while we were in Montreal and it was a relatively quick trip. Because of this, we only had about a day to get out and explore.
We made the most of it and had a REALLY full day.
Here's what we did for breakfast, lunch, dinner, and dessert (and all the places we walked it off in between 😉 ).
Enjoy!
Grab Breakfast
You can't successfully start your day until you get something in the belly. Apparently there's a HUGE rivalry between two bagel shops in Montreal. So… why stop at one when you can stop at two?!
Fun fact, they're within walking distance of each other and they both serve cream cheese on the side!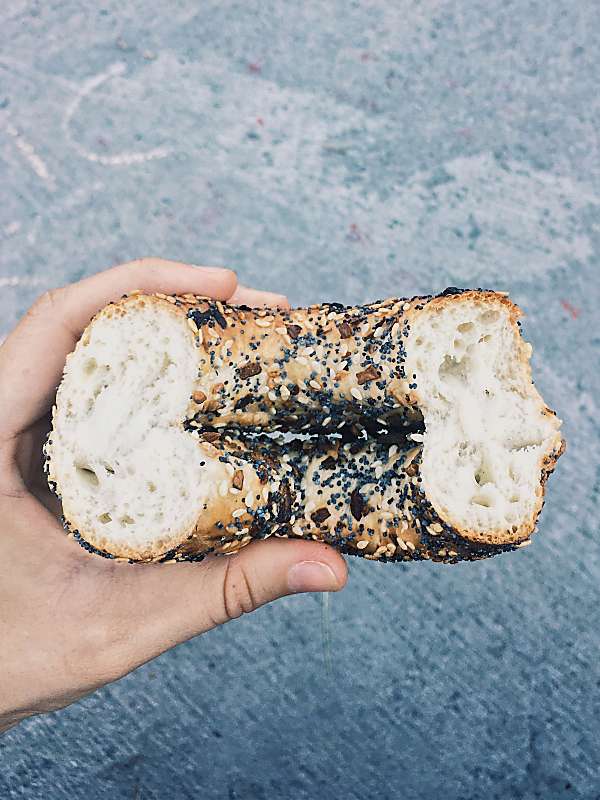 We started here around 11 in the middle of the week and it was PACKED. Literally a line out the door. It's a super small building that you have to wait in a single file line to get to the cash register. We got the "all dressed" aka everything bagel. It was SO chewy and definitely worth the wait.
We came here second – I'm a carb lover – so this day was literally starting out perfectly. There wasn't a line, but it was equally as charming. We got the everything bagel here, too.
Both bagels were absolutely DELICIOUS, but I think the ones from St-Viateur were just a little lighter and chewier.
Time to walk off those bagels and Boulevard Saint-Laurent is just the place to do it. Trevor and I ended up walking about three miles along this street searching for all the amazing murals! We saw too many to count. They're all painted onto sides of buildings and they're all incredible!!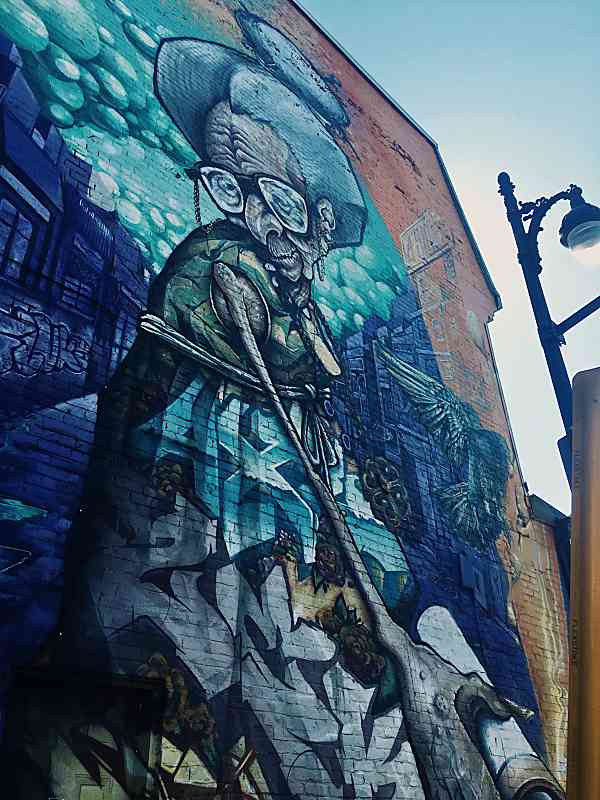 Grab Lunch
Ok. We walked off breakfast, so I'm thinking it's time for lunch. Canada is known for poutine (fries topped with cheese curds and gravy) and we heard that La Banquise is the place to go for the best.
We opted for The Savoyarde which is loaded with bacon, onions, swiss cheese and sour cream. It DEFINITELY did not disappoint.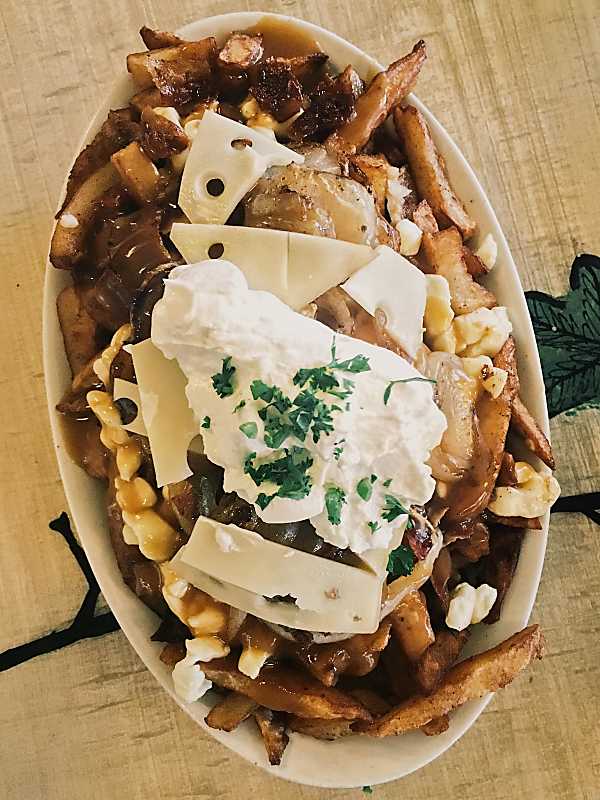 Walk or Boat Down the Lachine Canal
Time to walk it off again AND for a little French lesson. In case you didn't know, the official language of Montreal is actually French! As in, there aren't really a lot of English signs and while practically everyone speaks English, it doesn't hurt to brush up on your French. 😉 So Trevor and I decided to take a walk down by the GORGEOUS Lachine Canal (pro tip: if you go in the summer, rent a paddle boat!) and do a little French lesson!
Here are a few key phrases, WE think are important to know:
Parlez vous anglais? – Do you speak English? 
Je ne parle pas Francais. –

 

I don't speak French.
Bonjour!

 

– Hello!
Ca va? – How are you?
Bien! – Good!
Merci! – Thank you!
S'il vous plaît. – Please.
Je suis désolé. – I'm sorry. 
Où sont les toilettes? – Where are the toilettes? 
Au revoir! – Goodbye!
Grab a Drink
After our little French lesson, Trevor and I decided to grab a drink at Dieu du Ciel. They're known as one of the best brasseries in Montreal and apparently brew one of the best beers in the world!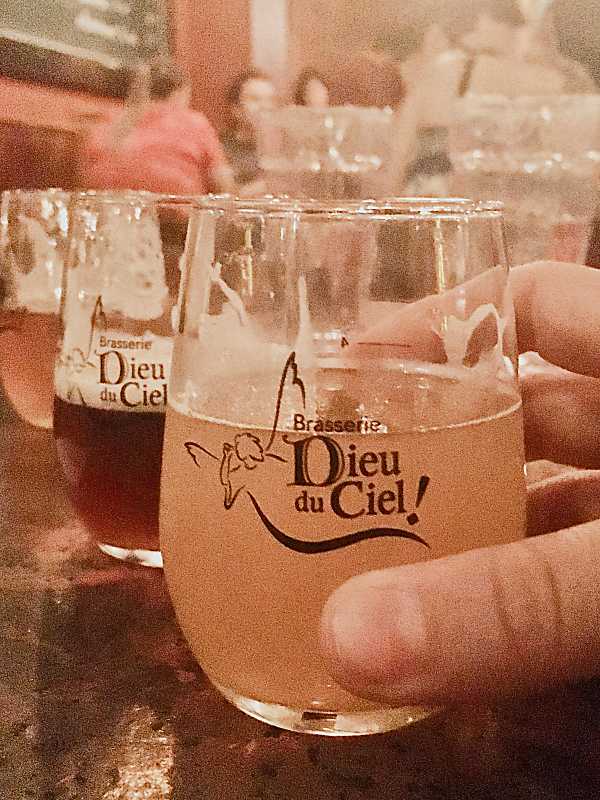 Grab Dinner
Time for another meal. I mean. We did a TON of walking. We deserved it. 😉 We decided to hit up Burger Bar, because Trevor LOVES a good burger. And when in Canada, if you see a Poutine Burger on the menu, you ORDER the Poutine Burger (aka the Hangover Burger): beef patty, American cheese, smoked bacon, mini classic poutine, overeasy fried egg, caramelized onion, truffle oil <— yeah, it's even better than it sounds.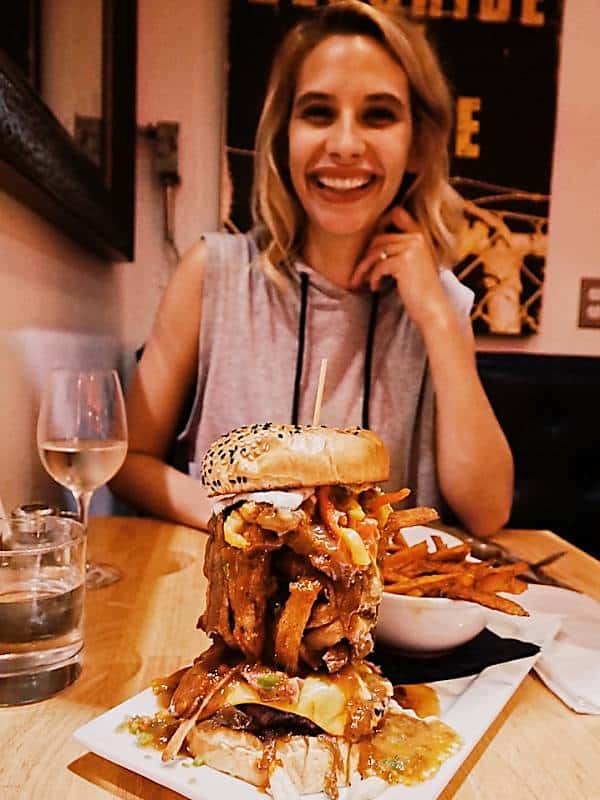 Pro tip: Like spicy? Ask for the hot n' spicy poutine on the burger instead of the classic.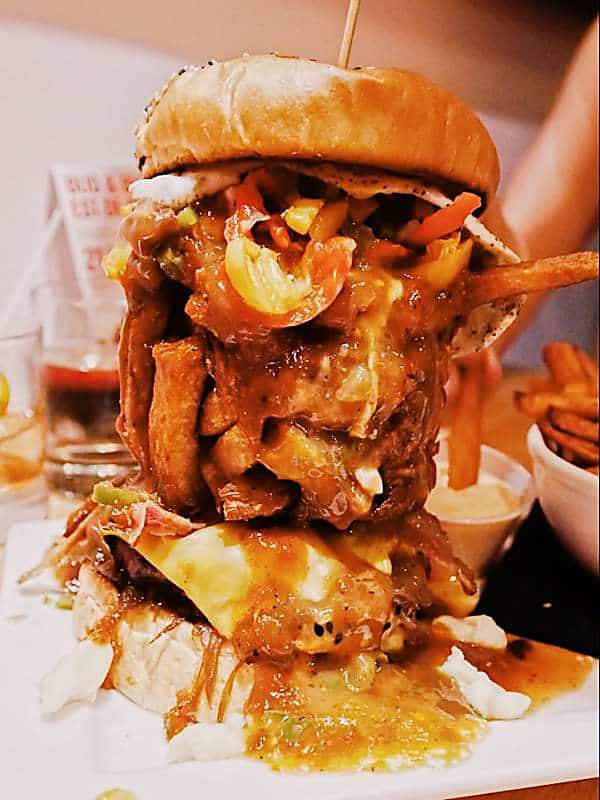 Save Room for Dessert
I ALWAYS save room for dessert. While Trevor's food love may be burgers, mine is ICE CREAM. So we headed to Kem CoBa next and ordered a scoop of the salted butter ice cream. Honestly, it sounds weird, but it may have been the best ice cream I've ever had. It was SO creamy. Highly recommend the salted butter.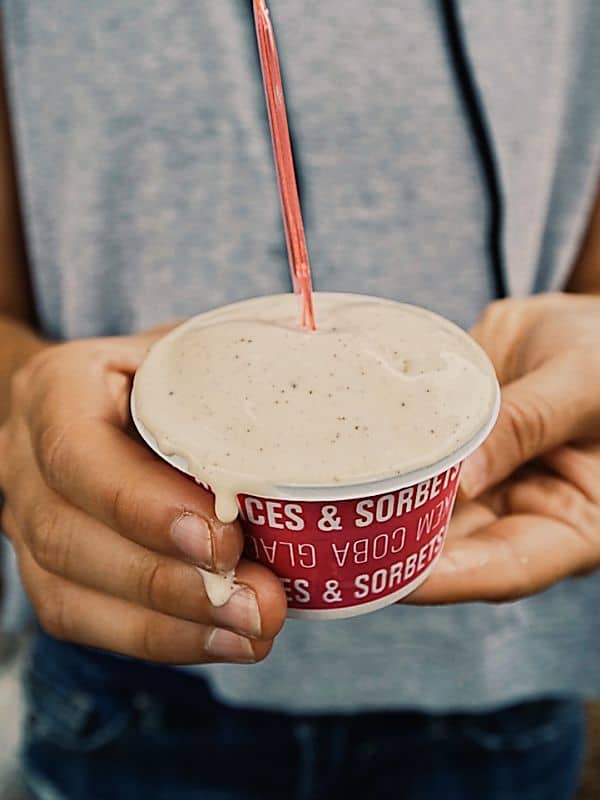 Pro tip: bring Canadian money! I don't think they take credit cards or American money (or if they do, you'll end up spending more, because of the conversion).
Walk it Off at Mont Royal
It's about a 20 minutes hike up to the top (with a TON of stairs), so wear comfortable clothes and shoes. It's the perfect place to see Montreal from a distance. I highly recommend making the hike to see the sunrise or sunset!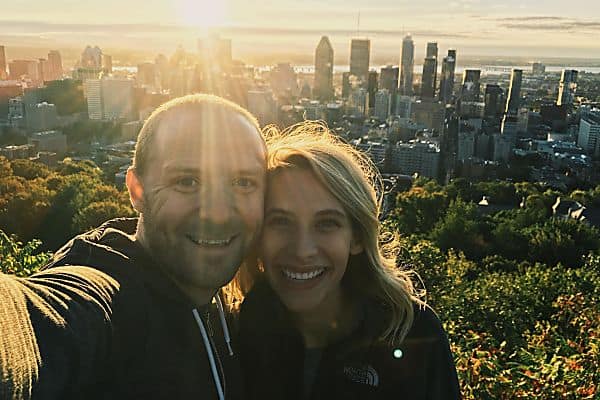 – Jennifer
What did you think of our perfect day in Montreal? What did we miss?