This crockpot BBQ chicken is used to make three different dishes: Sandwiches, Nachos, and a salad! This recipe can easily be doubled if you need to serve more than 6 people!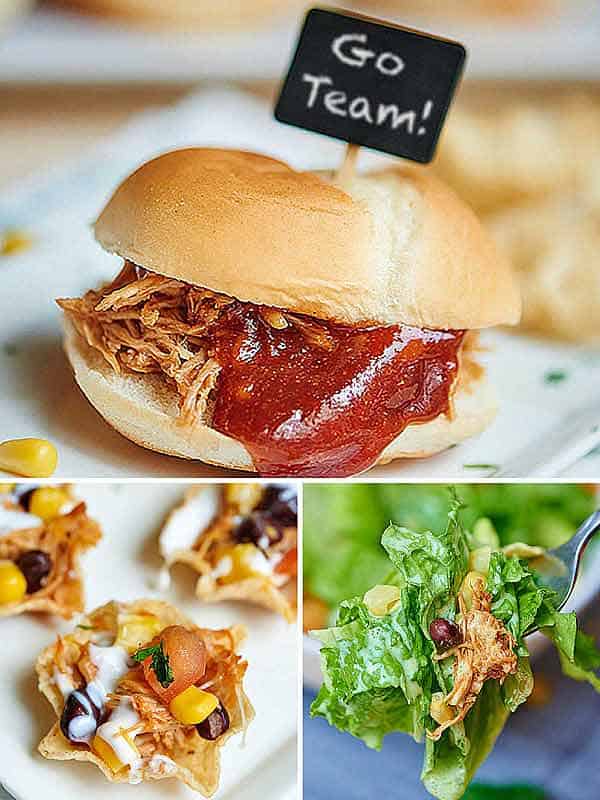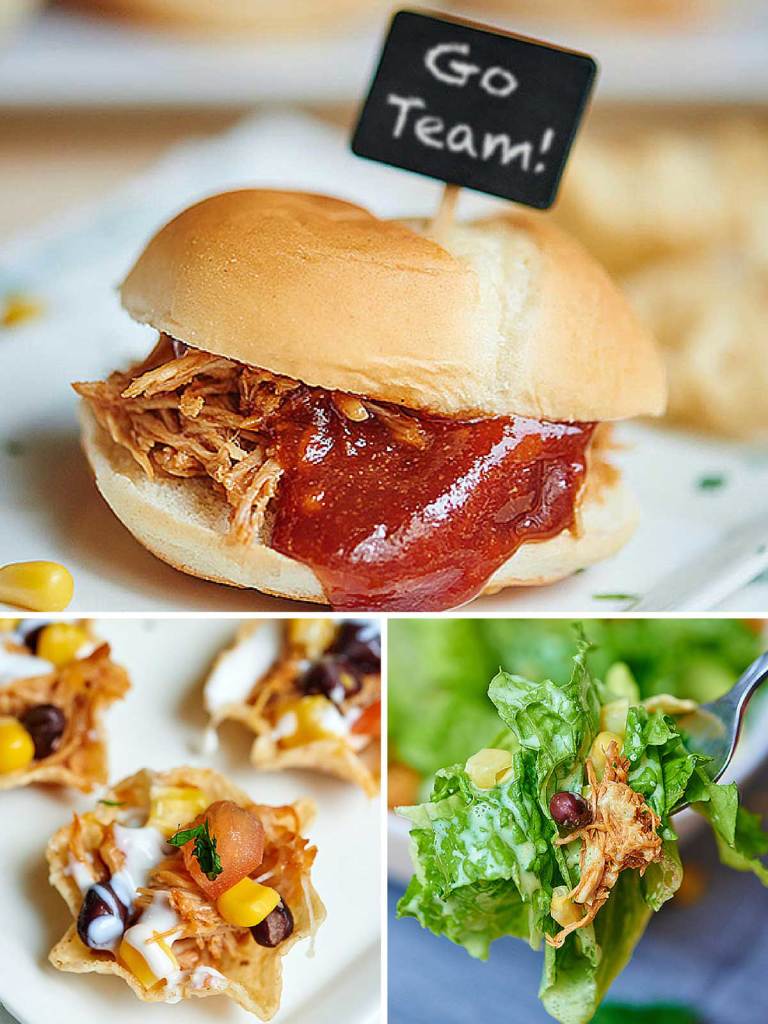 Crockpot BBQ Chicken always seems to be a crowd favorite at events like picnics, high school graduation parties (is that another Iowa thing?), or other large gatherings. There are hardly any complaints, because most people like chicken, it's kid friendly, and you get to put it on a bun and eat it with your hands.
Now, I know I keep talking about the Superbowl, but I really want you guys to feel extra prepared. So prepared in fact, that people will forget there's a game on, because they're all surrounding the food. Juuuust kidding. I'll be alone. With the food 🙂
I'm sure some of you aren't fans of spicy food, like this crockpot jalapeno popper white chicken chili, so I wanted to make something that you can just throw together and forget about for game day. I decided to make, Crockpot BBQ Chicken with a homemade BBQ sauce, but here's the twist: I'll show you how to serve it three ways!
This crockpot BBQ chicken is a great versatile way to serve a crowd. You could use store bought BBQ sauce, but I much prefer making my own. It takes less than 5 minutes to put together and the flavor really is so much better than store bought, plus it's customizable to suit your taste buds!
If you're making the homemade BBQ sauce, place ketchup, brown sugar, worcestershire sauce, apple cider vinegar, sriracha (just a squirt, so it's not spicy), garlic powder, mustard powder, and salt in a bowl. Give it a whisk and set aside.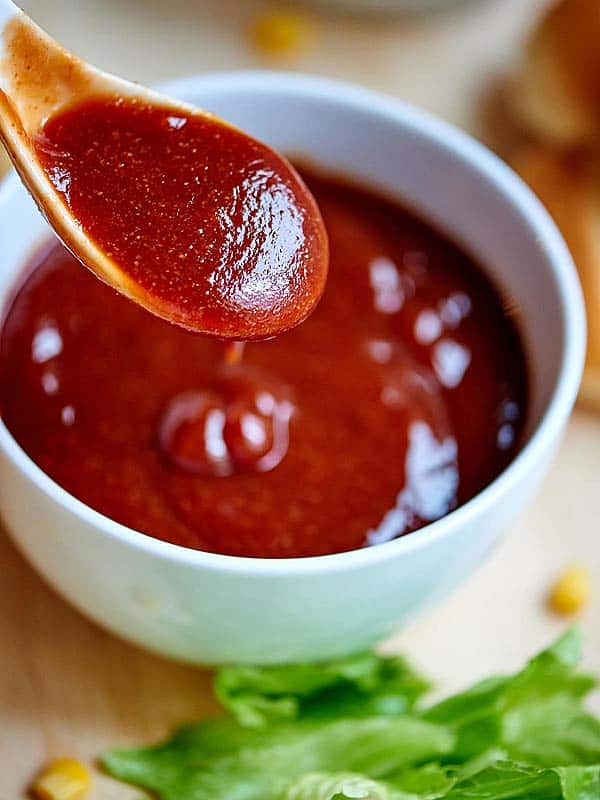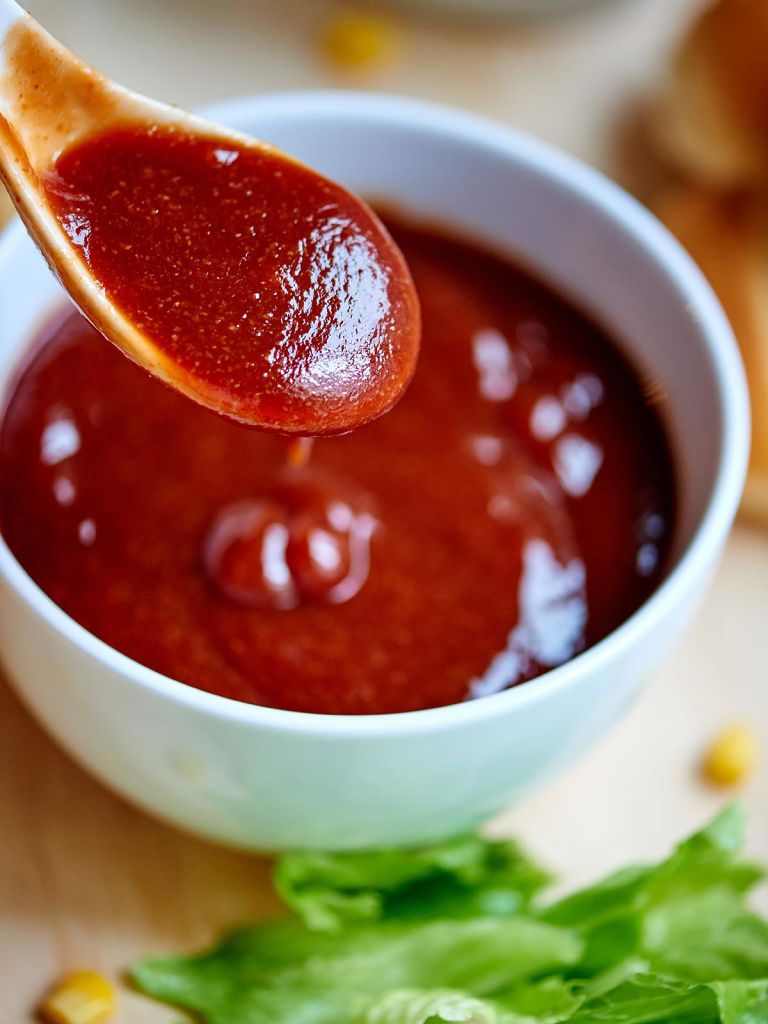 Now get your crockpot and grease it with cooking spray. Make sure you get the bottom and the sides. Place some BBQ sauce in the bottom of the crockpot (I use this crockpot by Hamilton Beach
and it's ahhhhhmazing) and top with the chicken. Spread more BBQ sauce on top of the chicken breasts, reserving some for topping later, if desired. I would suggest reserving some BBQ sauce, just in case people want to top their food with more later! Set the crock pot to low and cook for  7 – 8 hours. Once cooked, shred the chicken in the crockpot. You can stir in more BBQ sauce now too if it's not saucy enough for you.
Now for the fun part! After your chicken is ready, you can let people serve themselves! BBQ Chicken Three Ways:
1. Crockpot BBQ Chicken Sandwiches: For the classic Super Bowl eater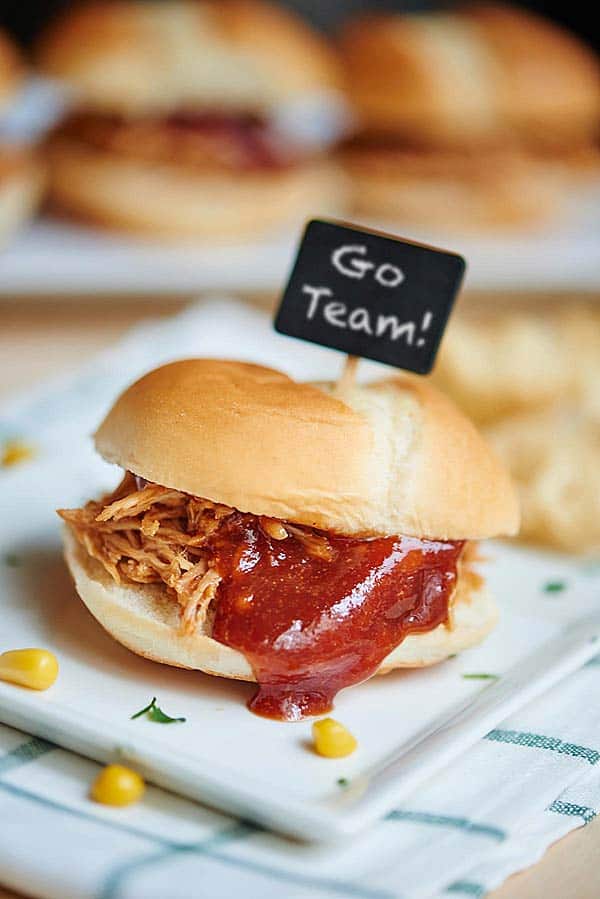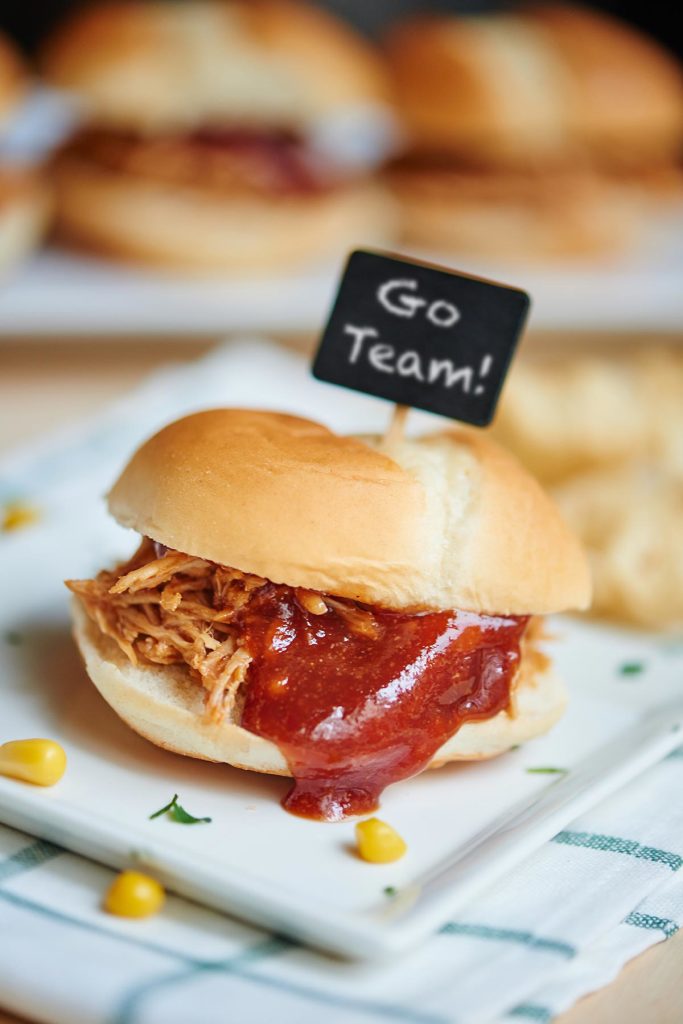 Have people make their own sandwiches. Need I say more? I'm using mini slider buns, so people can munch all day long. Ok fine. I just thought they were really cute. There really is nothing quite as satisfying as a juicy, saucy, BBQ chicken sandwich. Want to kick it up a notch? Toast your buns! I toast my buns in a non stick pan over medium heat. Split the bun in half and toast until ummm it's toasty. 😉
2. Crockpot BBQ Chicken Nachos: For the snacker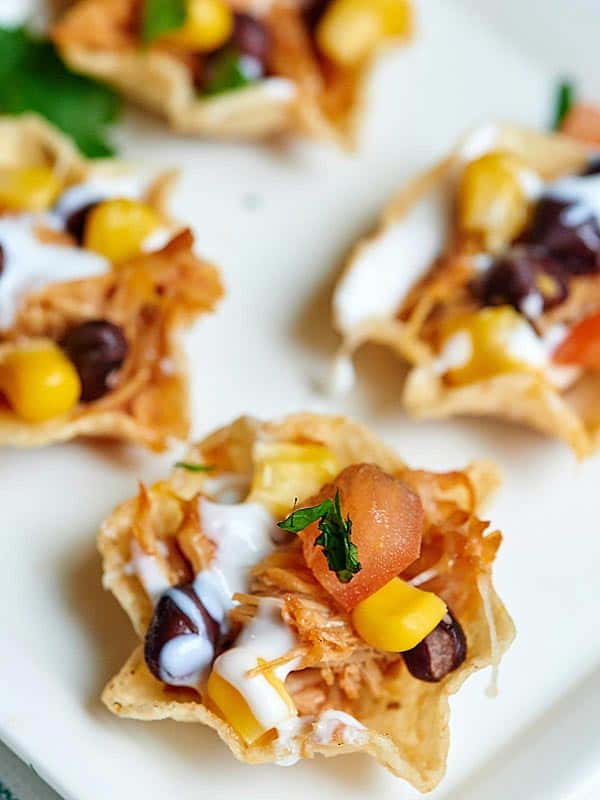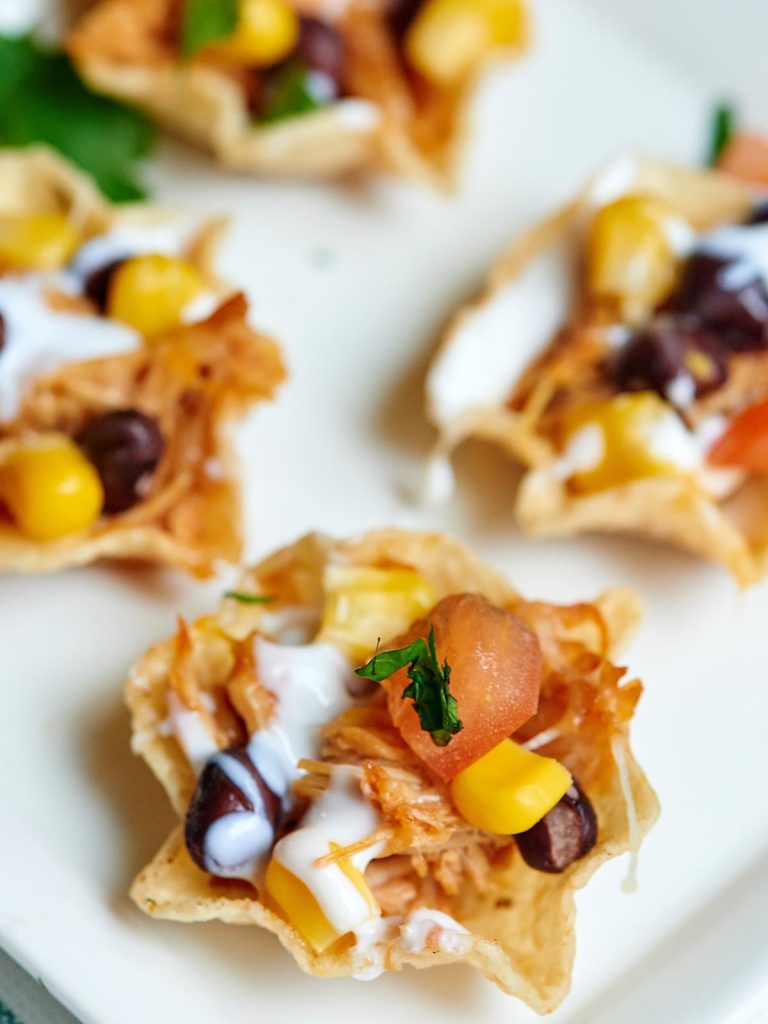 Make these into bite sized cups, or make a big batch of messy, saucy, cheesy nachos. I like the idea of placing BBQ chicken in Tostitos scoops and topping with black beans, corn, and cheese. BTW – corn should always be on your nachos, I may be behind, but I just discovered this and I'm officially obsessed. Bake them up at 350 degrees F for about 5 – 10 minutes, or until the cheese is melty and top with sour cream, salsa, or your favorite nacho toppings! If don't want to make bite sized nacho cups, go ahead and place chips on a baking sheet and top with BBQ chicken, black beans, corn, cheese and bake (if you do this, watch them… depending on how you lay them out the baking time may vary from the recipe)!
3. Crockpot BBQ Chicken Salad: For the health nut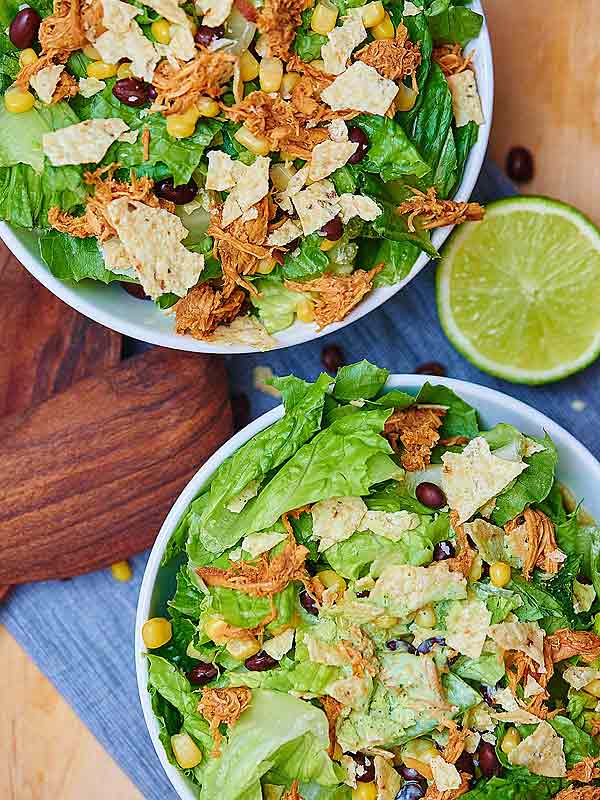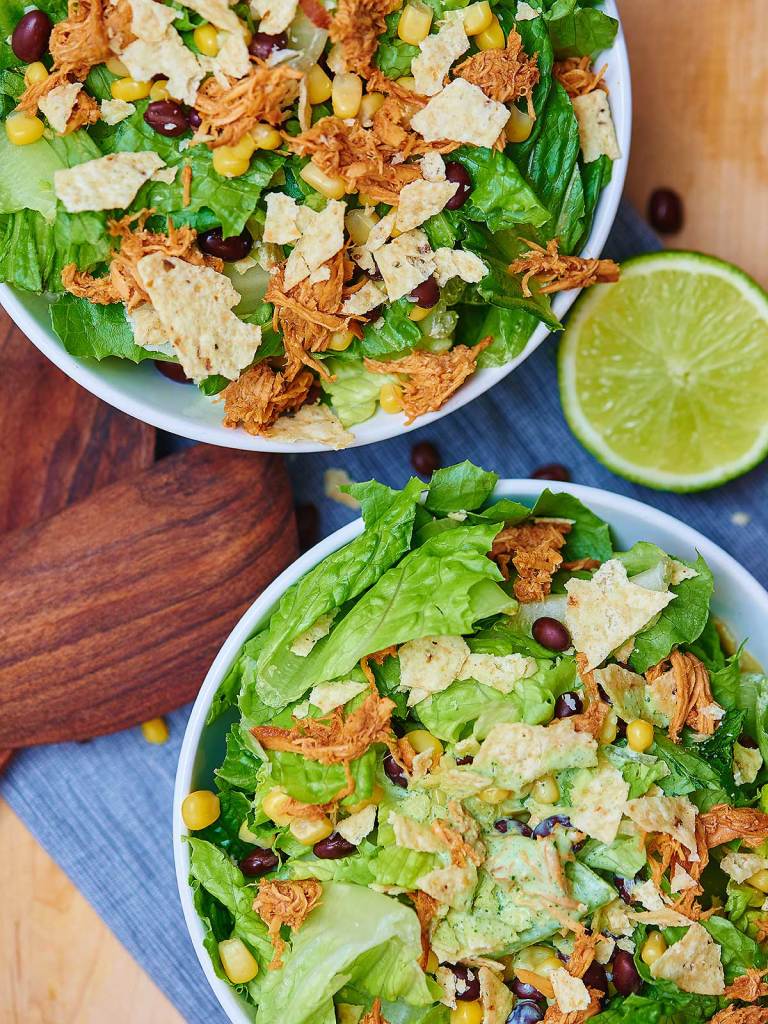 The Super Bowl doesn't HAVE to be just about indulgent foods. This is a nice, light option for those trying to keep it healthy! I already have a post about BBQ Chicken Salad, so click on the link for the recipe! I've made this salad at least four times since the post, and I promise I'm not just saying that to make you eat it 😉 It really is the best salad I've ever had.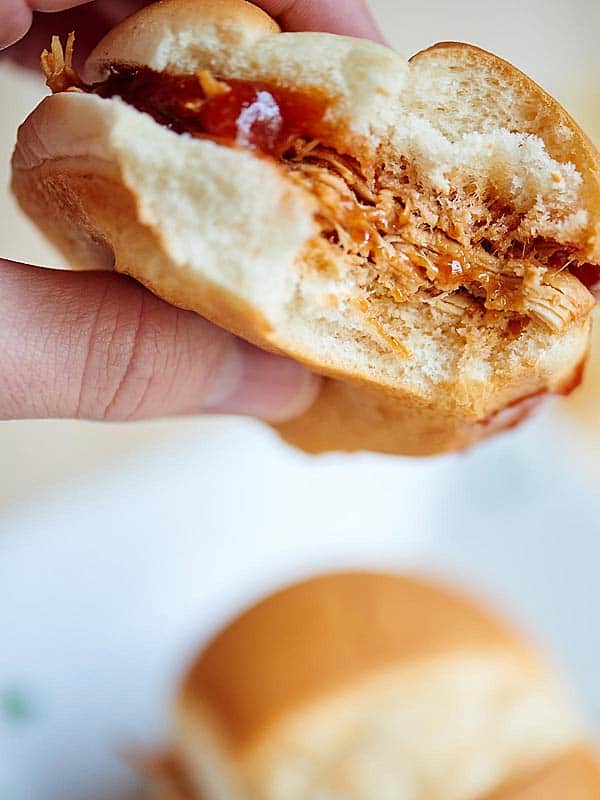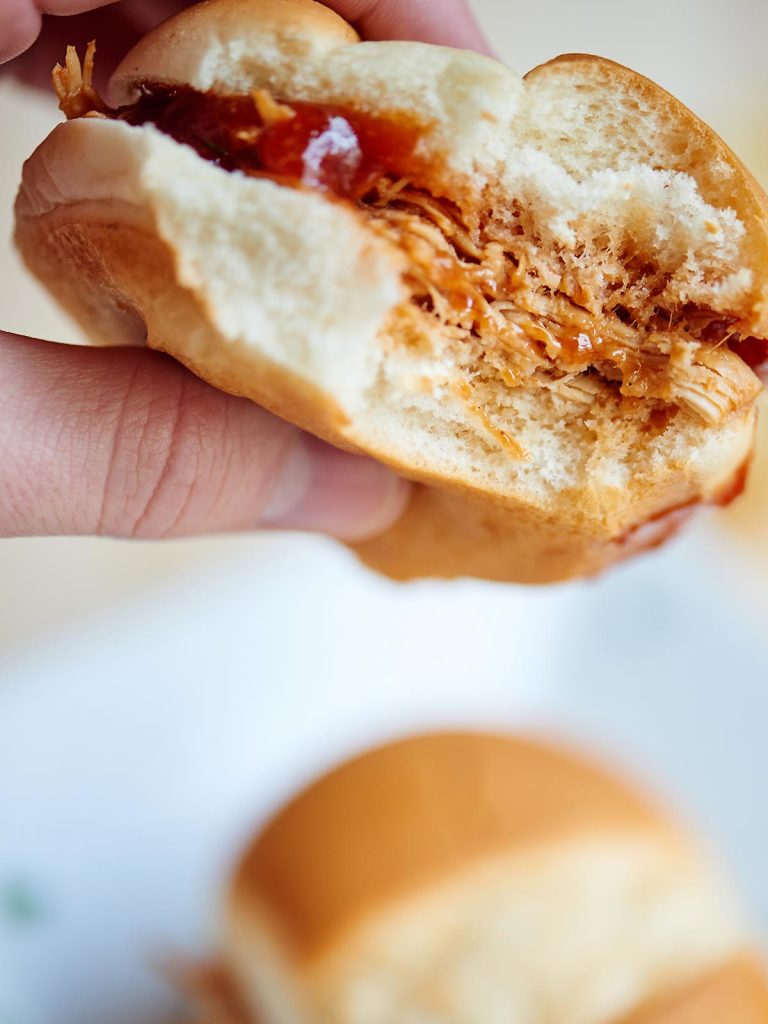 I love the idea of serving crockpot BBQ chicken for the Superbowl or any large gathering, because it really is so easy to put together! I also love that it's versatile enough to make three different types of food that will hopefully satisfy all your guests! The classic BBQ chicken sandwich, BBQ nachos, and BBQ chicken salad. I think I'm in love.
– Jennifer
Are you ready for the Superbowl? What are some more recipes that you'd like to see for game day? Show me the yummy!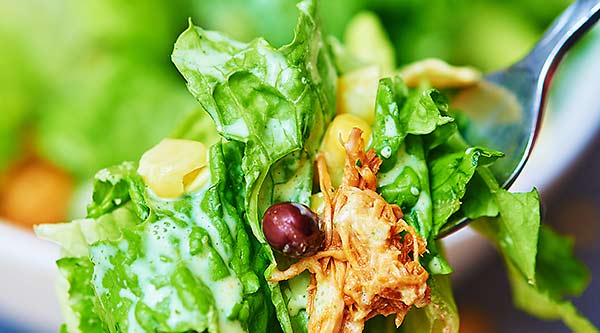 Three Ways to Use Crockpot BBQ Chicken for the Superbowl
This crockpot BBQ chicken is used to make three different dishes: Sandwiches, Nachos, and a salad! This recipe can easily be doubled if you need to serve more than 6 people!
Equipment for this recipe
(equipment shown are affiliate links)
Ingredients
2

pounds

boneless skinless chicken breasts*
BBQ Sauce
1

cup

ketchup

1/4

cup

brown sugar

1/4

cup

Worcestershire sauce

2

tablespoons

apple cider vinegar

2

dashes

Sriracha

or to taste

2

teaspoons

garlic powder

1/2

teaspoon

mustard
Nachos
Tostitos Scoop Chips

1

(15 oz) can

black beans

1

(15 oz) can

corn

1

package

shredded Mexican cheese

Sour cream
Instructions
BBQ Sauce
Start by making your BBQ sauce. Place all ingredients into a medium sized saucepan and bring to a simmer, stirring occasionally. Let cool slightly, before placing a thin layer on the bottom of a lightly greased crockpot/slow cooker.

Place chicken breasts, in a single layer, on top. Place more BBQ on top of the chicken, reserving ½ cup for later. Cover and cook on low for 7-8 hours. When the chicken is fully cooked, shred the chicken in the crockpot, and stir in more BBQ sauce if it's too dry.
Sandwiches
Top bun with the BBQ chicken. Feel free to serve with more BBQ sauce 😉
Nachos
Place individual scoop chips onto a baking sheet. Fill with BBQ chicken, black beans, corn, and top with shredded cheese. Bake at 350 degrees F for 5 - 10 minutes. If you're making layered, or sheet nachos, the baking time may take longer.
STORING
Reheat:
Microwave or heat on stovetop
*Storage times may vary based on temperature and conditions
Notes
If you think you'll want more than 1/2 cup for topping the food later, go ahead and double the sauce recipe!
Nutritional information includes chicken + bbq sauce.
Nutrition Information
Nutrition Facts
Three Ways to Use Crockpot BBQ Chicken for the Superbowl
Amount Per Serving
Calories 266
Calories from Fat 36
% Daily Value*
Fat 4g6%
Cholesterol 97mg32%
Sodium 660mg29%
Potassium 801mg23%
Carbohydrates 23g8%
Protein 33g66%
Vitamin A 260IU5%
Vitamin C 5mg6%
Calcium 34mg3%
Iron 1mg6%
* Percent Daily Values are based on a 2000 calorie diet.
*Note: Nutrition information is estimated and varies based on products used.
Keywords:
bbq sauce, chicken breast, crockpot