How to Cook Bacon in the Oven: an easy, mess-free, simple method for perfectly cooked bacon! You'll never pan-fry your bacon again!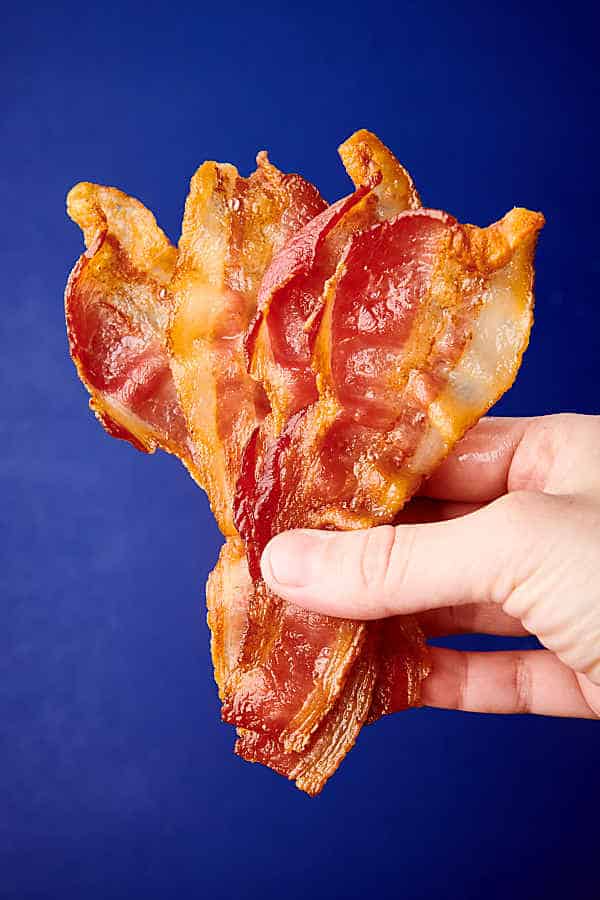 I absolutely love a good piece of bacon. Crispy, chewy, perfectly smoked, and so good. However, I don't love hot grease splattering me as I try to make that perfect bacon.
The solution? Oven-cooked bacon! Seriously! You can have perfect evenly cooked bacon but without all the grease splatter messes and annoyances.
What you need to cook bacon in the oven
Bacon – use your favorite pork bacon! Thick cut works, you just may need additional cook time.
Baking Sheet – use a rimmed, standard-sized baking sheet to help contain the grease.
Silicone Baking Mat – this catches the grease for easy cleanup!
Wire Cooling Rack – the rack sits on the baking sheet and holds the bacon so it can cook from both sides. No flipping bacon necessary!
Paper Towels – I use these to soak up the grease after the bacon is done cooking to ensure a crispy texture.
Pro tip
Don't have a silicone baking mat? Use tin foil instead!
How to cook bacon in the oven
Line your baking sheet with a silicone mat, place the cooling rack on top, and grease the rack with cooking spray.
Place your bacon slices in a single layer on the cooling rack.
Bake in the oven for 10-30 minutes depending on how crispy you like your bacon.
Remove the bacon from the cooling rack and place it on a plate lined with paper towels to drain then serve and enjoy!
Pro tip
Be careful as you're removing the tray from the oven! Remember: there's smoking hot bacon grease in there!
What kind of bacon cooks best in the oven?
Any type of bacon works, but you will have to adjust your cook time accordingly — thinner slices will take less time and thicker will take longer.
Some say that thick-cut bacon comes off of the wire rack more easily, but I use regular pork bacon and grease the rack generously and it comes off just fine!
How long does bacon take to cook in the oven
This really depends on how thick your bacon is and how chewy vs crispy you like it, but a preheated 425 degree F oven should cook the bacon in about 10-30 minutes.
Pro tip
I know this is a pretty wide time range, but perfect bacon is relative. Do you like it chewy? Maybe 10 minutes is perfect for you. Like super crispy thick cut bacon? You'll probably need the whole 30!
Do you need to use a wire rack to cook bacon in the oven?
It's not totally necessary but definitely recommended. The wire cooling rack allows the heat to reach both sides of the bacon for crispier slices.
If you don't want to use a cooling rack, you'll have to flip your bacon halfway through. It will also cook in its own grease which may result in slightly chewier bacon.
Do you need a silicone mat?
Not necessarily, but the silicone mat is easier to clean off than the baking sheet so I like to use it for convenience.
If you don't have a silicone mat, cover your baking sheet with foil instead! If you don't have either, just soak your baking sheet in hot, soapy water and the grease should clean off just fine.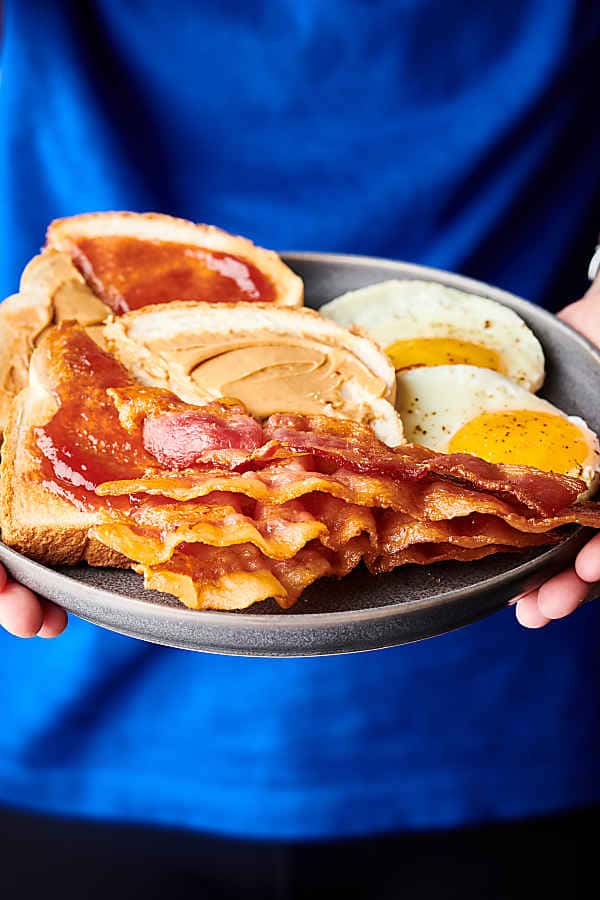 Benefits of cooking bacon in the oven
You can cook for a crowd. There's more space on a baking sheet than there is in a skillet.
You can multitask. You can stick your bacon in the oven and walk away. No need to stand right there and watch it the whole time.
It cooks more evenly. Since the bacon is up on the cooling rack, the heat can reach it from all sides for a more evenly cooked, crispier slice of bacon. For me, any time I make bacon on the stove, the centers cook WAY faster than the ends.
Baked bacon doesn't curl. The pieces are nice and straight every time.
Easy cleanup. No oil splatter all over the stovetop!
Tips
Use a cooling rack. It lets the fat drip down into the sheet and the heat can reach both sides so the bacon is extra crispy.
Use a rimmed baking sheet. This prevents the bacon fat from dripping into the oven.
Don't overlap your bacon slices. Give them space so the heat can reach every part.
Keep an eye on it after 10 minutes. Different ovens cook differently so you don't want to overcook it.
Save your bacon grease. The grease can be used to cook other things and adds delicious smoky flavor. Plus, it lasts for months if stored in an airtight container in the fridge.
How to save bacon grease
To save your bacon grease, line a fine mesh sieve with a paper towel or cheesecloth, pour the bacon grease over the sieve, and let it drain into a jar. Use a spatula to scrape the pan so you can get more off.
You can store the grease on the counter or in the fridge but it will solidify as it cools.
Pro tip
Store it in glass, not plastic. The hot grease will melt plastic! 
How to use leftover bacon grease
I love to save my leftover bacon grease and use it cook other things. It adds such a delicious smoky flavor to a number of different things. Here are some ideas!
Fry eggs
Sear meat
Sauté veggies
Make stovetop popcorn
Cook grilled cheese
What to serve with bacon
I love a classic plate of bacon, eggs, and toast but here are some other breakfast recipes that are delicious with a side of crispy bacon!
Is bacon good leftover?
It is! But leftover bacon isn't as crispy, so I recommend serving it immediately if possible. Leftover bacon is also a great addition to other recipes! Here are some yummy ideas.
How to store
Store leftovers in an airtight container in the fridge for up to 5 days or in the freezer for up to 1 month.
To reheat, thaw in the fridge if frozen then bake or microwave to warm. Keep in mind, leftover bacon slices won't be as crispy!
– Jennifer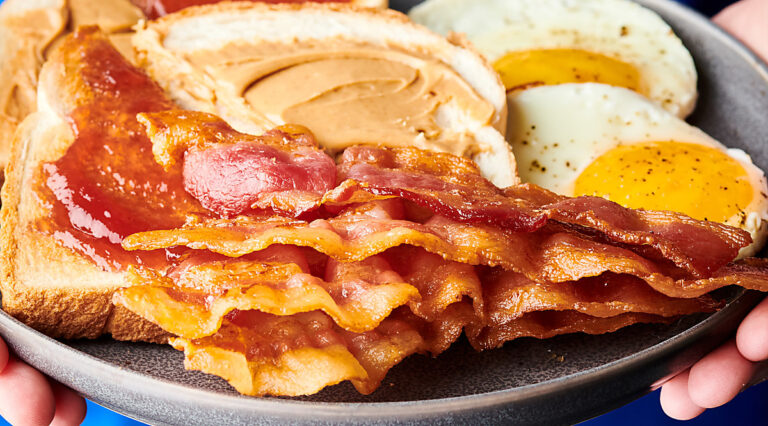 How to Cook Bacon in the Oven
How to Cook Bacon in the Oven: an easy, mess-free, simple method for perfectly cooked bacon! You'll never pan-fry your bacon again!
Equipment for this recipe
(equipment shown are affiliate links)
Instructions
Preheat oven to 425 degrees F and line a baking sheet with a silicone baking mat, then place an oven safe wire cooling rack on top.

Grease the rack generously with cooking spray.

Place bacon slices onto the rack in a single layer - don't overlap.

Bake in preheated oven for 10-30 minutes, or until the bacon is cooked to your liking.

Remove from oven - CAREFUL of the hot grease.

Place on a plate lined with paper towels to drain.
STORING
Reheat:
Bake or microwave to warm. Thaw in fridge, if frozen
*Storage times may vary based on temperature and conditions
Nutrition Information
Nutrition Facts
How to Cook Bacon in the Oven
Amount Per Serving (1 slice of bacon)
Calories 92
Calories from Fat 81
% Daily Value*
Fat 9g14%
Cholesterol 15mg5%
Sodium 146mg6%
Potassium 44mg1%
Carbohydrates 1g0%
Protein 3g6%
Vitamin A 8IU0%
Iron 1mg6%
* Percent Daily Values are based on a 2000 calorie diet.
*Note: Nutrition information is estimated and varies based on products used.
Keywords:
baked, crispy, easy, pork