This honey, soy, and garlic tilapia is perfect for a quick and easy weeknight meal! It's healthy, delicious, and comes together in a matter of minutes!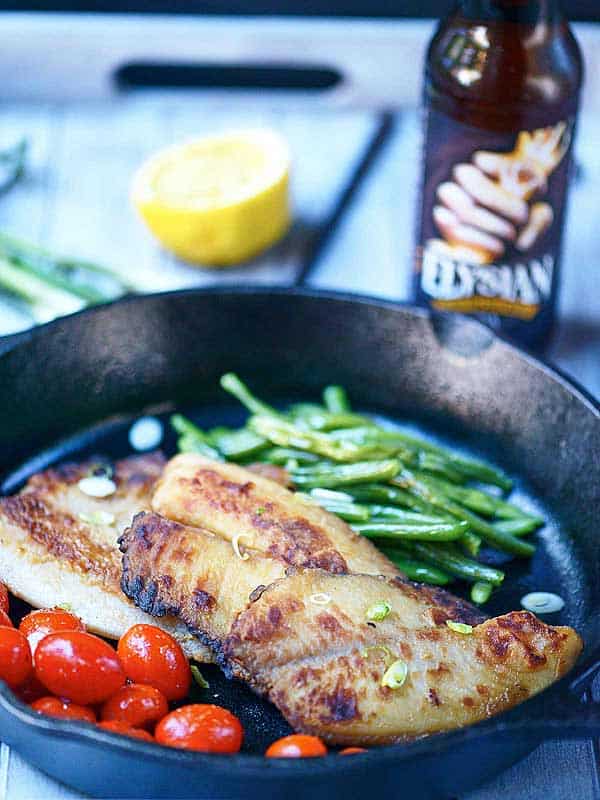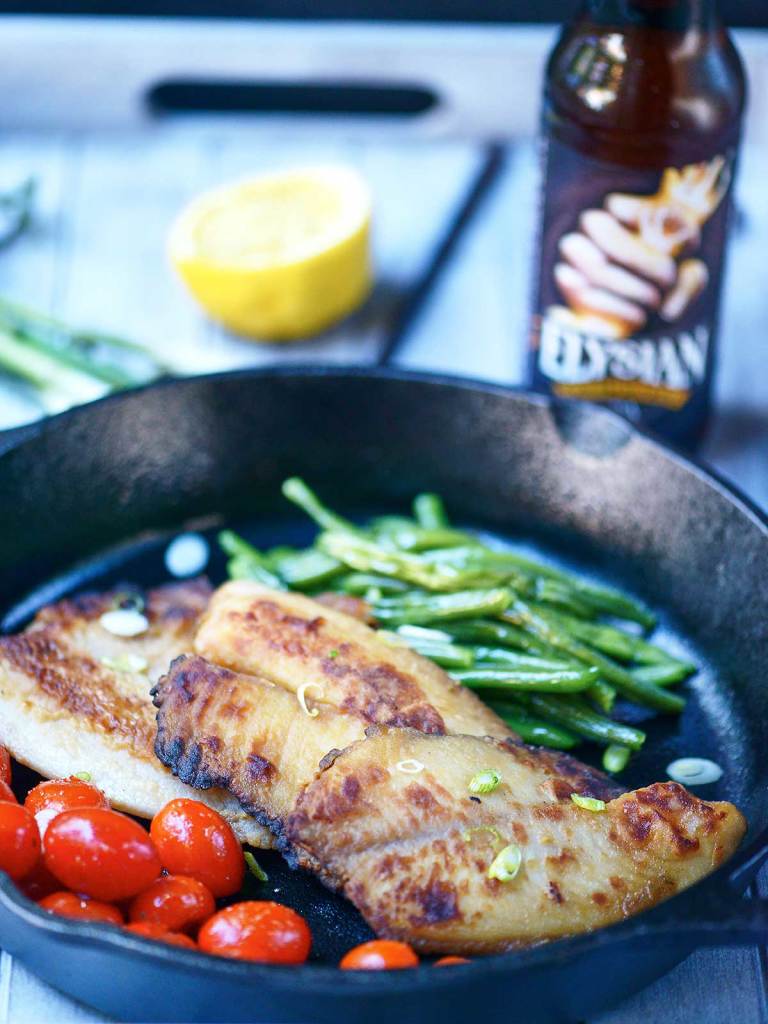 I always have frozen tilapia on hand. It may not be as great as having fresh around, but always having frozen tilapia, allows me to whip up a quick, healthy, and delicious meal at a moments notice. Some days, I don't feel like going to the store, or have the brain capacity to come up with something creative to eat for dinner, tilapia always saves the day! Usually, I'll have my blackened tilapia, but I was feeling like I needed to try something new. A little bit of this, a little bit of that, and it came to be what I call: Honey, Soy, and Garlic Tilapia.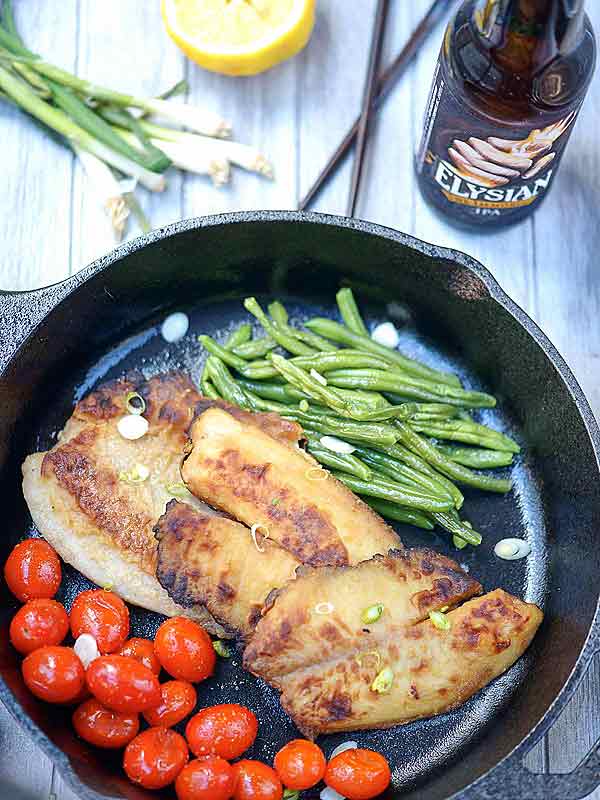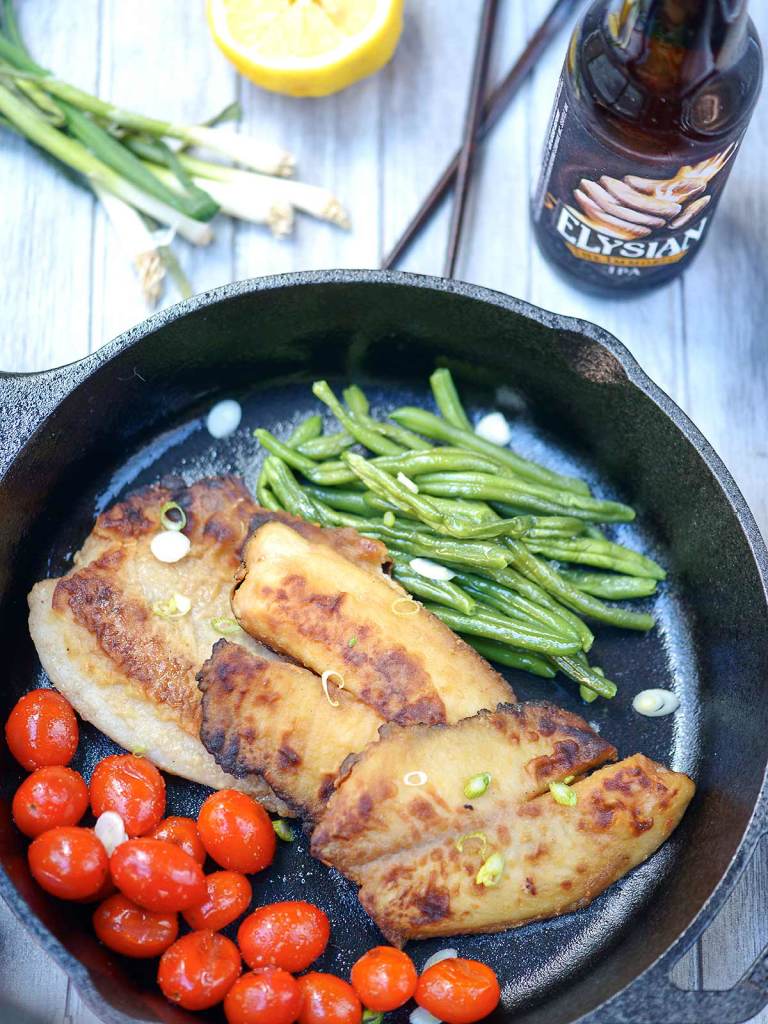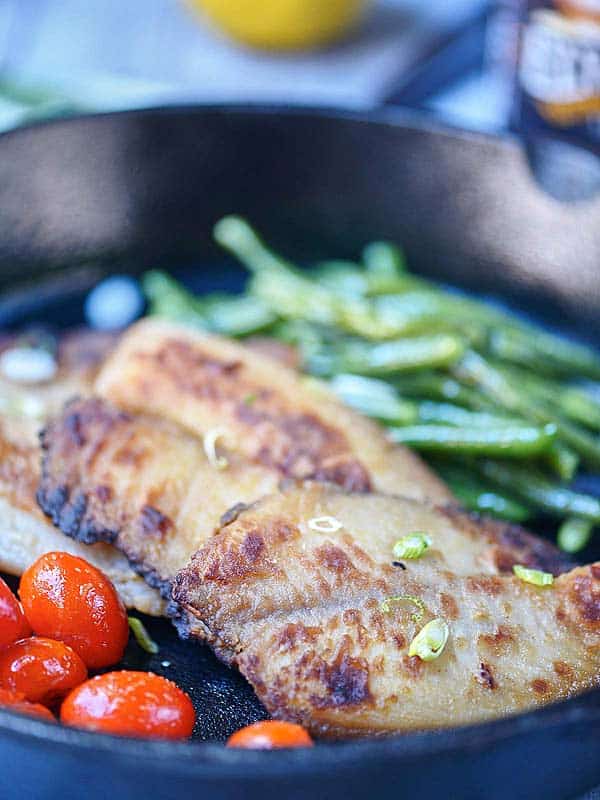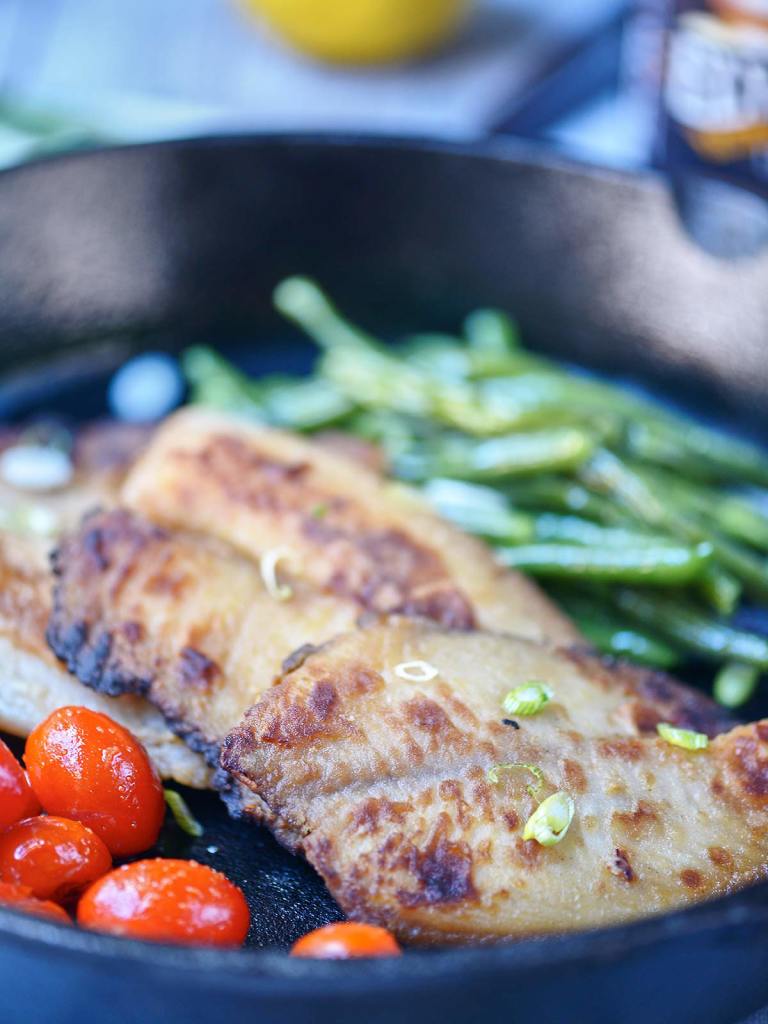 A few days ago was one of those days. I didn't feel like going to the store, but we literally had nothing in our fridge. No lettuce for salads, no bread for sandwiches. It was 5:00 o'clock when I opened the freezer and saw the tilapia.
I felt like using soy sauce, because it's so salty and yummy, and I am all about Asian flavors lately (have you seen my Crockpot Chicken and Broccoli…oh yum), and then thought that honey would add a nice sweetness, and heck, let's just throw in some lemon juice for a touch more acid. I have a slight addiction to garlic, so I threw in some of that, too.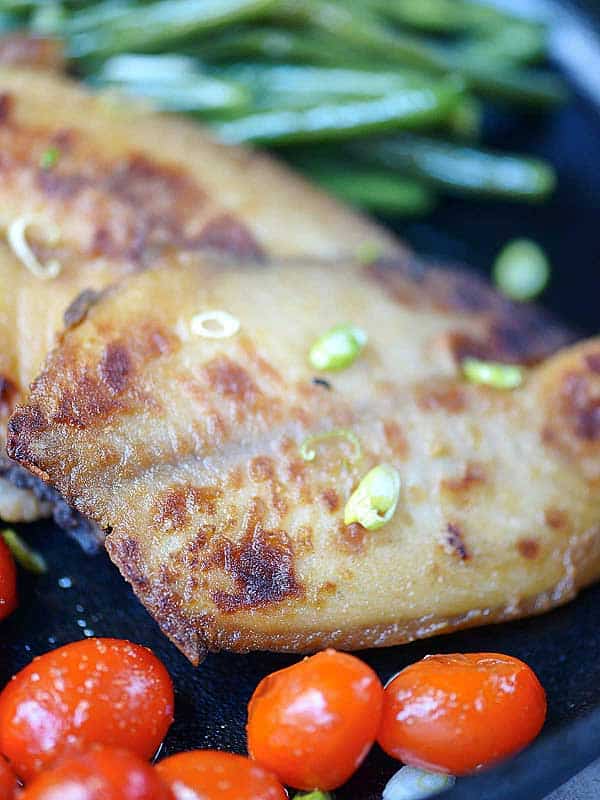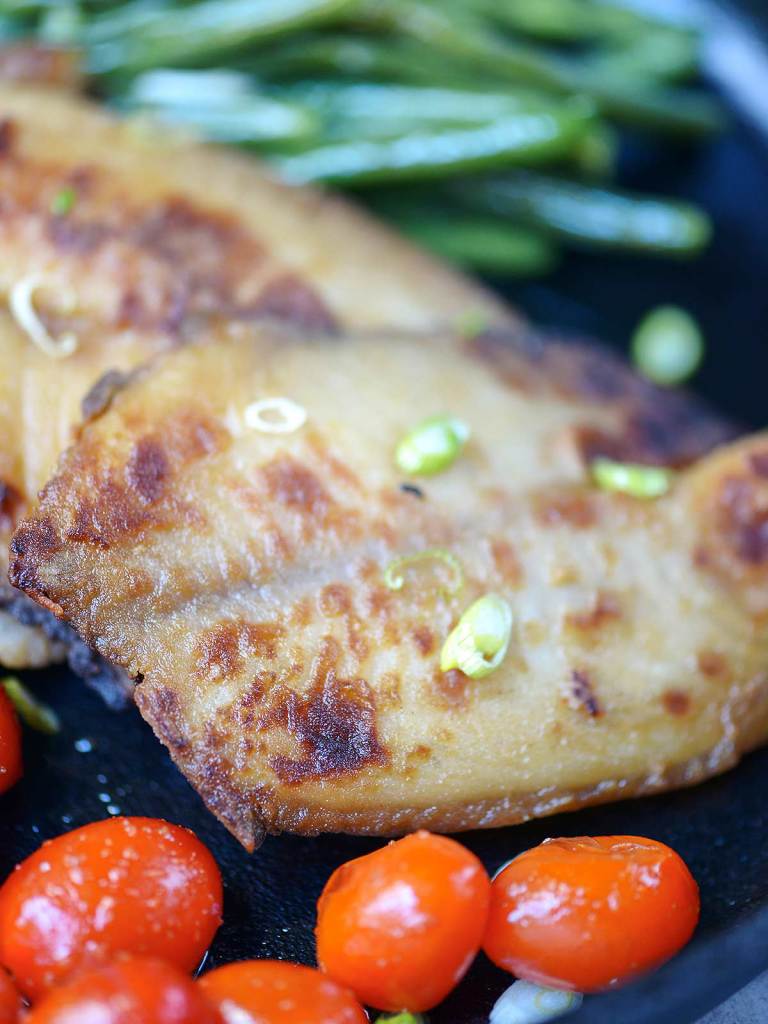 I had put together the marinade and set it in the fridge until I was ready to use it when Trevor walked through the door. He asked what was for dinner and I said I was going to play around with a new Honey, Soy, and Garlic Tilapia recipe. He replied with: "Well, ok…because I was actually thinking we'd order Indian food, but I guess, if you want to make tilapia that's fine. "
To give you a little insight, it's usually ME suggesting the Indian food delivery, so I immediately ditched my tilapia and ordered Indian food, before he could change his mind. I was extra happy, because that meant that I could delay grocery shopping by one more day! #smallwins
The next day rolls around and I let my tilapia thaw. The tilapia took a little swim in the marinade for about an hour, and then took a dip in just a touch of flour. I pan fried this up in a couple tablespoons of oil and then drizzled a little of the leftover marinade (I had set about 1/4 cup aside, so the raw fish wouldn't contaminate it) over the Honey, Soy, and Garlic Tilapia. I served this up with a side of rice, green beans, and pan roasted tomatoes and…whoa.
If I had only known how easy, healthy, and delicious this Honey, Soy, and Garlic Tilapia was, I MAY have said "no thank you" to the Indian food.
Maybe. 😉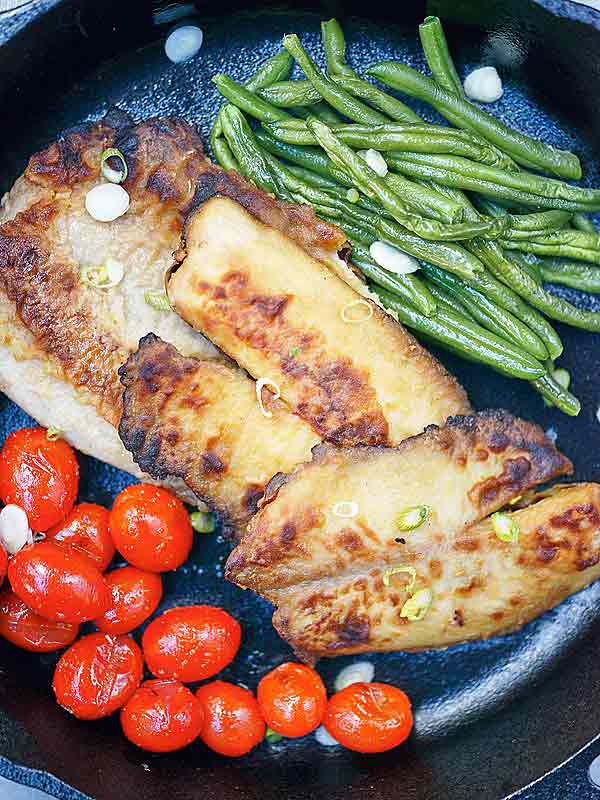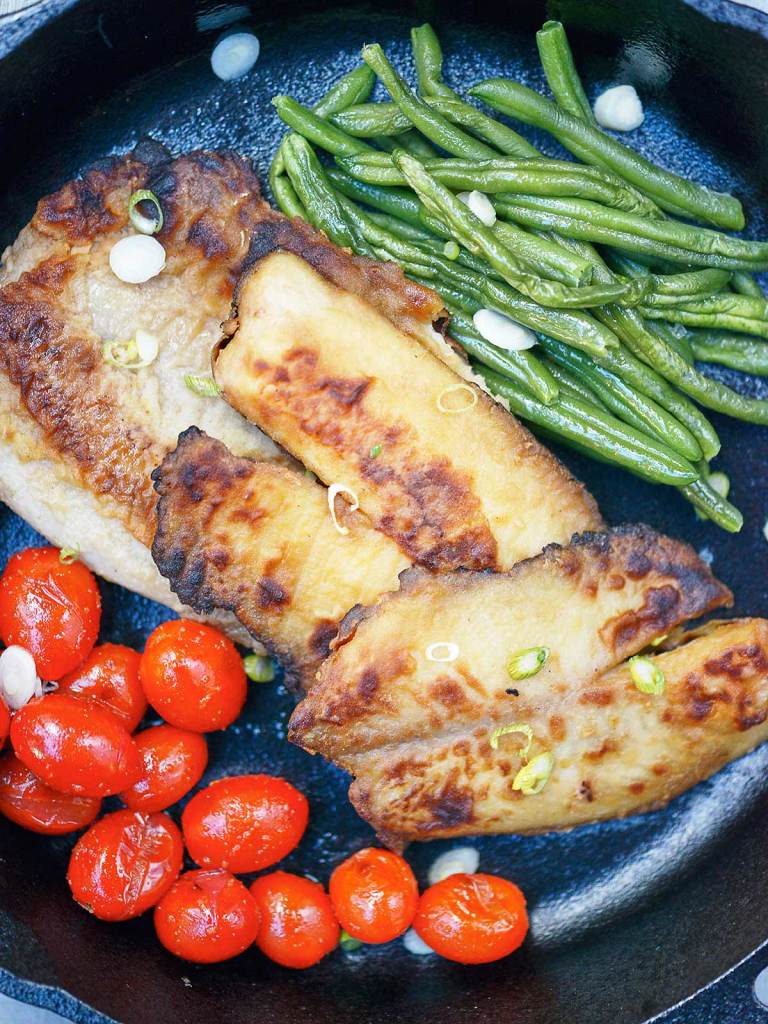 Seriously though, this Honey, Soy, and Garlic Tilapia is really tasty! Especially for how quick and easy it is. I love how delicate and "non fishy" tilapia is. It goes perfectly with the savory soy sauce, sweet honey, and spicy garlic. The touch of flour gives this tilapia a thin, crunchy crust, while keeping the inside flakey and moist.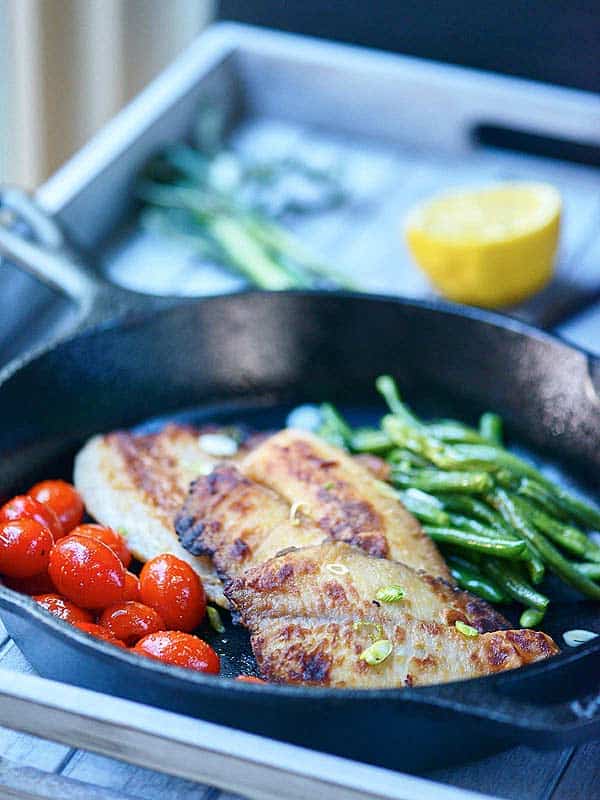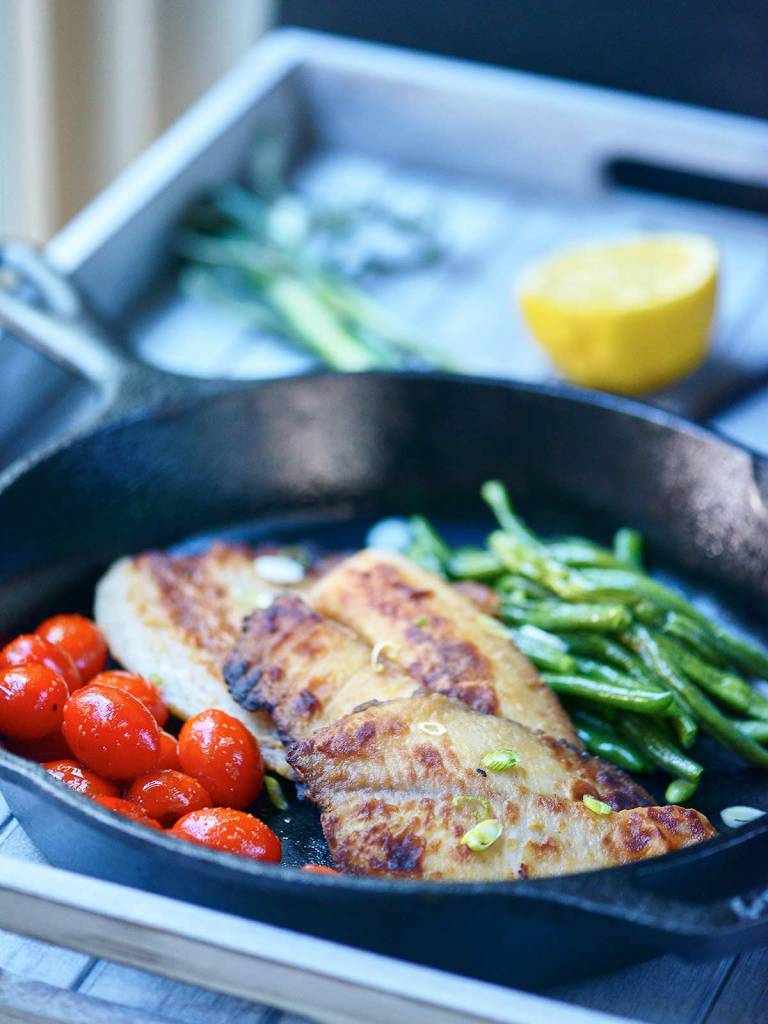 If you're looking for an easy week night meal, then look no further, because I promise you, you'll love this Honey, Soy, and Garlic Tilapia!
– Jennifer
Do you like fish? If not, I think tilapia is a great "gateway"! What are your favorite ways to prepare it? Show me the yummy!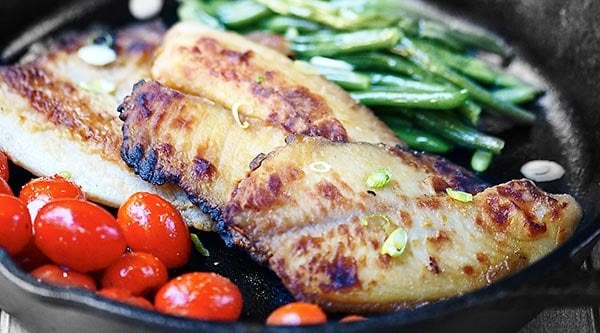 Honey, Soy, and Garlic Tilapia
This honey, soy, and garlic tilapia is perfect for a quick and easy weeknight meal! It's healthy, delicious, and comes together in a matter of minutes! showmetheyummy.com
Equipment for this recipe
(equipment shown are affiliate links)
Ingredients
4

filets

tilapia

fresh or thawed if frozen

1/4

cup

honey

1/4

cup

soy sauce

1/4

cup

freshly squeezed lemon juice

2

cloves

garlic

crushed

1/2

cup

all purpose flour

2

tablespoons

extra virgin oil

extra honey/lemon for drizzling

optional

salt

to taste
Click to Keep Device on While Cooking
Instructions
Marinade
Whisk together honey, soy sauce, lemon juice, and garlic cloves. Set aside.

Place tilapia filets into a gallon sized baggie and pour in marinade.

Marinate for 1 hour.
Preparing
Remove the tilapia from the fridge while you heat your non stick pan over medium/medium high heat.

Place flour on a small plate and dredge the tilapia filets one at a time. Use your hands to gently rub in the flour (you just want a thin layer of flour) and then flip the filet over and repeat with the other side. Repeat with remaining filets.

Once your pan in hot, add in 1 tablespoon of oil and let warm up for a few seconds.

Gently place two filets in the pan and cook one side for about 2 - 3 minutes, or until the bottoms are golden brown.

Flip filets over and cook for an additional 2 - 3 minutes, or until the filet is golden brown and is cooked through (it should flake easily with a fork).

Remove the tilapia from the pan and let drain on a paper towel.

Add in the other tablespoon of oil to the pan* and repeat with the remaining two filets.

Again, drain and serve immediately with an extra pinch of salt, drizzle of honey, and a squeeze of lemon, if desired!**
STORING
Reheat:
Bake or reheat on stovetop until heated through
*Storage times may vary based on temperature and conditions
Notes
***If you're gluten-free, make sure your soy sauce and flour are certified gluten free! 🙂
*If you have a lot of brown bits in the pan after the first round of filets, you may want to wipe it down with a paper towel before adding in the remaining oil and tilapia.
** If you want, you can reserve 1/4 cup of marinade before marinating the tilapia in it for drizzling after the tilapia is cooked. Alternatively, you can just drizzle a little honey or lemon after the tilapia is cooked!
Nutrition Information
Nutrition Facts
Honey, Soy, and Garlic Tilapia
Amount Per Serving (1 filet)
Calories 361
Calories from Fat 90
% Daily Value*
Fat 10g15%
Cholesterol 85mg28%
Sodium 900mg39%
Potassium 588mg17%
Carbohydrates 32g11%
Protein 37g74%
Vitamin C 6.4mg8%
Calcium 23mg2%
Iron 2.1mg12%
* Percent Daily Values are based on a 2000 calorie diet.
*Note: Nutrition information is estimated and varies based on products used.
Keywords:
fish, garlic, healthy