15 Easy Healthy Make Ahead Lunch Recipes for soups, salads, sandwiches, and more! All great for meal prepping and perfect for work!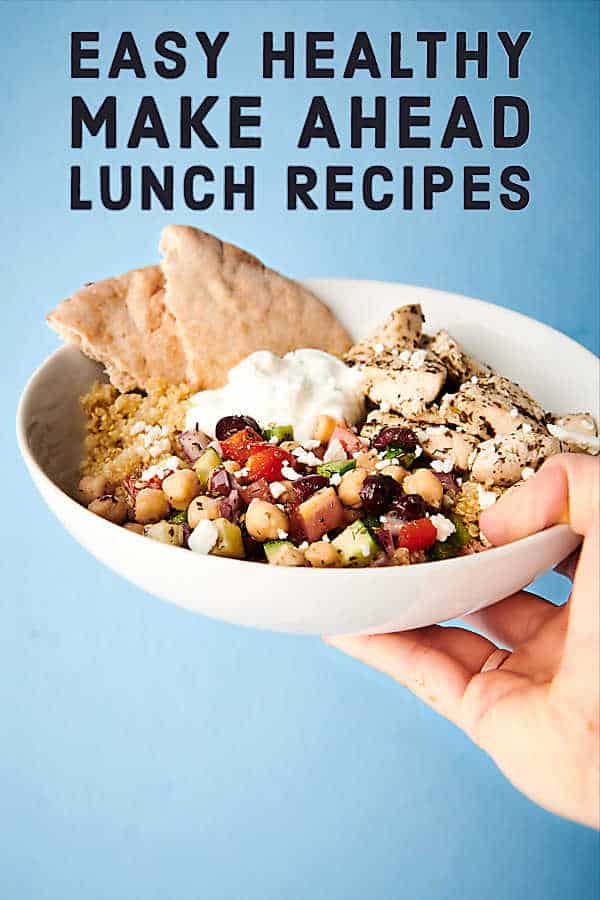 It's day TWO of healthy eats.
This week I'm focusing on easy healthy make ahead recipes. Yesterday, we made breakfast and today, we're on to lunch! 
I know. I know. It's SO much easier to buy lunch. But it's also more expensive and often less healthy. That's why today, we're focusing on EASY and healthy lunch recipes. I promise they're all:
Quick and Easy.
Healthy.
Meal prep friendly.
Delicious!
Whether you want to cozy up with a bowl of soup, nosh on a crisp salad, or make up your favorite "bowl" *think chipotle burrito bowl*, I've got you covered.
Soups
I love soups for easy healthy make ahead lunches, because you can make a huge batch to enjoy all week long and it's so easy to sneak in a ton of extra veggies. Bonus, it'll keep that winter chill at bay!
Coconut Curry Chicken Noodle Soup Recipe. Quick, easy, healthy, gluten free, and dairy free! Loaded with veggies, spices, peanut butter, red curry paste, a touch of brown sugar, broth, lite coconut milk, fish sauce, chicken, lime juice, rice noodles, fresh herbs, and peanuts!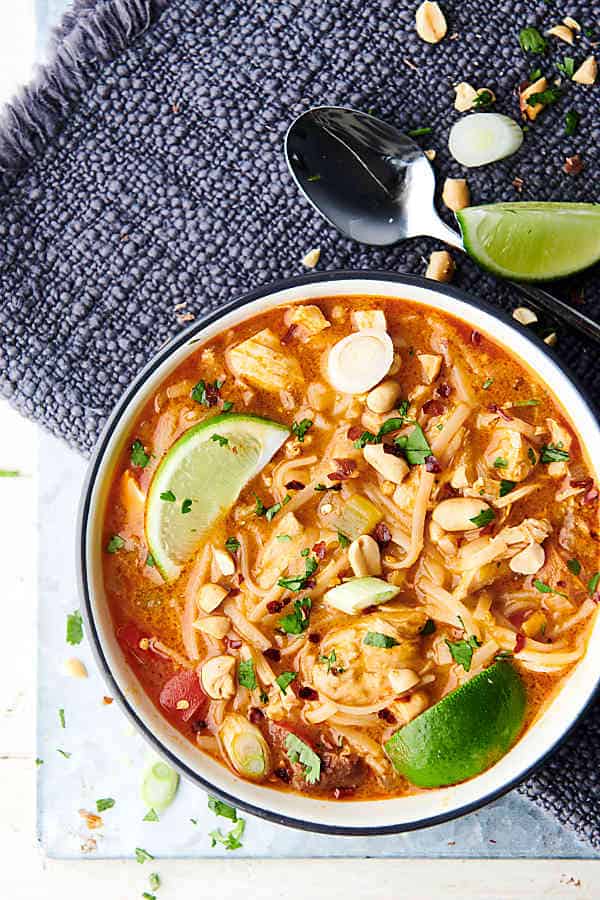 This Instant Pot Vegetarian Chili is SO quick and easy to make and full of vegetables, beans, and quinoa! Healthy. Gluten free. Vegan. Ready in 30 mins! Less than 300 calories per serving.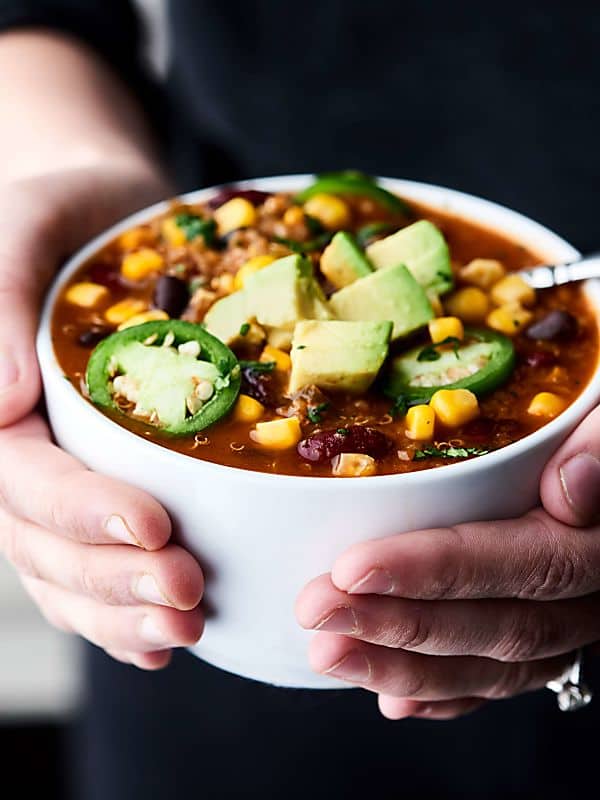 How about a steaming hot bowl of Slow Cooker Chicken Lentil Soup on a chilly day? This soup is easy, healthy, and has 300 calories per serving!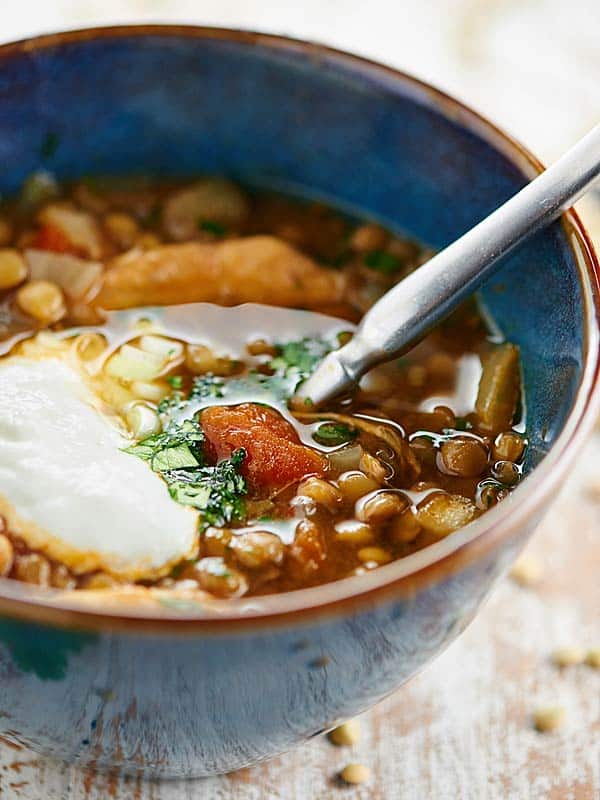 This Crockpot Vegetarian Chili is vegan, gluten free, SO healthy, and loaded with veggies, spices, and THREE kinds of beans!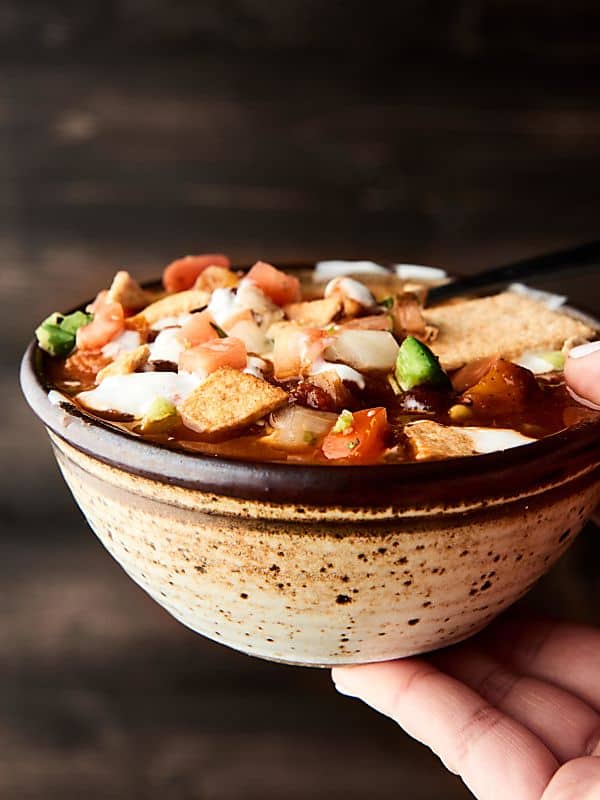 This Slow Cooker Thai Chicken Soup is loaded with creamy coconut milk, peanut butter, red curry paste, chicken, and veggies: onion, carrots, bell pepper, mushrooms, and broccoli! PACKED with flavor and healthy deliciousness! Less than 250 calories per cup!
Salads
Salads are a classic healthy lunch, but often, people think they're boring. I PROMISE you, these salads are anything but boring, because they're packed with textures and drizzled with flavor bomb dressings.
This Easy Mexican Quinoa Salad is gluten free and can easily be made vegan. Loaded with quinoa, beans, corn, fresh summer veggies, herbs, feta, and the best chili lime vinaigrette. The perfect meal prep healthy lunch or side dish for summer bbqs!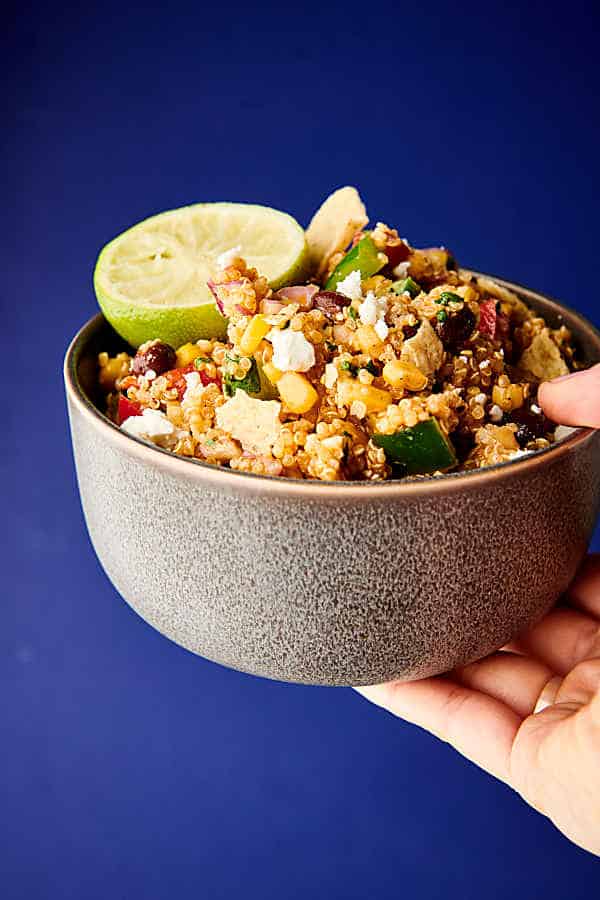 This easy greek salad dressing recipe takes minutes to whip up and is super versatile. Loaded with olive oil, vinegar, a touch of honey, dijon, garlic, and loads of spices, this dressing can be used as a marinade for chicken, a dressing for pasta salads, and so much more!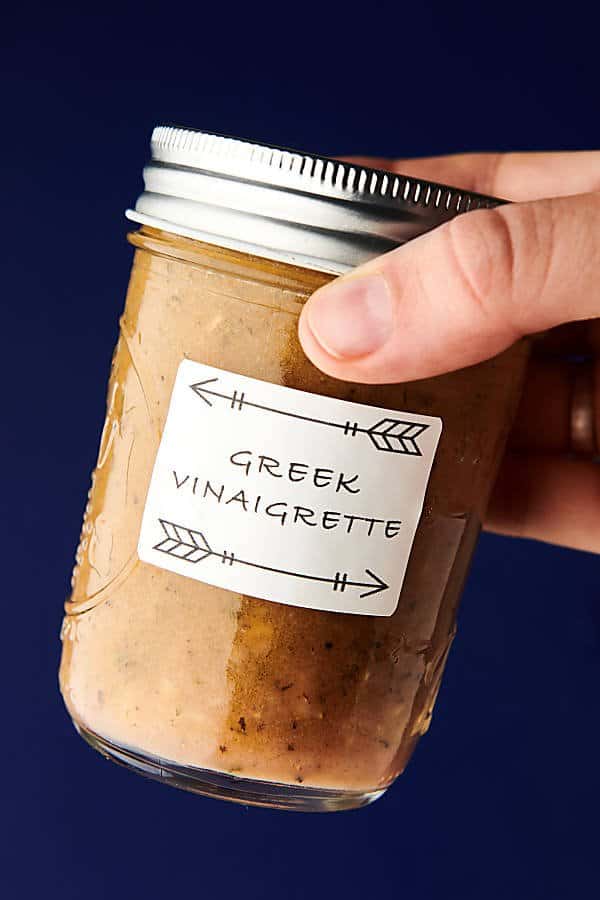 Mediterranean Chickpea Egg Salad Recipe. A chopped salad loaded with chickpeas, hard boiled eggs, red peppers, green peppers, cucumber, onion, kalamata olives, red wine vinegar, garlic powder, oregano, basil, dill, and salt! Vegetarian. Dairy Free. Gluten Free. Meal prep friendly! Healthy lunch!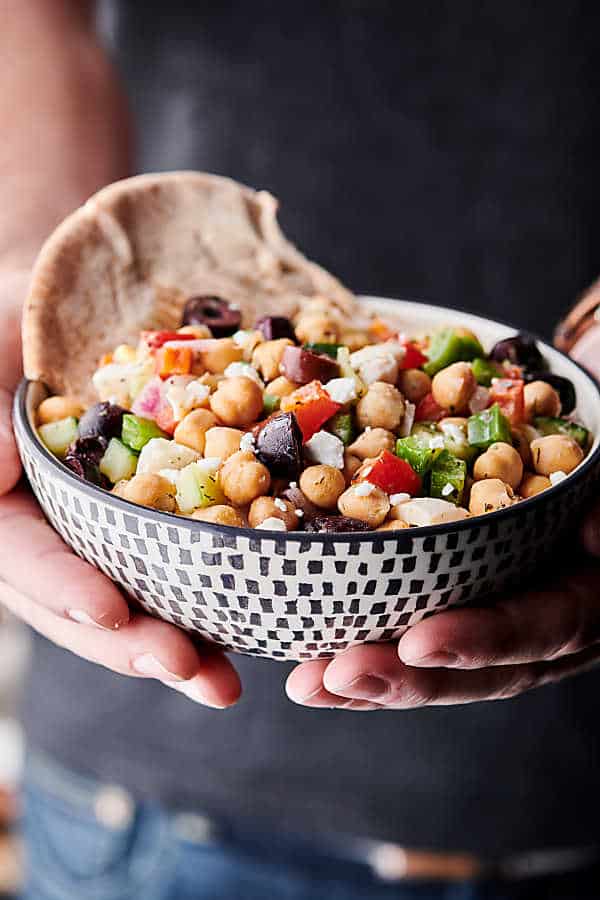 This balsamic vinaigrette is a quick, easy, and healthy salad dressing recipe. Made with olive oil, balsamic vinegar, honey, dijon mustard, garlic, and salt!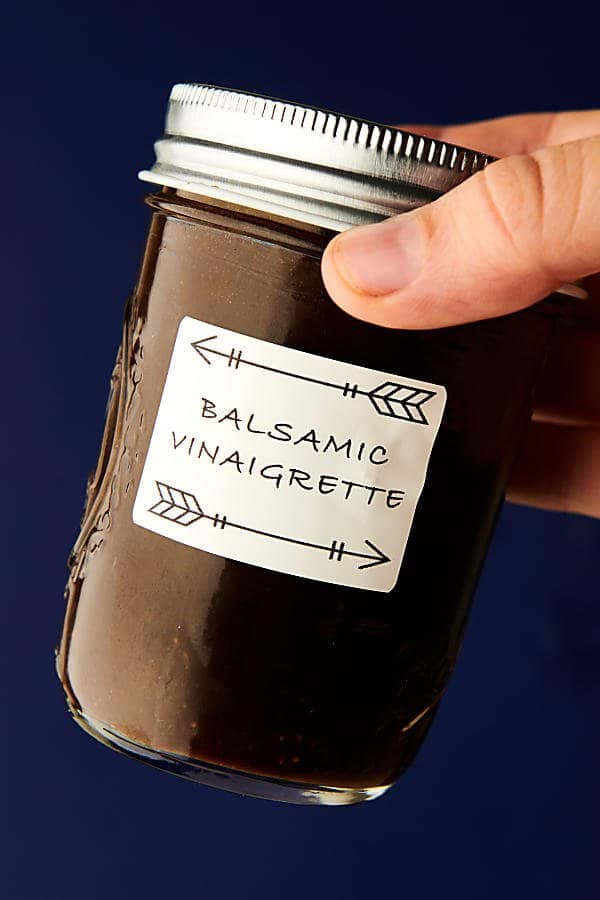 This Shrimp Avocado Salad Recipe is perfect for hot summer days! It's an EASY, cold, no-cook, healthy, refreshing salad full of shrimp, avocado, cucumbers, sun dried tomatoes, lemon juice, spices, and more!
Wraps, Bowls, and More!
Personally, I love a little carb with my lunch. Whether it's bread, rice, or quinoa . . . bring it on. These wraps, bowls, and more are full of good for you carbs, protein, and plenty of veg! Carbs not your thing? No worries, my lettuce wraps are anything but rabbit food.
These Healthy Greek Chicken Bowls are perfect for meal prep! Quinoa is topped with baked greek chicken, a tomato cucumber salad, and optional feta, tzatziki, and pita.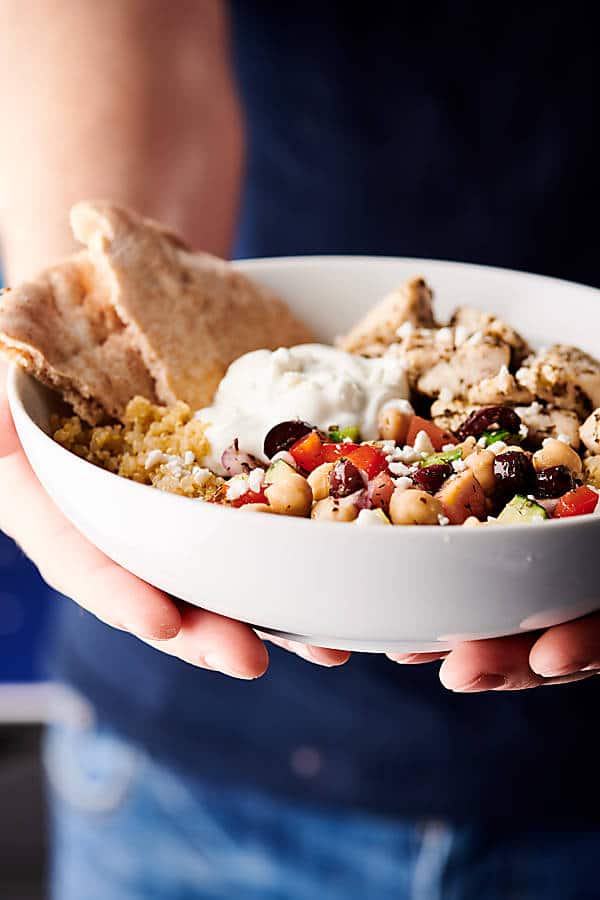 These Thai Peanut Chicken Lettuce Wraps are quick, easy, and healthy! Full of veggies: onion, carrot, and red pepper, ground chicken or turkey, and the most delicious homemade easy peanut sauce!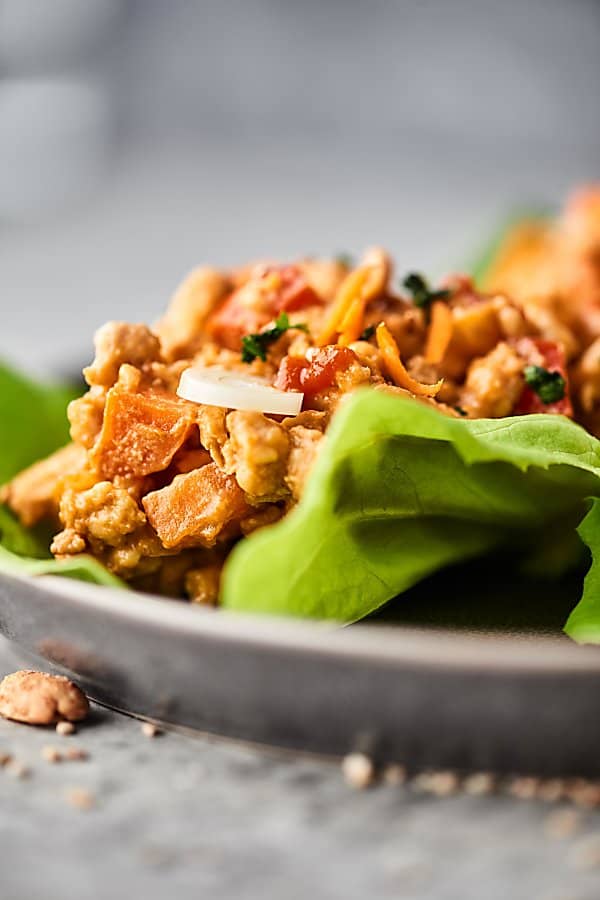 These healthy chickpea lettuce wraps are so quick and easy to put together, taste great, are vegetarian, and of course, are super healthy!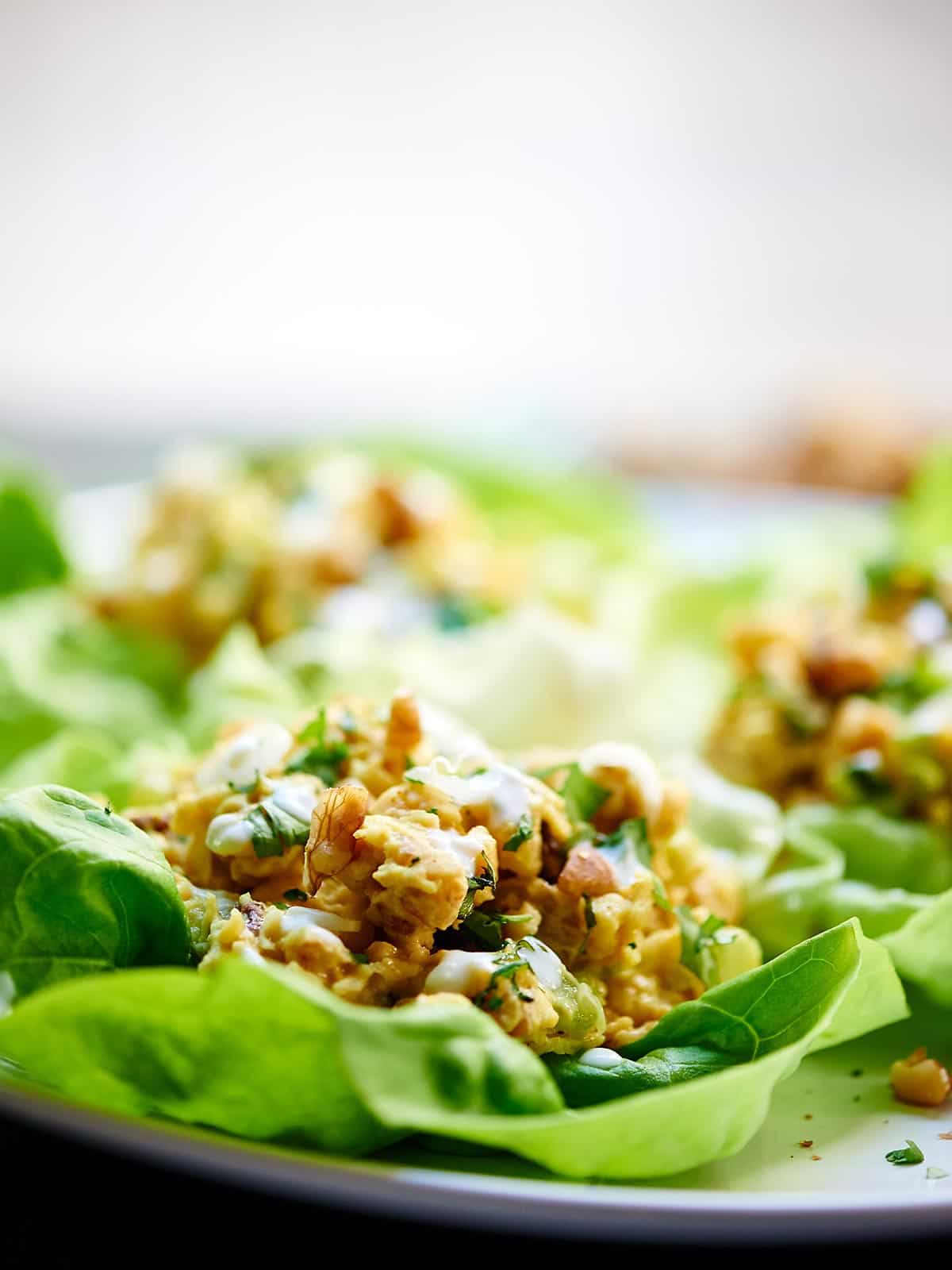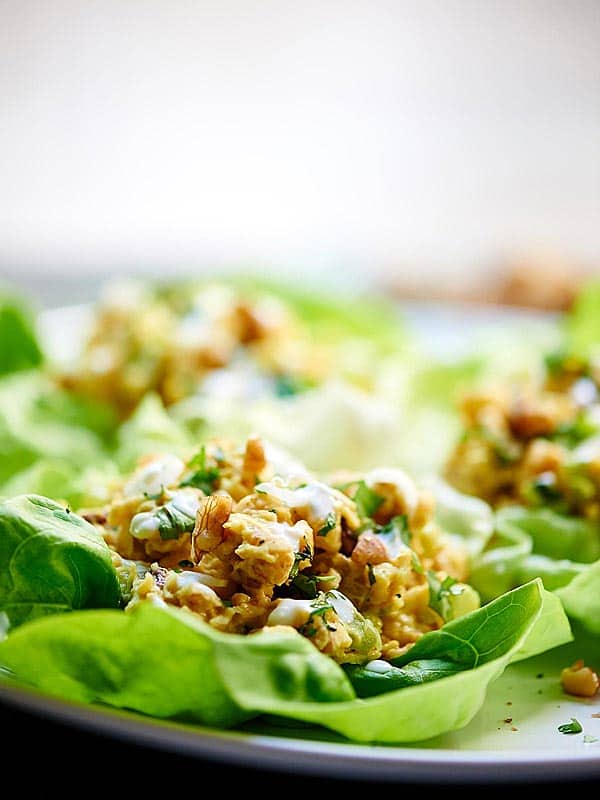 This Chicken Burrito Bowl Recipe is perfect for meal prep! They're quick and easy to make, healthy, gluten free, and loaded with crockpot chicken, beans, corn, a tangy dressing, and more!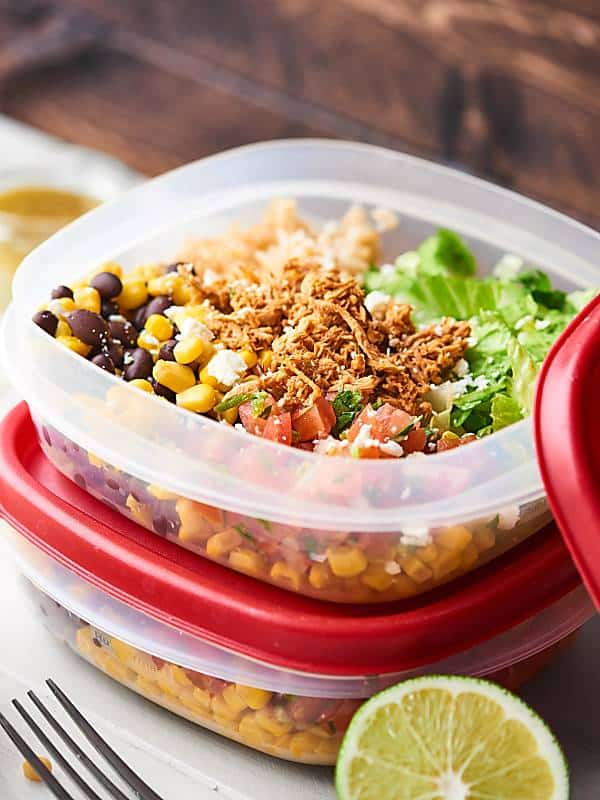 This Easy Egg Salad Recipe is great for a quick and easy, healthy, gluten free, vegetarian, low carb, meal prep lunch! Hard boiled eggs with celery, red onion, light mayo, non fat plain greek yogurt, dijon, and spices! Less than 150 calories per serving!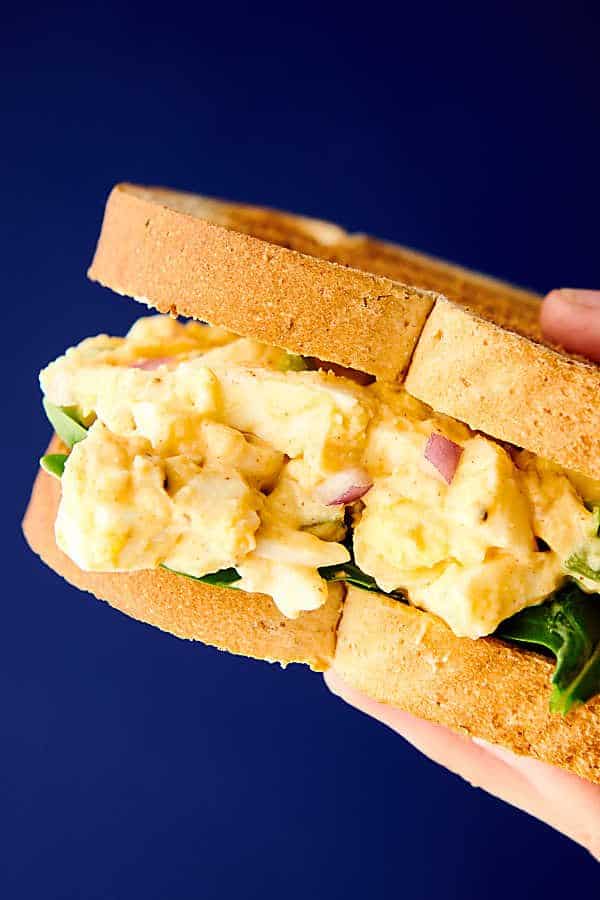 – Jennifer
Looking for more? Be sure to see all our healthy lunch recipes.