15 Easy Healthy Make Ahead Breakfast Recipes for egg muffins, oatmeal, muffins, breakfast sandwiches, and more! All great for meal prepping and can be eaten on the go!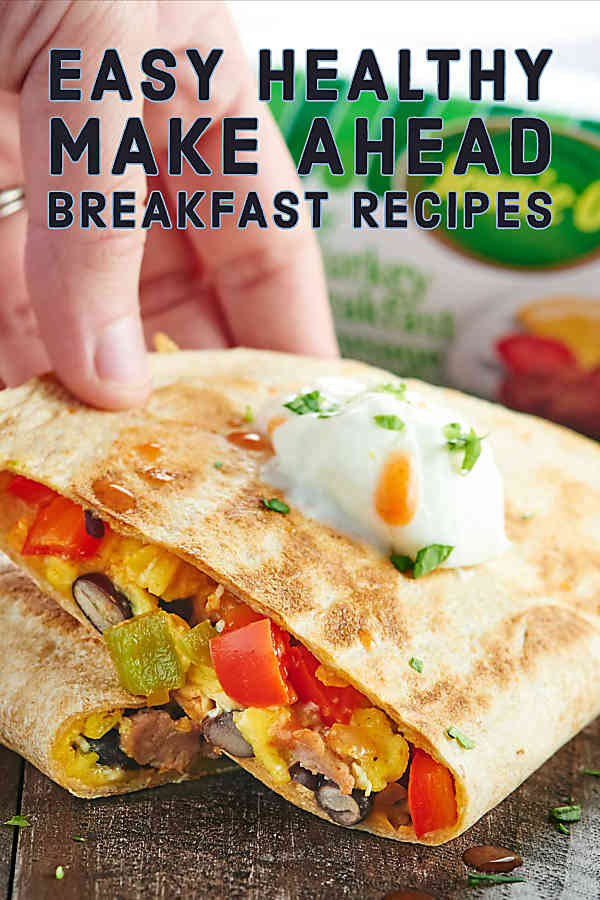 Happy New Year!
This week I'm focusing on easy healthy make ahead recipes. Today, we're starting with breakfast and the rest of the week we'll focus on lunches, snacks, dinners, and more!
All of these recipes will be:
Quick and Easy. Nobody's got time for complicated recipes in the new year.
Healthy. Let's be real, we all make resolutions to eat better every year. I'm here to make it easier and more delicious for you!
Meal prep friendly. Prep on Sunday (or Saturday, Tuesday, whatever) and have food all week long. I've found that if I only have to cook once, I make healthier choices.
Delicious! Because healthy eating doesn't have to be boring.
Most of these recipes are also freezer friendly!
Who's ready for some healthy and delicious breakfasts?!
Egg muffins
Egg muffins are a great easy healthy make ahead breakfast option. They're low carb, low calorie, and packed with protein and healthy vegetables. Make a batch – or two – and keep them in the fridge for breakfasts that week. Want to make them last longer? Store them in the freezer for up to a month and re-heat in the microwave as needed!
Oatmeal, bars, and more
I have a major sweet tooth and often crave something sweet in the morning. Whether you like your oatmeal hot, as a granola bar, or in an energy bite, these oat filled recipes are sure to curb your sweet tooth and also keep you full!
Sandwiches, burritos, and quesadillas
If sweet isn't your thing and you need a little more *oomph* than a muffin cup, these healthy yet carb-o-licious recipes can't be beat!
Healthy muffins
I love having a healthy muffin with my morning coffee. It's often my pre-breakfast while I'm getting ready. That being said, these are GREAT for those busy on-the-go mornings when you need a little somethin' to snack on in the car. PSST – these all freeze really well!
Happy Healthy Eating!
– Jennifer
Looking for more? Be sure to see all our healthy breakfast recipes.