10 Easy Salad Dressing Recipes you can make at home. Learn all of the tips and tricks to make delicious homemade dressings, plus our ten favorite recipes including: asian vinaigrette, chili lime vinaigrette, greek vinaigrette, red wine vinaigrette, italian vinaigrette, balsamic vinaigrette, greek yogurt blue cheese dressing, peanut sauce, greek yogurt ranch, and french dressing. All quick, easy, healthy, and versatile!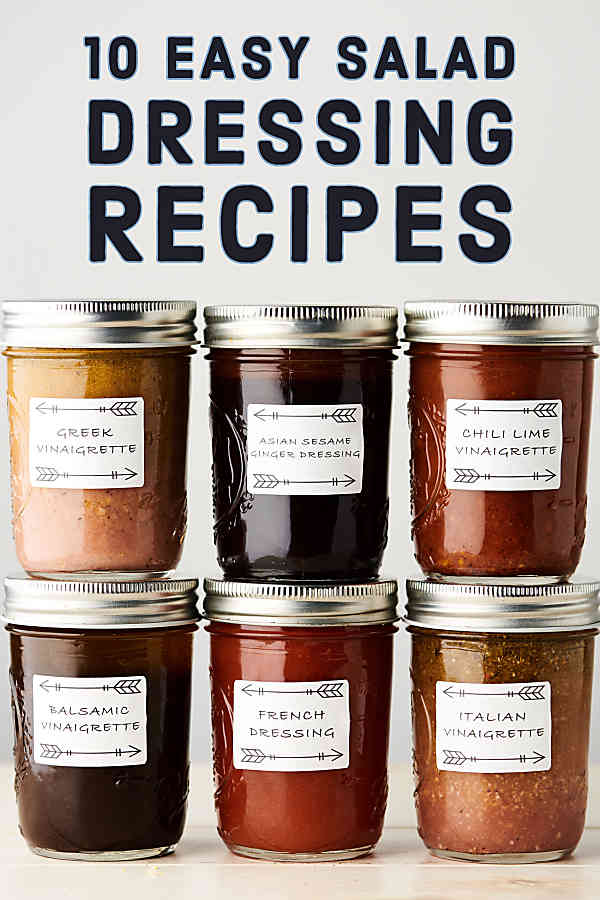 How to make homemade salad dressing
Homemade salad dressings are super quick and easy to make. Throw the ingredients into a sealed container (mason jar or tupperware are my containers of choice) and shake to combine or blitz the ingredients in a food processor until smooth and creamy, then transfer to a storage container. Not only are they a cinch to make, homemade salad dressings are often healthier and more affordable than store-bought!
I break salad dressing into two categories: vinaigrettes and creamy salad dressings. Either one can be made healthy or indulgent, but today, we're focusing on making healthy dressings.
Examples of vinaigrettes:
A vinaigrette is typically made with a 3:1 ratio of oil to vinegar, but I prefer a 1:1 ratio of oil to vinegar. I don't love the mouthfeel when there's too much oil and I like a vinaigrette that's more tangy. That being said, you can always add more oil if that's your preference.
Balsamic vinaigrette
Red wine vinaigrette
Greek vinaigrette
See all healthy vinaigrette recipes below!
Examples of healthy creamy salad dressings:
Creamy salad dressings include classics like ranch and blue cheese. Most store-bought versions are LOADED with fat and calories, so today, I've lightened them up! The ranch and blue cheese are lightened up by using non fat plain greek yogurt and the peanut sauce is made healthier with all natural peanut butter, seasoned rice vinegar, and lime juice. Spices are also used to amp up flavor without adding additional calories.
Ranch dressing
Blue cheese dressing
Thai peanut sauce
See all healthy creamy salad recipes below!
How to store salad dressings
Regardless on the type of dressing you make, I recommend storing your homemade dressings in a sealed tupperware container or a sealed mason jar in the fridge. The pros on using a mason jar is that they're made of glass, which is a great way to reduce your plastic use!
With proper storage homemade dressings should last about 2 weeks in the fridge.
Some dressings do coagulate in the fridge. To fix this, simply leave the dressing out at room temperature for an hour before serving OR warm it up for 20-30 seconds in the microwave. Shake the dressing to recombine before serving!
I do not recommend freezing homemade dressings.
Tips for making salad dressings
Use good quality ingredients

Use an oil, vinegar, greek yogurt, etc. that you actually like the taste of! Since there are only a few ingredients in dressings, they should all be high quality and tasty!

Use herbs

Herbs, fresh or dry, add a tremendous amount of flavor without adding many calories. 9 times out of 10 I use dry herbs, because I prefer the taste and texture.

Mix and match

Don't have balsamic? Try it with red wine vinegar or another acid like lemon!

Get creative

Salads don't have to be boring, you'll see above that I've listed all kinds of dressings with different flavor profiles: Asian, Mexican, Thai, Italian, Greek, etc.
Take a base recipe like my balsamic vinaigrette and change up the type of oil, acid (vinegar, etc), and spices for a whole new twist!

Make them in advance

Most salad dressings are like a good chili… they taste better after they've had a chance to sit and stew for a bit. Plus, it's always nice to have on hand for a last minute side dish.
Best uses for dressings
Salad dressings don't just have to be drizzled on salad greens. I love dressings as a dip, as a sauce for pasta or grain salads, tossed with roasted vegetables, and even as a marinade for meat and tofu! Here are some examples on how to use the salad dressings:
Healthy vinaigrettes
Greek Salad Dressing
This easy greek salad dressing recipe takes just minutes to whip up and is super versatile. Loaded with olive oil, vinegar, a touch of honey, dijon, garlic, and loads of spices, this dressing can be used as a marinade for chicken, a dressing for pasta salads, and more!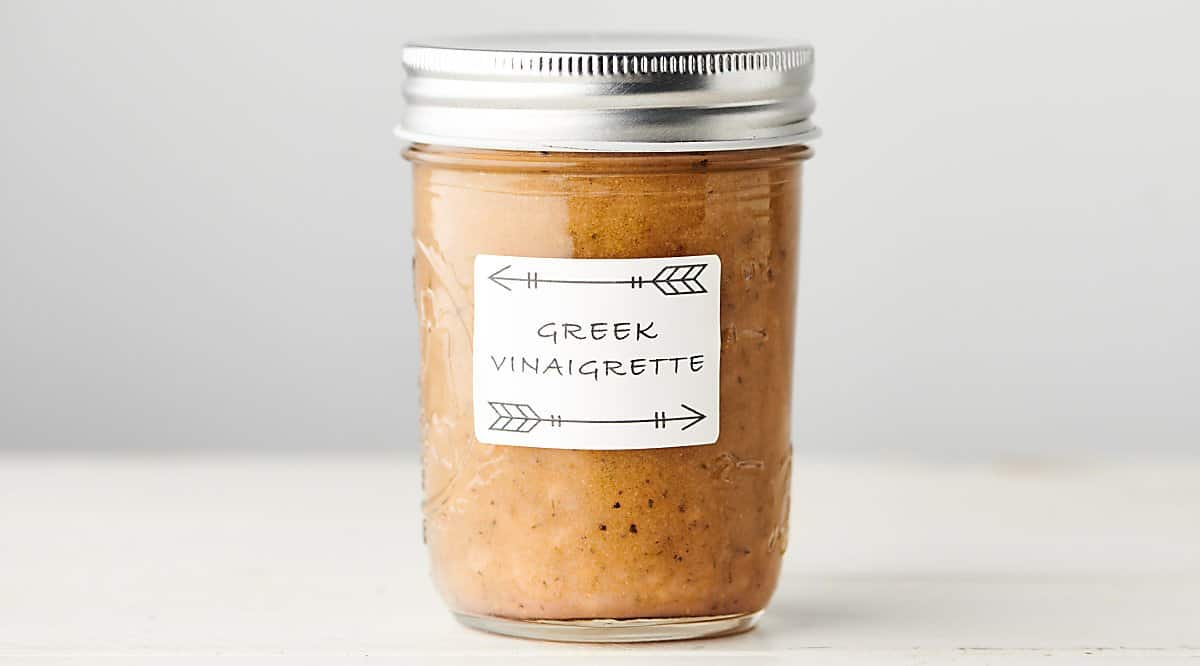 Get The Recipe
Healthy creamy salad dressings
These dressings are all quick, easy, healthy, and as you can see, SO versatile!
– Jennifer
What other salad vinaigrettes and dressing do you need recipes for? Show Me the Yummy!