These Air Fryer Chicken Nuggets are juicy on the inside and perfectly crispy on the outside! A healthier, easier, and tastier version of a drive-through or frozen classic!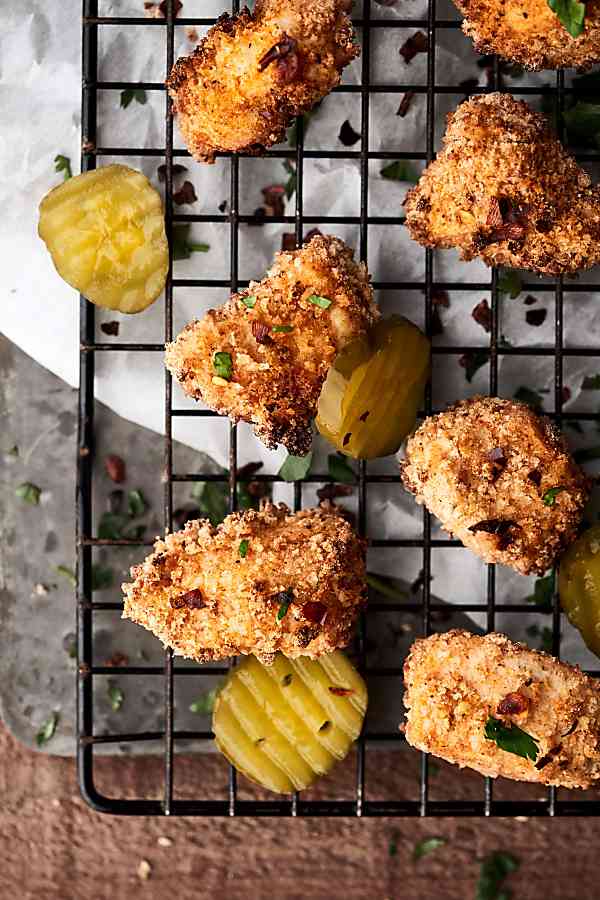 I cannot get enough of these air fryer chicken nuggets. And I know once you try them you won't be able to either.
This recipe is practically as easy as waiting at a drive through AND you probably have most of these ingredients at home already!
Don't have an air fryer? Check out these baked chicken tenders instead!
Ingredients
Nine simple ingredients to make the BEST homemade chicken nuggets!
Chicken Breast – boneless, skinless chicken breasts are affordable and perfectly tender for these chicken nuggets!
Buttermilk – used to marinate the chicken. Buttermilk makes these nuggets insanely moist and delicious.
Pickle Juice – really breaks down the chicken, making it SO tender and a little bit tangy. If you absolutely hate pickle juice, just replace with more buttermilk, but the nuggets won't be as flavorful or tender.
Garlic Powder, Paprika, Salt, and Pepper – a simple spice blend to create a classic nugget flavor!
Panko Breadcrumbs and Whole Wheat Flour – the breading for the chicken nuggets. Panko in particular makes them super crispy.
Honey Mustard, Ranch, and Ketchup – for dipping.
Pro tip
I highly recommend using buttermilk, but if you're in a pinch, make your own! 1 cup buttermilk = 1 tbsp vinegar + milk filled to 1-cup line. Let sit for 10 minutes, then measure out 1/4 cup for the recipe!
How to make
Skip the fast food tonight and let's make some homemade chicken nuggets instead! Trust me. It's WAY faster than waiting in the drive through line.
Combine chicken, buttermilk, pickle juice, and salt in a large bowl and marinate for 30 minutes.
In a ziplock baggie or mixing bowl combine Panko, flour, and spices.
Drain chicken and place into the baggie or bowl with the Panko mixture then seal and shake until the chicken pieces are fully coated.
Spray the air fryer basket with cooking spray then place the chicken pieces into the air fryer and cook.
Serve and enjoy!
Pro tip
I like marinating the cubed chicken breasts for 30 minutes at room temperature while I prep everything else, but feel free to let these marinate in the fridge for a few hours instead!
How long to cook chicken nuggets in the air fryer
In a 400 degree F preheated air fryer, chicken nuggets cook in 8 minutes. After 8 minutes, you'll end up with nuggets that are perfectly cooked and crisped. However, cook time may differ depending on your air fryer and if your chicken cubes are larger than mine.
Make sure you use a meat thermometer to verify that your chicken nuggets have reached an internal temperature of 165 degrees F.
Can you make chicken nuggets in the oven?
You can absolutely make air fryer chicken nuggets in the oven.
Preheat oven to 400 degrees F and line a rimmed baking sheet with a silicone baking mat. Place a wire cooling rack on top and generously spray with cooking spray. Set aside.
Make the chicken nuggets per the recipe instructions.
Place the chicken nuggets onto the greased cooling rack and spray the tops with cooking spray.
Bake in preheated oven for 15-20 minutes, or until the chicken nuggets have cooked through.
Serve and enjoy!
Pro tip
The wire cooling rack helps the hot air circulate around the nuggets, which creates a crisper crust!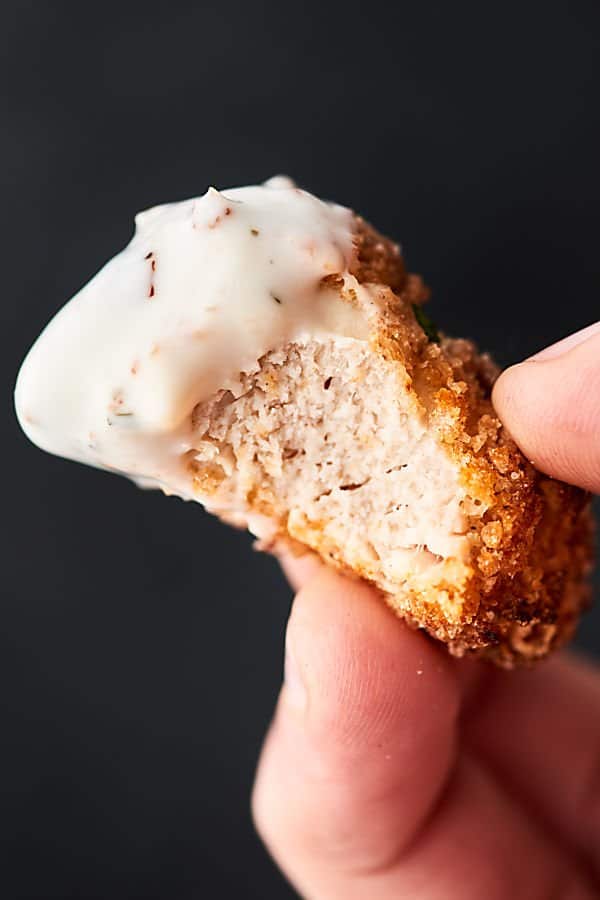 Tips
Here are some of my tips for making these the best air fryer chicken nuggets ever!
Don't rush the marinating. Trust me. This adds so much flavor and makes the chicken nuggets so moist.
Don't over-marinate. If marinating at room temperature, don't leave your chicken in the marinade much longer than 30 minutes. If you're marinating in the fridge, don't leave your chicken for longer than a few hours. The acidity in the buttermilk and pickle juice will start to break down the meat.
Don't overlap the chicken nuggets. You need to space the chicken nuggets out evenly, because you want the air to reach every part of the chicken nugget. This helps create a crisp crust on every part of the nugget!
Spray the chicken nuggets with cooking spray. This helps them crisp and helps achieve that golden-brown color.
Is air frying healthy?
It depends on what you're making, but overall, yes! Air frying is definitely healthier than deep frying. Air fryers use hot air instead of oil to cook food while still producing that crispiness we all adore about fried food.
For me, it's the halfway point between baking and deep frying. Air frying creates crisper food than baking and while it's SIGNIFICANTLY healthier than deep frying in oil, it doesn't get food quite as crispy.
Can you use chicken thighs?
Definitely! I always have chicken breasts on hand, but boneless, skinless chicken thighs will work as well. However, this may affect the cook time so make sure you verify that the internal temperature of the chicken is 165 degrees F before serving.
Can air fryer chicken nuggets be gluten-free?
Yep! Just use gluten-free panko and an all-purpose gluten-free flour. Easy enough!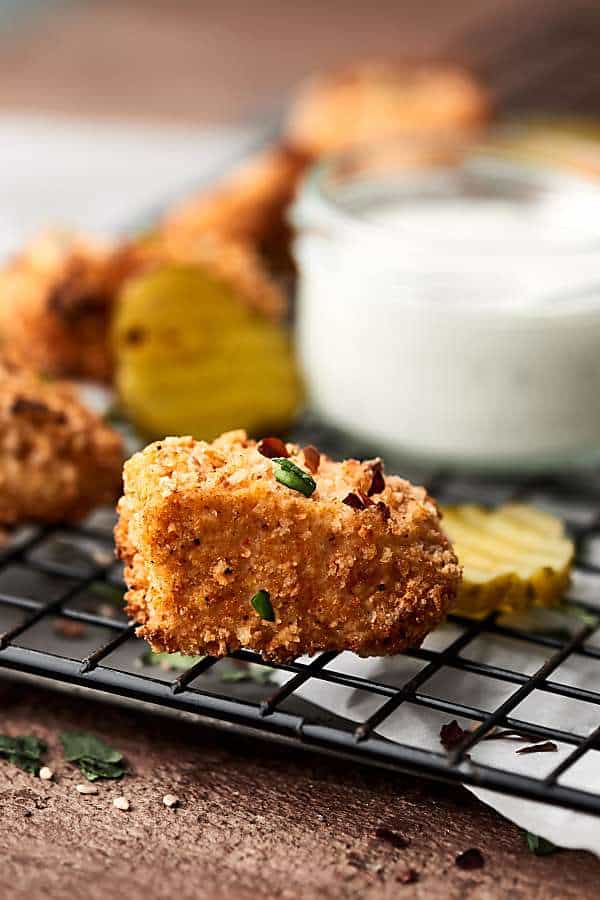 What to serve with chicken nuggets
I love dipping these chicken nuggets in honey mustard, ranch dressing, ketchup, or tartar sauce. Here are some of my favorite side dishes to serve with this recipe!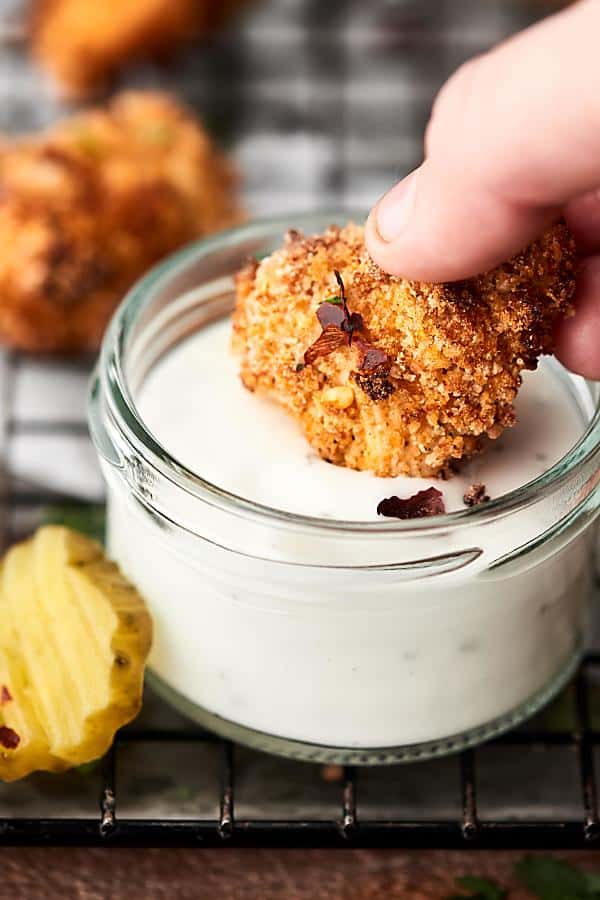 How to store
Store any leftover chicken nuggets in an airtight container in the fridge for 3-4 days or in the freezer for up to 3 months.
I recommend reheating them in the oven or air fryer to re-crisp. The microwave works too but they won't be as crispy!
Enjoy!
– Jennifer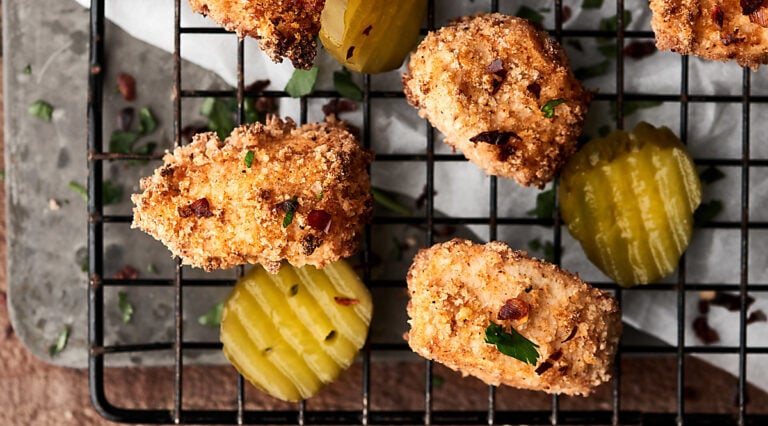 Air Fryer Chicken Nuggets
These Air Fryer Chicken Nuggets are juicy on the inside and perfectly crispy on the outside! A healthier, easier, and tastier version of a drive-through or frozen classic!
Equipment for this recipe
(equipment shown are affiliate links)
Ingredients
1

pound

boneless, skinless chicken breasts

cut into 1/2 - 1 inch chunks

1/4

cup

buttermilk

1/4

cup

pickle juice

or omit and use more buttermilk

1

teaspoon

salt

1/2

cup

panko breadcrumbs

1/4

cup

whole wheat flour

1

teaspoon

salt

1/2

teaspoon

pepper

1/2

teaspoon

paprika

1/2

teaspoon

garlic powder

Honey mustard, ranch, ketchup

for dipping
Instructions
In a large bowl, combine chicken with buttermilk, pickle juice, and salt.

Marinate 30 mins at room temperature. You can also marinate, covered, in the fridge for a couple/few hours.

Drain marinade and set chicken aside.

In a gallon sized ziplock baggie, combine panko, flour, salt, pepper, paprika, and garlic powder.*

Place drained chicken into baggie with panko mixture, seal, and gently shake until chicken pieces are fully coated. Set aside.

Hit "ON" on the air fryer.
 Then hit "PRE-HEAT". Set the temperature to 400 degrees F and set the timer to 8 minutes.
 Hit "START".
 The air fryer will beep at you when it's finished preheating.


Open up the air fryer and spray the basket with cooking spray. 
Place in the chicken nuggets, work with about 12 at a time, so you don't over crowd them.
 Close the air fryer.  It will beep at you when it's finished cooking. Repeat with remaining chicken nuggets.

Taste and re-season, if necessary and serve with your favorite dipping sauce!
STORING
Reheat:
Bake or air fry until heated through
*Storage times may vary based on temperature and conditions
Notes
*You could also do this is another bowl as shown in the video, if you like. 
Nutrition Information
Nutrition Facts
Air Fryer Chicken Nuggets
Amount Per Serving
Calories 200
Calories from Fat 36
% Daily Value*
Fat 4g6%
Cholesterol 74mg25%
Sodium 1587mg69%
Potassium 481mg14%
Carbohydrates 13g4%
Protein 26g52%
Vitamin A 180IU4%
Vitamin C 1.3mg2%
Calcium 39mg4%
Iron 1.1mg6%
* Percent Daily Values are based on a 2000 calorie diet.
*Note: Nutrition information is estimated and varies based on products used.
Keywords:
air fryer, chicken breast, panko
This post was originally published May 30, 2018 and has been updated to provide more detailed content.