Homemade Greek Yogurt Ranch Dressing – easy, healthy, and delicious! 200 calories for the ENTIRE recipe!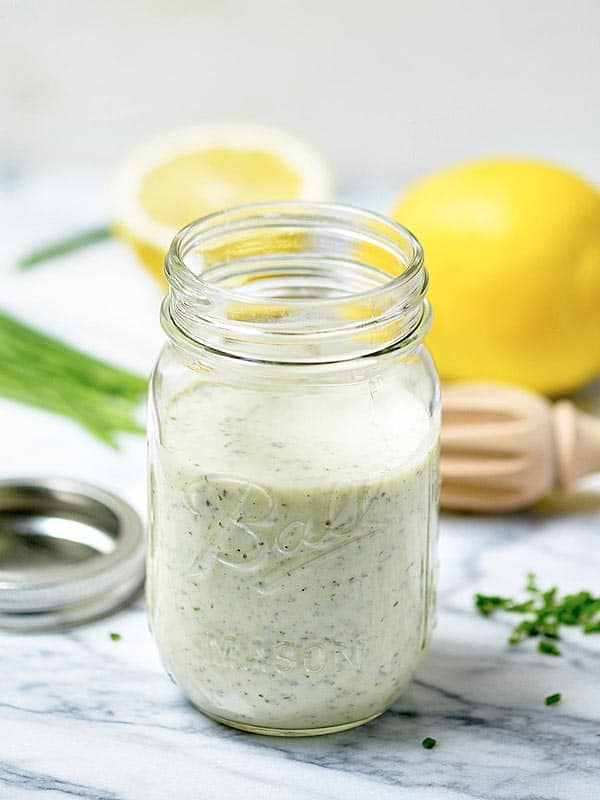 I love Ranch Dressing. Some people may judge me for this, but when I went to college I was still an extremely picky eater.
Veggies – no go.
Fruit – ehhh, I could take it or leave it.
Brownies, dessert, fried food, cheese? Gimme, gimme, gimme!
I was determined, however, to become a healthy eater. This was the first time in my life that I could chose when and what I was eating. If I wanted to eat dinner at 4:30, I could. If I didn't like something in the dining center, I'd go find something else.
With that in mind, I started forcing myself to eat mainly fruits, veggies, and lean proteins, but I couldn't just dive straight in to the hard core stuff – you know – the spinach and other veggies, without something to help "mask" the flavor. So what did I smother it in? Ranch, of course!
Now. I know Ranch isn't healthy, but hey! It got me to like vegetables, so I'd say that's a win. Now that I enjoy eating salads and vegetables, I don't need Ranch dressing, but sometimes I really miss the taste of it! I've seen healthy Ranch dressing recipes around the web for years now, and finally decided to make my own Homemade Greek Yogurt Ranch Dressing.
I've missed you old friend.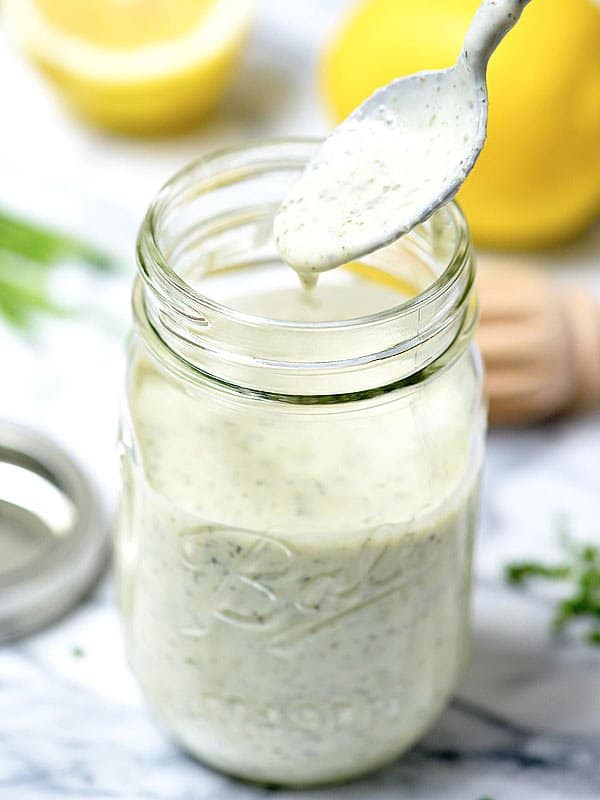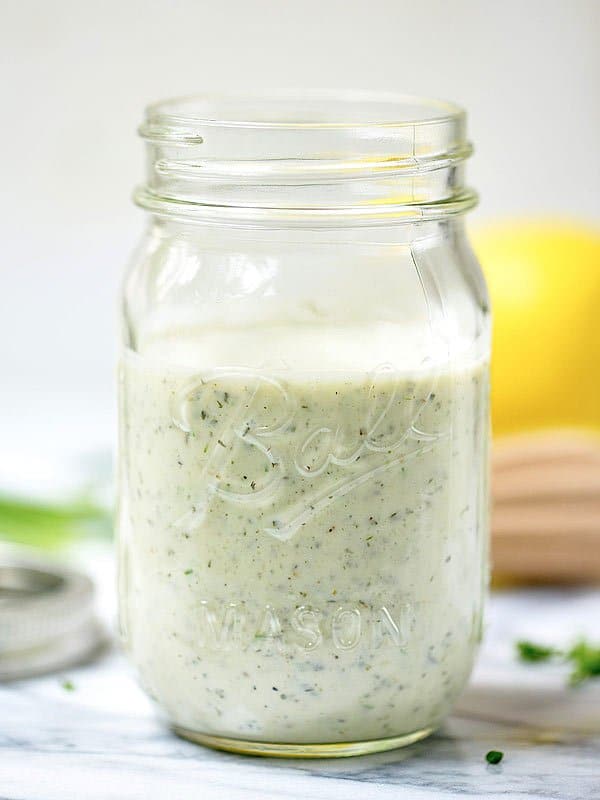 Because I missed Ranch so much, I went to go buy some, but the calorie count and mystery contents in the bottle made me choose otherwise. Instead, I picked up some greek yogurt and buttermilk and went to work.
Here's all you need to do to make really delicious and healthy homemade greek yogurt ranch dressing…
Are you ready?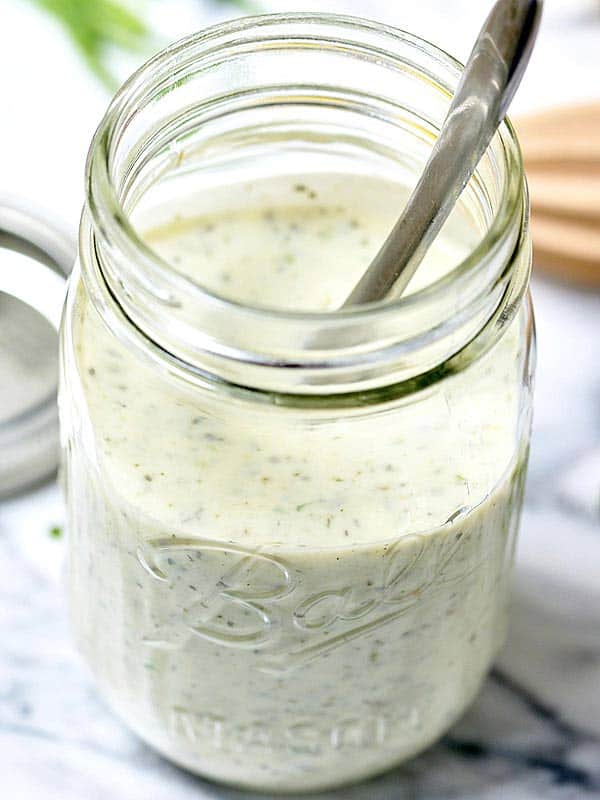 Place the ingredients – spices that I'm confident you will already have on hand, greek yogurt, buttermilk, dijon, and lemon – into a food processor
and pulse until everything has combined. Pour into a container that can be sealed (tupperware, mason jar, etc).
Done!
It's seriously almost annoying how easy it is, because can I really call this a recipe and post it on my food blog?!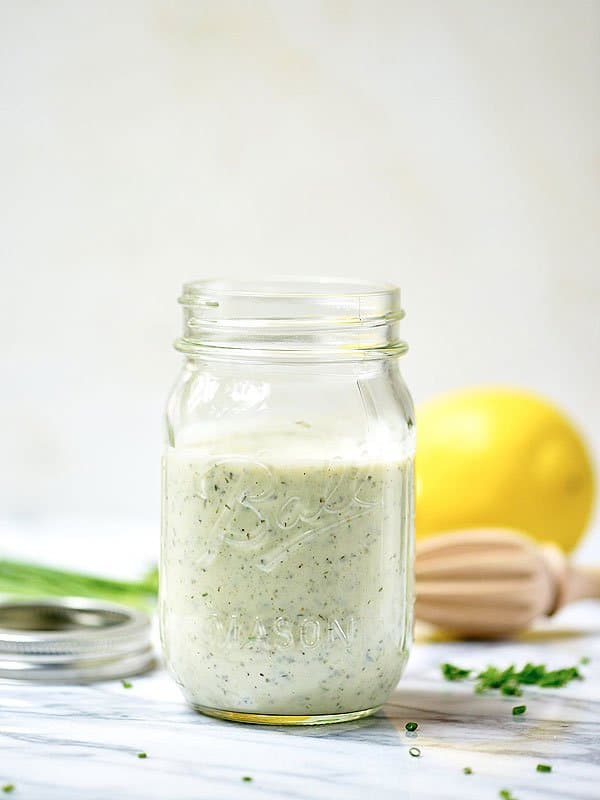 Heck yes! Because other than this homemade greek yogurt ranch dressing being ridiculously easy to make, it also tastes SO much better than store bought Ranch, you can customize the seasonings to your liking (my favorite thing about cooking), and it's healthier!
Healthier as in, The WHOLE recipe is only 206 calories and this makes 1 and 1/2 cups (24 tablespoons).  ONE SERVING of Ranch, 2 tablespoons, is 140 calories!  The equivalent with my recipe is only 17 calories.
Boom! It doesn't get better than that.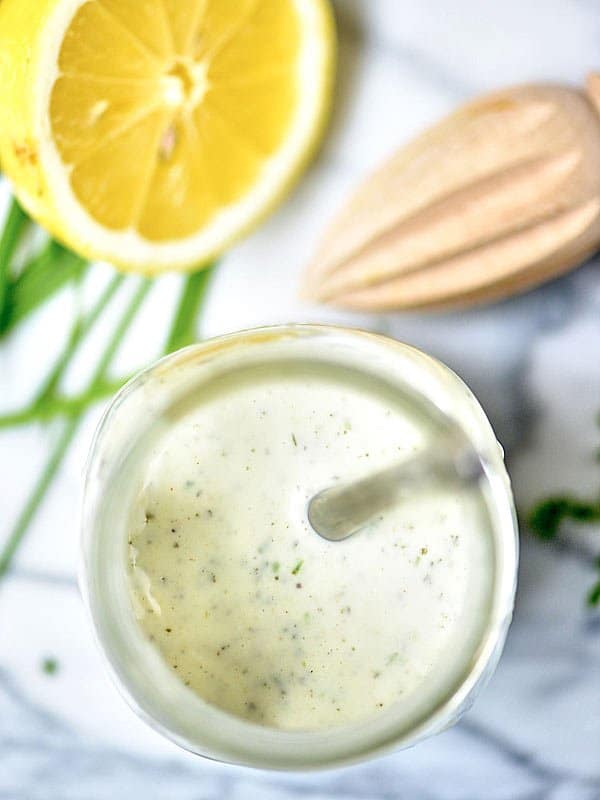 I think I have such a special place in my heart for Ranch, because I grew up eating it. The only vegetables I really ate growing up were carrots and only if there was a higher Ranch to carrot ratio. 😉 That love of Ranch, as you now know, went with me to college, and has stuck with me ever since!
I'm so happy that I now have a healthy homemade greek yogurt ranch dressing recipe that I can whip up any time I want! I think Trevor will be especially happy, since he takes a salad for lunch every day, and I think he gets bored with his go-to dressing.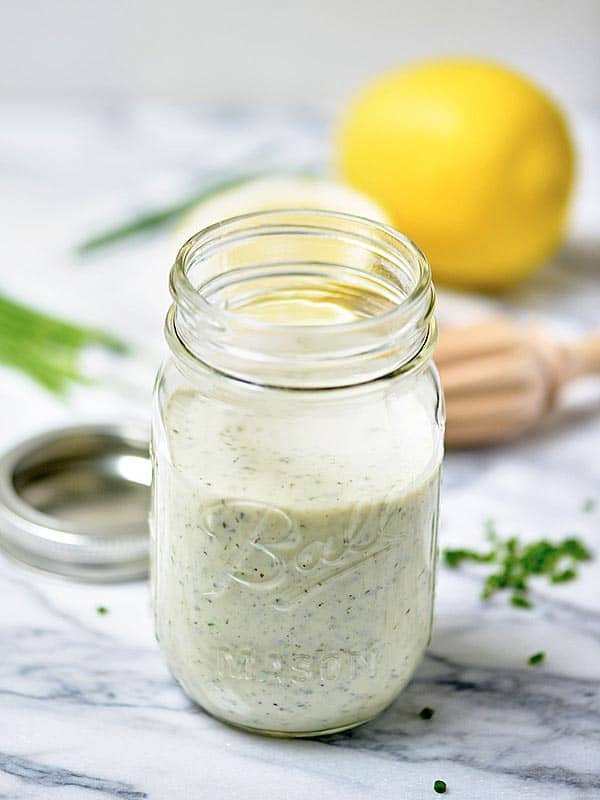 If you're looking for a lightened up Ranch this is the recipe for you!
Ranch lovers unite!
– Jennifer
PS – If you seriously ♡ this recipe, you'd also LOVE my Greek Yogurt Blue Cheese Dressing.
What store bought dressing should I "health-i-fy" next? Show me the yummy!
Homemade Greek Yogurt Ranch Dressing
Homemade Greek Yogurt Ranch Dressing - easy, healthy, and delicious! 200 calories for the ENTIRE recipe!
Servings
:
1
cups
Results and timings may vary when adjusting servings
Ingredients
1

tablespoon

dried parsley

1/2 - 2

teaspoons

garlic powder

1/2 - 2

teaspoons

onion powder

1/4

teaspoon

ground black pepper

1/2 - 1

teaspoon

salt

1

tablespoon

fresh chives

1

cup

non fat plain greek yogurt

1/3

cup

buttermilk

1

teaspoon

Dijon mustard

1

teaspoon

lemon juice
Instructions
Place the spices (dried parsley - fresh chives) into a food processor and pulse a few times, until the spices have been ground up a bit.

Scrape down the sides.

Place the remaining ingredients - greek yogurt, buttermilk, Dijon, and lemon juice - into the food processor and pulse until the ingredients have been fully incorporated.

Scrape down the sides, if needed, and pulse again.

Transfer into a sealable container (like a mason jar) and place in the fridge until you're ready to use it!
Notes
*Some people like more or less garlic/onion powder, so start with a little and go from there!
** Nutrition information is for the WHOLE recipe! Eat up! 🙂
*** This is a pretty thin dressing, if you like thicker dressings, slowly add in the buttermilk, until the consistency you prefer is reached!
Make this recipe?
Show

ME

the Yummy
Tag @ShowMeTheYummy & #ShowMeTheYummy on Instagram
Nutrition Facts
Homemade Greek Yogurt Ranch Dressing
Amount Per Serving
Calories 206
Calories from Fat 10
% Daily Value*
Total Fat 1.1g 2%
Protein 16.7g 33%
* Percent Daily Values are based on a 2000 calorie diet.
*Note: Nutritional information is estimated and varies based on products used.
* This post contains affiliate links. We receive a commission on purchases made via these links. The price you pay is not affected by using them.