Bring this Thai Chicken Salad to work & you'll have the best lunch there. With so many great textures, fresh flavors, & tangy dressing, you'll never get bored!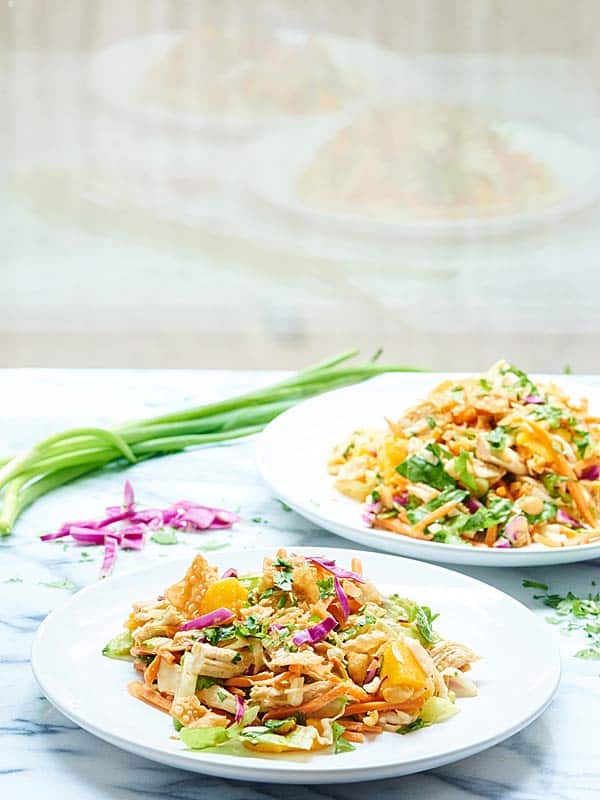 I don't mean to be bossy, but let me tell you…you need this Thai Chicken Salad in your life. If you're on the hunt for a really non-boring lunch, then you've come to the right place! 💃 This Thai Chicken Salad is easy to prep, can be enjoyed all week long, and has so many fun flavors and textures going on!
Are you ready for this?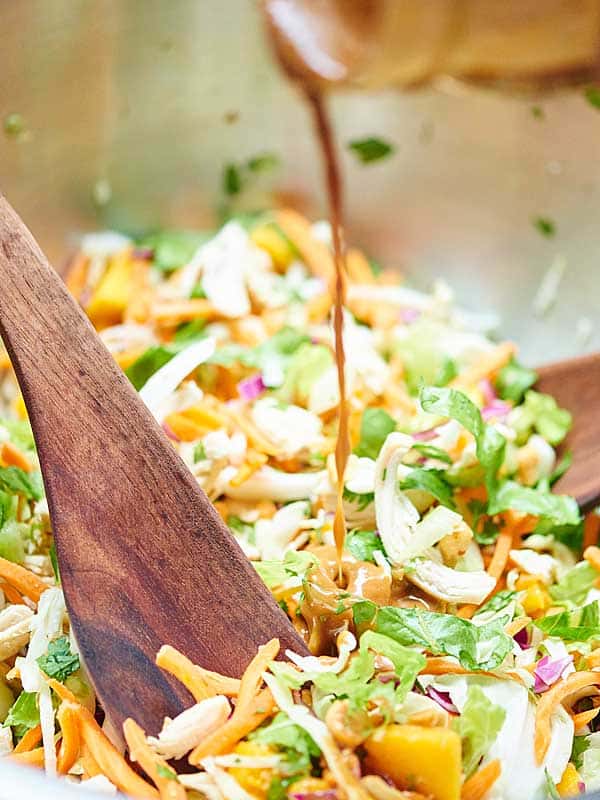 I've been reeeeally into Asian flavors lately. Currently, I'm working on an Asian pasta that I think is going to be a total flavor bomb, and don't even get me started on my Crockpot Thai Chicken Curry.
To keep with the theme, I've made for you, today, a Thai Chicken Salad.
Other that having a really awesome Thai flavor, this salad is also super healthy. Which is exactly what I need after a long, indulgent weekend like this past weekend. Can we say too much food at the Taste of Madison?
We absolutely had a blast trying all sorts of food: our first Wisconsin cheese curds, pulled BBQ pork sandwiches, some of the BEST Indian food I've ever had (seriously. y.u.m.), and 4 scoops of mint ice cream.🍦 <3
That being said, I was seriously craving something light, fresh, and crunchy today!
I was also craving something E.A.S.Y. I mean, what is it about Monday that makes me have zero motivation to do anything? Anyone with me? 🙋 🙋
Luckily, there are only 3 parts to this Thai Chicken Salad.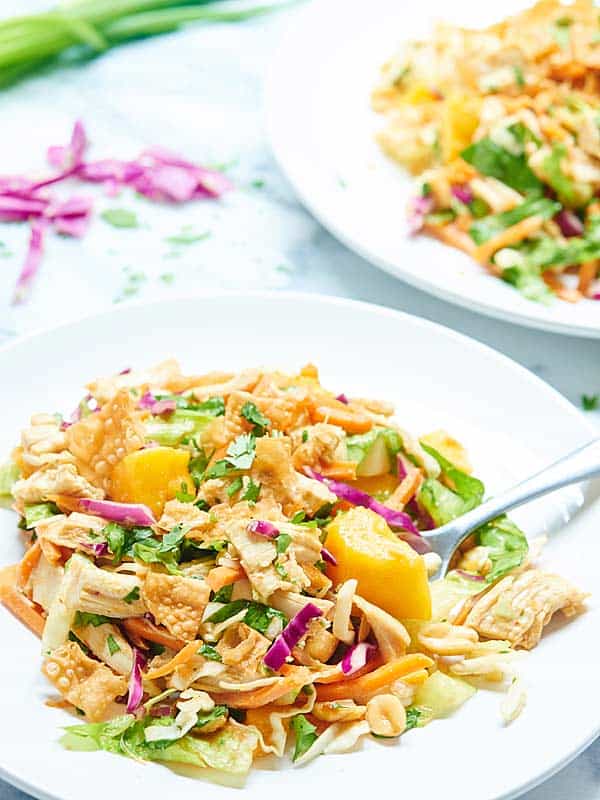 1. The salad. You know, the green stuff.
2. The dressing. Ohhh. My. Yum. You're gonna love it. It's peanut-ty, it's tangy, it's just so darn yummy, ok?
3. The crunchies. <3 <3 <3 This step is optional, but highly recommended. Crunchies = pan fried wontons. Just doooo it. 😉
Let's start with the salad.
I have to admit something. I cheated. 🙈 But I promise you're gonna love it.
For the base of this Thai Chicken Salad, I used pre-packaged coleslaw, pre-shredded red cabbage, and packaged julienned carrots. Less prep work? Ok! All I did for the rest of this salad is boiled some chicken (make extra and use for other recipes!), and chopped some crisp romaine, earthy mango <3, fresh cilantro, and green onions! This literally took me 5 minutes to do. You down with that? 👊
Now. That dressing. Combine all the ingredients into a food proccessor
and pulse until smooth!
We're using lots of garlic, sriracha, soy sauce, rice vinegar, brown sugar, lime, sesame oil, fish sauce (stinky, but necessary), and peanut butter! The flavor combo will blow your mind. Promise. It's tangy, a little sweet, and the peanut butter really brings everything together.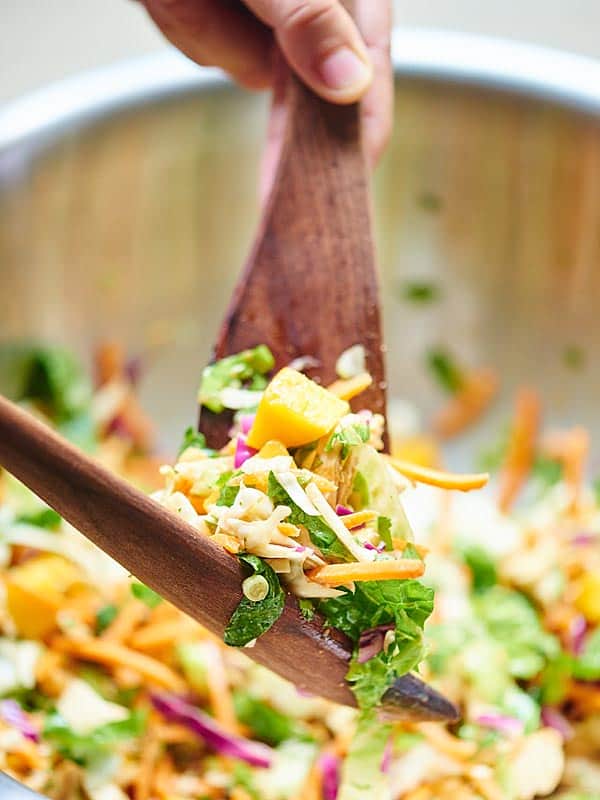 Last but not least? The wontons.
All you really do is slice some wontons, fry them up in some hot oil for like 60 seconds, remove them from the oil and sprinkle them with salt. H.E.A.V.E.N. <3 Heaven, yes, but not necessary. If you have the time, though? Do it. 🙂
All that's left is to assemble! Throw everything into a big bowl, toss with the dressing, and serve immediately! If you're making this ahead of time, keep the mangos and the dressing separate until ready to serve. Nobody likes mushy, soggy lettuce.
Most likely you'll have a little extra dressing, but as I say in the video, that's where Trevor and I differ. He's likes juuuust enough dressing and I like my salad swimming in dressing. 🙂
Bring this Thai Chicken Salad to work and you will for sure have the best lunch there. It's crunchy from the fresh veggies, tangy and peanut-ty from the dressing, and don't forget about those crispy, salty, crunchies!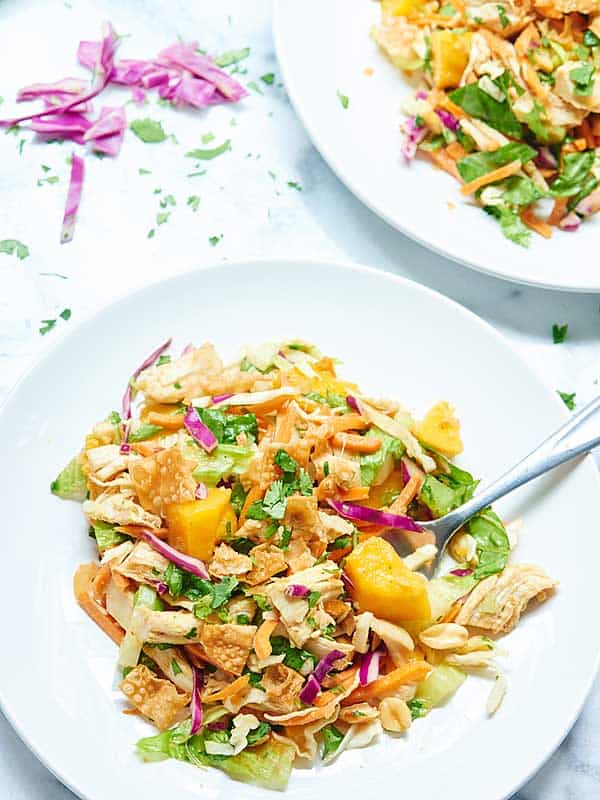 BEST. LUNCH. EVER. Wahooo!
– Jennifer
Don't stop there though, here are some other Ah-Mazing salads: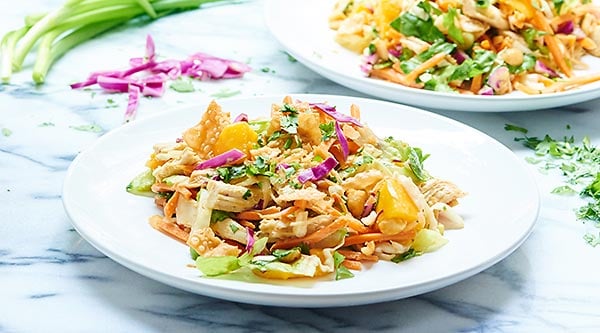 Thai Chicken Salad
Bring this Thai Chicken Salad to work & you'll have the best lunch there. With so many great textures, fresh flavors, & tangy dressing, you'll never get bored!
Equipment for this recipe
(equipment shown are affiliate links)
Ingredients
Salad
1/2

pound

boneless skinless chicken breasts*

cooked and cubed/shredded

1

cup

pre-packaged coleslaw

cabbage and carrots

1/2

cup

pre-shredded red cabbage

2

cups

shredded romaine

2

cups

julienned carrots

1

mango

cut into small cubes

1

small handful fresh cilantro

minced

1

small bunch green onion

just the white/light green part, finely sliced

1/2

cup

lightly salted peanuts

chopped
Dressing
3

cloves

garlic

minced (less if you're not a huge garlic fan)

1

teaspoon

Sriracha

or more to taste

2

tablespoons

soy sauce

2

tablespoons

seasoned rice vinegar

2

tablespoons

brown sugar

1

tablespoon

freshly squeezed lime juice

1

tablespoon

sesame oil

1

teaspoon

fish sauce

1/4

cup

peanut butter

2 - 4

tablespoons

water

for desired consistency
Crunchies
2

oz

wontons

cut into fourths

vegetable oil

for frying

salt
Instructions
Salad
Prep all the salad ingredients. If making this ahead of time, store the mango separately.
Dressing
Place all dressing ingredients into your food processor (start with 2 tablespoons water and add more as needed) and pulse until well combined. Store in an airtight container in the fridge.
Crunchies
In a shallow pan, heat a half-inch of oil over medium heat until it reaches 325 degrees F.

Once hot, add in the wonton strips and cook until golden brown, about 60 seconds.

Using a metal, slotted spoon, remove the wonton strips from the oil and place on a paper towel lined plate.

Immediately sprinkle with salt.
Assembly
Place all salad ingredients into a large bowl.

Toss with desired amount of dressing, you may have extra.

Serve immediately and top with crushed crunchies!
STORING
*Storage times may vary based on temperature and conditions
Notes
*Omit wonton wrappers if you're gluten free! Nutritional information does not include wonton wrappers. 
**Store salad and dressing separately.
Nutrition Information
Nutrition Facts
Thai Chicken Salad
Amount Per Serving
Calories 395
Calories from Fat 198
% Daily Value*
Fat 22g34%
Cholesterol 36mg12%
Sodium 922mg40%
Potassium 873mg25%
Carbohydrates 29g10%
Protein 24g48%
Vitamin A 13405IU268%
Vitamin C 36.3mg44%
Calcium 82mg8%
Iron 1.8mg10%
* Percent Daily Values are based on a 2000 calorie diet.
*Note: Nutrition information is estimated and varies based on products used.
Keywords:
chicken breast, fresh, summer