12 Christmas Desserts that Aren't Cookies! Everything from sweet treats like puppy chow, Christmas crack, and fudge to elegant desserts like red wine chocolate pudding pie and everything in between!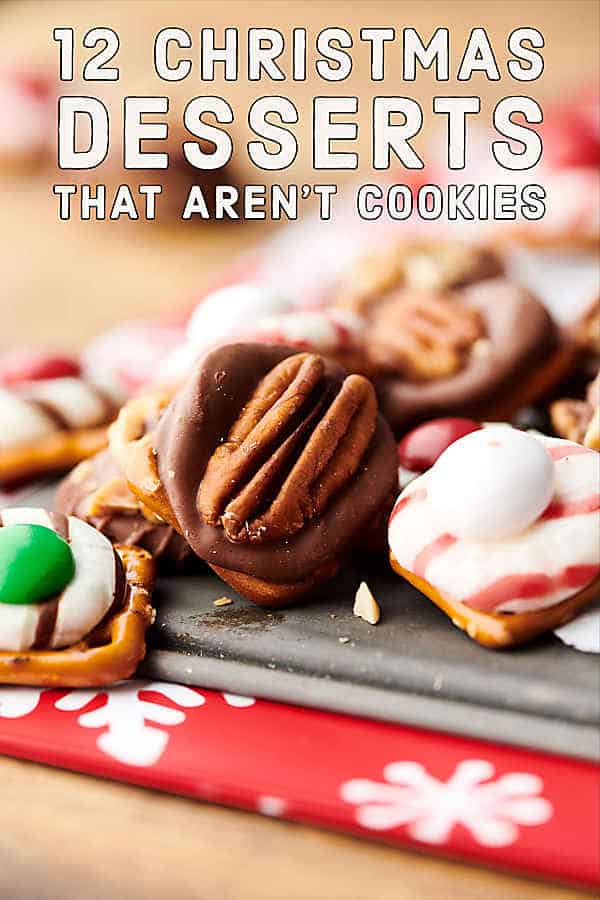 If you're all cookied out from my 10 Christmas Cookie Recipes post, have no fear, because today we're talkin' about all the other yummy Christmas desserts that aren't cookies!
Whether you're looking for sweet treats to package up for edible gifts or looking for an elegant dessert to end your special Christmas meal, I've got you covered!
Whether you call it puppy chow or muddy buddies, I promise you, this is the best recipe! Why? More chocolate, more peanut butter, and more powdered sugar! This childhood classic snack mix just got better.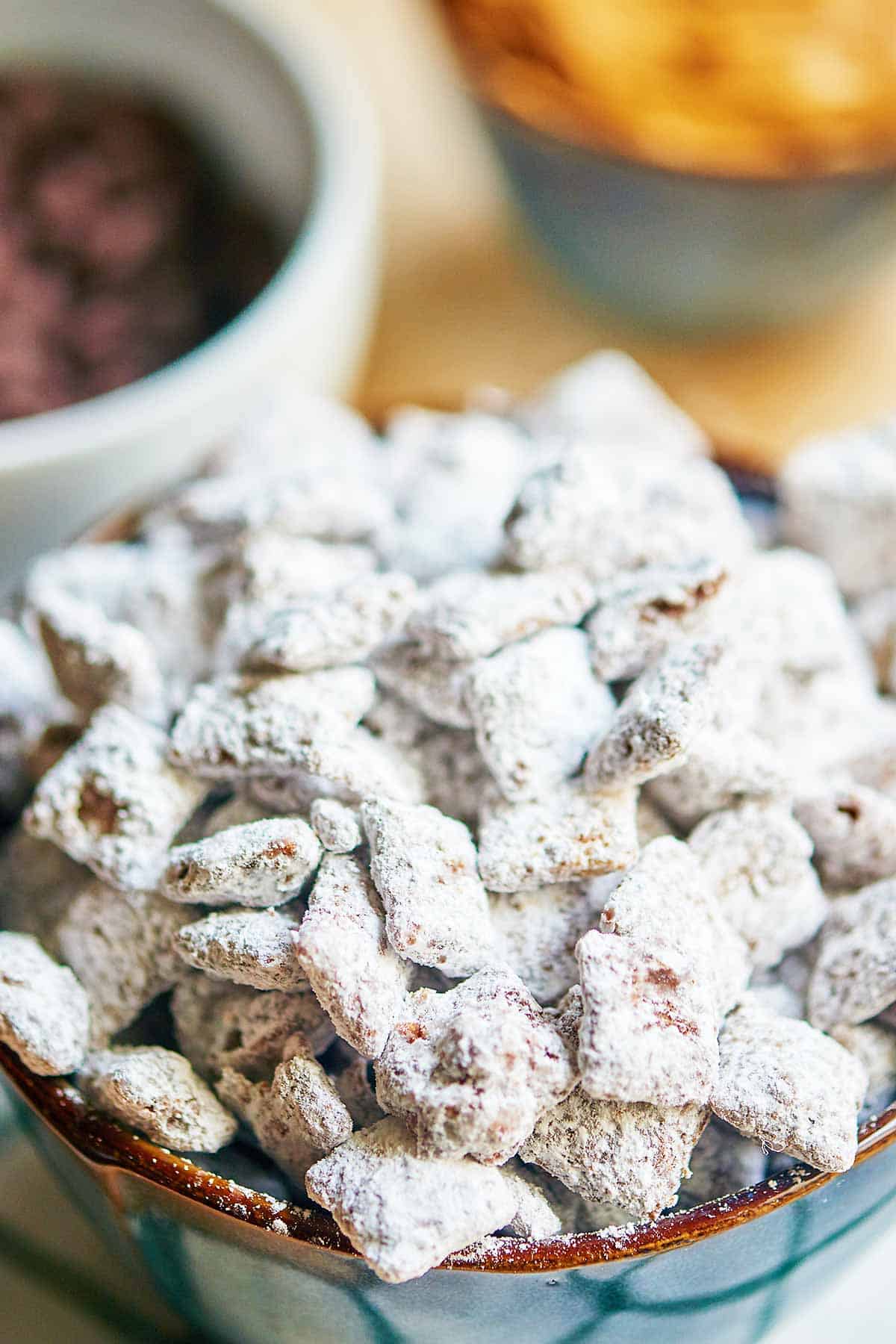 Add this Christmas Crack (aka Easy Saltine Toffee Candy) to your holiday baking list! Only 6 ingredients necessary to make the most addicting holiday treat yet! It's the perfect combo of sweet/salty/crunchy!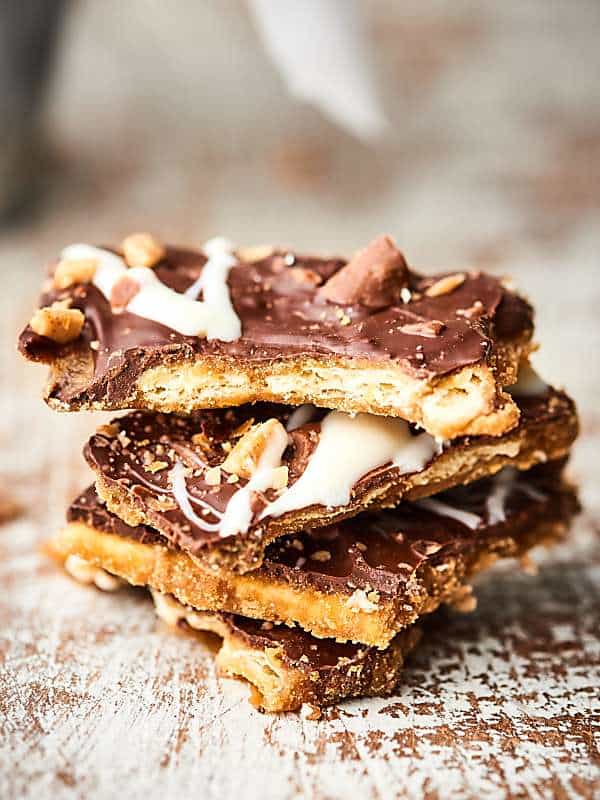 Easy Pretzel Turtles Recipe – 4 Ways. 1. Pretzels with rolos and pecans. 2. Pretzels with peppermint kisses and m&ms. 3. Pretzels with Hershey's hugs and m&ms. 4. Pretzels with peanut butter cups and honey roasted peanuts. All 3 ingredients, quick, easy, and of course, delicious!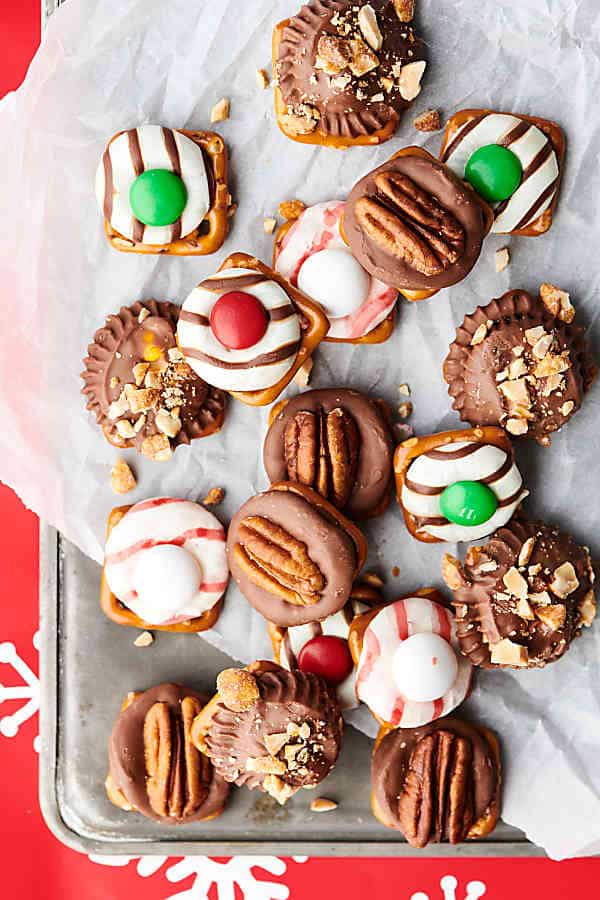 These Easy Peanut Clusters only require four ingredients: vanilla almond bark, chocolate chips, peanuts, and sea salt! Quick. Easy. Addicting.
A passed down family recipe! This easy chocolate fudge is made in one bowl, has 5 ingredients, and is cooked in the microwave for 90 seconds! The easiest dessert you'll make this holiday season!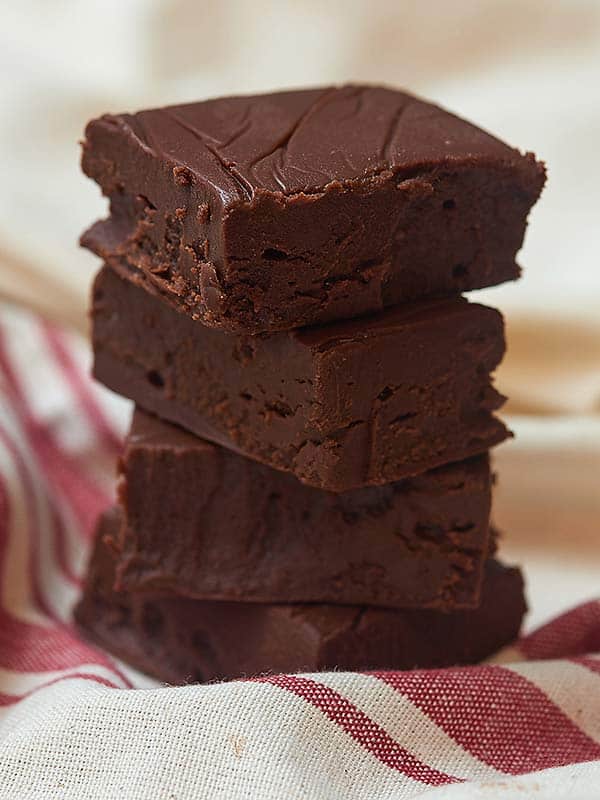 This Hot Chocolate Cheesecake Dip Recipe only requires 6 ingredients and 10 minutes of prep! Full of cream cheese, yogurt, marshmallow creme, hot cocoa mix, cool whip, and marshmallow bits! Serve with cookies, pretzels, fruit, and more!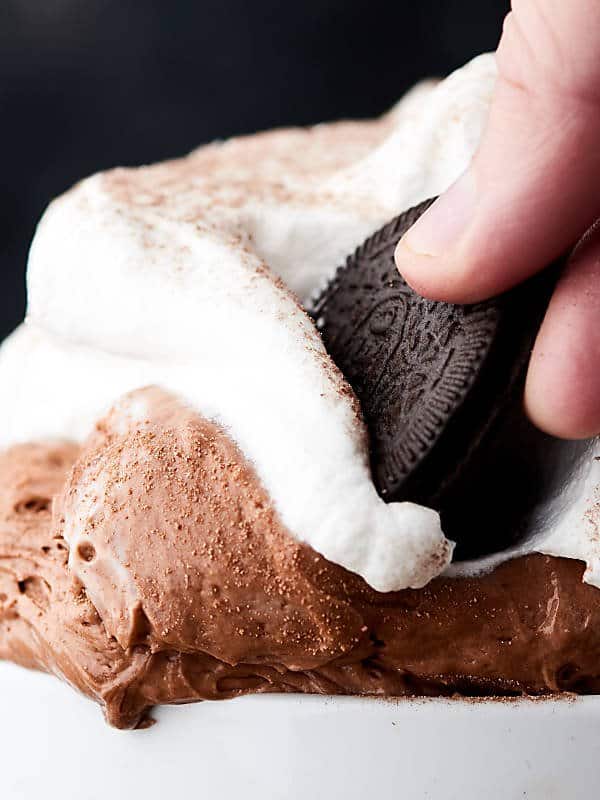 This Easy Peanut Butter Fudge Recipe is made in the microwave! Make the white chocolate version or the double chocolate version! Both are gluten free and made without sweetened condensed milk.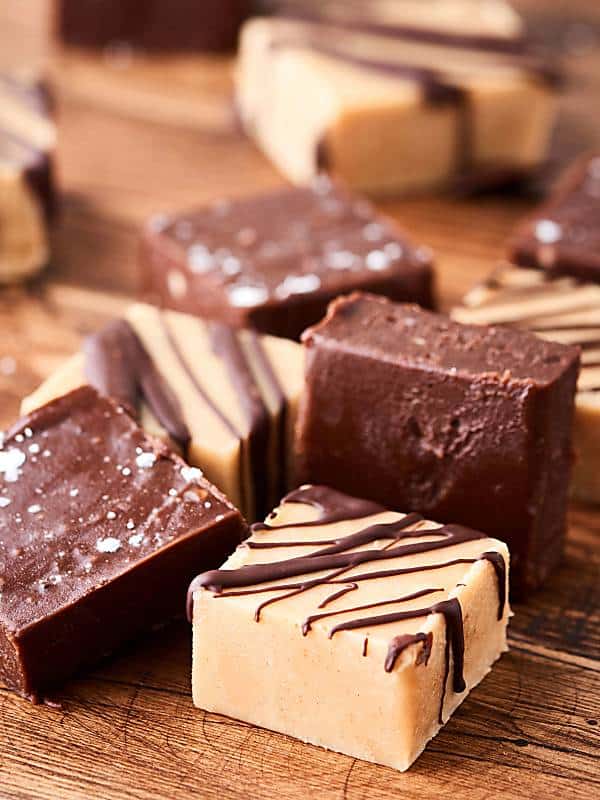 You're only eight ingredients and five minutes of prep away from the BEST Mint Oreo Cream Cheese Ball. Cream cheese + pudding mix + mint extract and loads of Mint Oreos? This dessert is easy and delicious!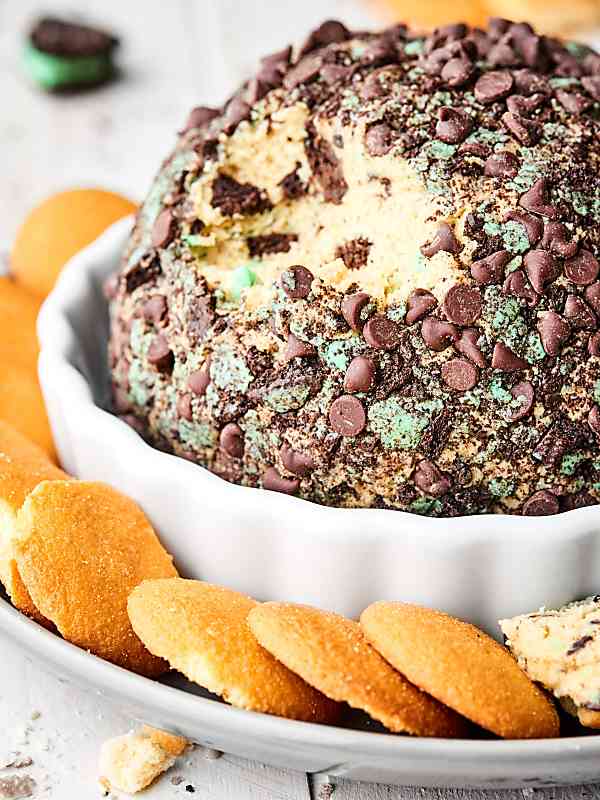 This Easy Microwave Fudge Recipe can be made into FOUR different flavors: peppermint, chocolate, turtle, and maple! Made in a mini muffin tin to make the perfect bite sized treats.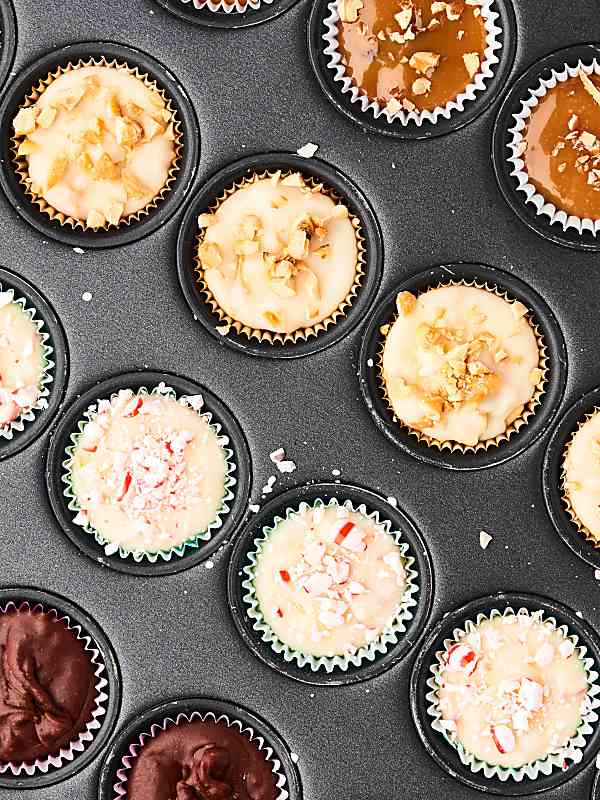 This is five ingredient mint chocolate candy. Chocolate that crunches slightly when you bite into it, filled with creamy, sweet, sugary, minty perfection!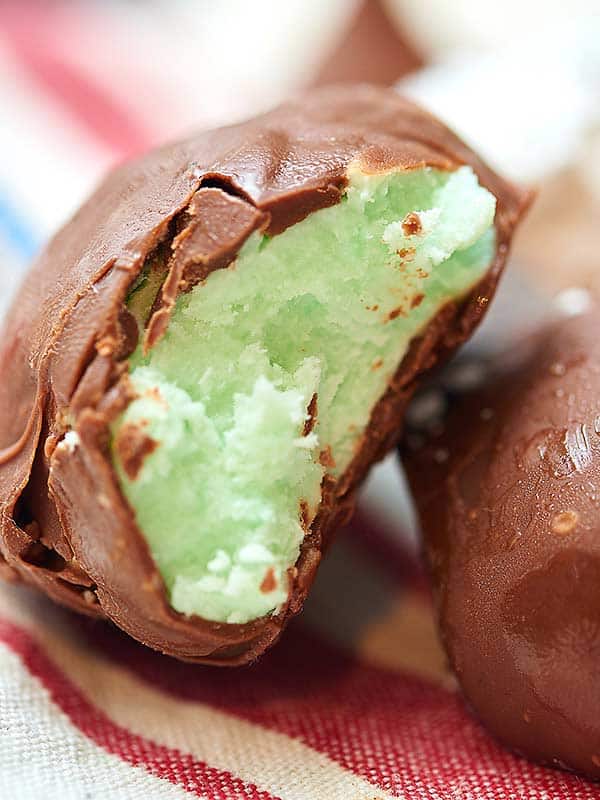 This Holiday Chocolate Fudge takes 2 minutes to make in the microwave & is full of egg nog, bourbon, cinnamon, & nutmeg! The easiest holiday candy recipe!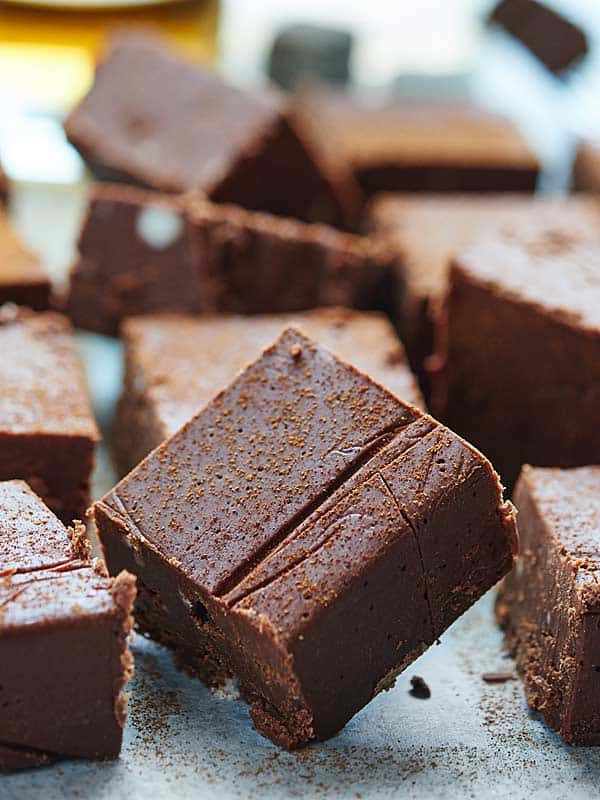 This Red Wine Chocolate Pudding Pie will be the star of your next holiday gathering. A simple graham cracker crust is filled with the most decadent, rich, red wine chocolate pudding!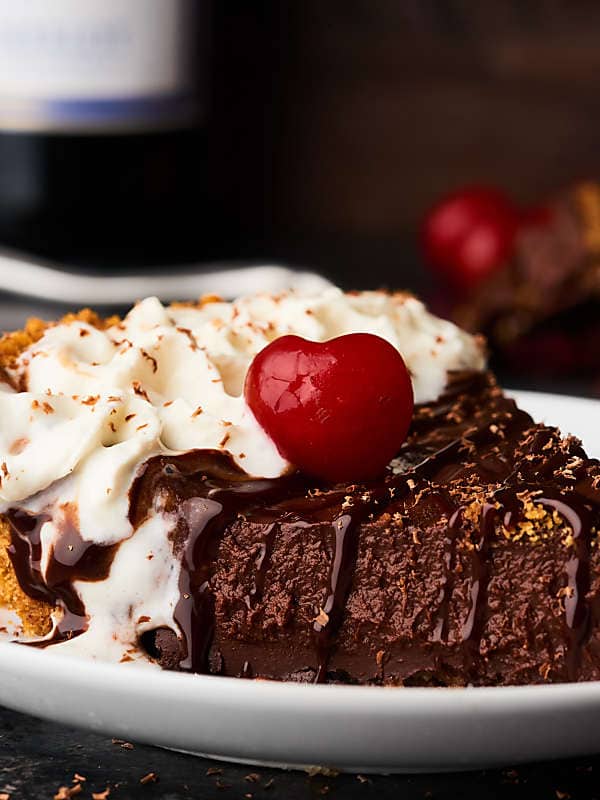 Merry Christmas and Happy Holidays!
– Jennifer