Have game day plans? Yes! Making these jalapeño poppers.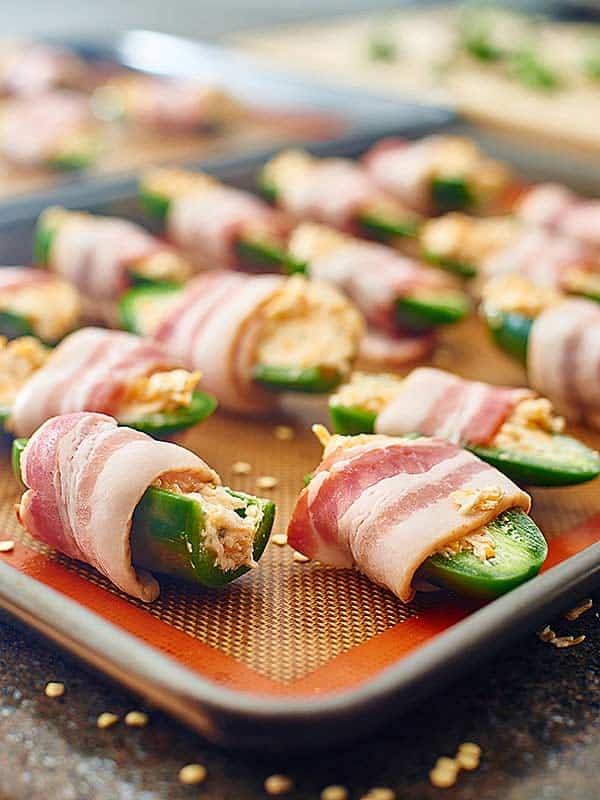 Holy yum, you are going to love these Jalapeño Poppers! Picture this… Steaming hot jalapeño poppers fresh from the fryer oven.
Yes, I said the oven. These are baked (so healthy…er?) and oh so delicious. Slightly crunchy jalapeños, with the perfect amount of heat, are filled to the brim with smooth cream cheese, melted cheddar cheese seasoned with garlic powder, creamy mayo and and salty Ranch Dressing mix. As if that's not enough to make you drool, these poppers are then wrapped in bacon. That's right, bacon. Are you drooling as much as I am right now?
GO [insert your team here]!!!
Football season is upon us! Which means lots of football watching snacking will take place, because let's be honest, the best part of football season is the snacks that go with it (that may be because I have no idea what's going on). Chips and dip, puppy chow, chili, and my personal favorite, jalapeño poppers. Did anybody catch that game last week? Yeah, me neither, because I was too busy stuffing my face with poppers.
Jalapeño popper lovers, this is the recipe for you! These are a cinch to make and there's no messy frying! Score! These are a real crowd pleaser, especially since it makes such a gigantic batch.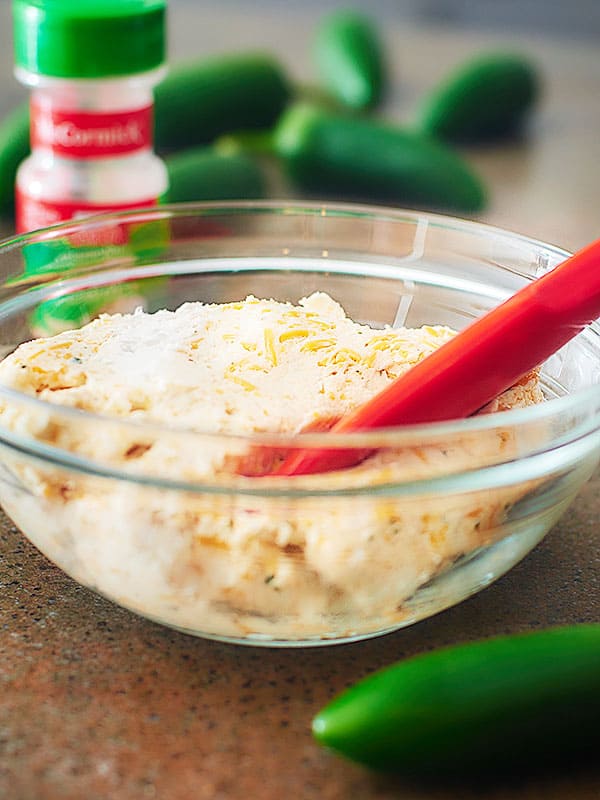 In one large bowl, place softened cream cheese, mayo, cheddar cheese, garlic powder, and Ranch dressing mix and stir until combined. Then take your jalapeños, cut off the tops, and slice open lengthwise.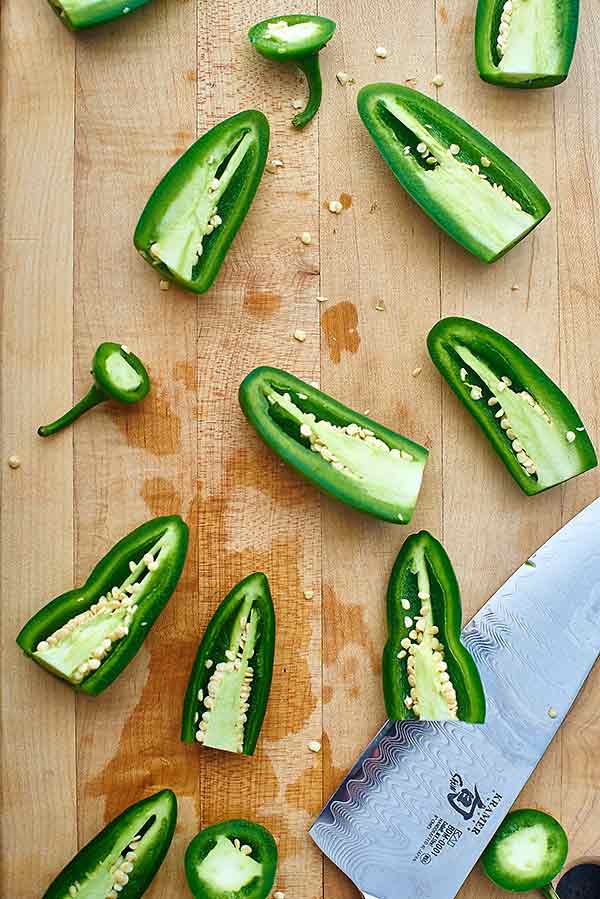 Clean out the membranes with a spoon and leave as many seeds as you want. More seeds = more spicy. More spicy = more yummy 🙂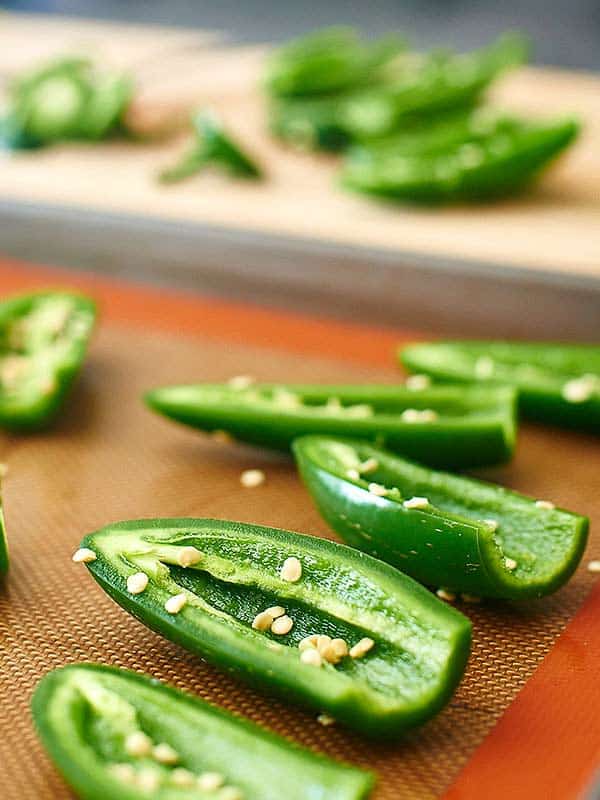 Spoon a ridiculous amount of filling into the hallowed out jalapeños and wrap with bacon. Bake for 20 minutes while patiently pacing back and forth trying to contain your drool.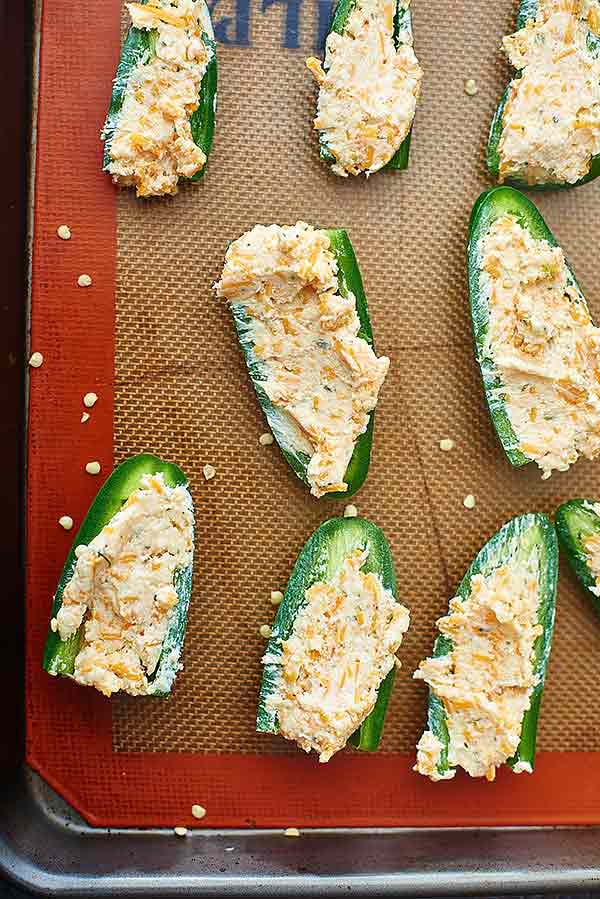 Word of advice, while the poppers are baking, don't make the same mistake I did and lick the filling off your fingers after touching all the jalapeño seeds. I had to rub ice cream on my lips to stop the burning. Oops 😉 Proof once more that ice cream can solve almost any problem, can't it? By the time the poppers were ready, my lips had cooled off and I was throughly enjoying as many poppers as I possibly could.
But seriously. Don't touch any part of your face after you've touched the jalapeños. Wash your hands. And then wash them again. You can thank me later.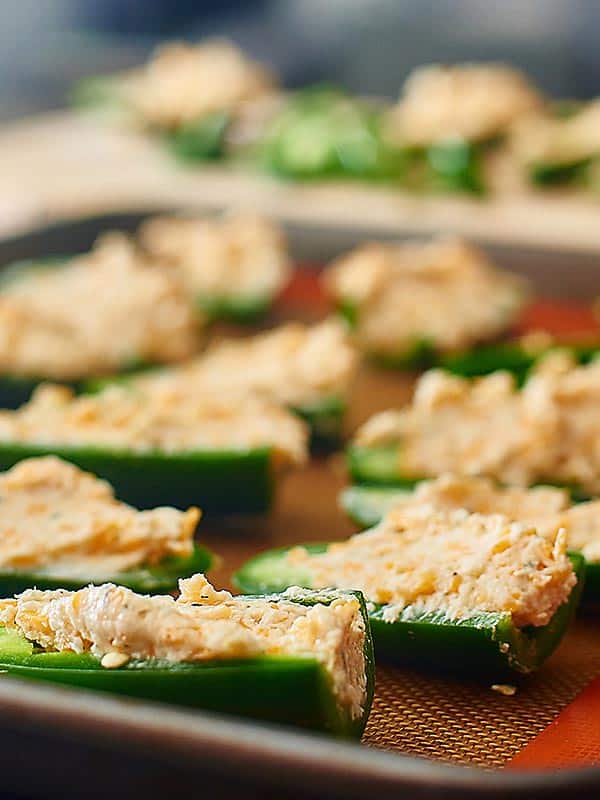 If you feel like sharing, prep and assemble these the night before and store in the fridge on a baking sheet covered with saran wrap. Take them over to your friends house and pop them in the oven! Everyone will love these, just make a few with no seeds for the non spicy lovers. Even the vegetarians will love these, just leave off the bacon (that was not easy to say, bacon is so good!)! But as delicious as bacon is, the jalapeños and cream cheese mixture can hold up on their own.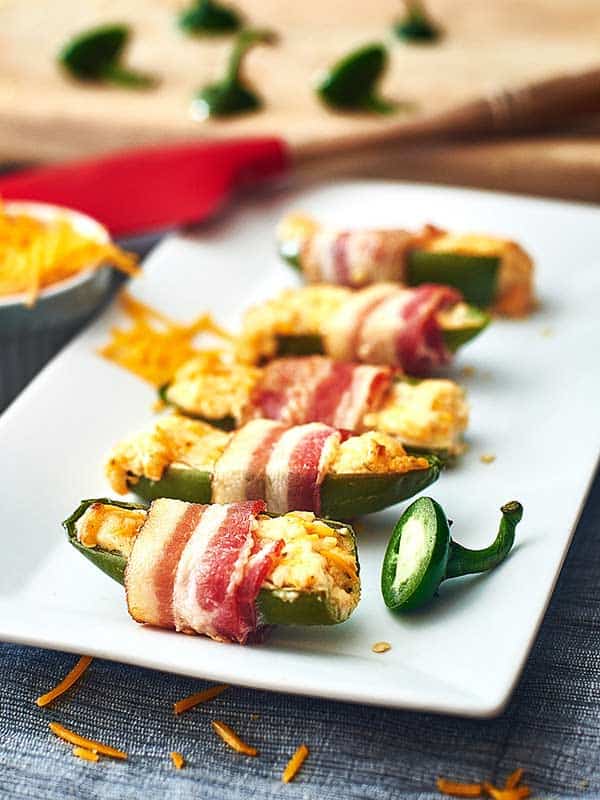 These are the perfect football watching snack. They're easy to make, super tasty, and the perfect size for finger food. Two bites and you're done. And then you're reaching back for more.
Trust me. Make these for your next football gathering and you'll be everyone's new best friend.
Jennifer
What's your favorite football snacky recipe? Show me the yummy!
Baked Jalapeño Poppers
Have game day plans? Yes! Making these jalapeño poppers.
Servings
:
30
poppers
Results and timings may vary when adjusting servings
Ingredients
1

(8 oz) package

cream cheese

softened

1

cup

mild cheddar cheese

shredded

1/4

cup

mayo

1

(1 oz) package

dry ranch salad dressing mix

1 1/2

teaspoons

garlic powder

15

large

jalapeño peppers

halved and seeded*

1

pound

sliced bacon

cut in half
Instructions
Preheat oven to 400 degrees F.

Place softened cream cheese, cheddar cheese, mayo, ranch and garlic powder together in one medium sized bowl. Stir together until well combined. Set aside.

Rinse whole jalapeños and pat dry with a paper towel. Cut the top off each of the jalapeños and then slice lengthwise. Using a spoon, scoop out the membrane and then deseed.

Fill each jalapeño half with the cream cheese mixture and then wrap in bacon.

Arrange jalapeño poppers onto a baking sheet lined with a silpat mat and bake for about 20 minutes, or until the cheese is lightly browned and bacon is slightly crispy.
Notes
Feel free to leave or scoop out as many seeds as you like. More seeds = more spicy.
Recipe: Allrecipes
Make this recipe?
Show

ME

the Yummy
Tag @ShowMeTheYummy & #ShowMeTheYummy on Instagram
Nutrition Facts
Baked Jalapeño Poppers
Amount Per Serving (1 popper)
Calories 269
Calories from Fat 195
% Daily Value*
Total Fat 21.7g 33%
Total Carbohydrates 3.2g 1%
Protein 14.4g 29%
* Percent Daily Values are based on a 2000 calorie diet.
*Note: Nutritional information is estimated and varies based on products used.