15 Easy Healthy Make Ahead Snack Recipes. Whether you like sweet or salty, I've got you covered!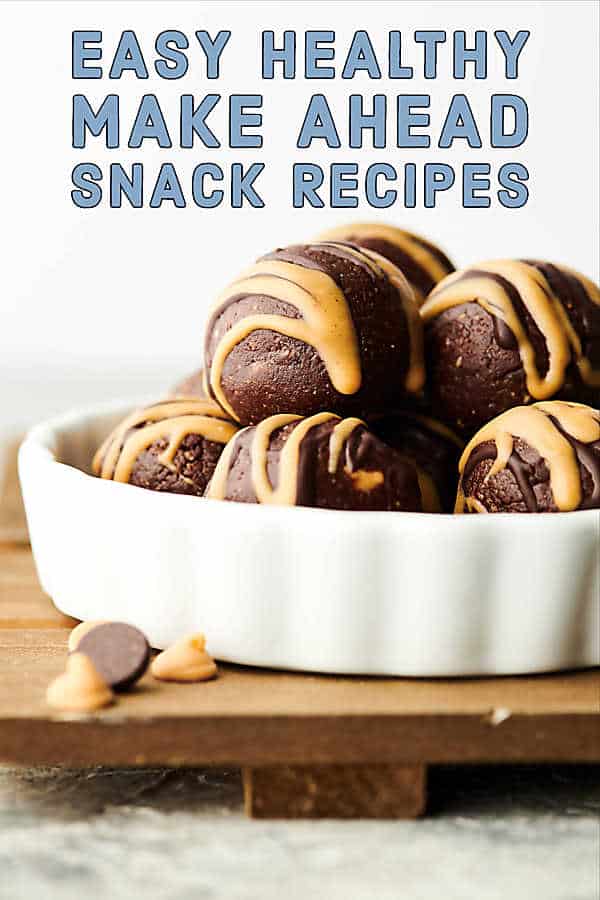 It's day FOUR of healthy eats.
This week and last I'm focusing on easy healthy make ahead recipes. So far, we've covered breakfast, lunch, dinner, and today, it's all about those snacks. 
I don't know about you, but I'm a grazer. I, of course, have breakfast, lunch, and dinner every day, but I couldn't function without snacks between each meal.
That being said, if I don't meal prep snacks ahead of time, I'm always reaching for something unhealthy when those hunger pains strike . . . hellloooo salty and delicious chips. If I take an extra 30 minutes on Sunday to prep snacks for the week, I'm set!
Whether you're craving sweet or salty, I've got you covered.
All of today's healthy make ahead snacks recipes are:
Quick and Easy.
Portable.
Healthy.
Meal prep friendly.
Delicious!
Energy bites
Energy bites are full of fiber, protein, and fat to keep you satisfied between meals. They're perfect stored in the fridge for up to two weeks and are great for those who need a little on the go sweet pick me up!
Salty snacks
Sweet not your thing? Have no fear, because these salty snacks are the bomb dot com.
Muffins & bars
While muffins are great for breakfast, they're also amazing snacks. Prep a batch on Sunday and keep 'em in the freezer until you're ready to snack!
– Jennifer
Looking for more? Be sure to see all our healthy snack recipes.