15 Easy Healthy Make Ahead Snack Recipes. Whether you like sweet or salty, I've got you covered!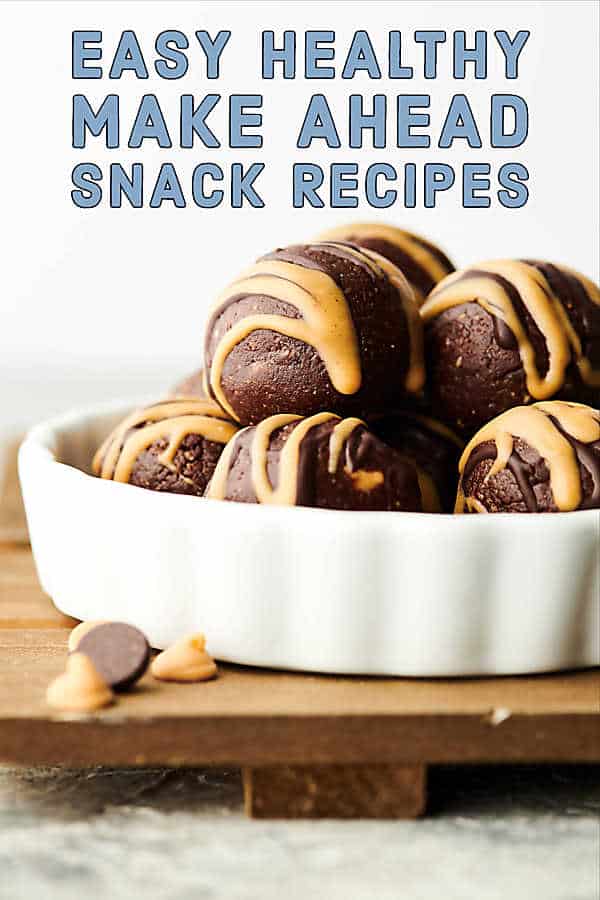 It's day FOUR of healthy eats.
This week and last I'm focusing on easy healthy make ahead recipes. So far, we've covered breakfast, lunch, dinner, and today, it's all about those snacks. 
I don't know about you, but I'm a grazer. I, of course, have breakfast, lunch, and dinner every day, but I couldn't function without snacks between each meal.
That being said, if I don't meal prep snacks ahead of time, I'm always reaching for something unhealthy when those hunger pains strike . . . hellloooo salty and delicious chips. If I take an extra 30 minutes on Sunday to prep snacks for the week, I'm set!
Whether you're craving sweet or salty, I've got you covered.
All of today's healthy make ahead snacks recipes are:
Quick and Easy.
Portable.
Healthy.
Meal prep friendly.
Delicious!
Energy Bites
Energy bites are full of fiber, protein, and fat to keep you satisfied between meals. They're perfect stored in the fridge for up to two weeks and are great for those who need a little on the go sweet pick me up!
These no bake chocolate peanut butter energy bites are the perfect healthy snack. Loaded with all natural peanut butter, honey, old fashioned oats, cocoa powder, vanilla, salt, and dark chocolate. Quick, easy, and they taste like a peanut butter cup!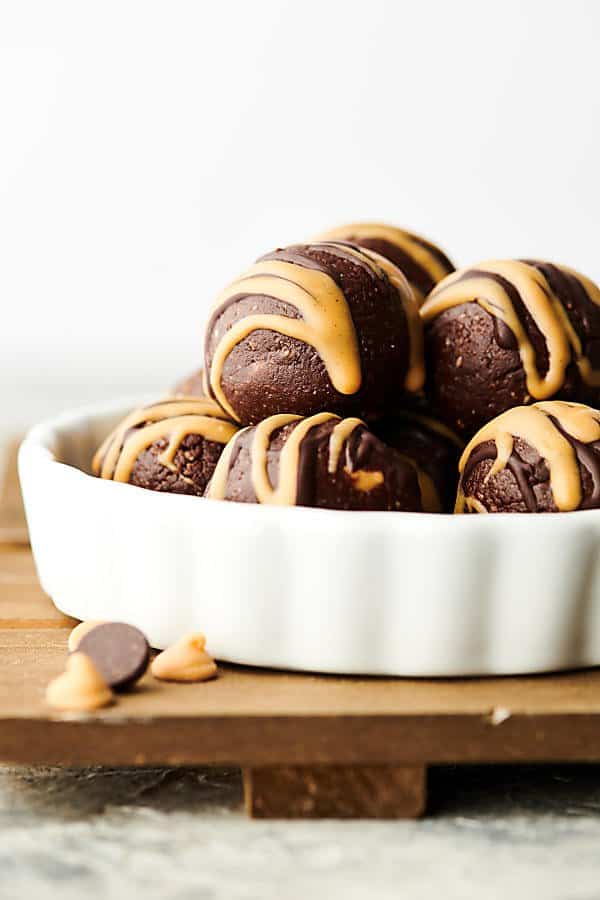 A healthy twist on the classic candy bar, you're going to LOVE these Almond Joy Energy Bites. These are naturally sweetened with dates and loaded with almond butter (or nut butter of choice), a touch of coconut oil, oats (gluten free certified if necessary), unsweetened flaked coconut, vanilla and almond extract, salt and drizzled with chocolate! Vegan. Gluten free.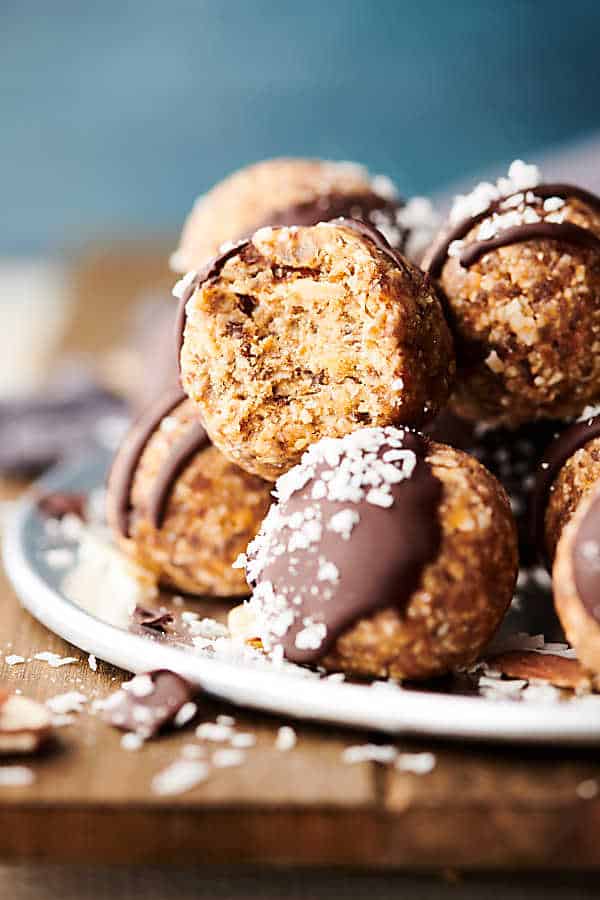 These honey walnut granola bar bites are so great for grab and go snacking! Full of oats, walnuts, coconut oil, honey, vanilla, and optional dark chocolate! Only 10 minutes of prep necessary!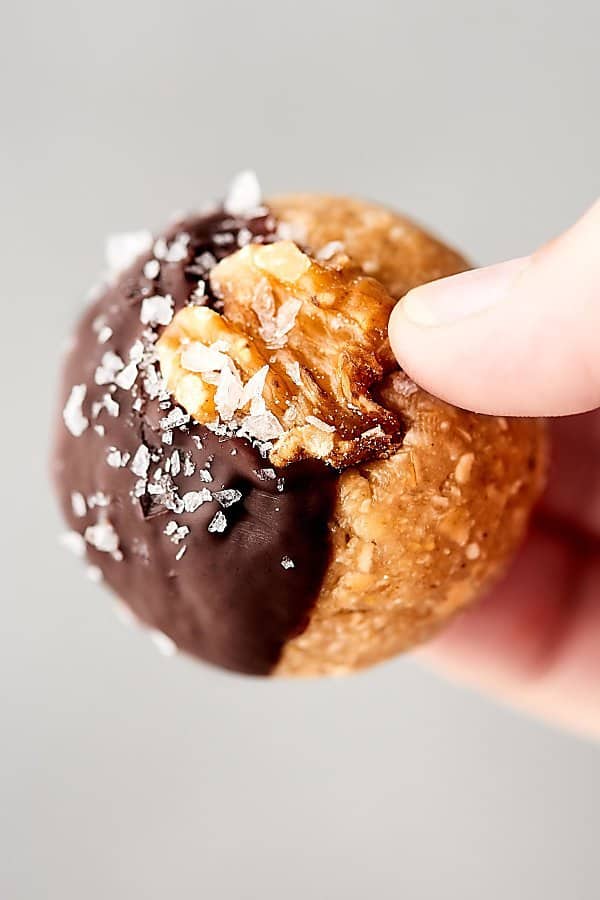 These Peanut Butter Energy Bites are the perfect healthier treat to satisfy your sweet tooth! Full of all natural peanut butter, oats, and just a touch of honey! Only 130 calories! Gluten free. Vegetarian.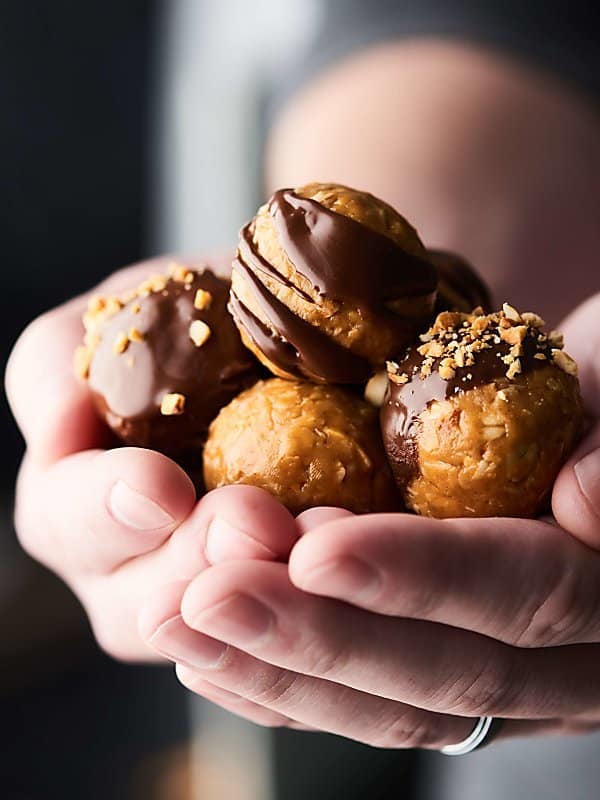 These No Bake Protein Brownie Bites are the perfect, bite sized healthy treat! Made in 5 minutes and full of oats, protein powder, almond butter, maple syrup, and a splash of almond milk. Vegan. Gluten Free.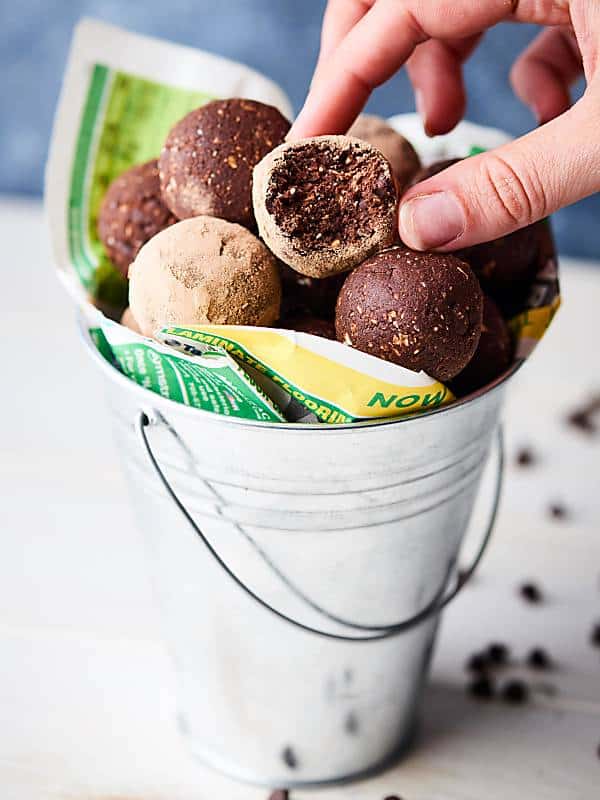 Salty Snacks
Sweet not your thing? Have no fear, because these salty snacks are the bomb dot com.
This easy bruschetta recipe is a healthy summer classic! Juicy tomatoes tossed with sun dried tomatoes, garlic, a touch of oil, balsamic vinegar, and fresh basil . . . we can't get enough of this stuff!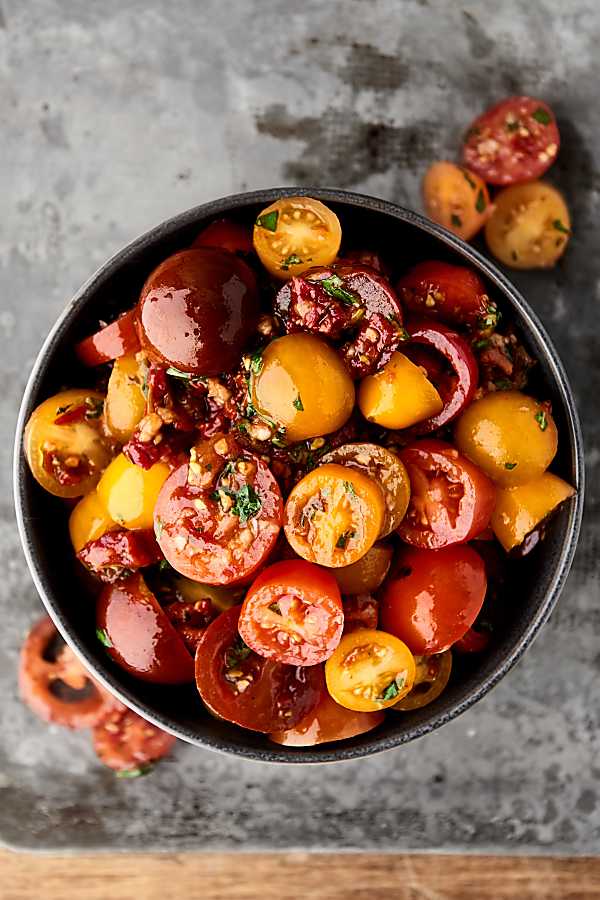 No Oil Air Fryer Tortilla Chips Recipe tested with three kinds of tortillas: corn, flour, and low carb! All "air fried" with cooking spray instead of oil and just a little salt. SO quick, easy, and crispy-crunchy!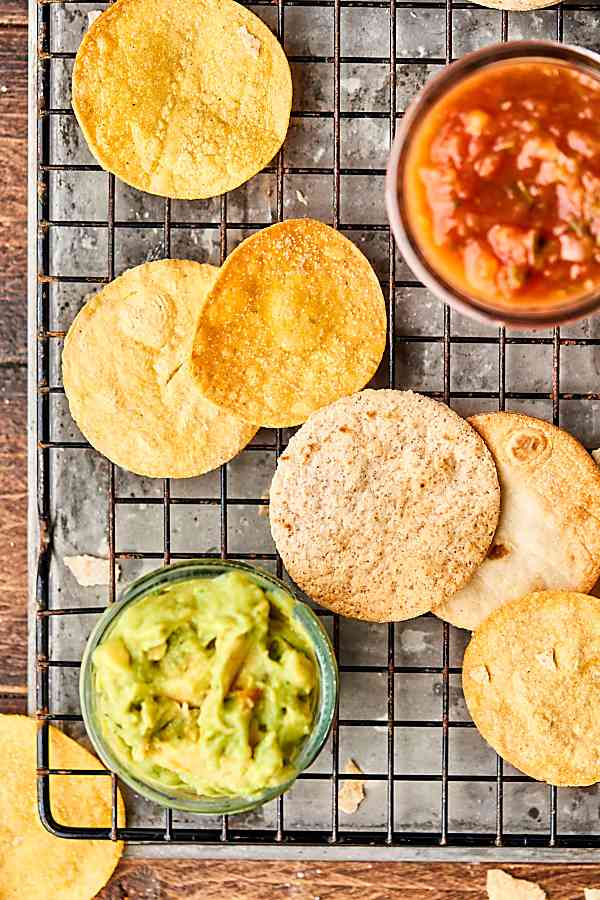 This Easy Pico de Gallo Recipe comes together in a matter of minutes! Fresh tomatoes, onion, cilantro, jalapeno, lime, & garlic make this truly delicious.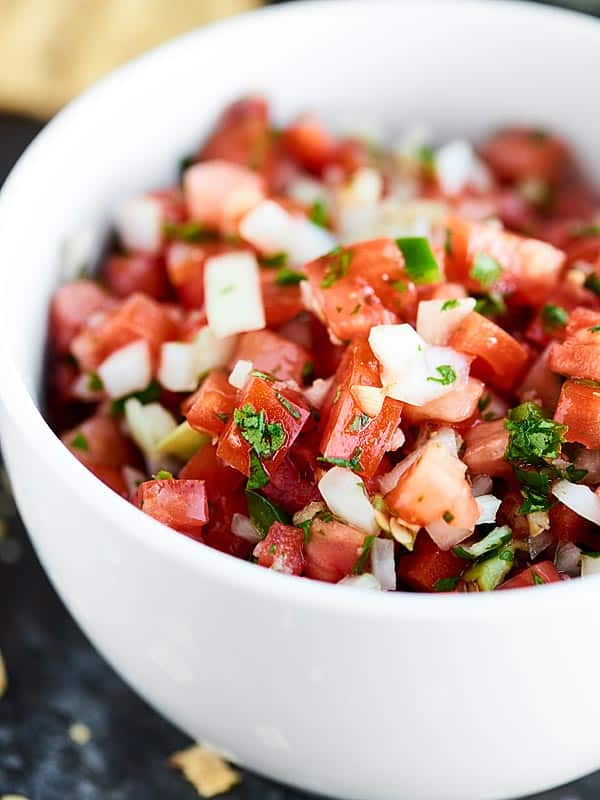 These air fryer mozzarella sticks are a healthier take on a favorite snack classic! Skim string cheese sticks dipped in whole wheat flour, egg, panko breadcrumbs and spices: onion powder, garlic powder, salt, chili powder, and smoked paprika!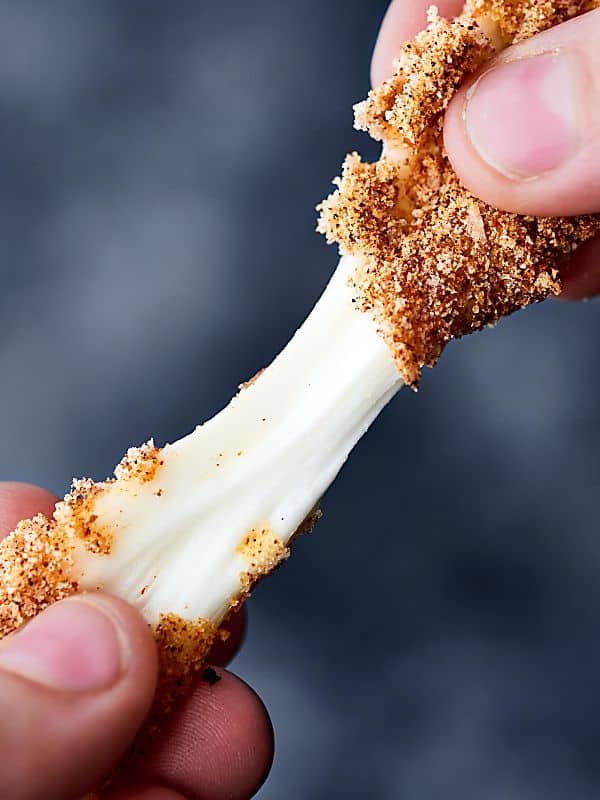 This Syrian Hummus Recipe is simple to make and packed with flavor! Full of chickpeas, lemon, tahini, and garlic, it's so delicious and ultra creamy!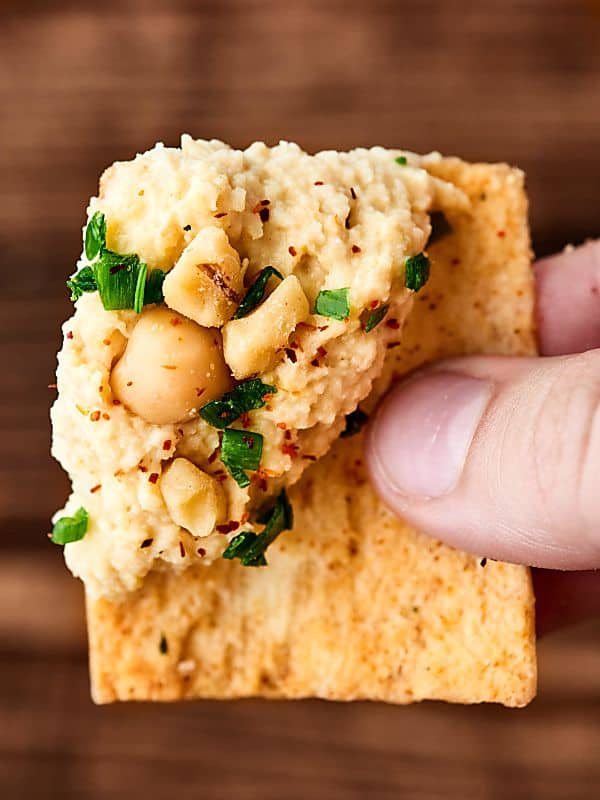 Muffins & Bars
While muffins are great for breakfast, they're also amazing snacks. Prep a batch on Sunday and keep 'em in the freezer until you're ready to snack!
These Healthy Banana Pancake Muffins are loaded with bananas, pure maple syrup, all natural peanut butter, fat free buttermilk, egg, vanilla extract, whole grain protein pancake mix, cinnamon, and dark chocolate chunks! Quick, healthy, and delicious! Freezer friendly. Less than 250 calories per muffin!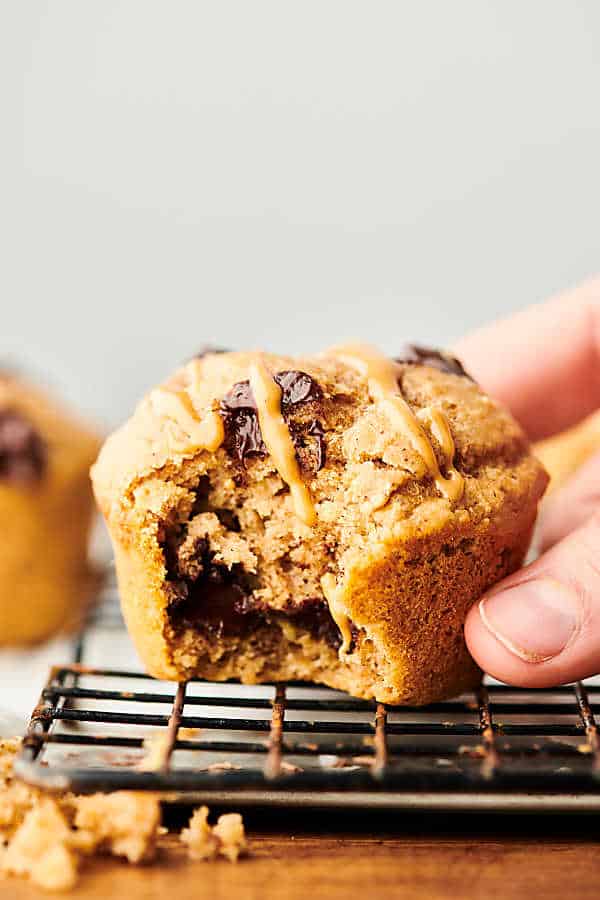 These healthy zucchini oat bars are healthy enough for breakfast, but indulgent enough for dessert. They're vegan, gluten free, and perfect for an on the go nutritious treat! Loaded with oats, flax, zucchini, and naturally sweetened with raisins, bananas, and dark chocolate!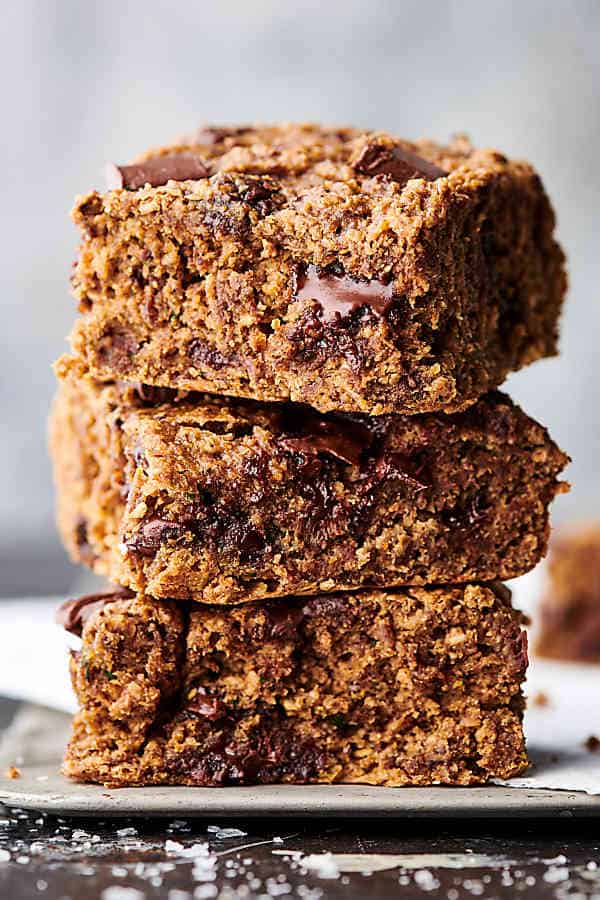 These Vegan Banana Chocolate Chip Muffins are healthy & use natural ingredients like agave, bananas, whole wheat pastry flour, coconut oil & almond milk!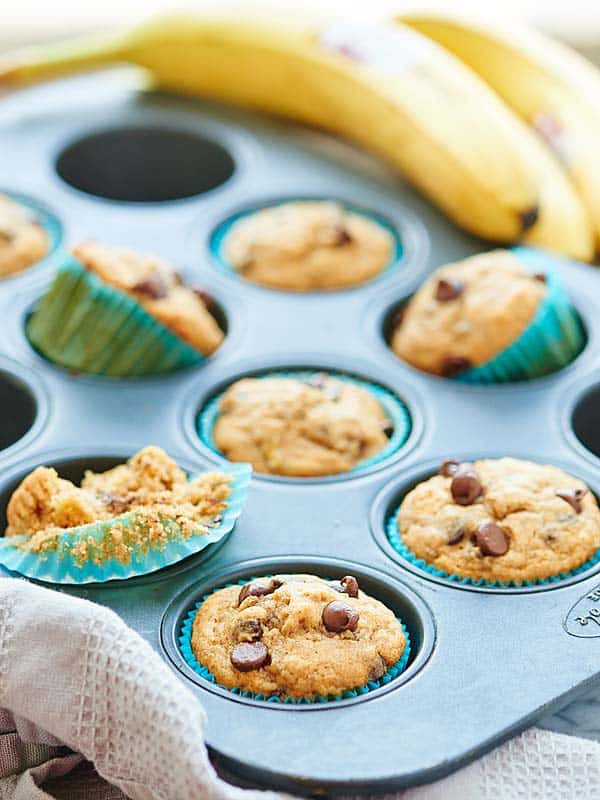 This easy granola bar recipe really does make the best homemade granola bars! They're quick, easy, healthy, versatile, and loaded with all your favorites like honey, oats, crunchy granola (trust me) and chocolate chunks! Can be made vegan and gluten free.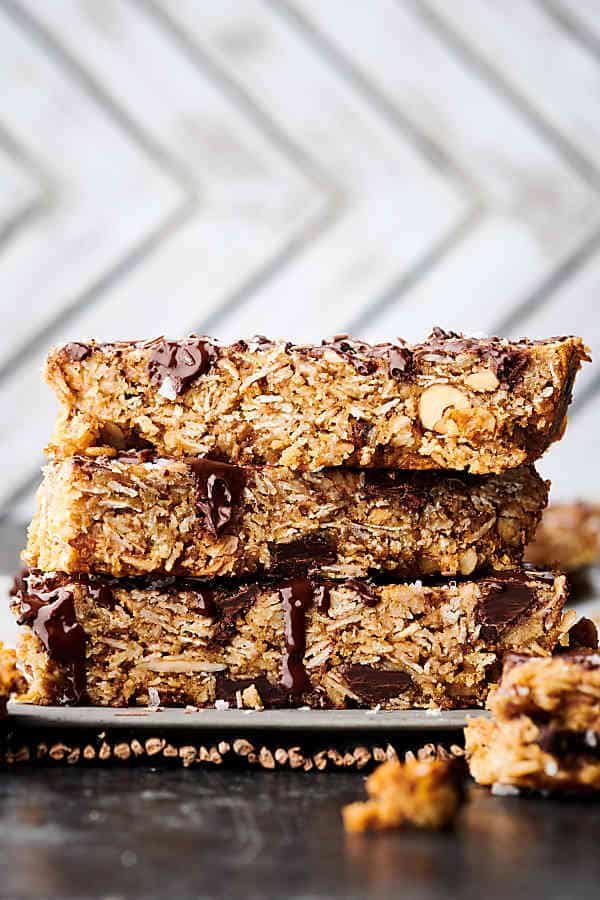 These Vegan Double Chocolate Pumpkin Muffins are loaded with whole wheat flour, pumpkin purée, maple syrup, vegan dark chocolate chips, and cozy spices: cinnamon, nutmeg, ginger, and cloves! Perfect for breakfast or dessert. Freezer friendly!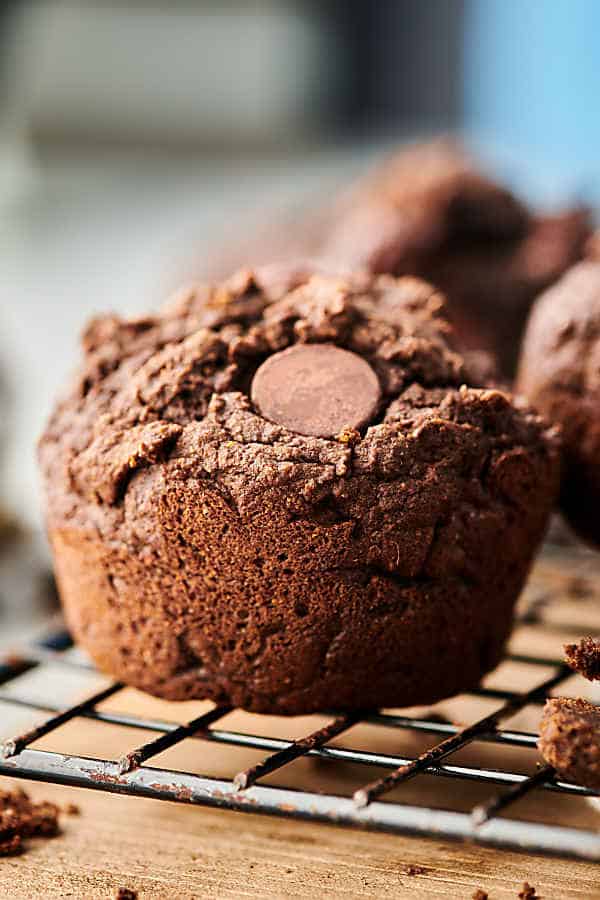 – Jennifer
Looking for more? Be sure to see all our healthy snack recipes.