These Pork Burgers are grilled to juicy perfection. Tender pork patties are smothered in a tangy spice rub, then topped with melty pepperjack cheese and fresh pineapple salsa.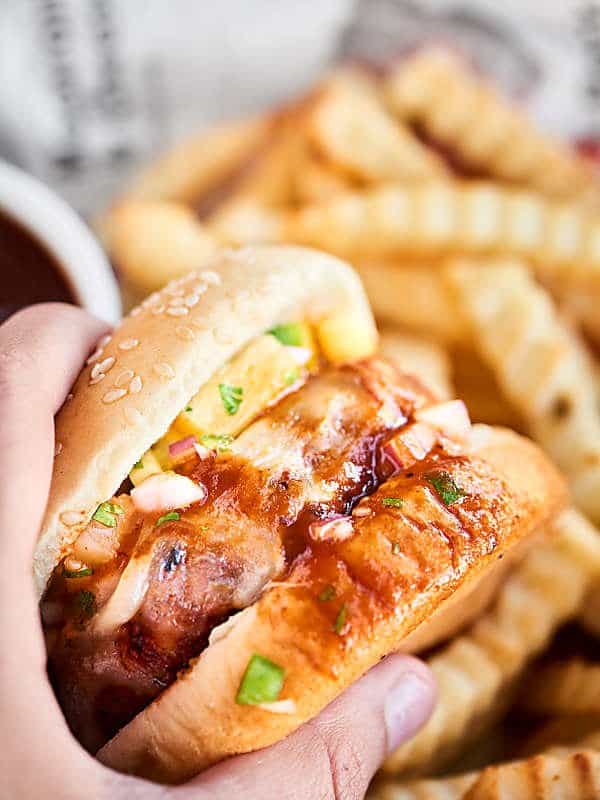 When Trevor is in charge of dinner during the Summer, his go-to is always grilling. He loves picking up a couple burgers or brats from the grocery store butcher, making a side dish or two, pouring a couple of drinks, and whipping up a tasty Summer meal.
However, Trevor is a beef burger lover. Me? Not so much.
While I also LOVE Summer grilling, I'm usually not too excited about beef burgers. They're just not my favorite thing in the world. That's why I decided to take matters into my own hands and make this pork burger recipe instead!
And guess what? Trevor, beef burger fanatic, went nuts over these! And so did I for that matter. 😉
Ingredients
I wanted to keep this ingredient list short, so I've used a pre-made spice blend. Feel free to make your own!
Ground Pork – I love using pork instead of beef or chicken for burgers. It's juicer than chicken, but has a more mild flavor than beef, so it doesn't overpower my toppings!
Pork Rub Seasoning – I used Stubb's Pork Rub which is a blend of salt, paprika, mustard, chile pepper, and lime juice.
Pepperjack Cheese – super melty with a little bit of heat. If spice isn't your thing, try monterey jack instead.
BBQ Sauce – adds a little sweet, a little tang, and a bit of moisture!
Pineapple Salsa – the sweet pineapple pairs beautifully with the tangy bbq sauce and spicy cheese!
Hamburger Buns (optional) – use your favorite variety!
Want a lower carb option? Ditch the bun and make a lettuce wrap instead!
How to make pork burgers
Pork, plus the spice rub are all you need to make these pork burgers, so have fun with the toppings!
Take your ground pork and form it into 4 even patties.
Coat each patty with a hefty spoonful of pork rub.
Make a thumbprint in the middle of your burger (this prevents the burger from rounding in the middle which allows the burger to cook evenly throughout), then pop on the grill and cook to perfection.
Top with your favorite fix-ins and devour!
If you have time, let the patty sit for a few minutes after adding the spice rub before cooking. This really allows the spices to soak into the meat giving it so much more flavor.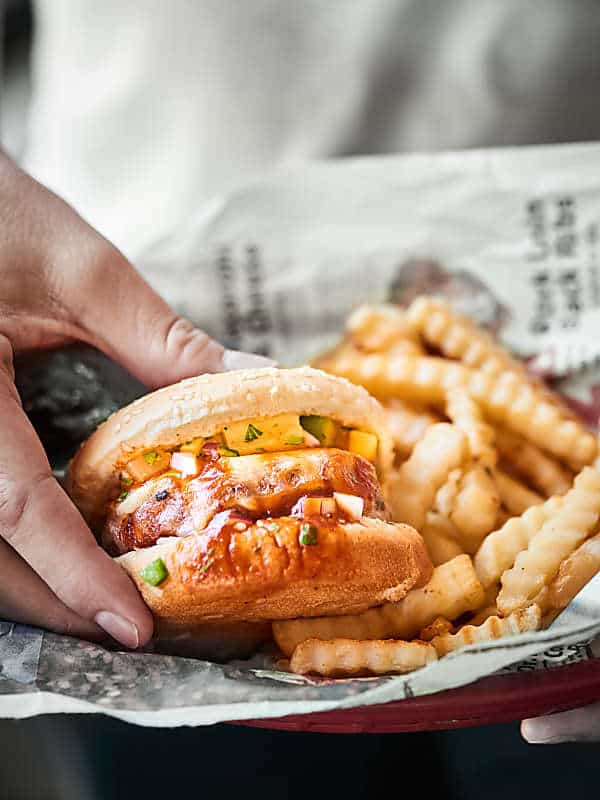 How long to grill pork burgers
Grill pork burgers for 4-5 minutes per side in a 400 degree – 450 degree F grill (about medium high heat).
The cook time depends on the size of your burger and what kind of grill you're using.
How to tell if pork burgers are done
Use a meat thermometer to ensure that your pork is done. Ground pork should always have a minimum internal temperature of 160ºF when it's done cooking.
Can i bake pork burgers?
If you don't have a grill or you want to enjoy this pork burger recipe any time of the year, you can certainly bake them:
Preheat your oven to 375 degrees F and line a baking sheet with a silicone baking mat.
Place your burger patties onto the prepared baking sheet and cook in preheated oven for 25-35 minutes or until cooked through.
Make sure that you use a meat thermometer to verify that the internal temperature of the burgers is at least 160ºF!
How to season pork burgers
I love to season my pork burgers with a generous helping of Stubb's Pork Rub. It has salt, paprika, mustard, chile pepper, and lime. THE BEST blend of spices and flavors to make this pork burger recipe absolutely mouth-watering! If you can't find this pre-made rub, feel free to use your own store-bought or homemade spice rub!
Are pork burgers healthy
Pork, especially lean pork, is a great source of protein and contains essential nutrients such as vitamin B-6, zinc, and more!
A "naked" burger (the pork + seasonings) has 308 calories, 24 grams of fat, 2 grams of carbs, and 19 grams of protein.
Add the pepper jack for some dairy, the bun for some whole grains, and the pineapple salsa for some fruit and veg. I'd say that's a pretty well rounded dish!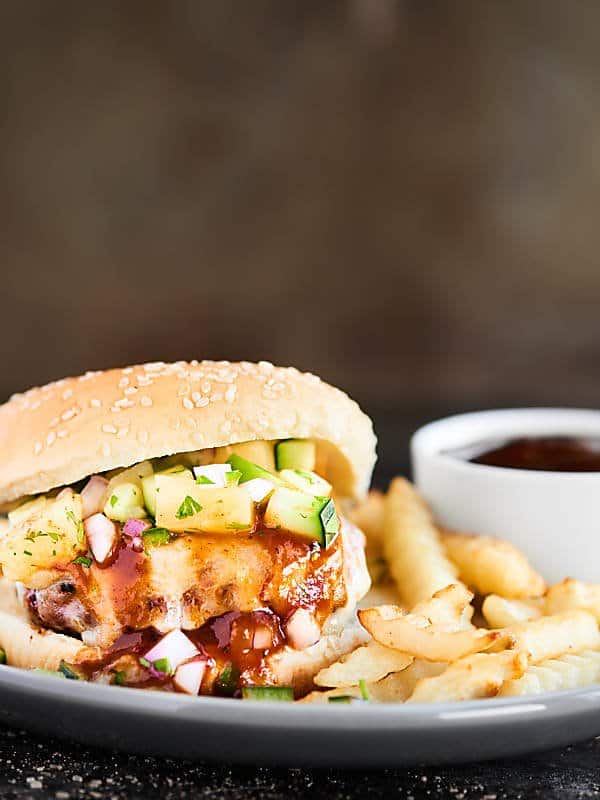 How to make pineapple salsa
Place diced pineapple, diced bell peppers, diced cucumbers, minced red onion, cilantro, jalapeño pepper, lime juice, and salt in a large bowl then stir to combine.
Visit the Pineapple Salsa Recipe page for more detail on measurements!
This salsa is seriously SO simple and makes the tastiest addition to a juicy pork burger. It's easy, it's fresh, and it's full of amazing summer produce like juicy pineapple, crunchy bell peppers, cucumbers, and jalapeño for a little heat. Trust me! You'll want to include this.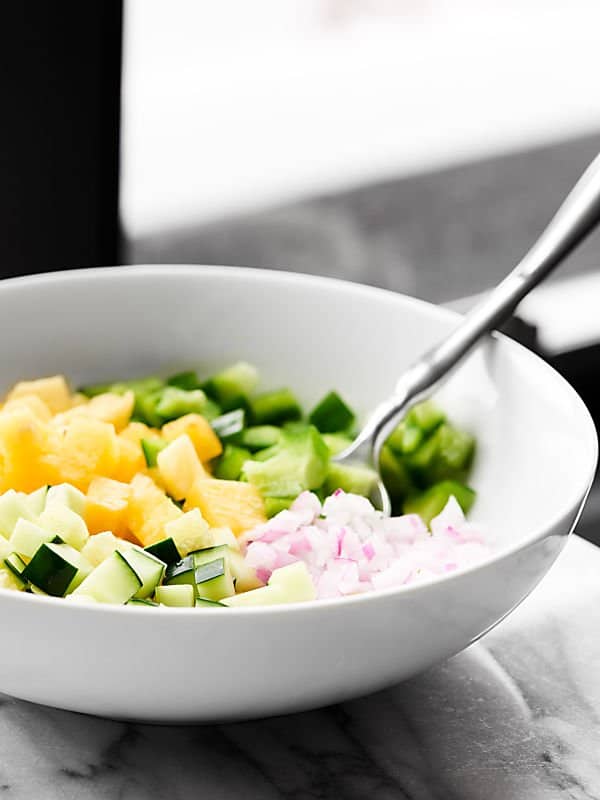 What to put on pork burgers
To really let the pork shine, I don't load my burger up with too many additional ingredients. My favorites are melty pepperjack cheese, a drizzle of BBQ sauce, and my homemade pineapple salsa all on a white, sesame seed bun!
You could also go the classic route and add ketchup, mustard, lettuce, and tomato. The possibilities are endless! 🙂
What are your favorite pork burger toppings? Let me know in the comments below!
What to serve with pork burgers
I love to whip up a couple of side dishes to have with these pork burgers. Here are some of my favorite Summer sides:
Be sure to check out my other favorite summer side dishes. What are your favorite Summer sides? Let me know in the comments below!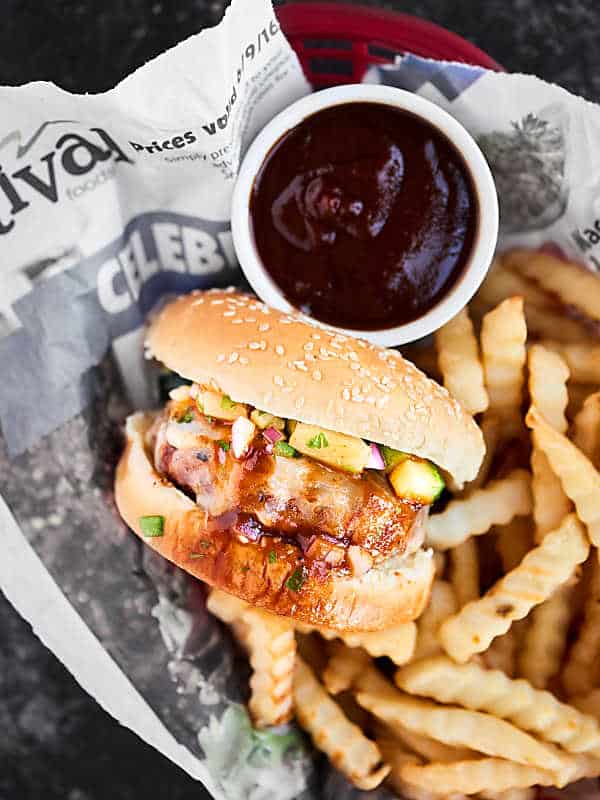 How to store
These pork burgers can be stored in an airtight container in the fridge for 3-4 days or in the freezer for 2-3 months.
To reheat your burgers on the grill, set the grill to medium-high and then cook the patties for 30-60 seconds, flip, and do the same on the other side. You can also pop them in the microwave or bake them in the oven at 400ºF until heated through.
Simple, easy, healthy, and SO YUMMY! Let's get grilling!
– Jennifer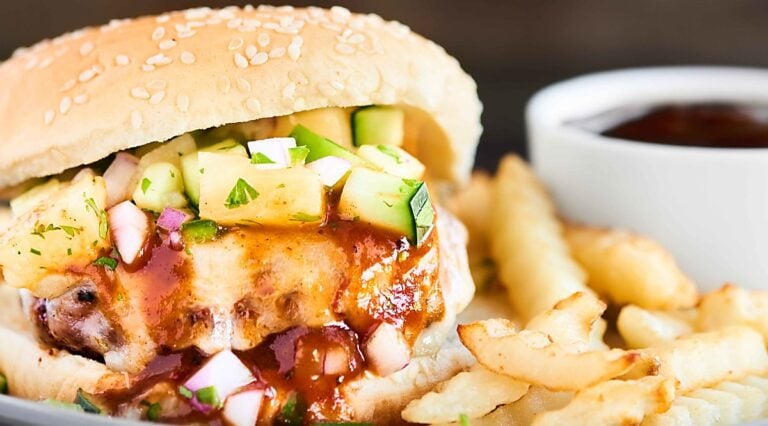 Pork Burger Recipe
These Pork Burgers are grilled to juicy perfection. Tender pork patties are smothered in a tangy spice rub, then topped with melty pepperjack cheese and fresh pineapple salsa. 
Equipment for this recipe
(equipment shown are affiliate links)
Ingredients
Pork Burger
1

pound

ground pork

shaped into

4

equal 1/2 in thick patties

2

tablespoons

Stubb's Pork Rub
Suggested Ad-Ons
4

slices

pepperjack cheese

4

hamburger buns

Stubb's Original BBQ Sauce
Instructions
Pork Burger
Form your ground pork into 4 even patties.

Coat each patty evenly with 1/2 tablespoon of pork rub.

Preheat grill to medium high, about 400-450 degrees F.

Grill patties for 4-5 minutes on each side, or until fully cooked through.
To Serve
Serve with pepperjack cheese, buns, BBQ sauce, and pineapple salsa and enjoy!
STORING
Reheat:
Microwave, oven, or grill until 160ºF.
*Storage times may vary based on temperature and conditions
Notes
Nutritional information does not include cheese, bun, pineapple salsa or BBQ sauce. 
Nutrition Information
Nutrition Facts
Pork Burger Recipe
Amount Per Serving (1 burger patty)
Calories 308
Calories from Fat 216
% Daily Value*
Fat 24g37%
Cholesterol 82mg27%
Sodium 65mg3%
Potassium 345mg10%
Carbohydrates 2g1%
Protein 19g38%
Vitamin C 1mg1%
Calcium 36mg4%
Iron 2mg11%
* Percent Daily Values are based on a 2000 calorie diet.
*Note: Nutrition information is estimated and varies based on products used.
Keywords:
easy, grilling, summer
This post has been updated to provide more detailed content.