Only 7 ingredients needed to make this Berry Fruit Salad. All your favorite berries + fresh mint + lemon juice and honey! So yummy!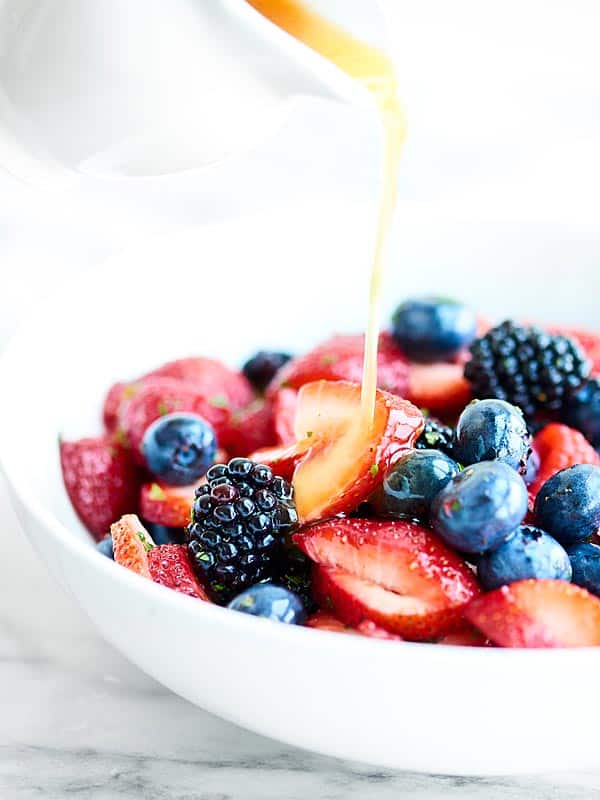 Berry Fruit Salad? Really, Jennifer, do we reeeeeeally need a recipe for that?
Yes. Yes you do, because this isn't just any old fruit salad, this is a fruit salad full of my favorite berries, lemon, honey, and my secret ingredient: fresh mint.
I wanted a good, healthy, yet totally mind blowing delicious fruit salad for those dreaded times when you're going to a potluck or grill out and are asked to bring the fruit.
Do you know what I'm saying? Nobody likes being tasked with bringing the fruit to the party, because it's just so BORING and often ignored!
Not anymore.
Say hello to the new and exciting, star of the next BBQ, Berry Fruit Salad.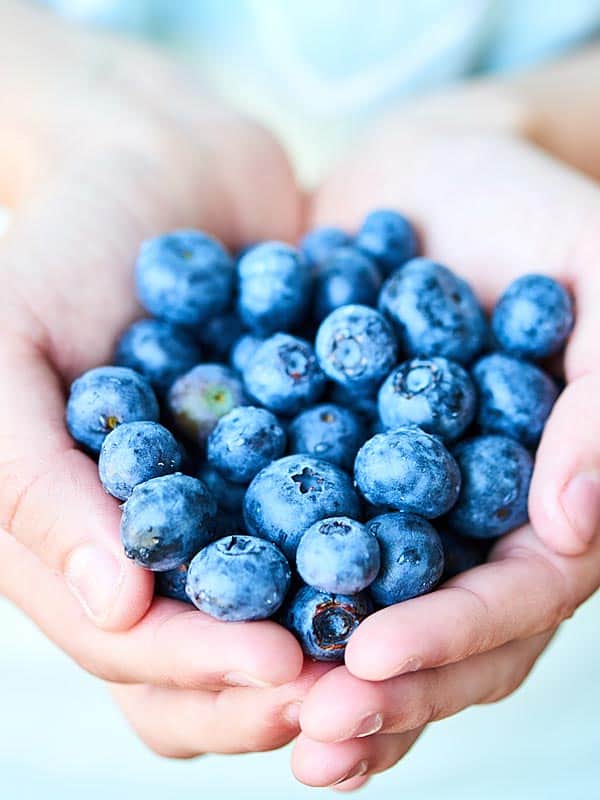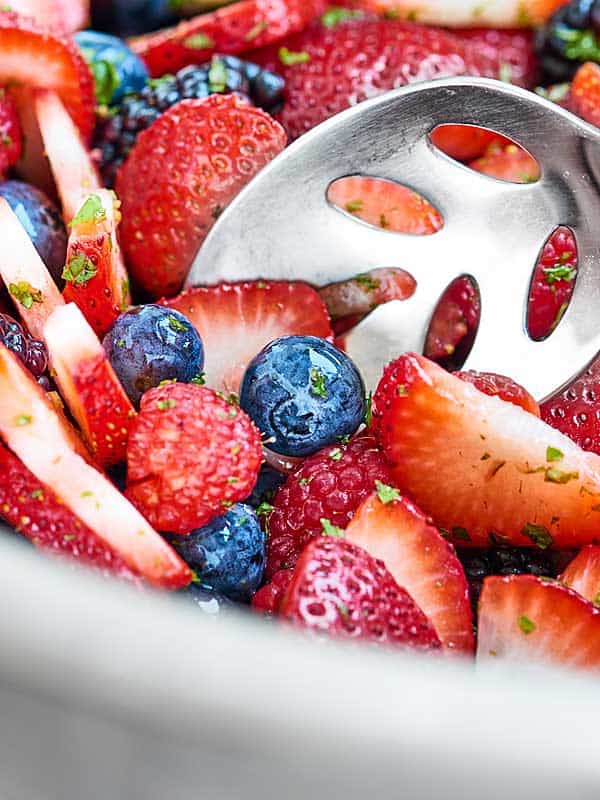 Now that summer is officially here – liiiike it jumped from 50 degrees one day to 86 w/ %1000 humidity the next – I've been trying to figure out a healthier way to satisfy my sweet tooth.
This Berry Fruit Salad totally fits the bill.
It's healthy, it's really cold and satisfying for hot summer days, and now that berries are in season, it's the perfect snack to curb my craving.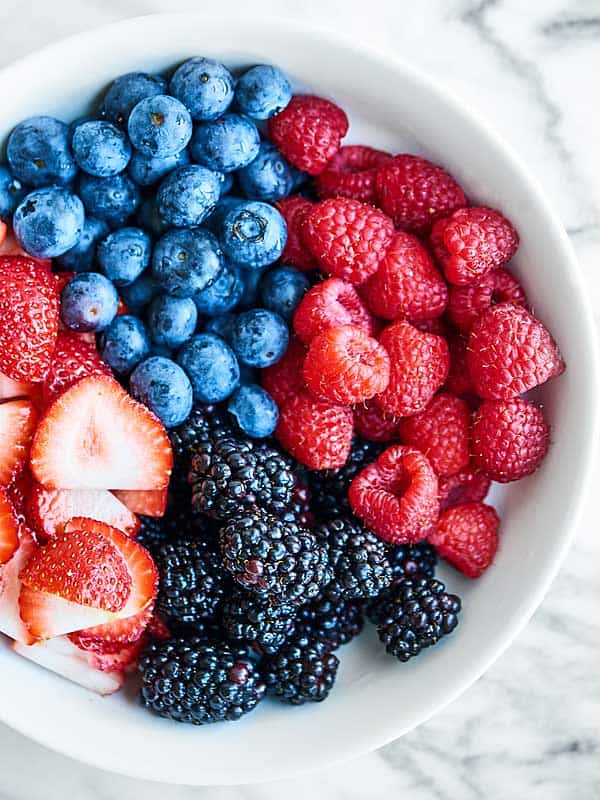 Plus, it's perfect for those last minute "oh shoots I'm supposed to bring something to that party" moments, because this will literally take you 5 minutes to put together.
First, you're going to prep your fruit: slice strawberries and place them in a large bowl with blueberries, raspberries, and blackberries.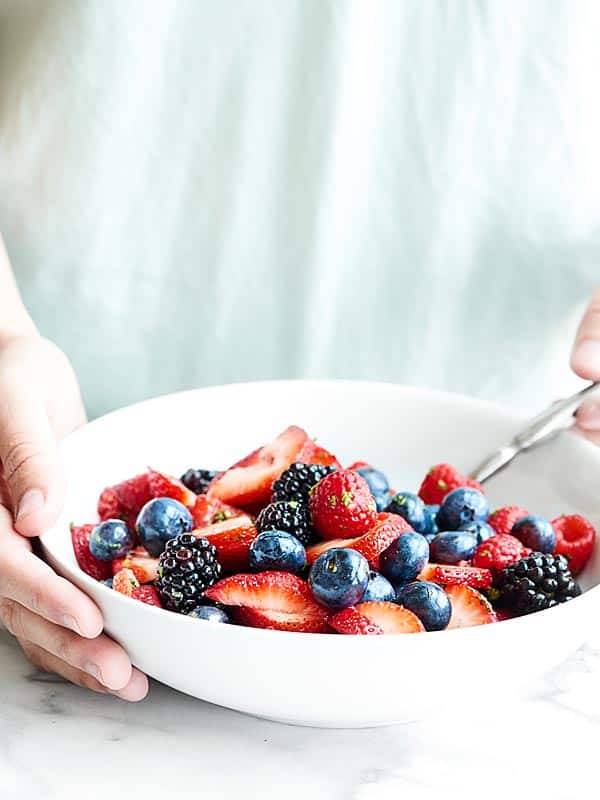 Next, you're going to chop some fresh mint and throw that in with the berries.
Lastly, you're going to whisk together honey and freshly squeezed lemon juice and toss that with the fruit.
That's it you guys! 7 ingredients to make the yummiest, freshest, Berry Fruit Salad.
Juicy berries, earthy mint, tart lemon, and sweet honey? Gimme!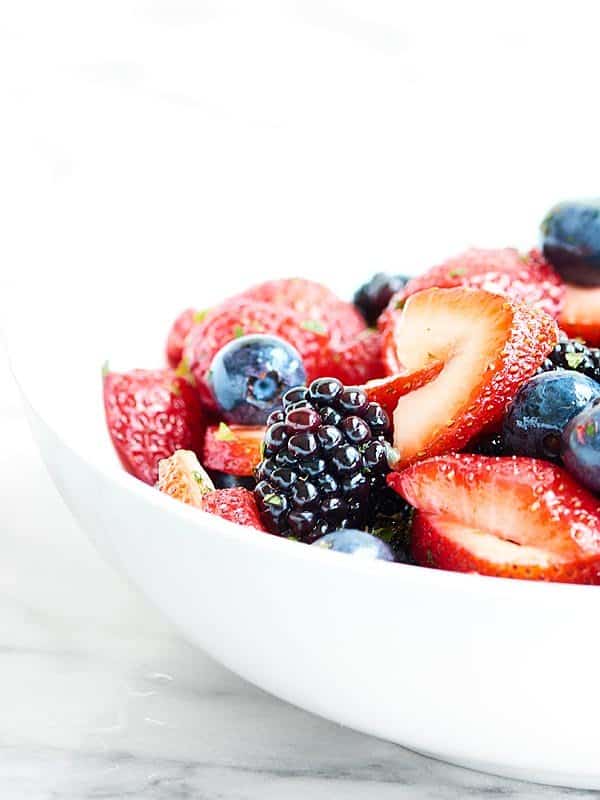 And because I'm kinda diggin' this short and sweet Berry Fruit Salad recipe, I'm going to keep this post short and sweet, too. 😉
– Jennifer
Do you have any ways to make fruit salad a little more fun? Show Me the Yummy!

1

(1 pound) container

strawberries

sliced

1

pint

Blueberries

1

(6 oz) container

raspberries

1

(6 oz) container

blackberries

1/4

cup

mint

minced

1/4

cup

honey

1/4

cup

lemon juice
Place fruit and mint into a large bowl.

In another bowl, whisk together honey and lemon and then toss that together with the fruit.
*Not serving this immediately? Store the fruit and the honey/lemon mixture separately, as the lemon really starts to break the fruit down!