This Pineapple Salsa is full of juicy pineapple, crunchy bell peppers, cooling cucumbers and more to make the perfect sweet, spicy, crunchy salsa ever!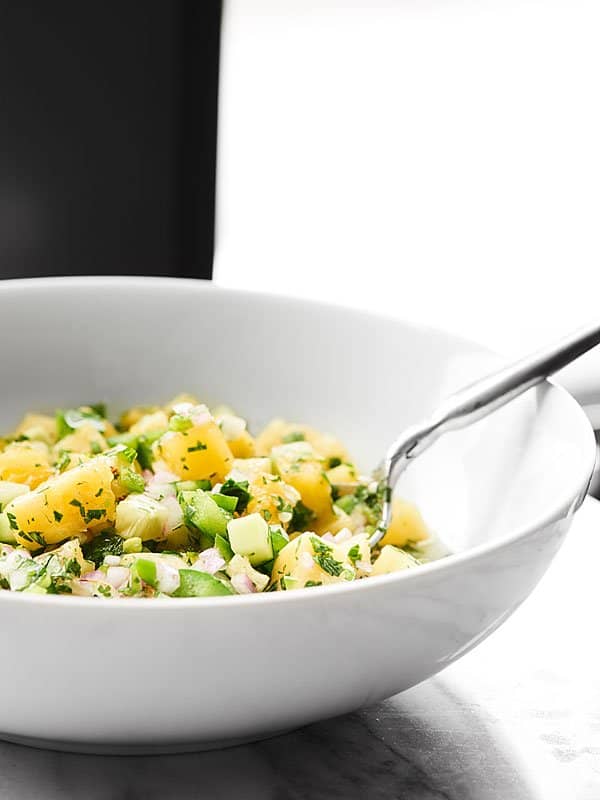 Ohhhh. Heck. Yes. This Pineapple Salsa is everything. Perfect with chips (and even better with a recipe coming Monday!), this pineapple salsa is sweet, a little spicy – if you choose – and is full of fresh, crunchy vegetables.
Fresh, homemade salsas are one of my favorite things about summer, as I'm sure you've probably figured out by now, since I put my homemade pico de gallo on literally everything.
While I do love my pico, I needed to mix up my salsa game just a bit.
Enter: Pineapple Salsa. Just as easy as pico, with an amazing fruity twist.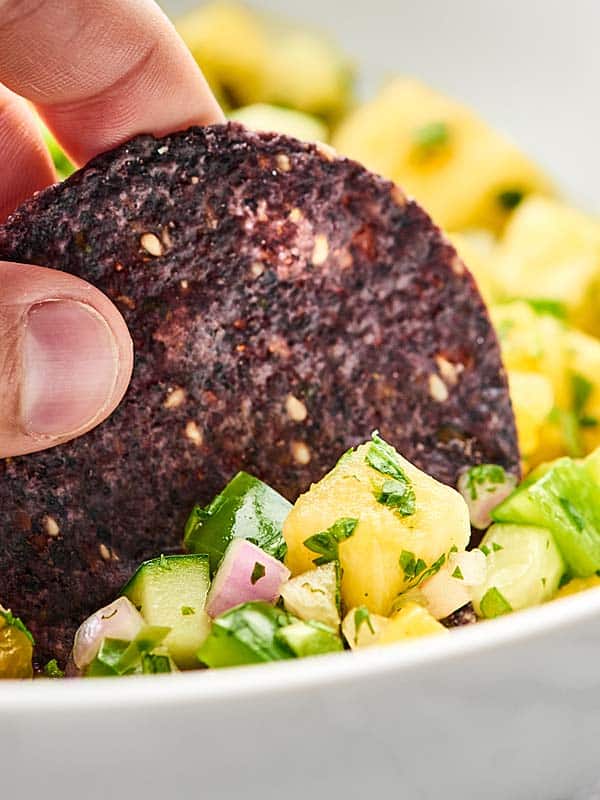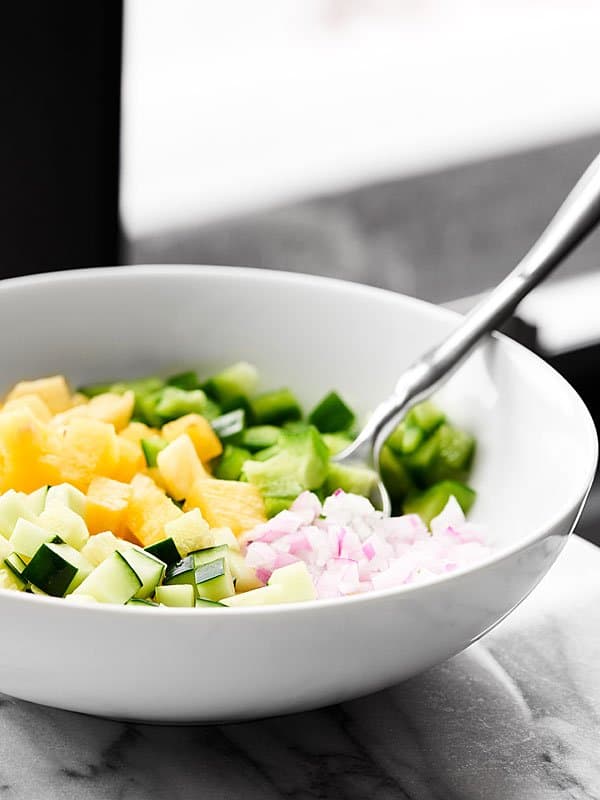 How many times do I have to tell you that my biggest obsession in life is chips and salsa, before you fully understand, how much I seriously love chips and salsa?
Just in case, let me tell you just one more time. . .
I LOVE CHIPS AND SALSA.
Trevor always teases me, because I will honestly have chips and salsa as an "appetizer" to any meal.
Indian food? Not before my chips and salsa.
Chinese food? With a side of chips and salsa please.
Mexican food? This DEFINITELY calls for chips and salsa.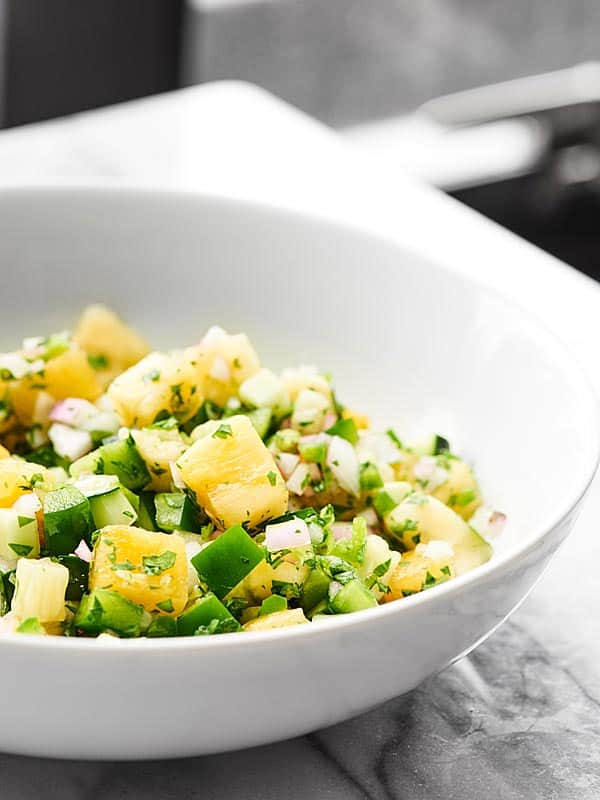 No matter the cuisine, I will always crave chips and salsa.
Because of this, I thought I'd let you guys in on my obsession, and share with you more salsa recipes. Are you ok with that?
First up, Pineapple Salsa!
Now. If you've never had a fruit salsa, it may sound kind of weird, but letmetellyou, it's heaven.
Heavenly because it's CRAZY easy to make and heavenly because it's the perfect combination of sweet, savory, spicy, crunchy, yum I've ever had.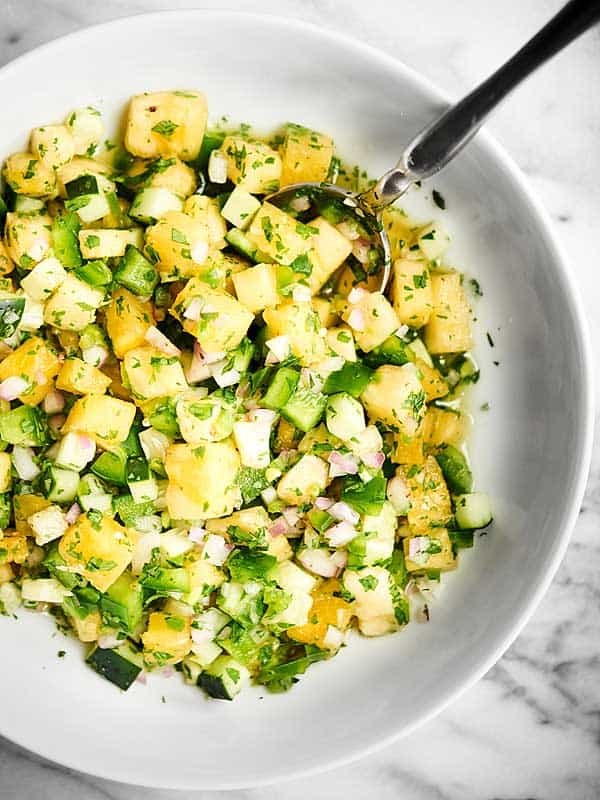 Here's whatcha gonna do: stir together diced pineapple, diced green bell peppers, diced cucumbers, minced red onion, minced cilantro, minced jalapeno, fresh lime juice, and salt and. . .
you, my friend, are done!
Easy peasy and like I said. This Pineapple Salsa is everything.
Sweet, juicy pineapple + crunchy bell pepper + fresh cucumbers + herby cilantro + spicy jalapeno + bright red onion + tart lime juice all piled onto your favorite tortilla chip?
What more is there in life?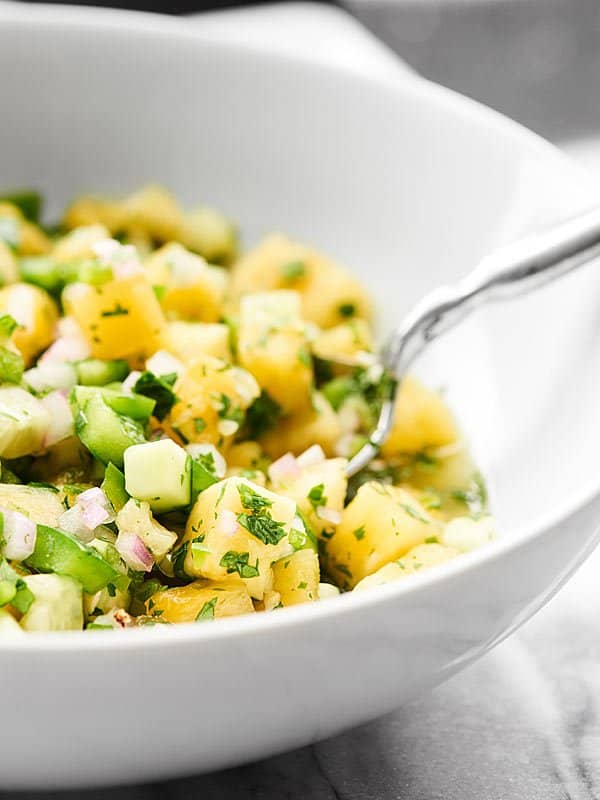 Hint: nothing! 😉
– Jennifer
What salsa "flavor" should I tackle next? Show Me the Yummy!

2

cups

diced pineapple

1

cup

diced green bell peppers

1

cup

diced cucumbers

1/2

cup

minced red onion

1/2

cup

Cilantro

minced

1

jalapeno pepper

minced, seeded if you want a more mild taste

1/4

cup

freshly squeezed lime juice

salt

to taste
Place all ingredients into a large bowl.

Taste and re-season if necessary.

Store, covered, in the fridge until ready to use!