Pepper Jack Stuffed Burger with Jalapeno Cream Sauce. A juicy burger filled with gooey cheese and topped w/ a creamy jalapeno sauce and crispy fried onions!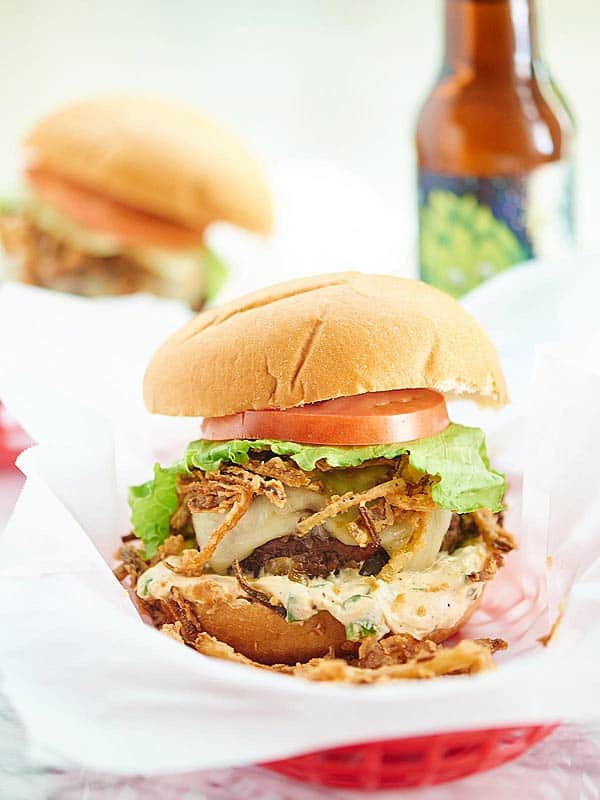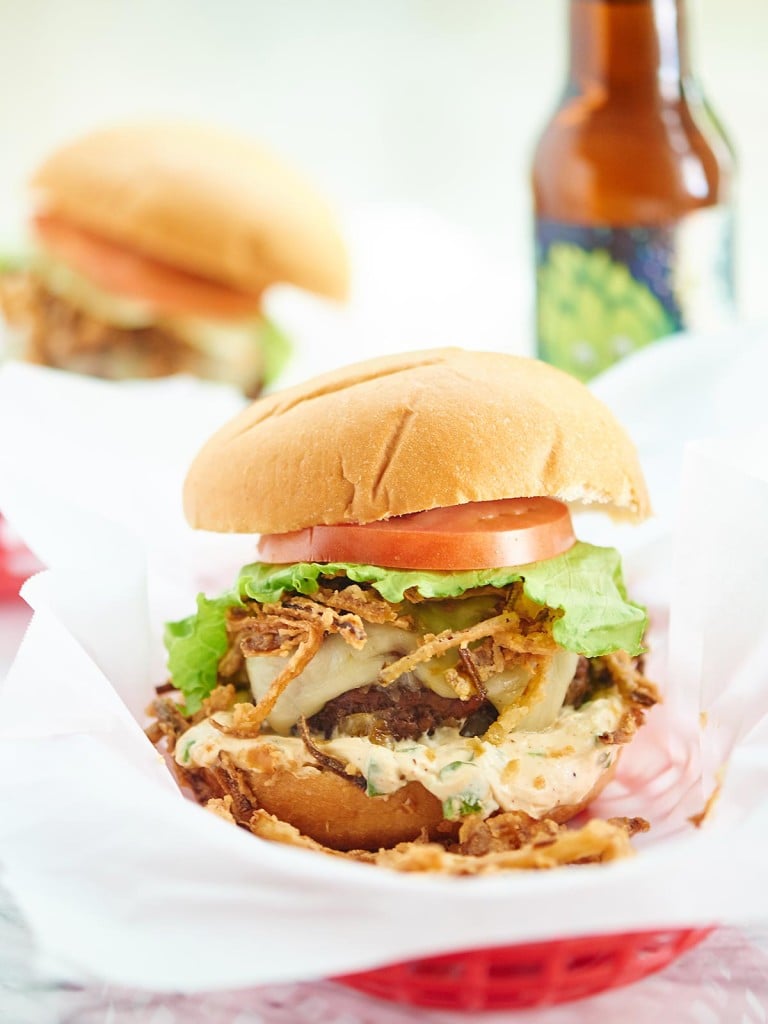 Ok. I know I normally do a meatless post for Monday, but this Pepper Jack Stuffed Burger with Jalapeno Cream Sauce (say that 10 times fast) is too good to wait. So say hello to Meaty Monday at Show Me the Yummy! 😉
Can you believe that June is almost over? Where is my summer going?! Trevor and I have been soaking up every last ounce of summer lately. We've been taking Teddy for walks, eating outside every chance we get, and spending evenings wrapped up in a blanket in our courtyard while enjoying a glass of wine. It's been a dream.
A dream just like this Pepper Jack Stuffed Burger with Jalapeno Cream Sauce.
Oh yea. Crispy fried onions get involved too, so you should stick around 🙂
This is truly an amazing burger.
I mean, what could be better than a juicy burger stuffed with gooey cheese that's smothered in a smoky jalapeno cream cheese sauce and then and then and THENNNN topped with fried onions that I could eat a bowl of on their own?
Is anyone else drooling?
Good. Me too. 😉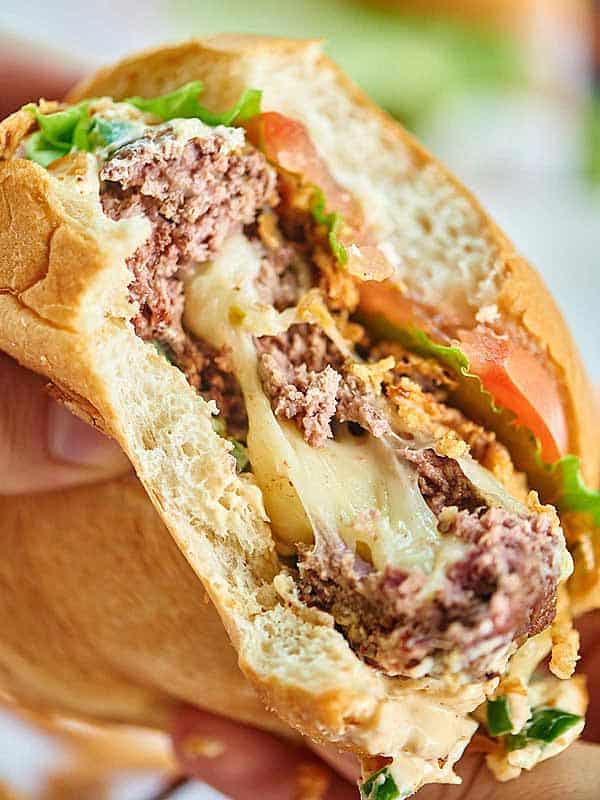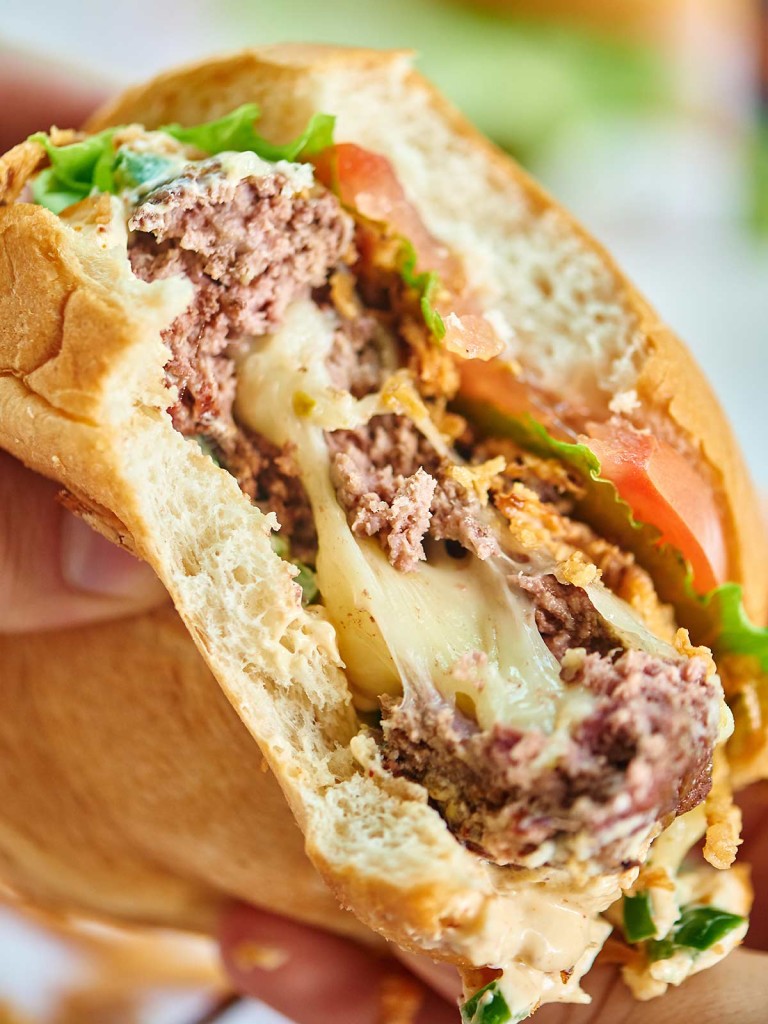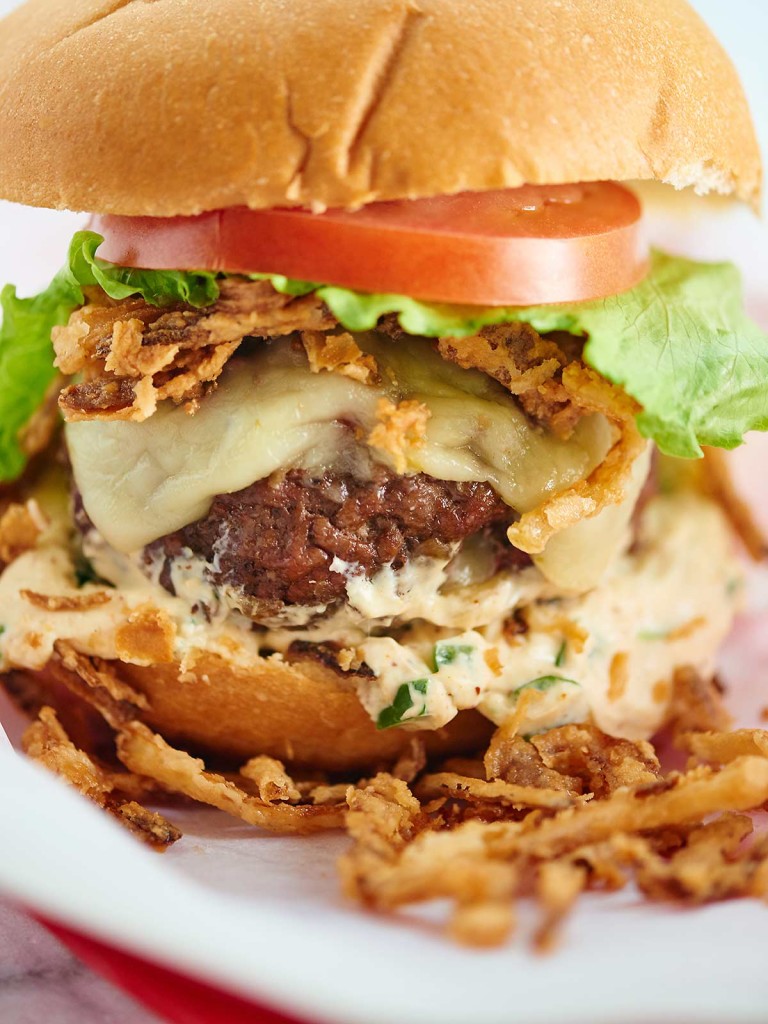 I got the idea to make this Pepper Jack Stuffed Burger with Jalapeno Cream Sauce from a restaurant I used to work at in Iowa.
On their menu, they had a burger called the Spicy Lucy. I'm sure you've all heard of it before….a burger that's stuffed with pepper jack cheese. Amazing, right?
Well, I've been missing my old friend Lucy, so I decided to make a Spicy Lucy at home. But I just haaaad to take it up one yummy notch, so I made a jalapeno cream sauce and crispy fried onions too!
This Pepper Jack Stuffed Burger with Jalapeno Cream Sauce may seem like there's a lot going on, but it's simple, I promise!
Let's start with my favorite part: the jalapeno cream sauce.
Ughhhh. It. Is. So. Good.
It's so good that, I'll be honest with you, I made extra just to smother on crackers…chips…extra fried onions…my finger…what?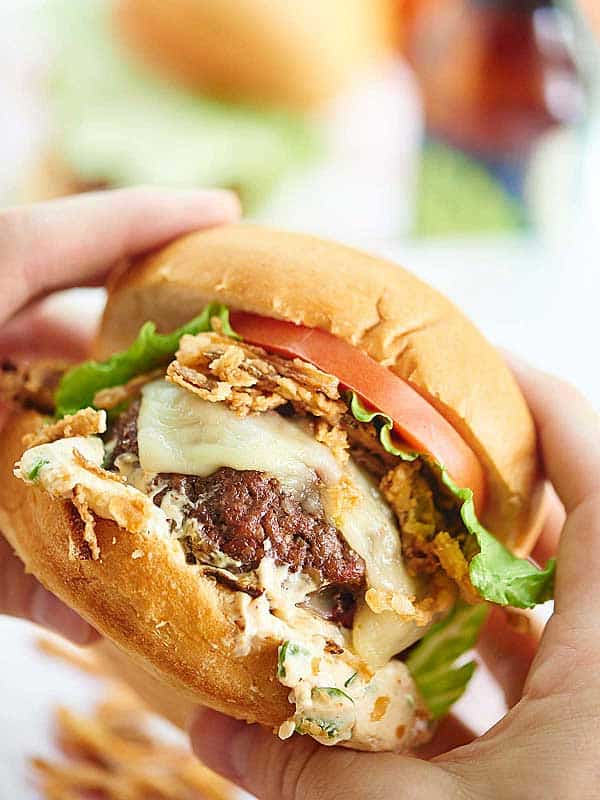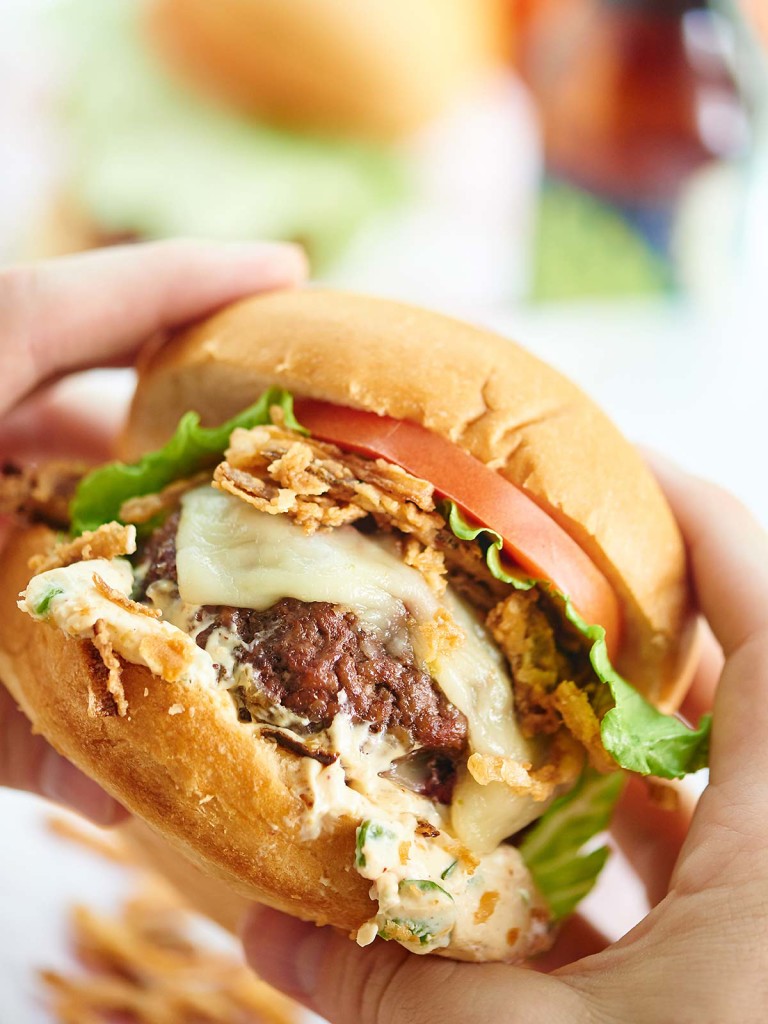 You'll love it just as much that you'll just have to make more. No problem, because it only takes 2.5 seconds to make.
Place softened cream cheese (what is it with me and cream cheese lately?), a touch of mayo, garlic and chili powder (heck. yes.), and jalapeno in a bowl. Give it a quick stir and you're done!  Wait!  If it's so good it must be more complicated than that right?  Nope, sometimes the world just works out.
Easy peasy!
Now about those crispy fried onions…my second favorite part.
Do NOT be intimated by these, you can DO this!
They're crispy. They're delicious. They're addicting.
Just slice up some onions thin (about 1/8 of an inch) and let them soak in buttermilk for about an hour.
Then toss them in a little salt and flour mixture and fry them up! Done!
Now for the main event: the pepper jack stuffed burger. My mouth waters just typing that.
Form some ground beef into eight patties (these will eventually create four burgers). Cut up the pepper jack cheese and place them on top of four of the patties. Cover each patty with another patty and pinch the seam together. It takes a little practice, but the beef is actually extremely easy to work with.
Now that we've got all components ready, grill the burgers, top with more cheese – yes please – and assemble!
Bun. Jalapeno Cream Sauce (do me a favor and DON'T be shy). Burger. Fried Onions. Lettuce. Tomato. Bun. Done.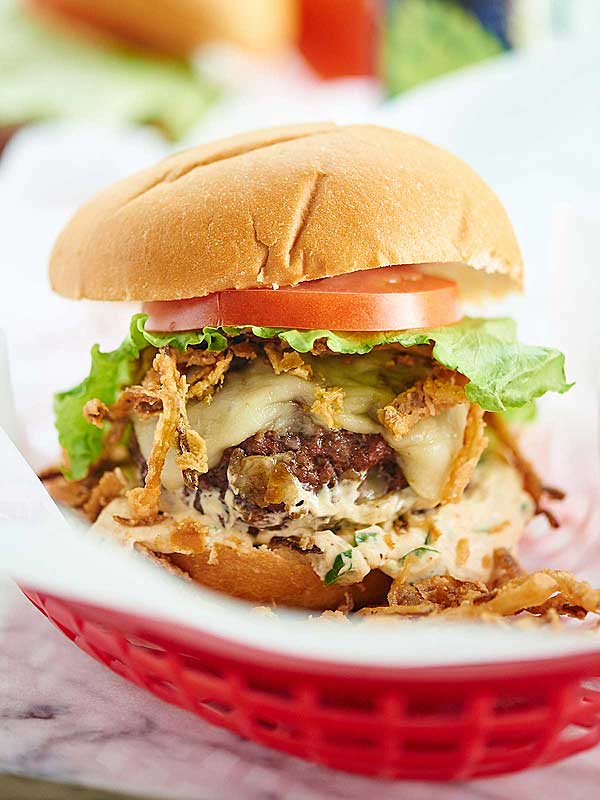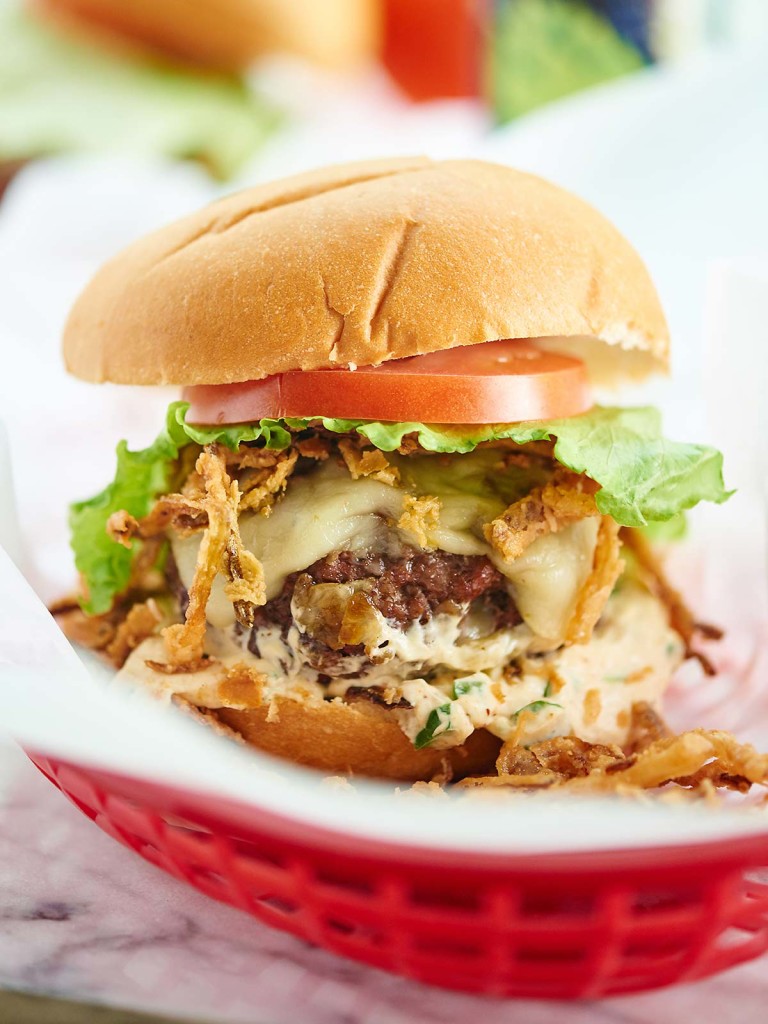 This Pepper Jack Stuffed Burger with Jalapeno Cream Sauce is one HEFTY burger and I absolutely love it. For those of you who don't have a man sized, gigantic mouth like I do, just crush the burger down a bit with your hands before you take a bite. I think it makes it even more delicious.
I can't tell you enough how much I love this burger. There's gooey cheese flowing out of a juicy burger and a creamy, slightly spicy jalapeno cream sauce that is literally to die for and then we can't forget about those perfectly fried, crispy onions that add crazy amounts of texture.
Happy grilling!
– Jennifer
Do you guys want to see another stuffed burger recipe? Show me the yummy!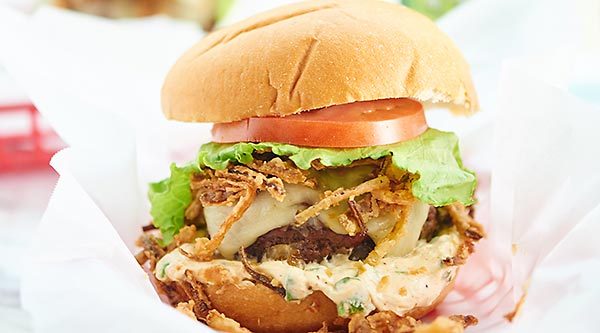 Pepper Jack Stuffed Burger with Jalapeno Cream Sauce
Pepper Jack Stuffed Burger with Jalapeno Cream Sauce. A juicy burger filled with gooey cheese and topped w/ a creamy jalapeno sauce and crispy fried onions!
Equipment for this recipe
(equipment shown are affiliate links)
Ingredients
Jalapeno Cream Sauce
1

(8 oz) package

cream cheese

softened to room temperature

2

tablespoons

mayo

1

jalapeño

deseeded, deveined, and minced

1/2

teaspoon

garlic powder

1/2

teaspoon

chili powder

1/2

teaspoon

salt

more or less to taste
Crispy Fried Onions
1

yellow onion

halved and sliced very thin (about 1/8 in thick)

1

cup

buttermilk

1

cup

all purpose flour

1/2

tablespoon

salt

vegetable oil

for frying, fill pan 2 in deep
Pepper Jack Stuffed Burger
2

pounds

ground beef

85/15

4

slices

pepper jack cheese

4-6

oz

cubed pepper jack cheese

room temperature

salt and pepper

to taste
Additional toppings
4

burger buns

4

tomato slices

4

lettuce slices
Instructions
Jalapeno Cream Sauce
Mix together cream cheese, mayo, jalapeno, garlic powder, chili powder, and salt together until well combined. Set aside. The mixture should be at room temperature when you're ready to serve!
Crispy Fried Onions
Place sliced onions in a small baking pan (mine was 8 x 11) and pour buttermilk over them.

After all the onions are fully submerged in buttermilk, let them soak at room temperature for 30 minutes - 1 hour.

In a medium sized bowl, mix together flour and salt. Set aside.

In a medium sized sauce pan, pour in about 2 inches worth of vegetable oil.

Heat oil to 350 degrees F.

Working in small batches, dunk some of the soaked onions in the flour mixture, and tap the side of the bowl to get off excess flour. You can use tongs or your fingers.

TIP: Always have baking soda on hand when using oil in case of a flare up

Carefully place small batches of flour coated onions in the oil using tongs (the oil will bubble and rise) and cook until golden brown (this will take a few minutes), use a slotted spoon to break them up.

Once golden, using a slotted spoon, remove the onions from the oil and place on a paper towel lined plate.

Repeat with remaining onions.*
Pepper Jack Stuffed Burger
Divide the ground beef into 8 equal patties.** Each patty should be about 1/2 inch thick.

Place 1 - 1.5 oz of cubed pepper jack cheese on 1 of the patties with room around the edges.

Top with 1 of the non-cheese patties.

Holding the burger in your hand, pinch together the seams. It's really important that the burger is completely sealed.

Check the top, bottom, and sides of the burger for cracks. If you see any cracks make sure to pinch the seams together. Lightly salt and pepper each side of the burger.

Repeat with remaining burgers.

Preheat your grill to medium/medium high heat (about 450 degrees F).

Lightly oil the grates and place the 4 burgers on the grill.

Close the lid and cook the burgers, flipping once until desired doneness is reached, about 8 - 10 minutes per side.*** In the last 30 seconds, top each burger with a slice of pepper jack cheese. Don't forget to close the lid again, so the cheese can melt.

Remove from heat.
Assembly
Smother the bottom bun with the jalapeno cream sauce.

Top with burger, a handful of crispy fried onions, a leaf of lettuce, a tomato slice, and the top bun.

Serve immediately and enjoy!
STORING
Reheat:
If frozen, thaw before heating in microwave or oven
*Storage times may vary based on temperature and conditions
Notes
*Keep an eye on your oil temperature. If it's too hot the onions will burn. If it's too cold, the onions won't get crispy.
**Keep in mind, the thicker the patty, the longer it's going to take to cook.
*** Our burgers were extremely thick, so it took about 20 minutes total to cook. If you flatten your burgers more, less time will be required.
Nutrition Information
Nutrition Facts
Pepper Jack Stuffed Burger with Jalapeno Cream Sauce
Amount Per Serving (1 burger)
Calories 1185
Calories from Fat 594
% Daily Value*
Fat 66g102%
Cholesterol 268mg89%
Sodium 2188mg95%
Potassium 1885mg54%
Carbohydrates 72g24%
Protein 77g154%
Vitamin A 4335IU87%
Vitamin C 25.6mg31%
Calcium 757mg76%
Iron 11mg61%
* Percent Daily Values are based on a 2000 calorie diet.
*Note: Nutrition information is estimated and varies based on products used.
Keywords:
easy, ground beef, jalapeno cream sauce, summer